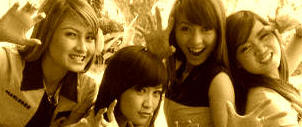 EVER GET THAT SNEAKING SUSPICION THAT YOU ARE MISSING OUT ON LIFE, AND ALL THE ACTION IS TAKING PLACE SOMEWHERE ELSE? I got that feeling fleetingly, on my way out of a 7/11 somewhere near Khao San Road, one steamy Sunday at the end of August 2008. I had finally made it down to Bangkok for the first time in six years, en route to another episode of tropical love in Vietnam. Tropical love with Thai girls wasn't even on my agenda for the three day layover, I was more interested in finding a Drum'n'Bass club, and some cool places to hang out. The sky had been all vivid and tropical, as my Royal Thai Airways flight dropped in over the Cambodian border two days previously, deep down into Thailand. Rivers and rice paddies, and all the clouds looked like elephants (some of them rearing). Skidding into Suvarnabhumi Airport, the futuristic terminals, the futuristic control tower, an Al El plane on the tarmac next to us a testament to the popularity of this place with Israeli tourists. (French and Russians go to Vietnam, Israeli's and Swedes go to Thailand -- that has been my observation these past 243 obsessive days.) I helped some English girls out in the queue for Immigration. Got hassled by a hustler heading out for the bus to Khao San Road. Evenutally got the bus though which was cool, though it wasn't much cheaper than a taxi, and a lot slower. The bus was tuned into Thai radio: some kind of manic, repetitive percussion like acoustic house music with a Rock edge, and the DJ's jibber-jabbering all over the top: jibber-jabber, jibber-jibber-jabber, jibber-jibber-jibber-jabber-jabber. Each song lasted about 30 minutes. There were heaps of Australian girls on board talking loudly about getting periods and other vulgar stuff, using the "f" word liberally. Despite the fact it was my first arrival at Suvarnabhumi, going downtown was very much a trip down Memory Lane and I amazed myself with how much I actually knew the city, knew the landmarks -- for example the impressive Democracy Monument, the beautiful Grand Palace a vision from a dream. Elephant images and stupas were all over the place, this being Thailand of course! I couldn't wait to hit the pavement, find a hotel, and then hit the pub and club scene!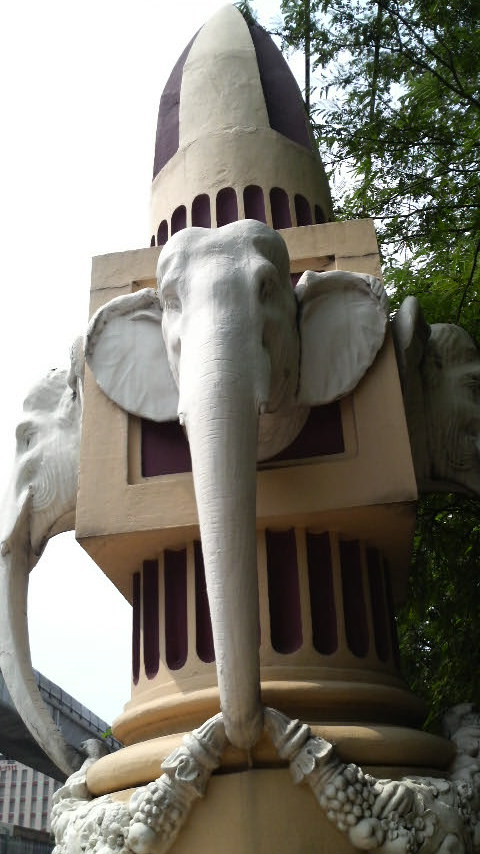 In my dream life I wouldn't be shackled to one place and job as I am now, but would be free to circulate the globe, circumnavigate the world endlessly, like a satellite with an eccentric orbit, forever cutting against the grain. It turns out I am not the only one with elite expat dreams (of delusion, of grandeur, or illusions of grandeur?). Global Nanpa out of Germany writes: "Think about it, I am convinced that my life is much better than that of the often cited Playboy Hugh Hefner for example. I didn't realize in the past years how important health and age is, but it does matter a lot, more even than money. US college girl blondines are not my taste anyway. Sounds arrogant but I can have more girls than him, paid AND for free. Nanpa makes it possible. I also don't have to pop any pills before the magic happens LOL. My honest ratio for paid/unpaid female companionship on my recent trips was around 75% paid, 25% for free. I plan to hold it like this for the next decade, turning now 30 years-old end of September. The freebies in retroperspective were actually often the more painful memories, that's why I try to keep a balanced ratio : I don't want to inflict too much emotional pain on others and on myself. Like regular readers know, I have the idea of finding the true girl-friend experience (GFE) during my trips.

"This life is so much better than being a real celebrity, because you don't have to deal with the negative side effects like getting watched carefully by the public all the time and not being able to walk around freely in public places anymore. I would never trade my life with anyone. Once your skills, looks and budget reach a certain level, you can literally live the ultimate dream life in Asia. Trust me, it's good..."

Just like Nanpa, Bangkok is always going to cry out to me as a natural port of call when I am circling the world, because it nurtures all manner of happening scenes. As Nanpa says, Bangkok is like a miniature version of the world with everything you might need located inside it. To take one example out of many possible: Bangkok has to my mind become a kind of mini London with its own Drum'n'Bass nights, resident DJ's, bars -- I dig all that and I am also into Thai music as well, all the macho Thai hard metal. That shit rocks! It is a cheap place to stay (I can find adequate lodgings for under $20 a night), the food is awesome, and there are tonnes of colorful temples to be enjoyed. Bangkok is centrally located -- easy access to Ho Chi Minh City, Yangon, Kathmandu, Guangzhou, Calcutta, Jakarta, Medan, all of these places exotic as f+ck and only an hour or two planeride away. On top of that it is a great place to pick up cheap tickets. While you are waiting for your visa to come through, Bangkok is the perfect place to kick back for a while, and just chill out, watch some videos, poke your fork into a plate of pad thai. And there are, of course, the girls. Millions, millions of beautiful, cute, sexy girls. All waiting for a piece of you!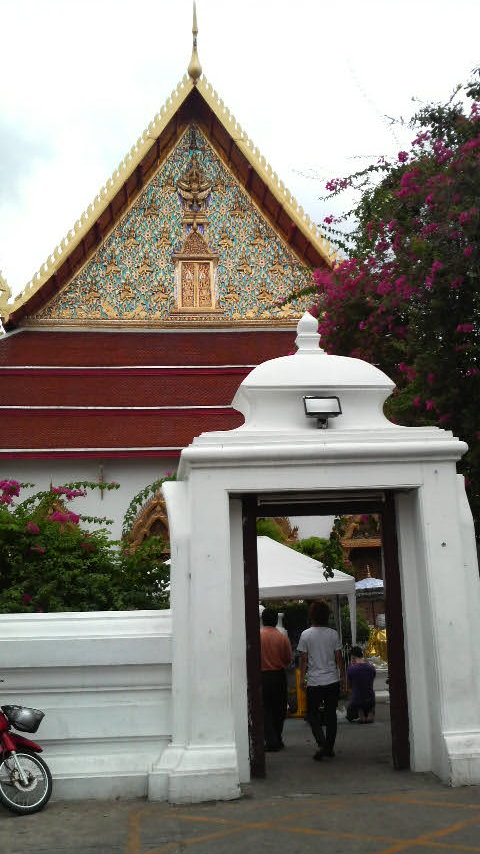 Of course Bangkok has long had a reputation as a city of sin and on previous trips I had noticed all the horny white men with bargirls, the fat old German men with slim young beauties, the scary looking British hooligans with their dainty young loves, eating noodles on Khao San Road or wherever. You look at these couplings as they make their way down the street and think to yourself: Yeah right (to use the Australian vernacular). As if! This particular Thai scene is big business, but it has never appealed to me. The idea of paying for woman didn't appeal to me then, and it doesn't appeal to me now. If you have to pay for it, it is not a real conquest, in my opinion -- just like those hidden divers in Imperial China whose job it was to secretly latch fish on to the Emperor's hook when the Emperor was out fishing. It is self delusional and a wank, although some men might need the physical relief. I can go without it if necessary. The idea that you could get it if the circumstances were more right, is often more tantalising than the actual getting it, if you understand my reasoning. So, I am not interested in going to girlie bars, even though my New Zealand bud Maniac High threatened to bitch slap me if I didn't get laid on my last trip to Thailand. I'm sorry Maniac High -- I didn't get laid while I was in Thailand, but I wasn't in Thailand to get laid, I was more on a reconn kind of mish. I was scoping the scene. And one of the first things I realized, after hitting the pavement on Khao San Road, was the number of hot young Thai girls with... hot young western guys. The kind of guys who could get a girlfriend in their own country, if they wanted to. Next February (2009) I hope to pop down to Bangkok, for another dose of Thai girl hunting madness. I am not the first person to realize this. Mango Sauce, for example, was living the dream for a while, making his living completely from Google Adsense (until they cut him off.) Read Mango Sauce, if you want to know about Thai girls and living as an expat in Thailand. Read the one they call the Stickman. Those guys know a lot more about the topic than I do, because they actually live in Thailand. I only dream of spending more time there. I have never had a Thai girlfriend, although I do have a girl now in Vietnam, only an hour hop from Bangkok.

Khao San Road: Banglamphu.
Bangkok's original Golden Mile and backpacker Mecca has a happening party scene attended by folk from all corners of the globe. The last time I was there, which was August 2008, I had an adventure practically everytime I stepped out of my hotel room. The place is literally swarming with freaks, of all colors and creeds. For years I had been intrigued by the Drum and Bass scene on Khao San Road, and finally at last (it was Friday, August 22), I had the chance to check it out. Within 10 minutes of stepping out of my hotel midway down the Golden Mile, I was handed a flyer advertising Drum and Bass at the Immortal Bar. (The joint, located on the second floor of the Bayon Building (website: MySpace site here), apparently also does a pretty mean heavy metal show, although I never got the chance to witness it). You can play pool inside, or you can sit out on the balcony drinking Red Bull and vodka combinations, while watching the lightning lick the skies, and crowds throng the street below. Inside the bar, basslines thunder like a summer storm. I sank a couple of Tiger beers. Apart from the music, there wasn't particularly much happening, so I eventually headed out for a while, ostensibly to explore the surrounding streets, or cross the river in the dark, or something like that. As it turns out, I didn't make it past the gates of Khao San Road. I stopped off down at the police station end where I made my first appearance on Khao San Road, way back in 1992, at an Israeli style fellafel stand. While I was there, I got approached by a black African man. He said he was from The Sudan. He bought me a fellafel, all vegeterian as far as I recall, brimming with Middle Eastern texture and flavor. There were a couple of Israeli guys (former soldiers, no doubt) standing around, enjoying the monsoon. I asked the black African guy what he was doing in Thailand. I didn't quite get his reply, but he said that business had forced him to stay in Bangkok a couple of weeks, and he had spent every night of his stay at Khao San Road. Which kind of implied that he liked it here, but then he started confusing me, by denouncing the scene. 'I don't agree with all this drinking,' he said, nodding to the heaving, staggering masses, all the alcohol adverts. 'I don't agree with this materialism, this rudeness, all this sex. You see, the Prophet laid out guidelines of how to live, instructions for how to live. Since it was God who created us, it is only natural, that God should give us the instructions on how to use our physical vehicles. That is something you never got in the Bible, and that is something the Jews never understood either! The Koran is a user manual for the human being."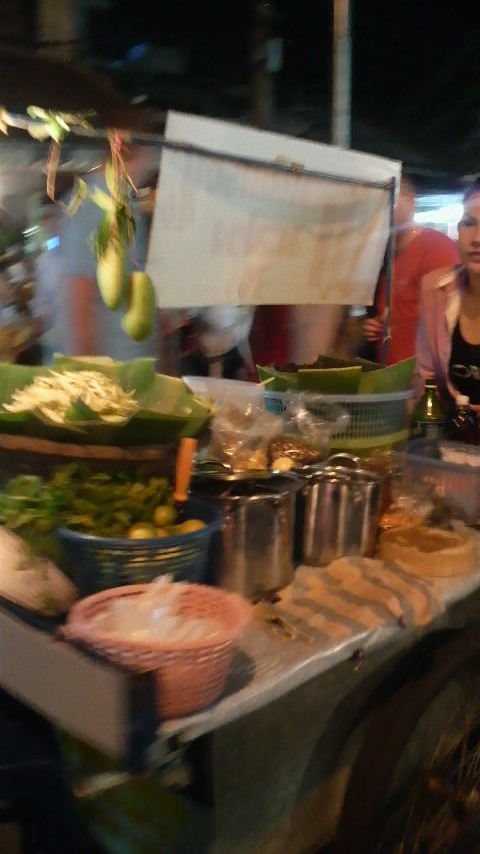 The scene around us was a hubbub -- a constant coming and going of backpackers, taxis and delivery trucks snaking their way through the scrum, ladies pushing carts stacked with fried chicken and noodles and corn on the cob. There were peddlers from the highlands hawking hammocks made out of synthetic fibres, and stroking wooden frogs with small batons to make strangely froglike croaks. One of the Israeli guys at the stand glared at us, having overheard the reference to the Koran. "People in the west are so materialistic now," the African was saying. "They have lost touch with the important things in life, such as following God's commandments."
"Have you ever drunk alcohol?" I asked him.
"Never, not once. Liquor has never so much as even passed my lips."
Sometime later the subject of September 11 came up, and the Muslim boldly proclaimed: "That was an inside job carried out by Jews and Americans." It should be remembered we were standing at an Israeli fellafel stand at the time, and there were former Israeli soldiers turned backpackers hanging around, no doubt some of them with combat experience. I was in no mood to make enemies or get into a fight, so I decided it was time to ditch this freak. Which was kind of good timing, because he wanted to go back to his hotel anyway. He escorted me as far as the Bayon Building, where I resumed my sinful indulgences. I never got to have my night walk along the river, past the old embankments. Nonetheless, it is always nice to meet someone from a farflung corner of the world... that happens a lot when I am Khao San Road. It is one neat place to hang out.


The next night I was back at the Immortal Bar drinking and enjoying a chaotic set when I met this Thai girl who called herself Far 2 Juicy (her real name being Phar I believe.) She was sitting on a couch with this young, blond English guy. "It is not as if he is my boyfriend or anything," she claimed at one point, but judging by the way they went home together, he surely was. At least until something better came along, I suppose. She seemed to have eyes for me, and it made me think, if I hung out more often in Bangkok in the future, I could get plenty of action there. When I woke up in the morning, I was amazed to find her email address in my pocket, scribbled on a paper pizza plate. Far 2 Juicy @ Hotmail or something like that. And my first immediate thought was: Ring a Ding Ding!

A WORD OF CAUTION
Stickman says: "Thai bargirls often see relationships with Western men as a way to benefit themselves and their family financially.

"In a country where women are not always afforded the same opportunities as men, some women choose to enter the world's oldest profession in an effort to make money to help their family.

"These women attempt to secure their future - and that may mean lining up as many options (read: Western men) as they can, failing to disclose other relationships they may already be involved in or be less honest about their intentions with the man they're with. They may go on to choose one man who they feel can provide best for them, or they may simply try and make as much money as they can. Many of the women working in the bars already have a Thai boyfriend or husband. They may say that they do not like Thai men but that is often just a ruse to make Western men more comfortable with them.

"These girls do not have an easy life and I do not begrudge them, nor judge them, when they make the ever so hard decision to go and work in the bar industry. That said, the calculated scamming and cheating that goes on, often playing with Western men's lives, is clearly wrong.

"They'll tell you they love you and that you're the only one in their life. This may be true and they may truly love you and worship you as only a Thai woman can. But in many cases this couldn't be further from the truth.

"If you are pursuing a relationship with a Thai bargirl and you suspect that things are not all that they seem, get her checked out before it's too late. Whether you met her in a naughty bar, a not so naughty bar, online, in a shop, on the street, in a massage parlour, in fact just about anywhere, if things don't feel right, get her checked out now..."

Stickman is probably right, but for the time's being, I want to get back to Bangkok, and see what I can make happen. It doesn't matter if it doesn't work out, because this is an experiment, a learning curve. A man far further advanced on the Asian learning curve than myself, Global Nampa, cautions: "I just got informed about this video from Isaanstyle. This is a good example and warning for innocent first-timers. Thai online girls are professionals in manipulating guys, especially the good-hearted ones like this 23-year-old dude Dino seemed to be one. I understand both sides, of course Dino was hoping for love and invested a lot into her wishes. On the other hand R. was never forcing him to do all these things and was taking advantage of his foolishness. Among Thai girls, especially also among non bar-girls it is quite a sport to trick newbies to make some additional money. Girls I spoke with from Chulalongkorn University often have several online boy-friends from abroad who are sending in cash to support their lifestyle. I once drove with a female Thai friend to RCA in her brand-new Mercedes SLK she scammed out of a young foreign dude. The girls get admired for their trickiness among friends actually. I would advice Dino to get over it, what R. did is very common in Thailand and accepted. I would not write that bad about her. We all make mistakes in the beginning. See it as a useful experience and learn from it. Never, never risk your job and career for a girl. This was a huge mistake of you..."

Nick Gatsby wrote on Expat Rockstar Magazine: "Thai women are renowned the world over for their beauty, grace, femininity, and sexuality. They have that certain something that makes them alluring to men and their diminutive stature makes them doll like, while at the same time, womanly.

"If you are interested in meeting regular Thai women though, where and how do you go about it? When I say regular Thai women, I am referring to those who have a profession outside of the tourist entertainment industry. This means office worker, nurse, grocery clerk, doctor, lawyer, etc.

"There is a degree of difficulty in getting a 'nice' Thai woman to go out with you. For most Thai women, dating a foreigner comes attached with the stigma of other Thais believing your date is a prostitute. This alone is enough to put some women off the task.

"Culture also dictates their actions and if you are successful in getting them to go with you, at first, you may end taking them out, along with one or more of their friends. To play your cards right, abstain from physical contact and any kind or sexual talk - at least until the signs are all there. Refrain from touching her; do not attempt to hold her hand, put your arm around her, or kiss her. If she likes you, she will almost certainly touch you - nonetheless, do not touch her. Thais are not much for public affection and your restraint will likely go a long way..."

I even got approached when I looked lost standing on the side of a canal just down from the Democracy Monument, me all covered with sweat. Now Maniac High has to literally handcuff the schoolgirls in Tokyo to give him the time of day, but in humid Bangkok, you have to beat the Thai schoolgirls off with a stick. All in all, there are countless, endless possibilities in this city, or so it seems to me at the present. But I am indeed a novice when it comes to Thai girls!


Craigs List Personals: http://bangkok.craigslist.co.th/cgi-bin/personals.cgi?category=w4m.
There are women posting naked pictures of themselves in the hope of finding a boyfriend/husband. It's a bit full on for me, I would rather a bit of old fashioned romance. Ratchada Soi: http://ratchadasoi8.com/.
Website for the street which is one of Bangkok's popular party centers.

Thai Friendly: http://www.thaifriendly.com/.


This site is free, and sees plenty of action, and also (compared to a lot of other dating sites!) has a good ratio of men to women. One girl says: "I'm not a Butterfly lady and I NOT WANT TALK TO thai singles. if you want to talk to me. I want to make sure that you want to be friends maybe relationship." Another woman, Mountain135, describes herself as a hilltribe girl working in a guesthouse in Chiang Rai.
If you can read Thai, look at Zubzip.


THAI WOMEN FOR SRI LANKAN MEN
DO THAI WOMEN LIKE SRI LANKAN MEN? I wouldn't have thought so, but search statistics from Google Insights show that all of the people searching for Thai girls on the Internet, many of them come from Sri Lanka...

Sweet Singles: http://www.sweetsingles.com/join_thai.html.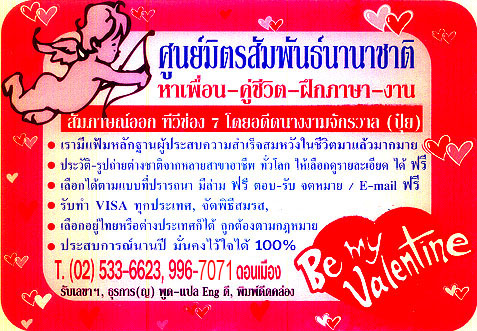 This site is actually devoted to that most adorable creature, the Thai woman -- and specifically for guys looking for Thai brides. The site is all in Thai, which might be a problem for the average Malaysian reader. Nonetheless, the site includes the prompt: "Foreign ladies, Asian ladies sign up for free -- please click here."