» Welcome to Ho Chi Minh City (Otherwise Known as Saigon)
» Things to See in Ho Chi Minh City (A-Z): Cholon
» Cao Dai Temple
» Chu Chi Tunnels
» Buying Vietnamese Modern Art
» Things to Eat in Ho Chi Minh City: Restaurant Guide
» Places to Party in Ho Chi Minh City: Bars and Clubs
» Places to Stay in Ho Chi Minh City: Malaya Hotel
» Getting There: Ho Chi Minh City Airport
» Buying Real Estate in Vietnam?
» Learning Basic Travel Vietnamese
---
---
I REMEMBER READING ONCE IN AN OLD MAGAZINE OR SOMETHING (OR POSSIBLY IT WAS IN THE VIETNAM LONELY PLANET GUIDEBOOK) THAT HO CHI MINH CITY WAS ONE OF THE MOST EXPENSIVE CITIES IN THE WORLD TO RENT AN APARTMENT. This struck me as strange, since other stuff in Vietnam is so cheap -- for example the pho noodles and the mother-of-pearl artwork and such. So how much does it cost to live in Ho Chi Minh City, and where are the best real estate deals? This is what this site is all about. According to one source I have encountered on the Internet, "In Ho Chi Minh City, renting an apartment can be difficult. Conditions are squalid and prices are high. Privacy is hard to come by and neighbors are often nosey. Having said that, once you are in town and have built up some contacts, the people are helpful and will do their best to make you feel at home." Elaborating further, another source reported that: "A lot of rooms, equipped or not, are for rent. Comfort will be just ok but at that price you can expect a clean place. Most of the time, you won't have air conditioning but a fan. For a minimum of 350$/month (sic) you can get a central address. Ideal to feel really at home, alone or with one's family, you will have the choice between two kinds of place: Vietnamese architecture with long house or more recent house/Occidental style house. Central address for an apartment is at least 800$/month and 1000$/month for a house. Again, make sure that the people who rent you the place have the legal paper to do it."
Never forget the importance of having "the legal paper" to do anything in Vietnam!
It is not just residential properties which are expensive as well -- commercial properties are also hitting statospheric prices. According to The Guardian newspaper in Britain: "The hundreds of bustling market stalls that make up Ho Chi Minh City's Ben Thanh market could not be more different from the sparkling shopfronts of Rodeo Drive in Beverly Hills or London's Bond Street. But data released by the tax office in Vietnam's commercial centre shows that shop space in the 147-year-old market is changing hands for probably more than anywhere else on the planet.
"Prices in Ben Thanh have jumped about 40% in the past two years to 230 taels of gold, or £91,000, a square metre, Reuters said yesterday.
In 2010 China Briefing compared the cost of relocating from a typical factory from Dongguan, China to Chennai, India and Ho Chi Minh City, Vietnam, and concluded: "Ho Chi Minh City is more expensive than Chennai, but still represents a considerable saving over the Dongguan scenario. Like Chennai, the savings associated with relocating to Ho Chi Minh City would also cover the severance costs of the Chinese employees in less than four months." Interestingly, the monthly rent for a 5000 square meter factory in Ho Chi Minh City was estimated to be US$12,500 compared to US$7352 for Dongguan, and US$5416 for Chennai.
With prices always rising in Ho Chi Minh City but incomes low, some workers are reluctant to take up factory jobs. The Communist Party SGGP newspaper reported in January 2010 that city factories were having trouble finding staff. "Nissei Electric Vietnam Company based in the Linh Trung Export Processing Zone I needs 600 workers to enable it to execute its orders that are flowing in post-crisis, but it has been unable to find even one," the newspaper wrote.
"Huynh Le Khanh, the company's manager, said: 'We have gone directly to communes and villages to find workers. The Mekong Delta region was once a major supplier of workers for the city, but after industrial parks have been built there, workers don't want to go far to work. Therefore, we have to go to central provinces but recruitment is still difficult.'"
"The company has announced it will pay VND150,000 to anyone who introduces a worker.
"The company is offering incentives to its workers like subsidizing their education and job training and others, Mr. Khanh said..."
The article compared the VND2,000,000 monthly salary of the typical factory worker with other, more lucrative kinds of work... for example selling balloons in the city center (a balloon seller on Dien Bien Phu Street claimed to earn VND100,000 per day).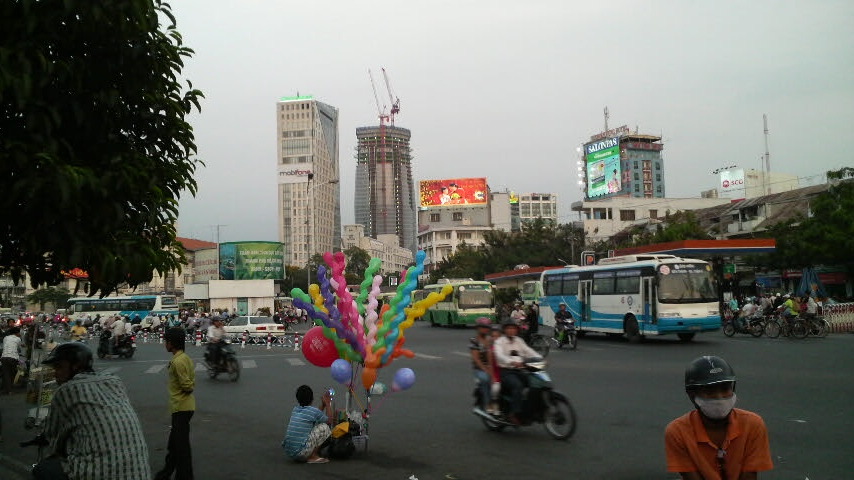 According to Easy Property, one of Vietnam's largest real estate agents, there are certain parts of town which are favored by expatriates. They include the CBD (Central Business District) of Districts 1 & 3 (for the convenience, naturally), and the greenery and clean air of the An Phu, Thao Dien, Binh An Wards of District 2 (just over the Saigon Bridge @15-20 minute drive). Other increasingly popular areas are in Tan Binh (around the airport @20-30 minute drive); and around the ever developing Saigon South area of District 7 (20-30 minutes drive)." If you are an expat attempting to establish yourself in Saigon, perhaps you ought to check out these places first.
SAIGON SOUTH AND MUI NHA BE
A little more information about District 2, again from Easy Property: "The area on the far side of the Saigon bridge is, by Saigon standards, a green & pleasant land. Though still true, more and more of the green land plots (and they have all, frequently, been sold many times over by speculators) are now being developed into houses, with a few of the larger plots turned into apartments or more residential compounds. Several hundred expats (most with families) live in the area and there is the usual assortment of expat spin-off services and facilities: a supermarket, sports, leisure & recreation clubs. Most of the villas are two storey and from 700sqm to 1,500sqm gross, with usable areas range from @250sqm upwards, and many with swimming pools. Inside the various compounds, sizes are smaller but with the benefit of communal facilities and landscaping & security. Consequently, for those expats with above average budgets and a longing for some peace and quiet, amid what must be the noisiest city in the world, or with children, An Phu has deveoped a reputation since it still has some large properties with walled gardens or in landscaped compounds, that no longer exist elsewhere in the city."
And regarding District 7: "The formation of the Saigon South urban area on 2,600 hectares is meant to create conditions for urban and rural districts in the surrounding areas of District 7, District 8, Nha Be and Binh Chanh to develop. With the (at long last), construction of a couple bridges, Saigon South is no longer only accessible via the inadequate Kinh Te bridge by the Saigon Port. It is now possible to travel from the Phu My Hung (PMH) New Residential Area (often referred to as Saigon South) to the CBD in 15 minutes. After years of relative inactivity, the 600 hectare @USD$250m PMH Joint Venture have started construction of the first of many planned apartment buildings and houses. Several international schools; the Franco Vietnam hospital; RMIT (Royal Melbourne Institute of Technology) University; and other such ancillary service suppliers & facilities have also committed to a future amongst the landscaped greenery. The government have now also approved the construction of the 1,950m long USD$114m Phu My bridge, that ill connect the city ring road (that runs through PMH) with the CBD via the 770 hectare USD$632m Thu Thiem New Urban Area of District 2. Apartments are being sold from @USD700/sqm and appearing on the secondary market to rent from USD$500/month upwards. Villas cost upto USD$500,000 and rentals start from USD$1,500/month."
o n l i n e + r e a l t o r s

Easy Property: Phone: 848/840 7962. Web: www.izproperty.com/.
This website touts itself as Vietnam's premier real estate services network. It is a big claim to make, but the listings at Easy Property are in a word, exhaustive. A huge range of properties are listed, ranging from serviced apartments in District 3 (the rent is between US$1100 to $2100 a month) to potential golf course sites in Dong Nai Province, to the entire Hoa Binh Towers in the capital Hanoi, to "possibly the best villa in An Phu" (that one is going at US$6000 a month in rent.)
Along with all the listings, Easy Property has realms of important information about the state of the rental and real estate market in Vietnam. There are nuggets of information like this, concerning international standard serviced apartments: "Ho Chi Minh City only has a combined stock of serviced apartments of about 2,000 units, an inadequate number relative to the ever increasing demand. Thus rentals have almost doubled in less than 5 years to the current levels. However, local investors have recently seen the investment opportunities available and are thus now rapidly filling the supply gap with a wide variety of new developments, both big and small. By the end of 2006, it is estimated that the number of units available will have doubled to over 4,000 units with several thousand more under construction. Though many of these are being built for sale on the local market (foreigners are unable to buy or sub-lease), many are being bought to rent to expats, at prices ranging from USD$800 – USD$2,700 per square meter, with a view to obtaining rentals from USD$10 – 30 per square meter per month.
"However, given the relatively stable number of expats living in Vietnam, coupled with strict new foreign employment registration stipulations, and the dramatic increase in stock, one can foresee rentals falling to levels more in line with those of ASEAN regional competitor cities over the course of the next few years.
"The largest and best located s have all had average occupancies of over 90% since @2002 and so are able to command premium rentals. Some offer short term accommodation (at up to USD$50/sqm per month) but many have waiting lists and so are only interested in minimum 12 month contracts. The majority of these are in the downtown area but some are a 20 minute commute."

Living in Vietnam: 42/63 Nguyen Hue Street, Dist.1. Phone: 08/291 0366. Web: www.livinginvietnam.com/travel.htm.
There is a lot of information on this website about living in Vietnam, how to get a visa or a job, and how to deal with the people in Vietnam. There is also a forum for travellers and expatriates, and lesson plans for those wanting to study Vietnamese. For those looking for real estate in Saigon (or Hanoi for that matter), this website also delivers. For example, if you were hoping to rent a two-bedroom apartment in the heart of Ho Chi Minh City's District 1, you might be able to find one for US$1200 a month. If a French colonial style villa with three bedrooms, garden and a swimming pool was closer to what you were looking for, you could find one in District 3 for US$3000 a month. Tom apartments to office blocks -- it it is worth checking out.

Property World: Web: Property World Vietnam.
As the name suggests, Property World has a searchable database of properties all over the world. Bulgaria seems to get a good representation in the database, given that country's current popularity with European buysres. When it comes to Vietnam, on the other hand -- well, in a recent search for properties for sale in Greater Vietnam ranging in price from US$0 to US$1000000000, Property World only returned one result. This was a property in the Saigon Pearl development at 92 Nguyen Huu Canh, HCMC. You can read about Saigon Pearl further down the page under the "Coming Developments" header.
h i g h r i s e + d e v e l o p m e n t s
ONE OF THE AMAZING THINGS ABOUT VISITING HO CHI MINH CITY REGULARLY IS NOTICING JUST HOW FAST THE SKYLINE OF THIS CITY CHANGES. New buildings go up all the time, transforming this once low-rise sprawling tin shack kind of city into another Oriental supermetropolis -- another Bangkok or Singapore. Inside those high-rise steel and glass needles are often where foreign residents prefer to live. If you want to know about coming developments of a high-rise nature, you are in the right subdirectory.
Before we start, here is a word from San Francisco architect Mel Schenck, who wrote: "Most of the housing in Ho Chi Minh City, like all of the other cities in Vietnam, is four or five stories tall. This is true for new middle-class houses even in the smaller villages. I understand there is some new high-rise housing in Hanoi in the new suburban new urban areas, but I did not get out to see them. In HCMC, some Taiwanese investors built a new high-rise apartment complex in the Cholon (Chinese) area of Saigon. Very few of these apartment or condo units have been rented or sold. In speaking with some HCMC citizens, they felt that they had not sold because the units are too expensive compared to normal units in Saigon, and the Vietnamese much preferred the walk-up four-story houses to the elevatored high-rise housing. This is certainly counter to the Chinese pattern of replacing low-rise housing in all of their cities with high-rise housing. Interestingly, the density of population per hector or acre for these high-rises is about the same as low-rise housing since these new high rise towers are usually towers in the park with a lot of space (usually wasted, in my opinion) around them. I vote with the Vietnamese -- I prefer my density in active low-rise units rather than sterile units in the sky, unless the high-rises are as dense as in Hong Kong."
The Panorama.
The Panorama tọa lạc trong khu Kênh Đào (được mô phỏng theo Khu Kênh Đào tại Mỹ) vốn dĩ từ lâu như tự hữu một "chiếc máy điều hòa khổng lồEtừ thiên nhiên cảnh quan bao quanh. Trong đó, tự nhiên sắp sẵn những hình khối theo "toneExanh chủ đạo với nhiều biến tấu: gam xanh của dòng sông cảnh quan dọc theo thế đất, bên kia sông là mảng xanh dự kiến quy hoạch sân Golf 36 lỗ; trên là bầu trời trong vắt nối liền hai mảng xanh ấy như một đường chân trời xa xa mà khoảnh khắc nào trong ngày cũng có thể tận hưởng; gần hơn là hai mảng xanh công viên đô thị rộng với diện tích cộng gộp gần tròn 16ha gần như viền gọn ôm Khu Kênh Đào ở giữa. Có ví von Kênh Đào là một "thành phố của cảnh quan và gióEthì cũng chẳng có gì là quá bởi sự giao hòa của thiên nhiên hoa lá, sự kết hợp mặt nước, bầu trời, sự gặp gỡ của nắng, của gió và bản hòa tấu của những âm thanh tự nhiên như tạo nên một bức tranh đẹp đưa luồng gió mát ùa vào từng ngôi nhà trong Khu Kênh Đào. Trong cảnh sắc ấy, The Panorama sang trọng với 6 building kiêu sa vươn cao ngay cửa ngõ phía Tây vào Khu Kênh Đào.
Saigon Pearl: 92 Nguyen Huu Canh Street, Binh Thanh District. Phone: 848/821 9999. Web: www.saigonpearl.com.vn/home.htm.
According to the promotional material, Saigon Pearl, a high-rise apartment complex on Saigon River, represents "the largest, most elaborate development ever created in Vietnam." Due to come online from 2007 to 2009, Saigon Pearl incorporates eight 37-storey apartment buildings, a lavish clubhouse, two office towers and a large-scale shopping mall. Quoting from that promotional material again: "Picture living right beside the enchanting Saigon River, surrounded by a tropical paradise of natural and landscaped gardens. Watching clouds of mist swirl across the water as you prepare for the day ahead. Here, secluded from the rush and roar of daily life, the natural beauty of the scenery constantly seduces you..."
The following properties are available for sale: two-bedroom unit, three-bedroom unit, and penthouse. Visit the website listed above to find about pricing and other details.
c o m i n g + d e v e l o p m e n t s
THERE IS ALWAYS SOMETHING GOING ON IN HO CHI MINH CITY, SOME NEW DEVELOPMENT OR MAJOR PUBLIC WORKS PROJECT. Here are some of the latest developments and coming attractions:
Thu Thiem Peninsula: Major development plan.
Earlier this year (2006) the HCMC Government unveiled plans to turn the Thu Thiem Peninsula across the Saigon River into a new center. The Thu Thiem new urban area will be HCM City's center for finance, commerce and services, officials said at a press conference on the announcement of the detailed plans for Thu Thiem. "Thu Thiem will be a modern center, an extension of HCM City's existing downtown," said Vu Hung Viet, head of the Thu Thiem Investment and Construction Authority, or Thu Thiem ICA.
Thu Thiem will be divided into five zones: a central zone, a multi-functional zone along the East-West Highway, a northern residential zone, an eastern residential zone, and a swamp zone to the south.
The central zone, which will become a commercial and financial centre, will house multi-storey office buildings, a convention centre, and a central plaza and public park. This area is expected to be complete by 2010.
The central zone is expected to employ the largest number of people and house 40,000 residents.
The so-called swamp zone to the south will eventually house a botanical garden, an aquatic park, a sports centre, an arena and a resort hotel.
The existing mangrove swamps in the area will be preserved as part of the cultural heritage of Thu Thiem and Ho Chi Minh City.
Public transport will include a subway line and station in the central zone, and bus and waterbus services that would link the area with District 1.
Five bridges over the Saigon River will be built, including the Thu Thiem and Ton Duc Thang bridges, a bridge to link the peninsula with district 2, and another to connect the area with District 7.
A pedestrian bridge over the river will link Me Linh Square in District 1 with Thu Thiem.
The eastern residential zone and most of the central zone will be built during the first five-year phase.
The second phase, from 2010-2015, will develop 180ha of the central zone and the multi-function zone along the East-West Highway.
The third phase from 2015 to 2020 will develop 87ha, and the fourth phase from 2020 to 2025, 120ha.
c o n d o m i n i u m + j o i n t s
HERE IS AN EXCERPT I FOUND ON SkyScraper City, CONCERNING THE CONDO SCENE IN SAIGON AND VIETNAM IN GENERAL:
"Condominiums in Ho Chi Minh City have been in high demand for the last two months, despite the fact that prices have gone through the roof.
"Over the past two weeks, Ms. Kim Loan from the Central Highland province of Lam Dong has been trying to find a condo in the city for her daughter, who is to start university next year.
"A real estate agent showed her a 364-million VND condo at the An Loc Apartment Building in Go Vap District and another in Binh Thanh District at nearly 1 billion VND.
"'Possibly I will choose the one in Go Vap District, a 64-square-meter condo with a living room, a bedroom, and a bathroom,' she said.
"An Loc, a newly built 12-storey apartment building, is about to be put into service. Most of its condos are already sold, but some owners will transfer ownership for those willing to pay a few dozen to a hundred VND million higher, according to property companies.
"Following the increased demand many condominiums, particularly high-quality ones, have been constructed in the city. In mid-September, a nine-storey apartment building comprising 174 condominiums and covering an area of over 4,600 square meters in Thu Duc District was inaugurated. Up to now, 110 condos have been sold at 6.5 million VND per square meter.
"Meanwhile, construction of a high-quality 18-storey complex in Binh Thanh District just began recently. Each condo will be 80 to 93 square meters in size, with three bedrooms, two bathrooms, a kitchen and a living-room, with a price tag of 780 to 945 million VND.
"However, these prices are far less than those in the city center. A My Vinh condo in District Three is selling for US$137,000. Forty-four of its 62 units have already been sold although construction of the building itself will not be completed until next year, reported its investor Thao Loan Co., Ltd.
"Thao Loan Co., Ltd. is also building another first-rate 12-storey complex in District Three. The price of each unit will range from $US 150,000 to 170,000.
"The demand for condos is on a sharp increase, commented Le Quang Hang, Deputy Chief Executive of the Hoang Quan Real Estate Co., Ltd. Therefore, the firm is planning to build more condos in the near future. The Hoang Quan Company targets young customers who are interested in condos because they are affordable, Mr. Hang said.
"High-quality condos have sufficient family conveniences, a nice environment and good security conditions, explained Deputy Director of the Asia Commercial Joint Stock Bank Real Estate Supermarket Vo Dinh Quoc. Also, most of these properties are located in the city center, he added.
"But in fact, the Vietnamese do not really like living in condos, Mr. Quoc noted. They consider it as a temporary place before moving to a private house, he said.
s e r v i c e d + a p a r t m e n t s
HERE IS A SELECTION OF SOME OF THE HOTTEST SERVICED APARTMENTS ON OFFER IN THE CITY OF SAIGON, OTHERWISE KNOWN AS HO CHI MINH CITY:
Saigon Domaine Serviced Apartments: Binh Thanh District.
Saigon Domaine is just 10 minutes by speedboat (15-20 minutes by car) from the city center, and affords a beautiful riverine position. This development comprises 45 units ranging from a 72 square metre one-bedroom apartment to a huge 377 square metre, four-bedroom pad. Units come in a variety of layouts, but all of them are gifted with large sliding windows that open onto spacious terraces or loggias with breathtaking view over Saigon River and the south Vietnamese countryside.
Some of the facilities at Saigon Domaine include a fitness center and saunas, open air children's and adult's swimming pool (see the attached pic), children's playroom, Club Room for meetings and entertainment diversions, an inhouse catering service, attendant bars and a mini-shop, and a boat and bus service to the city center (the boat probably provides the more scenic view.) Car and boat rental (for folks who like nothing better than messing about in boats) and daily housekeeping services are also available.
Recreational possibilities for residents include water skiing and fishing, jogging and taekwondo, piano and dance classes, and aquatic gymnastics and aerobics and ping pong. It should be noted that Saigon Water Park is just minutes away!
Giac Duc: 492 Nguyen Dinh Chau, Dist. 3.
Chau from America says this place has the best vegetarian food in town.
---