» Welcome to Ho Chi Minh City (Otherwise Known as Saigon)
» Things to See in Ho Chi Minh City (A-Z): Cholon
» Cao Dai Temple
» Chu Chi Tunnels
» Things to Buy in Ho Chi Minh City: Clothes
» Things to Eat in Ho Chi Minh City: Restaurant Guide
» Coffee Shops
» Com Nieu Sai Gon Restaurant
» Hu Tieu Restaurants
» Hue Noodle Soup
» Kebabs (Otherwise Known as Kebaps!)
» Lotteria Fast Food
» Pizza Parlours
» Phở Restaurants
---
» Places to Party in Ho Chi Minh City: Bars and Clubs
» Places to Stay in Ho Chi Minh City: Legend Hotel Saigon
» Getting There: Ho Chi Minh City Airport
» Buying Real Estate in Vietnam?
» Learning Basic Travel Vietnamese
---
---
Pizza Hut Home Deliveries
I WAS CHILLING AT THE IRISH BAR AT THE FAR WESTERN END OF BUI VIEN STREET ONE EVENING AT THE END OF LAST YEAR. The young ladies who work at the Irish bar are well cute, and I was chatting with them on the streetfront, when I noticed the motorbike delivery dude dodging through the traffic. The logo on his bike read "PHD", but the font made me think it was in fact phở without the accent marks, phở being of course the name of that quintessential Vietnamese noodle soup. I joked with the waitresses: "They even home-deliver phở in Ho Chi Minh City!" I soon realized, however, that this dude was a pizza delivery boy, and that PHD meant "Pizza Hut Delivery", and he had nothing to do with carting soup. Presently I was handed a brochure by a couple of Pizza Hut staff walking/working the street, detailing the whole delivery service (and offering some discount coupons!) Now Pizza Hut might have a naff image in much of the world, but in Vietnam it is kind of cutting edge cool. Not that the average person can afford it, but that is probably part of the appeal. Compared to Japan where I have spent the past 10 years, the pizzas at Pizza Hut in Vietnam are kind of plain. This is probably a good thing, the Japanese have a tendency to take their pizzas to the extremes! Pizza is supposed to be about simplicity. There are no wierd seafood concoctions or sweet corn overkills on the pizzas at Pizza Hut in Vietnam; what are you get are the jackstandard Hawaiians, Meat Lovers, Veggy Lovers, Pepperoni, and Peppery Tunas. Prices range from 99,000 Dong (regular size, traditional range) to 169,000 Dong (large size, deluxe range). There are some pasta dishes as well and they go for 89,000 Dong. Pizza Hut promises to deliver within 30 minutes. Regardless of the surge of scrutiny and success a mention in the New York Times might endear. "Surely there are more worthy spokespeople for this meal?", that what I thought after I got that email. For example, the aforementioned Noodlepie! I know he is busy in central Africa now, teaching journalists how to use the Interet, or something like that. But he might be available for a comment. The New York Times asked me for my phone number which I gave them, but they never called. And maybe that was just as well. I didn't get any publicity, but at least I won't have my karma compromised by being a pretender.
But nonetheless, I thought to myself: "There is no way I am actually dining in one of these restaurants. I mean, why eat fast food, when you have a whole universe of pho options in front of you."
Two days later and I was due to meet a Chinese/Vietnamese friend (J.) who I had met on the Internet, and one of her Chinese/Vietnamse friends, outside of the Ben Thanh Market in the very center of Saigon. Both J. and her friend lived in Cholon, and like other Vietnamese girls I was to meet, they were studying to be a tour guide one day. I arrived at the markets ridiculously early, and to pass the time spent about an hour and a half dodging the peddlars and the beggars on the surrounding streets, bought some Nike shoes, and had an iced coffee at the Central Cafe (I think that is the correct name) in the Sun Wah Building on Nguyen Hue Ave. That coffee was so good, I ordered another one, which was a bit of a risky move, since excessive caffeine use can cause havoc for me sometimes. But so far, so good. I returned to the markets, plunged into them, and nearly lynched by a marauding crowd of women selling clothes. To avoid the touts, I moved to the front of the markets, and stood in the bright hot sunshine. I witnessed a fight between a cyclo man and a taxi driver.
Eventually J. and her friend arrived, and we considered where we should go for a chat. By this stage the double dose of Nguyen Hue Ave caffeine and the hot sunshine outside of Ben Thanh Market, not to mention the noisy intensity of the streets, were beginning to take a toll. Looking out at the swarming traffic as I attempted to cross the street with J. and her friend, I noticed I couldn't see a chunk of the scene -- there was a swirling vortex in my viewsite. Suddenly I realised... I was having a migraine! One that would rival the migraine I suffered on my first night in Vietnam with Alison Telfer in December 1996, except back then I had a cool dark room to retreat to. This time I would have to face it alone, with only some yogaspecific muscle tensing exercises to relieve the pressure in my skull -- this time I had two girls to entertain. And after wandering around a bit, we decided to hold our meeting at Lotteria Cafe.
Vietnam Economic News Online (VEN) has reported: "Fast food is now becoming popular in big cities like Ho Chi Minh City. This shows that a new lifestyle begins to take shape in Vietnam. According to Mr. IL Sik Rho, Lotteria Vietnam's general director, Vietnam has a young population, of which 65 percent is below the age of 25. This shows that Vietnam offers retailers and particularly fast food providers great potential to develop.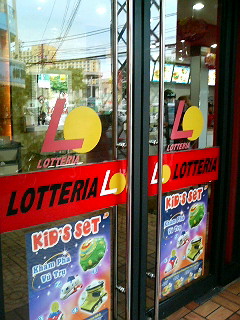 "Lotteria Vietnam is a joint venture between Vietnam's Thien Nhan II Ltd., Japan's Lotteria and the Sojitz Corp and South Korea's Lotteria. Being the first foreign fast food provider to begin operation in Vietnam quite early - in 1996 when the concept of fast food was something new to Vietnamese people, Lotteria Vietnam initially consisted of just several restaurants with a 'modest' record in revenue. After 10 years penetrating and developing the local market tirelessly, Lotteria Vietnam has now become the first choice of numerous customers, holding a 40-percent share of Vietnam's fast food market. Although the corporation has not yet reached its initial target in gaining profit, the future of Lotteria Vietnam is seen to be much brighter with its nonstop efforts and proper strategies to develop its brand in a potential market like Vietnam.
"'In fact, the corporation so far has just reached a breakeven point in the Vietnamese market. However, Lotteria Vietnam hasn't targeted short-term profits but long and sustainable business strategies,' said Mr. IL Sik Rho. What has made this group optimistic about the Vietnamese market? Let's have a look at positive changes in the number of Lotteria's customers. In 2004, the number of customers coming to Lotteria Vietnam restaurants was 950,000, which rose to 1.8 million in 2005 and is expected to reach 3.5 million this year. And the company also expects to earn a profit this year..."
LOTTERIA CAFES IN HO CHI MINH CITY:
64 Nguyen Dinh Chieu St. Dist. 1: (848) 824 3866.
I survived my meeting with J. and her cute Chinese friend -- we talked about a lot of stuff. I didn't eat anything, but drank two cups of orange juice. If I had decided to order some foodstuffs, I would have found Japanese teriyaki burgers and Korean bulgogi on the menu. J. and her friend said they liked Korean pop, learning new languages, that sort of thing. My migraine retreated. And I was on my way to... my first encounter with dog meat, later in the evening!
---