VIETNAMESE MODERN ART

» Welcome to Ho Chi Minh City (Otherwise Known as Sài Gòn)
» Things to See in Ho Chi Minh City (A-Z): Cholon
» Things to Buy: Vietnamese Modern Art
» Things to Eat in Ho Chi Minh City: Restaurant Guide
» Places to Party in Ho Chi Minh City: Bars and Clubs
» Places to Stay in Ho Chi Minh City: Saigon Hotels
» Getting There: Ho Chi Minh City's Tan Son Nhat International Airport
» Further Afield: Mui Ne
» Even Further Afield: Phu Quoc Island
» Buying Real Estate in Vietnam?
» Learning Basic Travel Vietnamese
» Dating Vietnamese Girls

---
---
North Vietnam's Soldier-Painter and Living Legend (Pham Luc)

I GOT AN EMAIL YESTERDAY FROM A CERTAIN MR PHUC (OF VIETNAM PATHFINDER TRAVEL IN HANOI) WHICH READ: "I found your website and contact at Crowded World, and would like to sell some paintings of Pham Luc Artists in my collection (at attached files). Pham Luc artist live in Hanoi, Vietnam. He is around 70years old now and some of my paintings bought from him that was painted during Vietnam war time (60-70)."

In a land which reveres patriots, Pham Luc occupies a particularly hallowed position: he served in the North Vietnamese army as a painter, using art as a witness and a weapon. While the Americans and other forces he confronted were using cameras to record the war, Pham relied on paint, brush and canvas. When canvas became scarce, he painted on burlap rice sacks, as one foreigner who visited his home in Hanoi remarked. "The paintings from the war are rat-eaten and shrapnel-ridden but embody an irrepressible spirit," the visitor wrote. "They are darker in composition and content than his later works, which are equally fine. The painting which I call Forbidden was painted in 1974 at the close of the war. This painting of a beautiful woman during wartime conditions was against socialist dictum of the time. Pham Luc hid the work for over a decade before he could display it." (Note: this is not the nude painting depicted above, which I received from Mr Phuc, but there is doubtless some resemblance between the works. It all goes to show that despite being a nationalist and patriot, Pham was no stooge.)

The picture above is a still life, one of the literally thousands of paintings Pham Luc has produced over the years. If you are in Hanoi and have the chance, you can visit the artist at his home, and perhaps even have your portrait painted by him. He has become something of a celebrity in the northern art scene, something of a living legend. Ambassadors from other countries own his works.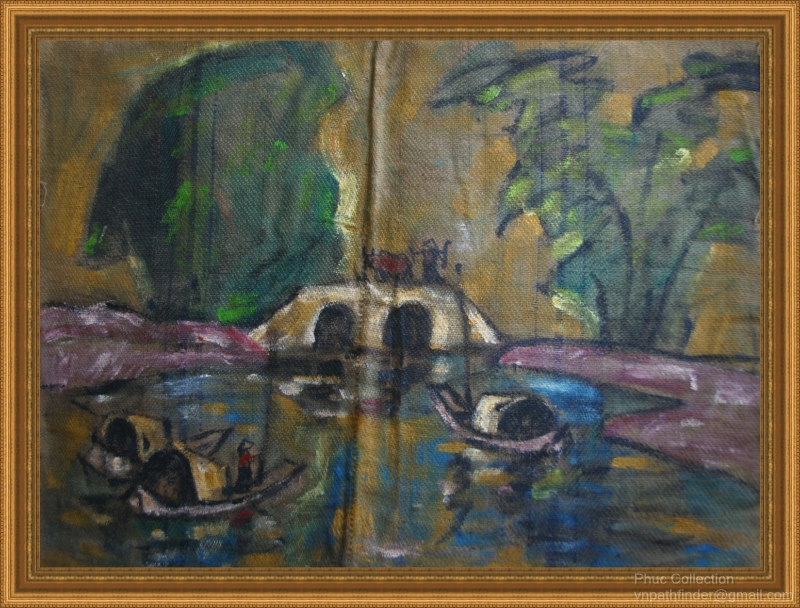 The landscape above has something of a mythical dimension. As with the two other paintings featured on this page, it is available from Vietnam Pathfinder Travel in Hanoi. If you represent an artist or gallery in Vietnam and would like to promote your works on this site, please let me know. Fill out the form below, or send me an email.