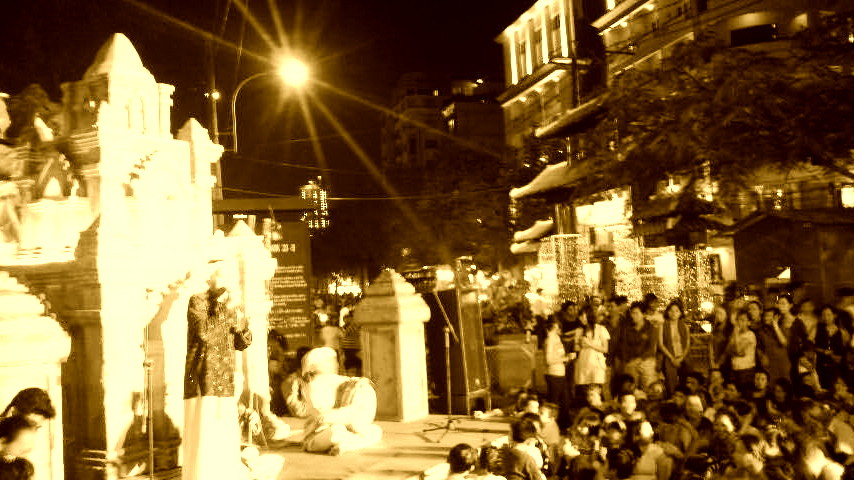 Listen to Vietnamese music online at Quan Cafe.
There is a lot of music here, thousands and thousands of songs, but the service is sometimes erratic -- the site crashes, or causes my computer to crash. And a lot of the songs come across militaristic, in a Soka Gakkai vibe.
Viet Channels: More of a pop vibe, lots of songs on the Anh yeu em tip.
Download Chi can anh yeu em du from BeeMP3.
Luuk Thung music from Thailand!
Luuk Thung (children of the fields) or Thai country music developed in the 1960s with singers reflecting on the hardships of living, loving and working in rural Thailand. The Suphanburi area has traditionally been home of many Luuk Thung musicians. The biggest star of all was Pompuang Duanjan. Her role was to invent electronic Luuk Thung. This produced a kind of hybrid pop music. The first Luuk Thung radio station was launched in 1977 at a time of economy collapse. Listeners found the music reflected their own state of mind. Since then it has grown ever more popular in Thailand.

LISTEN TO BANGKOK BANDS ONLINE
HOW MANY TOURISTS UNDERSTAND OR APPRECIATE THE REAL THAILAND, WHICH IS MORE CHEESY DRAMAS AND SUGARY POP, THAN TRANCING ON A WICKED CHEMBREW AT THE VARIOUS STAGES OF THE MOON PARTIES ON KOH PHAN GAN? Don't get me wrong, I love trancing on the beach, but I feel just as comfortable exploring the nuances of popular Thai culture. The last time I was on Khao San Road, I found the easiest way to meet Thai women, was to talk to the waitresses at the countless bars and restaurants on the street. I was surprised how few single western guys were doing that -- they were either talking to other westerners, or entranced by some crap American horror movie on the TV. At closing time when all the foreigners shuffled off the crap videos would come out and the Thai dramas would come on, and the waitresses would crowd around to watch, and giggle, and let themselves go. This was the best time of the night for me and I used to watch the dramas with them, to get to know them, and try to bridge the cultural divide. Two years later I would reappear in the cafe, en route to Tokyo, and the mama of the place would be all over me, greeting me with the Thai equivalent of "Long time no see". I can't believe that they would remember me, out of the thousands and thousands of customers which must go through those places. I guess it goes to show that hardly any tourists make the effort to get to know the Thai's they meet, and miss out on finding girlfriends amongst the swarms of staff, which exist in almost any establishment. It is better than meeting chicks in a nightclub, believe me.

Khao San Road is a great place to dance to imported beats including house music and drum and bass, but while you are here, you might as well listen to some local tunes as well. Even better, start listening to them before you even get here. Here are the home pages and listening sites of some of the popular bands in Bangkok at the moment:

Acid Lilly http://www.acidlily.net/
Apartmentkhunpa http://users.cjb.net/apartmentkhunpa/
Bear Garden http://bear-garden.pandarecords.com
Bikini http://www.geocities.com/bikiniband/
Blissonic http://www.blissonic.com/
Brandnew Sunset http://www.brandnewsunset.com/
Disorder http://www.disorderband.com/
The Eastbound Downers http://www.eastbound-downers.com/
Ebola http://www.ebolasound.com/
Futon/Rehab http://www.xfuton.com/
Modern Dog http://www.moderndog.biz/
Neuter Lover http://www.en-light.com/
Scrubb http://www.scrubbband.com/
Surrender of Divinity http://www.unholyhorde.com/sod/
System Sucker http://www.geocities.com/system_sucker/
Winky http://www.thai.to/winkys/

Here are some MySpace specific band sites:
Acid Lily http://www.myspace.com/acidlily
Adenalyne http://www.myspace.com/adenalyne
Bangkok Alcohol Bangkok punk at its most mindless, in a lurid format only MySpace could properly provide: http://www.myspace.com/bangkokalcohol
Born From Pain http://www.myspace.com/xbornfrompainx
Born Stubborn http://www.myspace.com/bornstubbornband
Brand New Sunset http://www.myspace.com/brandnewsunset
Crux http://www.myspace.com/cruxband
The Darlings http://www.myspace.com/thedarlings
First Lady http://www.myspace.com/firstladyband
Futon http://www.myspace.com/ilovefuton
Gramaphone Children http://www.myspace.com/gramaphonechildren
Groundxero http://www.myspace.com/groundxerosound
Late http://www.myspace.com/bandlate
Left of Me http://www.myspace.com/leftofme
Lucifer Sam http://www.myspace.com/lucifersamkhonkaenagencyl
Manee http://www.myspace.com/happymanee
Neuter Lover http://www.myspace.com/neuterlover
Predict From Star http://www.myspace.com/predictfromstar
Sleep Inn http://www.myspace.com/sleepinn Snail http://www.myspace.com/snailband Stage Clear http://www.myspace.com/stageclear Sweet Mullet http://www.myspace.com/sweetmullet Victory of Loser http://www.myspace.com/victoryofloser