---
JERVIS BAY :: SOUTH COAST :: NEW SOUTH WALES
---
If you want to see what Australia MIGHT HAVE BEEN LIKE had white folk never arrived here, if you want to see what it looked like when it was still hunter/gatherer and black, then JERVIS BAY would be a good place to head. Of course there are many other places in Australia still in their NATIVE ABORIGINAL STATE (relatively speaking, anyway), for example KAKADU NATIONAL PARK in the Northern Territory. But Kakadu is thousands of miles from the nearest city, while Jervis Bay is JUST A COUPLE OF HOURS drive from Sydney, on the NSW South Coast. Beyond the genteel industrialization of the Illawarra and the Irish style green fields of Kiama and Berry and Nowra, both products of European colonization, Jervis Bay erupts as a pocket of PRIMITIVE AUSTRALIA -- endless miles of scrub and rugged bush, eucalypt forest, woodland, swamps, dunes, mangrove, rainforest relics, coastal scrub, grassland and a heathland rich in wildflowers. Long, incredibly white beaches contrast themselves against a deep blue sea. Parrots squawking on the shore, dolphins prancing on the bobbing tide. To enhance the EXOTIC APPEAL of this secluded place, many of the people who work and live here are black, members of the local Aboriginal clan. In fact, Jervis Bay is an ABORIGINAL TERRITORY inside the Australian polity, and Aborigines still live semi-traditional lifestyles here. Jervis Bay was the first place I ever saw Aborigines hunting for food in the traditional way (I think they were looking for crabs.) That such an ANCIENT CULTURE sustains itself only a FEW HOURS from the smog and modern affluence of Wollongong and Sydney is amazing. It is worth coming down here, just see this older side of Australia, the original face of Australia, if you will. This is a place you can get away from it all.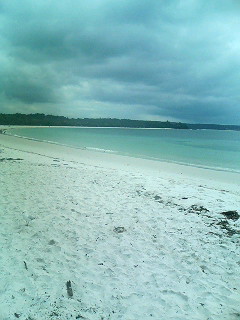 Technically speaking, the Jervis Bay Territory (JBT) comprises about 6677 hectares on the southern shores of Jervis Bay, approximately 200km south of Sydney by road. The territory consists of a mainland area of just over 6 500 ha, about 800 ha of marine waters and Bowen Island (51 ha). Ninety per cent of the Territory has been granted to the Wreck Bay Aboriginal Community. The land and water comprising the Booderee National Park was then leased back to the Director of National Parks. The lease provides for the Park to be jointly managed between the Director and representatives of the Wreck Bay Community. As well as the Aboriginal population, the territory is also home to an Australian naval base. In fact, the territory was originally set up to serve as a sea port for Australia's capital city, Canberra, which is landlocked. There were ambitious plans for a huge metropolis being built here with nuclear power plants and the like, but like many plans for the development of Australia, those plans came to nought.
The Jervis Bay territory might boast an exceptional seascape occasionally cut by naval ships on patrol and leaping dolphins, but to my mind, the cultural experience of visiting Aboriginal land is what makes this place a winner. As this website has reported: "The extensive Koori knowledge of natural resources around the Jervis Bay area continues to expand. Wreck Bay people use the bush as a natural classroom for younger people. The bush is also for collecting foods and medicines, learning stories and interpreting indicators of seasonal and climatic change.
"The opportunities for visitor education about local Koori culture are among Booderee's most important assets. The Wreck Bay Aboriginal Community has vast experience in cultural interpretation. Booderee Botanic Gardens are the only Aboriginal-owned Botanic Gardens in Australia. The Botanic Gardens are becoming known as a centre for interpreting plant uses by local Aboriginal people.
"Much of the existing natural environment in Australia is a result of Aboriginal land management over tens of thousands of years. From archaeological sites, including middens and axe- grinding grooves, and oral history, we can learn about traditional land use."
t r i b a l + v o i c e
BOODEREE NATIONAL PARK and the aforementioned BOTANNIC GARDENS could easily occupy a few of your days with all of their assets and attractions. The National Park includes Green Patch Beach (which I believed I visited on a school excursion from Kiama Primary School in 1984 or thereabouts; no wait a minute, was that the place where all the Year 10 girls were busted GETTING IT ON with the naval dudes during the Kiama High School camp of 1988? I wasn't there at the time anyway, I was up at the other camp at Bundanoon, with my buddies Heath Jones and Andrew Thompson and the like, hunting for funnel web spiders in the dark, looking at glow worms, etc!)... yeah, like I said Green Patch Beach, and other notable beauty spots such as Hole in the Wall, Bristol Point and Scottish Rocks.
Also available are a Visitors Centre, many bushwalking trails, boat ramps, picnic and barbeque equipment and camping areas.
A ruined lighthouse on the southern side of Jervis Bay is also well worth exploring, according to reports I have read online.
As WalkAbout reported on their website: "It is a comment on the continuity of Aboriginal settlement that one community still lives in a protected area near Wreck Bay on the southern peninsula and the Jerringa people still live in an unprotected area on the northern peninsula.
"The archaeological evidence indicates that the original inhabitants moved regularly from place to place within the area. They tended to camp in the open on headlands or along the beaches, though sometimes in more secluded rock shelters.
"A few eucalypt trees in the area still bear ancient scars from those occasions when bark was stripped for shelters and canoes. Their diet consisted of shellfish, fish from the estuaries and small marsupials, penguins and mutton birds from excursions to Bowen Island. Tools for cutting, chopping, scraping, sewing and killing were made of Captain Cook sighted the Bay in April 1770 while sailing north along the coast. In his diary he wrote of a 'point of land which I had discovered on St George's Day, and which therefore I called Cape George' [Cape St George].
"While in the vicinity Cook noted 'smoke in several places near the beach'. Arriving at the Bay he recorded that it 'promised shelter from the north east winds, but as the wind was with us, it was not in my power to look into it without beating up, which would have cost me more time than I was willing to spare'. He named the northern point of the bay 'Long Nose', the whole resembling a face in profile.
"The bay became 'Jervis Bay' in August 1791 when Lieutenant Richard Bowen, named it Port Jervis after naval officer and, later, admiral of the British fleet, Sir John Jervis under whom Bowen had served.
"Whalers from Twofold Bay began to frequent Jervis Bay in the 1790s using it for anchorage. In 1801 naturalist and explorer George Caley arrived aboard Lieutenant James Grant's Lady Nelson and between them they made favorable reports of the flora, fauna and safety of the harbour..."
For a complete guide to the history of Jervis Bay, include the ambitious plans to create a great new city there, visit the aforementioned WalkAbout site.
The White-bellied Sea Eagle is one of the many birds you can see around the park. This large white and grey eagle is the guardian of the Aboriginal people of Wreck Bay, and is represented in the park logo.
---
---
JERVIS BAY ACCOMMODATION
---
The Beach Penthouse Jervis Bay
: Phone: 0412 720017. Homepage: Click
here
.
THE BEACH PENTHOUSE JERVIS BAY is a stunning new 3 bedroom penthouse, Beachfront reserve to Sharknet Beach Jervis Bay with stunning views of Jervis Bay, centrally located, walk to shops and restaurants. 3 queen rooms, main has ensuite. 2 bathrooms, Spa Bath Gourmet kitchen, Ducted airconditioning, 2 outdoor entertaining areas, Gas BBQfs, TV, DVD, Cd sound system. Laundry, w/machine, Dryer etc and Secure under cover Parking. All linen included, Breakfast basket on arrival. Max 6 adults, For bookings phone Kerrie on 0412720017, Full details on our web site. A Jervis Bay Beach Holidays Online Premium Selection.
Callala Beach View Apartments: 62 Emmett St, Callala Beach, Jervis Bay. Phone: 02 9620 1251.
Dolphin Sands: Tomerong St, Huskisson. Phone: 02 4441 5511. Email: info@dolphinsands.com. Homepage: Click .
This is the promotional blurb from the website: "Dolphin Sands is a tranquil retreat for couples, only minutes away from the White sands, JERVIS BAY at Huskisson. Huskisson is the Gateway to Jervis Bay where you can enjoy a Spa Getaway Package, with a Massage at Dolphin Sands. Restaurants, Bay and Beaches are only 3 minutes walk.

"Your hosts: Wayne and Beatrice Whitten have designed your luxury accommodations creating an intimate and relaxing atmosphere, while maintaining guest and room privacy.

"Each room has all the features expected of a luxury retreat; mini-fridge, television, queen size bed, bath robes, tea and coffee facilities and your own private lounge area. A twin room and 2 spa rooms are also available.

"Enjoy a healthy hearty breakfast with many fine home made breads, poached fruits plus the hot breakfast of the day. "

Dolphin Shores Motor Inn: 53 Beach St, Vincentia. Phone: 02 4441 6895. Homepage: Click here.
As their homepage reads: "Dolphin Shores Motor Inn is the only four star rated motel in the district. We are just a short stroll from the whitest sands in the world on Jervis Bay's Collingwood Beach and a few minutes walk from restaurants, and the local Vincentia shops."

Jervis Bay Backpackers: 16 Elizabeth Drive, Vincentia. Phone: 02 4441 6880. Homepage: Click here.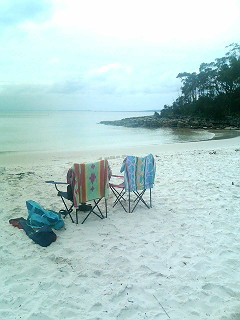 According to the website: "Jervis Bay Backpackers is centrally located to Huskisson and Vincentia (Jervis Bay) and only 50 metres to the white sandy beaches and crystal clear waters of Jervis Bay.

"Jervis Bay is only 2 1/2 hours South of Sydney, 3 hours East of Canberra and one of only a couple of marine parks in New South Wales boasting some of the whitest sands and clearest waters in the world.

"Jervis Bay is surrounded by vast areas of national parks, state forests and wilderness areas providing habitat for a variety of abundant wildlife on land, in the water and in the air.

"Jervis Bay Backpackers caters to independent travellers, groups and families alike who want to experience some of Australia's most beautiful coastline and best kept secrets. With many years experience in the Jervis Bay area we have the knowledge to make the most of your stay whether you are staying for a weekend or a week. Jervis Bay is one of the most visited regions in Australia by Australians yet is still relatively unknown to international travellers so why not make the most of your time and spend a day in Jervis Bay.

"Jervis Bay Backpackers has a range of accommodation to suit your needs starting at $25pp/pn. Although we are only a small place we can offer a combination of shared dorms, double rooms and family cabins depending on you needs. Simple clean and comfortable accommodation is what we are known for and what we are proud to offer. With an easy walk to pristine beaches, national parks, shops, cafes and tour operators the bus stops at our front door by request which makes getting to us easy. We highly recommending advanced bookings as we have limited beds available and there is minimal budget accommodation in the area (we are the only accommodation dedicated to backpackers)."

Jervis Bay Getaways: 81 The Wool Rd, Worrowing Heights, Jervis Bay. Phone: 02 4443 8912.

Kullindi Holiday Apartments: Ellmoos Rd, Jervis Bay. Phone: 02 4441 2897.

OzStays Jervis Bay: Homepage: Click here.
This site offers a huge selection of holiday accommodation in Jervis Bay listed by owners. For example, you can find a fully self-contained and self-sufficient beach shack in Vincentia, across the road from the beach, for $121 to $300 a night. Another property listed is Abalone Cottage ($107-$250 nightly). The blurb reads: "Cute beachside cottage accommodating 8 people. Fully self contained with 3 bedrooms, spacious living areas and outside games room. Garage and secure yard for boat parking. Beach views from front."
---
---