HOTEL TOKYO - best hotel in tokyo
SO YOU ARE LOOKING FOR THE BEST HOTEL FOR YOUR STAY IN TOKYO -- THE BEST HOTEL, OR THE CHEAPEST, OR THE KINKIEST (I AM ALLUDING TO THE JAPANESE LOVE HOTEL FETISHISTS HERE!) The good news, Tokyo is positively crowded with some of the best hotels in the world -- in fact, it is almost worth visiting Japan just to stay in them. Where else in the world can you buy cans of cold beer from a vending machine located in the corridor outside your door? (If you are so inclined, you can also purchase for about 1000 Yen cards giving you a night's access to the hotel's
X-rated movie network
.) Where else in the world can you sing
karaoke
in your room, or be treated to a light show in the bathroom? (I experienced both of these pleasures in a Shinjuku love hotel in 2005.) Where else in the world could you sleep in a capsule hotel? And while it is true that in the
Bubble Days
(1980s) it used to cost a proverbial
arm & a leg
to sleep in Tokyo, these days the prices have come way down. In my opinion accommodation in Tokyo is of much better quality and value than accommodation in other global cities like Hong Kong and London, and certainly Sydney. At least you will have a shower that works (which is not guaranteed in London), or you won't get hounded by the thought police over your drinking habits (which could very well happen in Sydney!) Prices will never compare to those in Bangkok, but there are a lot of cheap deals around, especially when there is a disaster on!
a s a k u s a + h o t e l s
IN OCTOBER 2008 I HAD MY FIRST EVER PANIC ATTACK AND PARTLY TO GET AWAY FROM IT AND THE DREAD IT HAD INSTILLED, I DROPPED IN AT THE INN RUN BY MY SHITAMACHI MATE KENICHI ANAZAWA, DOWN NEAR ASAKUSA. The place is called the Tokyo Ryokan by the way, and apart from seeking some respite from my panic attacks, I was there to pick up Ken's old laptop which he was kindly giving away, to add to my collection. Nonetheless my panic attacks conspired to follow me all the way to Ken's humble inn near Asakusa, and were literally howling at the door, as I tried to enjoy myself inside. I had bought a Turkish kebab off Kokusai Dori up the road, and devoured it sitting seiza style on the immaculate wooden floors of the Tokyo Ryokan. Ken was showing me the practical details of his laptop when in walked this Japanese looking, American sounding lass who turned out to be a researcher and writer from Lonely Planet! Her name was Wendy Yanagihara, and she said she had a written or co-written a number of Lonely Planet guides, including the Lonely Planet Encounter Tokyo. She was there to interview Kenichi about his ryokan and get the details and see if it was fit to make the grade for the new upcoming Tokyo guidebook. It was kind of just like when I met the famous in Japan American born celebrity Sein Kamiyu at the pools in August (2008) -- a case of being in the right place at the right time. I would have loved to tell Wendy that my bookcase is lined with Lonely Planet tomes, and that the series has played such a major role in my life, and driven me around the globe in search of adventures. In fact, the reason I called my website Crowded World, was an attempt to create an antitode or alternative to Lonely Planet -- with the emphasis on quantity rather than quality. In retrospect it will seem that today was an historic meeting -- the moment when Crowded World met Lonely Planet, on the polished floors of Tokyo Ryokan. Wendy was sizing up the place to see if it had the quality to make her guide. I was there, souldriven, to acquire another life experience. I should have been in a talkative mood, but something I had eaten, perhaps the spicy sauce from my kebab, was sparking another panic attack. I had enough trouble just keeping myself composed, to worry about forging some kind of connection with her. Although people of her calibre you don't meet every day. But nonetheless, Lonely Planet is the antithesis of my own project -- while Wendy has been out vetting, I have been out cultivating, gathering the information to share with the world. Every hotel gets a listing on my guide! Every story has its relevance! Every person has a voice, and that voice will persist, until the end of time. I should have told Wendy I have my own Asakusa hotel guide which is happening right here. But she was probably too busy compiling her own.
I don't know whether Tokyo Ryokan is in the new Lonely Planet Guide to the city, because there is a lot of competition and plenty of classic hotels in this part of town. Wendy talked about some of those she had visited, such as the Khao San Hotel up near the river, near the Asahi monument. I am sure she said she had visited the Asakusa View Hotel, one of the local landmarks, which towers over the old streets of Kappabashi, and is built on the site of an old playhouse or theatre or some such thing: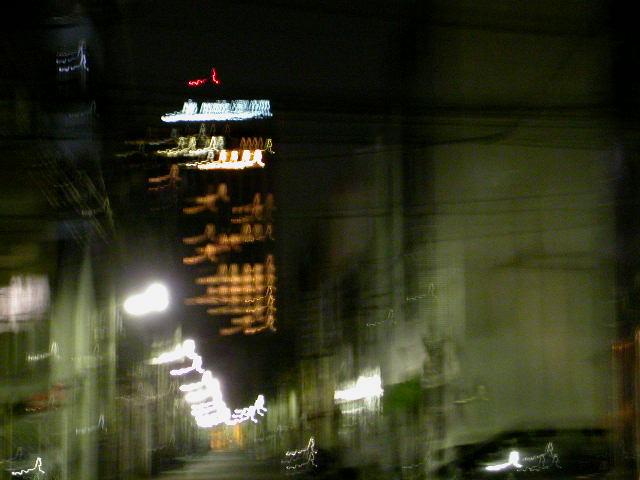 b u d g e t + h o t e l s
THE NEW HEART OF BUDGET AND BACKPACKER ACCOMMODATION IS WITHOUT DOUBT TAITO WARD IN THE NORTH OF THE CITY. Asakusa has always been a magnet for budget travellers with its many cheap ryokan and numerous old world attractions, such as temples and noodle shops and souvenir markets and the like. In recent years a string of cheap guesthouses and hostels have extended from Asakusa into the somewhat downtrodden suburbs further north -- Minowa, Kiyokawa, Minami Senju, Kita Senju and especially the suburb formerly known as Sanya (now called Nihonzutsumi). As well as being the new budget hotel heart of Tokyo, it also has the city's highest concentration of homeless old men. If you want to see the flipside of the Japanese economic miracle, and the ruin the recession of the 1990s caused to the Japanese constuction sector workforce, the streets of Minowa or Nihonzutsumi are a good place (Ueno Park is another.) It might be depressing, but it is a cheap place of town to stay -- and there are good transportation connections, only 25 minutes to Roppongi by train. And there are some local attractions of interest to tourists, including frequent festivals and traditional shops and markets.
For a complete guide to the budget hotels of north Tokyo, click here.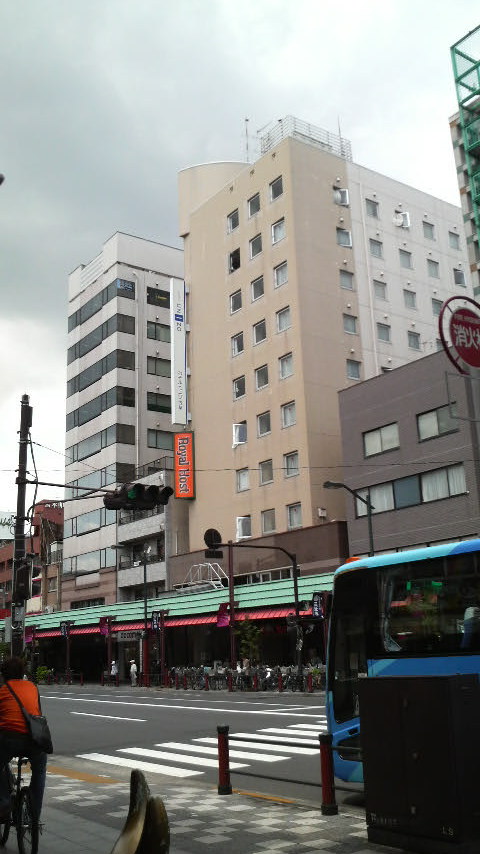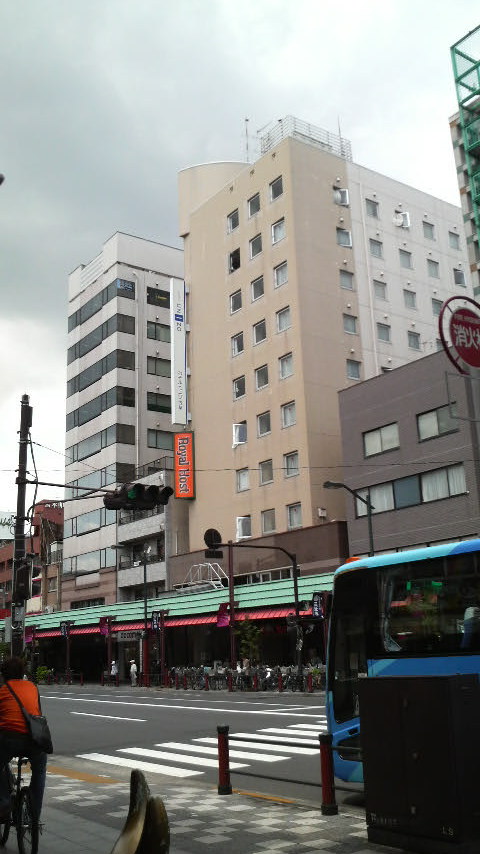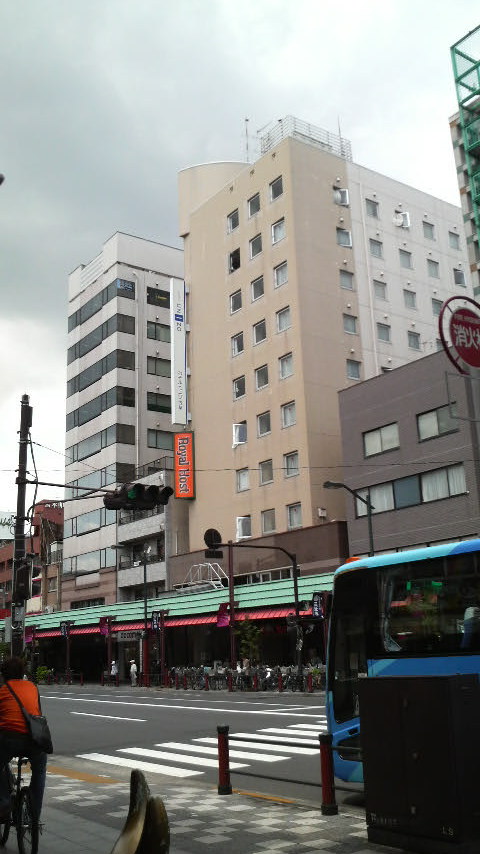 b u s i n e s s + h o t e l s
TOYOKO INN IS ONE OF THE STAPLES OF THE JAPANESE BUSINES HOTEL WORLD. That said, there are great Chinese restaurants all over Tokyo -- here is a selection of what is on offer:
Autres hôtels dans le même style (petits hôtels bon marchés): Dans le quartier de Koutou-ku / Morishita : Voir Carte : http://www.jah.ne.jp/%7Eotomari/koutou/koutou.html Family Hotel Fukagawa 3-18-6 Morishita Koutou-ku Tel : 03-3631-7290 Fax : 03-3631-7260 Prix (single) : 4'000-5'200
Business Hotel K-Inn 3-9-3 Morishita Koutou-ku Tel : 03-3633-3773 Fax : 03-3633-372 Business Hotel New Fukuya 3-7-6 Morishita Koutou-ku Tel : 03-3632-7411 Fax : 03-3633-8795 Prix (single) : from 5'300
Business Hotel Ryokan Myogaya 3-8-8 Morishita Koutou-ku Tel : 03-3631-4194 Fax : 03-3631-4195 Prix (single) : from 6'000 (with breakfast and dinner)
Azuma Business Hotel 3-5-22 Morishita Koutou-ku Tel : 03-3631-7266 Fax : 03-3631-7375 Prix (single) : 6'200 (double) : 10'000
Business Hotel Saitamaya 3-5-24 Morishita Koutou-ku Tel : 03-3632-3335 Fax : 03-3632-3356 Prix (single) : 4'500-9'800
Hotel Sun Morishita 3-6-2 Morishita Koutou-ku Tel : 03-3631-4311 Fax : 03-3631-4454 Prix (single) : 6'000-12'000
Business Hotel Tokiwa 3-7-2 Morishita Koutou-ku Tel : 03-3634-8365 Fax : 03-3634-8587 Prix (single) : 5'500-7'000 (double) : 10'000 Page web : www5.ocn.ne.jp/~tokiwajs
Business Hotel Yano 3-7-7 Morishita Koutou-ku Tel : 03-3632-2303 Fax : 03-3635-1298 Prix (single) : 3'800-5'300 (double) : 9'600
Business Hotel Miyakawa 3-20-3 Morishita Koutou-ku Tel : 03-3632-4755 Fax : 03-3632-4785 Prix (single) : 4'300-5'800
Business Hotel ISK 3-19-3 Morishita Koutou-ku Tel : 03-3631-6885 Fax : 03-3631-6881 Prix (single) : 6'000-6'500 (double) : 10'500
Urban Hotel Morishita 3-20-15 Morishita Koutou-ku Tel : 03-3846-3555 Fax : 03-3846-3440 Prix (single) : 6'000-6'500 (double) : 10'500
ANA Hotel: 東京都港区12−33−1.
(12-33-1 Akasaka, Minato Ward, Tokyo.) Phone: 03-3505-1111. Web: http://www.anahotels.com.
The granddaddy of them all -- perhaps the most famous and sought after business hotel in Tokyo, located near the foreigners favorite part of Tokyo -- Roppongi. As one Trip Advisor member from Hong Kong wrote of his experience at the hotel: "I just had a family holiday in Tokyo and we stayed at the ANA Hotel Tokyo for 6 nights. It is located next to the US Embassy in Akasaka in the ARK Hall office complex. The hotel is simply excellent in all regards. The lobyy and the rooms are tastefully decorated. The service is courteous with superb attention to detail. The breakfast is very adequate.
"The bathroom is tiny and basic but cleanly maintained (and slightly larger than most Tokyo hotels already). They charge hotel guests Y1000 to use the pool and that made my daugther very upset but she was soon pleased when the hotel gave her a ANA children's toy package as a gift (those they give away on ANA planes).
"The hotel is about 15seconds walk from Exit 13 of the Tameike Sanno subway station,which is around 200m from the station itself. Sadly the station only serves the Ginza line and to go to major shopping places like Shinjuku, Ikebukuro or Ginza, you need to change to the Marunouchi line at Akasaka Mitsuke, which is convenient. Taxi from Tokyo station and Shinjuku costs Y1300 and Y2100 respectively. Roppongi Hills is just up the road but there is no convenient public transport to get there from ANA (except taxis). To walk from Roppongi Hills to ANA Hotel is easier as it is a 15 minute downhill walk.
"Overall, I strongly recommend ANA Hotel for business visitors to Tokyo. The attention to detail is impressive. I have stayed in 9 other Tokyo hotels and this is amongst the best. However, for family on holidays with a focus on shopping and visiting places like Disneysea etc, the location in a business / office area is not always so convenient, especially if you don't like to walk long distances. There is simply neither shopping nor family orientated restaurants around this hotel.
"Finally, I also would recommend flying ANA to Tokyo. It is as good as Cathay Pacific, which must be one of the best airlines in Asia."
Washington Hotel: 佐久間町1−8−3.
(1-8-3 Sakumacho.)
Phone: 03/3255 3311. Fax: 03/3255 7343. Web: www.wh-rsv.com/english/. Map: www.wh-rsv.com/english/akihabara/index.html#access.
Check In: 2pm. Check Out: 10am.
Two minutes walk from Akihabara Station on the JR Lines and Eidan Hibiya subway line. Just across the road you will find the Tsukuba Express line, which can take you north out of the city.
Credit Cards accepted: Amex, Visa, Master, Diners.
Regular Rates: Singles from 11,550 Yen, Twins from 18,690 Yen, and Doubles from 17,850 yen. Breakfast is an extra 1,300 yen per person with tax.
This is a huge restaurant located in the heart of Akihabara, and is perfect for those whose idea of a holiday in Japan, is hunting through software shops and used manga malls. Conditions in this hotel, are just as hightech as those outside, on the neon streets. All guest rooms are furnished with a work desk, TV, high-speed intrnet access, telephone, refrigerator, air conditioning, hairdryer, bath, shower and toilet. Inside the hotel are two restaurants: Ginza (open weekdays only), a traditional Japanese number offering live seafood, tempura and kaiseki (Japan's answer to haute cuisine). The other place is Cafe Restaurant Bonjour, "a bright yet relaxing atmosphere in a fashionable cafe terrace style. Serves tea, coffee, cakes, refreshments and other light meals" according to the hotel website.
Someone who stayed at the Washington commented: "The room was microscopic, and the bathroom was even smaller, but the Hotel was super clean and in the middle of Akibahara, the mecca of Japan's nerd culture..."
On the other hand, a New Zealand guest of the hotel remarked: "Liked - great location, easy access to the trains and subway. (1 minute walk) Only one change to get to the airport. Close to the Ueno area for eating, markets and color. Easy access to Ginza. Clean rooms, competent and helpful service. Rooms a reasonable size - for Tokyo.
b u d g e t + h o t e l s
THE NEW HEART OF BUDGET AND BACKPACKER ACCOMMODATION IS WITHOUT DOUBT TAITO WARD IN THE NORTH OF THE CITY.
c a p s u l e & h o t e l s
THERE ARE A NUMBER OF HOTELS IN TOKYO WHICH DESERVE CLASSIC STATUS -- THE OKURA HOTEL NEXT TO THE AMERICAN EMBASSY IN TORANOMON IS ONE OF THEM. ... is another one. As Henry from San Frisco pointed out on some Yahoo board once: "The Okura is one of the classic Japanese hotels in Tokyo. The level and quality of service is very high. The rooms are nicely appointed (a bit on the small side compared to the US; but normal for Japan.) The decor of the hotel reminds me of 1960's-era modern. Some might find it a bit dated but I could just imagine Dean Martin standing there in his smoking jacket sipping a martini. The hotel is across the street from the US Embassy and is 10 minutes walk from the nearest subway station."
As Rotten Tomatoes hath reported: "Greetings from Kayabacho (Tokyo). This time, unlike previous times, I brought along my computer since the hotel has free high-speed cable (nifty, eh?).
"Today I went to Shinjuku and Harajuku. I put the "Do Not Disturb" sign on the door so I could sleep in (if you'd call 9am, "sleeping in") as they make up the rooms at 9am. Gargh!
"But that's the one (slightly annoying) thing about the hotel. Other than the free high-speed cable, it's also close to the subway station, post office, Starbucks, and the Tokyo City Air Terminal (for buses to and from Narita), which I'll no doubt be using in a month's time when it's time to go home.
"So! I arrived in Shinjuku around 11am, and started off looking in Odakyu and Keio department stores. Then I had lunch at Excelsior Cafe, down the road from the station, which has kick arse food (I had a roast chicken and tomato pita-thing). Then to Takashimaya Times Square, which is huge, with 12 levels, and then to the crepe shop near My Lord for a Strawberry Milk Ice crepe . . . just like last time! To the booth stores again (just like last time, too . . . what can I say, I'm nostalgic) where I discovered there's a new Chibigyarari line, so I bought some folders, pencils, stickers and paper. Yay!
"After this, it was off to nearby Harajuku, for a 3pm visit to Meiji Jingu. I visited Meiji Jingu back in April 2004 on my first trip to Tokyo, but I was still getting the hang of my digital camera at the time so my photos were rather ordinary (or, specifically, they were horribly over-exposed). I love the park (Yoyogi) surrounding Meiji Jingu. It's huge, with wide paths with crunchy gravel (yes, mentioning the crunchy gravel is important), and old, old trees. It's amazing that it's in the middle of Tokyo, but you can really just walk through there and forget you're in Tokyo. It wasn't too crowded today, which was great, so I took my time strolling around and taking photos.
"So I kept walking, and noticed a sign above The Harvester proclaiming that there was roast chicken to be had inside. Roast chicken?! Yay! So I had a roast chicken pita thingy (different than the one at Excelsior) and potato wedges. They played country music in there, I was waiting for a Garth-Brooks-wannabe to turn up and start boot-scooting any second, but it didn't happen (funny, that). Instead, I sat there imagining I was in some bar in the Southern US (where the real boot-scooting happens . . . I think . . . ). The illusion was working until the Japanese waitress came over asking if I wanted a drink refill.
"Tomorrow, I'm hoping the weather is OK, as I want to go to Tama Zoological Gardens, which is about an hour outside of Tokyo. Pray to the Weather Gods! "
SOME OF THE PLACES TO DINE ON GRILLED EEL MEAT IN TOKYO:
Eel Restaurant Koyanagi: 1-29-11 Asakusa, Taito Ward. Phone: 03/3843 2861.
Natural eels from Yaizu Yoshida are cooked in this restaurant. So, you can enjoy narural tastes of eels if you aoder eel lunch Unaju. Its plain and a little sweet sauce is very good. The reasonable prices are also good.
c l a s s i c + h o t e l s
FOR THOSE WHO BELIEVE THAT FINE ACCOMMODATION SHOULD COST YOU AN ARM AND A LEG -- a selection of Tokyo's more expensive hotels.
Four Seasons Hotel Tokyo: Chinzan-so - Web: http://www.fourseasons.com/tokyo/
Western-style hotel in Sekiguchi 2-chome, Bunkyo-ku. Features include fitness facilities, pool, sauna, and spa services. Online booking available.
Tokyo Dome Hotel
: 亰区.
(Bunkyou Ward.) Web: http://www.tokyodome-hotels.co.jp/e.
This hotel comprises a tall tower built next to the famous Tokyo Dome, in Koraku, Bunkyo Ward, where Pope Francis delivered a papal mass in 2019. On site amenities include numerous restaurants and lounges, business center, child care room, florist, and beauty salon. There is an amusement park nearby with waterslides and the like. My cousin Wayne stayed at this hotel in 2007 just after
my release from lockup
, escorting one of his boxers to a tournament at the Budoukan...
Hotel Okura Tokyo Bay
: Web: http://tokyobay.okura.com/.
Located in the Tokyo Disney Resort. Offers 427 rooms and suites including Moderate, Superior, Deluxe, and Japanese-style rooms as well as a choice of suites comprising Japanese, Junior, Senior, Executive, and Royal Suites. Hotel Okura Tokyo - http://tokyo.okura.com/ Five-star hotel, located in the heart of Tokyo, close to Tokyo's main business districts and the excitement of the Kasumigaseki, Roppongi, Ginza, and Akasaka areas. Grand Pacific Le Daiba - http://www.grandpacific.jp/eng/ Large high-end Western-style hotel overlooking Tokyo Bay on the island of Odaiba. Fitness center, swimming pool, business center, restaurant, and salon on site. Palace Hotel Tokyo - http://www.palacehotel.co.jp/english/ Hotel overlooking the moats and grounds of the Imperial Palace, in Tokyo's central business district of Marunouchi. The New Sanno Hotel - http://www.thenewsanno.com/ American-style hotel, located near Hiro-o. Restricted to US military personnel or officials. Hotel Grand Palace - http://www.grandpalace.co.jp/ Business accommodations located next to the Kudanshita subway station. Rate card, room photos, dining details, floor guide and online specials presented in Japanese and English. menu boasts grilled
nasu
(eggplant) anhat looks suspiciously like a duck's egg. Who says the Japanese weren't adventurous eaters? There are also plenty of
onigiri
rice balls, some of them of tremendous proportions. Scary! Naturally, a full spread of Japanese rice wine and beers accompany this oldstyle
himono
feast!
l o v e + h o t e l s
LOVE HOTELS ARE ONE OF IN AN AMERICANIZED AND JAPANOFIED RANGE OF FLAVORS -- but nonetheless, there is plenty of Mexican food to be found in Tokyo. It doesn't quite match the Mexican food that is available in Mumbai or Kuala Lumpur, however. But it sure beats the Mexican selection in Sydney or Reykjavik. Some suggestions:
El Torita: Odakyu Southern Tower 1st Floor, Shibuya. Phone: 03/5351 7074.
Some of the other addresses for this chain in Tokyo: Tokyo, Japan 5-1-3 Minami-Aoyama Aoyama La Mia Building 3rd Floor Phone: 03-5466-7917 Tokyo, Japan 2-6-14 Izumi Eifuku-Cho Phone: 03-5376-7611 Tokyo, Japan 6-10-15 Nishi Kasai Nishi Kasai Phone: 03-5696-7488 Shinjuku, Tokyo, Japan 2-2-1 Yoyogi Shibuya-Ku Odakyu Southern Tower 1st Floor Phone: 03-5351-7074 Nishi-Ku Yokohama-Shi, Japan 2-29-1 Takashima Mishi-Ku Yokohama Sky Building 28th floor Phone: 03-5696-7488 Tsukuba-Shi, Japan 2-16-4 Amakubo Tsukuba Gakuen Phone: 02-9850-2012 Shibuya, Tokyo, Japan Hai Manten Jinnan Bldg. 1B 1-19-3 Jinnan Shibuya-Ku Phone: 03-5459-6681 .
p a n - a s i a n + c u i s i n e
TOKYO HAS PLENTY OF PLACES WHICH PRESENT A MIXED ASIAN SPREAD FROM A VARIETY OF ASIAN COUNTRIES -- I guess you could call this Pan Asian Cuisine. Pan as in representing the whole of Asia, not in that it is cooked in a pan -- he! he! he! Jokes aside, Tokyo is teeming with Asian themed restaurants and eateries, and while purists might scoff, these places are actually great spaces to chill out and take a culinary journey across the largest continent on Earth.
Dong Khoi: Eitaidori, Shinkawa 1-chome.
On first impression this looks like a Vietnamese restaurant, what was with the Vietnamese sounding name and all (all Viets out there: sorry I couldn't do the correct accents over the letters -- my computer does not read or write Vietnamese script!) However, Dong Khoi is actually a panAsian restaurant serving food from such farflung cuisines as Nepal, Malaysia and China. Talk about it mixing it up on the Asian tip! The restaurant is just down the road from the green sail shape of the Coredo Department Store, near the Sumida River.
r a m e n + c u i s i n e -- ラーメン
NOT FOR THE WEIGHT CONSCIOUS, BUT DELICIOUS AND ESPECIALLY SATISFYING ON A COLD DRY DAY IN THE MIDDLE OF WINTER -- ramen noodles are on sale all over Tokyo.
くろふね: 江東区平野1丁目8−2. TEL: 03-3643-0838.
This means "Black Ships" in English, and the restaurant chain takes its name from the famous (or infamous) Black Ships which Commodore Perry sailed into Yokohama in the 19th Century, demanding that Japan open itself to world trade. What connection can be drawn between Commodore Perry and Chinese style ramen noodles remains to be seen -- but this seems to a popular place to dine and relax. The Kiyosumi-Shirakawa resturaunt is located right opposite the south end of Kiyosumi Garden, on Kiyosumi-Dori. Look for all the bright primary colored flag/signs fluttering on the street outside.
TVチャンピオンちゃぶ屋プロデュースの店。フランチャイズが増えている 醤油麺600/味噌麺650/つけ麺750 等.
九州筑豊らーめん 山小屋: 江東区白河1-6-1. TEL: 03-5646-5377.
九州を中心とするチェーンの東京進出一号店。しっかりとした豚骨スープ。
s e l f + c a t e r i n g
TOKYO HAS MANY CONVENIENCE STORES AND SUPERMARKETS WHERE YOU CAN FIND ALL THE STARS OF JAPANESE CUISINE -- TRAYS OF SUSHI, BOWLS OF UDON AND SOBA, CUPS OF INSTANT RAMEN. Brutal competition keeps the range of goods available very wide, the quality of the food remarkably high, and the prices comparatively cheap. Here are some of the many opportunities you have for self-catering while in Tokyo:
Food Market Precce: Basement food court, Coredo Department Store, near Nihombashi subway station, Nihombashi 1-4-1, Chuo Ward.
(Inside the green sail-like Meryll Linch tower).
As I have said before Tokyo is notorious for its high prices,so if you are feeling the pinch during your visit,why not pick up a meal at one of the thousands and thousands of convenience stores that operate in the city? You could eat every day at some convenience stores and never get bored of the menu. One place I like is the basement supermarket at the Coredo Department Store at Nihombashi. Called the Food Market Precce,it has plenty of prepared meals with a gourmet touch. The last time I dropped in (May 3 2006) I enjoyed this salmon and pasta salad with Perrier,for just over 600 Yen.
Yukari Pratt (better known on the Web as Travel Lady), is similarly impressed with the basement food court at Coredo. On her guide to Tokyo bakeries, Travel Lady wrote: "At Maison Kayser you will find what the French say is the perfect croissant, as well as other classic French breads. They have a café in the basement of Coredo Nihonbashi and a number of department stores."
s o b a + c u i s i n e
SOBA IS ONE OF THE ORIGINAL CUISINES OF JAPAN, AND SHOULD BE EATEN BY EVERY FOREIGN VISITOR AT LEAST ONCE IN HIS OR HER SOJOURN THROUGH JAPAN. In short, soba noodles are native Japanese noodles made of buckwheat flour (soba ko) and wheat flour (komugi ko). They are roughly as thick as spaghetti, and prepared in various hot and cold dishes. The most basic soba dish is zaru soba in which boiled, cold soba noodles are eaten with a soya based dipping sauce (tsuyu). This is great for a hot summer's day in Tokyo, and you can buy this basic zaru soba dish from any convenience store for like 200 or 300 Yen, if you are short of cash. The standard form of soba is called kake soba, basically "soba in broth". Kake soba consists of cooked soba noodles in a bowl of hot broth made of dashi (stock), mirin, and shoyu (Japanese soy sauce) and topped with sliced negi (Welsh onions). These are two of the most basic kinds of soba, but there is much more to soba than this. In this evolving Tokyo City Dining Guide, I want to introduce you to the wonder of soba, and detail some of the many soba restaurants which adorn this vast metropolis. Unlike a lot of other great foods, you will never get fat from eating soba... in fact, it kind of makes you sort of lose weight, if that is possible? You will also never run out of great soba restaurants in which to eat, no matter how long you stay here. Here is a small selection of some of the places I have chanced upon so far, or at least chanced by:
上野藪そば: 台東区上野6-9-16.
(Yakusoba Restaurant on Ueno-Okachimachi Chuo Street, near Ueno Station; formal address: 6-9-16 Ueno, Taito Ward.)
Phone: 03/3831 4728. Fax: 03/3835 0082. Map: map here.
It's funny how when you are in the flow,seemingly random events in life conspire to create an experience so thematic, it could have only been Divinely Designed. Sometimes the "themes" which pop up in a day are so tangible and contrived, I could almost hang the day on a single word. And they say we live in a random, arbitrary universe! Today is April 28 2006, and the word for today is "soba". I wasn't planning it that way, but that is the way it worked out, and in the process I broadened my understanding of the Tokyo soba scene. I also got a free lunch which is always a good thing! (and they say there is no such thing in life as a free lunch!) With my good friend Kuniaki Tasnaka I dined at the great Ueno Yakusoba Restaurant, located near Ueno Station in the teeming Okachimachi markets. Here is how it happened:
The soba dishes range from about 700 to 2000 Yen -- hot or cold dishes are available.
Yakusoba is open from 11.30am to 9pm; closed every Wednesday.
やまとそば: 台東区西浅草2-23-7.
(Nishi Asakusa 2-23-7; near Kokusai Dori, on the main Kappabashi street.)
Phone: 03/3831 4728. Fax: 03/3835 0082. Map: map here.
Yamato is one of the most cliched names of Japanese dining (and manga and anime, as well). This soba restaurant is situated right in the heart of the plastic foods district at Kappabashi, near the great tourist attractions of Asakusa. If looking at all of that plastic food makes you hungry,stop by at Yamato Soba Restaurant where you can get the real thing. Some of the prices you can expect to pay, include 1050 Yen for tempura soba, although it is cheaper for the more basic noodle dishes.
You can see in the photo of the plastic food in the Yamato display window, there is a classic naruto swirl in one of the broths... I have been to the place they name that swirl after, the Great Swirls of Naruto Bridge. Click the link for your introduction to that place, on the beautiful island of Shikoku, Japan.
t e a r o o m + c u i s i n e
SOME TOKYO TEAROOMS:

Umezono: 1-31-12 Asakusa, Taito-ku. Phone: 03/3841 7580.
Opened in the 1st year of Ansei(1854). At first this parlor was opened beside the Umezonoin temple, a branch temple of the Sensoji temple, and was named after this temple. "Kuri Zenzai"(maron sweet 640yen) is known as a special product of this parlor. Both the millet from Okayama and the strained bean jam made of beans from Tokachi and steamed for half a day are specially good taste! They are the secret of the good taste of "Kuri Zenzai". We hear Kafu Nagai liked it.
s l e e p + c a f e s
Aoimarushin
: 1-4-4, Asakusa, Taito-ku. Phone: 03/3841 0110.
According to one
reviewer who knows
: "Fifty years have already passed since this restaurant was opened on the Kaminarimon street in Asakusa. It is in a eight storied building decorated a gigantic relief of lobster nearby "the Kaminarimon" in front of the gate of the Sensoji temple. The secret of the good taste of the dishes in this restaurant lies in the freshness of the material, sesame oil of good quality and the secret juice for
tempura
, which were taught from the founder who was a fresh fish dealer."
t o n k a t s u + c u i s i n e
INVENTED IN THE 1930s, TONKATSU CONSISTS OF A BREADED, DEEP-FRIED PORK CUTLET (KATSU) SERVED WITH SHREDDED CABBAGE AND RICE. I took me a long while to warm up to tonkatsu -- in the beginning it reminded me of the overcooked, over fat saturated food my Mum used to cook back home in Australia. Then I realised the secret to enjoying tonkatsu (and getting through that mountain of shredded cabbage it comes with) -- you have to got to apply the sauces! And pl can be eaten with a brown sauce uncreatively called Tonkatsu Sauce (トンカツソース), the ingredients of which vary from place to place but which usually has a taste similar to Worcestershire sauce or Kansas City-style barbeque sauce. In Nagoya, tonkatsu is eaten with a miso-based sauce. Some people also like to eat their tonkatsu with a spicy yellow mustard or soy sauce. Today I doused my cutlets with garlic sauce and found the results to my liking. In Japan they sell tonkatsu sandwiches in convenience stores and train stations, to varying degrees of culinary success.
At least one would be tonkatsu connoisseur (とんかつの玄人) has complained: "I'm sure some tonkatsu connaisseur (sic) will tell me different but the problem with finding a good tonkatsu place is tonkatsu is pretty much universally similar. Sure there are places that taste better or have a higher quality of meat but at a basic level it's just battered deep fried pork. I'm not putting it down, I like tonkatsu but my point is with ramen, every store has their own soup, their own toppings, etc so it's easier to see some differences.
"Put another way, look through a book of ramen stores and nearly every ramen will look different. Look through a book of tonkatsu stores and i (sic) think most differences would be pretty subtle.
"Other than getting a grissly piece of pork or it being too greasy so far one tonkatsu place has been about the same as every other. (or maybe I just haven't learned to appriciate the differences)
"I guess I'd love to hear about something special. Do they make bacon-avo-chili-tonkatsu :-)
Kimkatsu: Ebisu.
One tonkatsu lover visited this establishment and commented: "Went to Kimkatsu in Ebisu for some of their special brand of Tonkatsu. At Kimkatsu, the slice the pork thinly and layer it before they batter, bread and fry it. Really tasty stuff, and I'm sure it was worth the one hour wait."
昨晩恵比寿のキムカツでトンカツを食べに行った。キムカツのトンカツは豚肉を薄く切って重ねたものをあげる。すごい美味しかったから、1時間まったかいがあったかも。
v e g e t a r i a n + c u i s i n e
VEGETARIAN RESTAURANTS:
Gesshinkyo: Harajuku Jingumae 4-24-12. Phone: 03/3796 6575.
The chef at Gesshinkyo has created his own rusticated version of shojin-ryori (Buddhist vegetarian cuisine), using exotic vegetables and grains from all over Japan. The 12,000-yen set menu (the only choice) has more than a dozen courses, each deceptively simple -- a small block of perfect sesame tofu topped by a crisp snow-pea pod, for example. Like the food, the setting is understated rather than showy: simple, private tatami rooms for two to four people, with hanging scrolls, a small flower arrangement in the corner, and the pleasant hint of incense in the air.
w h a l e + c u i s i n e
Tuesday 08 April 2003 The raw and the cooked (Cetacean) While the world・スs attention has been focused on the Middle East, respected Australian environmental scientist, Dr Tim Flannery, has caused a furor by suggesting that ・スless intelligent whale species are much like sheep and should be sustainably hunted.・ス In a paper about to be published in the Quarterly Essay, Dr Flannery, who is director of the South Australian Museum, accuses some ・スsave the whale・ス campaigners of wooly thinking: What people fail to realise is that the Cetacea (the group to which whales and dolphins belong) is an extraordinarily diverse group of mammals・ス It includes relatively large-brained hunters like dolphins and killer whales (which have the demonstrable intelligence of land-based hunters such as dogs) and tiny-brained filter feeders such as the blue whale. These leviathans are aquatic vacuum-cleaners, whose need for intellectual power is slight indeed.
If these animals are closer in intelligence to the sheep than the dog, is it morally wrong to eat them if they can be harvested sustainably? My view is that at present the anti-whaling lobby is frustrating the attempt to develop a sustainable industry based on these creatures, and is therefore frustrating good management of marine resources.
鯨専門店 / Kujira Sen Mon Ten: 東京都台東区浅草1-27-10 / 1-27-10 Asakusa, Taito Ward. Phone: 03/3841 0952.
This place is in the heart of the covered market near Sensouji Temple, in Asakusa. There is a restaurant and a shop dedicated to the sale of whale meat. On the restaurant menu I saw set meals going for a hefty 8000 yen (nearly US$100). In the shop, meantime, there were rows of marbled whale meat, and some pretty unusual cetacaen products, such as whale meat curry rice. I could hardly afford the 8000 yen set lunch, but I walked out the door with a can of tinned minke whale, which I intended to eat with beer at home. It tasted like whale always seems to taste -- chunky, not so bad, but then again a little bland. I wonder what the fuss is about whales being so delicious and so on? Then again, soon after eating my tinned whale, I felt a tingling in my skin which could indicate some healthy heating of the body or so forth -- but it could have just been from the herbs in the tin.
鯨屋 / Kujira-Ya: near corner of 109 Building and diagonally opposite the Book One bookstore, Shibuya.
This is one of the most well known whale meat joints in Tokyo, and has attracted plenty of foreign visitors looking for that slice of Heaven. Jonathon Delacour wrote: Kujira-ya (The Whale Restaurant) in Tokyo's trendy Shibuya district offers a complete whale-based cuisine including the three dishes I tried: sashimi, steak, and tonkatsu (crumbed and deep-fried)." A visiting BBC journalist was more colorful in his opinions: "All in all, it is a fascinating and delicious experience -- but then I guess animal rights campaigners would say that while whale, veal and pat・ス foie gras may all be tasty, they are also morally unacceptable."
I will leave it up to you whether you consider eating whale morally offensive, or no. But you can be sure of one thing -- given that whale harvesting is controversial and there are limits on the numbers of whale thus harvested, eating whale is always going to be expensive. Especially in Japan. Especially at this restaurant. Enough said.
i n t e r r a c i a l + f e s t i v a l s
Tuesday 08 April 2003 The raw and the cooked (Cetacean) Tokyo Oktoberfest in Hibiya: .
In typical Japanese fashion, this tribute to the great Munich Oktoberfest is held in the wrong month -- September! Nonetheless, it does testify to the growing popularity of German food in Japan. I for one was never interested in German food until I moved to Tokyo. Even the local convenience store (コンビニ) stacks a range of German related ready-to-eat goods, including the much loved "German Potato".
Held inside Hibiya Park and surrounded by Government ministry offices and some of the highest courts of the land, the Oktoberfest does manage to pull off a joyful and suitably boisterous mood, especially once enough amber fluid has been consumed. There is something ridiculous, however, about being forced to wait more than an hour in line to be served a plate of bland sausages and boiled pork, and then charged 1000 yen. The lines for German beer, on popular days, can also stretch past the one-hour mark, which puts a dent in any ambition to get qickly pished. Nonetheless, that is Japan -- overpriced, overcrowded, and overbland. If you are in Tokyo at the end of September and near Hibiya Park, you might as well check out Oktoberfest.
y o u s h o k u + c u i s i n e
YOUSHOKU (洋食) MEANS "WESTERN STYLE MEAL" IN JAPANESE, BUT IN MY OPINION AT LEAST, YOUSHOKU REFERS TO A PARTICULAR SUBSET OF WESTERN SYLE FOOD, PARTICULARLY THE KIND OF WESTERN FOOD WHICH BECAME POPULAR IN JAPAN ABOUT 30 OR 40 YEARS AGO. In areas in the eastern side of Tokyo, especially around Asakusa and the old "downtown" neighbourhoods, you will find plenty of restaurants advertising themselves as youshoku. These are the places where the locals (invariably old, because the neighborhoods themselves are old, emptied of children) have been dining since before the Bubble Transformation of the 1980s, and the faded decors within have plenty of stories to tell. Day after day, regular customers gather to eat the "western" meals which have been served in Japan for so long now, you could actually consider them Japanese. I am talking about those classic foreign favorites Hamburg steak, curry rice (it's been a popular dish since the Meiji Period according to one of my friends), Hayashi rice (I guess this qualifies as a genuine Japanese meal, but it has a foreign "feel"), pork cutlet katsudon sandwhiches, and so on. You could find all this kind of fare in the convenience stores, and it is worth a try. Go to one of the old-style youshoku restaurants somewhere like Kanda or Kichijouji or Asakusa though, especially one of the famous youshoku restaurants (the ones which famous Japanese writers and geishas used to dine at), and you will find this kind of cuisine raised to the ultimate level of finesse. It is funny how the Japanese, while imitating western dishes, can make them taste even better than they are in the West..
Arizona Kitchen: 1-34-2 Asakusa, Taito Ward. Phone: 03/3843 4932.
A western restaurant opened in the 24th year of Showa. I haven't been here and Mr Tanaka has never heard of the place, but it is located in a cool area -- the historic backstreets of Asakusa, not far from the river. According to a Japanese reviewer: "It is known as the restaurant loved by a famous writer Kafu Nagai. We hear he liked stewed beef at the price of 2000 yen. This restaurant is full of cheerful atomosphere (sic) and is popular among the native young people (they mean young Japanese, not American Indians!) One week is spent for making the deminglace sauce of this restaurant!"
On her website Eve wrote: "We arrived at Asakusa station and so our first stop was the Kaminari Mon, or `Thunder Gate` which leads to the Nakamise market and Sensoji temple. Our guide suggested we take a boat along the Sumida River to Hamarikyu gardens, and so our course was set. On the way, however, I noticed, down an alley, a little cafe called Arizona Kitchen, which I happened to know was one of the haunts of Nagai Kafu. I mentioned this and our guide suggested we have lunch there. On the menu was a strange dish of chicken liver, which, it said, Nagai Kafu used to eat when he came here. Since my vegetarianism has already been ruined by daily life in Japan, I only felt a minor sense of regret in ordering this. I suppose it`s silly, but it made me feel a little closer to one of my personal literary deities. On the wall of the cafe were extracts from Kafu`s diary. "January the 24th. Clear skies. Cloudy later. Dinner at Arizona Kitchen." That sort of thing."
Youshokuya: Kototoi Dori (Kototoi St), near Iriya subway station (Hibiya Line), Iriya, Taito Ward.
Saturday,July 22,2006: Tonight I went to a local restaurant called Youshokuya, with my new friend Mrs Sasaki, and her beautiful daughter. The restaurant is on Kototoi Dori near Iriya Station, and is said to be a local institution, with nearly more than 50 years of history. That might not impress the conoisseurs of Paris or London, but Youshokuya does have a kind of genuine old world charm... not that old of course, but older than most places in Tokyo. The wood panelling on the walls is fake, but the food is real article Shouwa Era international Japanese cuisine. Mrs Sasaki and her daughter ordered Hayashi Rice, and as soon as their dishes arrived I felt an instant pang of urayamashii (regret) because it looked so good. My Hamburg steak and fried shrimp also looked good, but that Hayashi Rice looked heavenly. I wish I could have eaten it! Other items in the menu include a steak set for just under 3000 Yen. The restaurant wasn't at all busy when I was there even though it was a Saturday night... but Mrs Sasaki were such enticing company that I didn't seem to notice.
---
Kuala Lumpur Dining Challenge | Mumbai Dining Challenge | Tokyo Dining Guide | Goan Recipes

font size="3">

ONE OF THE FIRST PLACES I VISITED when I came to Japan was Shibuya, a postmodern part of Tokyo packed with sleek, needle-thin buildings adorned with huge TV screens and posters of the latest Japanese pop star, famed department stores, and plenty of second hand recycled clothing outfits. It also has been a place I have returned to periodically throughout my long Japanese adventure, to dine or drink in the area's myriad trendy bars and restaurants. This is by no means a definitive listing, but I wanted to capture here a slice of the dining and drinking possibilities in Shibuya, for those interested in visiting there.

Korean Cuisine
Chimtak (Korean). 5784-6981.
Although they have other items on the menu, the specialty here is a popular Korean dish called Chimtak. It's a chicken stew originally from Angdong Province in Udagawacho 13-16, Kokusai Bldg. 3F. (just down the hill from Parco), Koen-dori (Parco to Kuyakusho). Open 11:30am-3, 5-11:30pm
daily.

Nepali Cuisine
Naulo Bhanchaa (Nepalese). 3477-9901.
This cozy Nepalese joint serves up curries, momo dumplings, and assorted mutton dishes all night long (till 5am anyway). Udagawacho 10-2. (about one minute past Tokyu Hands) Open 11:30am-3, 5pm-5am daily.

Spanish Cuisine
Moph (Cafe). 5456-8244.
A stylish cafe at the base of Parco serving Spanish-style tapas, coffee in the daytime and Spanish wines in the evening. Udagawacho 15-1, Parco Pt. I, 1F, Koen-dori (Parco to Kuyakusho). Open 10am-midnight daily.

Taiwanese Cuisine
Chinese Taiwanese Small Plates Food (Shan low). 03-5468-6555.
A restaurant has two faces. 1st floor has an image of food stall, and basement has atmosphere of secret adults. You can enjoy Taiwanese small plate foods and an authentic Chinese food in both places. Reasonable price menu such as Tantsumen and Taiwanese steamed rice from 300 yen. But we recommend you to try Shan low's Fire Pan food once you visit us. No 6 Yagi bldg 1F and B1, 3-7-6 Shibuya, Shibuya-ku, Tokyo 150-0002 Access 3 min walk from JR Shibuya station, East exit. Lunch 11:30~15:00,  Dinner 17:00~23:30(L.ast order 22:30)

E-Z


telephone: +81 (0) 3 3780 0494
address: 渋谷区神宮前1‐12‐16 和光ビル2F Aフ ロア.
A small, non-descript shop on the second floor of a building on the big road linking Shibuya and Harajuku, E-Z is packed with West Coast, recycled clothes -- basketball shirts and faded jeans, etc. Prices range from 1000 yen up.