» Seafood Christmas in Australia (With a Cooling Japanese Heart!)
» Pop Up Shops, and Art Incubators: A New Way to Utilize Urban Space
» Ayr, from the Air
» Eastwood, Sydney (Little Korean Enclave, Surrounded by the Australian Bush)
» What You Can Learn About Yourself as a Dater (By Looking at the People You Date)
» Malaysians Fail to Get into Harvard for Second Year Running
» JPA Scholarships: A Billion Ringgit Throwaway?
» Oxley Tower, a New Development in Singapore
» Improved Performance in IT/ITES Services Boosts Demand for Residential Properties (in Chennai, India)
» How to Deal with a Bad Date
» Are You Ready (For the Social Business Revolution?)
» Cattle Station Hopping, in Cape York Peninsula, Queensland


---

ARCHIVES
» 2011
» 2010
» 2009
» 2008
» 2007
» 2005
» 2004
» 2003


---

STATES & CITIES
» cairns (qld)
» newcastle (nsw)
» sydney (nsw)


---

CATEGORIES
» dating & relationships
» history
» immigration
» jobs
» language
» landscape
» media & politics
» people
» study in australia
» travel
» visas

---

RECOMMENDED WEBSITES & WEBLOGS
» andev (australians for northern development & economic vision)
» Australian Energy Market Operator
» Australian Unemployed Workers' Union
» BUG Australia (Backpackers Ultimate Guide)
» bailey's sydney tours
» Bushfires Near Me
» Convict Creations
» Creative Spirits
» decoding the new economy
» frances jones (journalist)
» debt deflation
» fiona wood, massage & counselling (queanbeyan)
» nanny state (politics & social activism)
» north coast voices (local, state & federal politics)
» One Flare (Find a Quote Online)
» Pete Evans (Celebrity Chef)
» Rome2Rio (Travel Information)
» whirlpool (internet & technology)


---

SOCIAL MEDIA INFLUENCERS
» Beach Milk (Twitter)



---




---

---

porld.com/chinesemedicine/yars)[0];if(!d.getEleme(s);js.id=id;js.

MY DAD AND I ARRIVED BACK ON THE NSW CENTRAL COAST THIS AFTERNOON, AFTER A LONG JOURNEY BY BUS AND TRAIN, AND IT IS A STRANGE FEELING BEING SURROUNDED BY CIVILISATION AGAIN, AFTER OUR TIME IN THE BUSH. You don't know how big a country is until you travel it by road, or rail (or best of all, on cycle or foot!), and Australia is certainly on the big end of the scale, and very empty; big and very empty, but nonetheless still crowded with life; crowded, in fact, with culture, history and life. We had spent two nights in Moree, up in Kamilaroi country near the Queensland border, where I had attended a job interview at the newspaper there. It was the possibility that I could soon end up living here that gave this trip its particularly intense frission, a curiosity mixed up with a lot of fear, and a certain sense of liberation. I had got to the stage in my hunt for an Australian media job that I had to accept whatever I could find, even this far from the centre, even this far out in the bush. A few years ago, living in Tokyo with its 13 million people, all its Michelin starred restaurants, art galleries, vending machines, convenience stores, amazing fashion, I would have shuddered at the prospect that my life would or could take this change in direction, landing me right back where I as an I began! That kind of future would have seemed utterly incredible, incomprehensible. The NSW bush was where I was born (Condobolin), enjoyed the first fruits of boyhood (Trundle), and later got my degree (Bathurst). As a matter of fact, I had also lived in Moree as a toddler, although I can't remember anything of my life there then. My first memory is of a house fire we suffered in Glen Innes, in the mountains to the east. Now, the Australian outback is a fine place to grow up or study, riding bushbikes through the scrub, looking for birds' eggs, or reading Baudrillard on a genteel lawn, where Andrew Denton used to play his pranks; however, after all my years living in Sydney and then Tokyo, there was no way I could return to a small town life, not in a million years. Not, unless I changed the narrative of my life itself, rewrote the founding myth, the Grand Algorithm that orchestrates my ambitions and dreams... (For the full story on how I rethought and rewrote my Grand Algorithm while on the way to and in Moree, click here.)
Pop Up Shops, and Art Incubators: A New Way to Utilize Urban Space
Cold Air-Con, and Ethnic TV: Back on the Vagabondist Path!

SOMETHING ABOUT A ROOM WITH COLD AIR-CON, AND ETHNIC PROGRAMMING ON TV, WHICH MAKES ME FEEL LIKE I AM VAGABONDING... BACK ON THE VAGABONDIST PATH!
Rustic Homes & Quirky Folk: Walking in Cairns

IN MY DREAM LIFE WHICH IS PRETTY MUCH BECOMING REAL, I WOULD TRAVEL THE WORLD LIVING OFF MY ONLINE INCOME AND BASICALLY HOP FROM COOL ATTRACTION TO THE NEXT. The city of Cairns, in northern Queensland is very much an ideal candidate for me to hang out in for a couple of months, as I awaited the next boat or plane out to another haven (perhaps Port Moresby, or the Torres Straits). It is small enough not to be a rat race, but big enough to be creatively vibrant (in a fashion). It is home to all manner of strange and quirky minorites, such as resident Japanese working holidaymakers and Indian taxi drivers. There is a huge Aboriginal community in town... in fact there are about five kinds of Aborigines in town according to my Sydney buddy M Tumbers, but he was counting the Japanese as being one of them. The architecture, both in the centre of town, and on the outskirts too, is similarly quirky... (For the complete Cairns Architecture guide, click here.)
Avoiding Those Second Third Time Around Blues: Round Three in Cairns

I JUST HIT THE GROUND IN CAIRNS, NORTH QUEENSLAND, AND ONCE AGAIN AM STAYING AT THE BOHEMIA RESORT WITH MY FATHER. This is actually the third time I have been to Cairns in the past 18 months, and the town has become a kind of north pole or home away from home during this current spell in Australia (a spell which will expire, I expect, in early 2014.) Cairns was the place I fled to like a refugee, after the great Tohoku Earthquake rattled me out of my 10-year slumber in Japan, and propelled me on to the path of True Vagabondism. It was a reintroduction to the land of my birth, and a refresher course in Australian culture (loud dance and rock music, guys with their shirts off, strangers saying "G'Day" to you heartily on the street). Such a different world to the one I had left behind in the Land of the Rising Sun, just a couple of aftershocks earlier! I was only in town for half the morning and half the afternoon, but the town exerted a profound effect on me. About four months later I was back again, this time with my Dad, who wanted to winter here and check out some birds... we ended up staying nearly five weeks! My online income was booming at the time, and I thought this long tropical adventure was just a taste of the global Vagabondist wanderings which awaited me, once I had repaid my debts: this was the template for how I wanted to live my life, a Digital Nomad travelling from Paradise to Utopia! Cairns was the place I dreamt up the One World Orbit, the ongoing blueprint and mission statement for this website (and my life). I walked around town, looked up at Aboriginal art galleries, drank in the bars and clubs every night, and imagined that one day soon I would be able to support myself financially just from writing about these experiences. Carried aloft around the world, by the winds of online income! It was an idealistic dream; the weather changed, the winds changed direction, and I met a big reality check, about two months later, while I was living with my parents down in NSW. My online earnings slumped, and have not yet recovered. Ma, iya, as they would say in Japan... shou ga nai!. The show will go on, and I will make the Orbit happen, one way or another. That so much is beyond doubt. What is in doubt, however, and this is what it struck me shortly after arriving in Cairns today with my father... can this town wow me for a third time? It wasn't my choice to be here, and I am spending money that could be going for my ticket to Cambodia in 2014, or entrance fees to Angkor Wat. Much as I loved this place last year, I fear I am pushing my luck, in expecting to deliver life changing magic three times in a row. In any case, at least I am back in the tropics!
Eastwood, Sydney, NSW (A Little Piece of Korea, Surrounded by the Australian Bush)


AT THE WEEKEND I WAS AT MY BROTHER'S HOUSE IN EPPING IN NORTH-WEST SYDNEY, AT A REMISSION PARTY, WHEN I TOLD MY BROTHER'S PART-CHINESE NEIGHBOUR THAT I HAD JUST COMPLETED A 10-YEAR LIFE IN JAPAN. The neighbour asked me if I missed Japan, and I said I surely did. "You should go to Eastwood, then; it's just down the road," he replied, a gleam in his eye. "It's like Chinatown, except it's full of Koreans. It might remind you of Japan... people eating and shopping for good Asian food." A few days later, reading Murdoch's local rags, I discovered that Eastwood's Rowe Street and Railway Parade were listed among Sydney's "ethnic eat streets", suburbs which the NSW Government wanted to exploit to promote international food tourism. Since I have always been a fan and promoter of ethnic enclaves, I knew I had to go down there, and check it out. The next day, I was in Eastwood... (For the full story on what I discovered, click here.)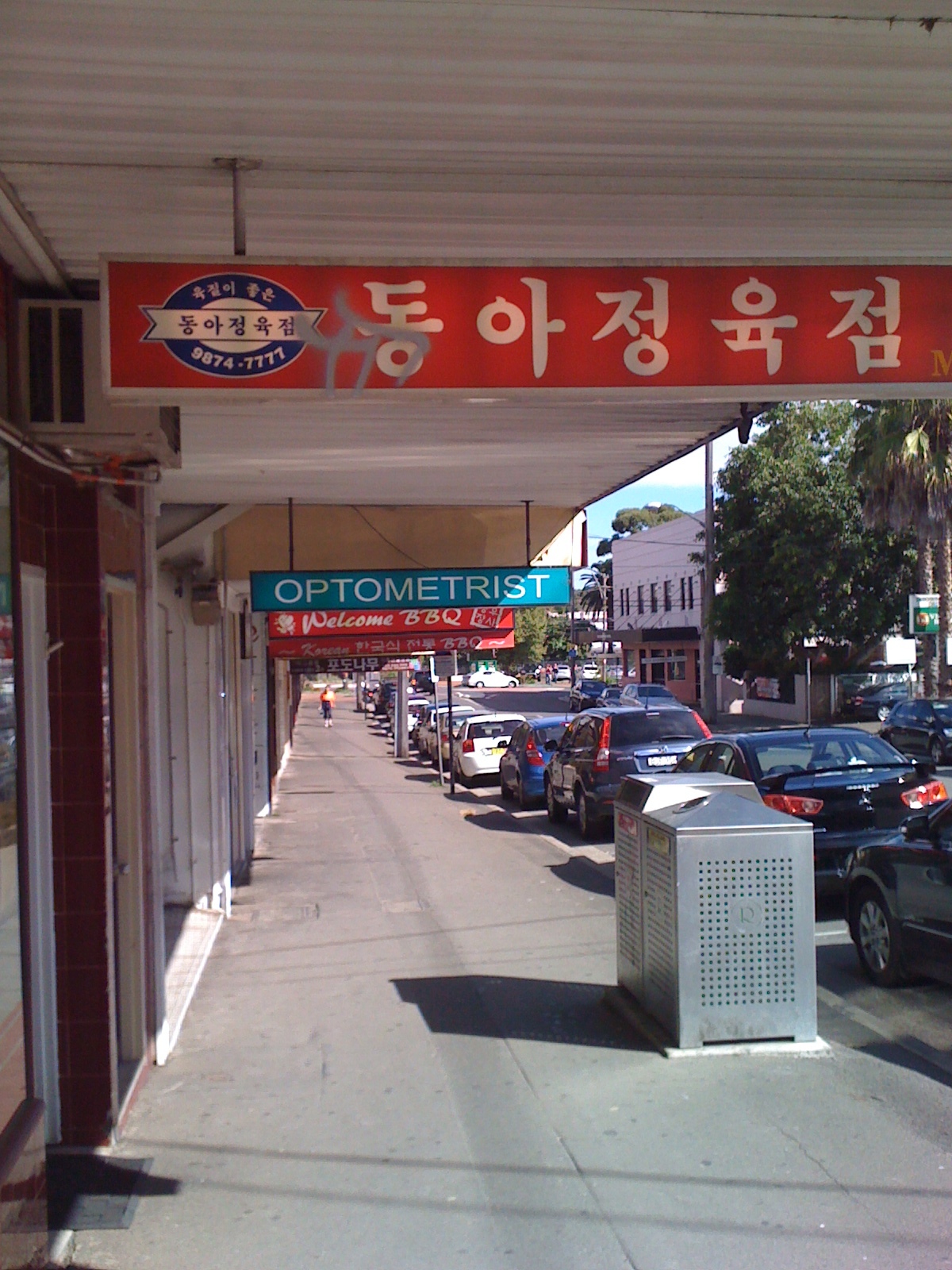 Malaysians Fail to Get into Harvard for Second Year Running

WITH APPLICATIONS FOR JPA SCHOLARSHIPS OPENING TOMORROW, LOYARBUROK HAS PUBLISHED A TIMELY ARTICLE CRITICISING THE METHOD BY WHICH SCHOLARSHIPS ARE AWARDED. "Whoever rules the Government in future, itís imperative that JPAís overseas scholarship policy be revised," concludes the article's author, Hafidzi Razali. "Straight Aís in SPM (Sijil Pelajaran Malaysia) alone donít equate to the excellence deserving of golden (yes, itís that expensive) opportunities abroad. Overseas institutions too, arenít necessarily exceptional just because theyíre located in the US or UK where hallowed institutions like Stanford, Harvard, and Oxford are found. More importantly, a more refined approach will ensure meritocracy at its best, while improving the standard of our local institutions with billions saved as well as a better pool of students to choose from..." (For more news on Malaysian education and scholarships, click here.)
Oxley Tower, a New Development in Singapore

INCREASED JOB SECURITY IN THE INFORMATION TECHNOLOGY (IT) AND INFORMATION TECHNOLOGY ENABLED SERVCIES (ITES) ARE LIKELY TO HELP SPUR DEMAND FOR RESIDENTIAL PROPERTIES IN CHENNAI, ACCORDING TO LOCAL MEDIA REPORTS. Property sales in Chennai rose in the final quarter of 2011 on increased buyer interest, a trend that was followed in most Indian metros. Over the past year (2011), by contrast, residential sales in Mumbai dropped by 28 per cent. Interestingly, the preferred size for 3BHK apartments has also increased since the end of the recession. Jones Lang LaSalle India's residential services head for Chennai, Siva Krishnan, claims this is down to an improvement in the performance of IT and ITES industries. "Over the last 12 months, it has become increasingly evident that Chennaiís residential real estate market is sigs," Mr Krishnan told City Express last month. "With employment stability in these sectors looking a lot better now than it did in 2010, demand for homes has now reached a comfortable and dependable growth trajectory from which developers are taking their market cues." (For more on the Chennai real estate market, click here.)
How to Deal with a Bad Date

ERICA St. CLAIRE FROM CATHOLIC SINGLES DATING SITES WAS KIND ENOUGH TO WRITE FOR ME A GUEST POST ON THE SUBJECT OF BAD DATES, AND IT IS APPROPRIATE FOR ME TO PUBLISH THE POST TODAY, WHICH IS OF COURSE SAINT VALENTINE'S DAY. "If you're single and in the process of dating, you might have enough bad dates under your belt to write a horror story - or maybe even a series," the article reads. "And sure, bad dates are expected to happen from time to time... but when they do, there's no doubt that they leave you feeling awkward, disappointed and maybe even questioning the entire human race as you swear never to go on another date again. So the next time that you're on a date that would be described just about as far away from 'good' as possible, be sure to keep the following tips in mind for dealing with it..." (For the full story, click here.)
Are You Ready (For the Social Business Revolution?)

COMPANIES AND ORGANIZATIONS WILL BE INCREASINGLY FORCED TO EMBRACE SOCIAL BUSINESS AND IMPORT THE 'WISDOM OF THE CROWDS' INTO THEIR INTERNAL OPERATIONS AFTER IBM'S LANDMARK LOTUSPHERE 2012 CONFERENCE, HELD LAST MONTH, RADICALLY LOWERED THE BARRIERS TO ADOPTING COLLABORATIVE TECHNOLOGIES. While social media has become the buzz term of the year, it makes sense that no enterprise can succeed socially unless it becomes a social business internally. A survey conducted by IBM last year found that, indeed, most companies were failing in their social media strategies. But as Gartner analysts have pointed out: "By 2014, refusing to communicate with customers via social channels will be as harmful as ignoring emails or phone calls is today..." (For the full social business story, click here.)
Are You Ready (For the Social Business Revolution?)
Naff names are dime a dozen when it comes to Asian urban developments (hell, I fled Japan partly to escape this kind of crap!); overlook the name, however, and EverRich II promises to be an exciting development. Even more exciting than the EverRich I! Architecturally, EverRich II is envisaged as a looped wave or Mobius strip (some might say it looks like rollercoaster.) Inside the loop, a green courtyard is supposed to evoke a tropical rainforest. When completed it will comprise 41 storeys and 4500 high-end condos. Inside, there will be everything from a school to a basketball court and a supermarket. See this SkyscraperPage forum for pictures and comments. Construction should be completed by 2014.
---

CROWDED WORLD
Contact us by email: coderot@gmail.com
phone: (0422) 204-477 (AUSTRALIA)
---