---
» Crowded World Home
» Thailand Hub
» Thai Real Estate
» Some Secret Travel Destinations in Thailand
---
Bangkok Temple Photos
---
Maps

Interactive photographic map of the entire world!
---
I HAVE LONG DREAMT OF HAVING MY OWN LITTLE HOUSE IN THAILAND -- AND GOD WILLING, I AM GOING TO GET IT ONE DAY (PERHAPS THROUGH THE HELP OF THIS WEBSITE!) Thailand was the first foreign country I ever visited, and as such, has imprinted an indelible stamp on my heart. What can match the exoticism of a late night arrival in Bangkok -- the mad taxi ride through the heaving streets, a taste of chaos around every corner? By day the place is similarly wild. Add it all up and you have a pretty intoxicating place: tons of temples and shiteloads of shopping to occupy you by day, decadent dancing and nightlife to the nth degree once the sun finally goes down. Bangkok is one of the great cities of the world, and I always enjoy touching down there. But of course, Bangkok is just one part of the great Thai nation, and many foreigners prefer the beaches and mountains to the city with all of its gridlock and its pollution. This site, the Crowded World Thai Real Estate, is designed for both types of foreigner -- those who want to buy a house or property in Bangkok, and those who want a house or property in the provinces. I might not yet be able to satisfy my dream of owning property in Thailand, but I can at least live out my dream vicariously, by detailing and describing the latest Thai real estate bargains on this website.

RENTING AN APARTMENT: FROM 1000 BAHT PER MONTH TO 100,000 BAHT PER MONTH
Old Bangkok hand Stickman has to say: "Although cheaper places exist, you will probably need to spend 3,000 - 5,000 baht to get somewhere very basic and not too far out in the sticks. 3,000 - 5,000 baht will get you a small (about 20 square metre) studio apartment in the central areas or a slightly more spacious (35+ square metre) apartment further out. Places in this price range are strictly English teacher material! Obviously, the further away you are from Central Bangkok, the cheaper the cost of accommodation gets but even then, and possibly contrary to what you have heard, 5,000 baht will never get you anything great in Bangkok. Paying any less than this and you are starting to look at some real doss houses. The cheapest place I have ever seen was this room for 1,000 baht a month - to say it was awful would be a major understatement. We are talking about a single room in a shophouse that had been divided up into lots of smaller rooms, all rented out at a mere $US 20 per month! Yeah, $20 gets you a few square metres and NOTHING else. Paying around 10,000 baht will get you a reasonable, centrally located studio around 30 - 40 square metres that should be nicely furnished including TV and fridge. You usually need to pay more than 10,000 baht if you want a newish, centrally located place with either a separate bedroom or kitchen or both. As a rough guide, figure around 15 - 25K baht for a pleasant, clean, secure centrally located one bedroom apartment, 20k up for a centrally located two bedroom place. Obviously, the bigger the place, the better the facilities and the better the location, the more you will pay, so these prices should be looked at as a guide and no more. Note: In many of the smaller places, particularly studio apartments, kitchens are not that common. Space is obviously at a premium and Thais may find it easier to eat out - and it may even be difficult to cook in for less money (and that is forgetting time and hassle) than you can eat out! Balconies are nice but too often the balconies in apartments in Bangkok are so small that you can barely fit one or two small chairs out there. Still, if you can get a place with a balcony, you can sit outside, sink beer and bitch and moan about life in Bangkok while watching the nice sunsets...


"If you are a professional on a big package, you can get some beautiful fully EVERYTHING apartments from around 30,000+ baht a month and could pay up to, or even over, 100,000 baht or so per month for something that could only be described as opulent..."

This Ajarn forum post has this to say about my current bracket of affordability (2500-4000 Baht per month): "Between 2,500-4,000 baht per month ($75-$120) will rent you a one room 'apartment' in a Thai-style building. The buildings are usually clean and well taken care of, and some have security too. However, your 'apartment' will be a one-room box with a Thai-style bathroom. A Thai-style bathroom is one where the shower head isn't separated from the rest of the bathroom so it wets the entire bathroom, including toilet and sink, when you shower under it and you'll be paddling for a couple of hours afterwards every time you go into the bathroom, until the water has time to drain. (Personally, I couldn't live with a Thai-style bathroom for longer than a couple of days, but a lot of westerners in Bangkok do). The room will also usually have a refrigerator but no cooking facilities. You'll have to do what the Thais do and buy a small gas grill (like a camping stove), which they use to cook outside on the balcony. These rooms are available in either downtown Bangkok or out in the suburbs. The further into the suburbs you get, the cheaper the price..."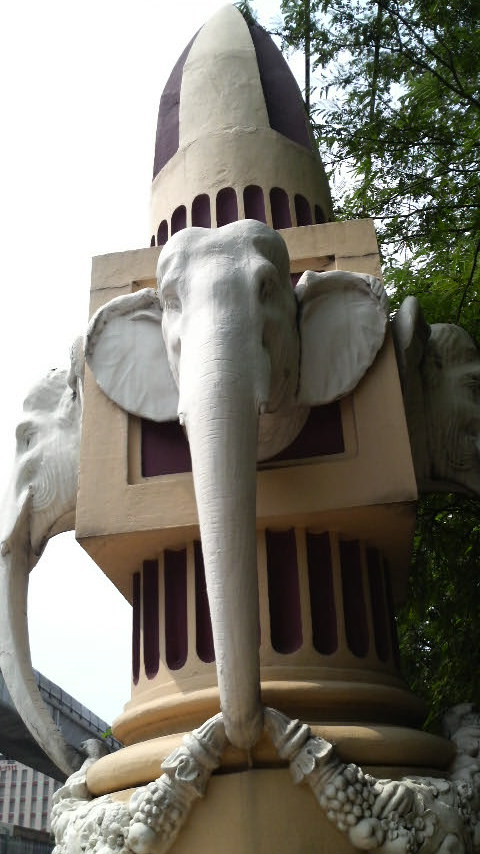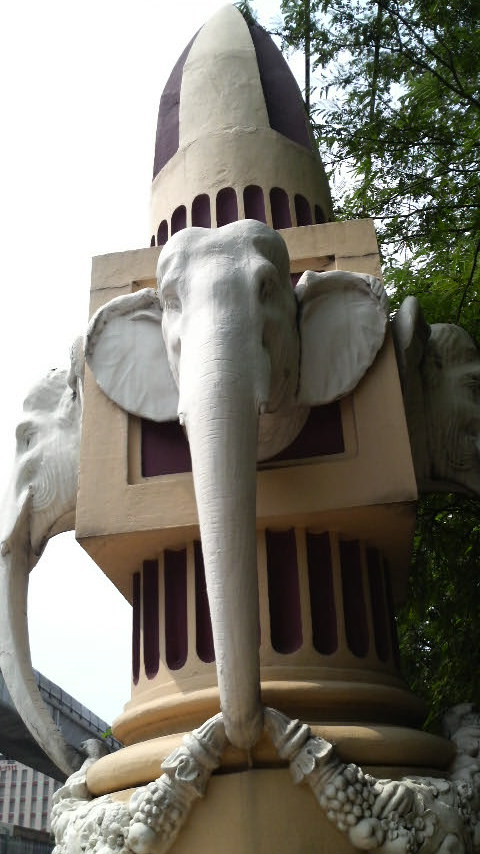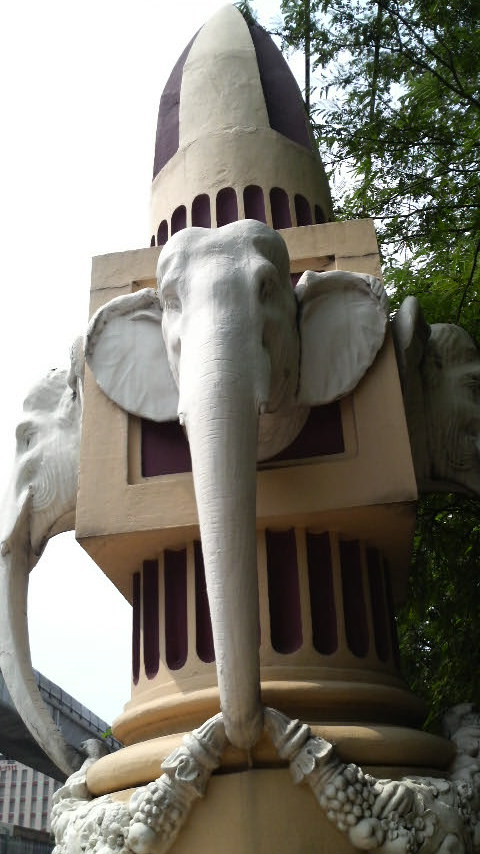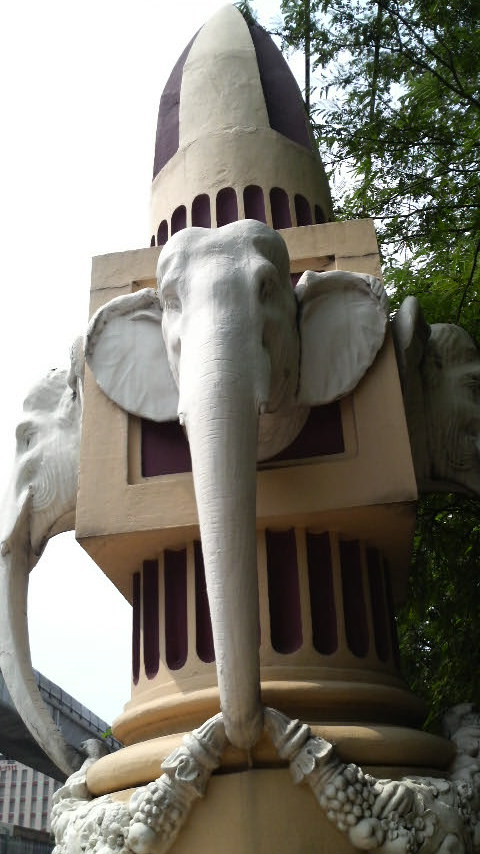 b a n g k o k + p r o p e r t i e s

BANGKOK IS OF COURSE THE FIRST PORT OF CALL FOR MOST FOREIGNERS ARRIVING IN THAILAND, AND IT HAS THE MOST ADVANCED REAL ESTATE MARKET. Here is a selection of the prominet real estate agents in Bangkok, and some of the web portals and other resources you can use to find property there.

9Apartment: http://en.9apartment.com/.
Cheap apartments in Bangkok from 2000 Baht per month.

Ajarn: Houses, Apartments and Condos.
Ajarn is a portal for English teachers in Thailand, but boasts plenty of nifty features, including a forum, and lots of information about the cost of living in the Kingdom, and accommodation. There are interesting forums posts about topics like Thai shoebox gems on the BTS.

Baan Rim Ratchada: http://www.baanrim.com/ratchada/about_us.php?lg=en.
Fully furnished rooms in a secure building from 5500 Baht per month (6000 Baht for the first three months). Pay one month up front, plus two months' deposit. There is a pantry attached to the room.

Bangkok Apartment: www.bangkokapartment.org/.

Bangkok Condos: www.bkkcondos.com/.
This is a site for high-end properties and serviced apartments, located all over Bangkok, from Asoke to Thonglor. There are condos listed for sale from 5 million Baht, and condos up for rent from 30,000 Baht per month. For 40 million Baht (1 million Euros) you might find a three bedroom property near Phrom Phong BTS/MRT, with maid included! Not that I am likely to ever own or rent such a property (unless I find myself a sugar mommy!), but anyway, there must be plenty of folk who can, and do. The Bangkok Condos site has a lot of useful information for this kind of person, such as links to home loan products. There is even a blog attached to Bangkok Condos with posts about such topics as the construction of the prestigious W-District development in downtown Sukhumvit, Thai wineries, and the benefits of Bangkok property management. If you want to write for the Bangkok Condos blog, guest posts are welcomed.

Bangkok Property: www.bangkokproperty.com/.
I have said it before that I consider Bangkok one of the most interesting, intense, and charismatic cities in the world. If you need to spend significant time in the city, for either work reasons or for play -- you needn't despair, this city will never fail to entice and excite you. Sure, it may be hot and surly, noisy and polluted -- but prod a little deeper, that's where you will find the real Bangkok. A languid brown river snakes slowly downstream under a noontime sun -- that is Bangkok. A golden wat shines like a star in the humid dark. That too is Bangkok. Night or day, work or play, Bangkok is one kickass city. If you need to live in Bangkok for any length or stretch of time, first I am envious for you -- secondly I want to help you in finding you some digs to stay. Or maybe I should point you towards the folks at Bangkok Property, for they seem to know much about the issue at hand, than mere I does.
Bangkok Property Agents: 14/3 Sukhumvit Soi 15 (RoumJai), Sukhumvit Road, Klongtoey Nua, Wattana, Bangkok, 10110, Thailand. Phone: 66 2 253 2734/5. Fax: 66 2 253 2735. Web: http://www.bangkokpropertyagents.com/. Email: sales@bangkokpropertyagents.com.
The official website claims: "With previous experience in purchasing and renting condominiums and houses in Bangkok, there appeared to be a gap in the market for a well run, professional English speaking agency to cater for expatriates and overseas clients.
"On the sales side, we specialize in sourcing investment opportunities with good yields, mainly off plan, which are often purchased by overseas clients and we are then usually instructed to rent these properties which are newly built and in pristine condition thus providing a service for expatriates residing in Bangkok..."
BKK Citi Smart: www.bkkcitismart.com/en/Default.aspx.
A little on the pricey side... apartments to rent, for example, start at around 19,000 Baht. The site seems to be well designed, however.
BKP Home Place: Bangna. Website: website here.
Cheap prices.
BSP Land: www.bspland.com/.
Represents a small range of apartments seemingly aimed at students or executives, it is kind of hard to tell. Their properties are located near universities and international schools around Bangkok, and their low rents suggest they are student pads. For student pads, thought, these rooms are fresh, stylish... and even chic! So it makes me think: maybe these are meant for executives with kids of school age! Rooms at Indy House come in three flavors (cool, chill and cozy) and cost between 4650 and 4950 Baht per month (plus an 8500 Baht security deposit). The apartments, close to Rangsit University at Phathumthani, feature air-conditioning, refrigerator, private balcony and free high-speed Internet and free cable TV! It seems too good to be true, and maybe it is! More on that.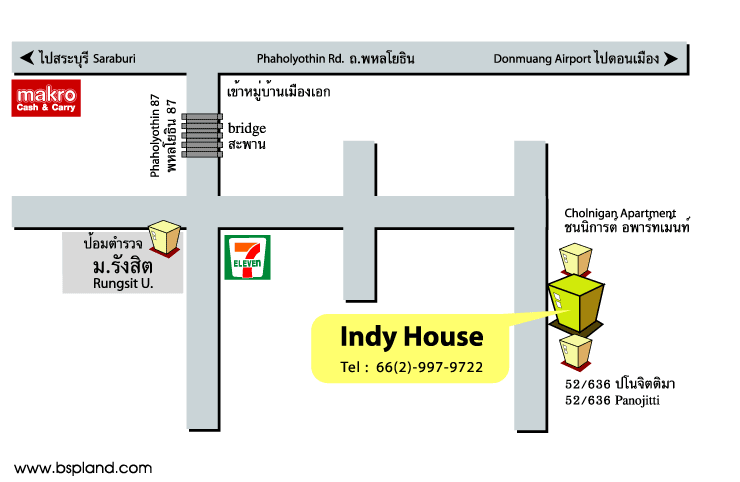 Another BSP Land property, the Royal Bee Gardens near the Mo Chit BTS station, has rooms for around 5000 Baht per month if you are willing to sign a year-long contract. It is described thus: "Resort in the sky, The Royal Bee Executive Apartments offers 1 tropical bedroom with premium furniture. Our 204 Units of beautifully appointed and fully furnished apartment provide you with a comfortable living environment with facilities that include coffee shop, fitness and FREE unlimited ADSL Internet of all units..."

Cheap Apartments Bangkok: www.cheapapartmentbangkok.com/.
The website claims: "The BangkokProperty.com budget apartment database incorporates nearly 450 individual apartment buildings all with units available for less than 10,000 Baht per month either on long or short term leases.
"For our introductory offer of only $29.99 for a 3-month accessible period the Benefits certainly outweigh the one time cost :-
"Over 450 Individual apartments with rents Below 10,000 Baht per month.
"The only database to find cheap accommodation in over 35 different locations
"Each property lists a full residential address with contact name, phone number and email address aswell as electric and water rates and proximity to the BTS / Subway.
"Each property comes with pictures of the building and surrounding area and in some cases the unit itself.

Craig's List: http://bangkok.craigslist.co.th/hhh/.
Perhaps the best place to search for property in Thailand online, but the sheer volume for ads can be cumbersome.

FazWaz: https://www.fazwaz.com/.
This is a comprehensive service for buying, renting or selling properties all over the Kingdom. Popular markets include Bangkok, Hua Hin, Cha-Am, and Krabi. In the City of Angels, a whopping 13,000 condos, and more than 500 villas were searchable the last time I visited FazWaz. Drilling down into Bangkok, we can see a range of units at the The Lofts Silom, due to completed in 2020. Another Silom tower, the Ashton, had units going from 8,550,000 Baht. FazWaz has plenty of advice for foreigners about local laws and practices. For example, should you do due diligence when buying directly from a developer? What taxes do you need to pay on your rental income? FazWaz has the answers to all of these questions and more. Subscribe to their mailing list, or volunteer for push notifications.

Mr Room Finder: http://www.mrroomfinder.com/index.php.
This is a web portal, in English and Thai, for tenants, landlords and agencies in Bangkok. If you are looking for somewhere to live or stay in Bangkok, this ought to be your first port of call. You can search rental categories based on your budget -- how much are you prepared to spend? Under 5000 Baht per month... or up to 40,000 Baht or more per month... or somewhere in between. Mr Room Finder can help you in any of these particular cases. If you want a studio apartment in the Karn Kaeha Pattaya Townhouse, you can secure one for 8,500 Baht per month on Mr Room Finder. A one-bedroom apartment with beaut river views at Baan Chao-Phyra, meantime, can be had for 24,000 Baht per month.
Smilehomes: 320 Taksin Road, Thonburi, Bangkok 10600, Thailand. Phone: 66 2 890 4598. Fax: 66 2 465 4560. Web: www.smilehomes.com.
Judging from the website, this seems to be a pretty comprehensive company for those wanting to build a house in Thailand -- unfortunately the website is written only in Thai, so perhaps the staff only speak Thai as well. But if you had someone to help you communicate, you might find Smilehomes leaves you with one of thpse famous Thai smiles on your face! Smilehomes offers architectural services (for condominiums, home offices, huge houses, etc), interior design, and house plans. They also provide plenty of information on building laws, land prices across Thailand, help with drawing up contracts and how to get loans. They even sell furniture and stuff you could put in your brandspanking new Thai house when it is built.
Smilehomes can design your house room by room -- here for example is an example of a typical Smilehomes living room (with photo): "การติดตั้งอุปกรณ์ไฟฟ้า อุปกรณ์ไฟฟ้าที่ใช้ในห้องนั่งเล่น นอกจากโคมไฟต่างๆ แล้ว ยังมีอุปกรณ์สำหรับสันทนาการเช่น เครื่องเสียง และโทรทัศน์ และในปัจจุบันยังเพิ่มเติมด้วย เครื่องเล่น-บันทึกวีดีโอ วีดีโอเกมส์ และคอมพิวเตอร์ ที่ได้รับการพัฒนา เพื่อนำเข้ามาใช้ภายในบ้าน การติดตั้งอุปกรณ์ไฟฟ้า มีความสำคัญและมีผลกระทบ ต่อการตกแต่งส่วนอื่นๆ ของห้องเช่นกัน ฉะนั้นจึงต้องมีการวางแผนผังระบบไฟฟ้า และเตรียมติดเต้าเสียบไฟฟ้า ในตำแหน่ง และจำนวนที่ต้องการให้เพียงพอ บ้านที่กว้างขวางมีห้องหลายห้อง สามารถแยกห้องฟังเพลง ออกจากห้องนั่งเล่นได้ โดยต้องคำนึง ความกว้าง-ยาวและสูง ของห้องให้อยู่ใน ระยะที่ไม่ทำให้เกิดเสียงสะท้อน.
"การแยกห้องออกมาต่างหากยังสามารถเป็น วัสดุป้องกันการสะท้อน ของเสียงที่ผนังได้อีกด้วย เมื่อประกับเครื่องเสียง และลำโพง ที่มีคุณภาพแล้วละก็ ทำให้ห้องฟังเพลงที่สมบูรณ์แบบเลยทีเดียวโทรทัศน์สีดำ และเทานั้น เหมาะกับติดตั้ง ภายในบ้าน มากกว่าสีอื่น และควรให้อยู่ในตำแหน่ง ที่กลมกลืน กับชั้นวางของ หรือเฟอร์นิเจอร์อื่น ไม่ควรที่จะจัดตั้ง ให้อยู่บนตู้ หรือโต๊ะที่ทำขึ้นมา ให้โดดเด่นต่าง จากส่วนอื่นๆ อย่างชัดเจน เพราะทำให้รู้สึกเหมือนว่า เป็นแท่นบูชา ประจำบ้านไป สำหรับบ้านที่มีเนื้อที่จำกัด การติดตั้งโทรทัศน์ และเครื่องเสียง ไว้ภายในห้องเดียวกัน เป็นเรื่องที่จำเป็น ซึ่งอาจจะช่วย ให้คล่องตัวได้ด้วย การวางโทรทัศน์ไว้บนโต๊ะหมุน ที่ปรับทิศทางไดิเป็นพิเศษ เพื่อหมุนย้านทิศทาง ตามการเคลื่อนย้ายของตนได้ เช่น 3633;่งพักผ่อนที่เก้าอี้และโซฟานั."
Smile Home in Bangkok, Thailand: www.buy-sell-th.com/two1032545.html.
A basic, functional website offering basic, but hopefully functional properties in Bangkok and the rest of Thailand. There is accommodation offered for as low as 900 Baht a month! (Admittedly, it is in a dormitory!) On other pages of this site, you can find iPhones for sale, teaching jobs in Phuket, and so on.
Soho Properties: 19/57 9th Floor, Sukhumvit Suite, Sukhumvit Road Soi 13, Khlong Toey, Bangkok 10110, Thailand. Phone: 66 2 651 3930/1. Fax: 66 2 651 3932. Web: http://www.soho-properties.com/.
Their website claims: "Soho Properties is a leading Bangkok property real estate agent and location specialist, offering a first-class service for all your property-related needs.
"Senior management offer a wealth of experience in property sales and management, having previously worked for leading international estate agencies in both Europe and Asia.
"We not only specialise in the sale, renting, location of properties and land, we also provide an excellent individual and corporate tenancy management service..."
Some of the properties offered at the moment include a condo on Sukhumvit Soi 21, a mere 100m from the MRT station. The condo enjoys good views, nice-sized balcony fit for a BBQ; facilities include fitness center, pool and tennis court.
Suanluang Home and Property: Web: www.suanluang.co.th.
บริษัท สวนหลวง บ้านและที่ดิน จำกัด เริ่มก่อตั้งขึ้นเมื่อปี พศ. 2531 เป็นบริษัทพัฒนาอสังหาริมทรัพย์ ที่เน้นไปในการพัฒนาที่อยู่อาศัยในแนวราบ เช่น โครงการบ้านเดี่ยว และทาวน์เฮาส์ ปัจจุบันมีการดำเนินงานอย่างต่อเนื่องภายใต้การบริหารของ นพ. อนันต์ อธิพันธุ์อำไพ กรรมการผู้จัดการ 18;ู่เลขที่ 53/60 หมู่ที่ 5 ถ.เฉลิมพระเกียรติ ร.9 แขวงหนองบอน เขตประเวศ กรุงเทพฯ 10250.
Thai Apartment: www.thaiapartment.com/.
Claims to be Thailand's number one apartment portal, with budgets ranging from less than 5000 Baht per month, to more than 50,000 Baht per month. There was an apartment offered at Chatuchak for just 3500 Baht per month. It's a studio in Chanawan Apartments.
c h i a n g m a i + p r o p e r t i e s

KO CHANG HAS LONG BEEN A FAVORITE WITH THAI PEOPLE ON HOLIDAY -- NOW IT IS POPULAR ON AN INTERNATIONAL LEVEL. Thanks to the new Trat Airport on the mainland, the inspirational island is now only 45 minutes from Bangkok! White sand beaches and clear water surrounded by lush tropical rain forest -- this is where your dream house should (and no doubt will) be created!

Smith Residence: . Website: website here.
Stay for three months, and the superior room costs only US$235 a month!
k o c h a n g + p r o p e r t i e s

KO CHANG HAS LONG BEEN A FAVORITE WITH THAI PEOPLE ON HOLIDAY -- NOW IT IS POPULAR ON AN INTERNATIONAL LEVEL. Thanks to the new Trat Airport on the mainland, the inspirational island is now only 45 minutes from Bangkok! White sand beaches and clear water surrounded by lush tropical rain forest -- this is where your dream house should (and no doubt will) be created!

According to plans of the Thai government, Koh Chang is expected to level up with other dream destinations as Phuket and Koh Samui.
And now we move on to the subject of pamperment. As any human will tell you, there is no better experience than being pampered in such an idyllic environment. Koh Chang offers all kinds of treatments for revitalisation of the body and mind, such as physical Thai massage on the beach and complete & refined spa services in a luxurious setting at numerous facilities all over the island.

If you are convined that you really have to buy a house or apartment or some other kind of habitude on Ko Chang Island, look no further. Some of the agents selling properties on Ko Chang Island include:

Siam Royal View "Aspirational Living in Thailand": Web: http://www.siam-royal-view.com/.
This comes from the website: "Live life to the full - or relax and watch the world go by.
"At Siam Royal View it's entirely up to you, how you want to enjoy life. All worries are taken care of.
"External maintenance such as maid service center, pool cleaner, massage staff are taken care of for you, and even the gardens are tended, leaving you more time to relax and enjoy life..."
For some time now, Siam Royal View has been developing one of the most beautiful sites on Koh Chang. The development boasts over 1.5 km of virtually private, tropical beaches. The plot size varies between 200 and 1000 square meters, depending on the house type. Planning and interior design of your house will be adapted to your individual specifications.
The development will have pools, restaurants, a spa, lush gardens, private pier, a salt water lagoon, sporting & water sports facilities, 24 hours security service, rental services, English speaking care on site and much more.

p a t t a y a + p r o p e r t i e s

PATTAYA IS THE CLOSEST BEACH TO BANGKOK IN THAILAND AND HAS A LONG HISTORY OF BEING A CLASSIC DECADENT DEBAUCHED RESORT. I don't care for the place much myself, but a lot of people do, particularly Russians. I have had a few students from Russia who rave about the place. There are tonnes of new developments opening in Pattaya all the time, and plenty of properties on sale. Here is a rundown of some of the main agencies in Pattaya, the big developments of the moment, and some properties you might want to snap up.

Baan Dhewaran: 23/128 Moo 2, Soi Najomtien 14, Sattahip, Chonburi, Thailand. Phone: (038) 255-135-8. Fax: (038) 255-139. Web: http://www.dhewaran.com/.
Baan Dhewaran is a luxury housing estate on private golden beach of Pattaya. If you have ever lusted after owning your own Southern style colonial white marble slave plantation homestead, and you don't like/can't afford the American Deep South, you can find your fantasy fulfilled at Baan Dhewaran. As the development's website claims: "The project is Grace fully designed with East meets West concept, Represents taste, arts, luxury and most convenient of living style. Baan Dhewaran is surrounded with various trees and flowers in Botanic Style. The house residents are able to enjoy water sports on white sand and blue sea of Golden Sand Beach. The project is fully function with facilities and services, locating on the most convenient and private resident where is just 10 minutes away from Pattaya."
If you want to live in a place where the trees and flowers surround you in a botan(n)ic style, then Baan Dhewaran is the place for you! There are actually 21 houses at this Chonburi development -- in two different styles (contemporary Thai style single houses, which are probably the kind I am more inclined to dig, being a fan of Thai design and all), and then the slave owner Colonial style. They don't have real slaves at Baan Dhewaran -- I thought I should mention that -- but the houses could incline you at first to believe so.
Anyway, lame humour attempts aside, there are 12 of those contemporary Thai style single houses: The style consists of ten houses, one of them located on the beachfront on the meritorously named Golden Sand Beach. Regarding the Colonial houses (and again this is lifted from the company website): "The style consists of 11 houses. Dhewapiman and Dhewasathorn are designed with European Architecture, to fulfill the desire of modern western style of living..."
k o h + s a m u i
KOH SAMUI IS CLOSE TO ONE OF MY FAVORITE PARTS OF THAILAND -- THE ISLAND OF KOH PHAN GAN -- AND BUSTLES WITH A RELENTLESS PARTY VIBE. That said, there are plenty of quiet places on the island, stretches of sand beneath a dazzling sky -- a water buffalo idles by the shore. Here are some of the main agents selling property on Koh Samui, and some of the big developments being flogged off at the present.
Immosamui: 31/4 Moo 1 Bophut (opposite 7/11), Koh Samui, 84320, Suratthani, Thailand. Phone: (+66 1) 8926 560. Fax: (66 0) 77430 131. Web: http://www.immosamui.com/. Email: info@immosamui.com.
This is a real estate agency on Koh Samui, one of Thailand's premier islands, with a website readable in both English and French. There is the usual selection of properties on offer -- "beachfront properties", "coconut interior properties", "hillside seaview properties", etc. There is plenty of information about Thai laws and how to build your own home in Thailand. In the "Hillside Seaviews" category, here are some of the newest properties to be offered by Immosamuni: Ban Makam, "beautiful land with a little sloop (eds. note: should that read slope?), view on the Marin park and the sunset, access by public road, electricity on place", cost 3,500,000 Baht (74,400 Euros) per rai; Nathon, "Spectacular sea view on the Angthong marine park and the Five Birds Islands. Located at 1 km from the city, access by concrete road, electricity and deep well on place", cost 3,500,000 Baht (74,400 Euros) per rai; Bang Po, "Nice sea view on Koh Phangan, located in a quiet and residential area, 500 m from the main road and 10 min walk to the beach. Water and electricity provided. Private and concrete road access", cost 2,200,000 Baht/44,000 Euros/$55,000. These are but some offers out of many. If you have ever wanted to live in Paradise, this could be your chance. Visit this website soon!
My Samui Life: Web: http://www.mysamuilife.com/67-natalie/profile.
A portal for expats living on Koh Samui. The site offers latest news, for example a report on a prominent Koh Phangan bar owner arrested recently (May 2011) for dealing drugs.
Properties Challenger: Samui R&B, Samui R&B, 140/22 Moo 1 Bophut, 84320, Samui, Thailand. Phone: (+66 1) 8944 720. Web: http://www.properties-challenger.com/.
Offers beach front lands, hillview retreats, properties covered with coconuts which sway in the rayon breeze, houses and condos, also businesses and shops and bars and basically you name it.
Here is an example of one of the properties they have for sale -- this comes from the "beach lands" departmentAlocated on the north of the island near Bang Po: "Very beautiful beach land, flat land, located in residential area, 60 m of beach front, acces by public road, electricity hight voltage on place." The land covers 2 rai 48 t (which is basically 3392 square meters), and is selling for 16,000,000 Baht per rai.
k o h + p h a n g a n
KOH SAMUI IS CLOSE TO ONE OF MY FAVORITE PARTS OF THAILAND -- THE ISLAND OF KOH PHAN GAN -- AND BUSTLES WITH A RELENTLESS PARTY VIBE. That said, there are plenty of quiet places on the island, stretches of sand beneath a dazzling sky -- a water buffalo idles by the shore. Here are some of the main agents selling property on Koh Samui, and some of the big developments being flogged off at the present.
Koh Phangan and Baan Tai Villas: 111/9, Moo 1, Baan Tai, Koh Phangan, 84280. Phone: (+66 0) 822 756199. Web: http://www.villa4u.biz/index.html. Email: villaforu@gmail.com.
This site is offered in English and Russian.
t h a i + d e v e l o p m e n t s
Baan Suai Real Estate: Baan Suai Real Estate Co. Ltd, 161 Nanai Road Patong, Phuket, 83150 Thailand. Phone: 66 1 895 7597 (Khun Jaturong) English/German: Kuhn Peter 01-892 8526. Web: http://www.phuket-besthomes.com/. E-mail: info@phuket-besthomes.com.
This news of some of the latest offers at Phuket Best Homes:

++Toy's Apartments for sale or lease++
Floors 3,4,5 with free sea view over Patong
20 Apartments are available
PRICES FOR ONE APARTMENT
STARTS AT 2.8 M. THB
(60 year lease)
The apartments are located in Soy Playboy connected to Nanai in Patong, with a wonderful Sea View from the three upper floors, overlooking Patong Bay.
8 Apartments are already SOLD! The construction starts in April 2006 and will be ready in December 2006.
All Apartments are fully high class furnished with an inbuilt kitchen.

Thailand Property Center: 1 Stop Biz Centre, Soi 23 Petchkasem Road, Hua Hin, Prachuab Khirikhan, 77100 Thailand. Phone: 66 32 472 372 (English & Thai speaking). Fax: 66 32 472 372. Web: http://www.thailand-property.com/. Email: info@thailand-property.com.
The agency's website reads: "This real estate office with links throughout Thailand will help you find a property fitting your needs, we can also help to sell or lease your existing property. We always endeavour to select a wide range of good quality property in areas like Hua Hin, Cha-Am, Bangkok, Pattaya and Phuket, and throughout other areas of Thailand. Our advertising list include new developments, Condo, House, Bungalow, Shop, Bar, Restaurant, Land and good investment like resorts and hotels. Whatever type of property you are looking for the Thailand property and real-estate centre with it's head office based in Hua Hin and Cha-am area is here to provide you with a full and comprehensive real estate and legal package."
If you are not ready for a move, the Thailand Property Center offers plenty of holiday rentals. Rents range from 20,000 Baht per month for a condo on Silom Road, to around 70,000 Baht per month for a luxury condominium at the Dusit Resort at Hua Hin.
If you do want to buy, there are villas with swimming pools near Hua Hin for just one million Baht. It should be noted that Thailand Property Center is a company under British management. On the top end of the scale, you can find a large Thai villa on a golf course for 27 million Baht. In Chiang Mai, there is an entire spa resort for sale for 160 million Baht.
l e g a l + f a c t s
BUYING A PROPERTY IN A FOREIGN COUNTRY IS ALWAYS COMPLICATED, SO HERE AT UNCLONED WORLD I WANT TO SIMPLIFY THE PROCESS FOR YOU A LITTLE, AND HIGHLIGHT SOME OF THE RELEVANT RULES AND REGULATIONS WHICH MIGHT AFFECT YOU. In a nutshell, this is basically how it works:
Foreigners can't own land in Thailand, so in most cases you will buy a condominium where foreigners are allowed to own 49 % of the society.
Foreigners may own:
A unit in a registered condominium
A building (as distinct from it's land)
A registered leasehold of up to 30 years for all types of titled land (and/or buildings). How-ever with appropriate extension and purchase options a 30 year lease can become tantamount to freehold purchase.
Foreigners may not own:
Freehold land
More then 49% of the shares in a Thai company that owns freehold land
LAND TITLES
There are many different types of land titles in Thailand, the majority of which do not allow for the legal right to build on that land. Phuket Best Homes we only recommend 3 land titles:
1. NOR SOR 3:
This is the lowest land title which allows for legally building a property, but is not ideal as the land is measured approximately. There are no markers to indicate the boundaries of the land.
2. NOR SOR 3 GOR:
This land has been measured using aerial survey to set the points and land area. This land can be sub-divided into separate plots.
3. CHANOT (land title deed):
This land has been accurately measured using GPS to set the area and boundaries of the land. The boundaries of the land are indicated by numbered posts.
Measurements in Thailand
Land is measured in Rai, Ngan and Wah.
1 Rai = 4 Ngan (or 1600 Sq.m.)
1 Ngan = 100 Wah (or 400 Sq.m.)
1 Wah = 4 Sq.m.
1 Acre = 2.5 Rai
1 Hectare = 6.25 Rai
Metric measures are usually used in the construction and measurement of buildings. Land prices are usually expressed in Baht per Rai or (for smaller plots) Baht per Wah.
Another fact you ought to bear in mind is: it is almost impossible for a foreigner to directly obtain mortgage financing in Thailand. That might suck from a racialist point of view, but such are the rules. You can't be buying no property in Thailand, unless you have the cash up front -- or at least a guaranteed cash source from outside of Thailand. .
For more indepth resources regarding your first foray into the Thai real estate market, visit these sites:
Siam International Legal Group: 45 Sukhumvit Road Soi 24 Klongtoey, Bangkok 10110, Thailand. (BTS Station Phrom Phong Exit 4). Phone: 66 2 661 1362 (Bangkok), 0845 310 8390 (London), 1 877 252 8831 (Las Vegas.) Web: http://www.siam-legal.com/land/. Email : info@siam-legal.com
The group website has information on the ins and outs of how foreigners can acquire a land in Thailand, the categories of land title deed, the process of purchasing a condominium, property financing for farangs, taxes and a cost calculation for transferring property. The agency can also help with visa issues (including issues surrounding the retirement visa), assist you in obtaining work permits and Thai company registration, and in successfully getting permanent residence status or Thai citizenship if that is what you desire.
---