DRUM&BASS
FUTURE STREET SOUND
DRUM&BASS SOUNDS LIKE IT CAME FROM THE FUTURE BUT IT IS ACTUALLY THE MUSIC OF TODAY, FULLY AWARE OF THE PARADOX THAT THE FUTURE HAS ALREADY HAPPENED... IN FACT IT IS ALREADY HERE.

Emerging from the breakbeat and Hardcore movements of the early 1990s, Drum&Bass hijacked the mindless euphoria of electronic dance music, and injected it with soul. Jungle, the first prototype, was the collision of two cultures: one British/European, and the other African/Caribbean. Naturally enough, South London was the crucible from which this concoction was born.

I was there at the beginning, more or less, the genesis you might call it, at the infamous Heygate Estate in Elephant&Castle. Broken glass in the corridors, and lifts that smelt of piss. I was living there with two mad brothers, J. & J. Like a gamelan played by a gang of ragamuffins, just with garbage cans instead of gongs. It was only after getting stoned one night, sitting in that bare living room, that I understood. The snares dropped away, and an synthe began to play minor notes eerily, eliciting visions of … I would eventually learn that this was a "drop". ... It was those eery synthe riffs that got me, so to speak. Retreat,

Jungle: perhaps London itself was the jungle, the urban jungle, the concrete jungle, with all its competing tribes. Police sirens are the background sounds, Police in helicopters. And the law of the jungle is the law of the gang. You can't r Drum&Bass is the musical equivalent of anime, or manga… a cartoonish celebration of the modern world, and the triumph of technology. Strokes of darkness and the light. The dark stranger, and all that jazz.. it has got that.

It is like the Borg, from Star Trek, in that it assimilates all that it comes into contact with: jazz, soul, reggae, funk, hip-hop, you will be assimilated. There is a touch of blues too...

Like an endlessly mutating virus, tracks are sampled, and resampled. Elementary samples, like "Only you can give me what I want // Oh baby // Yes // I Feel for your touch, oh baby!" . First you say yes, and then you say no. Tell me to stop, and then say to go. What kind of fool are you looking for? Trip to Trumpton was another forerunner. .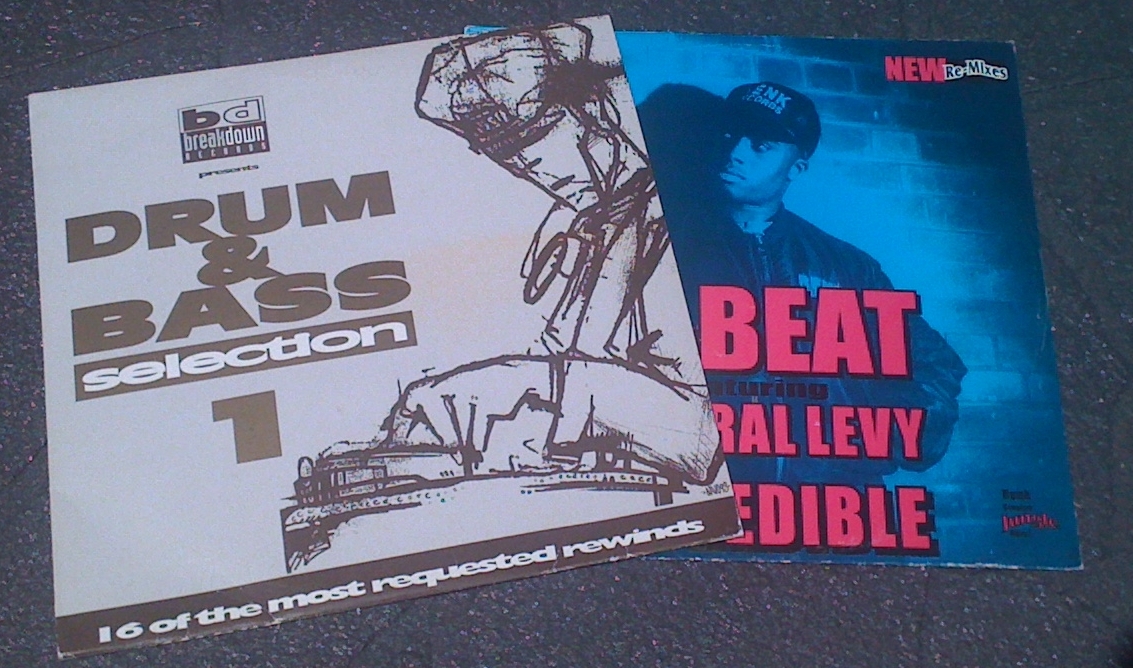 Breakbeat: Two Bad Mice. "Burning up..." "Feel... feel good!" "Sharing our love, between the sheets..."

"Burning up..." "Feel... feel good!" "Sharing our love, between the sheets..." DJ Crystl, "Paradise" Johnny L. Ray Keith. Photek. Shy FX, Dom & Roland
Goldie Sharing Our Love, Between the Sheets (Visiting Sydney, mid 1990s.) "Solar Glide": Late 1990s atmospherics. Dilinja Marcus Intallex… waiting for the Asian Affair! Goldie's Inner City Life: crying over some silly crush. Johnny Jungle Tango remix (1995). Metropolis, Adam F.

Ninja, Mi Ninja...
MIDDLE SCHOOL (1999-2009)
Hospital Records... I first heard them when I was in Tokyo. Stunna… The sounds of my life: the fall of Nova ("Let the Hustlers Play"). Dextrous: "Loveable" (Visiting Sydney, mid 1990s). "It was the middle of the night, when I first saw you." Bristol: Time is the fire. Elephant&Castle: "Raw Basic". Subzero. Liberty House: "All at once, I heard a universal horn." Also my arrival at Liberty House: Skylines (Bungle remix). The Ladder. London Electricity "One Minute of My Life". Scribal (2012): Random Movement ("Day After Day, Night After Night"). Liquid (The Future). Living in Shinozaki, returning from Fun Club: Australian Atmospherics, Storm, by Streetlife. "I have got something for your body, your mind and your soul!"

The Sounds of Round Two, "The Ladder" (featuring "Jacob's Ladder"). Or make that Randall.

"The day you were born, half journeys complete."

The New School: Panic Room!
---
There is a whole subgenre based on sampling horror movies, or at least creating a horror movie like effect. Kung fu classics, it has that too.
---
I could listen to the Liquid stuff all day long!
---
RECOMMENDED WEBSITES & WEBLOGS
» DnB Lyrics Database