» Welcome to Bombay/Mumbai
» Things To See (A-Z): Colaba

» Elephanta Island
» Haji Ali Mosque
» Hanging Gardens
» Kanheri Caves
» Mahalaxmi Temple
» Things to Eat (A-Z): Mumbai Dining Challenge
» Things to Do: Bollywood Cinema
» Mumbai Massage
» Social Issue -- Dating Mumbai Girls
» Study Ayurveda in Mumbai
» Getting There: Mumbai International Airport
Kanheri Caves Picture Gallery
---
Juhu Beach Picture Gallery
---
IT IS IMPOSSIBLE TO IMAGINE MUMBAI WITHOUT ITS MASSAGE PARLOURS AND SPAS. There are hundreds of them in this city, catering to men and women, all levels of society in fact, from the movie stars to the wallahs and the hotel porters. They appear on just about every street corner these days, offering relief to the overworked masses. Healing hands, working their magic fingers. It is true that the word "massage" means different things to different people, but the desired result is pretty much the same... a smile on the face. MisterUK wrote on India Mike: "You know what it's like. You have had a long flight. The air is heavy with something or other. You just want to relax but you can't because of the noise of car horns and the general cackle. And then you think: 'I know what I need to send me off to sleep. A relaxing massage in my Mumbai hotel room. No hank panky - just a long slow relaxing massage.'
"And not paying top prices either.
"Anyone experienced this in Mumbai and if so how, what, when and where ?
"And how much?
"I'm talking Colaba."
And Chutney (presumably a Mumbaikar) replied: "www.mumbaimassage.com offers what you are looking for.
"pricing is mentioned on the site."
The first time I visited Mumbai, I made it my duty to be caste-blind, and interact with all levels of society. I ate Chinese takeout and tandoori chicken sitting on the floor with the staff at my hotel, and let them steal my beer. I watched Bollywood movies with them in the common lounge, and nearly got myself into a Bollywood movie courtesy of them (it was called Gandhi's Son or something like that, and centered on the Gateway to India.) They must have loved me, because I let them rip me off.
One night I was dozing in my palatial room, complete with five or six empty beds and its own verandah, just down the road from the Gateway to India and the Taj, enjoying the serenity... it was round about midnight. I made the mistake to duck out of the room for a short while, maybe I needed to use the toilet. I can't really remember what the pretext was. Perhaps I should have stayed in my room lulled by the spinning fans, but I guess I would have missed an adventure, and a chance to see a seedier side of Mumbai! Let's just say that an hour or two later, I was hunkered down in my taxi in Kamathipura, the infamous red-light area, a densely packed slum in the heart of Mumbai. How did I end up here? I thought to myself, as I surveyed the scene outside, the hundreds of girls dressed in sari's milling about, homeless guys sleeping in the street... the rats scurrying past. I had been tricked into visiting the oldest and largest red-light districts in the whole of Asia, deceived by the scoundrels who worked at my hotel. What's more, I was paying for them to get laid, just as I had paid for my so called Sumatran buddies to get laid when I was in Medan in the year 2000. India and Indonesia have a lot in common when it comes to tastes, it seems. Kamathipura is bounded by Boman Bhram Road on the north and Grant Road on the south.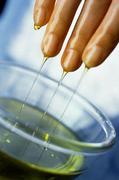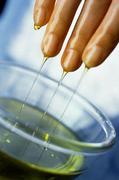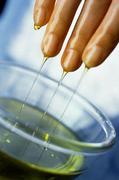 m a s s a g e + g u i d e
IS MASSAGE IN MUMBAI JUST ABOUT AYURVEDA? While Ayurveda understandably exerts a strong influence here (this is India, after all), plenty of other disciplines are represented. The Quan Spa at the JW Marriot Hotel, for example, seems to offer an internationalist take on Ayurvedic technology, with its Vichy showers, Chinese calligraphy, Chakra decor and "treatments using Thalgo products created with ingredients from the sea. Elsewhere, everywhere in fact, it seems as if internationalism is catching on. Swedish, Thai, Japanese shiatsu... you name it, it exists in Mumbai.
Cosmic Mandala: http://www.cosmicmandala15.com/.
C-5 Amarchand Mansion, Madam Cama Road, Mumbai. Phone: 2222 043737.
Cosmic Mandala describes itself as an "urban retreat located in the heart of the commercial hub of South Mumbai". As its name suggests, Cosmic Mandala has a spiritual philosophy, with treatments employing crystals to balance Yin and Yang energies The place Deep tissue massage, green tea scrubs, even oxygen therapy which seems to be popular these days. in the Eastern, Central & Western Suburbs of Mumbai. urpose of creating an atmosphere where you can relnd, and spirit.
Dirghayu Farms Agri Resort: http://www.dirghayufarms.com.
In September 2009 I received an email from a representative of this resort, which is located between Mumbai and Nashik on the Mumbai Agra Highway ("on the way to the famous Bhatsa Dam", only two kilometers off the highway). The email reads: "We have started the resort on 15/02/2009 with four well equipped luxury cottages, three seven bedded rooms, dining hall, kitchen catering to the needs of tourists, swimming pool and many other indoor/outdoor games... We have lush green mangroves with almost 50 varieties, many varieties in floriculture, many useful Ayurvedic plantations and many more varieties in plantation. To date we have almost 170 species in horticulture, floriculture and medicinial plants.
Enrich Salon: http://enrichsalon.com/reachenrich.html.
According to the website: "Enrich includes seven salons located in the Eastern, Central & Western Suburbs of Mumbai. We have designed our salons and day spas expressly for the purpose of creating an atmosphere where you can relax and restore balance to your body, mind, and spirit.
"Contact us today with your queries and we guarantee you won't be disappointed. We will be glad to be of service to you. So come, enrich your being, enrich your spirit, and enrich yourself..."
Four Season Hotel Spa: 114 Dr. E Moses Rd, Worli, Mumbai.
Phone: 22 2481 8000.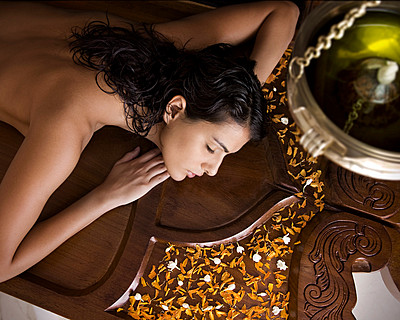 This Four Seasons Hotel is set on the famous Juhu Beach north of downtown Mumbai, near the Iskon Temple which I snouted my way around, one hot sunny afternoon in mid 2005. The spa is just one of a number of attractions at the Four Seasons, which include snooker tables, a fitness center, four outdoor pools and even a whirlpool. Hot Mumbai girls with American style bleached hair waved at me on the beach, as I made my long way along it, hounded by touts.
Ohio says: "The spa at Four Seasons Hotel Mumbai suggests mixing a little water with a few drops of pure chamomile on an eye pad to reduce puffiness. Leave it on for a few minutes, and repeat if necessary.
"The Mumbai spa also suggests filling a spritzer with rose water and keeping it with you during the day to spritz your face. It instantly rehydrates the skin and creates a fresh look.
"Use freshly grated cucumber as a face mask to cool the skin and heal sunburn, the Mumbai spa recommends."

Full Body MassageFull Body Massage Full Body Massage: Full Body Massage.
Pavan Baug Chincholi Pathak, Malad (West), Mumbai, Maharashtra 400064, India.
Phone: +91 9821337522.

Jennet Body Massage:.
44B Royal Enclave, Juhu Tara Road, Andheri West, Mumbai. Phone: 9870 326997, 9820 238736.
Other massage parlours in Juhu include Liza, Bhavesh Bhansali, Sea Spa, Zenifer Herbal Body Massage and Romeo.

Kallisto Spa and Salon: http://www.kallistosalon.com/.
101 Royal Chambers, Gulmohar Road, JVPD Scheme, Juhu, Vile Parle (W), Mumbai. Phone: 9870 326997, 9820 238736.
Other massage parlours in Juhu include Liza, Bhavesh Bhansali, Sea Spa, Zenifer Herbal Body Massage and Romeo.

Kerala Massage in Mumbai
Kandivali West Ayurvedic Massage
View DetailsGhatkopar EastBody Care View DetailsKopar KhairaneCity Star Hair Art Jents Specialist Vile Parle Eas Herbal Massage Centre Bhavani Shankar RoadHealth Care Centre For Hygenic View DetailsParelHealth Care For Herbal Massage

Khusha's Salon: http://www.khusha.com/. Facebook site: http://www.facebook.com/group.php?gid=74816158743&v=wall.
Antop Hill (Wadala), Tardeo (South Mumbai), third salon now open at 9870 326997, 9820 238736.
According to the website: "Grooming is not a mere luxury, but an essential necessity. Be it at the workplace, the college or just that party you went to last night. Grooming doesn't just mean appropriate clothing with accessories and a good haircut, but also essential skincare and mental rejuvenation..."
Services include dandruff eliminatiom, piercing and tattoos.

Myrah:
According to Ask Aila: "Are you stressed, and on the lookout for something stellar, something luxe that spells sheer bliss for your overworked soul. Nisha Jhaveri's swanky spa, Myrah, has opened up in Juhu to pamper you, in what you can simply bill as a slice of heaven.
"Forget the barenness of a Zen decor or the oppressive frills and cramped interiors that characterise some of Mumbai's spas. This one stands proudly in a villa (11 Palm Spring Society) in the JVPD Scheme. Myrah means fragrance in Greek and a cheerful, positive feel is what it transmits through its regal interiors (read expensive teakwood slats, gilded mirrors, crystal chandeliers and gurgling fountain) and a super spa-menu.
"Sign up for a Shiatsu (eds. note: it means "finger pressure" in Japanese!) massage or opt for a traditional Swedish massage that saps the stress out of your tired limbs. There are six therapy rooms, each equipped with a private outdoor bath (you guessed it, away from the eyes of peeping toms)..."

Om Kerala Massage Center Ayurvedic Centre Malad West Kerala Ayurvedic Massage Ayurvedic Centre Sion East Kerala Ayurveda Ayurvedic Centre Vasai Road Kerala Ayurvedic Health Spa Ayurvedic Centre Juhu Kerala Ayurvedic Health Spa Ayurvedic Centre , Spa Manpada Kerala Ayurvedic Health Spa Ayurvedic Centre , Spa Powai Kerala Ayurvedic Health Spa Spa , Gym Equipment , Ayurvedic Centre , Ayurvedic Medicine , Gym Prabhadevi Kerala Ayurvedic Health Centre Ayurvedic Centre , Spa Thane West Kerala Ayurvedic Treatment Spa Ayurvedic Centre Kandivali East Kerela Ayurvedic Health Centre Ayurvedic Medicine Kandivali west Specialised services in face massage, Body massage, head massage, bleaching, facial, Aroma Therapy, ... KAJAL BEAUTY PARLOUR1/C, Yogeshwer Krupa, S.L.Road,Near SBI, MulundWMumbai - 400080Telephone:011-2953238 8Mobile: 91-09350 242348, 93100 77740E-mail:infokerala-ayurvedic s.com...Holistic Healing Centre Charitable Trust Location - Goregaon E,Mumbai-400063 Also See - Body Massage Centres
Old is Gold:.
Near Mahim Bus Depot, Mori Depot, Mumbai. Phone: 6584 3084.
Massage for gents and ladies for just Rs.600/.

Ozone Centre: http://www.cosmicmandala15.com/.
JMC House,2nd Floor, Chakala,Next To Glenmark House, Andheri Ghatkopar Link Road, Andheri East.
Cosmic Mandala describes itself as an "urban retreat located in the heart of the commercial hub of South Mumbai". Deep tissue massage, green tea scrubs, even oxygen therapy which seems to be popular these days. in the Eastern, Central & Western Suburbs of Mumbai. urpose of creating an atmosphere where you can relax and resdy, mind, and spirit.

Pooja Herbal Clinic:.
Airoli, Mumbai. Phone: 6519 0229. Mobile: 92 2402 1661.
Newly opened (as of January 2009), fully a/c cabin with smart girls, cost Rs.300/.

Quan Spa: JW Marriot Hotel (lower ground floor).
EMail: quanspamumbai@marriotthotels.com. Phone: +91 22 66933000.
Quan is a Chinese word which means a source of pure water, be it from a spring, fountain or spa (it is called izumi in Japanese.) Treatments available include Abhyanga, Aroma Back, Neck & Shoulder, Aroma Fusion Massage, Deep Renewal Massage, Earth & Ocean Hot Stone Massage, Foot Reflex Massage, Foot Ritual, Indian Head Massage, Pizichil, Shirodhara, Spice Bundle Massage and the Thai Massage.
Open 10am to 10.30pm daily.

Sva Spa Salon: website here.
Revering the being, Sva creates beauty with dignity, in an ambiance that embraces celebrating the self. Sva offers the best in hygiene and luxury with a certified and trained team who excel all standards of service and knowledge.
d a n c e + b a r s
: "Dance bars are unique to M Mumbai Meri jaan. You may have never noticed a dance bar thriving in your locality for a long time, if you are never clued into this. But a dance bar regular will be able to spot one from a distance. The radiations emitted by the dance bar can be picked up only by the trained antenna.
"Along a row of shops can be seen a small door, usually wooden and carved, with some innocuous or sometimes suggestive title board saying XYZ Restaurant. I am yet to come across name board which says "Dance BarE At the door stands the the distance.
"The man at the door has the discretion to let you enter or stop you there. Mostly, you are welcomed by a warm handshake and "How're you sir, Good evening sir" etc. Often, there is also a management person at the door, apart from the sentry. The door opens.
"Suddenly, the decibel level shoots up. You are in a sound-proofed corridor, and one of the men at the door mes you with deafening noise.
"Once the eye adjusts to the darkness, you see you are at one end of an atrium, with reclining sofas and seats spread close to the walls, a dance floor in the middle and girls and women "dancing". There are seats strategically closer to the dance floor where you have a better view of the dancers. In any case, it doesn't matter where you are seated, because so long as you are stuffed with cash, the dance will come to you if you want it.
"The performing girls and women are clad in traditional ghagra cholis and navel-revealing skirts, low-cut blouses and colorful accessories. There is little with them that you find vulgar or dirty. And to the music of thumping Hindi film music, they perform what goes on under the name of dance..."
Well, the bars are closed, but the profession lives on (read From Dance Bar Girls to Business Escorts for more.) Or maybe it has just migrated to the less uptight party scene which booms down south at Goa, every holiday and weekend. As The Goa Blog reports: " The 'damsels' of the Mumbai dance bars with their jhatkas are here to sizzle Goa.With hundreds of single, rich men, both Indians and foreigners, coming down to Goa during the peak season, there is a high demand for girls to accompany these men to the night clubs and rave parties.
"And this demand is being fulfilled by the bar girls from Mumbai who flock to Goa in a group of 10 or 15. The money is good and the girls believe that it is better to be on home turf rather than be trapped in an unknown country."

"--+- .

---

UNCLONED WORLD
Contact us by email: coderot@gmail.com
phone: (090) 6039-9341 (JAPAN)