TOKYO DINING GUIDE - ef gallery
WITH ALL THE WARS AND FIRES AND EARTHQUAKES OF THE PAST CENTURY, THERE AREN'T THAT MANY REALLY OLD BUILDINGS IN TOKYO. Even in old neighbourhoods like Asakusa, it is hard to find anything that dates back to before 1950. Often you can
feel
the history, but seeing it is a different matter. Gallery ef across the road from the Kaminarimon Post Office on the banks of the Sumida River in Asakusa, Taito Ward, is about as historic as it gets in modern Japan. This space, a 140-year-old warehouse turned art gallery, cafe/restaurant and bar, is a survivor of the earthquake and the
terrible firestorm
the Allies visited on this city in 1945. When all the bombers had departed that fateful night at the end of the Second World War, the warehouse now known as ef gallery was one of the few structures in Asakusa left standing. You can see a black and white aerial photo inside the gallery today which verifies this. In spite of its horrific past, ef gallery is foreigner friendly and pacificist/internationalist in philosophy. There are exhibitions here by foreign artists, up in the creaking attic. The place serves a mean
spaghetti carbonara
... the meanest in Tokyo in my opinion. The atmosphere is always congenial.
As with many cafes and bars and restaurants in Asakusa, there is something of a midwestern American theme to the decor. Or maybe that is just my projection. Whatever the case, there is plenty of wood. The soundsystem, which is modern, plays an ambient selection including
Mum
from Iceland, and other artists who sound like early Sigur Ros, but aren't. It is my kind of music. The food, while not exactly traditional Japanese, is still my kind of food. Pizza toast,
doria
, and curry rice. I experimented with the menu for a while here, before choosing the meal which really hit it home. You've got to drown it in
mozzarella
and Tabasco sauce, but the taste is divine. It is not the dish which is pictured below. You have to be having a panic attack at the time to truly appreciate its flavor.
I am speaking of Gallery ef's spaghetti carbonara, which I like so much I could eat it day after day, all day-long. A pity I don't have a photo of it to post here. At night the gallery converts into a bar, although I have always been here in the daytime. I used to teach English to Mrs S. here at Friday noons, and I also brought my parents along when they were in Tokyo. Mrs S. and her daughter were showing them around Asakusa one spring day, and it was suggested we have afternoon tea there. On the menu was a strange dish of chicken liver, which, it said, Nagai Kafu used to eat when he came here. On the wall of the cafe were extracts from Kafu`s diary. "January the 24th. Clear skies. Cloudy later. Dinner at Arizona Kitchen." That sort of thing."
tokyo view finder... powered by crowded world.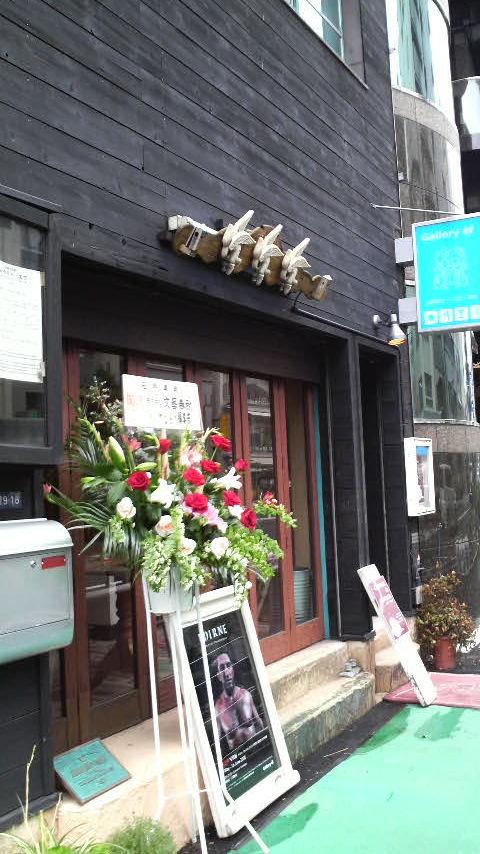 Thanks to Wikipedia and other sources, this is what I have learnt about the man: "Nagai Kafu) was born Nagai Soukichi on December 4, 1879. He "was a Japanese novelist, playwright, essayist, and diarist. His works are noted for their depictions of life in early 20th-century Tokyo, especially among
geisha
, prostitutes, cabaret dancers, and other denizens of the city's lively entertainment districts."
Tabismile writes: "March 10th 2007, I went to the Gallery ef. After a few minutes from scheduled time, the lights went out and the voices of survivors under the air raids came to my ear. Firstly, it was the conversations about their memories of childhood. However, it changed to memories of the war gradually. Dancer Suzuki quietly showed up as if it were bombers sneaking up on dark sky of Tokyo. The voices tell you the night of burning Tokyo. When the lights began flashing, he started dancing with slow and sometimes quick and hard motions. I imagined the people suffered from fires, they were running around with no way out. Each motion of the dance was extremely intense and representing the will or desire of people to their lives. Suddenly, the dance quieted down and the voices already changed to talking about the morning of day after the air raids. According to the survivors, there was nothing different between those who were killed and not killed, it was only a matter of luck. When you face war, your own will or hope does not mean anything. It is obvious that either in our daily life or on the road you can smile because you are in peace. 3.10 gives me a precious time. After the event, you can rediscover the meaning and importance of being in peace. I want to yell at all people involved in 3.10. ..."
Shingo Inao wrote (in German and Japanese): "Kennst du Asakusa?
"Asakusa ist eine alte Stadt in Japan.
"Wenn ich doch meine Freundinnen oder Freunde nach Japan einladen wuerde, fahre ich wahrscheinlich nach Asakusa zuerst.
"Tokyo ist zwar verrueckt u. interessant, aber eine von den Schoenheiten in Japan gibt es bestimmt hier.
"Nun, komme ich zum Thema.
"Heute bin ich also nach Asakusa mit einem Freund gefahren, um eine Live der Gallery ef zuzuhoeren. Zufaelligerweise hatte eine Freundin von mir eine Ausstellung hier, die ich bei der Live in Neues Kunsthaus Ahrenshoop, kennengelernt habe.
"Die Live schien eigentlich ziemlich interessant zu sein. Und zwar Electronics und Gi-da-yu, eine von japanischer traditionellen Kunst..."
Japanischer traditionellen Kunst
... traditional Japanese culture, you will find that ef gallery, but it is usually modified into something contemporary. A commoner with enough money would be served as an equal to a samurai. Though it was discouraged for a samurai to enter the Yoshiwara area, they often did so anyway.
Traditionally the prostitutes were supposed to wear only simple blue robes, but this was rarely enforced. The high-ranking ladies often dressed in the highest fashion of the time, with bright colorful silk kimonos and expensive and elaborate hair decorations. Fashion was so important in Yoshiwara that it frequently dictated the fashion trends for the rest of Japan."
Arizona Kitchen: 2-19-18 Kaminarimon, Taito Ward. Phone: 03/3843 4932.