TOKYO DINING GUIDE - gaboh
Gaboh (Asakusa)
FINALLY, THIS WAS IT. After months of false starts, broken promises, and misguided hopes, now I had the chance to eat in a quality Japanese restaurant, and blog about it. With plenty of nice photographs, to post right here. Backdrop: after eight years of living in Japan, my parents had decided to deign me a visit, a
Royal visit
no less. Kind of surprising because they had never shown any interest in visiting me before, but I guess they have their reasons. Largely to nag me into leaving Japan, so I figured (and I was largely right.) They were to be in Japan for three weeks, two of which they planned to spend with me at my apartment in Shinozaki. They would rail around Japan for one week with their pass, and on either side of that, stay for two weeks with me at my pod in east Tokyo. So it was up to me to entertain them for the duration of their stay in the Eastern Capital, and take them to all the places I have come to love over the past eight years. I turned to my Asakusa contact Mrs Sasaki for help. Since she aspires to be a guide for tourists in Japan, this was a golden opportunity for her. She rose to the challenge. Deciding things to do and places to go in Asakusa was a no brainer; determining where to eat proved a little more tedious. Like many of her people, Mrs Sasaki is convinced that foreigners cannot eat real Japanese food. By real Japanese food I mean raw fish,
tsukuemono
pickled vegetables, and seaweed. All of these are present in abundance at
Gabou
, a restaurant on Kokusai Dori ("International Street"), right next to the drum museum near Tawaramachi Station. Which is why I was surprised that in the end this was the place that Mrs Sasaki made a booking at. (To be honest, my parents said they didn't care where they ate, and I told Mrs Sasaki that. She didn't seem convinced.) I was expecting Sasaki-san to book my folks into some
yaki niku
joint instead, something more
gaijin
friendly, someplace used to tourists. Some restaurant with steaks and spaghetti on the menu. But in the end, she chose to represent old school Japan. The
Gaboh homepage
doesn't even have an English menu, let alone an English language option on their homepage. The restaurant's name roughly translates as "Our Room" -- that is a very rough translation, but gives you an indication where they are coming from! This is old school Japanese
ryouri
, that is for sure!
We had originally planned to lunch at Gaboh on Friday, April 17. Unfortunately, a death in the family prevented my folks from making it to Japan until the following weekend. After weeks of looking forward to the holiday, news of the delay disappointed me profoundly. Not to be discouraged, Mrs Sasaki and I held our reservation, if only to give the restaurant a dry run before my parents arrived, to see if they could really stomach it. Interestingly, our meal coincided with the funeral held for my grandfather Herb, who passed away on the NSW Central Coast north of Sydney, at age 90. Perhaps I could feel his spirit passing, as I ate. When I turned up at Gaboh on the dark and wintry Friday noontime, I was pleased to see Mrs Sasaki's daughter Fumino sitting opposite my allotted space at the table. It had been a long time. I thanked her for all the birthday cards she had given me over the years, all of them interesting and well thought out. The food was great as expected, a real summary of Japanese cuisine (on the light tip). I reassured Mrs Sasaki that my parents would be able to stomach it, when they ever got to Tokyo. If they ever got to Tokyo! Among all the usual favorites there were some things I had never seen before (or never seen before in a traditional Japanese restaurant), such as this potato dish. Mrs Sasaki told me it was called
shin jagaimo
, or "New Potato". Perhaps she meant baby potatoes. They were served with some dark vegetable like matter -- perhaps
gobou
(burdock).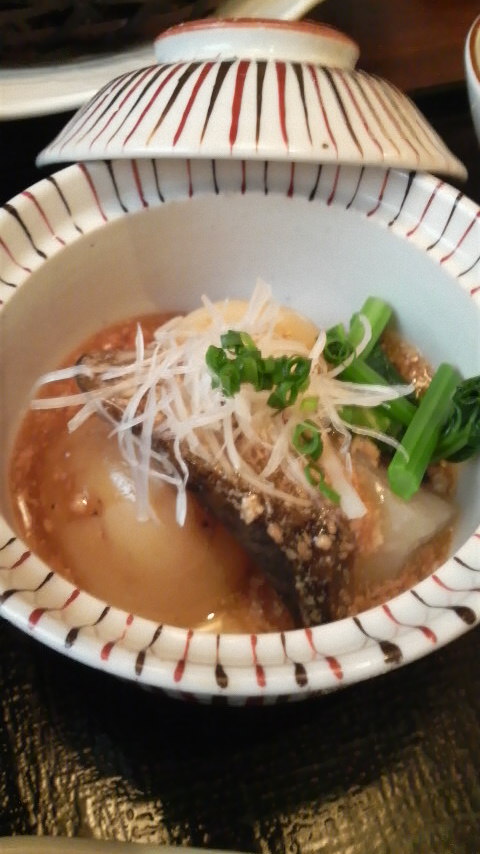 A match made in heaven: raw fish, soy sauce, and
wasabi
. I could eat this stuff all day long!
A dish fit for Roland Barthes: the freshness of vegetable and shellfish encapsulated in batter (
tempura
.)
All capped off with a dessert to die for: ice cream, sweet potato, and a deep mug of bitter green tea.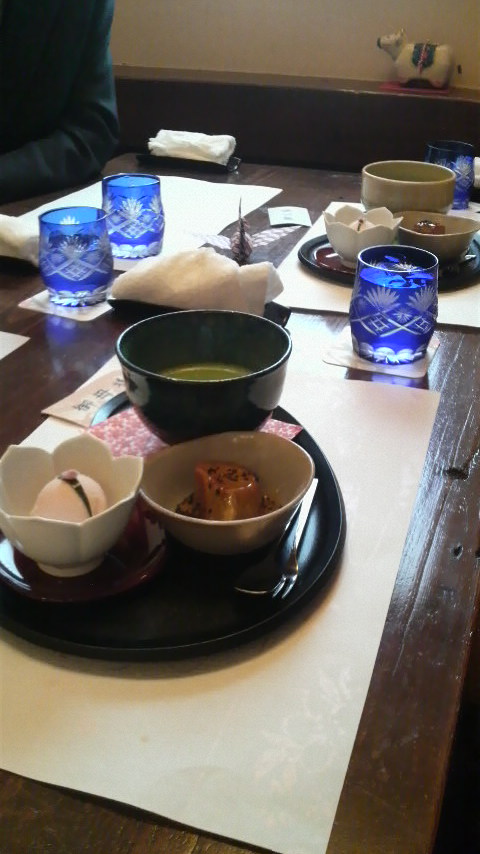 My parents were supposed to be here, but they were delayed a week, by the death of my grandfather Herb, who passed away at the age of 90. May he rest in peace. It was a gray day in the heart of Spring, in the sometimes grey old downtown district of Tokyo. We tried to enjoy ourselves in spite of our grief, Mrs Sasaki and I (and her daughter.) There were plenty of goodies there to distract us. Everyone laughed and had a good time. There was just one thing missing, one thing not in its place: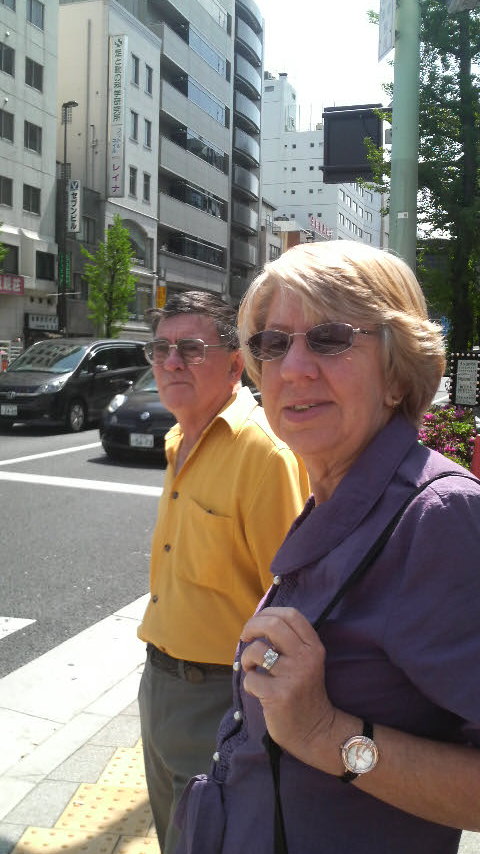 Six days later, they were there! It was time for Round Two!
Gaboh is at 2-1-12 West Asakusa, Taito Ward, Tokyo -- the phone number is 03 (3845) 8853. Lunch sets cost about 1500 per person.