1st Impressions Mean So Much // 24 Hour Party Zone // Bangkok Dining Guide // Bangkok Spin Club Guide // Book Stores on Khao San Road // Chilling in Israeli Khao San Road // Democracy Monument (อนุสาวรีย์ประชาธิปไตย // Drum and Bass Utopia // Grand Palace Photo Stream // Japanese Girls in Bangkok // Listen to Bangkok Bands Online // MBK Department Store // Phnom Penh Hotels // Ratchada Soi (โสต) // Russian Girls in Bangkok // Russian Girls in Phuket // Secret Tourist Destinations in Thailand for Backpackers // Soi Rambuttri: Chilled Out Alternative to Khao San Road // Suvarnabhumi Airport // Thai Dentists // Wat Thai Temple Blogspot


FIRST IMPRESSIONS ALWAYS MEAN SO MUCH. Thailand was the first foreign country I ever visited, at the age of 19, and I don't think I will feel culture shock quite so ripe and raw as that, ever again (unless I manage to travel to an alien planet.) It was late 1992, and I was en route to Egypt and Israel and the Middle East with my man Garnet Mae, and we had a couple of days to kill in Bangkok, awaiting our Turkish Airlines flight. Arriving in the dead of night at Bangkok's old international airport, we decided to head in to the famous (infamous) Khao San Road guesthouse area. With a mad Englishman and Irishman to split the taxi ride. It was my first night in Asia, and everything about the place crazed/amazed me. The traffic, the way the taxi driver raced down the road as if he were on a deathwish, and we didn't even have functional seatbelts to wear! The traffic, whole families hanging out of the back of pick up trucks (they may well have been SpaceCabs, or maybe it was too early for the SpaceCab revolution?) Tonnes of families on the streets, and it was nearly midnight (us kids would have been back home in bed at the same time.) Gridlock in the middle of the night downtown, and what made the ride even more surreal, was that the taxi was an exact replica of my Mum and Dad's own car, a blue Holden Commodore (I guess both were German Golf rip-offs.) But my Dad never gunned it down crowded highways, the way that Thai taxi driver did. I hung on to the roof strap for dear life, as we thundered past ever more shabby and colorful districts, the streets swinging with lights. Trees groaning with lights, and above that, on the facades of buildings, bright neon lights advertising Japanese and American companies. We were all convinced that the taxi driver was going to try to rip us off. When he finally pulled up on the kerb and said we had arrived at Khao San Road, none of us believed him. When I got out of the car, I was stunned to see a common criminal being led down the street, shirtless and wearing handcuffs, by the Thai police. And I thought to myself: What kind of country is this? Little did I know at the time, that at the head of Khao San Road lies a massive local police station. Anyway, having spent nearly 8 years in Asia now, guys in handcuffs don't phase me any longer. I have even worn them myself, on the odd occasion, and played the role of the scary criminal, on the great stage of life. I have loosened up, and Khao San Road no longer scares me. But does it still interest me? That is the great question, as I await my next visit there, in August 2008.

1ST IMPRESSIONS MEAN SO MUCH
WROTE ONE TRAVELLER WHOSE STORY I FOUND ON THE INTERNET ONCE, A COUPLE OF YEARS AGO I THINK: "The first time I stayed on Khao San Road was after a trip through Nepal and India in the early 1990's. I remember arriving late at night, new to Thailand and climbing out of the cab, dazed and confused straight into the arms of a tout who led me to a flophouse in the back of KSR. Windowless with cardboard walls, a filthy mattress and a never-ending racket from the rooms that surrounded mine, from memory it cost about 50B -- in those days about US$2 -- what a bargain I remember thinking.
"The next day I got savvy and upgraded to a guesthouse I would use repeatedly over the next decade - the Bonny Guesthouse -- it still had fibro walls and crummy mattresses but the shared bathrooms were clean and there was a small garden area with a funny little swinging table where you could relax and meet others -- for years it was 60B for a single -- and my home away from home whenever I was in Bangkok.


"Alas, Bonny is gone -- bulldozed and replaced with an ugly lump of gardenless, characterless concrete. (Eds. note: Par for the course trying to build up romantic memories in Asia I am afraid -- the place I met my girlfriend Nga in Ho Chi Minh City has also been bulldozed, and turned into something hideous.) Across Khao San and the areas it splurged into - Soi Rambuttri, Trok Mayom and further afield, high land prices and the incredible increase in traveller numbers brought about by the (first) Amazing Thailand campaign have meant that in many cases the only way has been up up up.
"Despite this some "old" (a relative term I admit) style places survived, but they are few and far between - Prakorb's House, Small Joe, Sitdhi, Barn Thai, Di-o and Apple remain standing, though even Barn Thai looked closed at my last pass in March 2005. Meanwhile the larger "prison-cell" style guesthouses like Nat, Yoon, 7-Holder, Hello, Marco Polo, Nana Plaza Inn and New Nith Charoen have pretty much cornered the super-budget market -- but you get what you pay for. With a couple of exceptions if you want to pay under 150B for a room you'll end up in one of these gems -- some of which have over 100 rooms -- don't forget your earplugs.


"A concrete-hulk with 100+ rooms was never my idea of a fun way to relax and meet people (ed's. note: it was never my idea of fun, either) -- I've always preferred the small family-run houses where it is easier to meet other travellers and to get to know the family who runs it. Luckily over the years in the West Banglamphu area (between Khao San Road and the Chao Phraya) a lot of previously private houses opened their doors to guests. But now, as with Khao San Road in the past, the money-driven boom continues there as well. Construction in the last couple of years has left us with Mango Lagoon Place, Rambuttri Village Inn, Lamphu Place to name a few.
"As the western area has boomed so has Khao San itself. D&D reinvented itself, Buddy went seriously upmarket, and a whole host of fairly featureless "backpacker factories" appeared on the scenes -- Budget Guesthouse, Kawin, Mom's, Siam Oriental and all the Sawasdee hotels (many of which were older hotels which Sawasdee bought out and rebranded). And still the backpackers come.
"As the guesthouses changed so did the food and shopping -- McDonalds, Burger King, Starbucks, Boots, 7-eleven, Asia Books, Coffee World sprung up like mushrooms in the wet season. The number of streetside bars exploded, today converted VW buses provide mobile drinking spots stocked with "60B super strong cocktails". Although you can still get fake student ID's and press cards, they're now a small portion of the market, pushed aside by throbbing pirated CD and DVD stalls.


"And the internet cafes -- the biggest scrouge of all... (eds. note: but they sometimes come in handy!)
"Luckily not everything is bad. If you're on a budget, you can still take the ten minute walk up to the National Library area, where small family-run operations such as the Sawatdee (opened for business in 1980!), Shanti Lodge, Tavee amongst others continue to trundle on. These places represent far better value than most of the options on Khao San Road. But if you really want to stay on Khao San Road and want to do so in an old style place, consider Prakorb's, Little Joe's or Di-O's, while if you're willing to spend more, Shambara remains our favourite. Further afield, don't forget the Soi Ngam Dulpi area..."

Another arrival in Khao San Road via Suvarnabhumi: Setew writes: "Khao San Road, a tightly packed area of Bangkok that almost exclusively caters to the budget traveller, provides little in the way of a cultural experience and is either a tourist hell or a Mecca depending your perspective. From where we were standing it was a paradise.

"The streets are lined with every convenience: tasty chicken skewers, fresh cut pineapple, charcoal roasted corn on the cod, pad thai, freshly squeezed orange juice, noodles, star shaped burgers and barbequed fish all available for 25 cents. In what little available space is left between the shops and the roads are semi-permanent stalls that sell all travellers' wants; from cheap strappy sun wear to endless displays of $4 CDs. (Eds. interruption: there are many beauty salons in the Khao San road region offering spas, hair and beauty treatments, and massages. Taro reports: "There's also an open-walled tent on the side of Thanon Chakraphong which offers eight different facial treatments at a standard price, and the lot as a half-price special.") Restaurants ply their trade as much by the latest Hollywood film that is showing on their 14 television screens as the food that they sell.

24 ชั่วโมง, THIS PLACE ROCKS
The Brick Bar, the Best Ska and Reggae Joint on Khao San Road
"LATER AS NIGHT BEGINS TO SETTLE IT BECOMES THE NEW ORLEANS OF ASIA. Strong beer combined with super-heated capitalism and a dash of corruption has nubile Thai women selling beer and liquor out of a flower power painted VW vans. Small stalls spring up selling margaritas and white russians for those that can't make the 20 meters till the next bar without further intoxication. Beer in hand, like an "Access all areas" badge, one can move from club to bar on the assumption that if you bought one you're likely to buy another.

"While this was obviously not Thailand proper, we relished the moment, conversation bubbling out of us, glad not to have to cross the culture divide for just a few days. We were drunk on the elation of how easy everything was. We felt giddy just like when you return from a two-week camping trip to rediscover hot water and clean linen..."

Wrote Dave on Go BackPacking: "I began to walk through the gauntlet of cheap souvenir stalls, mini-bars, neon lights, and party people dining al fresco. It was early evening so the atmosphere was relaxed as Western women in short shorts shopped, deadlocked dudes listened to Bob Marley, and people wandered around feeding their faces with pad thai bought from street vendors. Everyone seemed to be having a good time.

"After making a habit of arriving in new cities, countries, cultures, and environments for the past 7 months, I felt confident walking the distance of the road alone. Still, while trying to take in the sights, smells, and sounds, I didn't want to have that 'fresh off the plane' look. I don't know why. If there was ever a place to care less about having a 20-pound backpack strapped to your back with your eyes wide open, it was Khao San, where backpacking virgins and veterans have been arriving 'fresh off the plane' daily for decades..."

It is true, that Khao San Road is the backpacking heart of Asia, and one of the great K waystations, on the transAsian trail (up there with Kathmandu, Kota Beach and Kabul, Afghanistan, according to Lonely Planet. (Well, Kabul probably doesn't get much backpacker action these days, what with the war and all, but give it time, it will make a recovery!)) They might scowl at you if you are lugging a backpack in some parts of the world, but not on Khao San Road. In fact, people scowl at me, when I trundle my worldproof Japanese red port down the Golden Mile, looking for a cheap guesthouse. Making instant assumptions about me, just because I choose not to carry a backpack, or wear flip flops, or whatever. The Thai guys howl and make fun of me, and the chicks ask me if I am a homosexual, just because I travel with a suitcase. I can assure them, I am as รักต่างเพศ as they come. But I have always been the fun to buck the trends, and swim against the current. It must be said, Khao San Road is a very pretentious place, and I refuse to wear khaki pants or dreadlock my hair, just to piss off those fashion police. That's also why I get around with my ridiculous Japanese red port, which could probably survive a plane crash, it is that durable...

BOOK STORES ON KHAO SAN ROAD
UNSURPRISINGLY, KHAO SAN ROAD IS THE BEST PLACE IN THAILAND TO BUY SECOND HAND FOREIGN LANGUAGE BOOKS. I picked up the Lonely Planet guide to Nepal there, and it got me through an exciting trip. 3 Months in Thailand Research Trip writes: "Made another trip to raid the second hand bookstalls of the Khao San Road today. Got four books for 600B, or about nine quid, including a copy of Norman Lewis's travel book on Cambodia, Laos and Vietnam in the early 1950's. Say what you like about backpacker land, it is a good source of books. For new books there are some very good bookshops in town, but the rate I go through fiction means it would be a very expensive undertaking. I was a bit disappointed by the British Council lending library - not many books, and mainly abbreviated versions of english classics for people learning English. The shortened versions of Trollope appeal even less than the full versions. AUA has apparently got a library - will have a look when I am next down there for another language class.

"So in the meantime, there's the KS Rd. It's on the other side of the city, which until now has meant a journey to the end of the Skytrain line, and then a boat. Not anymore though! Today I found the elusive no 59 bus and did the whole trip in under 20 mins. Had to run to catch it mind, it doesn't hang about and you need to ring the bell and get off sharpish, otherwise it's blasting on up the road in a cloud of filthy exhaust."

It has been said that along with good Israeli food, KSR boasts the only Hebrew bookstore in Bangkok.

CHILLING IN ISRAELI KHAO SAN ROAD
A Thai Blogger Samples the Offerings at Shoshana Israeli Restaurant, and Declares it Excellent // Tina Eating at Shoshana Restaurant in Bangkok (You Tube)
JUST LIKE THE JEWS OF OLD, THE ISRAELI COMMUNITY IN THAILAND HAS LONG BEEN VICTIMISED AND MISUNDERSTOOD. Granted, the Israeli's don't make it easy on themselves, by ruthlessly demanding discounts wherever they camp or dine; and walk the length of Bangkok's Golden Mile and you'll see plenty of places with No Israeli's Allowed signs hanging over the door. Have the Thai population suddenly become anti-Semitic, or is this a case of once bitten, twice shy? Israeli's don't make particularly easy customers. Especially if you are a Thai and your whole reason for being in Banglamphu is to make money from hustling foreigners. The Israeli's don't have a particularly good or friendly reputation amongst travellers in Thailand, but being the contrary f00cker that I am, I want to buck the trend, and try to befriend a couple of Israeli's this coming trip to Thailand (August 2008). It would be easy hanging out with the Eurotrash nodding my head to the DJ in some bar, and I hope to do plenty of that, but I also want to broaden my horizons culturally, and meet people I wouldn't normally have the chance to meet. The first thing I do, once I wake up on my first full day in Bangkok, is stop at one of the Israeli restaurants on the street, and eat an Israeli snack.

When talking about Israeli and kosher food on KSR, the obvious starting point is Shoshana (86 Chakrapong Road -- phone +66 2 282 9948.) It is just near the police station where I was dropped off by my cabbie, on my first visit to the City of Angels. Shoshana has gained such a reputation that at least two rivals have opened nearby to serve the overflow. As Yahoo! Travel has reported: "The servings are piled high with falafel, hummus, hazilim, salad and chips, and you can stuff the whole lot into a baguette should you wish. Drinks are self-served from the fridge (including big and small bottles of beer). If you want to avoid the crowds, mid-morning and mid-afternoon are the best times to visit..."

As it turns out, I didn't make it past the gates of Khao San Road. I stopped off down at the police station end where I made my first appearance on Khao San Road, way back in 1992, at an Israeli style fellafel stand. While I was there, I got approached by a black African man. He said he was from The Sudan. He bought me a fellafel, all vegeterian as far as I recall, brimming with Middle Eastern texture and flavor. There were a couple of Israeli guys (former soldiers, no doubt) standing around, enjoying the monsoon. I asked the black African guy what he was doing in Thailand. I didn't quite get his reply, but he said that business had forced him to stay in Bangkok a couple of weeks, and he had spent every night of his stay at Khao San Road. Which kind of implied that he liked it here, but then he started confusing me, by denouncing the scene. 'I don't agree with all this drinking,' he said, nodding to the heaving, staggering masses, all the alcohol adverts. 'I don't agree with this materialism, this rudeness, all this sex. You see, the Prophet laid out guidelines of how to live, instructions for how to live. Since it was God who created us, it is only natural, that God should give us the instructions on how to use our physical vehicles. That is something you never got in the Bible, and that is something the Jews never understood either! The Koran is a user manual for the human being."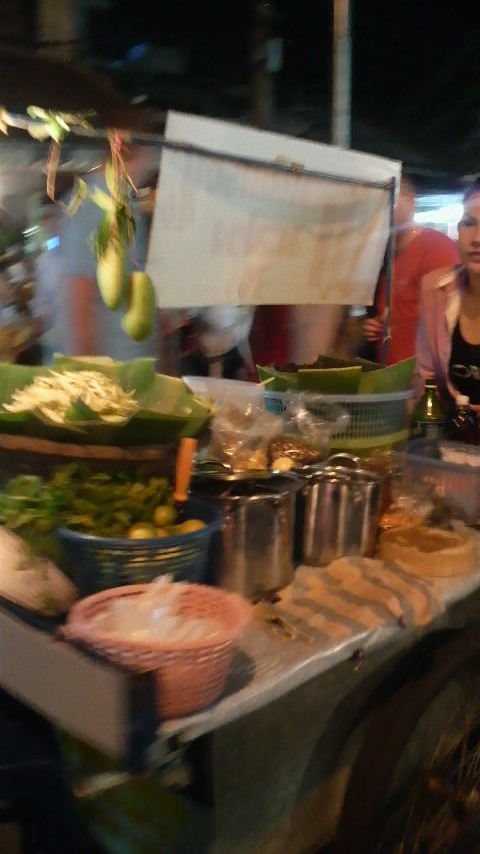 The scene around us was a hubbub -- a constant coming and going of backpackers, taxis and delivery trucks snaking their way through the scrum, ladies pushing carts stacked with fried chicken and noodles and corn on the cob. There were peddlers from the highlands hawking hammocks made out of synthetic fibres, and stroking wooden frogs with small batons to make strangely froglike croaks. One of the Israeli guys at the stand glared at us, having overheard the reference to the Koran. "People in the west are so materialistic now," the African was saying. "They have lost touch with the important things in life, such as following God's commandments."
"Have you ever drunk alcohol?" I asked him.
"Never, not once. Liquor has never so much as even passed my lips."
Sometime later the subject of September 11 came up, and the Muslim boldly proclaimed: "That was an inside job carried out by Jews and Americans." It should be remembered we were standing at an Israeli fellafel stand at the time, and there were former Israeli soldiers turned backpackers hanging around, no doubt some of them with combat experience. I was in no mood to make enemies or get into a fight, so I decided it was time to ditch this freak. Which was kind of good timing, because he wanted to go back to his hotel anyway. He escorted me as far as the Bayon Building, where I resumed my sinful indulgences. I never got to have my night walk along the river, past the old embankments. Nonetheless, it is always nice to meet someone from a farflung corner of the world... that happens a lot when I am Khao San Road. It is one neat place to hang out.

EATING ON KHAO SAN ROAD
Bangkok Dining Guide // Tuptim, on Thanon Rambuttri
Food Stalls, Intersection of Thanon Rambuttri and Thanon Chakraphong.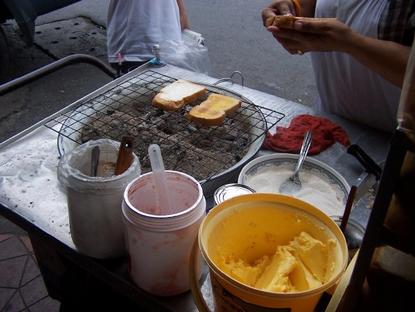 Writes Seen That: "According to the local customs, the stalls change along the day; some foods are good for the mornings while others for the evenings. This is a good reason for visiting and exploring the corner at all hours. The food -- as always in Thailand -- is always fresh, clean and safe, despite the foreign spicing.
"Early in the morning is a good time to eat a toast to-go at the very corner of the junction. A generous slice of the slightly sweet Thai bread is toasted there over coals and served with butter and sugar or with jam. The toast is carefully cut into comfortable bites and is served within a plastic bag. Each slice costs THB5 (slightly above a dime). Coconut cookies also appear in the mornings. The stall preparing them is easily recognizable by its peculiar oven, which is shaped as an eggs' tray. Spherical in shape, the crusty, golden exterior hides sweet coconut cream. Five units cost THB20 (slightly above half dollar).
"The national staple -- Thai noodles soup -- is a favourite at all hours and can be found next to the corner on Rambuttri. However, one shop further inside that street there is a more thrilling option. Khai Pa Ro is a dish-over-rice prepared of delicately cooked pork meat, an egg and soft tofu cubes; all of them are cooked in a rich, dark brown, tasty broth and acquire its color and taste. This is a good introduction to the Thai cuisine and the place seems to belong more to the Mekong riverside, the Thai heartland, than to cosmopolitan Bangkok. A generous portion costs THB20.
"After sunset the streets change and new stalls appear. The Pla Meuk Ping stall is a must. This snack looks a bit strange at first and it may take some time to dare it, however, in this case being brave has its reward. A dried roasted squid is flattened with a hand press until is as thin as a sheet of paper and then it is shortly toasted over hot coals, one squid costs THB10 and has a vaguely fishy taste. "And later? At the very small hours, along Thanon Chakraphong (away from Khaosan Road) it is possible to find a stall of Thai coffee (THB12) next to a stall preparing the tasty fried donuts (THB2 each) usually consumed with it. With an option for every hour of the day, there are no excuses to skip a local meal in Bangkok..."
Learn Thai Online at Thai Language Dot Com
Banana Records http://www.bananarecord.net/ Groovalax http://www.groovalax.com/ Hualampong Riddim http://www.hualampongriddim.com/ Indy Cafe httsic.com/www/ New Destiny Records http://www.newdestinyrec.com/ Pakkred Hardcore http://www.pkxhc.com/ Panda Records http://www.wearepanda.com/pandarecords/ Small Room Records http://www.smallroom.co.th/
SLEEPING ON KHAO SAN ROAD
Central Guest House: 81/ 1 Tanao Road, Banglumpoo, Chanasongkram, Bkk. 10200. Phone: (66) 02281 2511. Website: website here.
Every room is supposed to come with window, air-conditioning and attached bathroom. The single room is a mere 200 Baht per night.
New Siam Guest House: Between the Chanasongkram Temple and the Chao Phraya River. Website: website here.
Rooms from about 240 Baht per night.
Rainbow Hostel: . Website: website here.
This place boasts US$5 a night air-conditioned dorm and free wifi. There is an Indian restaurant downstairs and prices seem pretty cheap there too.
Shambara Boutique Hostel: Khao San Road. Website: website here.
A single with fan can be found for 300 Baht.
Online Radio Idea Radio http://www.idea-radio.com/ Music Zaa Radio Online Station - ฟังเพลง ออนไลน์ วิทยุออนไลน์ 24
Says the website: "Music Zaa is a 24 hours online radio station that plays requested songs, as well as variety of top hits, Thai songs, and English songs through our web site.
"All songs are provided by our friendly DJ. We have an enjoyable Chatroom for discussing and having a pleasant conversation about anything that you desire while listening to the Music requested by you.
"The sole purpose of this website was created for entertainment as well as development of the audio streamingtechnology which uses low bandwidth broadcasting..."
Tickets Thai Ticketmaster http://www.thaiticketmaster.com/ Radio Click Radio http://www.thisisclick.com/ General Bangkok Spin http://forum.bangkokspin.com/ City Blue http://www.cityblue.net/ Cool Voice http://www.coolvoice.com/ Metal Thai http://www.metalthai.com/ Siam Moshpit http://www.siammoshpit.tk/ Thai Poppers Paradise http://www.thaipoppers.com/ Outside Thailand Audioreload (shows in Singapore) http://www.audioreload.com/ Independent Bands Malaysia http://www.i-bands.net/ Malscene (shows in Malaysia) http://www.malscene.net/ ------------------------------------------------------- Susan Orlean says on The Place to Disappear: "In 1985, Bonny and Anek Rakisaraseree noticed how many budget travellers-mostly young French and Australian men-were drifting around Bangkok, so they opened Bonny Guest House, the first on Khao San catering to foreign wanderers. Locals were not even permitted to rent rooms. Dozens of other guesthouses opened soon afterward, most with forbidding signs in the lobby saying "Not allow any Thais to go upstairs." Drugs were fantastically cheap and available and quietly tolerated, despite wishful signs saying "We do not welcome use or possession of heroin in guesthouse." More than a third of Thailand's seven million annual visitors are young, and undoubtedly many of them pass some time on Khao San. Some are Americans, but even more of them are from other countries: Australians having what they call their "o-s experience," their overseas experience, which begins in Sydney and ends six or eight months later with requisite "Rough Guide" and "Lonely Planet"-advised stops in Goa for Christmas and in Nepal for a winter trek and in Angkor Wat for sunrise; hordes of Israelis, fresh out of the Army-so many, in fact, that the best kosher food and the only Hebrew bookstore in Thailand are on Khao San Road. There are such large crowds of Japanese kids that a few guesthouses are de-facto Japanese only, and you can buy a logo T-shirt of any Japanese baseball team from the venders on the road. There are French and German and British and Canadians. Altogether, they have turned Khao San into a new sort of place-not really Thai anymore, barely Asian, overwhelmingly young, palpably transient, and anchored in the world by the Internet, where there is no actual time and no actual location. Khao San is now the travel hub for half the world, a place that prospers on the desire to be someplace else. The cheapest tickets on the most hair-raising of airlines can be bought in the scores of bucket shops that have collected in the neighborhood. Airlines you've never heard of, flying routes you never imagined, for prices you only dream of are the staple of Khao San travel agencies. The first time I ever heard of Khao San Road was from an American backpacker whom I met on a Bhutanese airline flight from Calcutta to Bangkok. He'd bought his ticket on Khao San Road. "I told the travel agent I didn't care how or when I got there," he said. "As long as it was cheap, I was ready to go." I have a persistent fantasy that involves Khao San. In it, a middle-aged middlebrow middle manager from Phoenix is deposited at the western end of the road, near the Chanasongkhran police booth. He is a shocking sight, dressed in a blue business suit and a red tie and a white Oxford shirt, carrying a Hartmann briefcase, and wearing a Timex. He wanders through the snarl of peddlers' carts and trinket booths. First, he discards his suit for batik drawstring trousers and a hemp vest and a Che Guevara T-shirt, or knock-off Timberland cargo shorts and a Japanimation tank top, and he sells his Timex to a guy with a sign that says "We buy something/camera/tent/sleeping bag/walkman/backpack/Swiss knife." He then gets a leather thong bracelet for one wrist and a silver cuff for the other, stops at Golden Lotus Tattoo for a few Chinese characters on his shoulder, gets his eyebrow pierced at Herbal House Healthy Center, has blond extensions braided into his hair, trades his briefcase for a Stssy backpack and a Hmong fabric waistpack, watches twenty minutes of "The Phantom Menace" or "The Blair Witch Project" at Buddy Beer, goes into Hello Internet Caf and registers as "zenmasterbob" on hotmail.com, falls in love with a Norwegian aromatherapist he meets in the communal shower at Joe Guest House, takes off with her on a trek through East Timor, and is never seen again. BARS
Dong Dea Moon:
Booma at Thai Visa wrote: "There is good bar that always plays drum and bass down Rambuttri (the road down the side of the temple at the bottom of Khoa san) it is called Dong Dea Moon, go through the restaurant and upstairs. Nice little place with free pool, loud music and balcony where you can watch the mayhem on the street below. They also run DDM (differant venue) at weekends look out for flyers on KSR."
Gullivers Travellers Tavern: Opposite police station. Website: website here.
A legendary bar/club at the end of Khao San Road. Actually Gullivers has become a chain, with branches all over Thailand. I believe the one in Khao San Road is the original, though. Expect to pay 150 Baht for a large Singha. You could start the day here with a banana pancake for 100 Baht. At lunch, a Phuket tuna sandwich might go down a treat for 120 Baht.
Suzie Pub: 108/5-9 Soi Rambutri, Bkk.
Small bottles cost 70 Baht each and a half-liter of draft beer costs 100 Baht.
After 4,000 miles on the road during their US-tour 2005 wit shows in Los Angeles, Montere, Reno, Las Vegas, Phoenix, Tuscon and San Diego. GAMMALUX has been on a Tour to China in October/November 2006. GAMMALUX was rocking all over China for three weeks in such cities as Beijing, Hongkong, Shanghai, Cheng Du and Xi$BCB(Bn. In Spring 2007 will be the next big project of GAMMALUX: They gonna tour all over in such countries like China, Thailand, Malaysia and Singapore. Don$BCU(B miss one of their show!!! @ IMMORTAL BAR, KHAOSAN RD., BKK Sun 13 May 2007 Begin : 8 pm. Ticket : $B!,(B 160 Available from: IMMORTAL BAR, KHAOSAN RD. Special for buyers of advance tickets, get free!!! vcd live Water War VI (per one ticket) More info : + 6681-7500591, fight_tribe@yahoo.com Visit & listen @ www.myspace.com/gammalux Show time:

$B!&(B10 pm. FEEL THE PAIN (metal) A History of Drum 'n' Bass by Thailand's Lost Boy
As someone once said: the scene is well underground, but you can listen to the D and the B probably up to 2-3 nights a week.
- Q Bar (hard to believe, but Nookie is playing there this Oct 29! (year undefined)) - not often
- some places around Tong lor from time to time - other khao san rd places from time to time Best thing is to get in tight with the two crews who are making the DnB scene here: Homebass Communications: DJ Wen and DJ Dragon would be the founders of the scene here; both Thai and well versed in DnB they DJ well and Dragon could hold his own against most of the big names that have come out here (and well better than pikers like Michey Finn) - play the full gambit from the hospital records soft stuff to full on pressure RAM stuff
The guy in Siam Square whose name I cannot remember - he is the other one; DJ Paul I think maybe? is his name, also a good DJ and brings regional guys over; he brought over Makoto a while back this year (who was great). Name is ....recordings; man it is frustrating not to remember!
They both play regularly, but you need to get to know them to find out when . The whole scene is tight, so you see the same people again and again; befriend a few and you'll find a ton of overseas udjakated Thais innit who are on the whole not full of s&*t like the people who go and listen to losers like Judge Jules. Then you can enjoy whenever you want.
VENUES IN BANGKOK:
3Some: 29/67 Block C, Royal City Avenue, next to Club Astra (02-203 1782) 20+.
About Cafe: 402-408 Thanon Maitreejitr, Promprab, nr Hualamphong SRT Stn & Wong Wien 22, Bangkok (02-623 1742, www.yipintsoi.com/~aara) a/a [open for special events only].
Bed Supperclub: 26 Sukumvit Soi 11, nr Nana BTS Stn, Bangkok (02-651 3537, www.bedsupperclub.com) 20+.
Café: Democ south corner Thanon Ratchadamnoen Klang, Democracy Monument, Bangkok (02-622 2571) 20+.
Club Astra: Block C, Royal City Avenue, Bangkok (02-622 2572, 09-497 8422, www.club-astra.com) 20+.
DDM 1: Thanon Chao Fah, in townhouse next to National Gallery, Bangkok (05-144 9133) 20+.
Immortal Bar: Fl 1 Bayon Bldg, 249 Thanon Khao San, beside MiniMart, Bangkok (no phone, immortalmetalbar@hotmail.com) 20+.
Impact Arena: Muang Thong Thani 99 Thanon Popular, Muang Thong Thani (02-504 5050, www.impact.co.th) a/a.
Noriega's: 106/108 Silom Soi 4, Bangkok (02-233 2813) 20+.
Plaa Dib: 1/1 Areesamphan Soi 7, Phaholyothin (02-279 8185) a/a.
Q Bar: 34 Sukhumvit Soi 11, nr Nana BTS Stn, Bangkok (02-252 3274, www.qbarbangkok.com) 20+.
Rock Pub: 93/26-28 Hollywood Street, Thanon Payathai, opp Asia Hotel, Ratchatewi BTS Stn (02-208 9664) a/a.
Santichaiprakarn Park: [Phra Sumen Fort] Corner of Thanon Phra Athit & Phra Sumen, near Banglamphu Express Boat pier, Bangkok (no phone) a/a.
Saxophone Pub & Restaurant: 3/8 Thanon Phayathai, nr Victory Monument BTS Stn, Bangkok (02-246 5472, 02-248 2100) a/a.
Spoon Ground Floor: U Chu Liang (HSBC) Bldg, corner Saladaeng & Rama IV (02-641 5394, 01-254 6690) a/a.
Tapas: 114/17 Silom Soi 4, nr Saladaeng BTS Stn, Bangkok (02-234 4737, www.tapas-room.com) 20+
.
Thai Cultural Center: [Suan Wattanatam] Thanon Thiem Rua Mit, btwn Thanon Ratchadapisek & Rama IX, Bangkok (02-247 0028) a/a .


About Cafe 402-408 Thanon Maitreejitr, Promprab, nr Hualamphong SRT Stn & Wong Wien 22, Bangkok (02-623 1742, www.yipintsoi.com/~aara) a/a [open for special events only]


Bed Supperclub: 26 Sukumvit Soi 11, nr Nana BTS Stn, Bangkok (02-651 3537, www.bedsupperclub.com) 20+
Café Democ south corner Thanon Ratchadamnoen Klang, Democracy Monument, Bangkok (02-622 2571) 20+ Club Astra Block C, Royal City Avenue, Bangkok (02-622 2572, 09-497 8422, www.club-astra.com) 20+ DDM 1 Thanon Chao Fah, in townhouse next to National Gallery, Bangkok (05-144 9133) 20+ Immortal Bar Fl 1 Bayon Bldg, 249 Thanon Khao San, beside MiniMart, Bangkok (no phone, immortalmetalbar@hotmail.com) 20+ Impact Arena Muang Thong Thani 99 Thanon Popular, Muang Thong Thani (02-504 5050, www.impact.co.th) a/a Noriega$B!G(Bs 106/108 Silom Soi 4, Bangkok (02-233 2813) 20+ Plaa Dib 1/1 Areesamphan Soi 7, Phaholyothin (02-279 8185) a/a Q Bar 34 Sukhumvit Soi 11, nr Nana BTS Stn, Bangkok (02-252 3274, www.qbarbangkok.com) 20+ Rock Pub 93/26-28 Hollywood Street, Thanon Payathai, opp Asia Hotel, Ratchatewi BTS Stn (02-208 9664) a/a Santichaiprakarn Park [Phra Sumen Fort] Corner of Thanon Phra Athit & Phra Sumen, near Banglamphu Express Boat pier, Bangkok (no phone) a/a Saxophone Pub & Restaurant 3/8 Thanon Phayathai, nr Victory Monument BTS Stn, Bangkok (02-246 5472, 02-248 2100) a/a Spoon Ground Floor, U Chu Liang (HSBC) Bldg, corner Saladaeng & Rama IV (02-641 5394, 01-254 6690) a/a Tapas 114/17 Silom Soi 4, nr Saladaeng BTS Stn, Bangkok (02-234 4737, www.tapas-room.com) 20+ DJ AMNESTY AND THE BANGKOK DRUM'N'BASS SCENE
Antonio Pineda from MagickPapers writes some flowery prose, but he does seem to be having fun over there in Bangkok, so he can be excused. Pineda recently (May 30 2008) called in on DJ Amnesty and crew at Sri Poom Expresso Bar. "DJ Manow is taking me to witness the first live broadcast of Underground Bangkok Radio," Pineda writes. "DJ Amnesty, a cool Brit dude is the featured artiste on location at the Sri Poom Expresso Bar. The broadcasts will promote the talents of the best young Thai and international DJS representing the best elements of the electronic music scene. DJ MANOW leads me down the road in his hood, past the Blues Bar and a brace of hip restaurants until we hit the site of the broadcast. The scene of the crime is chilled out downstairs, DJ Apple a cool Thai bloke is behind a turntable. We ascend the circular stairway to the second floor.
"DJ Amnesty is setting up shop for the two hour broadcast. The studio is remarkable for a collection of 1940s radios and tv sets encased in old mahogany woodwork of yore. A large window overlooks the street, on view is the cool street vibe. The players arrive on the set. Daryl is in the house, a hip Brit who is on the UB Radio team. The Mellow Mushroom Crew headed by Mark Weinstein join DJ Manow, bottles of Chang and Heiniken appear on the tables. Pierre a minamalist DJ from India talks trash and DJ Amnesty kicks the show into overdrive. He consecrates the event mixing and rapping, doing voiceovers as the flow of avant garde house-trance-minamalist-trip hop burns the airwaves.
"Blue lightning flashes outside as rain crashes against the windows creating a percussive effect as the raindrops add a naturalistic beat to the raging dance music on air. Downstairs an eclectic audience is gathered around the bar seeking refuge from the monsoon rain. Amnesty is toasting and roasting, the electronic music scene in Bangkok is attracting name DJS from all over the world. Venues like Culture Club, 808 in the RCA complex, Q-Bar, Bed Supper Club and a host of others are bringing it on..."

Zuatnight: The Real Party People


I am back on the Golden Mile in Bangkok. It is good because it is raiy season not so many people here. But enough for a party. I ended up with a black Sudanese guy who was condemning all the alcohol and sex around him. "What happened to obeying God's commands?" he lamented.

I found my Drum n Bass Utopia upstairs in the Bayon building. The place also does heavy metal which might make a dark combinatio with the brooding, rumbling elements of Drum and Bass. Combine to this the dusty old sofas, killer view of the freak show on Khao San Road below, pool tables and general south east Asian concrete decor, and you have a nice place to chill out on a Sunday afternoon. While the lightning licks the skies outside. And the rain falls in lazy, fat, angry drops...

Story stubs (to be expanded in the future): Bollywood film clip or music video filmed in the flower beds by the Democracy Monument. A mini neighborhood of graffiti covered walls and overgrown lots on the big road heading down to MBK, walls plastered with ads for the last Crystal Method gig. This is like a bit of south east London dropped in south east Asia, and just as cool.