---
m i s t e r / a s i a
---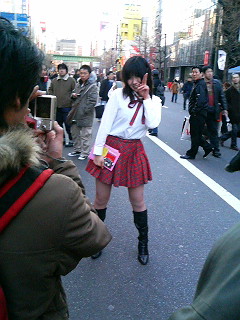 Akihabara Maid Cafes, Japan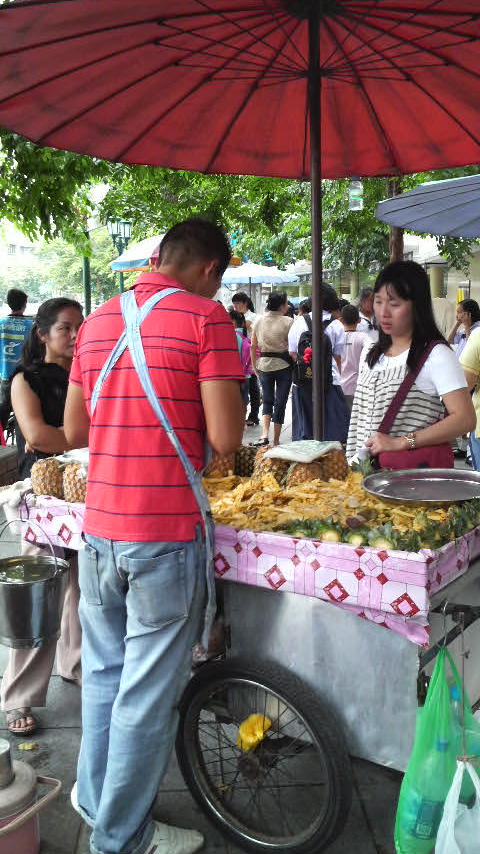 Bangkok Dining Guide
» Beer in Asia
» Jamaican Easy Living Loving Girls
» Japanese Girls in Bangkok
» Khao San Road, Bangkok's Golden Mile
» Malaysia Massage and Spa
» Meeting Thai Girls in Thailand
» Pakistani Girls
» Rise and Demise of Mango Sauce
» Russian Girls in Bangkok
» Russian Girls in Bangalore
» Russian Girls in Istanbul
» Russian Girls in Japan
» Russian Girls in Korea
» Russian Girls in Kuala Lumpur, Malaysia
» Russian Girls in Phuket
» Singapore Massage and Spa
» Tamil Girls
Vietnam Girls
» Vietnam Massage and Spa Guide
---
YES IT IS TRUE -- THERE ARE PLENTY OF WESTERN GUYS LOOKING FOR THAI GIRLS IN THE REGAL, ROYAL CITY OF BANGKOK, AND PLENTY OF BEAUTIFUL GIRLS DREAMING OF A FARANG BOYFRIEND. I saw it myself, the last time I was there, which was August 2008 -- I saw it with my own eyes. I will see it again, when I am there at the end of 2011/start of 2012. If Thai women are not cute enough for you, however, you can always try dating the Russian women living and working in the great Eastern metropolis. The decline of living standards in the old Soviet Union has pushed women out into the world to find their fortunes (or merely make ends meet); the growth of the Thai economy has drawn some of these girls, mothlike, to the bright lights and infamous bars of Bangkok.
Discussing in detail the history of the Russian mafia in Asia, AsiaPacificMs reports: "In the present second wave of migration to the Far East, it is not only Vietnam which has received a massive influx of Russians. The number of Russian visitors to Thailand has increased from only a few hundred in the late 1980s to 24,000 in 1993, 31,000 the following year and nearly 50,000 in 1995. Entire Russian quarters have sprung up in the beach resort of Pattaya east of Bangkok. Officially, they are "tourists". Most of them are small-scale merchants who buy electronics and textiles in Asia and sell them in Russia for a modest profit. But many remain behind in Thailand to run restaurants which serve borsch, shashlik and, when available, Russian caviar. Some talented young men find jobs as jazz musicians in clubs catering to the Bangkok's affluent, new middle class. Many Russian girls work as entertainers in Bangkok's numerous night clubs, or can be hired as 'escorts'...
"The girls are believed to have come to Asia through networks operated by the Russian mafia..."
For Russian women living and working in Bangkok, the Russian Mafia and the brutality of its business practices are the least of their concerns. There has also arisen in recent years a crackdown by the state on their existence, and Russian women are increasingly being targeted by the police and Thai vice squads.
m e e t i n g + g i r l s
SO, THERE ARE PLENTY OF RUSSIAN WOMEN WORKING IN BANGKOK, BUT INCREASINGLY, THERE ARE HORDES OF RUSSIAN GIRLS COMING HERE FOR A HOLIDAY AS WELL. If you do really want to meet and greet Russian babes in Bangkok, some of the places that have been recommended include:
Ambassador Beer Garden: Kloymaie on Russian Girls in BKK wrote: "I was last in Bangkok august and September this year. I meet a lot of wonderful Russian girls at the Ambassador Beer garden...
"But the beer garden is now closed due to constructions of a new hotel at the ground. It's a big shame as the Ambassador Beer garden was a very lovely place to sit down under the sky and enjoy the atmosphere from the street and enjoy a cold beer and a good meal in the heart of Bangkok.

Bed Supper Club: Sukhumvit.
This is the place to shake your booty when you are in Bangkok. I got this story from Zeek Not Geek: "Put the 3 words together and you have BKK hottest and most futuristic club. I know, we have the ciplak version of Bed club in Belissa Row, Penang, but this one is the original one ok. Situated in the Sukhumvit district, which famous for its clubs and bars, Bed Supperclub is considered the most eye catching since the club is shaped like a cylinder. It's a restaurant, gallery and of course your feng tau place, just that it's a high end one. I was there early on Saturday night with resident DJ Josh Ezelle and DJ Emanuelle spinning their specialty techno and house music. It was rather quiet at first but as the night sway its way, more and more people and it was so packed by midnight, it was as if we're at some rave party.
"One thing I noticed, there were very little locals (Thai) or should I say non-existence (except the bar tenders and bouncers la, of course, wtf?!). Lots of foreigner, Japanese, Taiwanese girls giggling snapping photos all the way in front of the DJ deck in their cute dresses.. a few even wore straw hat! Of course there will always be our friends from Middle East who contribute to Thailand's tourism, even Malaysia's too! So we welcome them with open arms.. Apart from being a dance club, Bed Supperclub also serves as a restaurant during the daytime until 10pm. And the restaurant is so unique, there are actually no menu.
"So how do one order their food??
"Well, the menu items are actually painted on the waitresses top. So if you really cant decide what to eat, then its ok to 'virtually scan' through the waitresses huge rack selection of food. Cool isn't it? I bet if we have this in Malaysia, im sure there will be a lot of sexual harassment case reported. But jokes aside, I didn't check out the restaurant looking at the spectrum of street food available anywhere and of course cut cost lar. Entrance to the club is 700THB with 2 drinks. I think the price is reasonable looking at the crowd and ambience this place have to offer. Did I mention that it's a non-smoking club too? Another plus point to give this club a visit the next time you're there..."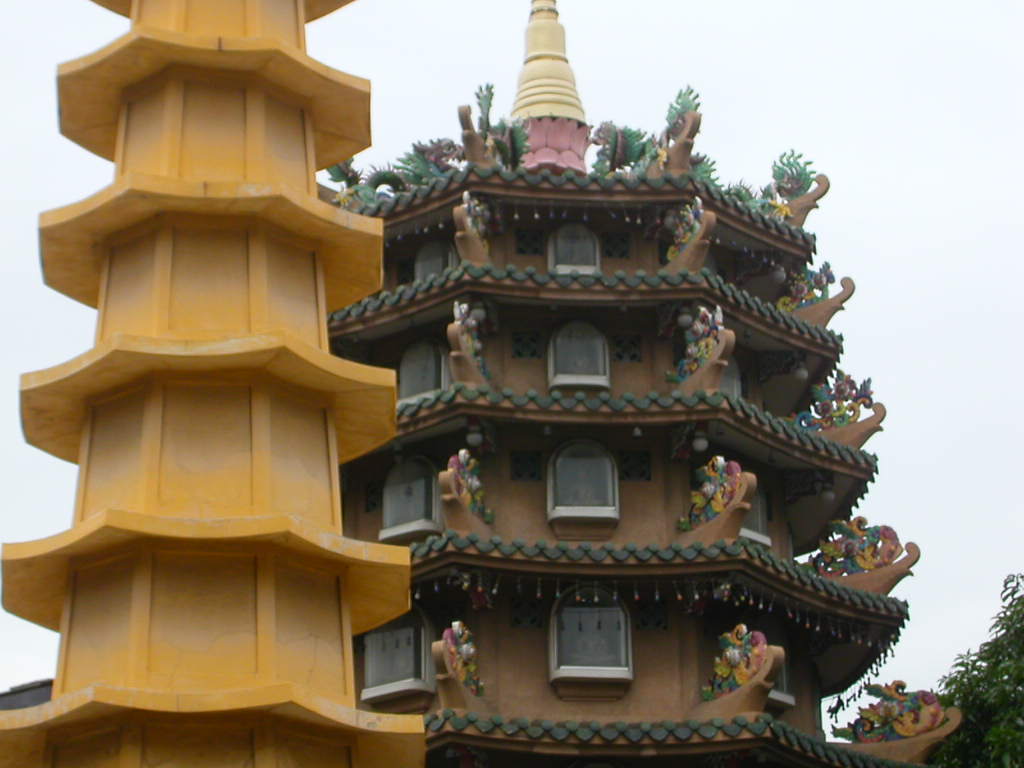 Despite the temples and cultural treasures
Bangkok remains a city of sin for many

CM2 disco: Novotel in the Silom area. See the story on Mango Sauce about Russian women inside the place.

Grace Coffee Shop: Grace Hotel, Sukhumvit Soi 3.

Khao San Road: Banglamphu.
Bangkok's original Golden Mile and backpacker Mecca has a happening party scene attended by attractive folk from all corners of the globe. The last time I was there, which was August 2008, I had an adventure practically everytime I stepped out of my hotel room. The place is literally swarming with freaks, of all colors and creeds. For years I had been intrigued by the Drum and Bass scene on Khao San Road, and finally at last (it was Friday, August 22), I had the chance to check it out. Within 10 minutes of stepping out of my hotel midway down the Golden Mile, I was handed a flyer advertising Drum and Bass at the Immortal Bar. (The joint, located on the second floor of the Bayon Building (website: MySpace site here), apparently also does a pretty mean heavy metal show, although I never got the chance to witness it). You can play pool inside, or you can sit out on the balcony drinking Red Bull and vodka combinations, while watching the lightning lick the skies, and crowds throng the street below. Inside the bar, basslines thunder like a summer storm. I sank a couple of Tiger beers. Apart from the music, there wasn't particularly much happening, so I eventually headed out for a while, ostensibly to explore the surrounding streets, or cross the river in the dark, or something easy like that. As it turns out, I didn't make it past the gates of Khao San Road. I stopped off down at the police station end where I made my first appearance on Khao San Road, way back in 1992, at an Israeli style fellafel stand. While I was there, I got approached by a black African man. He said he was from The Sudan. He bought me a fellafel, all vegeterian as far as I recall, brimming with Middle Eastern texture and flavor. There were a couple of Israeli guys (former soldiers, no doubt) standing around, enjoying the monsoon. I asked the black African guy what he was doing in Thailand. I didn't quite get his reply, but he said that business had forced him to stay in Bangkok a couple of weeks, and he had spent every night of his stay at Khao San Road. Which kind of implied that he liked it here, but then he started confusing me, by denouncing the scene. 'I don't agree with all this drinking,' he said, nodding to the heaving, staggering masses, all the alcohol adverts. 'I don't agree with this materialism, this rudeness, all this sex. You see, the Prophet laid out guidelines of how to live, instructions for how to live. Since it was God who created us, it is only natural, that God should give us the instructions on how to use our physical vehicles. That is something you never got in the Bible, and that is something the Jews never understood either! The Koran is a user manual for the human being."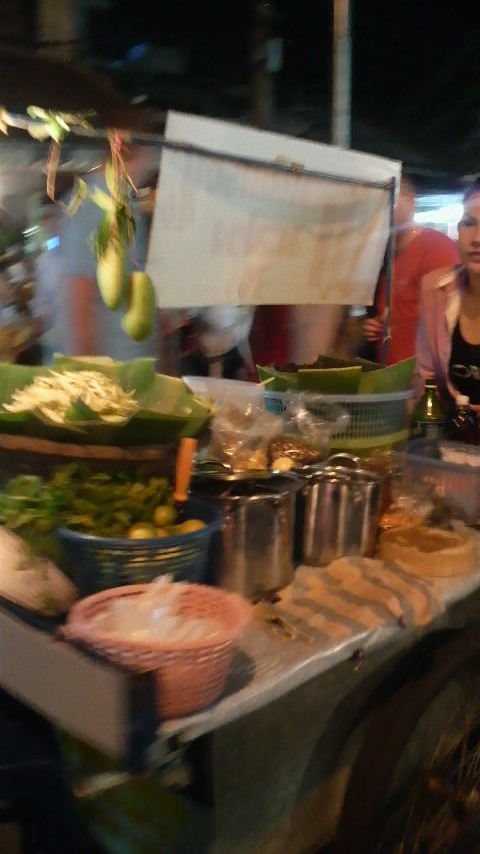 The scene around us was a hubbub -- a constant coming and going of backpackers, taxis and delivery trucks snaking their way through the scrum, ladies pushing carts stacked with fried chicken and noodles and corn on the cob. There were peddlers from the highlands hawking hammocks made out of synthetic fibres, and stroking wooden frogs with small batons to make strangely froglike croaks. One of the Israeli guys at the stand glared at us, having overheard the reference to the Koran. "People in the west are so materialistic now," the African was saying. "They have lost touch with the important things in life, such as following God's commandments."
"Have you ever drunk alcohol?" I asked him.
"Never, not once. Liquor has never so much as even passed my lips."
Sometime later the subject of September 11 came up, and the Muslim boldly proclaimed: "That was an inside job carried out by Jews and Americans." It should be remembered we were standing at an Israeli fellafel stand at the time, and there were former Israeli soldiers turned backpackers hanging around, no doubt some of them with combat experience. I was in no mood to make enemies or get into a fight, so I decided it was time to ditch this freak. Which was kind of good timing, because he wanted to go back to his hotel anyway. He escorted me as far as the Bayon Building, where I resumed my sinful indulgences. I never got to have my night walk along the river, past the old embankments. Nonetheless, it is always nice to meet someone from a farflung corner of the world... that happens a lot when I am Khao San Road. It is one neat place to hang out.
The next night I was back at the Immortal Bar drinking and enjoying a chaotic set when I met this Thai girl who called herself Far 2 Juicy (her real name being Phar I believe.) She was sitting on a couch with this young, blond English guy. "It is not as if he is my boyfriend or anything," she claimed at one point, but judging by the way they went home together, he surely was. At least until something better came along, I suppose. She seemed to have eyes for me, and it made me think, if I hung out more often in Bangkok in the future, I could get plenty of action there. When I woke up in the morning, I was amazed to find her email address in my pocket, scribbled on a paper pizza plate. Far 2 Juicy @ Hotmail or something like that. And my first immediate thought was: Ring a Ding Ding!

Soi 3: As Girls in Bangkok reports: "Soi 3: Was a hangout for the Russian girls but a recent bust in February may have changed this a bit. Try another 10 at Soi 13.
---