+ - + - + - + - + -
» Day Spas in Singapore
» Find a Masseur on Craig's List
» Gay and Lesbian Massage in Bali
» Getting a Massage in Malaysia
» Getting a Massage in Singapore
» Getting a Tattoo in Singapore
» Meeting Malaysian Girls
» Singapore Girls
» Singapore's Changi Airport Guide
» Study Massage in Sydney, Australia
» Vietnam Spas
---
Blogs

Girl With A One Tracked Mind
---
Asian Attractions
Suwon, South Korea
---
Akihabara Maid Massage, Japan
---
Bollywood India
---
Hindu Gods
---
---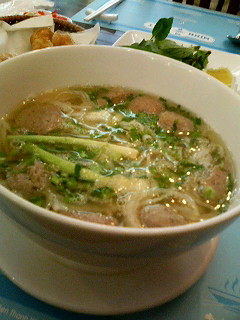 Ho Chi Minh City Restaurants
---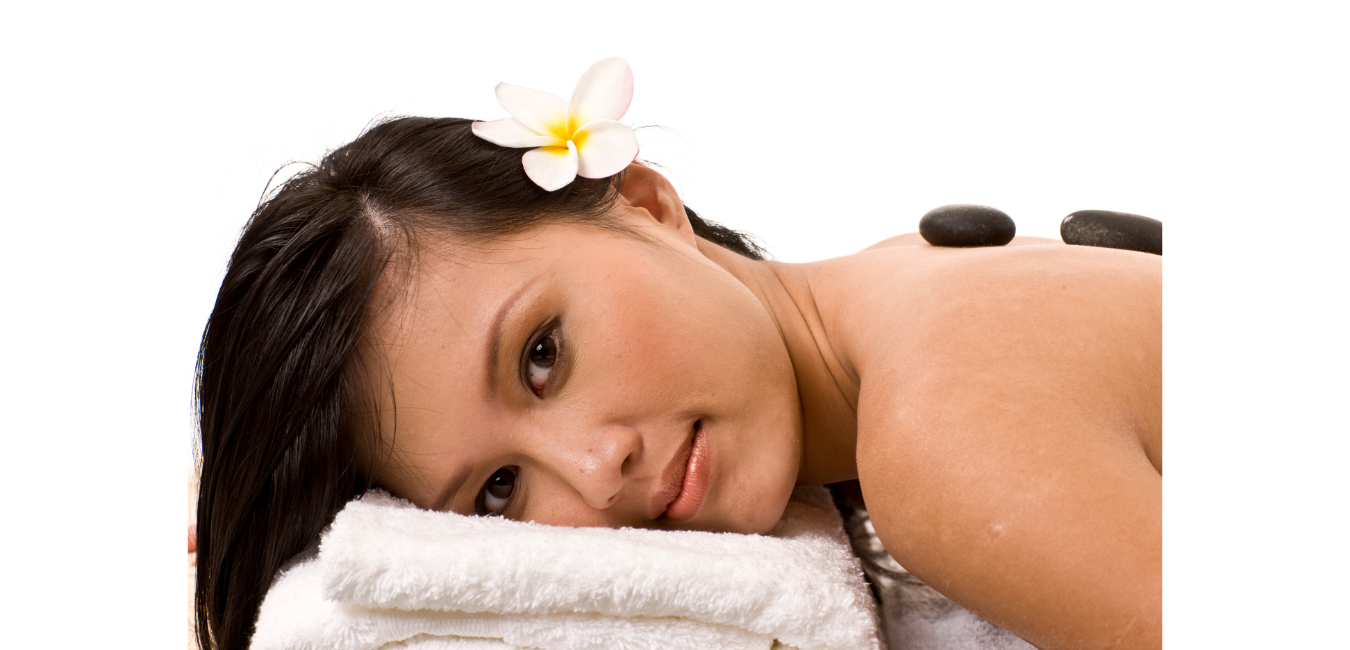 SINGAPORE IS SUCH A STRESSED OUT NATION, IT IS HARDLY ANY WONDER THAT MASSAGE AND SPA CULTURE HAS BECOME SO BIG IN RECENT TIMES. As in Finland and Thailand and Iceland and Japan, there is a spa boom going on in Singapore, and the boom shows no sign of letting up. Massage treatments are big business. How did it all start? Spa Esprit, a group of four women, claim to have sparked the Singaporean massage industry, back in 1996, when they opened their facility in Holland Village.
It might not have a spa history or many volcanic vents, but in one important respect, Singapore out-spas the competition (when it comes to sparring in the ring at least.) The island's Spa Botanica at Sentosa Resort and Spa boasts Asia's first mud pools, float pools with cascading waterfall and meditation labyrinthe. The spa was named sixth in Readers' Spa Awards 2008 Top Ten Day Spas (Overseas) by Conde Nast Traveller UK. Just as Singapore romps it home in the dining department and is home to one of the best airports in the world, the island republic also punches above its weight on the spa circuit. How does Singapore pull it off? The same reason it excels in the kitchen: because of the cultural diversity of the people. As Spa Botanica claims on its website: "Spa Botanica harnesses the positive energy of nature, high-touch therapies from the East and West and merges them with modern amenities. Each treatment is designed to optimise the benefits of the region's rich botanical heritage. "
Singapore is a microcosm of Asia and within its modest borders can be found touch traditions from all the eastern civilisations. If that is not enough, the island has always had a strong connection to the west and its various massage styles are all well represented. As Singapore Secret has pointed out, the following kinds of massage can be obtained on the island, reflecting the multiethnic composition of the population:
"1. Ancient Thai massage
"2. Foot or sole massage
"3. Japanese Shiatsu
"4. Stone massage
"5. Chinese Tui Na massage
"6. Chinese Zhi Ya massage
"7. Deep muscle therapy
"8. Deep tissue massage..."
To Singapore Secret's list I would add a couple of other kinds of massage, reflecting the amazing racial diversity of the island republic, which is continuing to diversify every day:
"9. Indian massage
10. Javanese massage...
11. Indonesian massage
12. Balinese massage
"Places to find these Massage Parlour:
"1. China Town
"2. Geylang
"3. Most of the Hotels
"You are expected to pay around for S$25 per hour for foot massage. S$30-50 for body massage. In the hotel, you will need to pay around S$65-S$100 or even more.
"I enjoy having foot massage and thai oil massage. I usally go to one of the massage parlour in geylang. The foot massage normally done by male and oil body massage by thailand lady. I had tried the tradition thai massage and found it painful as it consist lot of body bending. Thai oil massage will be more comfortable. I paid S$45/h for the oil massage and $20/h for the foot massage..."
Massage can improve the immune system and boosts longevity. Fabulous Tan have studios on Orchard Road (6735 5335) and Bugis (6884 5455) -- plenty of promotions including free trial tan and free membership for anyone holding a used Cathay movie stub can be found here.
Another popular tanning salon is Bronz Tanning, located at 18 Cross Street #02-18 Marsh and McLennan Centre, China Square Central. The website says Bronz is "Singapore's first unisex professional solarium and the largest tanning salon in Southeast Asia... BRONZ is the official tanning salon for Carrie Models International (Singapore), Mister Singapore Organisation and Singapore BodyBuilders and Fitness Federation (SBBF). We are also proud to be the renowned tanning salon in Southeast Asia frequent by celebrities, models, PMEBs (Professionals, Managers, Executives and Businessmen), fitness enthusiasts and bribes-to-be. More than ten thousands people have experienced BRONZ Tanning..."
c h a n g i + m a s s a g e
MANY READERS OF THIS SITE ASK WHERE IS A GOOD PLACE TO GET A MASSAGE WHILE IN SINGAPORE. It is a fair question, and I am obliged to offer a fair answer. Other readers, meanwhile, ask where is a good place to relax at Changi -- and I mean really relax -- while others want to know where to work out. "Interestingly, the rooms have indicators pointing to Mecca, for the convenience of their Islamic clientele. The transit hotel gym has a fairly new Precor treadmill (was finally replaced this spring), a stationary cycle, and a few weight machines, and a rack of dumbbells. and little packets of soap (which are hard to open).
"The desk can also supply you with exercise clothes, although you still need to bring your own running shoes. Their gym has several nice treadmills, along with a newer weight machine, hand weights, and mats for yoga. They also have showers, nap rooms, oxygen therapy, and a lounge with snacks."
i n d i a n + m a s s a g e

INDIAN MASSAGE IS BASICALLY AYURVEDHIC MASSAGE, THE ANCIENT PRACTICE OF THE SUB-CONTINENT WHICH IS NOW ENJOYING A POPULARITY BOOM IN SINGAPORE AND AROUND THE WORLD. As Indian Girl Massage has written: "Indian traditional massage practiced under ayurveda tradition for thousands of years. These massage are popular due to its uniqueness & rejuvenative power of healing.
BENEFITS OF AYURVEDIC MASSAGE
"1) Improves blood circulation.
"2) Improves body flexibility & muscle tone.
"3) Helps to trim off and burn the excess & stubborn fat from the body.
"4) Tones up skin and encourages its renewal process.
"5) Mobilizes the digestive system and speeds up the elimination of waste products.
"6) Improves immunity to fight against infection and disease.
"7) Caring touch and massage soothe our nerves and decrease tension.
"8) Helping sleep problems.
"9) An effective aid to relaxation...

Ayurvedic massages are generally regarded as more luxurious and exotic than other massages as most use a synergistic combination of precious oils and carefully prepared herbal extracts. These are delicately and precisely created in laboratories in India by respected Vaidyas, and individually modified and mixed to get the perfect mix for YOU.

my encounter with a mad fundamental Christian preacher who also happened to work at the airport. It happened in the transit lounge.

Ancient's Best Clinic: Level 6, Raffles (The Plaza), 2 Stamford Rd. Phone: 6336 4477. Email: . Website: Ancient's Best Clinic website here.

Ayurveda, a Holistic system of Medicine, though native to India, is a practical science of life whose principles and practice are universally relevant today as it was some 5,000 years ago. As such it can be established that Ayurveda is a time-honored and ageless science. Ayurveda includes herbal ebalancedf medicines, nourishment (dietetics), exercises (Hatha Yoga/Pranayama), surgery and psychology. It also extends to include the deeper knowledge of spirituality. Ayurveda became the basis or foundation of the healing traditions of Indonesia, Tibet, Sri Lanka, Burma and other Buddhist lands and has influenced Chinese medicine. It further spread west, where the Greeks were similarly influenced.
"The highest or ultimate goal of AYURVEDA & SIDDHA treatment is to attain absolute detachment of the 'Atman' or soul. This is the state of liberation or 'Moksham'. However for practical and commercial purposes this is hardly emphasized nor practiced. In Singapore at Ancient's Best, Clinic & Study Center of Ayurveda & Yoga, this is our Physician's primary emphasis. At the same instance, the body, mind and its equipment are not neglected but brought very much into focus and attention, as it is the only means of realizing the Self or Truth..."
i n d o n e s i a n + m a s s a g e

THE FIRST AUTHENTIC ASIAN MASSAGE I EVER SUBMITTED MYSELF PROSTRATE TO, HAPPENED WHEN I WAS HANGING WITH MY INDONESIAN FRIEND HOTMAN ON THE RIAU ISLANDS, IN THE SUPER STRATEGIC STRAITS OF MALACCA NEAR SINGAPORE, BACK AT THE END OF 2000. Hotman was a Batak journalist in Jakarta but cultivated dreams of opening a karaoke bar in Nagoya (not the Japanese Nagoya, but the Indonesian Nagoya on Batam Island.) I don't know how the scheme panned out, but I do know he was big on massage, and he was intending to include a massage facility in his complex. Across the busy Straits, Singaporeans are likewise wising up, to the benefits of Indonesian massage. Given that Singapore sits only miles from the Riau Islands and beyond that, over the bustling seas, the vast and sprawling Indonesian archipelago, it is not surprising. According to My Beauty Guru, "Traditional Indonesian Massage is an ancient system of healing which relies upon deep pressure massage to break down tensely knotted tissue as well as long strokes and skin rolling to relieve tension and improve circulation.

"This is a therapy where pushing techniques predominate, working very deeply to ease muscle and joint pain. The oil is worked into the body using long sensual strokes spanning the length of the muscle to relieve tension. After the initial strokes are completed the sequence is finished with upwards strokes towards the heart. The skin is also rolled between the thumb and the forefinger to awaken nerve endings and increase blood flow. Circular thumb movements are used for the same purpose. Pressure points on the hands and feet are also massaged to relax the body. "If you are feeling stiff or suffering from pain, a traditional Indonesian Massage is highly recommended. An hour session of this massage is enough to leave you feeling relaxed, refreshed, rejuvenated and re-energised." Some places offering Indonesian massage in Singapore include:

House of Traditional Javanese Massage: Branches on East Coast Rd, Jalan Jurong Kechil, Devonshire Rd and Upper Thompson Rd. Website: House of Traditional Javanese Massage website here.

Open every day except Hari Raya Puasa and Hari Raya Haji, the House of Traditional Javanese Massage offers a full body massage and a ginger herb rub. According to the House, "Fresh ginger is traditionally used in Javanese healing treatments - it is believed to moisturize, stimulate circulation and impart warmth to the body. Watch out for some real heat but leave feeling better than believed possible."
The House of Traditional Javanese Massage is famous for its ginger rub, but that is not the only treatment available. Also of interest is the Pre and Post Natal Massage utilising a little piece of Indonesian technology called the bengkung. "The bengkung is a long abdominal sash that is bound tightly round the abdomen and hip areas and is believed to help rid of the body excess wind, restore muscle tone, flush toxins and strengthen the new mother. It is also said to stimulate the body's lymphatic system thus quickening the process by which the mother shed the extra weight put on during her pregnancy..."
Some of the other treatments at the House of Traditional Javanese Massage include the Mandi Susu (Milk Bath), the Yoghurt and Honey Rub and the Mandi Lulur body scrub.

Indonesian Herbal Massage and Spa: Located at the junction of Frankel Ave and Changi Rd, in close reach of the Kembangan MRT station. Phone: 6449 6900. Email: Email : admin@indonesianherbalspa.com. Website: Indonesian Massage and Spa website here.

This "relatively new" spa off Changi Rd offers treatments such as the intimacy care for women, and the tongkat ali scrub for men. There is a secondary branch of Indonesian Massage and Soa located inside my latest new favorite place in Singapore: the Parkway Parade department store (shop #01-70, 80 Marine Pde Rd; phone: 6344 9558.)

Wayan Retreat Balinese Spa: 61 Bussorah Mall. Website: House of Traditional Javanese Massage website here.

With its resort-like Indonesian decor, this place is a strictly womens only retreat. And the treatments here include the aforementioned lulur (a scrub using powdered rice and Indonesian spices), or the Balinese Urut, in which long kneading strokes are believed to renew and strengthen the body and mind (or should I have said, the mind and body???)
m a s s a g e + d i r e c t o r y

MY FIRST SINGAPOREAN VISIT WAS INDEED FLEETING -- and, according to official definitions, not a real visit, because I didn't leave the airport. However, it justifies as a tourist attraction in itself. It is worth going to Singapore Airport, just to see the airport! This might sound strange.

Amrita Spa: Level 6, Raffles (The Plaza), 2 Stamford Rd. Phone: 6336 4477. Email: . Website: Amrita Spa website here.

Amrita Spa is a worldwide concern with massage facilities usually located in major hotels in major cities, including Raffles Hotels in Cambodia, Thailand, Indonesia, and the Peoples Republic of China. The Amrita Spa at the very first original Raffles in Singapore is the largest luxury spa in Asia, according to one online source, and it is spread over 3 levels of spa and fitness facilities. Nestled among Singapore's urban landscape, it is an oasis of paradise to escape from the busy pressures of the day. Indulge yourself in one of the luxurious signature spa treatments such as Total Body Wellness and Elixir of Youth.

Aramsa Spas: Bishan Park II, 1382 Ang Mo Kio Ave 1, Singapore 569931. Phone: 6456 6556. Email: enquiries@aramsaspas.com. Website: Aramsa Spas website here.

"Therapy for the Soul" is the motto of this upmarket spa and massage center; it also likes to call itself "The Garden Spa". According to the official website: "Founded on the belief that Nature is the greatest healer, Aramsa ~ The Garden Spa infuses universal natural remedies with botanical extracts from the earth and the sea.
"Immersed within the lush greenery of Bishan Park II, we encourage you to seclude yourself to a private space, where you holistically nurture your entire being.
"Aramsa has eleven uniquely designed garden blocks, each presenting an eclectic mix of contemporary design and seamless spaces in harmony with the garden ambience that brings the outside in. "
Treatments (therapies) available include: garden spa package, massage and face, eye, back, water, exfoliation, and body wrap therapy. For more information and price lists, visit the official website (listed above.)

Bonafides Health and Beauty Spa: 80 Marine Parade Rd, #05-20 Singapore 449269. Phone: 6346 1476.

As Street Directory recently wrote on their spa and massage guide to Singapore: "Fancy some pampering from head to toe without having to transverse from place to place, hence saving all that time for an extra dose of indulgence? With the opening of Bonafides Prestige just last year, spa goers have something to cheer about. Patrons will have no trouble finding this spa, located right in the heart of Orchard at Centrepoint, home to Robinsons as well as Marks & Spencer. Bonafides' chic yet comfortable ambience cajoles patrons to lay their tired feet (and shopping bags!) and just be pampered at this one stop lifestyle-wellness spa.
"Open the doors to Bonafides Prestige and be ushered into a plush reception area where consultants will at once sooth your frazzles nerves with a dainty cup of steaming ginger tea. Settle back and enjoy the soothing background music, absorbing the ambience as you fill up your consultation card. The glass panel, which separates the spa from the shopping arena, acts a canvas to filter reality as you await your treatment. The consultation rooms sport separate state of the art scanners for facial and hair analysis. Venture forth and you will be surprised to note that this spa houses 23 treatment rooms in all. The spa delineates separate routes, leading to the treatment rooms to ensure that males and females patrons are accorded the strictest privacy. Step into the wellness corner; your entrance will be heralded by a cobblestone path, entreating the male or female patrons to luxuriate in the jacuzzi, sauna or hydrobath, each in their own private sanctuary...
For the full review click here.

Club Oasis Fitness Center & Spa: Grand Hyatt Singapore, 10 Scotts Road, Singapore, 228211. Phone: 65 6738 1234. Fax: +65 6732 1696 Email: reservations.sg@hyattintl.com.

The treatments here include:
Aroma Back Relief
The therapist will concentrate on relieving stress and tension in the head and shoulder area. It is excellent for insomnia, anxiety, mental fatigue, sinusitis, and tension headaches.
30 mins SGD$60.00
Oriental Massage
Therapists create their own style using variations of Thai, Indonesian, Japanese Shiatsu, Chinese Pressure Points and movements, sculpting the session to the client's needs.
50 mins SGD$90.00 / 75 mins SGD$120.00
Swedish Massage
A soothing traditional classical European massage using long, slow gentle strokes that eliminate lactic acid and stress, improves circulation, relieves muscle tension, increases mobility by imparting deep relaxation.
50 mins Price SGD$ 90.00 / 75 mins SGD$120.00
Classical Wet Soap Massage
Our signature wet and deep cleansing massage originated from the Czech Republic using soaps that contain essential oils. They are crafted from a vegetable base and are loaded with essential vitamins and minerals to nourish and cleanse the skin while massaging. The skin will feel fresh and soft after the massage.
50 mins SGD$90.00
Aroma Massage
Pure essential oils are used in this massage and their physical properties penetrate the skin to heal muscles and organs. This massage helps to promote relaxation.
50 mins SGD$110.00 / 75 mins SGD$148.00


Home Shiatsu Therapy: insert your address here. Website: Home Shiatsu Therapy website here.

As the name implies, this is traditional Japanese massage you can enjoy in your own home (as long as you live in Singapore, and in the west of Singapore.) I remember well my first session of shiatsu therapy at my friend Chris Mae's house in Takao in the west of Tokyo. It was painful! Mae's mother-in-law spent about 30 minutes pushing small gold (as in made of solid gold) needles into the back of my neck and other muscles all over my body. Presumably, the pain is therapeutic. As Home Shiatsu Therapy writes on its homepage: "Shiatsu (literally: finger pressure) is a traditional form of Japanese healing which promotes relaxation and the maintenance of good health. It incorporates gentle manipulation, stretching and pressure techniques to encourage the free flow of energy and harmony throughout the body.
"Sessions are carried out in the comfort of your home. You will be fully clothed, so no embarassing nudity situations to endure. A comfortable massage table will be provided for your maximum therapeutic benefit.
"Each session is charged as follows: 60 minutes - S$100 (all prices are in Singapore Dollars (SGD) Available from 12 noon. Last Appointment: 6.30pm * Note: Service is not available in the East of Singapore."
WWW.INDIANGIRLMASSAGE.COM.
Please book early -- infor@indiangirlmassage.com.
Thank you."

Kenko Wellness Spa. Website: Kenko Wellness Spa website here.

Lonely Planet calls this the McDonald's of massage in Singapore -- not because of its quality, but because they have franchises all over the place. Of course, many consider Lonely Planet to be the McDonald's of the travel guidebook market, so it's word should be taken with more than a dash of salt. On the official website they say: "KENKO chain of Foot Reflexology Centres and Wellness Spas is founded by our Principal, Dr Jimi Tan. Dr Tan has more than 15 years of experience in the Foot Reflexology and Wellness Spa industry, and is skillfully trained in Chinese and American techniques of reflexology. He has also developed his very own style of therapeutic massages and treatments for a quick and effective relief from migraine, back and neck problems.
"Mr Tan's services are highly sought after by both local and international celebrities and the well-heeled in Singapore. He has been invited by the Royal Families of Saudi Arabia and Kuwait, as well as the former Prime Minister of Japan, Mr. Ryutaro Hashimoto, to provide massage treatments..."
Just like the Golden Arches, there are Kenko Wellness Spa's scattered across Singapore. There is one in the Esplanade Mall (8 Raffles Ave). As Nemesis wrote: "A couple of months back, I was at Esplande Mall and saw this Kenko Wellness Spa. As I was walking around aimlessly then, I decided to go for a spa and have a good relaxation.
"The body scrub and back mask helped to have a full back exfoliation and a deep cleansing effect, while the back massage served to ease off those tensed back muscles. Lastly, the whole session was finished off with a nice milk and flower bath with fruits and teas served for you to enjoy while soaking in the nice jacuzzi tub.
"The whole experience was quite nice, with the therapists giving me a very smoothing and nice massage with just the right amount of pressure applied. I almost fell asleep during the massage as It was just too comfortable.
"Overall, I would say that the package was nice, though it was a bit costly. But, there are always special promotions for usage of certain credit cards..."
And for promotion details of the Kenko Wellness Spa at Marina Square, click here.

Mayuri Spa: 11 Unity St #02-10, Robertson Walk. Phone: 6737 5657. Email: . Website: Mayuri Spa website here.

A short walk from the Singapore River, Mayuri Spa brings one to another level of harmony and balance. This spa offers holistic Ayurvedic treatments such as Shirodhara, Abhyangha Massage, Marma Massage, Navarakizhi and Udwarthana, which are perfect for soothing tired, stressed tense bodies and minds. Escort service in Singapore and Bangkok: https://smooci.com/

Nature Forest Spa: 62B Pagoda Street. Phone: 6225 4546. Email: . Website: Nature Forest Spa website here.

Writes My Beauty Guru: "Tucked away amid the hustle and bustle of the city is a haven of relaxation you can escape to at any time you please.ome and experience an all-natural Balinese ambience, the perfect serene setting for a relaxing massage by our professionally trained male therapists."
This following recommendation is pretty old (it dates from 2006, and it originates from one of the gay corners of the Internet), but it is worth repeating: "Ya been to Nature forest spa happen to be serve by this malay guy by the name of Aron," wrote shinyzhuzhu on Trevvy Forums. "Massage not too bad but kind of happening with the happy ending........... ha has nice bod too ...."
To which ah man replied (on the same forum): "You don't like M2 & Relaxy but like Nature Forest?
"Nature Forest is a spin-off from Relaxy wor, they provide same service same massage everything same same from Relaxy wor, even the staffs are mostly previously working for Relaxy wor ...
Staffs from Relaxy (Old & New) all don't like M2 wan, cos they are competitors ... and now Nature Forest staff also won't like M2 cos they fight in same market and targetting at same customer type..."
What kind of customer type are they trying to target at Nature Forest?

The Oriental Spa: Mandarin Oriental Hotel, 5 Raffles Avenue, Marina Square, Singapore 039797. Phone: (65) 6885 3533. Email: orsin-spa@mohg.com. Website: Oriental Spa website here.

According to the official website: "As soon as you walk into The Oriental Spa you embark upon a personalised sensory journey; a journey to inner wellbeing that focuses on the senses of sight, smell, touch, taste, sound and intuition.
"The spa's six treatment rooms include a spacious 62 square metre Couple's Suite. Equipped with two beautiful Agape baths and a steam room, it's perfect for guests who wish to share the experience of a refreshing flower bath or invigorating steam bath. The Couple's Suite also has its own relaxation area with a comforting opium bed, a haven where guests can relax and sip a soothing cup of tea after their treatment.
"Tranquillity and harmony reign throughout The Oriental Spa. You can see it in the design of the spa itself, from its walnut timber flooring, Asian motif panels and traditional Chinese furniture. So lie back and relax, as your troubles float away and peace descends..."
For more information and price and booking details click here.

Rapellez: Orchard Rd (Cuppage Plaza #B1-13 to 18, 5 Koek Road); Tel: +65 6736 0567. Upper Thomson (228 & 228A Upper Thomson Road); Tel: +65 6556 0567. East Coast (709A East Coast Road); Tel: +65 6443 0567. Website: Rapellez website here.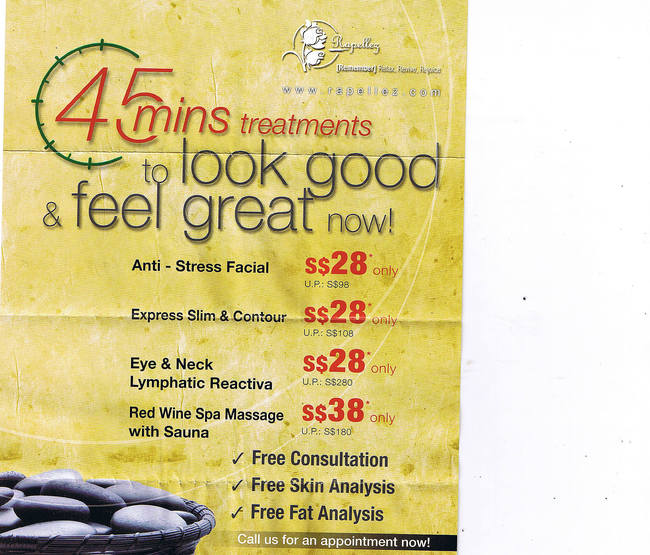 I was walking down Orchard Rd in bright sunny Singapore last week (April 2008), taking in the bright scenery, when a girl handed me a flyer advertising Rapellez. As the flyer reproduced on the right claims, Rapellez offers free consultation, free skin analysis, and free fat analysis. Treatments cost as little as $28 for 45 minutes. I was intriqued by the advertised red wine spa massage, wondering what all that was about. It turns out that as well being a great antioxidant inside the body, red wine also applies itself well, to being applied on the outside. Over at Body Contours, red wine is only one of a number of substances used to enhance the massage experience. For a herbal high fanatic like myself, many of these substances are like old friends: they include green tea, Balinese coffee, and Javanese boreh. Hey, if it is good for you on the inside, it must be good on the outside too, the skin being the largest organ in the human body, after all. As a matter of fact, Body Contours lays claim to being "Singapore's first and only pioneering Winergy® Infusions treatment spa. A signature treatment, Winergy® Infusions is inspired from the words Wine and Energy with the concept that red wine acts as a source of therapeutic energy."


Red Tantra Massage: Outcalls only. Phone: (+65) 8186 8600. Website: click here.

Red Tantra claims to offer the only real Tantric massage in Singapore. Tantra is of course one of the cornerstones of the Kama Sutra, that classic Indian encyclopedia of love, and Tantric massage is focussed upon the male and female genitalia (called the lingam and the yoni, respectively) of the Tantrika (practitioners). This doesn't mean that Red Tantra Massage is just about getting your rocks off. As Memoirs of a Tantrika argues: "Contrary to popular belief, Tantra is not all about sex. It is actually a path of meditation…what sets it apart from other 'paths' is that it looks to the wisdom of the body and the senses as a means to becoming more present and alive in every aspect of our life." Red Tantra says on its website: "The goal of this massage is to bring the body and mind into a balanced and harmonious state. The benefits are many: including deep relaxation, heightened sexual response and better health. The process builds trust and intimacy between partners, and is easy to do." Prices range from $200 to $400, depending on the duration and call out hour.


Reflexion Beauty Center: 111 North Bridge Road, #02-25/#03-01 Peninsula Plaza, Singapore, 179808. Phone: (+65) 338 3539. Website: click here.

Services here are provided by Rasidah Husain, a London trained beautician. As well as all the usual Ayurvedhic treatments, Reflexion offers mehandi Indian tattoo services for weddings, Diwali, or personal pleasure. With the popularity of mehandi as a 'temporary tatto', the options of body decorations are limitless. Applications include for the ankle, wristband, arm band, navel area, hand & feet, etc.

Salon De Expression Day Spa: #3-47 The Adelphi Singapore, 11 Coleman Street. Phone: 65 6338 6958.

Treatments available here include diamond microdermabrasion, detoxifying herbal facial, oxy-mega infusion and body scrub and detoxifying wrap and relaxing massage, all only $68 on your first trial.

Wan Yang: 14 locations around Singapore. Full store list here.


If Kenko is the McDonald's of Singapore massage, as Lonely Planet claims, then Wan Yang must be the Burger King. Of feet. This is the only place in Singapore where you can earn LinkPoints for foot reflexology! Here is a review by a native Singaporean who nows calls Japan home: "I brought some Japanese Yen to be deposited into my DBS account, so I wanna changed them into Sing Dollars. The most convenient place to do that is in Suntec, where the money changer gives the best rates (as far as I know) and the bank is just around the corner.. the rate I got was okay, SGD1.29 for 100yen.. after changing the money, I still have some time left, so I went for my foot reflexology at one of the Wan Yang outlets in Suntec.. Aaaa.. it was truly a relaxing indulgence.. then I went to Carrefour hoping to buy a pair of slippers to be used in the hostel later.. didnft find any that I liked.. so instead I bought a packet of Milo and some Mars bars.. went to Sports Shop and paid 29.90 for a pair of comfortable slippers.. reached the hostel around 1.30pm.. "
BlueColander said: "Anyways after BC, Tini treated me to Wan Yang Foot Reflexology at the Concourse. It's been ages since I've had foot reflexology so it was excruciating but good! After that we strolled to Amirah's Grill for hummus dip which Tini was craving, washing it down with some refreshing but sweet mint tea. Since we were in the Arab st area, I took the opportunity to check out the little boutiques again - Tini said the Haji Lane strip reminded her of Chapel St, Melbourne..."


Spa Esprit

According to Best Place Explorer: "Four feisty females got together with an idea for a haven where people (like them) could escape to when the stress of life made them want to wail and bail!
"And so, Spa Esprit was formed in 1996. It kicked off the holistic day spa industry in the ever-evolving society of Singapore. In 1996, Spa Esprit started its holistic exploits in the heart of Holland Village -- the one locale in Singapore which can be likened to Greenwich Village in New York or Notting Hill in London. The first extra-ordinary treat which appeared on the menu was the ever-muscle-numbing Hot Stones Massage. Psst -- let's share a secret with you, one of the sassy gals who started off Spa Esprit actually trudged all the way to New York to learn this uber-delish treat! Back then in 1996, Spa Esprit was the first to bring the Hot Stones Massage to the day spa shores in Singapore.
"Like no other, Spa Esprit has evolved through the years, always bringing a new, chic, meaningful and simply fabulous treatment for their clients to enjoy. Combining a coupled approach to health and beauty Spa Esprit has since introduced (always) unique treatments to all Day Spa Lovers out there -- we are simply obliged to introduce to you treatments like the Mud Stones Massage, Cheeky Chai Detox, Strawberry Butter Meltdown, Water Diva Facials, Crystal Tonic Facials and other treats like Chavutti Yogic Massage and the ever growing Herbal Lab retail section which are fully endorsed by Naturopaths and Herbalists!"


Sauvignon Day Spa: #3-47 The Adelphi Singapore, 11 Coleman Street. Phone: 65 6338 6958. Website: website here.

According to the website: "We are Singapore''s first wine-themed spa founded on the principles of vinotherapy. While vinotherapy uses grape seeds, grape seed oil, skins and stalks which are rich in antioxidants in massages and treatments to pamper and nourish the skin and body, we incorporate the use of selected wine in our massage oils to impart similar benefits.
"Besides the wine-based massages and treatments, we also offer a complete range of treatments to pamper your body from head to toe. Our Spa Consultants are always on hand to advise and treatments can be customised to suit your preferences..."
f o o t + m a s s a g e
As TimeOut Singapore wrote: "Treat your toes After a long day of trudging up and down Orchard, nothing beats a footrub. My Foot Reflexology (#03-30 Centrepoint, 6736 2562; #B1-16 Forum Singapore, 583 Orchard Rd, 6235 1103) ewashesf off some of your shopperfs guilt by using the services of visually impaired (but very precise) therapists for a 40-minute foot reflexology session ($28). A half- and full-body massage service is also available. If youfre stuck at the other end of etownf, pop into Footworks @ Orchard (#01-04/05/06 International Building, 360 Orchard Rd; 6737 3555). Put on a TV headset and zone out as you get worked over. A 30-minute session starts from just $35. Another option is the more traditional (read: no-fuss, nofrills) Wan Yang Foot Reflexology (#06-10 Plaza Singapura, 68 Orchard Rd, 6339 2068; #05-18A Ngee Ann City, 6733 9188), where $40 will buy you 40 minutes of bliss. " ..
m a l a y + u r u t
URUT IS THE MALAY WORD FOR MASSAGE AND IF YOU TRAVEL IN PLACES LIKE INDONESIA, SINGAPORE OR MALAYSIA, YOU WILL COME UPON THE WORD OFTEN. Or urut will come on to you. Urut batin (manhood massage) is a traditional form of massage which remains popular in Malaysia and Indonesia. Snack @ Brek Ristorante Changi Airport Terminal 2 #026-109 Departure/Transit Lounge
---

UNCLONED WORLD
Contact us by email: coderot@gmail.com
phone: (090) 6039-9341 (JAPAN)