» Welcome to Ho Chi Minh City (Otherwise Known as Saigon)
» Things to See in Ho Chi Minh City (A-Z): Chợ Lớn
» Cao Dai Temple
» Chu Chi Tunnels
» Reunification Hall
» Things to Buy in Ho Chi Minh City: Clothes
» Things to Eat in Ho Chi Minh City: Restaurant Guide
» Thit Cho (Dog Meat) Stalls and Restaurants
» Coffee Shops
» Colonial Cuisine
» Da Lat Restaurants
» Hu Tieu Restaurants
» Hue Noodle Soup
Phở Restaurants
» Pizza
» Vietnamese Fruits
---
» Places to Party in Ho Chi Minh City: Bars and Clubs
» Places to Stay in Ho Chi Minh City: Malaya Hotel
» Getting There: Ho Chi Minh City Airport
» Buying Real Estate in Vietnam?
» Learning Basic Travel Vietnamese
---
---
As Houses in Ho Chi Minh City points out on his website, many buildings in Ho Chi Minh City are tube shaped. They have built long and thin, presumably, to cut down on the street frontage tax. However, I have seen many tube buildings (and cube buildings) in my many years in Tokyo, so perhaps this style is an Asian thing? For example, see this photo: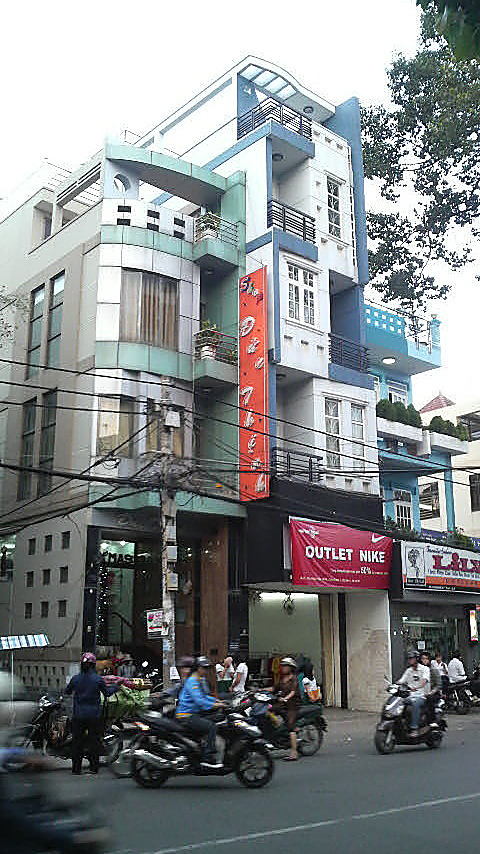 For such a poor and crowded country, they try to make the place look good. Round windows, starshaped skylights... and an increasing number of luxury cars on the streets.

Buidings seem to bleed into each other. I believe the address of the blue building to be 28 Nguyen Trai, in District 5 (hence the Chinese writing on the next-door salon) of Ho Chi Minh City.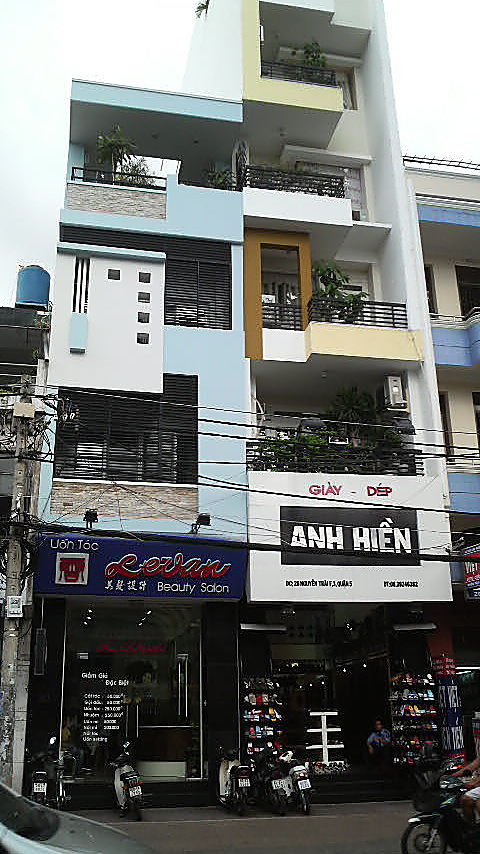 More of a classic Oriental style here, with the lanterns. I believe the address of the blue building to be 28 Nguyen Trai, in District 5 (hence the Chinese writing on the next-door salon) of Ho Chi Minh City.


In the eternal humidity of tropical Vietnam, slats in the walls provide cooling ventilation. I believe the address of the blue building to be 28 Nguyen Trai, in District 5 (hence the Chinese writing on the next-door salon) of Ho Chi Minh City.


One of the challenges to appreciating street scenes in Vietnam (and, by extension, taking street photos) is trying to blot out the thick vines of electrical cables. There is a school on Bui Thi Xuan Street, and you can meet some of the students and graduates here.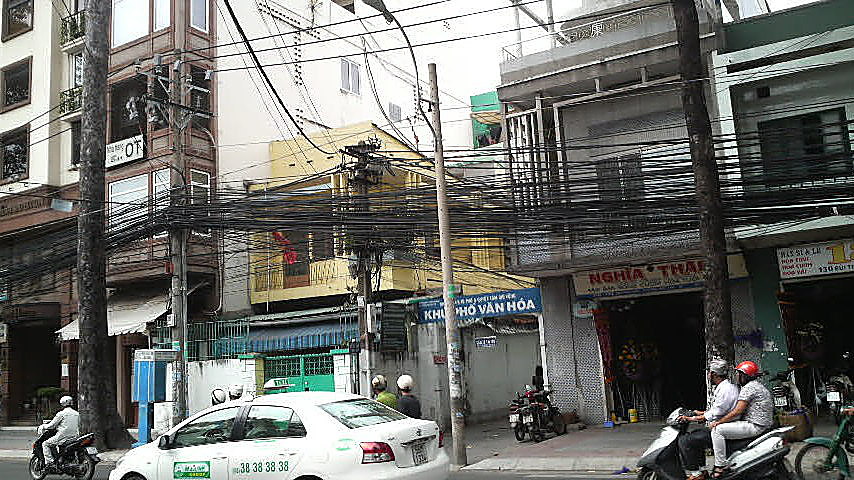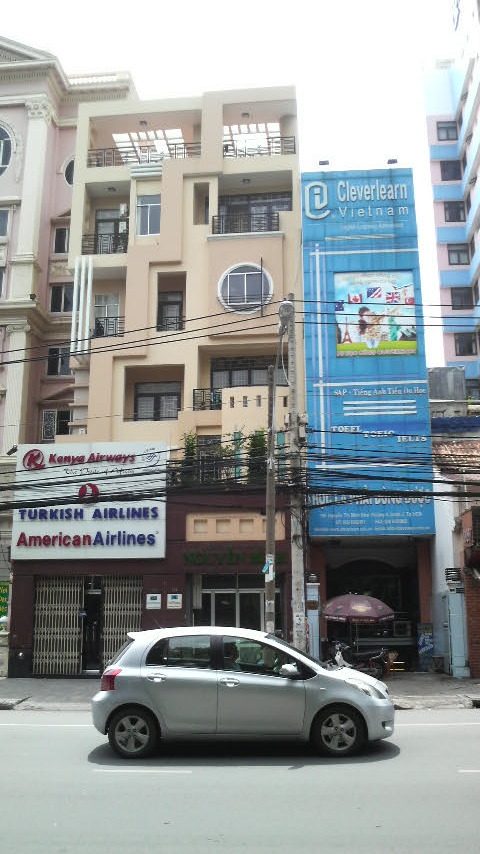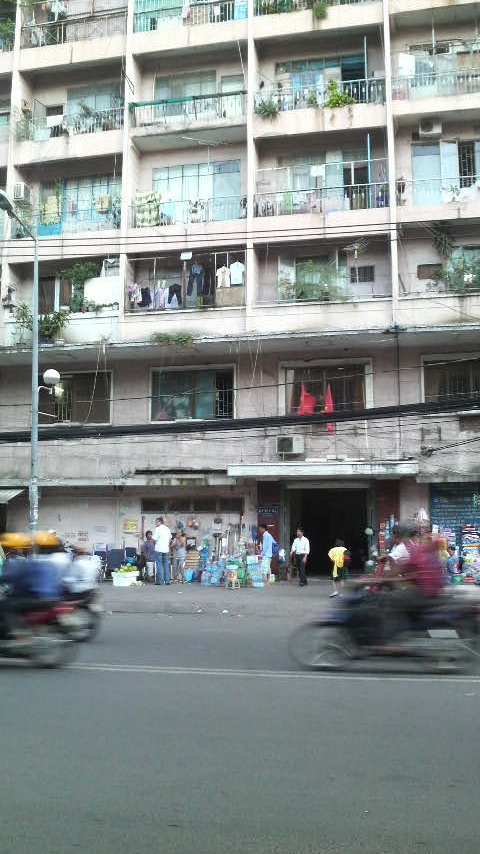 ---
Share Also on the menu is the underappreciated and delectable chicken phở, a soft and milky bowl indeed. You can even get phở without meat, which might appeal to vegetarians out there were it not for all the animal fat in the broth. All of these dishes should cost around 45,000 Dong. For 90,000 Dong you can go high class, and order the phở bo my (American beef noodles, with tenderloin cuts). On my last visit to a Phở 24 outlet in the middle of Ho Chi Minh City, just up from the river opposite the Sheraton, I opted for a basic beef soup.

The staff had to show me how to prune my greens correctly before dropping them into the soup, which goes to show how little I know about phở. The strange thing about Vietnam is that for such a poor country, they have such lousy skills in collecting (and enforcing) payment. It is like they don't even care about money. That could be because it is (at least nominally) a communist country, so employed staff have no real grasp of service in a capitalist style venture like a restaurant or bar...

Backpacker District: Pham Ngu Lao, Dist.1.


Perhaps not surprisingly, there is a lot of pizza on sale in the backpacker district of Ho Chi Minh City (Pham Ngu Lao ward). There is also a lot of Mexican food and Indian, but that don't mean it is any good. It is more expensive than the rest of the city too. The photo sitting right above was taken across the narrow lane from Le Pub. They also have pizza at the Boston Sports Bar at the end of the same narrow alley; they hit the spot but you have to deal with the staff hitting on you. That could be okay if you are a man and the staff member is a hot young female, but all I ended up with an amorous gay man. His name was Thong and he wouldn't leave me alone.

This location, in District 1 near the backpacker area, was quite crowded. The food there was so so. Pho 24 is actually a much better restaurant."

Jon Dillingham does a pretty mean guide to the noodle shops of Ho Chi Minh, and regarding this particular chain he says: "Phở 5 Sao (224, Nguyen Thi Minh Khai, D3, Tel: 930 1713) has a similar layout and design to Phở 24 but has expanded the menu to include 150 Italian dishes alongside dozens of other Vietnamese, pan-Asian and western foods. 39,000. Its 3 locations serve regular pho between VND20,000 and VND25,000 a bowl and they even deliver."

Pizza Roma: Stall 1004, Ben Thanh Market, Dist.1.


Another recommendation from the godlike Noodlepie, this is one of three or four pho stalls in Ben Thanh Market. Said Noodlepie during one of his visits there: "I ordered the Phở Tai (Raw Beef noodle soup), the beansprouts were pre-thrown in for me, and a 2 leaf herb plate (Basil & Cilantro) was plonked stallside together with a dish of lemon slices and chili slivers. Ha's broth has Hanoian aspirations, but lacks those all important meat thick juices. However, Ha also gives you a nifty little sauce - a ready mixed oyster sauce and chili sauce number - and her soup needs it. Sauce added, your intestines can kick back, relax and enjoy. Without it this is second rate soup - great if you knocked it up yourself at home, but not what you expect from a professional purveyor on Vietnam's finest.
"This retails for 10,000VD. There's a decent market life view from Ha's stall and Banh cuon, Cha gio and Mi Quang are all within arms reach at neighbouring stalls, and can be ordered to your seat as required."

Phở Hoa: 260C Pasteur Street, Dist.1.
According to Saigon legend Noodlepie, this "is possibly the largest and most popular pho restaurant in Saigon. Probably the most popular in Vietnam, at least with southerners. Locals slurp in this two-storey institution alongside busloads of Asian package tourists, backpackers and expats. Downstairs tacky paintings of the family adorn one wall, a bonkers-big photo of a bamboo forest is pasted along the length of another wall. This place is always busy and cleaner and more expensive than yer average pho joint. Beware of the team of beggars, shoeshiners and sellers who stalk the front of this restaurant. Better to get a seat away from the front, out back, or upstairs if you want peaceful dining."
Take it from Noodlepie -- he knows his pho, he is the go.

Ut Nhung: 109/7 Nguyen Thien Thuat Street, Dist.3.
Jon Dillingham from the What's On Guide to Ho Chi Minh City claims this is one of the best phở shacks in the city: "This tiny phở shack doesn't have a menu," he writes. "The little hole-in-the-wall doesn't even have tra da, drinks are supplied by neighboring vendors. All Ut Nhung does is make one kind of pho: phở bo tai nam (pho with rare beef and well-done beef flank). They serve one of the best versions of this dish in town for VND11,000. In a hem off Guitar Street where Districts 1, 3, 5 and 10 meet, Ut Nhung has no sign. Just look for the tiny house with a huge cauldron of broth tended to by a bald lady surrounded by hungry pho eaters.
"The broth here is extra fatty and marrow is served in your soup. The raw meat is healthy and red before thrown into your bowl. The taste of the rare beef is likely to be some of the freshest you'll ever have in a city.
"Pho in Vietnam is a lot like burgers and fries in America or fish and chips in the UK: hundreds of places do it well, but special places like Ut Nhung make it nearly perfect.
"Phở comparable to that sold by Ut Nhung is found at Phở Dau (288/M1 Nam Ky Khoi Nghia, D3, Tel: 846 5866), where they dish up leaner meat and lighter soup. Not quite as hearty as the Nguyen Thien Thuat shack, the soup is still a very tasty, sweet and sour broth. The phở is served with parsley garnish, but no other additions are on the table. Itfs just beef noodle soup, straight. And it's good.
"Phở Dau has possibly the best pho location in town amidst some alleys where four hems meet and open up into a charming little square in the center of a city block. But the nice neighborhood has its price at VND24,000 to VND30,000 a bowl. The shop serves a selection of five pho bo choices: Tai (rare flank), nam (well-done flank), chin (well-done brisket), gau (beef fat) and gan (tendon)."
For the complete Jon Dillingham guide to the best phở shacks in Saigon and Ho Chi Minh City, click here.
---