AS NU CONG WROTE IN THE CUISINE OF VIET NAM ANTHOLOGY: "MORE THAN 300 YEARS AGO CHINESE TRADERS BROUGHT HU TIEU TO THE MEKONG DELTA. Called guo-tiao or pan noodles in Chinese, these long, thin rice flour noodles are served with pork, shrimp, and fish. Over time, hủ tiếu has become a traditional southern Vietnamese food. It has also gained popularity among northerners who have moved to the south, perhaps because it reminds them of phở. Unlike phở, however, hủ tiếu does not require beef, which used to be difficult for most people to obtain (and expensive).
"Another version of this dish is hủ tiếu Nam Vang , which also came to Sai Gon about 300 years ago. "Nam Vang" is a Vietnamese rendering of Phnon Penh, where the noodles originated -- not among the Khmer, but from the Chinese living in Cambodia. Saigonese have gradually adapted hủ tiếu Nam Vang to their taste, to the point where most gourmets now agree that the Sai Gon variant is more delicious than in Phnom Penh! (Eds. note: Of course, this kind of claim would infuriate Khmers in Cambodia, and is reminiscent of the borsch battles between Russia and The Ukraine, or the fish head curry firestorm currently blazing, on the Malay peninsula. Food is a tinderbox, the last bastion of nationalism! Khmers have special reason to feel pissed, given that they once owned Saigon, at one stage...)

"Numerous restaurants in Ho Chi Minh City serve hủ tiếu as breakfast, lunch or as a quick snack. A bowl can incorporate ingredients as diverse as lean pork, pig heart and blood, shrimp, onion, lemon grass, bean sprouts and slices of chilli, which add to the attractiveness of the dish as well as providing nutritional value.

"To prepare the noodles themselves rice flour is milled, stretched into long threads; these threads are then dried in the sunshine. The noodles become soft as soon as they are scalded in a slow-simmering broth of pig bones, dried squid and shrimp.

"Hủ tiếu Nam Vang has a unique flavour because cooks add garlic soaked in vinegar.

"Although hủ tiếu has been a favourite food for a long time, it has not spread to other regions of Viet Nam."

Hủ tiếu is also known as hu tiu, and hủ tiếu Nam Vang is sometimes called Phnom Penh style pork noodles. In my mind hủ tiếu is very similar in taste, appearance and name to other great noodle dishes in Asia such as kuey teow noodles in Malaysia and Singapore. I guess it is a Chinese thing! There are plenty of places in Ho Chi Minh City to eat hu tieu, among them:

Dai Phat Restaurant: 275 Le Thanh Ton St, District 1. Phone: 08 829 7292.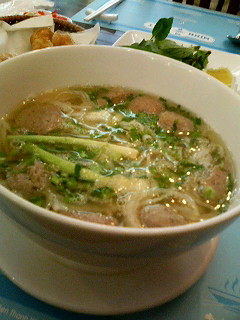 Today (March 10, 2007) I stopped for lunch at the Dai Phat Phở restaurant near the New World Hotel (275 Le Thanh Ton St, phone 08 829 7292.) As you would expect, the specialities here included phở: specifically Hủ Tiếu Bo Vien, Hủ Tiếu nam vang and Cac Mon An Hoa Thuan Tuy. I ordered the Bo Vien meatball bowl which came with an array of leafy vegetables, garlic and chillies. I made the mistake of eating one too many of those chillies and got a right sting in the mouth for my troubles. But that is par for the course when dining in Asia! The remarkable thing about Dai Phat, however, was my great trouble in paying the bill there -- an experience which was soon to be repeated at various other Vietnamese restaurants and bars and cafes. It is almost as if the waiters and waitresses are programmed not to want to take your money. I put up my hand, I tried to wave the waiter over, all to no avail. I put on my backpack, stood up, but the waitstaff continued to ignore me. Eventually I decided that if I started walking for the door, that might shock the staff into action. As I crossed the room they barely noticed or acknowledged me, even though I hadn't paid for the wonderful meatball soup they had dished up for me. As I reached the door one of the waiters smiled and said: "Goodbye, sir." They didn't even know that I hadn't paid! I paused on the threshold, thinking: I could get away with not paying. I could scam this. But since the meal would only cost a dollar or two, why would you bother? So I did the right thing, and confessed: "I haven't paid yet." And the dumbfounded waiter replied: "Oh, what you ordered then?"
I had the same trouble convincing the waitstaff to take my money later that afternoon at the Highlands Cafe in the swish Saigon Center, and at some of the bars in Pham Ngu Lao district. The strange thing about Vietnam is that for such a poor country, they have such lousy skills in collecting (and enforcing) payment. It is like they don't even care about money. That could be because it is (at least nominally) a communist country, so employed staff have no real grasp of service in a capitalist style venture like a restaurant or bar...
Hu Tiu Hong Phat: 389-391 Vo Van Tan St, Ward 5, District 3. Phone: 08 839 0187. Map/price details: click here.
This is said to be one of the best hủ tiếu nam vang restaurants in Saigon, with air-conditioning, wide rooms and a "good sanity condition", according to the vnnavi.com.
Hu Tieu Nam Vang Ty Lum: 93 Huynh Man Dat St, Ward 7, District 5. Phone: 08 923 5904. Map/price details: click here.
This place has been serving native Cambodian hủ tiếu flavors ever since the 1970s.
Nam Loi: 43 Ton That Dam St.
Read Eating Asia's review here.
---