MANY PEOPLE REVERT TO EATING PORRIDGE WHEN THEY ARE SICK. Call it the ultimate comfort food, also the perfect breakfast for those who like to start their days bland, porridge is loved in both the East and West, the global North and South. For all I know, they even eat porridge in Africa. In Asia porridge is made from rice and goes by many names, for example congee in Chinese or okayu in Japanese. In Vietnam they call it cháo. Unlike its Japanese cousin, cháo has a little bit of life and kick. In 2009 I downed a bowl of the stuff which was positively bursting with color and flavor, that was on the side of the road in Mui Ne. It was a sandy, windy night, and I washed the porridge down with thimbles of fiery alcohol sitting alongside my girlfriend Nga, and a diminuitive security guard whose name I do not recall. It may well have been cháo Oc (rice porridge with clams) which we were slurping, and Nga and I ate it with spicy frog legs. That security guard was the one priming me with booze, Nga was probably drinking jasmine tea or something, she hardly ever drinks a real drop. Anyway, that was last year, when Nga was healthy and up for anything, even spicy frogs and seafood; this time she seemed to be sick and in pain, and in no mood to eat adventurously. From my point of view she was just on the rag, as they would say in Australia, but who was I to point out such a crudity? She decided that she wanted porridge minus the clams and accompanying frog (and feiry rice liquor.) Fortunately there was a noodle shop just down the road which served the bill. And it was cheap as well, less than a dollar per dish if you opted for the basic course. On top of that, the restaurant shared her first name.
You can tell from the birds hanging plucked in the windows that chicken is the specialty here. You can tell it by the flowchart on the menu on the wall, which indicates that regardless of the carb component of your meal (bun, phở, cháo, xoi, com), gà (chicken) is the accompaniment. Gà is the certainty around which this restaurant revolves.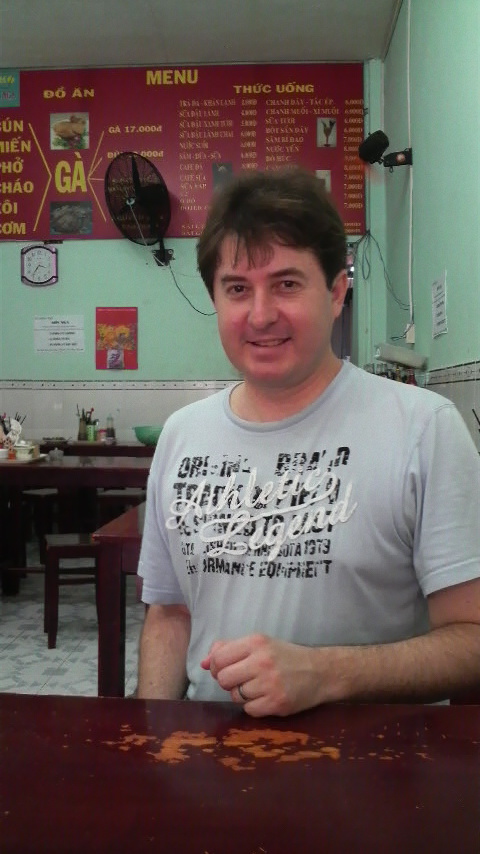 It graces the signature chicken phở, a delicate noodle soup. Many people are familiar with the beef version of phở, but the chicken variety is just as delicious. For 50,000 Dong you can get a rack of sliced chicken thrown on top of your soup. But that is not what we were here for. We were here for the cháo.
It might be a meal for those with an upset tummy, but this is Vietnam after all, so there is room for a little heat. I ended up o/d'ing on the spice. This place is called Pho Son Nga and it is at 23 Bui Thi Xuan Street, amongst all the two and three-star hotels in Quarter 1, all the barber/hooker joints. They serve a mean chicken salad (see the picture below).
District 3, read this Gastonomy Blog review. Interestingly, the kebabs here seemed to be stuffed with chicken;
. Its charm lies solely in its fragrance. According to the women who sell rice noodles at Ben Ngu Market, the broth must be delicious above all else: clear in colour with a balance between the salty and sweet flavours of stewed beef bones, pork bones, and chicken.
"Vendors tailor each bowl to the customers' desires. In the winter, customers sit next to the red-hot stove and the boiling broth, covering their bowls with their hands, slurping the broth, skewering the noodles with their chopsticks, and biting into pieces of meat. Even food connoisseurs in Ha Noi and Ho Chi Minh City admit to a love of Bun bo Huế, especially when it is served in Huế."
There are plenty of places in Ho Chi Minh City to eat Bun bo Huế, among them:
Bun Bo Hue Hanh: 135 Banh Van Tran St., Ward 7, Tan Binh district. Phone: 08 865 4842. Map/price details: click here.
Said to be one of the famous shops that serve bun bo Hue in Ong Ta area. Phone: 08 839 0187. Map/price details: click here.
This is said to be one of the best hu tieu restaurants in Saigon, with air-conditioning, wide rooms and a "good sanity condition", according to the vnnavi.com.
Hu Tieu Nam Vang Ty Lum: 93 Huynh Man Dat St, Ward 7, District 5. Phone: 08 923 5904. Map/price details: click here.
This place has been serving native Cambodian Hutieu flavors ever since the 1970s.
---