» Welcome to Ho Chi Minh City (Otherwise Known as Saigon)
» Things to See in Ho Chi Minh City (A-Z): Cholon
» Things to Buy in Ho Chi Minh City: Modern Vietnamese Art
» Things to Eat in Ho Chi Minh City: Restaurant Guide
» Places to Party in Ho Chi Minh City: Bars and Clubs
» Places to Stay in Ho Chi Minh City: Malaya Hotel
» Getting There: Ho Chi Minh City Airport
» Further Afield: Dalat
---
---
» Even Further Afield: Mui Né
» Mui Né Clickable Map
» Mui Né Hotels
» Mui Né Sand Dunes
---
» Phu Quoc Island
» Vinpearl Resort & Nha Trang
---
» Vietnam Spas
» Buying Real Estate in Vietnam?
» Import and Export Information
» Invest in Vietnam
» Vietnam Dialling Codes
» Vietnam Media
» Social Issues: Montagnards Still Paying for Vietnam War
» The Cochin China Debate
---
---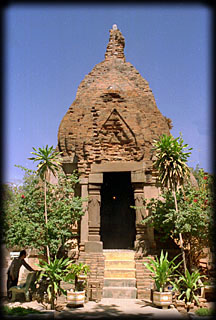 I MET THIS VIETNAMESE GIRL NGA IN A BAR IN SAIGON EARLY THIS YEAR AND SHE GAVE ME HER EMAIL ADDRESS AND WE GOT TO KNOW EACH OTHER ON THE INTERNET (OH THE BLESSINGS OF MODERN COMMUNICATION TECHNOLOGY!) Almost right from the start, Nga offered to show me around Vietnam. Almost right from the start, she recommended we go to Mui Né (a cool little surfing town, according to the ever reliable Lonely Planet). To be honest though I'd never heard of the place, and it hadn't been on the itineraries of my two previous trips to Vietnam. Tourists usually do the Ho Chi Minh to Hanoi thing with side trips to Mekong Delta and Halong Bay, at opposite ends of the bamboo pole. But I am tired of well worn paths, so Mui Né sounded enticing, especially when I was trapped in Japan for the long expanse of 2007, encased in a concrete hell. It would dawn on me sometime later that Mui Né (or more specifically, the greater Binh Thuan Province of which it is a part) was that strange, vast sandy area I had espied from my plane window back in late 2005, when I dropped into Ho Chi Minh City en route to Sydney with my old girlfriend Chie. And it is true you see a lot of planes streaking across the skies of Binh Thuan Province, like visitors from another planet. It is so close to the city, but a world away in pace and quality of life. And it is definitely true, that there is a lot of sand in this place, both in Mui Né and more specifically the larger Binh Thuan Province around it...
Covering nearly 8000 square kilometers and comprising just under a million souls, Binh Thuan is a province on the southern part of the central coast. It has a considerably large plain running along the coast (that's what I must have seen when I flew over with Chie in 2005). It leans against the Di Linh Plateau to the west and is criss-crossed by several rivers including the Long, the Luy, the Cai and the Dinh rivers. One thing I repeatedly noticed, during my long misty walks along the beach with Nga or bussing it with our maniac driver over the De Linh Plateau back to HCMC, were all the big slabs of rock sticking out of the ground, kind of a sandstone with the grain running perpendicular to the earth. As if the land had been broken up and tipped vertical, to be slowly worn into nothingness by the surging swells of the South China Sea...
From both air and by land, this place hath a desert vibe (reminding me often of my native Australia, with all its eucalyptus trees and wide blue skies...) The only difference here, is that the cattle roam the beaches below a line of she-oaks, while fishermen work the shore. As Mui Ne Beach Net has written: "The southern coast of Vietnam was characterized by pristine, lowland dry forests until the middle of the last century. Due to deforestation, desertification, soil erosion, degradation and exhaustion, flooding, drought and water pollution caused by unplanned development and clear-cutting, which are widespread throughout the region, this forest type has all but disappeared and a new desert is emerging in its place. Much of the coast of Binh Thuan province now comprises a desert-like environment or may be classified as a desert.
"The Binh Thuan desert has many interesting geological features. Not only are there immense sand dunes, but also vast sand canyons with interesting shapes and formations in rainbows of black, grey, white, red, orange and gold. There are rocky, boulder-strewn mountains, and beaches with amazing stone formations and caves. Hot springs are located at opposite ends of the province along the coast, and recent earthquakes indicate that the region is still seismically active.
"The coastal dunes area are known to contain endemic species of plants, including Dipterocarpaceae, and thought to contain many undiscovered species. Two cactus commonly found in the desert here, dragon fruit or pitaya, and prickly pear are in fact native to the Americas, and were imported to Vietnam..."
Much as Nga had her heart set on Mui Né, in the end we didn't make it to this off-the-track but increasingly popular little surfing town (which according to Lonely Planet, definitely rocks after dark.) Instead, we were booked into the Anh Doung Resort down the road in Ham Thuan Nam. Whatever, it had pretty much the same vibe as Mui Ne -- endless beaches and acres of sand, sometimes forming into huge sandhills; we did our own rocking at night. Scarcely another soul to be seen, and this was peak holiday season -- but I kind of liked it that way! Long stretches of beach at sunrise -- the lights of fishing boats ghostly through the mist. I saw a dolphin or a whale one day, as I read A Streetcar Named Desire in the billiards room. Anh Duong Resort might not have been top of the range, but it was the toppest I could afford at the time. Here is a log of the processes which led to us ending up there:
Nga said in one of our GMail chats (Oct 29 2007, she was in Ho Chi Minh City in Vietnam, and I was in Japan):
10.48 PM i have found goodplace for us in MUI NE
"10:50 PM me: I was thinking that now that I get a lot of money, I can afford to come to Vietnam many times in the future. That will be good because I don't like to be stuck in Japan all the time.
"10:51 PM NGA: I HAVE JUST CALLED TO WHITE SAND RESORT BUT IT IS VERY EXPENSIVE HIGH SEASON SUCH CHRISTMAS
10:52 PM me: How much does it cost?
"10:55 PM NGA: WHITE SAND 79-100US THAT TIME. ANH DUONG 35-69US
"me: Not so bad. How long do you want to stay there?
"10:59 PM NGA: ANH DUONGRESORT IS ENTERTAINMENT PLACE
"11:01 PM me: I had a look at both of these hotels on the Internet. They both look good.
"11:02 PM NGA: IT HAS CAMP,TENIS, FISH ,SWIM... MANYINTERESTINGGAME...
When we arrived here yesterday (Christmas Day 2007) we were planning to stay here for four days, then head over to Dalat to see what was happening there. But plans have a habit of mutating once you are on the ground, and inertia is a natural state of the universe (especially when you are on the beach...) To state things straight: we ended up staying more than a week! We rented bicycles with lopsided seating arrangements and faulty brakes and rode them along the long, endless beach. Meals were always an occasion for getting scrubbed up, and dressed. Being so close to the sea, seafood is a regular fixture here. One morning sitting around the pool I sent myself this email regarding the resort's use of concrete (apparently it is a panVietnamese thing): "In Japan they blot out the landscape with the stuff, but the Vietnamese have discovered a more harmonious use of concrete which is both elegant and bold. At the Anh Duoung resort in Mui Ne, the logs and wooden posts you see scattered in the beautiful gardens are not wooden at all, but multi-toned and exquisitely textured concrete. The same goes for the giant mushrooms and the boulders on the beach..."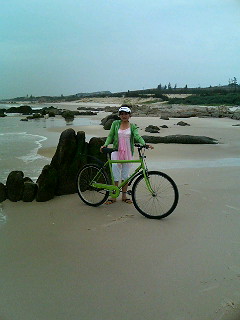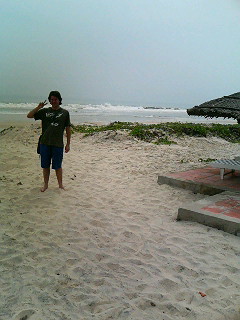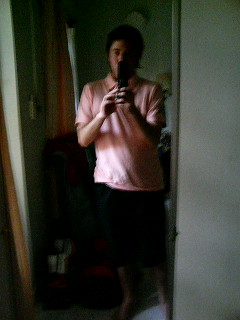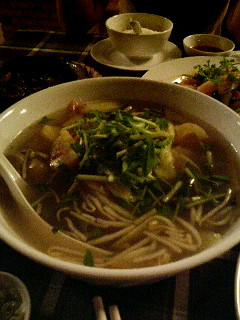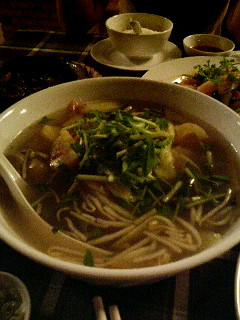 And I would have stayed longer, if I had the cash and didn't have the need to go back to Japan. But back to Japan I had to go.
---
---
---

TIME MOVED PAINFULLY SLOW ONCE I WAS BACK THERE. All the familiar annoyances of the place (and there are plenty!) seemed magnified. Hong Kong sex scandals came and went, as if to taunt me. It snowed on February 3, the day after my birthday. From the white sands of south Vietnam, to the white snows of Tokyo -- in only one month! After the flurry of tropical wanderlust, a bleak expanses of boredom needed to be traversed, before I could jet back to the beach. Even in the bleakness there was joy nonetheless: for example watching The Soprano's at 6am as the snow fell on a Sunday morning, what could compare with that? Especially as the snow had cancelled a Soka Gakkai meeting I was supposed to attend. On February 20 2008 I wrote to myself via email: "Last night I looked up at the full moon and realised that two lunar orbits have passed since my flight to China (and Vietnam). Two moons from now, I will be flying to Vietnam. I am at the halfway point! And here at the halfway point I look at my life and ask myself: How has my life changed since Mui Ne? And the obvious answer is: things have certainly changed, but I have been the master of that change. I have started cooking (and enjoy it!) The cult of Maniac High is fading, despite his efforts to renegotiate/reenergize/reorganize my life..."

Two days earlier, in a somewhat naive mood, I sent myself this observation: "The remarkable outflowering of nostalgia concerning Mui Ne last night suggests a 6 Week Effect... it takes 6 weeks for events to develop a sheen of nostalgia, but once nostalgic, memories only sweeten with time. This discovery has radical implications for the future of time management in Japan. It seems to me that I could, if necessary, get quite a lot of mileage out of my Vietnam stays. For example, I have yet to exploit just a fraction of my Vietnamese memories and experiences for my blog... and I have only nine and a half weeks before I go there again. Webwise this week will be taken up with listing Mui Ne resorts... a job which will surely evoke happy memories of my time there. There are so many stories yet to be written... for example going to a Vietnamese supermarket. It could be years before some stories are written. By then, I will have made tens of trips to Vietnam. The opportunity is there: make memory work for me. Each trip to Vietnam will set off pond ripples of sweet memories which will, reverberate for years to come. Perhaps after a while, a critical mass will be reached, and my Vietnamese life will become as real (and as immediate) as my life in Japan. Even though, technically, I will still be in Japan most of the time. New advances in communication technology will help..."

some 18 months too late, finally we make it // day five: the real mui ne
SAND DUNES
FOR MANY, MUI NE BEACH IS ALL ABOUT THE DUNES. There is a ton of sand here, much of it red. Click the satellite maps for verification of this! I was startled yesterday (July 7 2009) when Nga informed me that the famous Mui Ne sand dune was only a 10 minute walk from our resort. I had in fact just missed it on a gruelling cycleride the previous day, and walked past it a number of times, it screened behind a veil of tropical trees. The sudden onslaught of young boys holding blue sand mats let me know we were on to something big. As Thanh Nien News reported some time ago, but not too long to be un-newsworthy: "Their skin darkened by the hot sun, a group of kids, most between six and 12 years old, stands under the insufficient shade of a small tree on a blistering sand dune. They're holding small plastic boards.

"In the south-central beach town of Phan Thiết, these kids can be found roaming the region's famous dunes during the hottest hours of the day, asking tourists if they want to sled on the sandy slopes.

"One with sun-bleached hair asks for VND10,000 (US$0.56) for his sled. The kids help those who rent with guidance and assistance on the dunes.

"Twelve-year-old Tran Thi Nhu, who quit studying in seventh-grade due to a family financial problem, says her parents are offshore fishing.

""We have to do this for money. You think it�fs easy to earn these pennies, don't you?" the girl asks. "Sometimes rich customers scold us for scaring their children by letting them slide down the dunes so fast."

"Ha Thuc Thuy, deputy head of Mui Ne Ward's People�fs Committee, says a group of about 20 children started offering the sled rides about 10 years ago.

"Now some 120 kids from all over wander the dunes for money, according to Thuy..."

At last, I had made it to the real Mui Ne: this was the real deal, not just with a fly-by in the middle of the night with my folks. In the vicinity: Fairy Springs (a beautiful stream winds through red and yellow sand dunes)... further down the crescent Lucy Resort (Km 2 Nguyen Dinh Chieu, phone: +84 (0)62 847801.) On the other side of the beach, all the kiteboard and tour companies. I didn't know this, but you can get to Phan Thiet by train from Ho Chi Minh City. It might make for a nice journey some day. Except that Nga just told me she doesn't like travelling by train. There is supposed to be a high speed shinkansen link between Ho Chi Minh City and Hanoi one day, the Vietnamese Government is aiming at finishing it by 2038. I wonder what Mui Ne will look like in the year 2038: hopefully it will be cleaner than what it is today. As an unknown poster on Travelpod observed: "Mui Ne beaches are not world class, nothing like the white powder of Pensacola Beach, Florida, USA. Too much trash but interesting to walk the fishing areas and watch them work. Plenty of smelliness though. We didn't spend any time in the beach water and you should really wear shoes while walking on the beach. 2/3 kids cut their feet and it brought back memories of MERSA in Galveston, TX 1999. Yuk..."

Previous: Vietnam Costs -- Next: Girl Hunting in Korea