» Crowded World Home
» Vietnam Hub
» Living in Vietnam
» Cost of Living
» Dating & Relationships
» Finding a Job
» Learning Vietnamese
» Visas
---
» Da Lat Restaurants
» Hu Tieu Restaurants
» Hue Noodle Soup
» Japanese Restaurants
» Korean Restaurants
» Phở Restaurants
» Vietnamese Fruits
---
» Places to Party in Ho Chi Minh City: Bars and Clubs
» Places to Stay in Ho Chi Minh City: Malaya Hotel
» Getting There: Ho Chi Minh City Airport
» Buying Real Estate in Vietnam?
» Learning Basic Travel Vietnamese
» Money: Vietnam Costs
---
---
I HAVE ALWAYS BELIEVED THAT VIETNAM IS A CHEAP PLACE TO VISIT. That's what my Lonely Planet says, and that is what experience has confirmed to me, again and again, in each of the official and transit only trips I have made there, ever since 1995. This is the land of $0.50 beer, two for the price of one if Foster's are doing one of their fabled happy hour promotions. You can bus it air-con from the heart of Ho Chi Minh City to the highland retreat of Dalat for only $6, while $0.20 will get you from the airport to the backpacker heart of Saigon. I got a fake red North Face backpack in the city markets for just $10, and a lovely laser printed Lonely Planet for less than half that. This is a cheap country that is for sure, so why is it costing me so much to stay and travel here these days? It must because now I have a Vietnamese girlfriend, and girlfriends are generally always high maintenance (especially when you have to travel across the world to see them.) I don't really mind paying for her though, because if I had a girlfriend who was 20 times richer than me, I would expect her to shout for our daily feasts of lobster and caviar. It's all relative after all, a trick of perspective. I have gotten plenty of free dinners in Japan, and my share of free lunches. Coming to Vietnam, and showering Nga, is my way of sharing the wealth. There are of course, no free lunches -- you have to pass it on down the line. That is the lesson I am here to teach, through action. I am the Water Bearer (Aquarian.)
Not that I begrudge the fact, but I have been bearing water to people all over the world. When I woke up this morning and popped out of my cottage, this was the view which awaited me. We were staying at the Anh Duong resort - "One of the most beautiful beaches in Binh Thuan province with fine sand and clear water, surrounded by coconut trees and primitive forest, located in Ham Thuan Nam, Phan Thiết city, Binh Thuan province, about 175 km from HoChiMinh City. Spending your vacation at Anh Duong resort with its own private beach and preserved nature, you will have relaxing and precious moments when spending your vacation at our resort" (so the standard tourist spiel reads.) I was flushed with life, but not exactly flushing with cash. That is to say, I had cash, but I couldn't exactly access it. And as Nga pointed out, there aren't many ATM's on the beach. You have to go into town for that, and in this part of the world, town is a remarkable distance away. Particularly for someone used to super benri Japan.
As it turned out, the nearest ATM was a 50-kilometer round trip away, in the provincial capital of Phan Thiết. I thought at first we would be going by taxi, but after a long conversation between Nga and the dudes hanging outside Anh Duong, it was determined we would go by motorcycle. This was mildly alarming news after my long bare knuckled ride of the previous day (Christmas Day), when I sat crammed between my oversized luggage and a wiry old rider, through the forests and fields of Ham Thuan Nam. Moreover, this time we would actually have to ride the motorbike ourselves, and even more alarmingly, Nga was wanting me to ride it! "Oh no no no, I don't know how to ride," I protested, "I have never ridden a motorbike before!" Nga said that she had never ridden before either which I found a little hard to believe, considering that she is Vietnamese. "And besides," I said, "I don't even have a licence!" I remembered when I was in lockup in Japan last year, I met a guy who spent two nights behind bars for riding with an expired menkyou. That's super uptight Japan, perhaps the law is a little more lenient down here in Vietnam. But who was I to know? I didn't want to take a chance. And why couldn't we just catch a taxi -- these bikes scared me! In the end, Nga agreed to pilot the vehicle, with me riding pillion on the back. Was she actually telling the truth, when she said she had never ridden one before? Couldn't everyone in Vietnam ride a motorbike, I wondered -- bikes seem like such a big part of the culture here, part of the very fabric of modern Vietnamese life. In a couple of different arenas of lofe, she had assured me this was her first time. This was going to be the test. I got on the back of the bike, she was on the front, and we were at the bottom of a little ditch which ran alongside the road, I guess you could call it a drainage ditch but it was also the place Anh Duong parked all their decrepit bicycles. We put on our helmets (earlier this year the Vietnamese Government had made them mandatory. Wherever you went in the country, motorcyclists and their pillion were wearing them. And all of them brand new, because the law was new. I saw some story on the Vietnamese news of smugglers bringing them in from the south of China, but that is another issue.) I put on my helmet, which apparently is a "tropical" one, specially designed for use in Vietnam's hot, humid, fluidly changing vehicle streams. Nga squeezed the handles, and we shot forward. Nearly stacked it on to the hard hot tarmac. So much for introduction to ruling the roads of South and Central Vietnam! For the second time in two days, I was convinced I was going to meet my death in a motorcycle accident, underneath the gently swaying palms.
"I think the best thing to do is take it verrrry slow," I said, my knuckles wrapped tight round the bar on the back of the seat. "Just take it slow." If I had known enough Vietnamese at the time, I would have said it in Vietnamese: "Cham lai! cham lai!" But truth be told, she couldn't have driven particularly fast, even if she wanted to. It wasn't that kind of bike. We trundled along the side of the road, a very long road too and not so heavily trafficked. It followed the sands past numerous resorts, all boasting gates of exquisitely crafted concrete. We were on our way to Phan Thiết, that bastion of old Champa on the shores of the South China Sea. Ever minute or so, from either direction, another motorcycle or a cluster of motorcycles roared past us, interspersed with trucks and busloads of tourists. Sharing the margins with us, bicyclists ambled along, sometimes wheeling haphazardly, like drunken parrakeets in flight. I was worried if one veered suddenly in front us without knowing we were right behind, I might end up thrown on to the hard hot road -- and my T-shirt and jeans didn't promise much in the way of protection. Adding to my concerns, boys, dogs, darted across the road. I just gripped on tighter to the bar behind my seat, acting like a gringo. But it was such a nice day, the air a cool contrast to the tropical sun, and slowly, little by little, my fears abated. And then there was the scenery. We turned a corner on one long long stretch of road, and a beautiful red gorge opened itself into view. In front of it were some soccer playing fields, and in pretty much the same general area, a new looking and clean yellow schoolhouse. I wondered what it would be like to go to school here, to grow up on this beach. (Mind you, I grew up in some pretty beautiful places in Australia, so I can't despair my lot.) On the other side, a forest of she-oaks shielded us from the sea. Nga drive right on the edge of the road, inches from the sand. Little by little, I was starting to get the hang of this passenger thing, and she seemed to be doing okay as a driver. And then we reached the hill.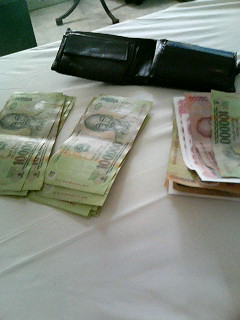 I gave Nga 6,000,000 Dong which seemed a big leap of faith at the time, but she assured me it was safer because she had a lock on her bag, and I didn't. You can see Nga with the cash at the top of the page. Just over there on the side is the remainder of the money -- judging by the way it is arranged it looks like 2 piles of a million Dong, and some leftover. I assumed the 6,000,000 Dong in Nga's bag would cover the 9 nights of accommodation, and the 2,???,000 Dong in my wallet would cover the day to day expenses. I was also expecting a Google Adsense payment before it was time to leave. As it turned out, I had just enough money to get through, what with our gorgeous feasts at the resort restaurant, and my nocturnal tipples of Tiger Beer. And the Google Adsense payment was way late -- we had one desperate night in Ho Chi Minh City with no cash and nothing to do but watch the Discovery Channel on satellite TV, but the next day Google came through, and I went on a bender before boarding my Air China flight back to grey old Japan.
Vinh Suong Seaside Resort: 46 Nguyen Dinh Chieu, Mui Ne, Phan Thiet. Tel: 84-62 847469/ Fax: 84-62 847680.
There aren't too many ATMs on the beach in Vietnam. Let's face it, Vietnam is a ridiculously cheap country -- this is the land of the $1 pub crawl. Noodlepie says that a small bia den (dark beer) at Hoa Vien Brauhaus on Mac Dinh Chi Street (Ho Chi Minh City) goes for 16,000 Vietnamese dong (VD). A small lager is cheaper at 14,000VD. That's 113 Yen and 100 Yen at the time of writing, according to XECom. Considering that the cheapest tipple of the same kind you can get in Japan is a happoshu malt-free beer in 7-11 is 150 Yen, Hoa Vien Brauhaus sounds like a pretty good deal. (Happoshu isn't even real beer (that is the reason it is cheap, the makers don't have to pay malt tax...)) If you buy beer from a convenience store in Vietnam (for example the new dark beer Dai Viet Bia Den), Noodlepie says it will cost you 8,700VD a can.
"In old world money that's 31 whole new pence," he blogs.
Do the math dudes -- even if you drink 10 such beers a day it is only going to cost you 1000 Yen. And considering that beer is often your biggest expense travelling abroad, that's good news. Drinking in Iceland often used to cost me $100 a night, especially on the weekends when we were doing the Runtur! But withdrawing money from the bank in Iceland is a breeze and you never have to worry about being robbed -- Vietnam, I am afraid, is a different story. In Vietnam you have to work for your cash. It won't come easy (this is just another one of those Vietnam costs.)
Backwater Views puts it thus: "How much would 54 pints put you back in a dirty-to-cheap pub in the UK? An average of &3, which equals a pocket-denting &162. Hmm... and in South Africa? Let's take a pint of Castle Draught down at your local. R10. That equals to 540 Rand (about $80). How much 27 litres of bia hoi put us back last night? Ching Ching Em Oi! Oh my sack! 94,500 Vietnam Dong. Now for those not Foreign Exchange-ingly literate, that equals a massive $6!!!"
SUPERMARKET SUITS

In what other country can you find business suits for sale in a suburban supermarket? Where else are they so cheap? Pictured in this shot at the Coop Mart in Ho Chi Minh City are a range of supermarket clothes, in the foreground a rack of Áo thun nam (mens' T-shirts) going for between four to US$10 each. If you want to buy a range of T-shirts online selling in Vietnamese dong, click here.
HELMETS & HATS

Ever since the Vietnamese Government made wearing them compulsory, motorbike helmets have become a fashion item. People wear them even when they are not riding. There are some truly fetching helmets out on the market, with logos like Mickey Mouse and the Playboy brand, as the above photo shows. . He cultivated the seeds for his crop and traded them for rice and necessary equipment with trading ships that came to the island. An
It costs US$200 to $400 for a weekend of the GFE in HCMC!
he became rich. On hearing of An Tiem's success, King Hung had him welcomed back to the royal palace.
"The succulent star fruit (carambola) with five sections, can be served raw in salad, or cooked in soup. It is also served as a dessert. There are two types of star fruit: the sweet and the sour, both kinds grown in out-of-the-way garden corners or by the ponds. There is a folk tale about the star fruit tree. Two brothers, when coming into their inheritance, received unequal portions. As was the custom, the elder brother took the majority, but contrary to custom, the elder brother failed to provide for his sibling, leaving his younger brother only a shabby cottage and a star fruit tree.
Johnny Vagabond said after visiting in 2010: "I was a little surprised at how much room prices varied throughout Vietnam. Here in Hue, I found a lovely clean, new place with AC for $8 per night. Saigon was the most expensive, with most places running $16-18 a night. Hoi An was $13, Dalat $10, and I found a lovely AC bungalow on the beach in Mui Ne for $10. I'm in Hanoi as I write this and have found a pretty rundown but clean room with AC for $12 — most places were in the $20 range or higher."
"When he saw how wealthy his younger brother had become, and hearing the story of the magical bird from his guileless brother, the elder brother persuaded the young man to trade the star fruit tree for all the elder brother's treasures. The next day the elder brother made the same bargain with the phoenix. Just as he expected, the bird came to eat the star fruit and made the same promise to the elder brother, who sewed the biggest bag he could to hold his gold. But when he got to his island, he was so greedy he filled up his bag with so much gold that after flying a short way, the phoenix could carry him no longer and had to drop him into the sea, where he sank still clutching his treasure..."
Previous: Christmas in Vietnam -- Next: Mui Ne (make that Ham Thuan Nam, Binh Thuan Province!)