south east asian galleries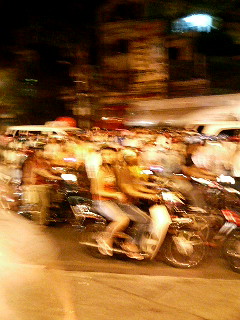 [christmas in vietnam]
saigon vietnam 2007
Between Christmas and New Years 2005 I had the chance to witness and participate in the changing of the year JAPANESE STYLE on the island of Shikoku, with my old girlfriend Chie. Two years later, I have a new girlfriend, and a new culture to explore. The festivity on the menu today, was Christmas in Ho Chi Minh City, Vietnam. Vietnamese people welcome any opportunity to party, and by evening the streets of Saigon were jammed with couples and whole families on two wheels. Even the taxi driver was complaining, the traffic was absolutely nuts. We ended up at Notre Dame Cathedral Basilica, that little piece of France in the heart of Saigon...
Previous: Vietnamese Fruits -- Next: Vietnam Costs