---
c r o w d e d - w o r l d
---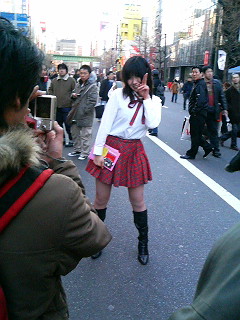 Akihabara Maid Cafes, Japan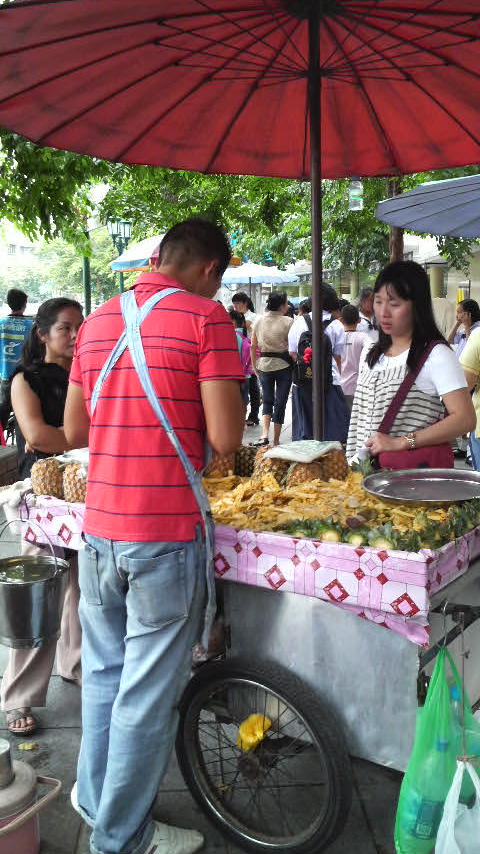 Bangkok Dining Guide
» Crowded World Home
» Vietnam Hub
» Living in Vietnam
» Cost of Living
» Dating & Relationships
» Finding a Job
» Learning Vietnamese
» Visas
---
» Russian Girls in Istanbul
» Russian Girls in Japan
» Russian Girls in Korea
» Russian Girls in Kuala Lumpur, Malaysia
» Saigon's Best Clubs & Bars
Crime Scene in Japan
» Vietnam Massage and Spa Guide
---
---
---
r e c o m m e n d e d - w e b s i t e s
---
» Saigonist (Start-Ups and Technology)
» The Final Word (Teaching English in Vietnam)
Anphabe (Connecting Leaders)

I GOT AN EMAIL TODAY FROM THE DIRECTOR OF MARKETING AND OPERATIONS AT A CERTAIN VIETNAMESE RECRUITMENT COMPANY, INVITING ME TO JOIN ANPHABE. "26 letters of the Alphabet create the world of languages," reads the spiel on Anphabe, "26 connections on ANPHABE create the world of opportunities." Actually, there are 29 letters in the Vietnamese alphabet not counting all the squiggles and accents, but I can see where they are coming from. As networks like LinkedIn know, there are just a few degrees of seperation between you and your dream job. The hardest part is bridging that divide. You need to be part of a network to do that. Even though I am no longer looking for a job in Vietnam, I took up the marketing and operations director's offer. I joined Anphabe.

Now logged into the network, I can view other members, many of them movers and shakers in the Vietnamese online and social media landscape. Unlike LinkedIn, it seems like you can make direct contact with the people you are interested in, rather than wait to be introduced by intermediaries. For someone like me, trying to make inroads into the booming Vietnamese market, this could be a worthwhile resource for the future. They have discussions about interesting topics like passive income, using social media to promote your brand, and so on. If you want to start your own company in Vietnam, this would be a good site to join. For those looking for work, Anphabe might also suggest a view leads. Not too long ago, I had a girlfriend in Vietnam and she was pressuring me to get married and live with her in Ho Chi Minh City. I was living in Japan at the time, and I made Tuesday my Vietnamese job hunting day at the end of last year to speed up the process (Tuesday being my highearning day in Japan). By the start of 2010 I had sent off some nine or 10 applications but received back no responses, which might have shown how tough it was (comparatively) to get a job in Vietnam at that time. According to a Swiss guy I overheard recently talking in some nameless backstreet Bui Vien bar (the bar with no music), the start of the year is a hard time to find teaching jobs in Ho Chi Minh City -- it is better to wait a few months for all the flakes to clear out (it is a hazard for employers in this line of work.) This was a Swiss guy teaching English in Vietnam, so it shows it is possible for non-native speakers (the same situation exists in Japan!) Saigon Alive wisely warns against rocking into the country in the middle of Tet New Year if you need a job fast. On my walks around Saigon (District 3 in particular, but anywhere in general) I have wondered about the guys you see on nearly every street corner: slumped back on a motorbike, smoking and often sleepy looking; they spring into life whenever they see a foreigner. According to The Vietnam Business Finance News, unemployment rates at around 5.45 per cent in the city (as of January 2010). That's about the same level as in Japan, and way below the United States. So how do all those motorbike guys make a living, considering they might only pick up a dollar per fare? My girlfriend Nga makes about $400 per month, and she doesn't have to hussle any foreigners (except, perhaps, me.) The scene was early September 2008, Nga and I had just seen off my Ma and Pa and the Dawson's from our hotel in Ho Chi Minh City...

As of the end of 2009 there were 16,800 foreigners working in Ho Chi Minh City, some 3000 of them without labor permits (source Thanh Nien Daily). You wouldn't think that Vietnam is that kind of place, but a recent news story in The Thanh Nien Daily reports: "Nearly half of the foreign workers in the country are employed illegally. They enter the country as tourists or to visit relatives and stay on, the labor minister said Thursday..." Vietnam's Minister of Labour, War Invalids and Social Affairs Nguyen Thi Kim Ngan was asked why why local labourers lack jobs while a large number of foreign workers are in Vietnam and to talk about measures for this situation. Wondering where all these illegal immigrants are coming from. (Presumably they must be coming from a country even poorer than Vietnam.) Which countries spring to mind? The Philippines? Cambodia? Considering that much of southern Vietnam is built on the former Khmer motherland, the idea of Cambodian laborers "invading" Vietnam seems rather ironic. However, it turns out many of the illegal foreign workers in Vietnam are Africans, who enter the country on tourist visas. . A poster on KI-Media argues: "Traveling to each country is part of freedom of human being, but government of Vietnam has strictly implemented its immigration law. Cambodia is really slack to enforce the laws. Cambodian leaders are drunk of entitlement, power, money and reputation... Vietnamese travelers will increase in the income of local Cambodians? Of course, no empirical study related to this assumption of yours. But what we have seen in everywhere inside Cambodia is that many business places such as bus stations, market places, fishing lakes/rivers, and tourist sites are full of Vietnamese. Cambodia has lost jobs to hundred thousands of Cambodian labors. Cambodia is losing benefits from Vietnamese immigrants because those incoming workers have never paid tax to the government. Worse, they have been taken advantage of easy lifestyle to earn their living and send money back to their family in Vietnam among less competitive Cambodians."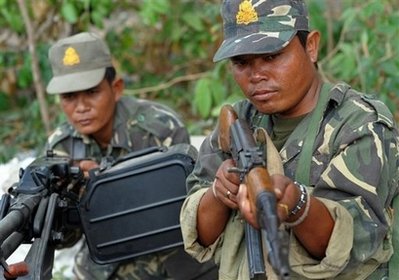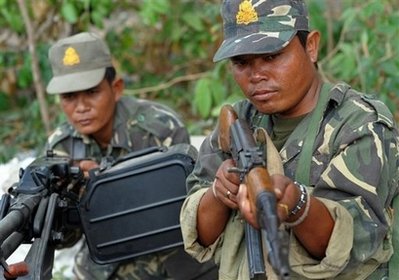 On the other hand, there are many Vietnamese breaking into China to take advantage of the booming economy there, as Los Angeles Times recently reported. The Chinese don't seem to be concerned.

Teaching English


Transitions Abroad has written: "In contrast to Thailand and Indonesia, it is generally not easy to find work as an English teacher in countries between Pakistan and the Phillipines. Poverty is the main reason for the small market for expatriate teachers. Singapore, Malaysia, and Brunei, which are relatively wealthy, mainly turn to Britain for teachers. However, those foreigners prepared to finance themselves and volunteer their time can find eager students simply by asking around in Sri Lanka, India, and (especially) Nepal. Vietnam, Cambodia, Laos and even the pariah state of Myanmar are developing a range of commercial institutes devoted to English language teaching. In Vietnam, the daily paper Nguoi Vet publishes its Thursday edition in English, so check for ads (or consider placing your own). World Universities Service of Canada (WUSC), www.wusc.ca/expertise/worldwide/asia/vietnam.asp) recruits Canadian ESL teachers for a range of countries, especially Vietnam. Two private language institutes to try are ILA Vietnam (www.ilavietnam.com/?id=&lang=eng) and New Star ELT in Hanoi (www.newstar-vietnam.org/index_en.htm). A handful of private language schools have opened in the Laotian capital of Vientiane. The longest established English teaching center is Vientiane Univ. College, vtcollege@laopdr.com, www.geocities.com/vientianecollege), which employs 25 teachers on seasonal and 1-year contracts. Visas can be a problem since countries understandably want to control the number of long-stay foreigners. For example, with very few exceptions the Nepali government does not allow foreigners to stay for more than three months in any 12. Nepal is a more promising destination than India for short-term English teachers willing to work for low wages. Insight Nepal (www.insightnepal.org.np) has a Placement for Volunteer Service Work program in which volunteers are allocated to primary and secondary schools in different areas of the country for between three and four months to teach English, science, and sports. Starting dates are in February, August, and October. The participation fee of $800 covers pre-orientation and a one-week village or trekking excursion; the host village provides food and accommodations. Another alternative for volunteers wishing to teach in Nepal is to apply to the New International Friendship Club Nepal (www.geocities.com/nifcnepal/). The Himalayan Explorers Connection (www.hec.org) sends teaching volunteers to mountain villages. The program costs $150 per month excluding airfare. In the mid-1990s, Ho Chi Minh City (formerly Saigon) enjoyed a heyday as an Asian Tiger. It hoped to become the next Singapore, as the abundance of skyscrapers built during that time can attest. Although it took a beating with the crash of 1997, it didn't completely collapse, and these days the city is back in action. Construction/project management is big business, ranging from hotels and resorts to planned residential communities and factories. Interviewed in Britain's The Telegraph newspaper, "There are a good selection of internationally managed apartment blocks in Ho Chi Minh City as well as long term rates available at almost all of the hotels. If you are planning on being here for a long time and you have a family then it would be worthwhile renting a house. Prices range from 250 GBP to 1500 GBP per month. Most expats live in District 2 which is only five minutes away from District 1..."

Apollo English: .

Asia Pacific College: Various campuses in Ho Chi Minh City, Can Tho. Phone: (84/8) 3910 1580, etc. Webpage: click here.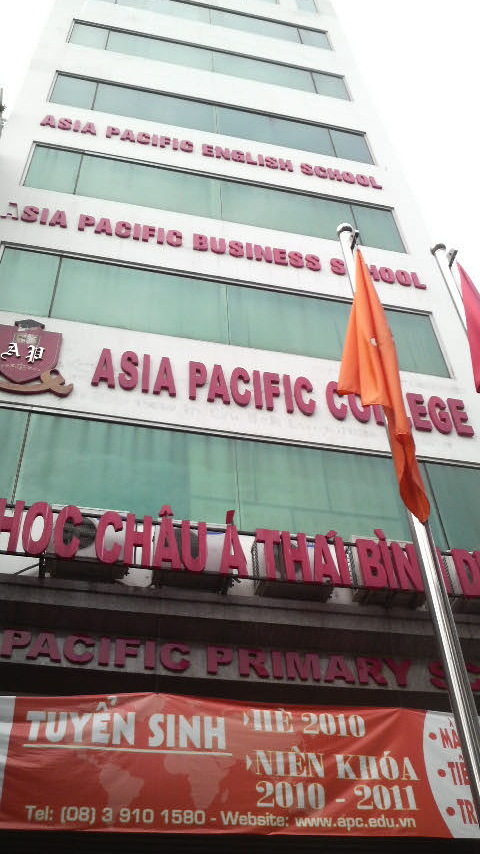 Atlanta Language Educator: 2 Cao Thang Street, Ward 5, District 3, Ho Chi Minh City. Phone: (84/8) 3818 1881. Webpage: click here.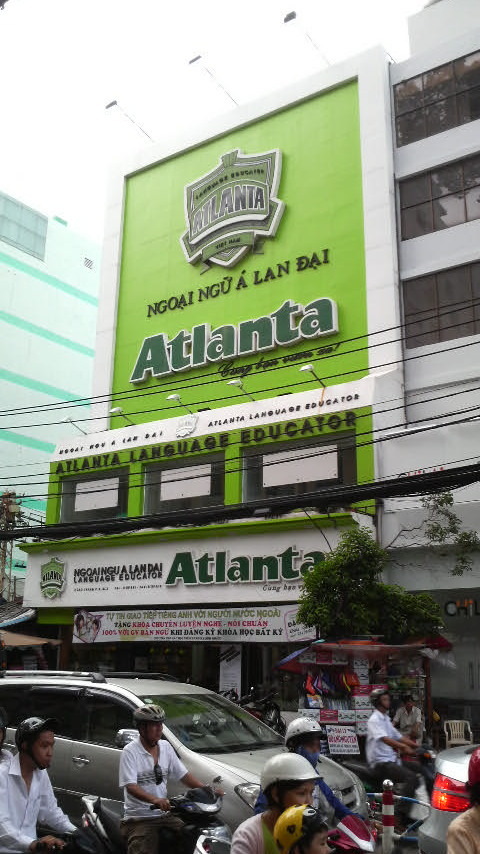 Aston English: .
Aston English, the largest chain of American managed language schools in China, welcomes applications from western degree holders interested in a teaching position at our new school in Ho Chi Minh City (Saigon), Vietnam. The start date for this position is April 1st. This is a great opportunity to live and work in an Asian country which still possesses a taste of France. Both 1 year and 6 month contracts available.
Qualifications: Native English Speaker (citizen of Canada, America, United Kingdom, Ireland, Australia, or New Zealand), possess a TEFL or TESOL certificate, a degree in any subject, must be in good health.
Compensation: One Year Full-Time Contract: Base Salary: 1100 U.S. dollars/month + Free Accommodation + 1,000.00 U.S.D. Bonus + 14 Days Paid Holidays + Free Vietnamese Lessons + Work visa documents provided. To apply, send your resume to Bruce Blanch at: astonrecruiter@gmail.com.
Australian Vietnam International School: 2 Cao Thang Street, Ward 5, District 3, Ho Chi Minh City. Phone: (84/8) 3818 1881. Webpage: click here.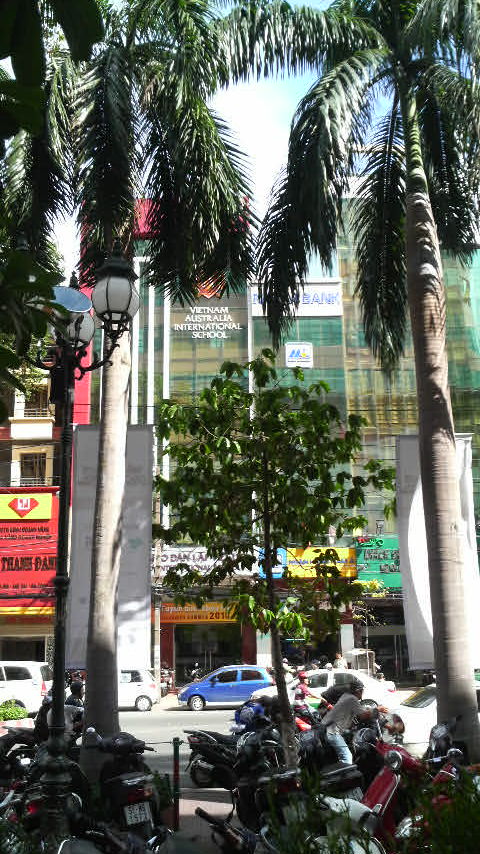 CEC (Communications English College): 7 Trần Cao Vân Street, District 1, Ho Chi Minh City. Phone: (84/8) 3829 3418. Webpage: click here.


Ngoại ngữ seems to mean "studying language" in Vietnamese. Tiếng anh means "the English language". CEC means "Communications English College".

Clever Learn: Various campuses in Ho Chi Minh City, Can Tho. Phone: (84/8) 3910 1580, etc. Webpage: click here.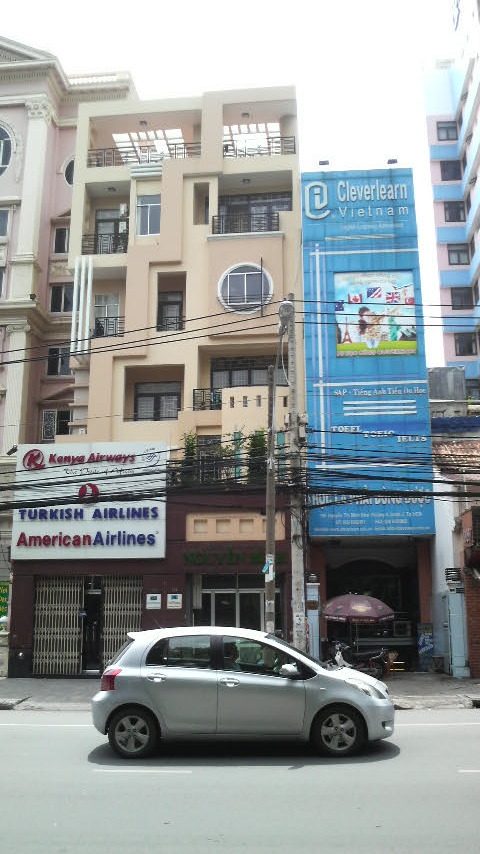 Cleverlearn have a track record of helping their teachers get their work permits according to Saigon Alive. The campus in the photo above is located right next to an office I hope to become well acquainted with in the future... the office housing Turkish Airlines and Kenya Airlines.

Compass Education: Schools in and around Ho Chi Minh City.
Seems to offer decent pay: up to US$22 per hour if you have TESL certification.

EduWorld.
"The only place in Ho Chi Ming City that offers you premium services. Good quality at affordable fee," says director James Tan.

EIV: 169 D5 Street, Binh Thanh District, Ho Chi Minh City. Phone: (84/90) 904 7757 (Kevyn Quyen).
EIV Vietnam is described as a personnel company, perhaps similar to one of the first dispatch companies I worked for in Japan when I was there, EIS (in Ebisu). Like EIS, EIV provides teachers for companies, universities, colleges, and secondary schools, and even individuals and families. Its subsidiary, English In Vietnam, conducts classes via phone, Skype, and Yahoo webcam.

Elance: Hire Experts To Do Your Work (Expertly Export Your Work To Others).
One of my strategies for getting ahead in life is to live in one of the cheaper countries (such as Vietnam), while working in one of the more well paying countries (such as Japan). And when I am in Japan I head over to the Tanpopo ("Dandelion") recycled clothes outlets in Ichikawa City (Chiba Prefecture) for one dollar items which actually look good (a lot of them are Uniquro throwouts.) This strategy has worked pretty well for the past two years, but I don't think I can keep my long distance relationship in Vietnam long distance for too much longer. Sooner or later I am going to have to make the move to Ho Chi Minh City. When I am there I can no doubt pick up work teaching English, but to supplement my income, I can also work online. Elance might be one of the online resources I turn to for sustenance and succour. This is the place to go if you want to freelance electronically, wherever you are in the world (a windswept railway town on the Russian steppes, or on the beach at Mui Ne!) As of December 5 2009, the site has payed out an astonishing $232,890,342 to freelancers in the following fields: IT (naturlich!), writing and translation (my strong suit), administrative support, sales and marketing, finance and management, legal services, and engineering and manufacturing. Imagine getting paid in dollars or Euros while sitting on the porch of your beachside Vietnamese house, slaving over a hot keyboard. It is still work, but it is better than dealing with office politics back home...

English Zone: Various campuses in Ho Chi Minh City, Can Tho. Phone: (84/8) 3910 1580, etc. Webpage: click here.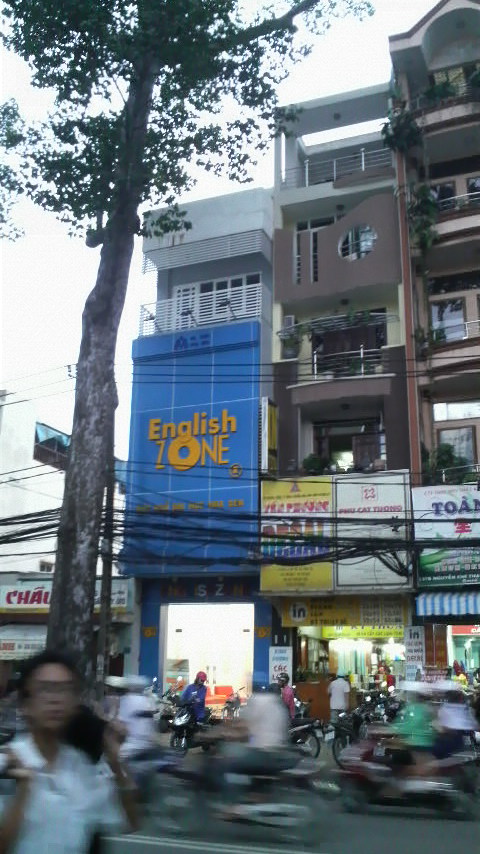 Cleverlearn have a track record of helping their teachers get their work permits according to Saigon Alive. The campus in the photo above is located right next to an office I hope to become well acquainted with in the future... the office housing Turkish Airlines and Kenya Airlines. Hit this link: http://jobs.classifieds1000.com/Vietnam/Teaching_Jobs/Kindergarten_Teacher_Needed.

Le Pub (Restaurant and Bar): 175/22 Pham Ngu Lao Street, Ho Chi Minh City.
If you are looking for a job teaching English in hot and hectic Ho Chi Minh City, this is one place you might pick up a scent. I was in there this evening (January 8, 2010) just generally chilling and then it walks this blonde bird, who greets the guys who seems to be in charge there (Nathan). Nathan gets out a clipboard or something, bids her sit down, and then proceeds to conduct what sounds like an interview for an English teaching job. Nathan said he needed someone to start in the classroom on Monday morning (this was a Friday afternoon). While lounging in Le Pub on an earlier evening, I found an article in The Word magazine detailing the current best career options for expats. Along with teaching, flyer distribution was mentioned.

GLOBAL INTERNATIONAL SCHOOL 18 Ly Thuong Kiet, Long Xuyen, An Giang, Vietnam - Tel: +84-76 3957057 - Fax: +84-76 3957058 Full-Time ESL Positions at a Private School in Mekong Delta There are ESL positions (Native English teachers) open at our private primary school in Long Xuyen, a beautiful city alongside the Mekong river, about 180 km South West of HCM city (Saigon), Vietnam. Global International School has been recognised as one of the best private school in Mekong Delta Area. We are expanding our school to a newly build campus expected to be completed early next year. Come and join our friendly team of eCreating future generation todayf facilitators. - Location: Long Xuyen city, Mekong Delta, Vietnam - Starting Date: June 1st 2009 / August 1st 2009 - Contract duration: 12 months - Monthly Salary: From 15,000,000 VND (1,200 AUD) - Contract completion bonus: 15,000,000 VND - Working Hours: 25 hours a week; Paid vacations plus all national holidays - Visa: Sponsored by the school; assistance provided for obtaining work permit - Students: Primary School Students (5-10 y.o.) - Free Accommodation: Fully furnished private room with own bathroom, air-con, fridge, cable TV, Internet, etc. - Distance from School: 5 mintes walk; Also walking distance to a local market; Other cost of living is less than 200 AUD per month - Airport Pick-up: Teachers will be met at the airport on arrival REQUIREMENTS: - Native English Speaker from Australia, Canada, New Zeahand, U.K., U.S.A. - Qualification: University degree, TESOL Certificate or equivalent course Please contact Mr. Ben Ho, Director of Studies: GLOBAL INTERNATIONAL SCHOOL 18 Ly Thuong Kiet, My Binh, Long Xuyen, An Giang, Vietnam Tel: +84-76 3957057 - Fax: +84-76 3957058 - Mob: +84-91 6647 999 In Australia, please call: 0402 736 062 - Email: gisben18@yahoo.com .

KinderWorld Education Group: Schools in Hanoi, Danang. Webpage: click here.

Mekong Delta English School: Not actually in the Mekong Delta according to what I have heard, but in the heart of cosmopolitan Sai Gon!

» Sunshine Vietnam: International English Center.
Located in Hai Duong, near Hanoi.

TeacherGig: Teacher Careers in Asia.
Search here for teaching jobs all over Asia (such as Cambodia, Thailand, and Japan.) In Vietnam there are currently jobs (as of March 2013) in Hanoi, Haiphong and Ho Chi Minh City. You can post your CV here if you wish.

Tiger English: Teach English in Vietnam.
The Information Center (great old school D&B track!) Hit this link bro: http://www.globalcrossroad.com/vietnam/paid-teaching.php.
Earn up to 10 million Dong a month!
Earn up to $15 an hour teaching English at UNESCO -- then again, you might have to compete with the volunteers doing it (virtually) for free: Teaching for Fundraising in Vietnam.

Search for media and other kind of jobs in Hanoi at the The New Hanoian.

Tiger English: .

Total ESL: First Stop For All Your Second Language Needs.


Vietnam Works: .


Vietnam Works is the place I am going to start my jobhunting efforts when I arrive in 'Nam for my next T.O.D (tour of duty) at the end of this month (December 2009). The last time I browsed through there were 3721 jobs being advertised, in the following categories: accounting/finance (421), administrative/clerical (331), banking (253), civil/construction (289), executive management (234), Human Resources (183), IT hardware/networking (260), IT software (374) and marketing (340). Sounds promising, but is it... I mean, how well do some of these jobs pay? Since I am a former newspaper reporter from Australia trapped for 10 years in the English teaching circus of Japan, I was interested to dig deeper into Vietnam Works' databases, and see what kind of media jobs were on hand. I found plenty of them available in both online and offline capacities. For example: news assistant at Reuters newsroom in Hanoi (4th floor, 8 Tran Hung Dao). Must be bilingual in Vietnamese and English. At least I am bilingual in one of them. There is no salary designated here although it claims to be "competitive", but competitive to whom? I get the feeling that I am looking in the wrong categories here. A search realignment, and I find something more promising: the expatriates job division! There are not quite 3721 jobs being advertised in here, but there are a respectable amount. In the teaching English industry: "As an affiliate to the Ministry of Foreign Affairs, CEFALT is an English-teaching institute aimed at creating a perfect learning environment, using the best teaching techniques including frequent communication with native speakers and cross-cultural exchanges. CEFALT is under the institutional and academic supervision by Ho Chi Minh City Foreign Affairs Office and the Institute for International Relations respectively. Cefalt offers training programmes in international relations; legal, protocol and negotiating techniques and skills; foreign languages to government officers and all who demands..."
Discover ELT Vietnam.
Vietnam Language Corps.
VinaHR: Vietnam's Top HR Network. LinkedIn Group: click here.
VinaHR has a LinkedIn group with topics on such subjects as why more and more expats choose to work and live in Vietnam.
o n l i n e + r e s o u r c e s

Intel: http://www.intel.com/jobs/Vietnam/index.htm.
Intel describes itself as the first major foreign investor in high technology in Vietnam. According to the story, Intel was given an investment license by Vietnam's Ministry of Investment and Planning to build a $300 million (US) assembly and test facility producing chips and computer parts. When completed, this factory will be the largest computer equipment and manufacturing plant in Vietnam. It will also employ approximately 1,200 people, which is a lot of jobs by anyone's standards.
If you want to see if there might be a job for you at Intel Vietnam, click on the link to the company's website above. Here you can search for jobs in the engineering, facilties, finance, marketing and sales departments.

Living in Vietnam: 42/63 Nguyen Hue Street, Dist.1. Phone: 08/291 0366. Web: www.livinginvietnam.com/vietnam/jobs.htm.
Features a forum for job sourcing and job hunting. It also boasts this wisdom for those looking to teach a foreign language in Vietnam: "Becoming a teacher? It's an interesting option. The country is paying more and more attention to its foreign relationships and is investing a lot in tourism. Ho Chi Minh City and Hanoi have a lot a language schools looking for Expats with a good degree who are fluent in English, Japanese, Chinese and French. . "

Mindspa Education: Hanoi.
Cool name suggesting students luxuriously having their brains pampered, but a quick Google search will reveal complaints from disgruntled staff. Call Kelly Nguyen if you are interested on 0988 678 184, or email her at nhatanh.mindspa@gmail.com.

Mine Jobs: www.minejob.com/location-87.html.
This is exactly what the name suggests -- a resource for mining and geology jobs in Vietnam. You can use the features on this website, to mine through databases, and find a job that you like.
Unfortunately, the last time I checked, there were no mining jobs available in Vietnam at Mine Jobs, although that may be change in the future...

Vietnam Works: www.vietnamworks.com/.

This seems to be a Vietnamese language website for Vietnamese people looking for work in Vietnam and the outside world -- nonetheless, it might be of some use to you if you knew how to use it.
---
JOB EXCHANGE
Wouldn't it be cool to be able to swap jobs with someone for a month or so?
Keep an eye on job swap possibilities on Couch Surfing, because they do come up.
Wouldn't it be cool to line up private students before I even live there? The queues at the Diamond Plaza cinema have been recommended.

Life of an English teacher in Vietnam: http://yarrvietnam.wordpress.com/.
A Pirate in Vietnam writes: "After several months of not having a clear schedule or knowing how I was going to get money, I have finally settled into a few really good teaching jobs. The first job is a corporate one I have had since February. I wear a suit and teach employees of a construction company. There are two classes; one is a higher level class with employees who are a few years older than me, and there is a beginner class with civil engineers who are pushing 60. The beginner class is actually the better of the two, my boss, Mr Zu (how it is said not spelled) sits in and translates when necessary. This is good because while their level is very low, they have a lot to say. The reason I like them so much is because they pretty much take the conversation to the gutter whenever they get the opportunity, which gets them laughing hysterically and allows me to teach words like 'brothel' as one of the students apparently went to one in Thailand and announced this to the whole class.
"In contrast to the 60 year old men, I have a class at another center with what are known as 'super tots' they range from 4-6 years old, and yes they are very cute... I am actually really happy with the super tots center for a great many reasons; I get to teach older kids as well, they know how to treat foreign teachers, they are professional, while providing a laid back atmosphere, which means I get to wear shorts! (This is awesome because the average temp has been about 95 for the last month) and the teaching assistants are all very attractive women under the age of 27, and none of the foreign teachers look like pedophiles..."

Since I have lived in Japan for close to 10 years (as of September 2010), I kind of like the idea of teaching Japanese kids in Ho Chi Minh City. I am sure it will happen someday. For some reason, however, a lot of the foreigners who end up working in Vietnam previously did time in South Korea. Saigon Alive seems to be one of these folk. Alive suggests hanging out "a shingle in Phu Mi Hung/Q7 and teach Korean rich-dudes' wives for $35/hr over tea."

Like other foreign teachers who choose Vietnam, Neale Pilling has fallen in love with the country: www.examiner.co.uk/travel-news/ex-pats/2008/12/24/every-day-is-a-day-the-poor-fight-for-survival-86081-22541907/.
---
VOLUNTEER JOBS
Life Changing Travel: www.i-to-i.com/resources/asia/vietnam/03-10-04.html.
Travel always changes your life in some way; and work of all kinds benefits all including you the worker, even if you aren't actually paid. Life Changing Travel (otherwise known as i-to-i) is an organisation devoted to helping volunteers help Vietnam (and other parts of the world.) Grace and Michael Sproat arrived in Hanoi, Vietnam on October 3, 2004 (and left on November 28 of the same year) to teach English to the natives. As they reported at the time of their volunteerment: "Grace and I are having a great time in Hanoi.
"Our arrival and introduction was good and everyone at the i-to-i office has subsequently always seemed pleased to see us if we've been passing. Our school is equally great - we're the first volunteers at Quang Trung primary school and we feel quite responsible not to let the side down.
"In addition to the normal week Monday to Friday, there's English Club on a Saturday morning and for a time we were even teaching there on Sundays, until we decided afer3 weeks that we needed a day off! Still, it's very rewarding and makes for an amazing difference from our jobs as doctors back in the UK. It's given us time to reflect on what we really actually enjoy (the interaction with other people and teaching etc) which hopefully we can then incorporate into our own careers when we return to the UK, like teach medical students for example."
---
ACTING AND MODELLING
On the last night I spent in Ho Chi Minh City, Nga and I went to a buffet and sat next to a party reserved in the honor of a black African football (soccer) player and his fans. It turns out there is a small African (predominantly Nigerian, predominantly Igbo) community in Ho Chi Minh City. What do they do? I used to wonder that. According to the South African blogger Backwater Views, many of them are attempting to get into the import/export textiles game. I know another foreigner into the import/export game in Vietnam: he is Iranian. Lived in Japan for ten years, and he taught me the meaning of the word seikatsu. Runs an Iranian style restaurant across from the Sunflowers Hotel which rarely has any diners, apart from me or the occasional Russian pining for vodka. Perhaps it is just a front for laundering.

Just as in Japan (and Mumbai, India), it is possible to find work as a model or TV "actor". The aforementioned Backwater Views reports in his August 2006 blog: "I was approached (hehe -- see I've already got the lingo going) by VUS school to star in the leading role of their English Speaking Club's Mid Autumn Festival play in two weeks. I'm playing Chu Cuoi, a character out of Vietnamese mythology, who has to rescue his girlfriend Chi Han from the moon or something like that, don't ask. There's going to be 200 teenagers or something like that so I'm quite scared. I've been to the tailors to get fitted for my traditional costume as well so I have to watch my weight for a while."

If you are looking for a TV or acting job in Vietnam, here are two resources: CreaTV and Sud-Est.

Backwater Views evidently worked for the Australian Centre for Education and Training. Perhaps I could end up working there someday.

Make your resmume work for you everyday, even when you are not even looking for a job -- that is the idea I have started building my online resume here. At CareerBuilder the motto is: "Your resume never gets a day off!"

RMIT International University Vietnam, has 6000 students studying in Ho Chi Minh City and Hanoi.

Karl Johnson is teaching English as a Second Language in Ho Chi Minh City Vietnam. For more information, contact her to find out how you can teach ESL. She says she'd happy to help you with more information:
One Minute Teacher, or One Minute Teacher on Twitter.
New visa rules leave expats bemused.

I suppose it is a reflection of their national personality, but Vietnamese football looks rough and anarchic to me. There are plenty of players, especially African players, trying to get into the action.

Documentation


From Saigon Alive: "If you don't have a CELTA or TEFL and/or teaching experience, you can come here and find work, but it may be difficult to situate yourself easily for a Work Permit (WP). If you have an English degree (the kind where you read and write about English Literature for a couple of years) or Communications, you may be able to pull this off, but bring authenticated transcripts to prove it's an English or Communications degree. A BEd is guaranteed gold. An MA is okay; good if it's in Ed or Comm. I have an English Degree, an MA in Communications and an Advanced Certificate in Education; no CELTA. I do respect the CELTA program, though. Good entry-level prep/weeding out tool..."

Police clearance certificates from Japan typically take eight to ten weeks. More on the police clearance certificate here. (This is awesome because the average temp has been about 95 for the last month) and the teaching assistants are all very attractive women under the age of 27, and none of the foreign teachers look like pedophiles..."

4:16 PM i will give you address of somelanguage school 4:18 PM www.eduworld.edu.vn 4:21 PM me: Thank you. Now in Ho Chi Minh City is it very wet? 4:25 PM My mother and father will be travelling by themselves around Japan next week. I have to work. 4:26 PM NGA: do you go to travel with them? 4:27 PM me: A little. But I want to save money so I can come to Vietnam in June and July. 4:32 PM I miss you. -------------------------------------------------------------------------------- 12 minutes 4:44 PM NGA: me too 4:46 PM www.viet-ucschool.com.vn 4:47 PM me: I am hoping time will go fast before O come to Vietnam. NGA: www.anhvanbacmy.edu.vn 4:48 PM info@anhvanbacmy.edu.vn 4:49 PM www.bellvietnam.com 4:50 PM infoclbt@cleverlearn.edu.vn 4:51 PM wwwcleverlearn.edu.vn 4:52 PM info@elite-school.org 4:53 PM www.elite-school.org 4:54 PM www.ilavietnam.com dongauschool.edu.vn 4:55 PM ww.elcvietnam.com 4:56 PM theinternationalschoolforcommunication 4:57 PM super youth language school the lon don school 4:58 PM me: Thank you. NGA: outerspacelanguageschool 4:59 PM truong anh ngu thuong dinh 5:00 PM www.sibme.edu.vn 5:01 PM xuanpham@vus-etsc.edu.vn 5:02 PM www.vuc-etsc.edu.vn 5:03 PM wwwflc.edu.vn www.ausp.edu.vn 5:04 PM www.ngoainguduongminh.edu.vn 5:05 PM www.vietnamcentrepoint.edu.vn info@vaacgroup.edu.vn 5:07 PM me: You know many schools. 5:09 PM NGA: you should work around centrecity but ho chi minh city very big y 5:11 PM i only like live in dictrist 1or3 or10 5:12 PM i sent to you some photos did you get them? 5:13 PM what are yourparents doing now? 5:14 PM me: My mother is cleaning and washing and my father is watching TV. 5:15 PM NGA: how about yourmeal? me: It was nice. 5:17 PM NGA: you can send email to somesaddress to application for yourjob me: thank you. 5:18 PM NGA: did you get photos 5:19 PM do you work tomorrow? 5:20 PM me: I couldn't receive the pictures you sent me. 5:22 PM NGA: only 2 month we will meet 5:23 PM me: yes very short time. 5:25 PM I am hoping the time will go faster. -------------------------------------------------------------------------------- 6 minutes 5:32 PM me: I can see the photos now very nice. 5:33 PM NGA: are you going shop? 5:37 PM me: I can show them to my mother and father. -------------------------------------------------------------------------------- 13 minutes 5:53 PM vietnamworks.com 5:54 PM email :contact@vietnamworks.com 5:56 PM this company is needing teacher english .now you can

MORE EMPLOYMENT OPPORTUNITIES IN THIS CROWDED WORLD: Cambodian Jobs // China Jobs