» Welcome to Ho Chi Minh City (Otherwise Known as Saigon)
» Things to See in Ho Chi Minh City (A-Z): Cholon
» Cao Dai Temple
» Chu Chi Tunnels
» Reunification Hall
» Things to Buy in Ho Chi Minh City: Clothes
» Things to Eat in Hồ Chi Minh City: Restaurant Guide
» Archives (2007-2010)

» Banh Khot
» Banh Mi
» Banh Trang
» Banh Xeo
» Binh Quoi Tourist Village
» Bistros & Buffets
» Breakfast
» Coffee Shops
» Congee (Rice Porridge)
» Cooking Classes
» Exotic Meats
» Halal Food
» Hu Tieu Restaurants
» Indian Restaurants
» Japanese Restaurants
» Kebabs
» Korean Restaurants
» Lotteria Fast Food Chain
» Pham Ngu Lao Restaurants
» Phở Restaurants
» Pizza Parlours
» Thai Restaurants
» Vietnamese Fruits
---
» Places to Party in Ho Chi Minh City: Bars and Clubs
» Places to Stay in Ho Chi Minh City: Malaya Hotel
» Getting There: Ho Chi Minh City Airport
» Buying Real Estate in Vietnam?
» Learning Basic Travel Vietnamese
---
---
PHO IS FAST BECOMING ONE OF THE HOTTEST ASIAN FOODS IN THE WORLD, WITH FANS RANGING FROM CELEBRITY CHEFS TO US PRESIDENTS, AND EVERYONE IN BETWEEN. Interestingly enough, this dish (basically beef or chicken with noodles and plenty of leaves and vegetables) has its origins in poverty, in Hanoi in the north of Vietnam. Whether you're rich or poor, however, this is one hearty broth for the soul, and in Vietnam it is taken at all times of the day -- but especially at breakfast. Despite its Hanoi origins, you should definitely devour a dish of this stuff while you are in Ho Chi Minh City, if you have the chance. Before you go, check out this online guide of pho restaurants in the city!
Phở 2000: Pham Ngu Lao, Dist.1.
Sometimes when you are travelling it feels like you are merely following in someone else's footsteps. For me, this is not necessarily a negative thing. For example, a few times in my life I have found myself right in the spot where former US President Bill Clinton has dined, or met people who were friends of his. From the people I have met who are friends with him, and the places he has dined, I can tell he is a man of good taste, charismatic and somewhat left of center. Or maybe that is just my projection! In 2006 in Iceland I stumbled, dead-drunk, down to the famous Reykjavik hotdog stand where Clinton downed a couple of dogs with the works -- they have a photo of him on the wall. About 12 years earlier, on a holiday in Spain with my Aussie buddies, we rolled up at some guy's joint in Valencia to, well, basically roll up a joint and smoke it. The dude who lived here was a friend of my travelling companion Jeff and they had met in India or somewhere, and no doubt enjoyed the odd spliff on the backpacker trail. I was amused when entering his apartment to see a photo of Bill Clinton on the wall. "He's my Mum's friend," the Spanish guy said proudly. I suppose Clinton has many friends, scattered all over the world.
I haven't been to Europe for a long while now as I have a girlfriend in Vietnam and spend all my free time there now. Even in Vietnam, however, Clinton's legacy lingers on, like contrails from a jet which has long departed from the sky. The Vietnamese have a soft spot for him... it was under his presidency that relations between Vietnam and the United States were normalized, after many years of bitterness and war. It was President Clinton who not only lifted America's economic embargo on Vietnam, but also restored diplomatic relations. Clinton became the first post-war American head of state to visit Vietnam in the year 2000. Presumably it was during this visit, that the President met pho.


The Pho 2000 restaurant in downtown Ho Chi Minh City, near the iconic Ben Thanh Market, bears the motto "pho for the President". As the legend goes, this was the place where President Clinton downed not one but two bowls of pho in the year 2000, during his historic official visit. Why he chose this restaurant over all the others around I do not know, perhaps it was truly random. Presumably the restaurant had a different name at the time; now it will forever remain Pho 2000, in memory of that great turning point in the history of Vietnam's economic development. I made my first visit here at the end of 2007, with my girlfriend Nga. She ordered chicken curry (one of the best kept secrets of Vietnamese cuisine), bread rolls and coconut milk/juice, while I went for the classic pho. As the guidebooks promised, there were plenty of pictures of Bill Clinton on the wall. Outside, motorbikes streamed by in the brilliant early morning sunshine. It seemed like everyone was out trying to make some money. It would have made Bill happy to be here...

Phở 24: Various locations (77 at last count!) around Vietnam, Singapore, Indonesia, Cambodia, South Korea, Australia, etc. Website: click here.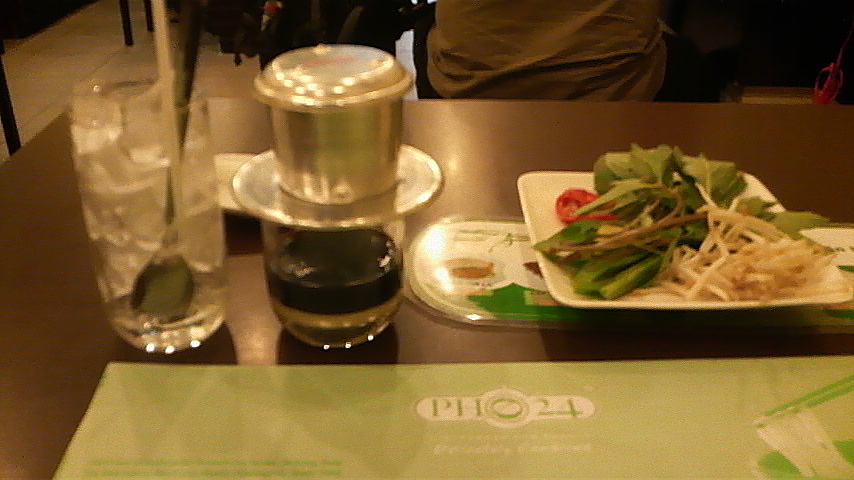 Here you can get the beef phở with tai (fillet), chin (well done) and nam (fat brisket) cuts, phở with meatballs, phở with soft tendon beef cuts and tripe. Also on the menu is the underappreciated and delectable chicken phở, a soft and milky bowl indeed. You can even get phở without meat, which might appeal to vegetarians out there were it not for all the animal fat in the broth. All of these dishes should cost around 45,000 Dong. For 90,000 Dong you can go high class, and order the phở bo my (American beef noodles, with tenderloin cuts). On my last visit to a Phở 24 outlet in the middle of Ho Chi Minh City, just up from the river opposite the Sheraton, I opted for a basic beef soup.

The staff had to show me how to prune my greens correctly before dropping them into the soup, which goes to show how little I know about phở. To accompany it I ordered a glass of dripped, then iced Vietnamese coffee, although alcoholic beverages are also available. As usual, I made the mistake of dropping too many flakes of red chilli into the broth. The top of my head grows wet from the sweat. Whatever... it is all good fun, and I remain to finish my soup, right down to the murky bottom, regardless of the abdominal discomfort it might cause me in the 'morrow. I notice that Anthony Bourdain, despite being a kick-ass kind of guy in general, sometimes leaves his bowl half-full.


I am not sure what the reporter was after, but he was obviously after something, and this posed something of a dilemma for me. While I would normally welcome any publicity, it would be embarrassing to say the least if I had been interviewed, quoted or otherwise considered an expert on phở, or any other Vietnamese dish for that matter. Regardless of the surge of scrutiny and success a mention in the New York Times might endear. "Surely there are more worthy spokespeople for this meal?", that what I thought after I got that email. For example, the aforementioned Noodlepie! I know he is busy in central Africa now, teaching journalists how to use the Interet, or something like that. But he might be available for a comment. The New York Times asked me for my phone number which I gave them, but they never called. And maybe that was just as well. I didn't get any publicity, but at least I won't have my karma compromised by being a pretender.
The strange thing about Vietnam is that for such a poor country, they have such lousy skills in collecting (and enforcing) payment. It is like they don't even care about money. That could be because it is (at least nominally) a communist country, so employed staff have no real grasp of service in a capitalist style venture like a restaurant or bar...

Phở 5 Sao: Various locations. The picture alongsides was taken in Cholon, the Chinese heart of Ho Chi Minh City.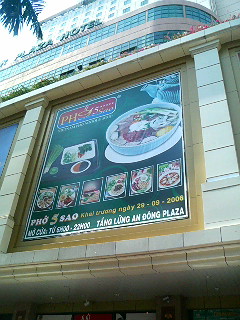 Asia Life's Jon Dillingham does a pretty mean guide to the noodle shops of Ho Chi Minh, and regarding this particular chain he says: "Phở 5 Sao (224, Nguyen Thi Minh Khai, D3, Tel: 930 1713) has a similar layout and design to Phở 24 but has expanded the menu to include 150 Italian dishes alongside dozens of other Vietnamese, pan-Asian and western foods. Open 24 hours they are known for their gigantic pho xe lua that includes rare beef, well-done brisket, well-done flank, tendon and tripe, all for VND39,000. Its 3 locations serve regular pho between VND20,000 and VND25,000 a bowl and they even deliver."
Phở Ha: Stall 1004, Ben Thanh Market, Dist.1.
Another recommendation from the godlike Noodlepie, this is one of three or four pho stalls in Ben Thanh Market. Said Noodlepie during one of his visits there: "I ordered the Phở Tai (Raw Beef noodle soup), the beansprouts were pre-thrown in for me, and a 2 leaf herb plate (Basil & Cilantro) was plonked stallside together with a dish of lemon slices and chili slivers. Ha's broth has Hanoian aspirations, but lacks those all important meat thick juices. However, Ha also gives you a nifty little sauce - a ready mixed oyster sauce and chili sauce number - and her soup needs it. Sauce added, your intestines can kick back, relax and enjoy. Without it this is second rate soup - great if you knocked it up yourself at home, but not what you expect from a professional purveyor on Vietnam's finest.
"This retails for 10,000VD. There's a decent market life view from Ha's stall and Banh cuon, Cha gio and Mi Quang are all within arms reach at neighbouring stalls, and can be ordered to your seat as required."
Phở Hoa: 260C Pasteur Street, Dist.1.
According to Saigon legend Noodlepie, this "is possibly the largest and most popular pho restaurant in Saigon. Probably the most popular in Vietnam, at least with southerners. Locals slurp in this two-storey institution alongside busloads of Asian package tourists, backpackers and expats. Downstairs tacky paintings of the family adorn one wall, a bonkers-big photo of a bamboo forest is pasted along the length of another wall."
Take it from Noodlepie -- he knows his pho, he is the go.
Ut Nhung: 109/7 Nguyen Thien Thuat Street, Dist.3.
Jon Dillingham from the What's On Guide to Ho Chi Minh City claims this is one of the best phở shacks in the city: "This tiny phở shack doesn't have a menu," he writes. "The little hole-in-the-wall doesn't even have tra da, drinks are supplied by neighboring vendors. All Ut Nhung does is make one kind of pho: phở bo tai nam (pho with rare beef and well-done beef flank). They serve one of the best versions of this dish in town for VND11,000. In a hem off Guitar Street where Districts 1, 3, 5 and 10 meet, Ut Nhung has no sign. Just look for the tiny house with a huge cauldron of broth tended to by a bald lady surrounded by hungry pho eaters.
"The broth here is extra fatty and marrow is served in your soup. The raw meat is healthy and red before thrown into your bowl. The taste of the rare beef is likely to be some of the freshest you'll ever have in a city.
"Pho in Vietnam is a lot like burgers and fries in America or fish and chips in the UK: hundreds of places do it well, but special places like Ut Nhung make it nearly perfect.
"Phở comparable to that sold by Ut Nhung is found at Phở Dau (288/M1 Nam Ky Khoi Nghia, D3, Tel: 846 5866), where they dish up leaner meat and lighter soup. Not quite as hearty as the Nguyen Thien Thuat shack, the soup is still a very tasty, sweet and sour broth. The phở is served with parsley garnish, but no other additions are on the table. Itfs just beef noodle soup, straight. And it's good.
"Phở Dau has possibly the best pho location in town amidst some alleys where four hems meet and open up into a charming little square in the center of a city block. But the nice neighborhood has its price at VND24,000 to VND30,000 a bowl. The shop serves a selection of five pho bo choices: the aforementioned tai, nam (well-done flank), chin (well-done brisket), gau (beef fat) and gan (tendon)."
For the complete Jon Dillingham guide to the best phở shacks in Saigon and Ho Chi Minh City, click here.
---