» Welcome to Ho Chi Minh City (Otherwise Known as Saigon)
» Things to See in Ho Chi Minh City (A-Z): Ben Thanh Market
» Things to Buy in Ho Chi Minh City: Modern Vietnamese Art
» Things to Eat in Hồ Chi Minh City: Restaurant Guide (2011)
» Archives (2007-2010)

» Banh Khot
» Banh Mi
» Banh Trang
» Banh Xeo
» Binh Quoi Tourist Village>

» Bistros & Buffets
» Breakfast
» Coffee Shops
» Congee (Rice Porridge)
» Cooking Classes
» Exotic Meats
» Halal Food
» Hu Tieu Restaurants
» Indian Restaurants
» Japanese Restaurants
» Kebabs
» Korean Restaurants
» Lotteria Fast Food Chain
» Pham Ngu Lao Restaurants
» Phở Restaurants
» Pizza Parlours
» Thai Restaurants
» Vietnamese Fruits
---
» Places to Party in Ho Chi Minh City: Bars and Clubs
» Places to Stay in Ho Chi Minh City: Legend Hotel Saigon
» Getting There: Ho Chi Minh City Airport
» Buying Real Estate in Vietnam?
» Learning Basic Travel Vietnamese
---
---
New Home Delivery Service Launched in Ho Chi Minh City
---
A FRIEND OF MINE HAS LAUNCHED A COOL WEBSITE FOR ORDERING FOOD FOR HOME DELIVERY IN HO CHI MINH CITY. While many restaurants do home deliveries, EatVn is the first service I know of which groups them all together, giving you access to multiple cuisines. On EatVn you don't need to make a single call, which is attractive to people like me who feel shy telephoning restaurants in foreign countries, wondering if we will get an English speaker on the other end. You don't even need to enter your credit card details either, just make your selection and wait for the goodies to arrive. When he launched the website last April, Swedish-born Palm Anders claimed to have about 20 restaurants signed up, with another 100 expected before the end of the year... (For the full story, read here.)
Mutton at Mumtaz

MUMTAZ IS ONE OF THE MOST RESPECTED INDIAN RESTAURANTS IN HO CHI MINH CITY. It is also popular -- so popular, in fact, that Trip Advisor ranks Mumtaz number five out of its 267 rated restaurants in Ho Chi Minh City. At meal times the place is jammed with Indians doing business deals over the table, foreign tourists taking a clue from their Lonely Planet guidebooks, and curious locals. The menu is extensive and authentic. The restaurant is located on Ho Chi Minh City's "golden mile", Đưòng Bùi Viện (Bui Vien Street), in the heart of the backpacker district. It is in fact at the "Indian end" of Bui Vien Street, and there is another classic subcontinental restaurant Akbar Ali right across the road. Whereas Akbar Ali is cosy and carefree, Mumtaz seems more like a serious business and possibly even a chain in the making (there is another establishment on the Han River at Đa Nang). Whereas Ali Akbar is obviously a family affair, Mumtaz bustles with corporate competitiveness. Staff wear shirts adorned with the Mumtaz name. They are happy to make recommendations from the menu, which is as expansive and extensive as an Indian restaurant menu should be.

The Mumtaz menu is crowded with classics like tandoori chicken, chicken tikka, rashmi kabaabs, mutton haryali, aloo jeera, aloo gobi mattar, palak paneer (pureed spinach and cottage cheese), chana masala (this is the house speciality, chickpeas cooked in the true Pulabi style), daal, prawns with green peas, and so on. Prices range from 45,000 Đồng for the vegetarian options, to around 90,000 Đồng for the meatier ones. Tonight I ordered the mutton pepper dish and was angling for a bogstandard butter naan to accompany it when the waiter interrupted: "May I suggest you try instead the lacha paratha? It's a South Indian bread, and it goes quite well with the pepper mutton." At least, that's what I think he said. Whatever... I took him up on his offer. If it wasn't lacha paratha, then it was another kind of South Indian naan. There are in fact a number of South Indian dishes at Mumtaz, most of them vegetarian (dosas, uppumav, idiyappam, etc, you get the drift.) There is no fish head curry, but then again, this ain't Singapore!
The veggie meals are cheap but I am not much of a vegetarian, so I usually go for the meat. Mutton is my favorite meat, especially when it is wrapped in warm bread. In regular English mutton means "meat of a mature sheep"; in Indian restaurants, however, if often means "goat". I am not sure if the mutton dish pictured above is derived from sheep or goat, but frankly I don't care much. The important thing is that it tastes good, and comes in a slamming brown sauce. Spice is a must. Those red peppers studding the strands of meat were deviously hot though, so I did my best to avoid them.
Mumtaz is at 226 Bui Vien Street in Pham Ngu Lao Ward, District 1. The telephone number is (083) 837 1767; email : saigon@mumtazrest.com.
100,000 Đồng Set Meal at Mughal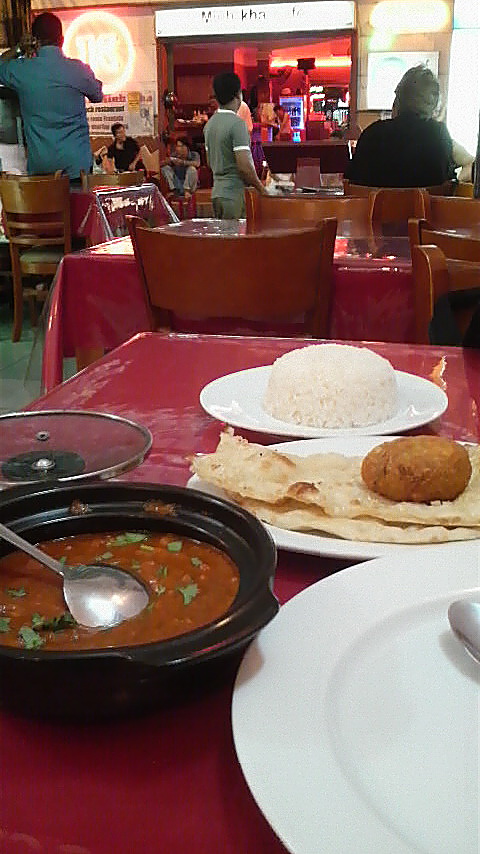 I GOT BACK INTO HO CHI MINH CITY LAST NIGHT, AFTER A SOMEWHAT OPPRESSIVE FLIGHT FROM TOKYO, AND AN ARGUMENT WITH A RIPOFF TAXI DRIVER AT TAN SON NHAT AIRPORT. Despite all that stress, it was cool riding through the late night yellow streets of the city. I ended the night with Nga in our old room (502) at the City Star, watching the end of Solaris on Star Asia. Perhaps the movie was making some sort of comment on the longdistance, international relationship Nga and I have maintained these past three years, or perhaps it was just a coincidence. Anyway, I was back in Vietnam and despite being ripped off by the taxi driver, it felt great. This evening I dropped into CleverLearn to drop off my resume, and then wandered around the darkling streets of District 3, one of my new haunts. After taking photos of safe shops (shops selling safes) and the like, I developed a mighty hunger for some real Indian food. I made a course correction, and started veering south towards the Pham Ngu Lao district, where I hoped to stop at somewhere like Akbar Ali. I had eaten there twice on my previous trip, and remembered lovingly its barbequed meats. I was on the way to Akbar Ali, but I never made it (these kind of diversions often happen to me in Vietnam). An Indian guy was out on the street handing out flyers, and he enticed me into a place called the Mughal Indian restaurant. It is right across the road from the Minh Khai Cafe with its French food and Khmer lettering, and a travel agency advertising cheap fares to Sydney and Manila. Mughal is at 28 Do Quang Dau Street in Pham Ngu Lao Ward, District 1.
---
indian restaurants in ho chi minh city: a to z
---
Akbar Ali: 240 Dien Bui Vien St., Pham Ngu Lao area, District 1. Phone: (08) 3836 4205.


My favorite Indian eatery in Thành Phố Hồ Chí Minh at the present (July 2010), Akbar Ali is something of an institution. It sits across the road from Mumtaz, which I have yet to visit (it will be one of my first duties on my next trip to Vietnam!) At Akbar Ali there is Indian satellite on the TV, and tonnes of kebabs in the menu. You can tell by the taste of the food, the little dollops of onion and relish on a side dish, that is real deal Indian. This is the kind of texture and spice you would find in a restaurant in India. On my previous visits here, I have usually gone for the marinated meats.

Alibaba: 60 Le Thanh Ton St., District 1; 43 Mac Thi Buoi St., District 1.

Ashoka: 93 Huynh Man Dat St, Ward 7, District 5. Phone: (08) 923 5904. Map/price details: click here.

Ganesh: 240 Dien Bui Vien St., Pham Ngu Lao area, District 1. Phone: (08) 3836 4205.
Arnaud J on FourSquare says: "Try the Butter Chicken (it's not too spicy), or Chicken Tikka Masala. Service is great, and they deliver..."

Masala Kitchen: 28/21 Bui Vien St. Phone: (08) 6291 2060, (090) 973 9003. Email: masala_kitchen@yahoo.com.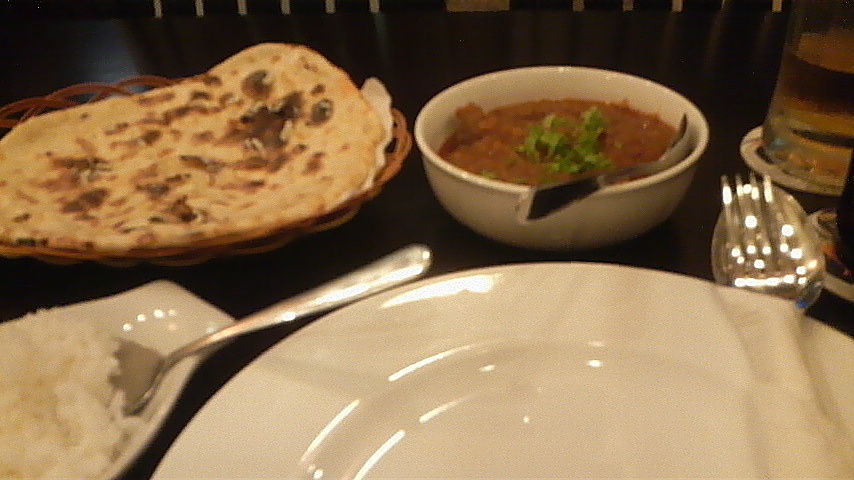 I usually end up eating a lot of Indian food whenever I am in Ho Chi Minh City. That's not because I don't dig Vietnamese food, I do like it, but I like Indian food just a little bit more. Perhaps it is because of my Caucasian heritage -- it is in the blood. And I live (nominally) in Japan, so I get to eat East Asian food all the time. South Asian food is considerably harder to come by, so I grab the opportunity to snatch it, whenever I can.
When I lived in Australia rogan josh became my favorite food. My Friday night delight involved sucking down a few cones, drinking some Hanh Ice beer (or a lot), and ordering rogan josh take-out. Usually with cheese nan and maybe some fruity Kashmiri rice.
Next to Le Pub... Indian restaurant with cheese nan, Mutton rogan josh and Tiger beer for some 120,000 Dong. When I go there tomorrow I want to try the Goan curries! One night I was there, it started pouring rain outside. It is indeed a nice place to pass the rain showers when it is rainy season.

Shahi Qila: 1B Bui Vien St, Pham Ngu Lao Ward, Distirct 1. Phone: 08 6674 7202. Email: shahiqilavn@yahoo.com.
Halal food with an Indian/Pakistani taste. Samosas and biryani are on the menu.
---