» Welcome to Ho Chi Minh City (Otherwise Known as Saigon)
» Things to See in Ho Chi Minh City (A-Z): Ben Thanh Market
» Cao Dai Temple
» Chu Chi Tunnels
» Things to Buy in Ho Chi Minh City: Modern Vietnamese Art
» Things to Eat in Hồ Chi Minh City: Restaurant Guide (2011)
» Archives (2007-2010)

» Banh Khot
» Banh Mi
» Banh Trang
» Banh Xeo
» Binh Quoi Tourist Village>

» Breakfast
» Coffee Shops
» Congee (Rice Porridge)
» Cooking Classes
» Exotic Meats
» Halal Food
» Hu Tieu Restaurants
» Indian Restaurants
» Japanese Restaurants
» Kebabs
» Korean Restaurants
» Lotteria Fast Food Chain
» Pham Ngu Lao Restaurants
» Phở Restaurants
» Pizza Parlours
» Thai Restaurants
» Vietnamese Fruits
---
» Places to Party in Ho Chi Minh City: Bars and Clubs
» Places to Stay in Ho Chi Minh City: Malaya Hotel
» Getting There: Ho Chi Minh City Airport
» Buying Real Estate in Vietnam?
» Learning Basic Travel Vietnamese
---
---
SOME TWO YEARS AGO MY PARENTS AND THEIR BEST FRIENDS DECIDED TO VISIT ME AND N. IN VIETNAM, TO SEE THE COUNTRY FROM POLE TO POLE, AND TO CELEBRATE THEIR RETIREMENT. As it was my folks' first trip to Asia, I was worried how they would fare, especially since Vietnam is considered one of the more hardcore Asian destinations. My father doesn't react to pressure well, and I was worried how he would cope with all the traffic and stuff, the hawking and touting, the endless noise. Fortunately my girlfriend N. had an idea for their first day in Vietnam which was original and fresh, and reasonably stress-free... she enrolled them (and me) in a Vietnamese cooking class. At a place called the Vietnam Cookery Center, which is ranked the 44th best activity for tourists in Ho Chi Minh City by TripAdvisor. We were there to learn the basics of Vietnamese cooking and cuisine, but mostly to have fun. N. used to be a tour guide, so I trusted her recommendation.
We started the morning with breakfast at a local landmark, the Phở 2000 restaurant on Phan Chu Trinh Street, near Chợ Bến Thành (Ben Thanh Market). US President Bill Clinton ate here in the year 2000 and that is how the restaurant got its name. The food is good, especially the signature phở noodles, and I could see why N. had chosen this place as the launchpad for her tour. It was an inspired entrée for the cultural/culinary entre which was to come. Unfortunately, N. had failed to take into account my propensity to overeat, and overdrink. I ordered a Càri gà (curry chicken) with chunks of bread, and it tasted pretty good, as usual. N. ordered phở and since she isn't a big eater, I probably finished it for her. I wanted to introduce my Dad's friend Phil ("Uncle" Phil) to the joys of Vietnamese iced coffee, so I ordered a round. One was not enough, so I drank another one. By that time the caffeine and the carbs were starting to take effect, and I felt bloated and unwell. I wanted to go and have a lie down! This was not a good frame of body, let alone mind, to go and cook food! ... The class was apparently run by the Vietnam Cookery Center. How was the fli office of the taxi company (VinaSun) to report it there. That is about all that we can do it seems. The hotel staff found the taxi driver but he denied taking any money and he said Phil's bag wasn't in the cab after he dropped you off.

Touring Chợ Bến Thành, my Dad complained about the smell. Some 12 years later, my mother said the dead frogs there mad her sad.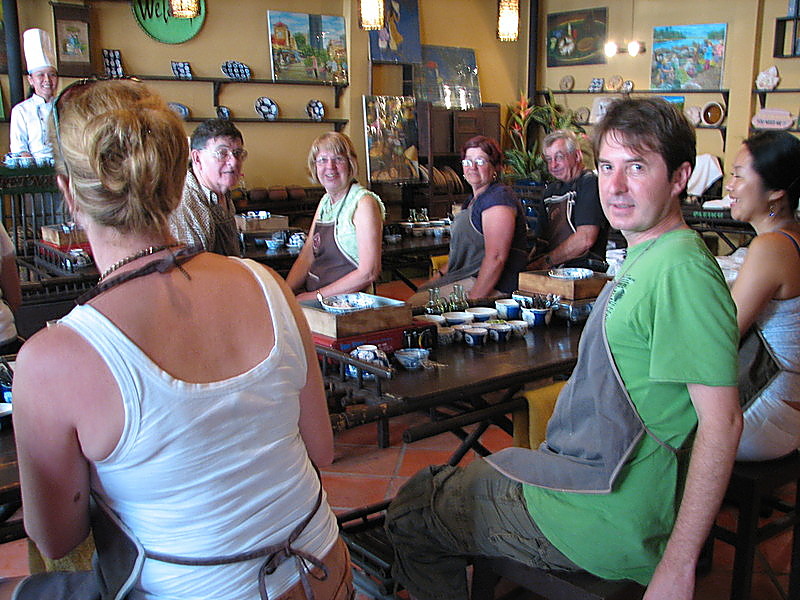 It was supposed to be a four-course meal, with the fried spring rolls with the obligatory fish sauce dip, soup, and some kind of meat dish or two. In my caffeine induced fog, it was hard to remember exactly what. I do recall being surprised by my success, however, and this cheered me somewhat. Those spring rolls were good enough to eat! If only I hadn't stuffed myself at Phở 2000 earlier in the morning.

Me receiving my certificate from the Vietnam Cookery Center.
---