» Welcome to Ho Chi Minh City (Otherwise Known as Saigon)
» Things to See in Ho Chi Minh City (A-Z): Cholon
» Things to Buy in Ho Chi Minh City: Modern Vietnamese Art
» Things to Eat in Hồ Chi Minh City: Restaurant Guide (2011)
» Archives (2007-2010)

» Banh Khot
» Banh Mi
» Banh Trang
» Banh Xeo
» Binh Quoi Tourist Village
» Bistros & Buffets
» Breakfast
» Coffee Shops
» Congee (Rice Porridge)
» Cooking Classes
» Exotic Meats
» Halal Food
» Hu Tieu Restaurants
» Indian Restaurants
» Japanese Restaurants
» Kebabs
» Korean Restaurants
» Lotteria Fast Food Chain
» Pham Ngu Lao Restaurants
» Phở Restaurants
» Pizza Parlours
» Thai Restaurants
» Vietnamese Fruits
---
» Places to Party in Ho Chi Minh City: Bars and Clubs
» Places to Stay in Ho Chi Minh City: Legend Hotel Saigon
» Getting There: Ho Chi Minh City Airport
» Buying Real Estate in Vietnam?
» Learning Basic Travel Vietnamese
---
---
WAY BACK IN 2005 ONE JAPANESE GUY POSTED ON HIS BLOG WORDS TO THIS EFFECT: "BETONAMU NI WA, MAKUDONARUDO GA NAI KEDO, LOTTERIA GA ARU!" ("IN VIETNAM THERE IS NO MCDONALD'S -- HOWEVER, THERE IS LOTTERIA!") It is a strange quirk of history and fate that if you visit Vietnam today, the only chain place you will find selling western style hamburgers will be not McDonalds or Burger King or Fat Burgers or the Big Kahoona Burger or those million other US exports, but Lotteria Cafe (origin Japan.) This is due to change fast, to be fair, and McDonald's will be planting its golden arches on Vietnamese soil soon. For now at least though, if you are hankering for fast food chain style hamburgers and fries with your choice of beverage, Lotteria is the place to go. I had my first encounter with Lotteria Vietnam after arriving at Ho Chi Minh's Tan Son Nhat Airport in March 2007. On the way into the city on the cheap and convenient number 152 bus, which apart from myself carried nothing but JFolks, we must have passed at least two or three Lotteria cafe/restaurants (in Japan a cafe is a restaurant is a bar -- what's the difference?) This evoked the inevitable "sugoi!" remarks from all the Japanese aboard the bus. I took some photos of the Lotteria's I passed, just to show the Japanese folk back in Japan when I go back there. See, Japan can kick it on the global stage! You guys can beat the Yanks at their own game -- that was the message I wanted to take back to Japan. But nonetheless, I thought to myself: "There is no way I am actually dining in one of these restaurants. I mean, why eat fast food, when you have a whole universe of pho options in front of you."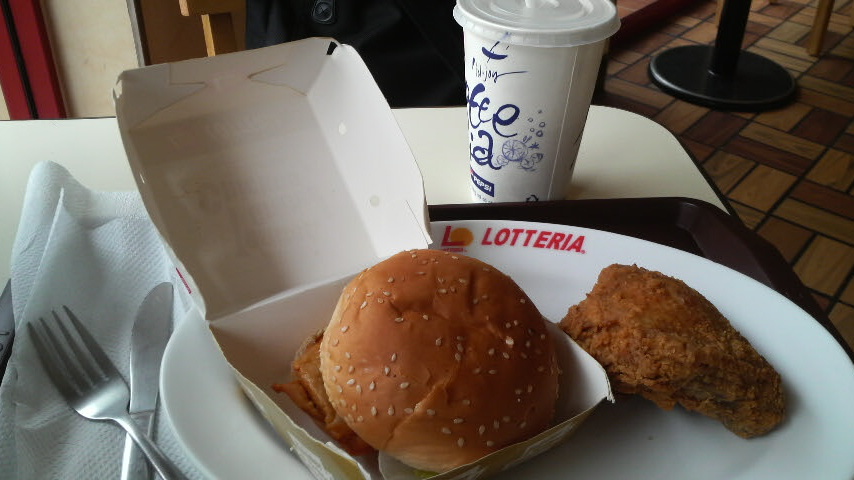 Two days later and I was due to meet a Chinese/Vietnamese friend (J.) who I had met on the Internet, and one of her Chinese/Vietnamse friends, outside of the Ben Thanh Market in the very center of Saigon. Both J. and her friend lived in Cholon, and like other Vietnamese girls I was to meet, they were studying to be a tour guide one day. I arrived at the markets ridiculously early, and to pass the time spent about an hour and a half dodging the peddlars and the beggars on the surrounding streets, bought some Nike shoes, and had an iced coffee at the Central Cafe (I think that is the correct name) in the Sun Wah Building on Nguyen Hue Ave. That coffee was so good, I ordered another one, which was a bit of a risky move, since excessive caffeine use can cause havoc for me sometimes. But so far, so good. I returned to the markets, plunged into them, and nearly got lynched by a marauding gang of female clothes merchants. To avoid the touts, I moved to the front of the markets, and stood in the bright hot sunshine. I witnessed a fight between a cyclo man and a taxi driver.
Eventually J. and her friend arrived, and we considered where we should go for a chat. By this stage the double dose of Nguyen Hue Ave caffeine and the hot sunshine outside of Ben Thanh Market, not to mention the noisy intensity of the streets, were beginning to take a toll. Looking out at the swarming traffic as I attempted to cross the street with J. and her friend, I noticed I couldn't see a chunk of the scene -- there was a swirling vortex in my viewsite. Suddenly I realised... I was having a migraine! One that would rival the migraine I suffered on my first night in Vietnam with Alison Telfer in December 1996, except back then I had a cool dark room to retreat to. This time I would have to face it alone, with only some yogaspecific muscle tensing exercises to relieve the pressure in my skull -- this time I had two girls to entertain. And after wandering around a bit, we decided to hold our meeting at Lotteria Cafe.
Vietnam Economic News Online (VEN) has reported: "Fast food is now becoming popular in big cities like Ho Chi Minh City. This shows that a new lifestyle begins to take shape in Vietnam. According to Mr. IL Sik Rho, Lotteria Vietnam's general director, Vietnam has a young population, of which 65 percent is below the age of 25. This shows that Vietnam offers retailers and particularly fast food providers great potential to develop.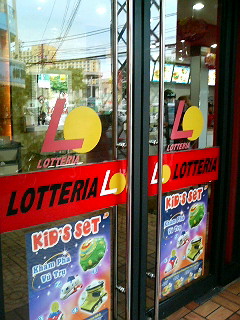 "Lotteria Vietnam is a joint venture between Vietnam's Thien Nhan II Ltd., Japan's Lotteria and the Sojitz Corp and South Korea's Lotteria. Being the first foreign fast food provider to begin operation in Vietnam quite early - in 1996 when the concept of fast food was something new to Vietnamese people, Lotteria Vietnam initially consisted of just several restaurants with a 'modest' record in revenue. After 10 years penetrating and developing the local market tirelessly, Lotteria Vietnam has now become the first choice of numerous customers, holding a 40-percent share of Vietnam's fast food market. Although the corporation has not yet reached its initial target in gaining profit, the future of Lotteria Vietnam is seen to be much brighter with its nonstop efforts and proper strategies to develop its brand in a potential market like Vietnam.
"'In fact, the corporation so far has just reached a breakeven point in the Vietnamese market. However, Lotteria Vietnam hasn't targeted short-term profits but long and sustainable business strategies,' said Mr. IL Sik Rho. What has made this group optimistic about the Vietnamese market? Let's have a look at positive changes in the number of Lotteria's customers. In 2004, the number of customers coming to Lotteria Vietnam restaurants was 950,000, which rose to 1.8 million in 2005 and is expected to reach 3.5 million this year. And the company also expects to earn a profit this year..."
LOTTERIA CAFES IN HO CHI MINH CITY:
64 Nguyen Dinh Chieu St. Dist. 1: (848) 824 3866.
I survived my meeting with J. and her cute Chinese friend -- we talked about a lot of stuff. I didn't eat anything, but drank two cups of orange juice. If I had decided to order some foodstuffs, I would have found Japanese teriyaki burgers and Korean bulgogi on the menu. J. and her friend said they liked Korean pop, learning new languages, that sort of thing. My migraine retreated. And I was on my way to... my first encounter with dog meat, later in the evening!
570 Ba Thang Hai St. Dist. 10: (848) 824 3866.

LOTTERIA CAFES ELSEWHERE IN VIETNAM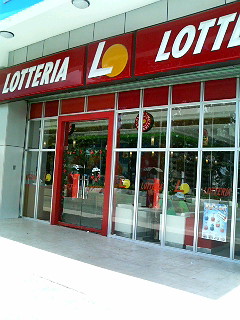 As of August 2007 there were 30 Lotteria restaurants around Vietnam, in Ho Chi Minh City, Hanoi, Phan Thiết, Dong Nai and Vung Tau. (At the same time, there were 38 KFC's in the country.) I stumbled upon the Phan Thiết branch of Lotteria, quite literally by chance, on Boxing Day 2007. It was halfway through an epic ride by motorcycle, all along the beautiful coast of Binh Thuan Province, with my girl Nga, on a quest for cash. We ended up at the Co-Op mart on the corner of Tran Hung Dao and Nguyen Tat Thanh St, which has an ATM. It also has a Lotteria. Across the road is a bank where you can get your money changed and such. Buses pick up and put down here on the way to Mui Ne.
Phan Thiết was a center of the old Champa civilization and if you know how to look, there are plenty of reminders of this vanished nation. In the bread shop inside the Co-Op Mart, for example, snacks and treats with Malay sounding names can be found. Some of the people look Malay looking. Cham looking people looked at me a lot, using longer intensity stares than the stares I usually get from Japanese folk looking at me in Japan. There were some Champa/Malay style desserts called agar agar for sale in the big city supermarket... And a scale model of KLCC Twin Towers in Malaysia made of beer bottle caps. These were the remnants of Malay Champa in modern south Vietnam!
After Nga and I withdrew a whole stack of cash from the Co-Op Mart ATM, we had an hour or so to kill before the aforementioned bank across the road finished its lunch hour, and allowed me to convert some Japanese yen. We hit the Co-Op supermarket to buy supplies. Now wherever I am in the world, I like to check out the supermarkets, to see what kinds of food they stock. Because you can tell so much about a country, from the kinds of produce they stock in their supermarkets. In Barcelona Spain, whole aisles are dedicated to olives. In modern day Tesco London, you can buy Moroccan and Thai inspired sandwiches. Fish plays an important role in Japanese supermarkets; lamb in Reykjavik, Iceland. At Phan Thiết Co-Op supermarket, the produce was south east Asian and exotic. Suitably exotic. There was a whole bunch of Red Bull energy drink from Thailand, also heaps of some liquid called Matong. Ditto for durians. Miles of milky stuff. Seafood stench!
UPDATE: june 29 2009
I am back in Ho Chi Minh City again, and back at Lotteria waiting while Nga does something or another. She always leaves me waiting at places like these while she runs around town (and she says that I am selfish!) God knows when she will be back. Anyway, as always this is a noisy place to pass the time, but there is plenty of life inside and a whole stream of traffic to watch whizzing by outside. Besides me and my wonky table there is a blind white female tourist being ushered into the restaurant, which sets me thinking: this must be one hell of a country to get around if you are blind. Then again, Vietnam sounds as exotic as it looks, and there are tonnes of strange smells to keep you occupied as well. On the other side of me are sprawled a loud and eager girls indoor cricket team from Australia, chaperoned by their coach. I tuck into my shrimp cheese burger and slurp my cocoa shake, which together set me back 46,000 Dong. Unlike my last Vietnamese Lotteria disaster, the cheese shrimp combo tastes good... it is kind of pickly in an Oriental way!
---