KEBABS HAVE BECOME A STANDARD SNACK ON THE GO IN MANY PARTS OF THE WORLD, AND THEY HAVE RECENTLY HIT SOUTH-EAST ASIA. Called banh mi kepab in Vietnam, they had can be found in big cities like Ho Chi Minh City and Ha Noi. Vietnamese kepabs are quite different - and a lot healthier - than the grease bomb you might consume after a night on the booze in Birmingham or Berlin. As the name denotes, Vietnamese kepabs are usually served in the ubiqitious banh mi baquette (rather than pita bread). The innards are quite Vietnamese as well - no Middle Eastern salad but long slices of cucumber, carrots, lettuce, radish, and a pinkish sauce which is part chilli and part mayo. The meat is traditional Middle-Eastern nonetheless, cut from a spinning spit right on the side of the street. True Halal eating Muslims might be revolted by some of the meats on offer at Vietnamese kebab stands -- pork is one of them. Like your average Turk, I prefer lamb. Beef or chicken is a good enough alternative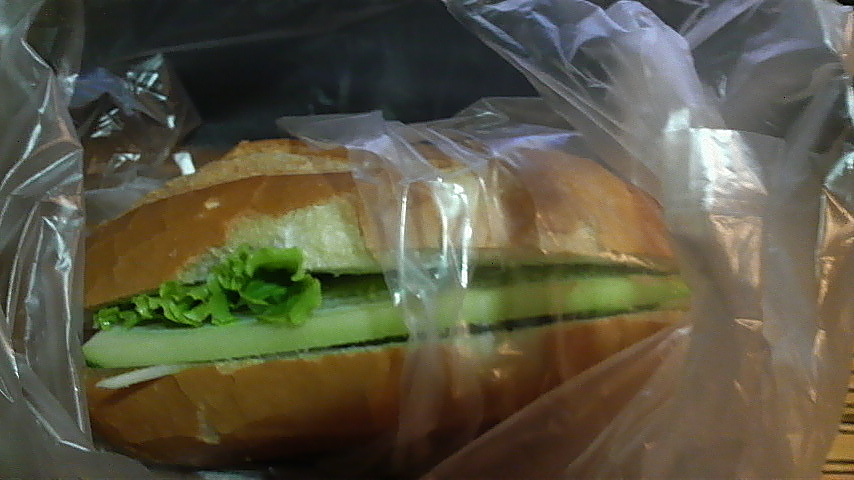 You wouldn't guess this was actually a kebab based on the greens showing and the shape of this sandwich. That is how they make them in Vietnam (on the street at least).

On the corner of Bui Xuan Thi Street and x is this place. It costs 13,000 Dong for one sandwich. The mayonaisse is served out of a Zero-O green tea bottle.
I first became alerted to the Indochinese kebab scene in September last year, during a visit with my parents to Hanoi. One of the first things I noticed was that they call kebabs kebaps here, or to be more precise banh mi kebap. One of the second things I noticed was that Vietnamese kebabs were not served with the customary pita bread and Mideast herbage (that's why they are called banh mi kebap!) Read The Last Appetite's review of Cafe Goethe in Hanoi for a fuller illumination of what, exactly, a Vietnamese kebab experience is all about. If you want to stray somewhat off topic you can check out my site about the kebab scene in Tokyo, Japan. They don't make kebabs with banh mi bread in Japan, but do sometimes drop wierd stuff into the pita such as mashed bananas. That happened to me one cold night near Yoyogi Park in Harajuku! For more authentic looking and tasting kebabs in Saigon, specifically in District 3, read this Gastonomy Blog review. Interestingly, the kebabs here seemed to be stuffed with chicken; Vietnamese apparently dislike the taste of lamb.
"Bun bo Huế is completely unpretentious. Its charm lies solely in its fragrance. According to the women who sell rice noodles at Ben Ngu Market, the broth must be delicious above all else: clear in colour with a balance between the salty and sweet flavours of stewed beef bones, pork bones, and chicken.
"Vendors tailor each bowl to the customers' desires. In the winter, customers sit next to the red-hot stove and the boiling broth, covering their bowls with their hands, slurping the broth, skewering the noodles with their chopsticks, and biting into pieces of meat. Even food connoisseurs in Ha Noi and Ho Chi Minh City admit to a love of Bun bo Huế, especially when it is served in Huế."
There are plenty of places in Ho Chi Minh City to eat Bun bo Huế, among them:
Bun Bo Hue Hanh: 135 Banh Van Tran St., Ward 7, Tan Binh district. Phone: 08 865 4842. Map/price details: click here.
Said to be one of the famous shops that serve bun bo Hue in Ong Ta area. There are fifteen tables in this shop; however, the food is delicious enough to satisfy all difficult customers. Hu Tiu Hong Phat: 389-391 Vo Van Tan St, Ward 5, District 3. Phone: 08 839 0187. Map/price details: click here.

Other recommended kebab places in the city are Warda, Byblos, Doner Master, Kebab Saigon and K Kebabs.
Au Parc: 93 Huynh Man Dat St, Ward 7, District 5. Phone: 08 923 5904. Map/price details: click here.
Kebabs are on the menu here.
---