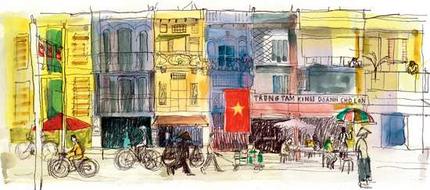 Ho Chi Minh City
THÀNH PHỐ Hồ Chí Minh, OTHERWISE KNOWN AS HO CHO Minh City, OR HCMC FOR SHORT, IS THE ECONOMIC POWERHOUSE OF VIETNAM. It is not just one city, actually, but two: Sài Gon (Saigon), and Chợ Lớn (Cholon), a Chinese trading center to the west. Saigon was one of the pearls of the French Empire, AND THOUGH THE STREETS BE RENAMED, A COLONIAL AIR LINGERS ON HERE. Cholon, meanwhile, is as Chinese as it ever was, with Chinese characters replacing the Latinized script that modern Vietnam uses, and numerous herbal markets, and guys practicing kung fu. Whereas Saigon is retail, Cholon is wholesale. .
Savanna Style Panoramic Map of Ho Chi Minh City
Orientation
Quận 1 (District 1) is home to the business district. The post office is the dead centre of town. To the east, Saigon River flows on its way to the Delta. Here you will find the luxury hotels, art galleries, Japanese restaurants, and the like.

To the north, Chợ Bến Thành (Ben Thanh Market) is another iconic landmark, and serves as the city's transport hub. Buses head off from here to all parts of the city, and it is planned to be the terminus of a subway system.
Behind the market there are a number of important landmarks such as the New World Hotel. Phạm Ngũ Lão, the backpacker district, is named after a patriot. A very Vietnamese touch, that.
Places to See
MORE THAN any other city in the world, the street is where everything happens in HCMC. The things which go on behind closed doors in other parts of the world happen in open view here. It is the place where people work, shop, eat, drink, relax, and romance... and even settle their disputes. Wherever you go, the traffic is a force of nature, with motorbikes as the main form of transportation. Despite the poverty, quirky postmodern architecture is the norm, and it looks like each building blends into the next.

Dinh Độc Lập (Reunification Hall) is a legacy of the Vietnam War. Chợ Lớn
Churches
» Parklife
» Sai Gon Zoo
» Temples
Things to Eat
AT BUTCHERS around Thành Phố Hồ Chí Minh, you can see whole roast pigs for sale and hanging on a hook in the window. The pigs look kind of small compared to those in the West, just as the chickens do. Heads still attached, eyes and mouths wide open... it is enough to make one a vegetarian.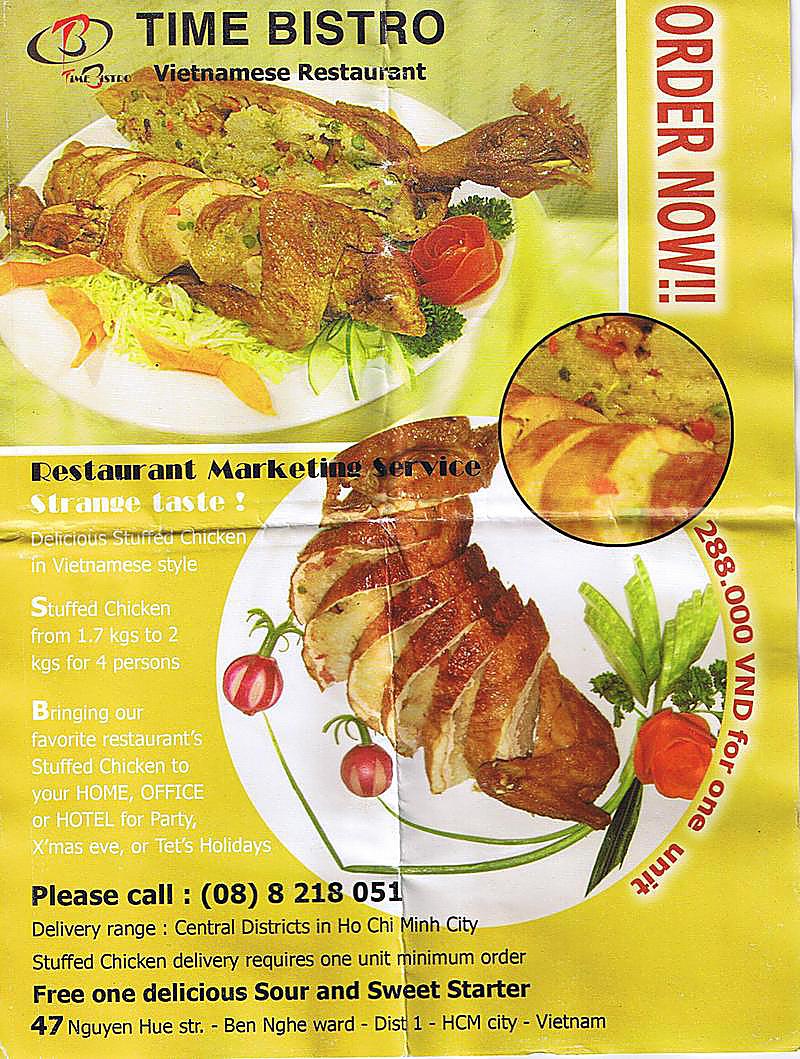 Nonetheless, HCMC is one of the culinary capitals of the world. From bánh mì to , and beyond! Start the day with a bowl of phở (beef noodle soup) and a glass of strong black Vietnamese coffee. In fact, Vietnam has the best breakfasts in the world in my biased opinion. the world. It is also one of the largest coffee producers in the world. While phở is technically a Ha Noi invention, the southerners have made it their own, and the city is home to some historic eateries.

If you wish to try out some of the local specialities, these include cha which is pork paste boiled over hot coals, ech tam bot ran which is frog meat in batter fried in oil, and bo bay mon which are sugar-beef dishes. Hủ tiếu has become a traditional southern Vietnamese food. » Sai Gon Dining Guide

Places to Party
» Saigon Bars
RECOMMENDED WEBSITES & WEBLOGS
» noodlepie (food blogger)