SAIGON ZOO

» Welcome to Ho Chi Minh City (Otherwise Known as Saigon)
» Things to See in Ho Chi Minh City (A-Z): Cholon
» Cao Dai Temple
» Chu Chi Tunnels
» Parklife
» Reunification Hall
» Saigon Zoo
» Street Markets
» Suoi Tien Amusement Park
» Temples

---
» Things to Buy: Vietnamese Modern Art
» Things to Eat in Ho Chi Minh City: Restaurant Guide
» Places to Party in Ho Chi Minh City: Bars and Clubs
» Places to Stay in Ho Chi Minh City: Saigon Hotels
» Getting There: Ho Chi Minh City's Tan Son Nhat International Airport
» Further Afield: Phu Quoc Island
» Buying Real Estate in Vietnam?
» Learning Basic Travel Vietnamese
» Media in Vietnam
---
---
Trumpetted /// SAIGON ZOO AND BOTANNICAL GARDENS
IT IS OFTEN HARD TO FIND SOMEWHERE COOL TO HANG OUT IN THE GREAT SOUTHERN METROPOLIS OF VIETNAM. There are plenty of clubs and bars, but they are full of people drinking and smoking, and I am trying to get away from that scene. There are parks, but they are hot and full of pests. There are pavements aplenty and many of them have seats and tables set up upon them, but gay Paris this is not. In Ho Chi Minh City you will get a serious sideserve of gasoline fumes with your coffee, and plenty of delibitating decibels. Being a foreigner, you will also draw towards you all manner of shoeshine boys, xe om drivers, lottery ticket saleswomen, even pretty girls on motorbikes offering you a cheap massage back in your hotel. It seems no matter where you go in this city, you will be hounded and surrounded by stress. Which is one reason many visitors jump on the first bus they can find to Mui Ne, or a flight to Phu Quoc. But perhaps they are being hasty, for there are oases of quiet to be found. Generally speaking, you have to get behind a paywall to chill out. The Saigon Zoo and Botanical Garden is one such place. Flanked on one side by slowmoving river and protected by a 13,000 Dong entrance fee, the zoo has become for me a regular hangout, just like Ueno Park was in my early days in Japan! Like Ueno Park, this place oozes with atmosphere. It is in fact one of the oldest zoos in the world. It is the home for many rare orchids, ornamental plants, and over a hundred species of mammals, reptiles and birds.

Click here to view map
Saigon Zoo

Not a lot of foreign tourists visit Saigon Zoo, perhaps they consider it a low priority compared with more compelling nearby attractions, such as the tunnels at Cu Chi or the Mekong Delta. Also, perhaps, there is a bit of crosscultural prejudice at work... third world countries have a bad reputation for mistreating their animals, so it would almost be a crime to visit one of their zoos. That's how the reasoning goes, you need only flip through a Lonely Planet guide to a developing world destination to smell the whiff of righteous outrage rising from the page. What is interesting to me is the differences in the way animals are thought of in different parts of the world... in India a cow is sacred, while in America it is just another form of food. We shouldn't fall into the trap of thinking of way our thinking is the best, it is all just culture. In Iceland and Japan people hunt and eat whales, while in Australia they are revered as spiritually enlightened beasts. Whether or not they are spiritually enlightened beings has never been shown, and if they were, why would they allow themselves to be hunted? I read a story in the Guardian recently about a zoo in China which serves hippopotamus foot meat and other exotic fare for visitors. It made me wonder if Chinese go to zoos to salivate at all the animal flesh on display, rather than marvel at the evolutionary biodiversity, like we apparently do in the West. My countryman Lost Laowai lost in China has some interesting observations to make on this matter, and I agree with his take. Saigon Zoo is not quite the circus you might find in the Middle Kingdom, but the behavior of some zoogoers may disturb those from the West. Shouting at animals and even throwing objects at them to elicit a reaction is common. Then again, Vietnamese people often use the same tactics to get the attention of foreigners they see on the street. To us it is rude, but to the Vietnamese perhaps it is just the way they like to communicate. They probably think we are prudish and aloof, so softspoken and correct.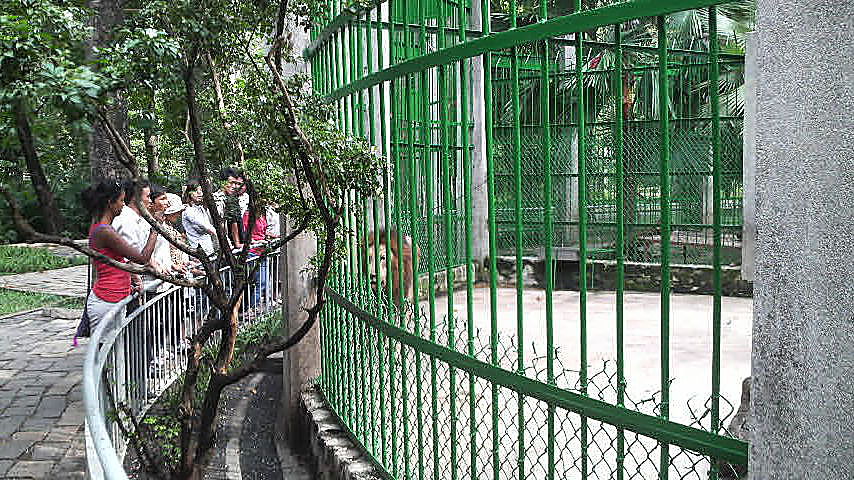 ---
GO TO THE ZOO
(Saturday, June 26 2010): So, if you are in Saigon and have the chance, go to the zoo. I went there today, and I can assure you it is indeed a cool place to hang out. Although some of the animals seem a tad sad, the gardens are lush and there is a refreshing absence of hawkers. Forget the animals pacing in their cages, and focus on the stunning tropical plants instead (at least they don't suffer from boredom). Read a book on a concrete bench with a bottle of cool water or tea, or watch the dragonflies darting through the arboreal mist as the clouds build slowly, majestically, in the sky above the city. Those clouds will eventually reach truly towering proportions. Make sure you have some handy shelter nearby, when that levee finally breaks...

If you do go in for animals, there is a fair selection here. There is a pair of white tigers behind a glass wall, and the white tigers have blue eyes. Another exhibit claims to hold a pair of Indochinese tigers (although the name is somewhat of a stretch... is Myanmar really part of Indochina?)

In the crocodile cage, the odd plastic bottle or splintered fruit could be seen, obviously thrown by visitors impatient for some wild planet action. An old man clapped his hands at a sleeping croc, its jaws frozen wide open. It was a waste of effort; not even a tossed hand grenade seemed capable of waking this reptilian crowd. Strangely enough, crocodiles are supposedly revered as prototype dragons in Vietnam; you wouldn't guess it by the shabby treatment they receive here!
---
GETTING IN

One of the great things about Saigon Zoo are the long opening hours, from 7am to 10pm. You can jog there before work, then return after a hard day's slog to chill out with some friends and some cold drinks under the tall tropical trees. The zoo is located at 2 Nguyễn Bỉnh Khiêm Street , in a leafy part of town endowed with museums and other official buildings. There is a traffic island in the middle of Nguyễn Bỉnh Khiêm Street with a model of the world done up in steel. Across the road from that is a hotel or something with a cafe/bar on the ground floor. The gate into the zoo is adorned with blue letters proclaiming: "Thảo Cầm Viên". This is the name of the zoo in Vietnamese. Just look for the scrum of taxi drivers if you can't find it. They will be sure to let you know of their existence once you are in their visual range.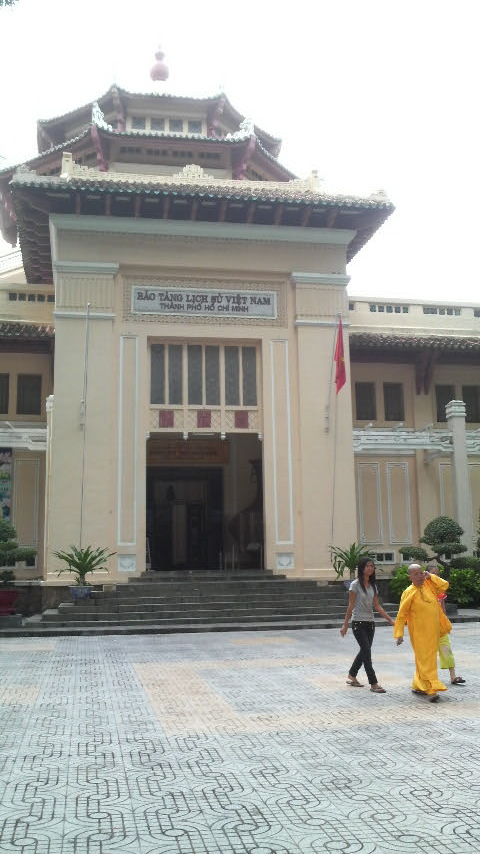 Approaching Thảo Cầm Viên Sài Gòn from the street you pass a couple of ornate buildings. The one on the left (pictured above) is some type of museum with a giant vase at the entrance; I believe it is the Sài Gòn National Museum. The building on the right (pictured below) is a temple, and is possibly a war memorial.

A pair of long blue dragons snake their way down the stairs from the temple, ostensibly to protect the sacred place from evil, while another pair slide along the roof. However, if you are in the right mood you might imagine that these dragons are not protecting the temple but actually escaping from it to wreak havoc on the surrounding parklands, and to maul any humans they can find.

It might be accidental, but these sneaky, slippery reptilian dragons are your first taste of the animal anarchy which is to come. At this point you are not actually in the zoo, so touts are still able to flout the rules of good behavior, and invade your space to flog to you chilled drinks or their services as guides. I usually just say no, out of principle, and I am sure they would make lousy annoying guides anyway. There are certified drink wallahs inside, if that is what you need (and it gets pretty hot in the sun). Lemon tea is my tipple of choice in this domain.
---
ON TO THE ANIMALS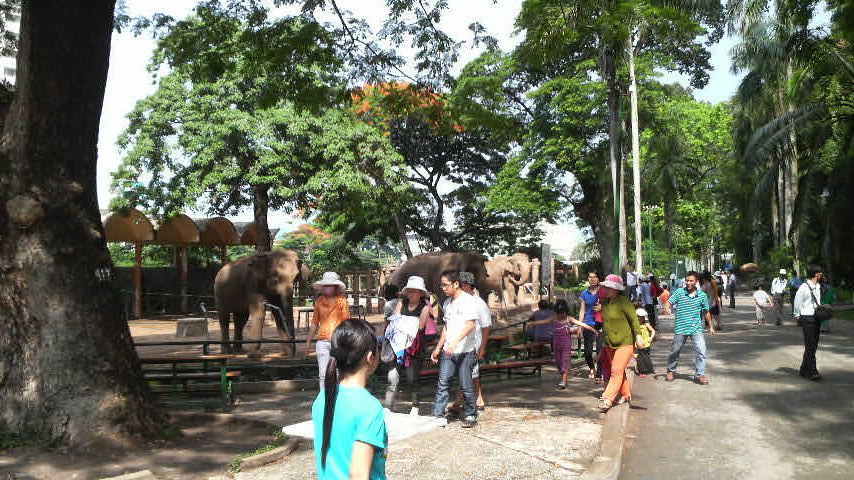 Wide leafy promenades make this the ideal place for a stroll. The construction was started on Feb. 23, 1868 and completed in 1871 by the French Goverhe first stone. From 1871 to 1887 it was called the Governor General's Palace of the South Part.


Often it is more interesting to watch the people watching the animals than it is to watch the animals themselves.

A solitary hippo entertains the crowds.

A bear in her/his enclosure.
RESORTS

---
AND THE PLANTS
---
EATING AND DRINKING

The Gatromoner says: "After wandering for a bit, it was time for snack! The park is dotted with food stands and deep-fried meat on a stick appeared to be the zoo's specialty. The Astronomer ordered the fried pork dumplings on a stick with hoisin sauce. Eating animals in between seeing animals was sort of difficult for me to reconcile, but The Astronomer had no qualms about it. He commented that the texture was nice and crispy."
---
WHAT OTHER PEOPLE SAY
Beauty and the Beast says: "'Leave it to the French to create a cage which is not really a cage,' laughed a friend of mine who, like many, studied French Feminist critical theory and postmodernism in the early nineties. She was referring to the Saigon ZooE˝s Monkey House, which can be best described as a giant metal birdcage. It has the same plump curvy shape and thin vertical bars of the pretty brass penitentiary that housed your grandmotherE˝s cockatiel...'"
Thumbs Up: Good Zoos says: "We visited the Saigon Zoo on two occasions in April 2006 with our two young children and were pleasantly surprised. Having been visiting Saigon since the mid 90E˝s we had heard poor reports of the zoo but it seems that things are very much on the mend. The token entrance fee of about 8000 VND (about USD0.40) was a small price to pay for a couple of peaceful hours walking around visiting the animals."

The beach in the picture is called Bai-sao and is with out doubt one of the most amazing beaches i have ever seen. We spent the time clearing the jungle and putting up a wall around the block to keep it from being moved in on by the fisherman, the rest of the time was enjoyed by drinking the local rum which at $1.50 a bottle was not to bad at all... Well from what i can remember it was not. Over time i will post more pics from the island.. and keep you posted as to when you can come over and enjoy the white sand crystal clear water and very cheap local rum for yourself."
---
SUỐI TIÊN AMUSEMENT PARK
THE STORY GOES THAT VIETNAMESE PEOPLE (THE KINH) WERE BORN FROM THE OFFSPRING OF A DRAGON AND A PHOENIX WAY BACK IN THE MISTS OF TIME. As far as I can understand it, this was in the days of the Hung kings. Dragons and phoenixes are everywhere in modern Vietnam if you care to look, in temple design and even in the idioms of daily conversation... you can also see a lot of dragons and phoenixes at Suối Tiên Amusement Park. There are four restaurants here and there are names are, creatively enough, Dragon-Phoenix 1, Dragon-Phoenix 2, Dragon-Phoenix 3, and Dragon-Phoenix 4. There is a temple to the Hung Kings, and what is claimed to be the largest dragon statue in south-east Asia. You can get here on bus 19 from Ben Thanh Bus Station. Dolphins jump in the pools. Jill Harness at Neatorama names this as one of the 15 off-the-wall theme parks in the world. It's right up there with Diggerland, in the UK.

Just before I my last visit to Vietnam, in December 2010, I was coerced into sitting for a paper exam for the Soka Gakkai Buddhist organization in Japan. Before the test, I spent a month or so studying Nichiren Buddhist philosophy and history near my pad in east Tokyo... it was dull as dishwater, and all totally in Japanese. All about the Three Obstacles and the Four Devils and the Ten Cold Hells and the 3000 Worlds in a Single Moment of Life. Soka Gakkai should look to Vietnam if they want to bring life to their esoteric concepts.
---