TEMPLES AND SHRINES

» Welcome to Ho Chi Minh City (Otherwise Known as Saigon)
» Things to See in Ho Chi Minh City (A-Z): Cholon
» Cao Dai Temple
» Chu Chi Tunnels
» Parklife
» Reunification Hall
» Saigon Zoo
» Street Markets
» Suoi Tien Amusement Park
» Temples

---
» Things to Buy: Vietnamese Modern Art
» Things to Eat in Ho Chi Minh City: Restaurant Guide
» Places to Party in Ho Chi Minh City: Bars and Clubs
» Places to Stay in Ho Chi Minh City: Saigon Hotels
» Getting There: Ho Chi Minh City's Tan Son Nhat International Airport
» Further Afield: Phu Quoc Island
» Buying Real Estate in Vietnam?
» Learning Basic Travel Vietnamese
---
---
---
OTHER BLOGS ABOUT BUDDHISM & RELIGION IN VIETNAM
» Walter Mason's Destination Saigon
Blazing Glory /// TEMPLES & SHRINES
THERE MAY BE CHURCHES AND EVEN MOSQUES IN HO CHI MINH CITY, BUT THIS IS NONETHELESS A VERY BUDDHIST CITY. Ho Chi Minh City is home to arguably the greatest Buddhist theme park in the world, Suoi Tien Amusement Park. Dragons and phoenixes are everywhere in modern Vietnam if you care to look, in temple design and even in the idioms of daily conversation... you can also see a lot of dragons and phoenixes at Suối Tiên Amusement Park. There are four restaurants here and there are names are, creatively enough, Dragon-Phoenix 1, Dragon-Phoenix 2, Dragon-Phoenix 3, and Dragon-Phoenix 4. There is a temple to the Hung Kings, and what is claimed to be the largest dragon statue in south-east Asia.
You might wonder how Buddhism manages to survive at all under a Communist government. Barbara's Buddhism Blog claims there are three principle Buddhist sects in Vietnam, but only one of them is officially recognized. "The Buddhist Church of Vietnam (BCV)... is sanctioned by the Communist government. The BCV is something like the Buddhist branch of the Vietnamese Fatherland Front (Mặt Trận Tổ Quốc Việt Nam), an umbrella group of movements with ties to the Communist Party and the government. In Vietnam, all lawful observances of Buddhism are conducted under the supervision of the government, which operates through the BCV..."
Barbara identified the two other sects as the Unified Buddhist Church of Vietnam (UBCV), which is banned, and the followers of Zen priest Thích Nhất Hạn. It should be noted right here that the name "Thích" is used by all Buddhist monks and nuns in Vietnam. A revered teacher, Thich Nhat Hanh came to the world's attention in the 1960s when he chose to stand against war in Vietnam. In 1966 he toured the United States and Europe on a peace mission, but was not allowed back into Vietnam. In the years since he has devoted himself to teaching mindfulness and relieving suffering..."
Many people associate Zen with Japan, but it is actually a common religion across all of east Asia. In Vietnam it is called Thiền Tông. All about the Three Obstacles and the Four Devils and the Ten Cold Hells and the 3000 Worlds in a Single Moment of Life. Soka Gakkai should look to Vietnam if they want to bring life to their esoteric concepts. We shouldn't fall into the trap of thinking of way our thinking is the best, it is all just culture. In Iceland and Japan people hunt and eat whales, while in Australia they are revered as spiritually enlightened beasts. Whether or not they are spiritually enlightened beings has never been shown, and if they were, why would they allow themselves to be hunted? I read a story in the hippopotamus foot meat and other exotic fare for visitors. It made me wonder if Chinese go to zoos to salivate at all the animal flesh on display, rather than marvel at the evolutionary biodiversity, like we apparently do in the West. My countryman lost in China hastake. Saigon Zoo is not quite the circus you might find in the Middle Kingdom, but the behavior of some zoogoers may disturb those from the West. Shouting at animals and even throwing objects at them to elicit a reaction is common. .
---
THÍCH QUẢNG ĐỨC MONUMENT // intersection of Nguyễn Đình Chiểu Street and Cách mạng tháng Tám Street, Quarter 3.
I walked right past this place a few times in the middle part of 2010, and even stopped to take a few photos, all the while completely oblivious to the chilling -- no make that burning -- event which happened here, nearly five decades previous. They really need to put up some signs or a plaque or something, I suppose there is a plaque but it is in Vietnamese only, so most foreign tourists won't understand it. As I have recently discovered, this is the grave of a Buddhist monk called Superior Thích Quảng Đức, who set fire to himself on the street in 1963. In the process, he set fire to his religion, his (shortlived) nation... and in fact the entire world! Nominally at least, Đức killed himself to protest against the new government of the then Republic of South Vietnam, which was pro-Catholic and supposedly biased against the Buddhist majority. The event was captured by photographer Malcolm Browne, who went on to win a Pulitzer Prize for his work (which appeared in the New York Times alongside a story by David Halberstam.) When (Catholic) American President Kennedy saw the image he was said to have exclaimed: "Jesus Christ... This sort of thing has got to stop." (According to Famous Pictures Org.) Đức was 66-years-old when he committed his very public suicide. Upon his death, he was proclaimed a boddhisatva ("enlightened one"). While Đức martyred himself for Buddhism, he has since become a hero in Socialist Vietnam. They have a lot of heroes in Ho Chi Minh City; practically every street is named after one of them.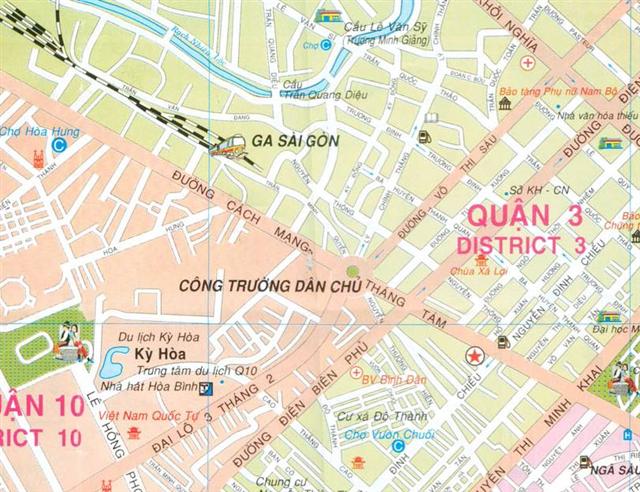 Click here to view map
Thích Quảng Đức Monument

Amongst all the iconic images which emerged from the Indochinese wars of the mid to late 20th Century, alongside the naked girl Phan Thị Kim Phúc being napalmed on her country road, and the Viet Cong soldier executed by the Chief of Police in the heart of Saigon, there burns the self-immolation of Thích Quảng Đức. It was proof that, in its own peculiar way, Buddhism can be an aggressive force. In Buddhist Japan, kamikaze pilots rammed their planes into ships... perhaps this is an apt symbol of Buddhist warfare. As the Buddhists of South Vietnam stepped up to the plate to do battle against Ngô Đ́nh Diệm, they decided to use their own bodies as weapons. The trouble started after the South Vietnamese government banned Buddhists from carrying Buddhist flags on Buddha's 2507th birthday in Hue, the old capital. A protest ensued in which Government troops opened fire on Buddhist demonstrators, killing nine of them. Further protests, this time nationwide, and mass hunger strikes followed. Near Da Nang, a Buddhist crowd burnt an entire Catholic village to the ground. Who said Buddhists don't do violence?

Having cut their teeth on hunger strikes, self-immolation seemed the logical progression for the militant Buddhists. Thích Quảng Đức was quick to point out, however, in letters left for the press, that his self-immolation was not an act of suicide. Suicide is, after all, a violation of Buddhist belief, just as it is a violation of Christian or Islamic belief. Instead, Đức claimed his action was a way to call attention to his cause. Before Đức died he composed a letter to explain his actions and asked people to unite and work towards the preservation of Buddhism in Vietnam and around the world. This became known as the Letter of Heart Blood.

As David Halberstam wrote in his George Polk Award winning article in the New York Times: "Flames were coming from a human being; his body was slowly withering and shriveling up, his head blackening and charring. In the air was the smell of burning human flesh; human beings burn surprisingly quickly. Behind me I could hear the sobbing of the Vietnamese who were now gathering. I was too shocked to cry, too confused to take notes or ask questions, too bewildered to even think... As he burned he never moved a muscle, never uttered a sound, his outward composure in sharp contrast to the wailing people around him."

born Lâm Văn Tức in 1897,Thich Quang Duc was a Vietnamese Mahayana Buddhist monk who burned himself to death at a busy Saigon road intersection on 11 June 1963. Buddhist orders in South Vietnam were in the middle of a war with the new President Ngô Đ́nh Diệm, a Catholic. Across the road from that is a hotel or something with a cafe/bar on the ground floor.

In the satellite image (10°46′31″N 106°41′13″E / 10.775159°N 106.686864°E / 10.775159; 106.686864) of the Saigon intersection where Thích Quảng Đức performed his self-immolation, Phan Đ́nh Phùng (now Nguyễn Đ́nh Chiểu) Street runs NE-SW and Lê Văn Duyệt (now Cách Mạng Tháng Tám) Street runs NW-SE. On the western corner of the intersection stands a memorial to Thích Quảng Đức. For many years a Petrolimex fuel station stood on the northern corner, but this is being replaced with a memorial park for Thích Quảng Đức.

This post looks like it is scratched with Chinese characters, but on closer examination the writing here is Vietnamese. After the protest Duc's body was burned again when his fellow monks cremated him. The monks claim that his body was reduced to ashes except for his heart which while singed was still intact. The organ was declared Holy and is still kept as a holy artifact by the monks.

Like the celebration of suicide in old Japan, there is a tradition of self-immolation for political reasons in Vietnam. The tradition is far from dead... in 2012 Đang Thi Kim Liêng, the Catholic mother of a blogger who was facing prison for propaganda against the state, set herself on fire in protest against the country's legal system. This was, perhaps, the first Vietnamese self-immolation of the social media age.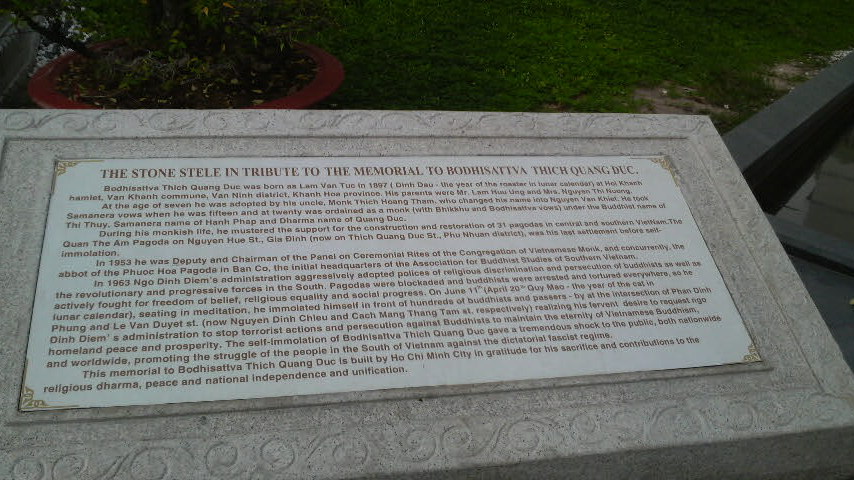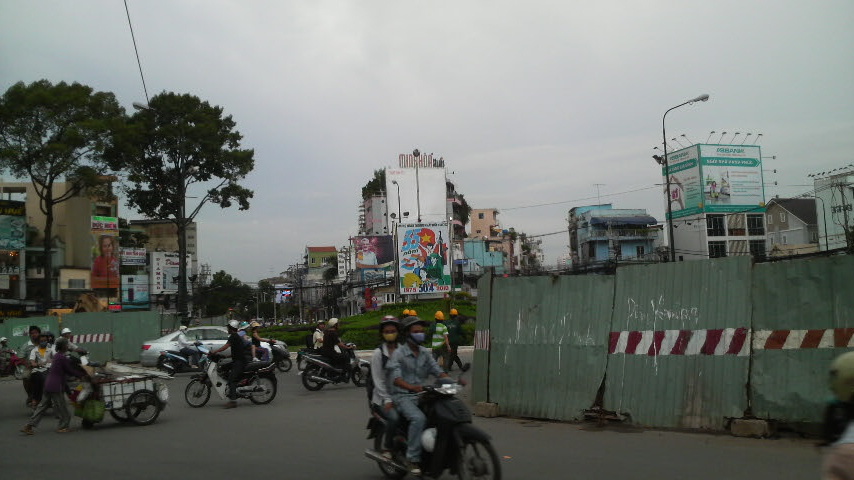 Chùa... pagoda.
More photos of burning monks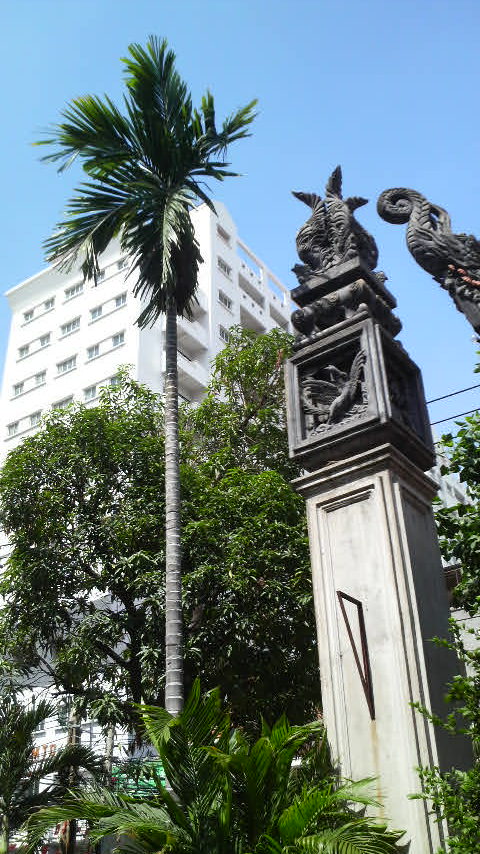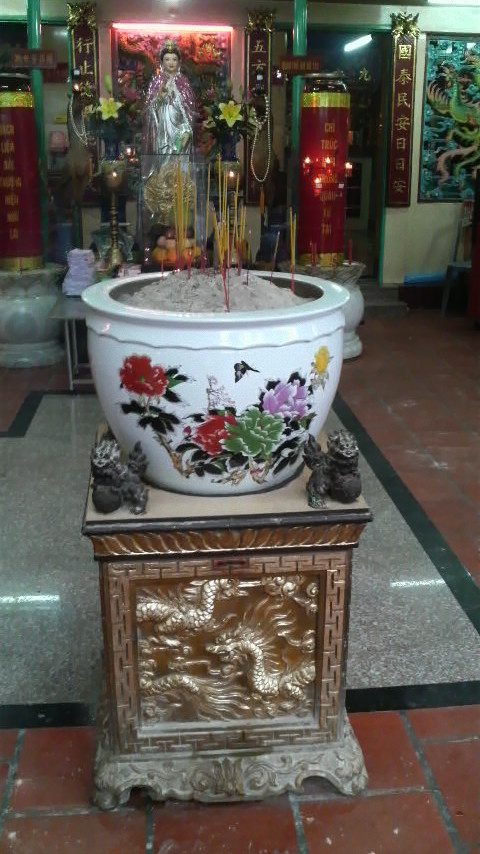 A bear in her/his enclosure.
RESORTS

---
DEEP IN DISTRICT 4
---
PAGODAS

When my Mum and Dad were in Vietnam in 2008 and my girlfriend Nga was in charge of organising their itinerary, one of the first places she took them to was this pagoda. The park is dotted with food stands and deep-fried meat on a stick appeared to be the zoo's specialty. He commented that the texture was nice and crispy."
---
WHAT OTHER PEOPLE SAY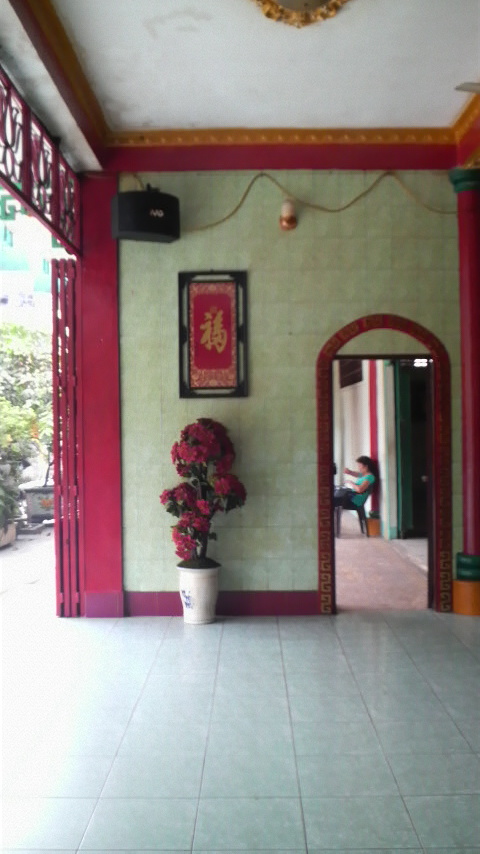 The beach in the picture is called Bai-sao and is with out doubt one of the most amazing beaches i have ever seen. We spent the time clearing the jungle and putting up a wall around the block to keep it from being moved in on by the fisherman, the rest of the time was enjoyed by drinking the local rum which at $1.50 a bottle was not to bad at all... Well from what i can remember it was not. Over time i will post more pics from the island.. and keep you posted as to when you can come over and enjoy the white sand crystal clear water and very cheap local rum for yourself."

The Lotus Sutra and Amitabha Sutra are the most commonly used sutras.[13] Most sutras and texts have come from China and have been translated into Sino-Vietnamese (Han –Viet) rather than the vernacular making them largely incomprehensible to most practitioners. See also http://sportsillustrated.cnn.com/vault/article/magazine/MAG1136120/index.htm (A Day at the Races in 1990). Photos of 3 Thang 4 Road, that "long wild city street".
---