» Welcome to Ho Chi Minh City (Otherwise Known as Saigon)
» Things to See in Ho Chi Minh City (A-Z): Cholon
» Cao Dai Temple
» Chu Chi Tunnels
» Things to Buy in Ho Chi Minh City: Modern Vietnamese Art
» Things to Eat in Ho Chi Minh City: Restaurant Guide
» Places to Party in Ho Chi Minh City: Bars and Clubs
» Places to Stay in Ho Chi Minh City: Malaya Hotel
» Getting There: Ho Chi Minh City Airport
» Further Afield: Dalat
---
---
» Even Further Afield: Mui Ne
» Hoang so doi cat Nam Cuong
» Girl Poses on the Top of the Mui Ne Dunes
» Mui Ne Clickable Map
» Mui Ne Hotels
» Mui Ne Sand Dunes
---
» Phu Quoc Island
» Vinpearl Resort & Nha Trang
---
» Vietnam Spas
» Buying Real Estate in Vietnam?
» Import and Export Information
» Invest in Vietnam
» Jobs in Japan
» Vietnam Dialling Codes
» Vietnam Media
» Social Issues: Montagnards Still Paying for Vietnam War
» The Cochin China Debate
---
---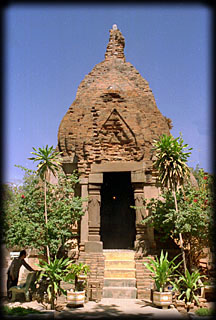 YOU DON'T GO TO TROPICAL VIETNAM LOOKING FOR A DESERT: BUT IF ACRES OF SHIMMERING SAND ARE YOUR THING YOU WILL FIND IT IN BUCKETLOADS AROUND PHAN THIET ON THE COUNTRY'S SOUTH COAST, A COUPLE OF HOURS BY TRAIN OR CAREENING BUS FROM SAIGON. If you stay at the popular Mui Ne beach, a series of vast red dunes stretch a short walk up the road. If it's white sand you want just clamber on to a bicycle or motorbike or into the back of a tour jeep and careen 20 kilometers north, past a headland and plenty of cattle, to the Lotus Dunes. Not many folk go there by bicycle, my girlfriend Nga and I did it and I wouldn't recommend it. Once you get there you can sit by a blue lake and watch the ants labor endlessly foraging for food and sandflies blending in with the scenery. A Vietnamese writer wrote of the Lotus Dunes (translated into English by Google): "Not only is providing fresh water, this lake is also the beautiful landscape in the area. With cool water throughout the year as cool down the hot air of immense sand hills. Around the shore with many lotus blossom, the lotus bloom summer clearly points to the bowl area of the white sand colors vibrant..."
White sands vibrant / red sands vibrant / yellow sands vibrant. The sand around Mui Ne comes in many colors. So do the people who come looking for inspiration and relaxation. On my trip to the red dunes with Nga one sunset we saw Koreans who Nga mistook for Japanese, Germans taking photographs, and Americans giving impromptu English lessons. On the way to the white dunes some French people pulled up besides me and asked for directions to the Lotus; on the way back, sheltering from the sun and sand (and wind) in a roadside cafe, we chatted to an incoming Irish couple. They had punctured a tyre on their rented motorbike on the long rusty red dirt road leading up to the entrance to the dunes; we had nearly killed ourselves in a brakes malfunction on our bike on a nearby stretch of road. Only minutes before we met the Irish a Vietnamese guy staggered into the cafe his arm bleeding from a motorcycle accident. Who said this was a safety country! But one thing's for sure, and this was a blessing: at least there were no sand touts up in this part of the world! No little kids trying to pressure you to take a ride on their little blue mats, which they rent out to the tourists at the red dunes close to Mui Ne. Annoying though they may be, the sandtouts will amuse you with their amazing English -- there is none of the "My friend, where are you from?" Egyptianstyle icebreakery here. The sandtouts are too up to date for that. "Hey man, stay cool!" that is the way they greet you here. Dig a little deeper and in one backpocket of their jeans you will no doubt find a comb, to keep their hair slick at all times. The other backpocket is where they keep their cash. Afterhours or when the sun is too bright you might catch up with the sandtouts spending their dough at one of Mui Ne's many Internet cafes, playing some virtual warrior game.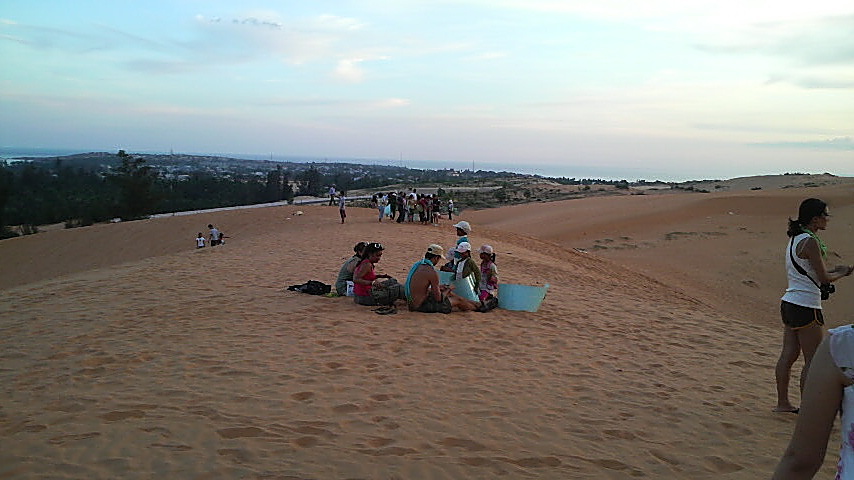 A 50 KILOMETER ROUND TRIP FROM MUI NE TO THE BAU TRANG WHITE SANDS DUNES... By bicycle
I WOULDN'T RECOMMEND THIS TRIP TO ANYONE, AT LEAST IN THE WAY THAT WE MADE IT. Nonetheless, it is one of those crazy, backbreaking and thoroughly rewarding journeys that you can endure/enjoy in Vietnam. Endure, while it lasts, moaning like a girl, cursing at the flies; enjoy once you get back to your room, sprawled on your bed in front of the a/c, savouring the triumph which only physical exertion can produce. Nothing compares to the buzz you get when you pull off a tremendous voyage totally under your own steam. I felt that buzz early May last year (2007) when Nga and I conquered Langbiang, altitude 2169 meters, firstly by motorbike in the rain, and then on foot... an arduous but beautiful climb indeed up through the pine trees. That was more than a year ago, and I have been waiting all this time, wondering when my next Langbiang Moment would come. MỘT NĂM SAU: The Moment came today (July 18 2009) north of Phan Thiet on Vietnam's south coast, in the heart of the country's sanddune country. As Ernest Hemingway wrote, there is no better way to know the contours of the land than to cycle it. There is also no better way, apart from walking it, to appreciate the physical delights of the land, the birdlife (I observed several avian species today, some thrushlike specimens boasting attractive brown hues under their wings, and a vivid green nectar-eater squished on the road. I also saw some of those diving terns which seem to be endemic in this part of the world.) The scenery, much of it on the dune tip, was superb, truly a vista beyond every bend of the road. I have to point out right here that Nga and I were not riding independent pushbikes but rather one of those new Dalat style lovecycles, the ones with two seats and two sets of pedals fitted to the one frame. It was probaby the gayest option for a 50km expedition... and it had wonky brakes. It should also be pointed out right now that I had no idea we were embarking on such an epic trip until, well, I saw the sign Mui Ne, 26km on the dirt track leading out of the White Sand Dunes, also known as the Lotus Dunes, on our way home. And since this was probably at least a kilometer into our return trip, I reckon the total round haul was somewhere around 54 kilometers. And all of this on a ridiculous doubleseater with bad brakes.
That morning as we embarked I was convinced we were only out for a whirl around the block. Otherwise I would have reminded Nga how heavy and tiring that doubleseater had been on our short trip to an Internet cafe a couple of days before. We pedalled first past the Doi Cat Hồng (Red Sand Dunes), where I was mobbed by the usual assortment of mean children clutching mats and trying to solicit our business on the slopes. All for about 10,000 Dong a slide. We desisted wobbling with each onslaught, and headed up the road, towards Hon Rom. Now as I remarked to myself on July 6, this may or may not be the same stretch of road which we rocked with my parents and their friends Heather and Phil in our bed bus last year. At that time I had mistaken the sea off Mui Ne for a lake, so completely was it ringed by lights (turns out these were fishing boats, not houses as I first thought). MỘT NĂM SAU... here I was on perhaps the same tarmac, not sprawled out on a bed but competing with the traffic (at the lowest order of the foodchain.) I had already hit one small boy with the front wheel as we scrambled through the scrum of sandsurf touts, and I was sure there would be further trouble. Questions to Nga about our destination went, in the usual Nga fashion, unanswered. Now I don't know enough about Vietnam (or Nga, for that matter) to determine whether brushing off questions with serene silence is a Vietnamese thing, or just a Ngaian quirk. Interestingly, the last time I picked up my Vietnamese tourist visa in Tokyo (November 2009) I asked the dude behind the counter whether I also needed a transit visa for my layover at the airport. He just handed me my passport and ignored my question. Maybe it was an unnecessary question because I did possibly ask him the same thing by phone a few years earlier, when I flew Vietnam Airlines to Sydney with Chie? Maybe Nga considered me similarly naggish in continually asking her where we were going? Or maybe she was just being a bitch! We faced our first serious hurdle just out of Doi Cat Hồng -- the road rose abruptly, flanked one side by scrubby hills and totally exposed on the other to sweeping beach and ocean views. We got off our lovebike and pushed. Closer to Hon Rom the foliage and stuff subsided to classic Vietnamese strip development: umpteen downmarket resorts and dirty beach on the right, idling buses on the other. It is worth pointing out that Vietnam is the first country I have ever lived in where people drive on the right side, and I was still getting used to the fact. Buddha only knows how I will fare once I start riding a scooter or motorbike here! I remember slugging past a cafe at the very end of the resort strip and suggesting to Nga that we stop off and have a drink. She replied that we would stop for a drink later and this alarmed me. This alarmed me very much. How long was she intending to ride?