rob sullivan's reykjavik

Iceland Attractions


Reykjavik By Night
Reykjavik Harbor
Reykjavik Houses
Reykjavik Record Stores
Reykjavik Restaurant Guide
Solfar Sun Craft -- Reykjavik
Thorsmork & Skogar
Shinjuku Ueno

Rest of Europe


Christiana Free Town Copenhagen

Drum'n'Bass Sites of London England

Matsumoto

Yokohama


Best of the World


Australia
Denmark
Egypt
Iceland

India
Korea
Malaysia

Girl Hunting


Russian Girls in Japan
reykjavik by night or day: food
ICELAND WAS WELL ON ITS WAY TO BECOMING A GOURMET FOOD UTOPIA, WHEN THE CREDIT CRISIS HIT. Now the kim'chi imports from Korea have probably dried out, and common folk can no longer afford sushi, Icelanders are retreating to what they have always had -- their indigenous cuisine. I have to confess that while I have been to Iceland twice I have never actually eaten real Icelandic cuisine, the native stuff -- unless you count the pylsur hot dogs. I have never eaten the really hearty stuff, the meat and veg dishes that families must eat on frozen, windy Sunday evenings. As the Reykjavik Grapevine newspaper reported after the catastrophe:

The brain drain will be immense. Already, everyone with skills that can be utilised elsewhere is leaving the country, along with many immigrants. Those who remain will be those who have nowhere else to go. The population of Iceland will no doubt drop below the 300.000 figure yet again. On the other hand, there will, finally, be plenty of cheap housing in Reykjavik. For those who can afford it.
"The gyms will be empty and the bars will be full. On the upside, people will probably start to have more sex. No more wining and dining, people will move right on to the only entertainment that they can have for free. A lot of people will form relationships, something to cling onto in the dark times ahead. At the same time, a lot of older relationships will disintegrate due to the stress caused by financial worries.
"Hopefully, the next generation will learn from the mistakes that have now been committed..."

Hjörtur Smárason wrote on his blog Marketing Safari:

"It feels surreal to drive the streets of downtown Reykjavik. The banks are lid up and people are working there. The logos are still outside the houses. The ads are still running saying how wonderful and trustwurthy the banks are. Range Rovers and BMWs are still filling the streets and the parking lots. Bankers in their suit walk the streets with heavy eye brows. .
"It's like we know the system is broken, we know it's gone, but we can't see it. We can't tell what's real, what's still there, and what are just the ghosts of yesterday, when Iceland was one of the richest countries in the world. A pale reflection of the golden age in Icelandic economy which is now going up in flames. Where's the smoke?
"The world is treating us like we're dead. Bank accounts frozen. No buziness without cash payments in advance. No currency can be bought. The stock market is closed (not that I have anything left there). Imports have stopped because of closed currency markets and diapers, flour, sugar and ...

It is like everyone is searching for the silver lining in the cloud. I am the kind of guy who likes to see every cup as half full. Marketing Safari goes on to write, this time more on a foodie tip:

"I also launched a new website yesterday which I call Túkallinn (2 cents). There I'm going to collect recipes to cheap but tasty food, ideas to cheap or free entertainment and good saving tips. Sounds like something useful these days (and if you have some tips or resources to share, email me. hjortur.smarason at gmail).
"Regarding the currency, the low value of my Krona means that anything foreign I buy is very expensive. But it also means that anything I get paid in foreign currency is of great value. So my focus now will be on getting foreign assignments (hint, hint ;). I've been actively building up my international network on LinkedIn and Twitter for over a year now, which might come in handy. It would have been too late to start now. I'm also working on an e-book on Marketing tactics in a recession and am offering speaking events and courses abroad on internet marketing, social media and personal branding - open for booking now :)
"It's important to realize that there are always opportunities. People aren't going to stop living though the economy goes down the drain. .."

. Each February Perlan (one of Reykjavik's most important sites) hosts a Thorri Day of its own for 200 guests. An hour's walk about Öskjuhlíð is followed by servings of hot cocoa and rum, after which a banquet is held with traditional food as it was prepared a thousand years ago. Thorlaksmessa, held two days before Christmas in honor of Iceland's native saint, is another festival you could experience if you were so inclined.
Blueberry Ice Cream Cake

Cafe Sigrun writes on its cute website: "I often make treats from blueberries in the autumn since the only berries we get in Iceland are blueberries and bilberries (and redcurrants). When they have survived the Icelandic summer and just before it starts freezing again in September, you have to be quick and gather these wonderful treats. This ice cream is packed with healthy fats, antioxidants, iron, calcium and protein. It is also egg free, gluten free, lactose free and vegan. Oh and it is also delicious..."

Fiskur
BEING AN island, Iceland naturally relies on the sea that surrounds it and the economy is still more or less based on fishing and fish processing (although other industries are becoming more important). Traditionally fish is either cooked and eaten fresh or preserved by salting (söltun), drying (þurrkun), smoking (reyking), or partly drying (siginn fiskur). Skate (skata and tindabykkja) and shark (hákarl) are fermented (kæsing). The cabinet where fish is smoked is called a reykh˙s. You might find them standing out in the wilderness of Iceland, their chimneys steaming mysteriously.

"The most common fish caught off Iceland's shores is cod (þorskur), which is mostly exported. The majority of Icelanders prefer to eat haddock (ýsa). My own favourite is halibut (lúða, heilagfiski). The traditional way of serving fish, whether fresh or preserved, is as soðning: plain, boiled fish, served with potatoes and sometimes with melted sheep's tallow with cracklings. Cod roe and liver are considered a delicacy by many. These are seasonal treats, and so is the fatty flesh of the male lumpfish (rauðmagi). Other common species include carpelin (loðna( which is mostly processed into fish-meal, herring (síld), saithe (ufsi), ocean perch (karfi), plaice (skarkoli) and ocean catfish/wolf-fish (steinbítur), to name a few. Mackerel (makríll) and tuna (túnfiskur) fishing has recently begun. Angler (skötuselur) and dogfish (háfur) also find their way into the trawls and nets of Icelandic fishermen, along with some more exotic species like moonfish (guðlax). Crustaceans include arctic lobster/langostines (leturhumar), arctic shrimp (rækja) and many species of crabs. Only lobster and shrimp are caught commercially. Many types of shellfish are found - the only widely caught species is the scallop (hörpuskel) - but there is also some clam (kúskel) fishing.

Everyone in Iceland knows plokkfiskur (plucked fish), it is one of the national comfort foods. It comprises fish (haddock or cod), onions (laukur), potatoes, and bÚchamel sauce.

Salmon is called lax in Icelandic. Laxar eru g÷ngufiskar.

Svið: a.k.a burned sheep head | Iceland's national food | Sími: 426 7222 | Review: For the first time in my life, my food was looking back at me (The Reykjavik Grapevine, BSI Bus Terminal Restaurant).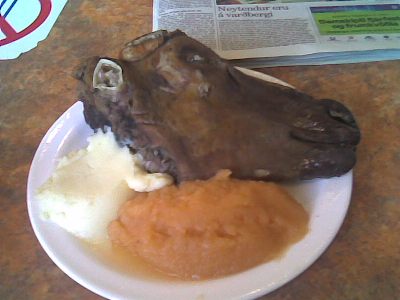 Svið & sviðasulta: Singed sheep's head and sheep's head jam | (Otherwise known as head cheese, or brawn) | Cooking recipe courtesy: Jo's Icelandic Recipes.
Anything called Head cheese is definitely a dodgy dish in my book, but if you happen to have access to half a dozen sheeps' heads, you can have a go at cooking this Icelandic specialty at home. As Jo's Icelandic Recipes writes: "Sheep's head jam is a traditional meat product that can be found in any Icelandic supermarket. It is usually eaten fresh, but during the Þorri season you can also get whey-pickled head jam. There is also a pig's head version, svínasulta, which includes spices. This variety food is known as head-cheese or brawn in English.
"Some recipes include gelatin, but it is generally not necessary if the cooking liquid is allowed to thicken during cooking (by not adding water unless it seems to be completely evoparating)...
"How to singe and otherwise prepare sheep's heads for cooking: Take the fresh heads and singe them with fire until all the hair is burnt. Use a stiff brush to clean the heads under running cold water. Clean the area around the eyes and inside the ears especially well. Saw the heads in half lengthwise and remove the brains (less messy if you freeze them first). Cook them with the skin.
"Preparation: Pack the heads into a cooking pot, sprinkle with coarse salt and add water. It's not necessary to let the water cover the heads completely. When the water boils, skim off the scum. Cook, covered, until the flesh begins to separate from the bones, 90-120 minutes at the least. Heads meant for jam need longer cooking. Heads that will be eaten without further preparation generally need only 60 - 90 minutes cooking, and should only be cooked until the flesh is cooked through, but has not started to separate from the bones.
"Make the jam: When the heads are cooked, remove from the cooking liquid. Heads that will not be made into brawn are put on a platter and served right away, or allowed to cool. Heads that will be made into jam are taken and the meat cut off the bones and into coarse pieces. You can include the skin or leave it out as you wish. Put the pieces in a loaf pan and put a light weight on top. Allow to cool at room temperature and then put it in a refrigerator to set completely. To make more of the jam, include some of the cooking liquid in the mix. The cooking liquid will set better if singed sheep's legs are cooked with the heads.
"When the brawn is set, it can be eaten fresh or preserved in whey.
"Serving suggestion: Sheep's heads are served either hot or cold. Either way, they are usually served with plain, boiled potatoes, rutabagas (cooked with the heads) and white sauce. I hear lemon-sauce is also good with sheep's heads.
"Brawn, fresh or preserved, is usually served buffet-style (Þorrablót) (eds. note: "or Viking style, as they would say in Japan!") with several other kinds of variety meats, fish, bread and boiled potatoes. Thinly sliced fresh brawn can be used as a topping for bread or a filling for sandwiches. My personal favourite is fresh brawn with potato salad..."
(Eds. note: Þorrablót a Viking festival held on the Friday in the 13th week of the year.)

"
Bæjarins Beztu: Pósthússtræti | 101 Reykjavik | Sími: No phone.
The hot dogs at Bæjarins Beztu Pylsur are often said to be the Icelandic national food (see my comments above for confirmation of this!) Bill Clinton has dined here, as has Metallica singer James Hertfield.
Facing the harbor in a parking lot, this tiny but famous fast-food hut is famous for serving the original Icelandic hot dog; one person serves about a thousand hot dogs a day from the window. Ask for AYN-ah-med-UTL-lou, which will get you "one with everything": mustard, tomato sauce, rémoulade (mayonnaise with finely chopped pickles), This is one of my favorite places to refill when doing the runtur on weekends. The last time I was here, I joined the queue with two Australian girls I had been hanging out with -- one of them only five-foot-tall but kind of cute, and I had the feeling she liked me. It was about 3am; the sky was white (this being late June). Gulls wheeled raucously overhead. A wind blew. Abruptly, while I was standing there, the guy serving the hotdogs announced that there were only five left (and there twice that many people in the line!) They had sold out! Out of desperation or merely a desire to flirt with foreigners, this stunning blonde Icelandic girl grabbed me from behind and said: "Are you going to fight for me? Are you going to fight to get me a hot dog before they are all gone?" And as she wrapped herself around me she added something like: "We Icelanders are so crazy, aren't we?" I have to concur with that. And if you want to see crazy Icelanders at their craziest, visit the lines on weekend nights at Bæjarins Beztu... either under a swirling aurora or milky Midnight Sun, you can't go wrong.

Brautarstöðin Grill: Ármúla 42 | 108 Reykjavík | Sími: 588 3090 | Email: pjakkus@simnet.is.
Brautarstöðin is a combination of a fast food restaurant, ice cream shop and the typical Icelandic ,,sjoppa" (candy store). The fast food is fast and rather good and the price is also rather good. The atmosphere is brilliant, lots of magasines and newspapers, plastic bugs on the walls, nice pictures of trains everywhere (Brautarstöðin means in english; The Train Station), and usually there is a movie, TV show or more..

Cafe Kidda Rót: Sunnumörk 2 | 810 Hveragerði | Sími: 552 8002.
For Icelanders out there, here is one account of this place: "Í fyrstu ferð á Kidda Rót í hinni glæsilegu Sunnumörk var étið eitt stk af hinum, að sögn, rómaða rómantíska hamborgara. Lítið rómantískt var við borgarann, þetta var svona týpískur landsbyggðarborgari í anda American Style. Ágætur sem slíkur en ekkert spes. Lufsan át Pízzu og þótti ok. Í næstu ferð verður þó étin belgísk vaffla sem ku lostæti."

Cafe Victor: Hafnarstræti 1-3 | 101 Reykjavík | Sími: 561 9555 | Web: www.cafevictor.is.
Kjötsúpa ("lamb soup") is for most Icelanders THE Icelandic soup, even though similar soups can be found in other countries. Formerly this soup was often served on Christmas Eve but later it became more of an everyday soup. Rutabagas, potatoes, and carrots are the traditional vegetables but every housewife used to have her very own recipe for it. If you don't have access to an Icelandic housewife while you are in Iceland, there are some restaurants where Kjötsúpa is on the menu. Cafe Victor in downtown Reykjavik is one of those. As the cafe's website points out: "If you are looking for an excellent meal at a reasonable price whether lamb, fish, chicken, beef or salad, café Victor is the place, where you get a good value for your money! Café Victor is located in an historic building on the square Ingólfstorg, at nights, the café transforms into a mixture of a café and a bar, at werkends café Victor is a popular dance club from midnight till dawn, with no entrance fee."
The menu ranges from English breakfasts (1590Kr.) to nachos with cheese and salsa sauce (650Kr.) to hamburgers and soups and sandwiches. There are noodles from two continents: stir-fried noodles with chicken, vegetables and oyster sauce (1380Kr.) representing the Orient, and linguini pasta with assorted seafood, homemade pesto and garlic (1650Kr.) representing the Occident. If you visit Cafe Victor as part of a group, you can take advantage of the group menu, which sometimes includes Kjötsúpa -- and offers you that chance you need to taste authentic homecooked Icelandic cuisine.

Culiacan: Faxafeni 9 | 101 Reykjavik | Sími: 533 1033 | Web: www.culiacan.is/.
Kind of typical international style Mexican food here. On the menu you will burritos (tortilla með hrísgrjónum eða baunum, kjöti að eigin vali, fajitas (laukur&paprika), heit sósa, ferskt- eða kornsalsa, kál, ostur og sýrður rjómi) from 580Kr., tacos from 600Kr., and quesadillas from 600Kr. If nachos are more your thing, try the Supernachos (550Kr.) which comes drowned in baunir, nautahakk, ostasósa, ferskt salsa og sýrður rjómi.

Eld smidjan: Bragagata 38a, 011-354/562-3838.
This review is from Budget Travel Online: "An almost life-size James Dean stares at a haunting blonde painted by former punk princess Ell┤y. On the floor above, a painting by Harpa shows death having a drink with friends. But there's more to Eld Smidjan than decor. It has the best pizzas, with toppings from fish to snails. Can't decide? Leave it to the chef, who'll usually whip up something involving cream cheese. From $9 for a 10-inch margherita pizza.
Fiskbúðin: Sundlaugavegi 12 | 105 Reykjavik | Sími: 5686003.
As Reykjavik is basically an old fishing village at heart, you can expect to find plenty of seafood restaurants here. Fiskbúðin near the youth hostel on Sundlaugevegur is one such example. Another is the Fiskbúðin Sægreifinn á Geirsgötu. According to this website: "Kjartan Halldórsson, fisksali, er alltaf hress. Hann rekur (owns) fiskbúðina Sægreifann á Geirsgötu. Þar er hægt að fá sér t.d. heita humarsúpu um leið og maður kaupir fisk eða súpu í matinn." On the menu at Fiskbúðin Sægreifinn are dishes such as humarsúpur. "Humarsúpurnar hans eru frægar um allt land því þær eru svo góðar," is the popular verdict.

Fljótt og Gott: Vatnsmýrarvegi 10 | 101 Reykjavik | Sími: 562 1011 | Web: www.bsi.is/.
This restaurant is located inside Reykjavik's BSÍ eða intercity bus terminal, and comes recommended, especially if you want to eat hearty home-style Icelandic food. The kind of food Icelanders eat at home on cold rainy Sunday evenings. On my last trip to Iceland in 2006 I was looking forward to eating here, but unfortunately I ran out of two important preconditions for this opportunity: time and money. However, I have heard from reliable sources that "Mostly everything that can be called Icelandic is there for a nice price, including pastries such as kleinur and marmarakaka, and even other sweet things such as sheep's head with jelly. And if you want to taste what most Icelanders ate at home and school then you can try meat soup, fish (meat) balls, beef mince with sunny-side-up eggs, saltkjöt and baunir and lamb chops."

Fylgifiskar: .
This is what National Geographic reported: ""Twenty years ago, Iceland was struggling, economically and gastronomically," explains Guðbjörg Logadóttir, ice-blue-eyed proprietor of the sleek fish luncheonette Fylgifiskar. "We're not struggling anymore. No more boiled haddock and lamb fat. We have the best fish in the world, and we know how to cook it." Fylgifiskar is a new-generation fish deli (marinating fishes await: salmon in mint and garlic, trout in Thai spices, Arctic char in coriander and sesame) that serves a daily lunch special."

Galileó: Hafnarstræti 1-3 | 101 Reykjavík | Sími: 5529500 | Web: www.galileo.is.
Galielo is an Italian restaurant and pizzeria, situated in the Falcon house, one of Reykjavik's oldest houses, right in the city center by Inghólftorg square. Items on the menu include Salmone "Li" (horseradish and redbeet gravel lax, brioche toast and aioli) and Intingdo di pesce (fishsoup, smoked haddock, and clams) in the starter department, Tagliatelle agli scampi (tagliatelle and lobster with tomatoes and garlic) and Linguini del Pescatore (linguini and tunafish with garlic, chili and capers) in the mains section. There are also plenty of pizzas, which probably makes it a hit with the pizzahappy Icelanders. They even have a lobster pizza at this restaurant, which should make it a hit with any lobsterhappy foreigners!

Gallerý Fiskur: Nethyl 2 | 110 Reykjavík | Sími: 5872882 | Web: http://www.galleryfiskur.is.
As this restaurant's official website reports: "Í Nethyl 2 rekur (is run) Gallery fiskur bæði verslun og veitingastað þar sem gæði og þjónustu er í fyrir rúmi. Á veitingastað okkar bjóðum við upp á um 40 rétti af matseðli auk ríkulegra hádegisverðartilboða ásamt súpu dagsins.
Á veitingasaðnum geta gestir fengið sér sæti og valið af matseðli eða hringt á undan sér og tekið með rétti dagsins eða af seðli allt eftir því hver viljinn er. Veitingastaðurinn tekur einnig að sér að sjá um hópa smá sem stóra allt frá 15-60 manns með góðu móti í sæti og er boðið upp á glæsilega hópamatseðla.
"Í verslun Gallerýs fisk er boðið daglega upp á mikið úrval ferskra fiskrétta unna upp úr fersku grænmeti (vegetables), veglegt úrval fersks fisks í flökum og heilu lagi í ísborði og frystivöru s.s. humar, rækjur, hörpuskel o.fl.
"Hér á síðunni getur að líta verðlista nokkurra fisktegunda og rétta sem fást í versluninni Við leitumst við að veita sem víðtækasta þjónustu við viðskiptavininn. Sem dæmi um það undirbúum við t.d. veislukost frá grunni að veglegum fiskréttum og ügkostüh handa námsmönnum sem og öðrum Íslendingum búsettum erlendis, sem vilja geta fengið sér ferskan fiskbita fjarri heimahögum. ú getur einnig fengið heim með þér gómsæta fiskisúpu eftir pöntun."
Prices range from 990Kr for Ýsuflök með roði to 1690Kr for Rauðspretta á risotto/cous-cous up to 2390Kr for the Saltfiskur á rösti. Which according to my limited understanding of Icelandic, means "roasted saltfish", although I am probably wrong.

Gott í Gogginn: Laugavegi 2 | 101 Reykjavík | Sími: 552 4444.
Grillhúsið: Tryggvagata 20 | 101 Reykjavík | Sími: 5623456 | Web: www.grillhusid.is.
This place in the heart of town goes by the motto of "gott steikhús". Items on the menu include nachos chips (545Kr) and hickory smoked chicken wings in a blue cheese sauce (835Kr) for starters, burritos stuffed with creole chicken weighing in 1255Kr, plenty of classic Icelandic style samloka sandwiches (but unfortunately there is not a single Dragon Samloka to be seen!), and hamburgers hamburgers hamburgers! (oh my God! the Blue Moon Bogari with blue cheese and guacamole sounds particularly divine, and it costs 1135Kr.) There are also great steaks and fish dishes. As one Icelandic writer commented on his/her blogspot: "Í gær fór ég á "Grillhúsið tryggvagötu" a.k.a. "Grillhús Guðmundar" og þar var verið að bjóða upp á físk í tómadbasilsósu mér finnst þetta verða svo krúttilegt orð þegar þetta er skrifað svona að ég gæti farið að gráta. Heimasíða: Hótel Búðir, Snæfellsnesi.
One Icelandic review wrote: "Nýju Búðir finnst mér alveg halda sama sjarma og Búðir sem brann. Kom í hádeginu og fékk mér franska lauksúpu, skötusel og súkkulaðiköku. Magnað og magnað pleis."

Hornið: Reykjavik.
The Internet Is Boring site reports thus: "After wandering around for a bit, we arrived at a place called Hornið, a relatively small restaurant with big windows and reasonable prices. If you want a very good meal without spending an obscene amount of money, I recommend this (Lonely Planet doesn't mention it, but it's just a block or so to the west of the Læketor bus station downtown). I had sauteed cod in a tomato and olive sauce, served over linguine with an assortment of grilled fresh vegetables, and Tyrrell had grilled salmon with capers, served in a similar manner. The fish was fresh and perfectly cooked, and the sauces for both were flavorful, but not overpowering. The vegetables, unlike some others I had encountered in Iceland, were not frightening at all, but were very good."

Kaffi Krókur: Sauðárkróki.
Metnaðarfyllsta veitingarhúsið á Króknum. Alveg fínt, en aðeins og dýrt kannski.

Kebab Husið: A good place to dine.

Kebab Husið: A good place to dine.
Kornið: In six locations across Reykjavik and Iceland | Web: www.kornid.is.
Kornið var stofnað árið 1981 að Hjallabrekku í Kópavogi og lagði strax mesta áherslu á smásölu og var með fjóra útsölustaði þegar mest var.
Eftir erfiðleika í rekstrinum í kringum 1988 varð uppstokkun í fyrirtækinu sem leiddi til breytts eignarhalds með nýjum áherslum.
Eftirspurn var eftir brauðvörum meðal fyrirtækja og varð það sífellt stærri hluti af viðskiptum fyrirtækisins.
Nú rekur Kornið þrjár verslanir í Reykjavík og Kópavogi auk þess að sinna dreifingu á brauði um allt land. Nýjung í aukinni þjónustu Kornsins er veisluþjónusta.
This is a bakery with branches in various locations in Reykjavik. As well as selling bread, they also make tertur (cakes) and can prepare banquets of edible wonders (for corporate events, parties and weddings and so on) including grapes, strawberries, gróft túnfisksalat (tuna fish salad), and snittur (a kind of Icelandic nibbly.)

Múlakaffi: Hallarmúla | 108 Reykjavík | Sími: 553 7737 | Web: www.mulakaffi.is/ | mulakaffi@mulakaffi.is.
This local institution was opened about 40 years ago by Stefán Ólafsson. It is now run by his son Jóhannes. The place is open from 7.30am to 8pm on workdays, 7.30am to 2 pm on Saturdays and from 11am to 8pm on Sundays. Located quite close to Laugardalur Park, one of my favorite parts of the city, and famous for such working class specialities as salted cod and roast pork, for under about 1000 Kr. a meal.
As Blesöndin wrote on his/her website: "Í dag fór ég í Múlakaffi og borðaði þorramat, reyndar ekki allan þennan súra viðbjóð og sviðakjammana, hætti mér ekki strax í það."

Puffin Meat Nonnabiti is the top manufacturer of what more advanced cultures call submarine sandwiches. It closes later than most restaurants here, which means 2 a.m. weekdays and 6 a.m. weekends, so it's a favorite of pub crawlers. (Get a dollar off before 1:30 p.m.) The big, greasy boats have a unique taste due to Nonni's sauce, which he invented--only he and his wife, Björk (no, not her), know the recipe. Try the lamb or fish boat ($10), or a holiday boat, with smoked pork, if you're in around Christmas or Easter. HafnarstrŠti 11, 011-354/551-2312.

Nordica Hotel: Suðurlandsbraut 2 | 108 Reykjavík | Sími: 444 5000 | Web: www.nordicaspa.is.
Julie Register from Your Guide to Spas visited this hotel spa in 2003, and registered this account of her experience: "I had the opportunity to attend the grand opening of the 10-story Nordica Hotel in Reykjavik, Iceland on May 6, 2003 amid ice sculptures, videos and speeches, drinks and hors d'oeuvres.
"Formerly known as Hotel Esja, the hotel's extensive 18-month, $20 million renovation and refurbishment has been primarily geared to the conference and meeting business with the addition of 58 business and executive rooms, the Presidential Suite, a Business Suite, Executive Lounge, a business center, 11 meeting rooms, a Grand Ballroom with seating for 650 and an Exclusive Boardroom - all equipped with the latest state-of-the-art technical and lighting facilities and audio-visual equipment. The hotel has also added items of interest for the leisure traveler -- Vox, a gourmet restaurant, run by internationally acclaimed chef Hákon Már Örvarsson, recipient of the bronze medal from the gastronomical contest Bocuse d'Or and a lovely, new fitness center and spa."
Amenities
Sauna
Restaurant
Cocktail Bar
Television Regular
Mini Bar
Television Cable/Satellite
Hairdryer
Conference facilities
Television Pay Movies
Modem Connection
Radio
Fitness Room
Television Cable
Air Conditioning in Restaurant
Safe in reception
Porterage
Fitness Facility
Room Service - not 24-hours
Telephone
Lounge Area
Bathroom with bath
Bathroom with shower
Elevators -4
Cribs on request

Ólsen ólsen: Keflavík.
Þokkalegur hamborgadjónt við Hafnargötuna, en megahagstætt verðlagið (miðað við) hífir pleisið upp um stjörnu.

Nings: Reykjavik.
Peking öndin er mjög góð og á þokkalegu verði. Nings Kóp X Heita dótið í borðinu er bragðlaust og lélegt.

Perlan Restaurant: Perlan | 101 Reykjavík | Sími: 562 0200 | Web: www.perlan.is/.
The most famous building in Iceland, and home to one of the finest restaurants. The restaurant at the moment boasts three menus: the Gourmet Fish Menu, the Gourmet Wild Game Menu, and the A la Carte 2006 menu. If you choose the Gourmet Fish Menu (5,950 ISK) you will receive a spread of Cream Of Lobster (with Madeira and grilled lobster tails), smoked scallops with butter fried spring onions and cauliflower pure, fish fresh from the market, and a milk chocolate mousse. For 5,950 ISK the game menu will give you Salmon Tartar (with cream fraiche and scrambled eggs), smoked scallops, venison and the aforementioned milk chocolate mousse.

Pitan: Skipholti 50c | 101 Reykjavík | Sími: 5629090 | Web: www.pitan.is.
This is a Middle Eastern themed restaurant and takeout joint which also features some of those great Icelandic staples: namely hamburgers, steaks and fishes (and hefty side orders of fries.) A holiday in Iceland can give anyone an overdose of fat and calories... if you want to avoid that, then avoid Pitan at any cost. If you are cool with great slabs of meat and melting cheese and crispy fried potato, then Pitan is the place for you! As in many other Icelandic restaurants, hamburgers are presented by weight. Weighing up on the Pitan menu include the Hamborgari Mexicana (Mexican Burger), boasting 94 or 140 grams of nautabuff, hamborgarabrauð, iceberg (that's a lettuce), nachos and salsasósa (good old salsa sauce.) That little beauty will cost you 550Kr or 575Kr, depending on the grammage. There are also steaks and fish dishes. Nonetheless, pita bread concoctions are the speciality here, and this Middle Eastern favorite gets a bit of an Icelandic touch (for example, Icelandic lamb features prominently.) There are also kebabs.

Pizza Hut: Reykjavik | Pöntunarsíminn hjá okkur í Take away er: 533 2000 | Web: www.pizzahut.is/.
If you want to experience what the Guardian was on about when it bemoaned Iceland's "cardboardy pizzas", this could be your place. According to the chain's Icelandic website: "Pizza Hut er ein vinsælasta veitingakeðja í heimi og svipaða sögu er að segja af stöðunum hér á Íslandi þar sem alltaf er líf og fjör. Við leggjum sérstakan metnað okkar í að bjóða einungis fyrirtaks hráefni og frábærar uppskriftir okkar tryggja að pizzurnar á Pizza Hut eiga sér engan jafningja. Komdu við hjá okkur þegar þér hentar, sestu niður í notalegu umhverfi og njóttu góðrar þjónustu. Staðirnir hjá okkur eru barnvænir og við bjóðum fjölskyldur sérstaklega velkomnar."

Red Chilli: Skipholti 50c | 101 Reykjavík | Sími: 5629090 | Web: www.pitan.is.
Blogger Arni Tofason gave this restaurant three hamburgers on his Icelandic restaurant review site. Arni concluded: "Samantekt: - Hamborgarinn var öðruvísi og ljúfengur
- Franskarnar voru skemmtilegar og góðar
- Svindl að við fengum ekki tómatsósuna og þurftum að borga fyrir kokteilsósuna
- 0,25l og það af peffsí er óásættanlegt
- Verðið var hátt og ekki hjálpaði að gaurinn á eftir okkur fékk feitan afslátt því hann þekkti eigandann. Og þessu var troðið í nefið á okkur.
- Ég fékk ekki stæði."

Restaurant ZooBar: Klapparstígur 38 | 101 Reykjavík | Sími: 551 7760.
Located in the same space as the old Pasta Basta. According to the intrepid Iceland Guest: "The cuisine at the RestaurantZooBar brings a strong breath of international flavour. The ambitious head chef, Jónas Ólafsson has for the last 15 years travelled throughout the world and both studied and practiced culinary art in different continents. His precious experience has gained him strong skillfulness and widespread reputation which is now unified with the reputation of The RestaurantZooBar.
"As you can expect, the menu is enfolded with diverse food traditions from all over the world. Guests can choose between tempting and seasonal courses from countries such as France, Italy, Australia, Thailand along with creole-food from the southern states of USA. The ingredients are truly amazing. Apart from extraordinary sauces made from exotic fruits and vegetables, the raw-material is coming from animals such as ostriches, kangaroos, reindeers and many kinds of unfamiliar fish species.
"Although the menu is diverse and international, the head chef Jónas, has not forgotten his origins as an icelander. One of the main specialties of the house is the traditional Sunday leg of a lamb which is served in whole piece with a brown sauce, sugar potatoes, homemade red cabbages, green peas and vegetables. It is only served for four people or more and it has to be ordered with a day in advance.
"On weekends The RestaurantZooBar is pretty lively place. As the night turns on, the tables of the glass-house room are removed and the restaurant floor turns into a classic disco floor. The second floor changes into lounge room, with a laid-back ambience feeling. A VIP room on the top floor can also be arranged."

Serrano: Stjörnutorg - Kringlunni | Reykjavík 101 | Sími: 551 1754 | Web: www.serano.is.
Located in Iceland's most popular mall, this place basically does tacos and burritos and so on. There are some variations on the general Mexican theme, a Thai burrito (saturated with satay sauce) on the menu, for example. But basically it is standard Mall Mexican... expect to pay around 700Kr. for the burritos, 700Kr. for a plate of four tacos, and 700Kr. for the jumbo sized nachos. Some facts about Serrano: Their chicken burritos contain only 3 per cent fat. Eat that chicken burrito with beans and you will consume 11 grams of fibre. This food is as healthy as it is delicious. If you visit Kringlan Shopping Mall, you might as well check this place out. Visiting Iceland in 1999, Israeli adventurer Nir Halman wrote: "With all the respect we have for the Icelandic supermarkets the climax is certainly the Kringlan modern shopping mall in Reykjavik. It is a very elegant shopping mall (like "Canyon Ramat Aviv" in Israel) where there are so many shops! Every time we are in Reykjavik we don't skip on a "tour" in this shopping mall ! They have there a fancy supermarket with BBQ chicken ready to eat, imported Swiss and French cheeses and other delicatessen... and when the "Utsala" (sales) is going on, it is for us almost like paradise...

Sowieso: Lækjargata 2a | 101 Reykjavík | Sími: 517 5020.
According to the fairly exhaustive guide to Reykjavik's restaurants at Iceland Guest: "Sowieso's speciality is lobster, but it also has a small courses menu including lamb, beef and chicken courses, and a tempting sushi menu. Their ambition is to offer customers high-quality cuisine at truly reasonable prices."

The Sushi train: Iða, Reykjavík.
If you are hungering for sushi while you are in Iceland, this could be your place. As one Icelander wrote in their exhaustive restaurant guide: "XXXX Loksins! Sushi-færiband í Reykjavík. Komum í hádegi á sunnudegi og var nokkuð þétt á færibandinu. Dótið rann hjá með góðum varíöntum. Verðin eru 200, 250, 300, 350 og 500 á disk. Nokkuð vel sloppið bara. Ferskt og gott og svo hægt að sérpanta. Fékk mér Californiu kramarhús og er enn að sleikja út um. Pottþétt pleis fyrir sushi frík!"
Yes you read that right! -- there is a good variety of sushi in this restaurant. Plates go for 200, 250, 300, 350 and 500 Kronurs a pop, which is more than you would expect to pay in your local sushi restaurant in Japan -- but what can you do, this is the North Atlantic! This is what you would call a "sushi train" restaurant.

Tapasbarinn: Vesturgata 3 | 101 Reykjavík | Sími: 551 2344.
Tapasbarinn is an extremely lively restaurant where Spain meets Iceland in the cuisine. It is located in a cellar at Vesturgata 3 in Reykjavik's central. Eating tapas means dining without to much regard to rules and schedules and the menu shows that everything is possible. Tapasbarinn offers over 50 different meet, fish and vegetable dishes so you can take your time and experiment with many kinds of different dishes, which makes the dinner even more fun and enjoyable if you are with a group. But if you find it hard to choose you can order the special Tapas-selection. The restaurant has been open since the year 2000 and has become a popular place with the Icelandic crowd. It's breezy atmosphere and the Spanish effects in the decorations make Tapasbarinn ideal for an excellent evening.

Tveir fiskar: Hafnarbúðir /Geirsgata 9 | 101 Reykjavík | Sími: 511 3474 | Web: www.restaurant.is/.
This is one of the more famous seafood joints in Reykjavik, located near the city harbour, with a view over the marina. The name means literally "Two Fishes"... if you spend time in Iceland you might other restaurants with names like "Five Fishes" or "Three Something-Or-Another's" or "Four Blah Blah Blah's". If you have ever had a hankering for dolphin flesh, this could be one of the few places in the world you can upon it (although dolphin meat does make it accidentally into the Japanese whale meat market, or so I have been told.) Reykjavik's great Grapevine magazine reviewed Tveir Fiskar, and this is what they had to say: "As it turns out, raw dolphin carpaccio is really quite good. It was prepared just like the more traditional beef variety, and the combination of flavours was exciting but not as "different" as one might expect. The other starter, a bouillabaisse seafood soup, was good but a bit on the greasy side. This is a definite trend in Icelandic seafood cuisine of late, but excessive oil can sometimes make a soup too demanding to properly serve as a starter.
"Our main courses were salted fish (bacalao) in almond and parmigiano crust with tomato vinaigrette, and lobster in garlic, respectively. The fish was quite different from what Icelanders think of when you say salted fish – and that is a very good thing indeed. The dish had a pronounced Mediterranean feel. The lobster, or langoustine for the purists, was served "the old way", according to the menu. That consists of garlic butter, various unnamed spices, and bread. Considering the ingredients and the class of the restaurant, the result was unsurprisingly delicious. "

Þrír Frakkar: Reykjavik.
A poster on The Amateur Gorumet visited this restaurant and wrote: "Another really nice restaurant in Reykjavik without such an extraordinary price tag but good whale dishes and a bust of Clark Gable is Þrír Frakkar. I heard another winter specialty (which I did not get to try because it was summer when I was there) is rotten skate. Someone once must have thought it a good idea to leave skate uncooled in a bucket in the garage for multiple weeks until it rots and ferments (why it even does this at subzero temps is beyond me...) and then eat it. Catch is, it reeks so terribly that people apparently don't dare take it inside the house. Garage picnic..."

Veitingahúsið Lindin: 840 Laugarvatn | Sími: 4861262 | Web: www.laugarvatn.is.
This restaurant is located about 100 kilometers east of Reykjavik, between Þingvellir and Gullfoss in the heart of Iceland's legendary Gullna hringsins (Golden Circle). Frá Reykjavík er styst að aka um Þingvelli en vegurinn frá Þingvöllum til Laugarvatns (Gjábakkavegur, Lyngdalsheiði) er ómalbikaður að hluta og aðeins fær á sumrin. Lengri leiðin liggur um suðurlandsveg, framhjá Hveragerði en beygt er veg nr. 37 áleiðis að Laugarvatni skömmu áður en komið er að Selfossi. Árið um kring er eru daglegar rútuferðir milli Reykjavíkur og Laugarvatns.
This place is regarded as a "summer paradise" in Iceland, although it is open at some times during the winter. The menu includes wild game -- the Villibráðaveisla– (wild game offer) goes for 3990Kr. Other dishes include starters like the Hreindýrapâté með fersku salati og rifsberja vinaigrette (reindeer pâté with fresh salad and redcurrant vinaigrette --it goes for between 950Kr-1350Kr), Steiktur silungur með graslauk og möndlum (panfried trout with chive and almond -- 2190Kr), and Pönnusteiktar langvíubringur með bláberja-púrtvínssósu (panfried guillemot with blueberry-portwine sauce -- 2990Kr).

Vín & Skel: Laugavegur 55 | 101 Reykjavík | Sími: 534 4700 | Web: www.vinogskel.is/.
Vín og Skel (Wine & Shell) is literally what you get at this establishment -- the place is a tribute to the humble shellfish, and you can drink wine as you eat. There are oysters from France, clams from Peru, mussels from Ireland and lobster and scallops from the heaving seas of Iceland. According to one report, the shellfish soup is tasty and delicious. Meatcourse is chicken cassoulet which is simular to the world famous cock au vine.
A main course of Kræklingur ("mussels") costs 1990Kr. The main saltfish dish goes for 2890Kr. and if you are not troubled by the thought of eating cetaceans, try the Splunkunýtt Hrefnukjöt "Teriyaki" (teriyaki Minke whale), priced at 2340Kr.

Tapas XXXX(04.09.04) Spennandi 50 rétta tapas-matseðill og allt frábært eða gott sem við sömpluðum. Eini neikvæði punkturinn er að þessi staður er vinsæll hjá saumaklúbbskerlingum og því má bóka að maður lendir í hífuðum dömum sem baula eins og yxna beljur á næsta borði. Og svo er til önnur spænsk tónlist en moðerfokking Gipsy Kings. Na Na Thai XXX(07.08.04) Í mjög fráhrindandi umhverfi í Skeifunni svo ég tók með heim. Gott en nokkuð dýrara en á stöðum eins og Krúa Thai og Mekong. Ekki það mikið betra að maður tými mismuninum. Hér eru víst sömu eigendur og Ban Thai á ferðinni. Hótel Holt XXX (04.08.04) Löngum fínasta pleis landsins (ásamt Grillinu). Leðurklædd koníaksstofan er góð í mikilvæga fundi og til að taka viðtöl. Þetta var þó frumraun mín á veitingastaðnum. Ég fór í hádeginu en þá er 3 réttað á 2600 kall (og 2 réttað á 1900 kall). Hægt var að velja um 4 for- og aðalrétti en eftirrétturinn er alltaf sá sami. Fékk mér naut í forr. Ekkert sérstakt en meðlætið gott. Grís í aðalr. Fremur nískulega útlátið og ekkert spes. Eftirr var krem brúlé sem var ókei en enn of aftur ekkert spes. Kannski gerir maður e-h ofurnáttúrlegar kröfur á svona stað, ég veit það ekki. Ágætt svo sem allt saman en ég myndi aldrei tíma að éta þarna á öðrum tíma en í hádeginu. Þar fyrir utan er maturinn settur upp eins og mínímalísk innsetningar, sem er leiðindi og eitthvað svo 90s. En þá er maður allavega búinn að fara á Holtið. Hafið bláa við ósa Ölfusár XXXX (14.07.04) Snilldarstaður með glæsilegu útsýni. Frábær matur og hverrar krónu virði. Fiskistaður á heimsmælikvarða. Menam, Selfossi XX(13.07.04) Nokkuð dýrara en á sæmbærilegum thai-stöðum í bænum og að auki boðið upp á hamborgara o.s.frv. Át í hádeginu og thai-ið var full hveitikennt og bragðlaust – ekki það að ég hafi leyft einhverju samt! Þarf að tékka á penang og massman kjúklingi, sem ku gott stöff... Rauða húsið, Eyrabakka XXX(11.07.04) Notalegt og smakkaðist vel. Í dýrara kantinum, en humar er víst gull. Perlan, 4hæð, Rvk 2.2 af 10 (11.02.04) Humarhúsið, Rvk 9.2 af 10 (05.02.04) Humar. Lítur út eins og stækkað skordýr en smakkast eins og fullnæging. Mmm. Humarhúsið reytir af sér humarinn og manni stendur af gleði. Eftirrétturinn "3xSúkkulaði" hræðilega góður. Kom út fullnægður af mat. Topppleis. Lækjarbrekka, Rvk 7.2 af 10 (05.01.04) Vinalegt dúkkuhús með kósí fíling. Skrautkenndur matur sem "lúkkar" vel. Humarsúpa æði, nautalund full sölt, mokka creme brule ókei. Verð full hátt. Fínt pleis til að monta sig við deitið – þeas ef maður splæsir. Síam, Hafnarfirði 8.8 af 10 (10.09.03) skemmtilegt sistem í pöntun, maður skrifar bara á miða hvað maður vill éta. Gerði þau mistök að fá T-bón steikina medium rare sem var alltof rare svo maður var að jarma á blóðugum kjöttægjum og gat ekki tuggið slatta af steikinni eins og maður væri einhver tannlaus amma. Engu að síður klassastaður en ég er kannski bara ekki svo mikill kjöttægjukarl þegar allt er á botninn hvolft. Fjöruborðið, Stokkseyri 8.5 af 10 Hér snýst allt um humar. Humarsúpa, humar með dóti og svo kaka og kaffi. Við Lufsan vorum sprengd í loft upp í svaka veislu og nenntum varla að keyra heim. Gerðu nú vel við elskuna og bjóddenni í humar. Humar er humar. Þá fórum við liðsmenn Bless á tex-mex búllu í San Fransisco og átum börrító. Vissum ekki neitt hvað var í gangi og stóðum á gati yfir því hvað var í gangi, virkilega sveitó. Sem betur far var einhver með okkur sem gat sagt okkur til. Sósan hjá Serrano mætti nú vera sterkari og alls ekki fá ykkur mjúkar taco-skeljar; sá skammtur er ekki upp í aðra nösina á ketti. Börrítóið er fínt, bæði með kjúkling og nautahakki, og líklega grænmeti líka. Duus-hús, Kef 7.6 af 10 Fínt slísfúdd á ókei verði. Fínt útsýni yfir dráttarbrautina víðsfrægu. Myndalegar og almennilegar pæjur á vakt. Dús-hús rúls! Potturinn & Pannan, Rvk 8.2 af 10 Það er rosafínt hlaðborð í hádeginu á þessum ævaforna stað. Jömmígott salatborð, súpa og svo hinir ýmsu heitir réttir. Fyllir magann af góðmeti. Þeir þarna virðast þó í einhverjum sætra kartaflna-gír og sætum kartöflum er bætt í flesta rétti. Þar sem ég gleymdi sætri kartöflu í potti og mauksauð hana um daginn hef ég komið mér upp óþoli í garð s.k. og fúlsa við slíkri fæðu í dag. En skítt með það, sé hlaðborð í hádeginu málið er Po&Pa tálið og brjálið. Heitt og kalt, Rvk 8.1 af 10 Skil reyndar ekki hvað allir þessir staðir eru að gera á hinum forljóta Grensásvegi, en þessi er þar sem Pízzahúsið var áður. Svona tapaz dæmi í gangi og allt í hlaðborðsstemmingu. Mar fær altso að éta á sig gat fyrir 1390, eða getur einskorðað sig við súpa/salatborð etc ef mar er að spara. Slappt samt að kaffi og eftirréttir fylgi ekki með 1390kallinum. Nú nú: Súpa og salatborð var alveg gasalega gott, framandi og spennandi og mar getur auðveldlega étið á sig 3 göt í því. Heitur matur var ekkert spes, en ókei. Ætla bara að fá mér súpu og salatborð næst. Heitt og kalt er fínt pleis og ég fer örugglega þangað aftur! Banthai v.2 8.0 af 10 Var dreginn aftur á Banthai þrátt fyrir hótanir mínar hér að neðan. Fékk loksins mat og hann var fínn. Veiiii. Austur Indía félagið, Rvk 10 af 10 Jamms - toppnum náð. A-I-F er einfaldlega toppurinn á matarmenningu landsins og hjálpast þar allt að: lipur og prófessjónal servis, notalegt andrúmsloft, ágætt verð og síðast en ekki síst stórkostlegur maturinn. Allt af matseðli er dúndur en fyrir magnaðasta matinn mæli ég með rétti #20 í aðalrétt, sem er kjúklingur sem hefur verið nuddaður í mánuð af súmóglímumanni svo meyr er hann. Gumsið með er til enn frekari fullnægju. Einnig: #27: lamb sem hefur legið undir valtara svo meyrt er það og rann niður eins og rjómaís. Í forrétt var eitthvað í grænni sósu sem gerði allt til að æsa mann upp. Það eina neikvæða sem ég get týnt til er að á salerni voru engar pappírsþurrkur, en þrátt fyrir svoleiðis pínöts má alveg slengja 10 á pleisið. Þetta er einfaldlega besti matsölustaður landsins og stendur sig alltaf 100%. Húrra! Matstofan (aka Dússabar), Borgarnesi 8.6 af 10 Hér ræður Dússi ríkjum, gamall kall með hækju, og hefur auga með öllu. Honum til aðstoðar er líklega filippönsk kona hans ásamt fjölskyldu. Staðurinn er inni í bænum, nálægt hótelinu og höfninni. Gengið er inn í fremur hrörlegan skúr og blasir þá konungshöll Dússa við, flott sveitalúkk á öllu, og maður þarf ekki gífurlega mikið hugmyndaflug til að byrja að ímynda sér að maður sé kominn til útlanda. Á veggjum málverkasýning naiv-listamanns og frískandi fituilmur í lofti. Á matseðli bæði filippínskir réttir og vestænir - stundum blandað saman (Jolly burger / Pinoy burger o.s.frv.). Smakkaðist allt vel en vart varð þó við töluverða bragðleysu. Þú ert ga ga ef þú ferð á Borgarnes án þess að heimsækja þennan akfína stað. Vivaldi, Borgarnesi 7.0 af 10 Þegar Hyrnan er full af æpandi unglingum ("prumpukarlinn prumpukarlinn"), grenjandi smákrökkum og ófrýnilegum ferðalöngum er mun betri kostur að tylla sér á Vivaldi sem er í nýju lengjunni þarna beint á móti Hyrnuhelvítinu. Þetta er nett börgerbúlla með lekker-yfirbragði, eilítið karakterslaus og þjónustan var reidd fram af áhugalausri unglingsstelpu sem ætti nú bara að vera heima hjá sér. Matur kom á viðunandi tíma (12 mín) og smakkaðist vel. Klínt var í sig BBQ-borgara sem gaf slíkum borger í borginni lítið sem ekkert eftir. Vivaldi fyrir vandláta en Hyrnan fyrir hyskið. Þakka þér Guð að það er föstudagur, Smáralind, Kóp 5.8 af 10 Loksins þegar maður fékk sæti á þessum plebbastað reyndist það svo sem sæmileg upplifun, en enn og aftur verð ég í sömu andrá að benda á yfirburði Grillhússins þegar djönkfúdd er annars vegar. Át eitthvað sull sem ég er búinn að gleyma hvað var (það var ekki eftirminnilegra en það), en ég man að þjónustan var vangefin. Það var td ekki búið að taka diskana undan forréttunum þegar aðalrétturinn mætti og því var maður þarna slafrandi í sig ruglinu með allt vaðandi í skítugum diskum fyrir framan sig. Sérlega óprófessjónal. Sé ekki ástæðu til að fara þarna aftur. Kaffisetrið, Hlemmi 7.9 af 10 Vel útilátinn og góður tælenskur matur á hagstæðu verði. Gullmoli í skarni Hlemms. Si Senor, Rvk 4.6 af 10 Það er nú ekki mikið mál að búa til mexikóskan mat en þessi búlla klikkaði á því. Forréttur illa útilátinn og bragðslappur - salat ekkert spes og "mild mangósósa" reyndist vera sætt chili. Ekki alveg að gera sig þessi staður og þar að auki alltof dýr miðað við gæði matarins. Læt hann eiga sig í framtíðinni. Goonk Gink - Dried Tom Yum Flavour 7.4 af 10 Þegar hart er í ári er gott að vita af Sælkerabúðinni á Suðurlandsbraut sem Hr. Nings rekur af myndarskap. Þar er besta úrval landsins af núðlusúpum. Tælenska Goonk Gink merkið bíður upp á ýmsar tegundir og sérhæfir sig í þunnum núðlum, eða "vermicelli" eins og við fagmennirnir köllum þær. Ef maður passar sig á að setja ekki of mikið af chili pipar út í er hægt að gera sér glaðan dag og eta heila máltíð á aðeins 70 kr sem svona núðlusúpa kostar. Tom Yum er með sítrónugras-bragði og sérlega hressandi. Eldsmiðjan, Rvk 9.5 af 10 Þrátt fyrir að margir hafi reynt og beytt ýmsum brögðum þá fást hér einfaldlega lang bestu pizzurnar í bænum. Verð er þolanlegt miðað við gæði. Allt er jömmí jömmí fínt en ég mæli með þessum tegundum: C-pizza ostagerðarmannsins, Y-El pollo loco (með kjúklingi og hnetum) og Æ-Pizza alle lumache (með sniglum). Pizza Hut, Rvk 6.9 af 10 Mikill og yndæll "hvítt hyski" blær hvílir á þessari sjoppu. Spikfeitar konur í hlýrabolum reykja yfir ljótum krökkum á meðan öll fjölskyldan raðar í sig feitum réttum. Salatbarinn slappur. Pizzur alveg þokkalegar, en toppurinn er ísbarinn, en um þessar stundir bíðst hann frír með og þá leggst hyskið því sem næst með kjaftana undir ísdæluna og lætur gossa. Alveg þokkalegur matur í alla kanta, en pizzur verða ekki sælgæti (nema hjá Eldsmiðjunni). Shalimar, Rvk 6.4 af 10 Á að vera ódýr indverskur hversdagsmatur, en er í raun frekar dýr. Smakkast alveg þokkalega vel, vel kryddað og útilátið. Ágætur kostur sem kvöldverður, en staðurinn mætti vera ódýrari. Lýsisbragð af smokkfisknum í forréttnum og lítið af honum. Þó enn minna af túnfisknum, fjórar næfurþunnar sneiðar með laufblaði og einhverju pjatti. Leiðinlegt. Aðalréttur nautasteik sem leit út eins og lambakjöt og smakkaðist eins og svín. Borið fram á grænmetis-"beði". Leiðinlegt og ekki gott. Eins gott og tengdó blæddi, annars hefði einkuninn verið enn lægri. Ruby Thuesday, Rvk 8.2 af 10 Nú á að taka sig á og því varð fyrir valinu eini rétturinn sem er merktur með fitusnauðum miða. Það var þurrkuntulegur kjúklingur en nokkuð góður engu að síður. Ruby hallar sér að stæl Hard rokk - er með amerískt beisboll drasl á veggjum og þar gaula rokkslagarar daginn út og inn. En maturinn er nokkuð góður og nokkuð jákvætt verðlag ríkir þar inni. Því er óhætt að gæða sér á jömmí bita þar. Argentína Steikhás, Rvk 9.9 af 10 Jólahlaðborðið er gjörsamlega unaðslegt og svo safaríkt að allir vessar líkamans hoppa af kæti. Ekki skemmdi fyrir stemminguna að þegar ég var þarna var margt góðra gesta. Fyrst bera að nefna Sálin hans Jóns míns sem var þarna ásamt róturum og mökum á sínu árlega jólahlaðborði. Þar sem Sálin etur er þér óhætt. Einnig viðstaddir voru Jón Ólafsson í Skífunni og Árni Vigfússon af Skjá einum, en þeir sátu á sitt hvoru borðinu og ég/við á borði á milli. Jón og Árni voru að éta úti með erlendum fjárfestum og lögfræðingunum sínum. Ég myndi segja að hápunktur kvöldsins hafi verið þegar Jón og Árni fóru að bera saman farsímana sína. Þeir létu þá hringja og voru kumpánlegir við hvorn annan... er sameining í vændum? En maturinn var svo unaðslegur að ég missti mig og er enn saddur, nú 2 dögum eftir átið. Úff. Sticks & Sushi, Kringlunni 8.2 af 10 Sushi er Guð. Jafnvel þó maður þurfi að hanga á priki. Ég er til í að éta hráan fisk og hrísgrjónakökur í öll mál. En mikið er sushiið syndsamlega dýrt. Afhverju í helvítinu? Te og kaffi, Smáralind, Kóp. 5.0 af 10 Ágætis lokur og kaffi og góð þjónusta en alltof fokking dýrt! Sælkerahúsið Tex Mex, Langholtsvegi, Rvk. 7.1 af 10 Ódýrt tex mex á ísl. mælikvarða. Ágætt stöff en einum of upphitaður fílingur þó. Klósettaðstaða farin að sjúskast og Witney Houston var ekki mexikósk síðast þegar ég vissi. Kaffitár, Kringlunni, Rvk. 5.5 af 10 Þrátt fyrir misjafnt viðmót stelpnanna verður að viðurkennast að besta kaffi landsins fæst hjá Kaffitári. Beyglurnar eru þó vafasamar -- maður þarf að setja þær saman sjálfur. Daman gleymdi nú reyndar að setja frönsku spægipulsuna með á diskinn og baðst ekki afsökunar á því forkastanlega áhugaleysi þegar til hennar var leitað eftir pulsu. Fátt er eins leiðinlegt og áhugalausir krakkahálfvitar í framreiðslustörfum og því fær Kaffitár ekki nema 5.5 fyrir að hafa svona pakk í vinnu. Hlölla-bátar, Rvk. 7 af 10 Hlölli er góður vilji maður láta sósu leka á hökuna. Jömm! This, Rvk. 8 af 10 Þetta ku vera Hlölli útfluttir til London og innfluttur aftur sem hinn árennilegi bátastaður This, sem hefur á sér erlendan blæ og stíl. Ég kom þarna rykugur um hánótt og fékk mér bát. Tvímælalaust hápuntur kvöldsins! Popeyes, Smára, Kóp. 8.4 af 10 Þrátt fyrir skítkastið hér að neðan fór ég aftur á Popeyes og nú var allt annar standard á staðnum. Fitan lak ekki lengur af gómsætum bitunum og ég var sæll og saddur. Popeyes - þrímælalaust besta djönkfúdd á klakanum! Banthai, Hlemmi. 0 af 10 Lengi hefur maður heyrt góðar sögur um þennan tælenska stað á Hlemmi. Og einu sinni fékk ég ágætis mat þarna. En ekki í gær. Nei, fjandinn hafiða, ég fékk engan mat! Ætlaði að panta borð, hringdi og hringdi, en númerið var alltaf "utan þjónustusvæðis". Við mættum því bara. Allt fullt á neðri hæðinni. Lítill sveittur og stressaður karl sagði okkur bara að fara upp. Þar var nóg pláss, borð og stólar, allt þó frekar hrörlegt og slísí. Ókei, við hefðum getað sagt okkur það strax og komið okkur út, en fyrst verið var að bjóða manni sæti hélt maður að þetta yrði í lagi. Stelpa sem hafði setið á næsta borði með kærastunum sínum var allt í einu komin í þjónustuhlutverk. Mætti með matseðilinn eftir 20 mínútur. Næst kom hún með vatnið eftir aðrar 20 mínútur. "Takk fyrir að bíða," sagði hún, en ekki "afsakið biðina". "Það er dálítið mikið að gera á neðri hæðinni", bætti hún við eins og það væri einhver afsökun. Gengur neðri hæðin fyrir og hvað er þá efri hæðin eiginlega? Eitthvað bónusfarrými? Ekki sýndist mér það á verðunum. Þegar við vorum búin að bíða eftir forréttinum í 40 mínútur nenntum við þessu ekki lengur og fórum glorhungruð og fúl. Af hverju var okkur ekki bara sagt að það væri ekki pláss fyrst það var ekki mannskapur til að sjá um lágmarks þjónustu? Ég held að eigendur Banthai ættu að hugsa aðeins minna um að græða peninga og reyna að bjóða upp á sómasamlega þjónustu. Banthai er drullupleis. Ég fer aldrei þangað aftur. Nings, Rvk. 6 af 10 Frekar svona upphitaður fílingur þarna. Ókei í hófi. Næs afgreiðslufólk og mjög fljótur servis. Mekong, Rvk. 7 af 10 Ég hef trú á að þessi staður sé ókei. Þetta er tælenskur staður og ekkert nema karlar í rassaskorubuxum sem eru þarna í góðu tælands-stuði og svæla yfir mann eins og þeir fái borgað fyrir það. Ódýrt og bara nokkuð bragðgott, svona fínt í hádeginu-staður, en maður færi ekki á deit þarna. Quiznos, Rvk. 6.4 af 10 Þokkalegar samlokur, ristaðar og því ekki eins slepjulegar og á Subway. Djönkfúdd í meðallagi. Hard Rock Café, Rvk. 6 af 10 Þetta er nú bara svona og svona. Aðallega hálf naktar eldspýtur að bera matinn á borð, en samt erum við svo heppin að fá þybbnar gengilbeinur sem kunna þetta. Eldspýturnar eru með gufu í stað heila. Ha, vilduði fá skeiðar með súpunni, ó sorrí, ég kem aftur eftir 10 mínútur með skeiðar. Djönkfúddið er ókei, samt verra og verr útilátið en á Grillhúsinu (still #1). Svo rennur mér líka til rifja að sjá öll þessi flottu hljóðfæri hanga ónotuð upp á vegg og þetta beljandi rokkgaul sem er spilað lon og don þarna inni er leiðinlegt til lengdar, ég tala nú ekki um þegar eldspýturnar þurfa að syngja ammælislagið fyrir einhvern óheppinn gest. Eldhúsið, Rvk. 7.9 af 10 Við ætluðum að fá okkur sushi af færibandinu á Eldhúsinu í Kringlunni, héldum etv að það væri eitthvað í áttina að svona stöðum í London. En nei nei, það voru ekkert nema samlokur á þessu færibandi og stöku slappir sushi bitar hixtuðu hjá eins og berklasjúklingar. Svo, við átum bara mjög góða hamborgara í staðinn. Þetta er svaka hverjir voru hvar pleis - Fjölnir hennar Mel og Tinna hans Ólafs voru þarna og ekki amalegt að slafra í sig hamborga með útsýni beint upp úr Séð og heyrt. Austur-indía félagið, Rvk. 9.9 af 10 Ef maður er á annað borð að fara út að éta indverskt ætti maður að fá sér það hér. Ég tékkaði á þessum stað þar sem Kabarett var og það var ömurlegt. Á Austur-indía á maður í mestu vandræðum að ákveða hvað maður á að borða því allt er svo gott. Eina vonda við staðinn er nafnið - "Austur Indía félagið" - hvaða rugl er það? Ég mæli með "Karrýhúsið". DOMINOS, Vesturbæ, Rvk. 0 af 10 Ég veit auðvitað að þetta er ekki veitingahús heldur teik avei, en ég verð samt að tjá mig pítsurnar frá þeim, svo viðbjóðslegar voru þær. Við vorum glorsoltin og höfðum nánast étið hvað sem er. Við pöntuðum tvær pítsur af matseðlinum og hentum þeim báðum eftir 2 bita. Svoleiðis gerist eiginlega aldrei! Þetta var viðbjóðslegt og ég vara við þessum stað. Þú getur alveg eins brætt kertavax oná ristabrauð og kallað það ostapítsu. Gjörðu svo vel. NÚÐLUHÚSIÐ, Rvk. 7 af 10 Gott miðað við verð. Fínt pleis. Ódýrt og oftast bragðgott. POPEYES, Smára, Kóp. 2.7 af 10 Ég vil taka það skýrt fram að Popeyes eru venjulega í hámarki skyndibitaiðnaðarins. Kjúklingabitar staðarins eru góðir á bragðið og bera mér sér ferskan keim frá Louisana. Í Smáranum hafa kokkarnir/krakkarnir ekki alveg fylgt leiðbeiningum á frosnum afurðum heldur dissað allt saman og gert þetta bara einhvern veginn. Útkoman voru bragðlausir bitar löðrandi í fitu og meira að segja ég gat ekki klárað einn lítinn skammt. Áður en þú étur á Poppæs næst skaltu gá hvort einhver fullorðinn sé að vinna, og þá hvort hann lítur út fyrir að vera sæmilega heilbrigður. Annars ertu í skít, nema þú fílir löðrandi fitu þess meir. Þar fyrir utan eru kjúklingabitar búnir til úr vansköpuðum dýrum og þú ert verulega viðbjóðslegur að leggja þetta þér til munns. Svona er þetta bara. RIKKI CHAN, Smára, Kóp. 4.7 af 10 Konan var almennileg. Ég bað um 50/50 djúpsteiktar rækjur (og reyndi að gleyma myndinni sem ég sá einu sinni af rækjum að éta ýsu lifandi í neti) og núðlur. Með voru hrísgrjón og súrsæt sósa. Bragðlaust og "íslenskt". Vantaði allan kínafíling í þetta. Ekki það að ég hafi étið svona í Kína. Allavega miðað við myndina Tampopo ætti að vera meira stuð í kínamatnum í Kína (og líka í Japan). Varð saddur og kláraði af disknum. Síðast þegar ég kláraði ekki af disknum var á Sjanghæ, Laugarvegi. Enda er það eiturpleis, en Rikki er ókei. GRILLHÚSIÐ, Rvk. 9.8 af 10 Langbesta borgarabúllan í bænum, allt er jömmí og slefandi gott og þetta pleis valtar yfir draslið sem American Stæl er með. Uppáhaldið mitt er Californía Klöbb samloka, en allt sem ég hef smakkað þarna hefur verið fínt. Frönskurnar eru góðar líka og sjeikarnir algerlega þrumuskuð. Þau eru líka sniðug þessi vegabréf sem staðurinn er með, fimmti hver hamborgari er frír. Grillhúsið mætti samt bjóða upp á banana-og-jarðhnetusmjörs-sjeika, eins og Ed's í London er með. Þá mundi Grillhúsið fá algerlega fullt hús. Ed's, Soho, London. 6.2 af 10 Það eina virkilega góða við Ed's í London eru áðurnefndir banana-og-jarðhnetasmjörs-sjeikar. Hamborgararnir sjálfir eru ekkert til að hrópa húrra fyrir, enda kunna Tjallar ekki að búa til hamborgara og það er ekki nema von að það sé allt vaðandi í gini, klaufum og kúariðu þarna hjá þeim. En eins og ég segi: Sjeikinn er góður! A restaurant devoted to one prime product -- the flesh of swine. Visit the website listed above to read Icelandic pork recipes. Svínakjöt er ódýrt og gott.
Kaffi Roma ehf: Laugavegi 118, 105 Reykjavík. Tel.: +354 562 0020.
Kaffibrennslan kaffihús: Pósthússtræti 9, 101 Reykjavík. Tel.: +354 561 3600.
Kaffihúsið Reykjavík Bagel Company: Laugavegi 81, 101 Reykjavík. Tel.: +354 511 4500.
Boltamaðurinn Laugavegi 42
Local Specialties[edit this] type: Fast Food World66 rating: [rate it] B.K Kjúklingur [edit this] type: Fast Food World66 rating: [rate it] address: Grensásvegur 5 tel: (+354) 588 8585 Grensásbær [edit this] type: Fast Food World66 rating: [rate it] address: Grensásvegur 12 tel: (+354) 568 1747 Jarlinn [edit this] type: Fast Food World66 rating: [rate it] address: Kringlan Shopping Center tel: (+354) 553 3679 Kabarett [edit this] type: Fast Food World66 rating: [rate it] address: Austurstræti 4 tel: (+354) 551 0292 Kebab Húsið [edit this] type: Fast Food World66 rating: [rate it] address: Lækjargata 2 tel: (+354) 561 3070 Naustið [edit this] type: Fast Food World66 rating: [rate it] address: Vesturgata 6-8 tel: (+354) 561 7758 show numbers 1-20 21-29
s c a n d i n a v i a n : h i g h l i g h t s
++Christiania Free Town++++Nyhavenn++ ++Fairies of Iceland++++Gay Iceland++Icelandic SUVs++++Reykjavik++++Reykjavik Nightlife Guide++