north east asia galleries
A WEEK and a half ago I was cloudsurfing the predawn skies off the southern coast of Honshu, blearily scanning the whitecaps beneath me for the volcanic islands which poke out of the water like submerged Fujisans, and wondering how the hell I was going to get through the following week at work. I hit the ground running so to speak, and taught two classes before the grim sunset. Over the Kyuedo River in Tokyo's Edogawa Ward, to be precise, the wind blowing cold as buggery. Kyuedo might mean "Old Edo", and Edo may in turn be the old name for Tokyo, but there isn't much of the Old Old Tokyo visible around here. It's all apartment blocks and panel beaters here on the banks of the Kyuedogawa in Edogawa Ward, in Tokyo's eastern suburbs. If you want to see the real Old Edo you have to go downtown to somewhere like Asakusa or Nezu, near my old house. Either that or you have to get out of Tokyo altogether, and go to Sawara. Back in the day they used to say: "When you want to see Edo, come to Sawara. Sawara outdoes Edo." It's actually not that far from Narita Airport, and is advertized as a place to go by leaflets in the arrival terminals. Ever since my first trip to Narita (the town, not the airport) in 2004 to see my cousin Fiona, I have been intending to see Sawara. Getting there was just a matter of time. When I dropped into Tokyo a week and a half ago after my latest trip to Vietnam, I realized that time had come. It was time to hit the rails; it was time to head to Sawara!


OTHER SITES ABOUT SAWARA FROM JAPAN!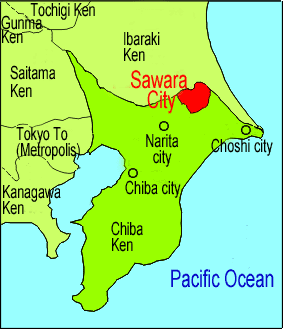 City Guide to Sawara