advertize on this site - bengali girls - can you trust filipino girls? - first impressions - gay and lesbian bars and beaches in Bali (Indonesia) - hard rock cafe - hooters girls at the mall of asia - jamaican girls - japanese girls in cairns (australia) - love is in the air - manila girls - mestiza girls - privacy policty - rate my body - taking cab to jools - when you marry the first woman you meet -


"IF I TRY HARD ENOUGH AS I GAZE AROUND ME, MY MEMORY OF METRO MANILA COULD STILL BE TRACED AGAINST THE PRESENT BACKDROP. I see a superimposed image of 1988 with that of today that's sketchy and shaky at best. Thus, it is surreal to be having a renewed sense of belonging while simultaneously feeling like a stranger in my homeland..." So reads the introduction at e-Epitaph -- Manila Impressions. It must be said, my own impressions of Manila come from Neal Stevenson's tome Cryptonomicon, way back in the year 2000, in the middle of the monsoonal rains. Sprawled out on my verandah in Medan, Sumatra, strung out on sweet Indonesian kretek... reading about Manila. Later that night downing iced beers in a nightclub where the house sets were blinding, attractive Batak women against my back a-grinding grinding.. oh all the decadent decay! Thinking about Manila, not so far away. "The whole city is a cauldron of internal combustion," writes Stevenson, in Cryptonomicom. I have never officially been there, but I will take his word for it -- this is a city which is continuously on the go. The Manila Standard Today reported recently: "Love was in the air like never before as a large number of singles and young adults participated at Animax's Love is in the Air, a unique speed-dating extravaganza where singles embraced a whole new concept in finding romance the modern way. Held at the Music Hall of the SM Mall of Asia, Love is in the Air is the channel's first venture into one of the hippest lifestyle trends -- speed dating -- to celebrate Valentine's Day.

"Love is in the Air was organized by Animax, a youth channel that brings a distinctive Japanese anime-programming genre to our screens, and stages many cool activities and events that connect with the interests and lifestyles of youths in Asia. Animax has become a lifestyle choice for many youths in areas like gaming, music and even fashion, as seen by the outstanding response at the much talked-about Fashion-ability design contest, held last year.

"Prior to the event, youths and young adults between the ages of 18 and 30 were required to register online at www.animax-asia.com. At the same time, visitors to the Love is in the Air microsite were spoilt for choice by the numerous features such as sending loved ones special Valentine's Day e-cards, love declarations on the site's Love Message Board, and several quirky love-personality quizzes. The microsite has been a big hit -- over 6,000 love greetings were sent and thousands of love song dedications were made in less than a month since the feature was made available..."

>

THE WHOLE CITY IS A CAULDRON OF INTERNAL COMBUSTION... More so than Tokyo, this is a city driven by speed. Witness the rise of speed dating, micro dating. Online dating, chatrooms. When I used to live in Australia I used to work at a newspaper company called Cumberland and was honored to serve at the Menai-Reevesby Express which had their headquarters in Bankstown, the car theft heart of Sydney. I once went shopping in Bankstown with a saucy Filipino artist named D.E., who confided in me a number of highly intimate past experiences, such as her sexual fantasies. They were lesbian fantasies, I believe, and she was talking about going to a lesbian bar one day. Of course, being the pussy that I was back then, I failed to take the opportunity she was obviously offering me, so nothing happened between her and me. It was cool to go shopping with her though. We found one particular Chinese item called Moon Cake or something like that -- inside the cake there was supposed to a complete duck's head, with a duckling embryo inside. She said it felt so good to bite into the egg and feel the little duckling beak shattering between your teeth! (I'm serious -- that's what she said!) Anyway, I never tried Moon Cake while I was in Bankstown, but I would be interested to have a go at it if I found it again, somewhere in the world...

As I wrote in my journal at the time: "Yesterday I experienced a number of events which convince me that my feminine revelations will bear fruit. At work I went to lunch with D.E., the Philippino artist, and was on the recieving end of flirtation for the first time since 1993. She also confided in me a number of highly intimate past experiences, such as her sexual fantasies. Women never used to say these types of things to me in the past... maybe they find me less threatening because I'm more in touch with my femininity. So, platonicism is the way to go. I'm prepared to spend five years just being friends with women and understanding their world: there may be tough experiences ahead, but it will all help with my spiritual expansion..."

We all know Sydney is one of the gay capitals of the world, but if D.E. was a lesbian or bisexual girl in Manila and she wanted to go out, where would she go? Utopia Asia writes: "The intersection of Maria Orosa St and Julio Nakpil St in Malate is the "X marks the spot" center of gay Manila. The whole street is lined with various gay establishments. Bars are within five minutes from each other, very similar to the Silom area in Bangkok. There are of course other gay establishments in Metro Manila widely spread over this mega city."

Utopia Asia recommends some of the following bars and establishments:

"Aura Sing-Along & Comedy Bar 92 C. Raymundo Ave, Sagad, 091-5711-7873, email. This gay-friendly sing-along and comedy bar welcomes everyone. Utopia Member Discount..."

Butterfly 265F Tomas Morato (corner of Sct. Fernandez), Quezon City, 091-6895-0933, email. You'll spot the blue butterfles on the glass frontage. A cozy gay-owned hangout where everybody gets to know everybody. You don't have to be somebody else, just come as you are. No hang-ups here! Dress up or dress down. They also feature art exhibits, movie nights and weekend dance parties. Private parties welcome. Social connections here are on a friendship basis. Utopia Member Discount Che'lu (mixed) Ma. Orosa cor. J. Nakpil St, Malate. A convenient and cost-friendly venue for sing-alongs, private parties and lots of booze. Popular joint to start up or cap off your night life. Same owner/management as of Jefz Cafe E (Epitome) Men's Club.

Now for the straight tip:

Writes AngelesCity: "Since the demise of Ermita thanks to Mr. Lim (retired police general who served as mayor), there is no real go-go bar strip left in Manila. Certainly there is nothing like Field Avenue in Angeles City. However this does not mean you cannot have fun in Manila. On the contrary, there is a whole lot of fun to be had here. There are two primary areas where go-go bars can be found that cater for foreign tourists: Makati and Pasay City. Makati has the most bars, is the most upscale and the most expensive. The bars are within walking distance of each other. Some of the prettiest bar girls in the country are working here, though most of the girls are only average. "The real lookers are massing to the Quezon City clubs to prey on the Japanese." Guy G. (08/2002). Many Makati bars don't open until 8:00 PM. Pasay has fewer bars, is less expensive and the bars are scattered over a larger area..."

Hard Rock Cafe: Hard Rock Cafe: Levels 3 & 4, Glorietta III, Ayala Center. Tel: 893-4661.


No go-go dancers here of course as one of the sources quoted above has reflected, but a good place to continue your drinking and get something to eat. A nice diversion on a late evening bar hop. Be sure to pick up a shirt. (Eds note: or a piece of skirt!) Anyway, that is a foreign s!x tourist's perspective on the place; what do the locals think?

Hooters at the Mall of Asia: Manila Bay Area.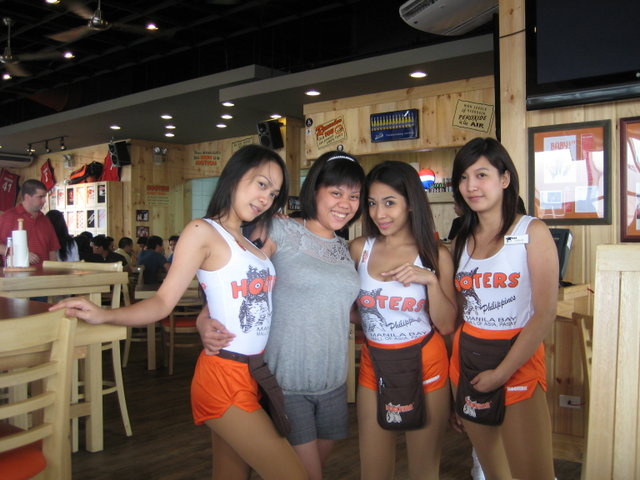 Dadang Girl wrote in May 2008: "Located at the Bay area in Mall of Asia, the first Hooters in Manila opened last week so Dan and I tried it out this afternoon. Wings are so small and they are quite overpriced. The girls are not boobilicious as compared to the US hooters girls and they are exotic looking (a foreigner probably handpicked them)!"

Warrior Lawyer writes of the same establishment: "Most of the girls are shockingly plain-looking, despite the presence of Hooters girls from all over the U.S, part of the opening team intended to jump-start the Manila operations. Hooters took pains to bring together women of Filipino origin as part of its management and service training team, possibly to attract the local market and give Pinoy males something to relate to. But it's like bringing coals to Newcastle, to use a dated analogy. The common reaction from our group: 'Huh?'

"The Manila Hooters girls can most charitably be described as 'exotic'..."

""It is now available in Japan, Papua New Guinea, Australia, New Zealand, 16 countries in the Middle East, 11 countries in North Africa, and 49 countries in Europe.
"UBI World TV is a leading content aggregator of non-English programming from different parts of the world and is the premier multi-cultural subscription TV and radio broadcaster in Oceania..."

Date in Asia: http://www.dateinasia.com/manila-dating-girls.html.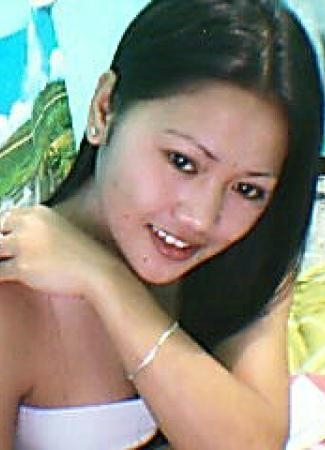 There are plenty of girls here looking for their soulmate. Take Geal for example, a 20-year-old Catholic female from Manila. ":P hi..im cute.but im not sexy.lolz..loving sweet.understanding...and honest!" she says.

Rate My Body: www.ratemybody.com/personals/makati_online_dating_1.html.


This girl would rank as a HB ("Hot Babe") on the Maniac High scale, based on the statistics at Rate My Body -- she received 250 votes giving her an average score of 8.802. This puts her into the top 93.6 per cent of all the bodies rated on this site. According to Maniac High (the real Maniac High, not the guy who adopted that moniker from me for a while, before disappearing on a smuggling mission in Peru), any girl in the top 10 per cent deserves to be called a Hot Babe. There are tonnes of hot babes at Rate My Body, many of them from The Philippines. Take for example denise18 (aged 19, from Quezon City), who says:


"nothing is constant in this world except change."





aphrodite19 (female, straight, from Makati) says:


"WANTED!!! A guy who can sweep off my feet. Someone who has a sense of mystery and is always full of..."




The internet has been used as in some markets where satellite and cable delivery is too expensive or not available at all.
"StreamGuys is the recipient of the IPTV (News - Alert) business after four years of offering streaming broadcasts cost-effectively. It provided back-end server infrastructure management for the internet streaming and download service at now.abs-cbn.com.
"'There is a huge market for ABS-CBN programming outside of the Philippines, and it's important to make our content available on as many platforms as possible,' said Olives.
"Content delivery networks like StreamGuys are ideal for IP-based broadcast distribution because it usually leverages their relationships with ISPs around the world instead of just purchasing raw bandwidth.
"StreamGuys offers ABS-CBN programming as MPEG-4 standard-definition video which is suitable for IPTV and Windows Media for internet streaming and download services. The company also built a cluster of servers in the U.S., Japan and the Netherlands catering to the growing demands in the IPTV service. This ensured increased network capacity.
"StreamGuys has designed the IPTV server infrastructure for direct communication with IP addressable consumer set-top boxes enabling instant delivery of content on demand. The company also takes care of connectivity issues in any country and problems in the greater network.
"'StreamGuys has proven valuable as a CDN that adjusts to our changing requirements as we scale our network,' said Eugene Paden, head of IT Operations for ABS-CBN Global. 'They clearly understand the different quality requirements for watching content on TV as opposed to a computer, and manage the network to maintain those various requirements. The network management has been critical as we grow our customer base, and the positive aspects of the scalability vs. cost ratio become increasingly evident as we boost network capacity.'
"Jonathan Speaker, COO of StreamGuys, Inc. pointed out that the rise of the internet and IPTV delivery platform for distributing high-quality broadcast content enables broadcasters to cover the entire globe. He further assured full assistance to ABS-CBN for the reliable and cost-effective delivery of its broadcast content worldwide thereby enabling them to focus on producing the broadcast content..."

An Introduction to Philippines Culture says: "If she can't provide a boy baby, the man has the right to seek a mistress and have another family, if he can afford it. Mistresses can be had on almost any pretext. Why is it like that? Everybody, even women want boy children. If there is one peanut left to eat the boy gets both pieces. The father often pays little attention to the girls and worships his boys, especially the older one, who will carry his name. The girls are sent out to work while the boy's education is first. If money is left over the girl gets educated. The all compete for parental attention, particularly the fathers or kuya who is the oldest boy..."

Now I have to say I lived with a kuya once and he sure was one spoiled mother! Our favorite pastime, especially when we were drunk or stoned, was launching empty beer bottles at each other (this was on the leafy North Shore of Sydney). When I woke up in the morning, the carpet was a litter of broken glass...

An Introduction to Philippines Culture continues: " Girls don't get much affection from their fathers, so when they get a man, they most often really appreciate it. They want to touch him, be close to him and care for him. They often are terrified that he will stray, but accept. Daughters often become favorites of there father, because of manulipation skills honed to a fine edge our of necessity. This carries on into marriage.

"A foreigner does not have that much leeway as a Filipino man. Filipinas wives expect more from him, loyalty, faithfulness, there idea of the Wester man, especially after they have live in a developed Western country and been enlightened by the women there who in my opinion control the country.

"As for fat and age, they are both pluses. Age gets respect here. And fat means you can afford to feed your family. Skinny does not make it. I told my present girl friend I wanted to lose some of my belly and she got upset. She was confused and asked "Why?" Some say this is because Filipinas /os They have a "colonial" mentality. Their history of domination by the Spanish and then us made them this way. Anything foreign is better than local, including human beings to some of the those really brainwashed..."

This attitude that anything foreign is better is shared by the men when it comes to their taste for women. For example, why is it that Filipino men have such a thing for Mestiza Girls? In reply: Yahoo! Answers: "Hello poh, ang pangalan ko si linda jean. Im a Mestiza filipina.. I live in australia and come 2 pinas 4months a year.. My bf Kim is a pinoy.

"In my opinion Philippines pays more attention to Mestiza because they look different, and its a big WOW factor in a country where natural colour tends to be dark brown. As with white countries where tanning is a never-ending trend.. In asia, Whitening is a daily routine to most Manila girls.

"As i walk around everyone tends to stare at me (which is quite annoying).. They call me KANA.. i'm everybody attention.. non-stop ask questions bout my backround and my country and they Get a cheap thrill from attempting their broken english to me.. I dont mind.. Coz its their excitement.

"When i was watching Wowowee .. [which i'v knowticed nearly every filipina is whiter than me].. (weird).. My maid told me white in pinas, makes people think ur rich. They think "thats a (city) manila girl.. (Most people in manila arent exposed to sun). When People see me sunbathing at the beach they ask me ''What are u doing??!!...''

A closer look, though, may get you hooked...
"First of all, there's the prospect of winning. The games are easy -- various word, letter, or picture puzzles are flashed on-screen for viewers to solve. To join the contest, viewers only need to text in special codes for the chance to answer the puzzles on-air.
"The spontaneity is also interesting. The shows feature unknown hosts, are almost devoid of production values, feature no sexy models or skimpily clad back-up dancers, and don't seem to have a script.
"And the ultimate TV blasphemy? There are no commercial breaks.
"You can imagine how daunting non-stop broadcast can be for a host. Well, not all, it turns out. If there's anything that keeps ABC 5's Text 2 Win (Mondays to Sundays, 11 p.m. to 1 a.m.) interesting, it's host Faye Fernandez.
"Her candor, masa appeal and oftentimes comic way of anchoring are the program's main points of interest.
"A big part of her job involves convincing viewers to text in. She has an arsenal of approaches. She's alternately a jovial friend, persistent cajoler, well of encouragement, or a reprimanding neighbor for those who refuse to heed her call. Whichever mode she picks, she keeps a straight face.
"'Hello. Ikaw ang kinakausap ko. Oo, ikaw. Walang ibang tao dito. Tayo lang. Kaya mag-text ka na. Sino ang gustong manalo? Ikaw ba? Ikaw? Gusto kita bigyan ng pera. Kaya mag-text ka,' she would say, looking at the camera with the most serious face.
"It's a priceless TV moment. Goodbye, reality talent searches, hello 'reality hosting.'
"The show has its downsides, though. Because the camera has nowhere else to go but the host's face, it can get boring. The set has fake views of the city and disparate furnishing. Also, Faye could do with a more clever stylist and a bigger wardrobe.
"ABS-CBN's Games Uplate Live (midnights) is more technically proficient. It's flashier, with animated backgrounds, upbeat music, and feels like a music video program.
"Like Text 2 Win, Uplate has the same contest mechanics. But that's as far as similarities go.
"Host Jaymee Joaquin's style is very much like that of a video jock. Plus, she's nicely made-up and styled. (She's actually a radio jock, DJ Laila of WRR 101.9 FM.) She's good at ad-libbing, is very relaxed onscreen and seems far less prone than most to make amateurish quips or awkward statements.
"She has another advantage: Games Uplate Live has breaks in the form of ABS-CBN program plugs.
"The show, which recently ended its fourth season, also has brisk pacing. But it also has drawbacks. Because there are less chances for spontaneous comedy, the only reason you'll watch, is if you want to join the contest..."

"Dengan pembelian tersebut, anda juga secara tidak langsung menjadi RESELLER (agen) kami dan berpeluang MENJANA PENDAPATAN TAMBAHAN secara sambilan atau SEPENUH MASA. Dengan setiap penjualan anda, anda akan mendapat Rm20 daripada harga produk dalam hari yang sama juga!
"Jadual Pendapatan Setiap Bulan
"Mahu Sertai? Klik Disini : http://tvpc2.page.tl/2"

There are echoes of Ugly Betty, in this following story, culled from the Philippine Daily Inquirer, on May 1 2008: "A couple of weeks ago, I was stuck in the airport because my flight was delayed. I had nothing to do so I watched the ¡¦teleserye¡¦ [TV soaps] being shown at the waiting lounge. I hadn¡§t watched those things for ages, and the first thing I noticed was that nothing had changed. The ¡¦bida¡¦ [lead character] was still the beautiful young girl who was both clueless (i.e., ¡¦tanga¡¦) and a pushover—qualities redeemed by her kindness, purity and meekness. The ¡¦contrabida¡¦ [villain] was a rich and sophisticated woman, wielding control over everything and everyone. Haciendas were ruled by powerful families. Policemen and other law enforcers were incapable of solving crime. People got rich once they found out that they were the sons/daughters of a dying millionaire, not because of hard work or an entrepreneurial bent..."

Taking Cab to Jools: .
Makati City Bar Adventures wrote: "Internet reports said not to let cabbies rip you off by charging more than P100 (US$2.60). The reports said to tell the cab driver to go to Jools, the largest club since they would all know where it was. I go to the line of cabs at the Holiday Inn, which is across from my hotel (Corporate Hotel). The lead cabbie doesn¡¯t seem to know where Jools is. He would have to charge P200 to Makati because traffic would be so slow this time of night (about 8pm). The 2nd in line cabbie, a woman knows Jools and says maybe I¡¯d like a women driver. The other male cab drive doesn¡¯t object and off we go. The ride was very long and slow in congested traffic, as usual in Manila. I had a good discussion with the woman cab driver whose English was quite good. I admitted my interest in women and she tried to convince me to let her get me a boarding house college student, but I declined. She also had lived in Angeles City and was going there the next day. So was I, but I already had the Vegas Hotel driver going to pick me up and didn¡¯t want to change. The cost via cab was slightly more than the Hotel driver, which was P1500. She confirmed that color-coding also applied to taxis so she had to always take Friday off since she couldn¡¯t drive her cab on Fridays. She also was trying to set me up with a friend of hers daughter from Angeles City. She also confirmed that Manila bargirls (Guest Relations Officers) are also required to have weekly medical checkups just like in Angeles City. Jools This is a very nice large club with lots of good seating options. I arrived just before the stage area opened and sat at first in the outer bar area and ordered my diet coke. A girl joined me, who I wasn¡¯t very attracted to. When the girls came on stage I moved more to the stage area to "escape". After moving to the stage area I was joined by a girl and her "friend". Both were very nice but I was much more attracted to "friend" who was a bit more mature at 23, spoke very good English and it was her first night at Jools, although she had been a hostess/waitress at another club. I explained that I wasn¡¯t going to barfine anyone in Makati, but bought them each one lady drink. For about an hour I enjoyed a great intimacy connection with "friend". We massaged each other, cuddled and kissed. If the cost wasn¡¯t so high and my hotel so far, I would have definitely been interested in barfining her. TV Natin stations:
DWCL TV 12-San Fernando, Pampanga
DWWK TV 3-Lucena
DYEZ TV 34-Bacolod
DYBU TV 43-Cebu
- DZRH DZRH 666kHz Metro-Manila - Love Radio DZMB 'Love Radio DZMB' 90.7MHz Manila 25kw / DWYN 'Love Radio DWYN' 99.1MHz Naga 10kw / DWCM 'Love Radio DWCM' 99.5MHz Legaspi 10kw / DWLW 'Love Radio DWLW' 100.7MHz Lucena 10kw / DWKS 'Love Radio DWKS' 95.3MHz Daet, Camarines Norte 1kw / DYKS 'Love Radio DYKS' 95.1MHz Baguio 10kw / DWIL 'Love Radio DWIL' 90.7MHz Laoag 5kw / DWIP 'Love Radio DWIP' 94.5MHz Santiago, Isabela 10kw / DWID 'Love Radio DWID' 98.3MHz Dagupan 10kw / DYKS 'Love Radio DYKS' 91.9MHz Bacolod 10kw / DYTM 'Love Radio DYTM' 91.1MHz Tacloban 10kw / DYMB 'Love Radio DYMB' 97.5MHz Iloilo 10kw / DYBU 'Love Radio DYBU' 97.9MHz Cebu 25kw / DYEZ 'Love Radio DYEZ' 98.3MHz Puerto Princesa, Palawan 1kw / DXLS 'Love Radio DXLS' 107.1MHz Iligan 10kw / DXKS 'Love Radio DXKS' 96.9MHz Cagayan De Oro 10kw / DXCM 'Love Radio DXCM' 97.9MHz Zamboanga 10kw / DXBM 'Love Radio DXBM' 90.7MHz Davao 10kw / DXWK 'Love Radio DXWK' 101.5MHz Gen Santos 10kw / DXMB 'Love Radio DXMB' 95.1MHz Butuan 5kw / DXIQ 'Love Radio DXIQ' 106MHz Malaybalay 5kw - Radyo Natin DWRB 104.9MHz Bangui, Ilocos Norte / 105.3MHz Paoay, Ilocos Norte / DWRE 104.5MHz Candon, Ilocos Sur / DZVL 100.9MHz Bontoc, Mt. Province / DZRU 100.7MHz Buguias, Benguet / DZVM 88.5MHz Asingan, Pangasinan / 99.7MHz San Fabian, Pangasinan / DWMC 103.7MHz Tabuk, Kalinga Apayao / 102.1MHz Aparri, Cagayan / DZVL 101.7MHz Banaue, Ifugao / DZVJ 101.7MHz Maddela, Quirino / DWRQ 105.7MHz Iba, Zambales / DWRF 106.5MHz Sta. Cruz, Zambales / 103.3MHz San Jose, Nueva Ecija / DZRL 107.9MHz Paete, Laguna / DZVI 105.3MHz Padre Garcia, Batangas / DWML 106.6MHz Atimonan, Quezon / DWRL 100.9MHz Calauag, Quezon / DZVB 104.9MHz Catanauan, Quezon / 107.9MHz Gumaca, Quezon / 105.3MHz Infanta, Quezon / DWRH 104.5MHz Mauban, Quezon / DWME 103.3MHz Sablayan, Occ. Mindoro / DWRM 101.7MHz San Jose, Occ. Mindoro / DWMH 103.7MHz Bongabong, Or. Mindoro / DWMJ 102.9MHz Naujan, Or. Mindoro / DWMK 105.3MHz Pinamalayan, Or. Mindoro / DZVH 105.7MHz Boac, Marinduque / DWMD 104.5MHz Sta. Cruz, Marinduque / DZVG 101.3MHz Odiongan, Romblon / DWMM 104.5MHz Romblon, Romblon / 104.5MHz Brooke's Point, Palawan / 100.5MHz Coron, Palawan / 101.3MHz Roxas, Palawan / DZVN 101.3MHz Paracale, Camarines Norte / DZVC 99.3MHz Sta. Elena, Camarines Norte / DZVF 100.1MHz Buhi, Camarines Sur / DWRP 100.9MHz Pio Duran, Albay / DWRU 104.9MHz Tiwi, Albay / DWRB 104.7MHz Irosin, Sorsogon / 102.9MHz Pilar, Sorsogon / 91.9MHz Sorsogon, Sorsogon / DYRE 101.1MHz Culasi, Antique / 100.1MHz Laua-an, Antique / DYRP 90.5MHz Patnongon, Antique / DYRS 91.7MHz San Jose, Antique / DYML 105.7MHz Roxas City, Capiz / DYRE 103.7MHz Calatrava, Negros Occ. / DYSO 105.7MHz Hiniragan, Negros Occ. / DYSL 105.3MHz Hinobaan, Negros Occ. / DYRQ 88.3MHz Sagay, Negros Occ. / 93.1MHz Victorias, Negros Occ. / DYSJ 105.7MHz Bayawan, Negros Or. / 105.5MHz Bais, Negros Or. / 92.1MHz Guihulngan Negros Or. / 94.9MHz Balamban, Cebu / 91.7MHz Bogo, Cebu / DYRO 101.3MHz Daanbantayan, Cebu / DYRH 102.5MHz Moalboal, Cebu / DYRI 102.1MHz Tuburan, Cebu / DYNJ 98.1MHz Jagna, Bohol / 103.9MHz Naval, Biliran / DYSN 105.7MHz Allen, Northern Samar / DYRN 90.7MHz Laoang, Northern Samar / DYSD 104.1MHz Borongan, Eastern Samar / DYSG 103.7MHz Guiuan, Eastern Samar / DYSH 104.1MHz Oras, Eastern Samar / DYSI 104.9MHz / Calbayog, Western Samar / DYSB 103.3MHz Abuyog, Leyte / DYSA 102.9MHz Baybay, Leyte / DYSC 103.1MHz Sogod, S. Leyte / DXRF 92.1MHz Sindangan, Zamboanga del Norte / 101.7MHz Kabasalan, Zamboanga del Sur / DXRH 91.3MHz Margosatubig, Zamboanga del Sur / DXMD 91.9MHz Pagadian, Zamboanga del Sur / DXRP 107.1MHz Mambajao, Camiguin Island / 105.7MHz Gingoog, Misamis Oriental / 106.1MHz Oroquieta, Misamis Oriental / DXRA 100.9MHz Manolo Fortich, Bukidnon / DXRO 106.9MHz Maramag, Bukidnon / DXRW 105.7MHz Bayugan, Agusan del Sur / 105.3MHz Cabadbaran, Agusan del Sur / DXRY 104.9MHz San Francisco, Agusan del Sur / DXSE 91.1MHz Bislig, Surigao del Sur / DXRL 100.5MHz Baganga, Davao Or. / DXSB 104.9MHz Gov. Generoso, Davao Or. / DXSC 105.3MHz Lupon, Davao Or. / DXRE 101.3MHz Manay, Davao Or. / 105.3MHz Mati, Davao Or. / DXRZ 105.3MHz Sto. Tomas, Davao / DXSA 105.5MHz Malita, Davao del Sur / 100.1MHz Koronadal, South Cotabato / 101.5MHz T'boli, South Cotabato / DXSG 101.3MHz Kiamba, Sarangani / DXSH 101.7MHz Maasim, Sarangani / DXSD 101.3MHz Isulan, Sultan Kudarat / DXRB 94.5MHz Tacurong, Sultan Kudarat - YES ! FM 'YES! FM 101.1' 101.1MHz Metro Manila / 'YES! FM 91.9' 91.9MHz Baguio / 'YES! FM 92.3' 92.3MHz Iloilo / 'YES! FM 105.5' 105.5MHz Bacolod / 'YES! FM 102.7' 102.7MHz Cebu / 'YES! FM 106.3' 106.3MHz Dumaguete / 'YES! FM 91.1' 91.1MHz Boracay / 'YES! FM 104.7' 104.7MHz Cagayan de Oro / 'YES! FM 105.1' 105.1MHz Davao - HOT FM 'HOT FM' 91.5MHz Cebu 25kw / 'HOT FM' 106.3MHz Dagupan 10kw / 'HOT FM' 102.7MHz Zamboanga 10 kw / 'HOT FM' 105.5MHz Gen. Santos 10kw - Aksyon Radyo DZNL 'Aksyon Radyo DZNL-La Union' La Union 783kHz 5kw / DZJC 'Aksyon Radyo DZJC-Laoag' 747kHz Laoag 10kw / DYEZ 'Aksyon Radyo DYEZ-Bacolod' 684kHz Bacolod 10kw / DYSM 'Aksyon Radyo DYSM-Catarman' 972kHz Catarman 1kw / DYMS 'Aksyon Radyo DYMS-Catbalogan' 1044kHz Catbalogan 5kw / DYXR (formerly DYRC) 'Aksyon Radyo DYXR-Cebu' 648kHz Cebu 10kw / DYOK 'Aksyon Radyo DYOK-Iloilo' 720kHz Iloilo 10kw / DYVL 'Aksyon Radyo DYVL-Tacloban' 819kHz Tacloban 10kw / DXGO 'Aksyon Radyo DXGO-Davao' 855kHz Davao 10kw DWID-FM Pacific Broadcasting System, Inc. which is an affiliate of Manila Broadcasting Company (MBC) DWID-FM 'Love Radio' 98.3MHz Dagupan 10kw Radyo Natin <> YES! fm 101.1 Unofficial Site 'YES! fm 101.1' (formerlly DWST Showbiz Tsismis) 101.1MHz Metro Manila / DZTR-FM 89.5MHz Naga 10kw / DWTR-FM 93.7MHz Santiago, Isabela 10kw / DZST-FM 91.9MHz Baguio 10kw / DYST-FM 92.3MHz Iloilo 5kw / DYTL-FM 95.9MHz Tacloban 10kw / DYTS-FM 105.5MHz Bacolod 10kw / DYTC-FM 102.7MHz Cebu 10kw / DXTC-FM 95.9MHz Cotabato 5kw / DXTR-FM 104.7MHz Cagayan de Oro 10kw / DXTL-FM 105.5MHz Iligan 5kw / DXST-FM 105.1MHz Davao 10kw / DXTZ-FM 90.7MHz Zamboanga 10kw [ Investigation day : 2001.10.05 ] Wild Orchid Resort Wild Orchid Resort 53 rooms. Opened mid 2005. Located near the corner of A. Santos & Johnny Street. Almost in the heart of the entertainment district. Amenities include, 24 hour restaurant, 24 hour room service, Internet (LAN) in all rooms, wireless internet available thoughout the pool and restaurant area, out-door pool with swim-up bar and 2 jacuzzi, in house travel agency. Dollhouse Hotel & Cafe Dollhouse Hotel is another new on the scene in Angeles City. Located on Fields Ave. directly opposite the bar bearing the same name. Amenities include, 24 hour restaurant, 24 hour room service, broadband internet, mini bar iwth coffee maker, daily newspaper, Roof top pool and jacuzzi. > FM Stations > DWKC-FM '939 KCFM' 93.9MHz Manila 35kw / DWHP-FM '99.5 DWHP Smile Radio' 99.5MHz Laoag 5kw / DWHB-FM '103.9 DWHB Smile Radio' 103.9MHz Baguio 10kw / DWHT-FM 107.9MHz Dagupan 5kw / DWON-FM 104.7MHz Dagupan 10kw / DWNX-FM '911 NXFM Metro Naga's Family Station' 91.1MHz Naga 10kw / DYVR-FM 93.9MHz Roxas 5kw / DYXY-FM '991 XYFM' 99.1MHz Tacloban 10kw / DYIC-FM 95.1MHz Iloilo 10kw / DYHT-FM 94.3MHz Bacolod 10kw / DYXL-FM 93.9MHz( or 99.1MHz) Cebu 25kw / DXXX-FM 100.7MHz Butuan 10kw( or 5kw) / DXVM-FM '991 VMFM' 99.1MHz Cagayan de Oro 10kw / DXZZ-FM '941 ZZFM' 94.1MHz Dipolog 1kw / DXIX-FM 102.3MHz Iligan 5kw / DXXL-FM 'Smile FM' 93.9MHz Davao 25kw / DXWR-FM '963 Smile Radio' 96.3MHz( or 96.4MHz) Zamboanga 10kw / DXCC-FM 90.9MHz( or 94.1MHz) Cotabato 5kw / DXCK-FM 'Smile FM' 91.9MHz( or 101.9MHz) General Santos 5kw( or 10kw) / DXKE-FM 94.1MHz Surigao 5kw / DXWD-FM 96.7MHz Pagadian 5kw - Televison 'E! Philippines (Entertainment Television Philippines)' Channel 31 Manila / 'CTV 8' Cagayan de Oro / 'CTV 31' Cebu / 'CTV 26' Baguio - RMN Affiliates > AM Stations > DYWC 801kHz Dumaguete 5kw / DYPR( or DXPR) 765kHz Puerto Princesa 10kw / DYRS 1431kHz San Carlos 1kw / DYXT 1071kHz Tagbilaran 1kw / DYRR 792kHz Ormoc 5kw > FM Stations > DYGB-FM 'Power91FM DYGB-FM' 91.7MHz Dumaguete 5kw / DYPR 99.9MHz Puerto Princesa 1kw * RMN Points of Presence <> - Radio See - Televison DWKC-TV 'CTV-31' Channel 31 Metro Manila 50kw / DXHB 'CTV-8' Channel 8 Cagayan de Oro 5kw - Associate Networks (Affiliates) Banwag Broadcasting System / Ormoc Broadcasting Company / Palawan Broadcasting Corporation / Universal Broadcasting System / VIC Radge & Sons / Broadcast Enterprises And Affiliated Media (BEAM), Inc. / Franciscan Broadcasting Corporation / Gold Label Broadcasting System, Inc. / Soundstream Broadcasting Corporation 939 KCFM Radio Mindanao Network DWKC-FM '939 KCFM' 93.9MHz Metro Manila 35kw Lite 107 DWHT-FM 'Lite 107' Dagupan 10kw 951 iCfm Iloilo Radio Mindanao Network DYIC-FM '951 iCFM 'Live it up!'' 95.1MHz Iloilo 10kw * Iloilo Radio Stations > 87.75 DYXX GMA Network Iloilo / 88.7 DYKU The Mellow Touch Iloilo / Q89.5 Home Radio Iloilo / 90.5 DYRU Love Radio San Jose / 91.1 DYMC for life Iloilo / 91.7 DYNJ Yes-fm San Jose / 92.3 DYST Yes-fm Iloilo / 93.5 DYMK Campus Radio Iloilo / 94.7 DYPL Power of Love Calinog / 951 ICFM Iloilo live it up! / 97.5 DYMB Love Radio Iloilo / 98.3 NJfm The Hive Iloilo / 99.5 DYRF Star-fm Iloilo / 100.7 DYOZ Z100 Iloilo / 103.3 Hot-fm Iloilo / NU107 Iloilo / Power107.9fm Iloilo * Bacolod Radio Stations > 88.3 DYGI Hot-fm Bacolod / 90.3 CPFM Bacolod / 91.9 DYKS Love Radio Bacolod / 92.7 DYEC ABS-CBN Radio / 93.1 Yes-fm Cadiz / 943 HTfm Bacolod Live it up! / 95.5 DYIF Star-fm Bacolod / 96.7 DYKR W-Rock Bacolod / 99.1 DYBM Crossover Bacolod / 99.9 FjFM The Hive Bacolod / 101.5 OO for life Bacolod / Jamie@Rhythms 102.3 Bacolod / 103.1 Radio103 Bacolod / 105.5 DYMY Yes-fm Bacolod / 106.3 DYBE KillerBee Bacolod / Campus Radio 107.1 Bacolod [ Investigation day : 2001.10.05 ] Nation Broadcasting Corporation (NBC) - AM Stations DZAR 'Angel Radyo' 1026kHz (formerlly DZAM) / DZSP San Pablo / DZYZ Olongapo / DZYI Ilagan, Isabela / DZYT Tuguegarao / DWSI Santiago, Isabela / DYCB Cebu / DXRI Iligan / DXRB Butuan / DXRD Davao / DXRO Cotabato / DXRE General Santos / DXBL Bislig, Surigao del Sur / DXCL Cagayan de Oro / DWAY Cabanatuan / DWRI Laoag - FM Stations DZRU 'Joey@Rhythms 92.3' 92.3MHz Metro Manila (formerlly DWFM) / DZYB Baguio / DZRB Naga / DYNC Cebu / DYBC 'Jamie@102.3' 102.3MHz Bacolod / DXFM Davao / DXRL-FM Cagayan de Oro / DXTY-FM 'Tony@101.1' 101.1MHz Zamboanga / DXOK Cotabato / 'Rocky@98.3' 98.3MHz Iligan // In 1999, FM station's name as 'M.R.S., the Most Requested Song' was changed each name for each station. [ Investigation day : 2001.10.06 ] The Hive 100.3 'The Hive 100.3' 100.3MHz Manila The Hive 98.3 Iloilo City DYNJ-FM 'The Hive 98.3fm 'Swarming The Airwaves of Iloilo'' (formerlly Boss Radio NJ-fm 98.3 Iloilo) 98.3MHz Iloilo 5kw - Network Stations > DZRJ-FM 'The Hive 100.3 Metro Manila' (formerlly Boss Radio RJ-fm 100.3 Manila) 100.3MHz Metro Manila 30kw / DWRJ-FM 'The Hive 96.5 Tuguegarao' 96.5MHz Tuguegarao 10kw / DWDJ-FM 'The Hive 91.1 Baguio' 91.1MHz Baguio / DYNJ-FM 'The Hive 98.3 Swarms the Airwaves of Iloilo City' 98.3MHz Iloilo 5kw / DYRJ-FM 'The Hive 100.3 Cebu' 100.3MHz Cebu 20kw / DYFJ-FM 'The Hive 99.9 Bacolod' (formerlly KY99.9fm soft lite hits) 99.9MHz Bacolod / DXDJ-FM 'The Hive 100.3 Davao' 100.3MHz Davao 10kw / DXRJ-FM 'The Hive 88.5 Cagayan de Oro' 88.5MHz Cagayan de Oro 10kw / DZRJ-AM 'The Hive News and Information Radio in Metro Manila' 810kHz Metro Manila / DXRJ-AM 'Radyo Asenso' 1476kHz Iligan / RJ TV-29 'The Biggest Shopping Network in the Philippines' (formerlly Timeless Television) Metro Manila * Iloilo Radio Stations > 87.75 GMA Network Iloilo / 88.7 The Mellow Touch Iloilo / Q89.5 Home Radio Iloilo / 89.9 K-lite Iloilo / 91.1 DYMC for life Iloilo / 92.3 DYST Yes-fm Iloilo / 93.5 DYMK Campus Radio Iloilo / 951ICFM Iloilo live it up! / 95.9 DYHM Hot-fm Iloilo / 97.5 DYMB Love Radio Iloilo / 98.3 NJfm The Hive Iloilo / 99.5 DYRF Star-fm Iloilo / 100.7 Z100 Iloilo / 103.5 KillerBee Iloilo / 105.1 Crossover Iloilo / NU107 Iloilo / Power107.9fm Iloilo * Bacolod Radio Stations > 89.1 K-Lite Bacolod / 90.3 CPFM Radio1fm Bacolod / 91.9 Love Radio Bacolod / 92.7 EC Maximum Music Autority / 943 HTfm Bacolod Live it up! / 95.5 Star-fm Bacolod / 96.7 W-Rock Bacolod / 97.9 Hot-fm Bacolod / 99.1 DYBM Crossover Bacolod / 99.9 FjFM The Hive Bacolod / 101.5 OO for life Bacolod / Jamie@Rhythms 102.3 Bacolod / 103.1 Radio103 Bacolod / 103.9 Mellow Touch Bacolod / 105.5 Yes-fm Bacolod / 106.3 KillerBee Bacolod / Campus Radio 107.1 Bacolod Kung fu fanatics take note: Through subsidiary Celestial Pictures, ASTRO has all rights to the collection of 760 movies produced by Shaw Brothers (Shaw Studios) from the 1950s through the 1990s. These films have never been exploited beyond their initial theatrical release (they got a bit of a running at Garnet Mae's house down in Sydney during the rayon year of 1996, and have proven popular in the skate circles and more recently in Hollywood.)

My Dream TV is a company based in The Philippines but with subscribers across Asia, including Malaysia.
c a b l e + t v

Region III (Gitnang Luzon) [baguhin] Aurora TV-5 Baler (GMA Network) TV-22 Baler (Amcara Broadcasting Network) [baguhin] Bulacan TV-34 (Amcara Broadcasting Network) [baguhin] Nueva Ecija DWCN-TV 3 Cabanatuan (ABS-CBN Broadcasting Corporarion) TV-30 Cabanatuan (Amcara Broadcasting Corporation) [baguhin] Pampanga DWCL-TV 12 (Manila Broadcasting Company) DWIN-TV 46 (Amcara Broadcasting Network) [baguhin] Tarlac Sonshine TV-30 (ACQ-Kingdom Broadcasting Network) DWTC-TV 34 (Amcara Broadcasting Network) [baguhin] Zambales DWIB-TV 5 Iba, Zambales (GMA Network) DWNS-TV 10 Olongapo (GMA Network) DWZT-TV 12 Olongapo (ABS-CBN Broadcasting Corporation) DZZA-TV 13 Botolan, Zambales (ABS-CBN Broadcasting Corporation) DWSB-TV 22 Olongapo (Subic Broadcasting Corporation) DWAM-TV 23 Olongapo (Amcara Broadcasting Network) DZEA-TV 24 Botolan, Zambales (Amcara Broadcasting Network) DZMZ-TV 13 Masinloc,Zambales (ABS-CBN Dagupan/ABS-CBN Broadcasting Network) [baguhin] Region IV-A (CALABARZON) [baguhin] Batangas DWNI-TV 6 (Conamor Broadcasting System) DZAD-TV 10 (ABS-CBN Broadcasting Corporation) DWAI-TV 12 (GMA Network) DWJR-TV 36 (Amcara Broadcasting Network) TV-48 Lipa (Amcara Broadcasting Network) [baguhin] Laguna TV-36 San Pablo (Amcara Broadcasting Network) [baguhin] Quezon Province DWWK-TV 3 Lucena (Manila Broadcasting Company) DWPP-TV 8 Lucena (Conamor Broadcasting System) TV-24 (Amcara Broadcasting Network) Sonshine TV-28 (ACQ-Kingdom Broadcasting Network) [baguhin] Rizal Province TV-40 Antipolo (Amcara Broadcasting Network) [baguhin] Region IV-B (MIMAROPA) [baguhin] Mindoro DWZR-TV 13 San Jose, Occidental Mindoro (GMA Network) Sonshine-TV 42 Calapan (ACQ-Kingdom Broadcasting Network) [baguhin] Palawan DYAZ-TV 2 Puerto Princesa (AZ Communications Network) DYGS-TV 4 Puerto Princesa (National Broadcasting Network) DYAA-TV 6 Brooke's Point, Palawan (GMA Network) DYPR-TV 7 Puerto Princesa (Palawan Broadcasting Corporation) DWRF-TV 8 Coron, Palawan (GMA Network) DYPU-TV 12 Puerto Princesa (GMA Network) TV-23 Puerto Princesa (Amcara Broadcasting Network) Sonshine-TV 35 (ACQ-Kingdom Broadcasting Network)
t v + s e r i e s

SOME OF THE COMMENTS YOU MIGHT PICK UP IN THE TAGALOG SPEAKING BLOGOSPHERE AT THE MOMENT MIGHT INCLUDE: "i just finished Supernatural season 3... panalo talaga. looking forward to season 4." / "nagsimula ako Bones season 3 kaya ako natulog madaling araw after ng mng4. ahahahaha." / "tapos hinihintay ko yung Heroes... kakabitin last season kase. pft."

Moymoy Palaboy, Superstar.
Writes Pocholo Concepcion, from the Philippine Daily Inquirer:
"The latest YouTube sensation is not a singer in the usual sense, but two Pinoy lip-synching siblings, whose uproarious antics have earned them fans worldwide, including Peter Cetera of the famous 1970s group, Chicago.
"The novelty music video act that is Moymoy Palaboy debuted on the Internet in February 2007, purely on a whim. 'Trip lang, gusto lang naming makita sarili namin sa YouTube,' says James Ronald Obeso, a.k.a. Moymoy.
"Since then, it has a garnered a total of 7.12 million hits for 22 uploaded videos.
"Shy bro, not!
"At first, James had difficulty convincing Rofil, his younger brother, who was very shy. But when Rofil finally said yes, deciding to wear a bushy wig to hide his identity, the act proved to be a rib-tickling bombshell waiting to explode.
"Using a Sony Ericsson W810i cell phone with a 2-megapixel camera ¡¦ and with Rofil editing the footage on an HP laptop ¡¦ the first Moymoy Palaboy video, 'N Sync's Dirty Pop, featured only James.
"Response to the next videos was phenomenal. Netizens couldn't resist the way the boys put a twist to lip-synching, a refreshing update on the art of theatrical spoof. Giving their work a natural, raw appeal was the fact that the video was shot in austere surroundings, the cramped living room of their Pasay City apartment, with their aunt (Mama Auntie) casually wandering in and out of the frame.
"So far, the most-watched Moymoy video is the brothers' versions of the Spice Girls' Wannabe currently with more than 2 million hits. The rest are not far behind, viewed by the hundreds of thousands. Rofil says they have upgraded from camera phone to a Nokia N73; and that he now edits on a new Acer laptop.
"James notes that there are currently 7,400 subscribers to Moymoy's YouTube account; these are the ones who spread the word. But who really are the guys behind Momoy Palaboy?
"James, who turns 25 on July 17, was the male lead vocalist in a cover band, Passionista, which regularly performs here and abroad. James has been to Japan and Malaysia with the band, which is due to leave next week for a stint in Singapore. He opted not to join this time around, because Moymoy Palaboy has just been offered two hot gigs on cable and free TV.
Born in the late 19th century, Lupin is a gentleman thief, a master of disguise, and an amateur detective. While operating on the wrong side of the law, he is still a force for good. Those whom Lupin defeats are worse villains than he. Other characters in the stories include Lupin's faithful accomplice Grognard and his lawman adversary Inspector Justin Ganimard. In some stories Lupin faces Arthur Conan Doyle's Sherlock Holmes (called "Herlock Sholmès" for copyright reasons).

Minor Eagle Broadcasting Corporation (Net 25) Progressive Broadcasting Corporation (UNTV 37) Rajah Broadcasting Network (RJTV) Radio Mindanao Network (RMN) ZOE Broadcasting Network (UniversiTV).

TeleVision (QTV)) is a TV Network and a sister station of GMA Network, Inc. The network was formed after GMA Network leased the entire airtime block of ZOE Broadcasting Network flagship station DZOE-TV 11, after Citynet Television was closed in 2001. This stations studios are located at the 22/F Strata 2000 Bldg., F. Ortigas Jr. Ave., Ortigas Center, Pasig City. And at the GMA Network Center, EDSA cor. Timog Ave., Diliman, Quezon City.
Q's programming lineup features popular American dramas, and other lifestyle programming.

With the cultural fervor sweeping the regions, one could only be reminded that the Philippines -- amidst the institutionalized belief that this archipelago only speaks Tagalog as its language while the rest are mere "dialects" -- is, indeed, a diverse country, and that its diversity is bound to extend even to the field of TV dramas.
"Take for example the Kapampangans, the latest Filipino ethnolinguistic group to enter the field of teleserye production. This August, which is considered the Language Month, a Kapampangan cable channel (Infomax-8) and a creative pool of Kapampangan youth (Kalalangan Kamaru) will be launching Kálam, the first ever Kapampanganovela -- the term introduced to refer to kabalen-produced TV dramas -- in Philippine broadcasting history.
"Like other Philippine regional communities, Kapampangans possess a rich and colorful collection of folklore. Apart from the usual laman labuad (laman lupa for the Tagalogs), Kapampangans have a diverse world of folk healers and sorcerers.
"Aside from the popular mangkukulam and mambabarang, there is the magkukusim, who can project his soul from his body to bewitch people across distances; the katulunan, who can channel the spirits of various living creatures; the uple, illusion makers; the ustuang, powerful witches that can make their bodies explode and incinerate the surroundings, and many other strange, magical characters that continuously add color to our local culture, but are sadly being forgotten and replaced by foreign monsters like the Bogeyman, Big Foot, and the Loch Ness Monster.
"However, in Kálam (a Kapampangan word for "grace" or "gift") instead of portraying these magical characters in their conventional barrio setting, they will be portrayed in the modern, urban world, dissolving the gap between science and superstition, technology and magic, and the traditional and the modern. Imagine mangkukulam, ustuang, and mangguguna (potion chemist and charms maker) living with us in the city as seemingly normal people who dress up like us, listen to the same songs we patronize, watch the latest concerts, keep Friendster accounts, occupy seats in the government, and occupy jobs in call centers and malls.
"This is the universe of Kálam where contemporary drama meets folkloric fantasy..."

Returning to the aforementioned Balik Bayan Box -- that happens to be the name of a popular drama released in 2007. If you want to view part 2 of it on YouTube, click here. You will find all the other parts linked to that on YouTube. As the New York Times wrote of the film: "Children of Filipino workers who have gone overseas in search of employment struggle to survive in this drama from filmmaker Mes De Guzman. Ilyong, Jun-jun and Moymoy are three young boys living in the rural Philippines. Middle East, Hong Kong or Japan in search of jobs that are hard to come by at home. Most OFW's support their families by sending home "Balikbayan boxes," parcels containing cash and presents that have been designed with Filipino shipping regulations in mind. But the boys have learned that a Balikbayan box is a poor substitute for a mother and father, and that despite their parents' good intentions, getting by on what they're sent is difficult if not impossible. Just as the youngsters suffer in the absence of their parents, their folks discover that the fortune they imagined would be found elsewhere proves to be elusive at best..."

TV9 is a Malaysian private-owned television station which started transmission on April 22, 2006. This free-to-air television station is owned fully by Media Prima Berhad. Despite its focus mainly on Malay programming (for example Pak Pandir Moden, episode 10 of which you can watch online here, Pendekah 5, and so on), the station also airs Chinese movies (with Malay subtitles) and Japanese series (dubbed in Malay) programmes on a weekly basis.

"Rofil, 22, describes himself as 'a nerd, the researcher' who loves to play computer games and tinker with electronic gadgets.

---

UNCLONED WORLD
Contact us by email: coderot@gmail.com
phone: (090) 6039-9341 (JAPAN)