---
RELATED POSTS
Akihabara Maid Cafes, Japan
» Australian Girls
Đà Lạt City of Love, Vietnam
» Dating Indian Girls
» Doing Time in a Japanese Detention Centre
» Filipina Girls
» Gay Scene on Bali
» Japanese Girls in Bangkok
» Japanese Girls in Cairns
» Kuala Lumpur, Malaysia's Unlikely Capital of Sin
» Malaysian Girls
» Vietnam Girls
---
Asian Enclaves in Australia

Eastwood, a Chinese and Korean Enclave in the Northern Suburbs of Sydney, New South Wales!
---
Attractions in Asia
---
---
---
Expeditions from Cairns
Cape York Birding, Far North Queensland, Australia
---
Chinese Temple in Innisfail, on the Way to Mission Beach
---
Recommended Websites
» China Geeks (Analysis and Translation of Modern China)
---

CAIRNS IN Far North Queensland is one of the most popular foreign holiday destinations for Japanese people, and on every day of the week you can beautiful (and, sometimes, not so beautiful) young Asian women milling around the streets, cafes, fashion shops and department stores. Some of these girls will be with their husbands of boyfriends, yet many of them appear single, either alone or with their female travelling partners, or their mothers and fathers! This site is devoted to finding and meeting Japanese girls in Cairns, though truth be told, I haven't had much luck following my own methods to date! A small disclaimer: From 2000 to 2011 I lived in Tokyo, Japan, where I developed a none too subtle infatuation for the Oriental women. I had a few girlfriends when I was there, some more serious than others. I thought I was going to get married, at one point (but Fate had other ideas). Later on I had a girlfriend in Vietnam and I thought I would get married to her, too. Not that marriage has ever been a priority to me; it has been a priority to them (the girls), never to me. I just went along with the fantasy. For a couple of years I lived a strange fragmented existence: I worked in Tokyo teaching English and saving money for a few months, before flying down to Ho Chi Minh City for a week or two of tropical romance with my girl. It was fun for a while, but the loneliness started to drag, and even I could see that long distance relationships never make it long term. If N. and I wanted to take it to the next level, I had to make a move, to the Socialist Republic. Besides, I was sick of Japan anyway! At the end of 2010 I make a decision: I was leaving the country! To help get me into shape for a new life in Vietnam, physically, mentally, and financially, my Mum convinced me to make a detour to Australia, my homeland. I booked a ticket on JetStar back to Sydney, leaving at the end of May 2011, and stopping at Coolangatta for a few hours in the morning. I started preparing to leave. Then one day in March on my way to work in Tokyo, the ground started rocking and rolling, rattling and heaving, and I knew things would never be the same. The Big One I had always feared was here, just two months before I was due to depart. Talk about lousy timing!
There were something like 150 aftershocks that crazy night, thousands of people lying dead in the cold waters up north, and when I heard about the meltdown in Fukushima the next afternoon at work, I began to feel as if I was living in some kind of disaster movie. Who the hell has to deal with an M9.0 earthquake, tsunami and a nuclear accident, all at the same time? The shelves at 7-11 and the supermarkets were rapidly running bare, this was the real deal. Everyone was stocking up on water and other essential supplies. It occurred to me that evac might be the best form of attack. A few days later my American buddy Jim told me he was leaving the country for a while, and I decided to follow suit. I rebooked my Jetstar flight. After 10 years, my life in Japan was coming to an end. What an appropriate way for it to end: with an earthquake!


IN MY original booking I was supposed to stop in Coolangatta on the way home; with this new booking I would be transiting at Cairns instead, which excited me, since I had never visited the city before. It was only supposed to be an hour long layover or something, so I wouldn't be able to see anything anyway, but whatever... I'll take what I can get. As it was, the Tohoku disaster necessitated a change to the flight schedule: since Jetstar didn't want their staff sleeping overnight at Narita (Tokyo's airport), we had to fly over to Osaka to drop off one of their crews. I got to Narita about nine hours ahead of departure time, such was my haste. All afternoon, the aftershocks kept coming. Half an hour before I was due to board my plane, I was up in a bar having a beer when there was this huge crash!, as if a truck had rammed into the building. The tables were spinning around as if the floor was made of jelly; it was a Magnitude 6.something aftershock! There were some Aussie kids in the bar, looking kind of perturbed. A few minutes later, there was an aftershock of the aftershock. They could well be the last earthquakes I ever feel... we'll see!


IF YOU haven't been to Cairns but want to hook up with chicks there or make connections, there are plenty of ways of doing so online. You could make friends before going on Australian Pen Pals... there are always Japanese girls and women coming to Australia to learn English and make "international" friends. You have to pay to be able to make full use of this site.

SEE WHAT it is like, before you get here. I am looking at Google Streetview and I can see a Japanese restaurant at what the computer says is 34 Lake Street, but it is on the intersection. Across the road, there is a Filipino cafe and restaurant (Jambo Mi Amigo) with a sushi place next door promising cold drinks from AUS$1.60. And right next to that is a place called Dondoko and Seoul Express. All would be great places to meet Japanese women on working holidays! Just past a real estate agent or something, there is a Korean supermarket called Damoa Mart (or something like that), with pictures of dancing ginseng roots on the shopfront. I fell in love with Korean supermarkets when I was living in Tokyo, so perhaps I could hit up this place as well, when I am cruising in Cairns next time!

USE SOCIAL media like Twitter and Facebook. Trends Map shows you what people are currently talking about anywhere in the world, including Cairns (or Townsville, or Port Douglas for that matter.) The day that I last checked up (August 13 2011) everyone was talking about timeOUT Day In The Park (#timeoutditp), a big music festival. A pity I was a week too early. Anyway, that's what people in Cairns are talking about today; to see what people are saying about Cairns, Twitter Search is your tool. I might have been out of time for timeOUT, but Twitter has thrown up a new possibility: the Cairns Indigenous Art Fair starting August 19, the day I arrive up far north with my Pa.

Something I can work on when I am in Cairns!


These days there are a lot of Chinese and Korean tourists heading to Cairns and to the novice, it can be hard telling them apart, especially since Korean and Japanese sounds a little same (the same rythym, in my opinion). However, there are a few giveaways. If you have a chance, look closely at the shoulders... practically every Japanese I have ever seen has small dimples on either arm from the injections they got as kids at school. For some particular reason Japanese women love Australian ugg boots although they are unlikely to be wearing them in Queensland's tropical heat. Still, Japanese are conspicuous by the heavy clothes they wear even on the hottest day. Accommodation in Cairns for AUS$130 per week!.

Considered Cairns premier salsa dance venue, Casa de Meze is a meeting point for everyone ready to dance the night away to the Latin rhythms. But not only those who are talented in the art of dancing are welcome to Casa de Meze. If you are keen to learn how to move to the sounds of Salsa music, there are free Salsa lessons every Saturday night, and best of all, no partner is required. Casa de Meze also offers a karaoke night and Dj Sunny is their featured dj. Casa de Meze is open seven days a week, from 5pm till late. Score a free bottle of wine just for signing up to Casa de Meze's mailing list. Click here... In late night noodle restaurants, white guys could be seen with their Japanese girlfriends. Staggering home past the quaint and weatherbeaten Queenslanders, while the cars zipped down the Bruce Highway to Townsville, 430km south, I really started feeling alive. I thought to myself: What a cool place to live this would be!.

A HUNCH
HAVE YOU ever had a suspicion which grows gradually into a hunch, nagging away in the back of your mind, like a sense that things are not quite what they seem? Have been disenchanted to see some guy with an Asian beauty, not knowing she was just a Northern Belle? By Northern Belle I mean not a legitimate conquest, but rather a hired ride. Japanese working holiday makers can be found working at tourist facilities around the city. For example, the ferry where cruise ships depart for green island and the reefs, and the strange rainforest dome on top of the casino.


Japanese girl killed in Cairns: read here.

Abbott Street: Omiyage Suupaamaaket (Souvenir Shop): Bound to be hotties working there. Up the road, the Louis Vuitton store... always a magnet for beautiful and fashionable Japanese women. The Asian food court on the Esplanade... say no more! On the Esplanade, Murri families wait for the bus in front of Cairns Base Hospital. Bats hang from the tropical trees, squawking. Centre of Contemporary Arts (CoCA), Jute, Kick Arts (on Abbott Street). It was rather quiet at first but as the night sway its way, more and more people and it was so packed by midnight, it was as if we're at some rave party.

The Night Market, and Orchid Plaza.

Global Gossip Noticeboard: Central World Plaza.
From my travels in the top end of Australia logging into public computers at hotels and resorts and so on, I got to know Global Gossip well. It is kind of like Thorntree from Lonely Planet, or a public noticeboard in a university dorm: a place where travellers can find each other, pubs and clubs can advertise their Happy Hours, or post wanted ads for exotic dancers (both male and female). If you walk around Cairns (particularly the area around the Japanese restaurants above the Blue Sky Brewery, for example) you can see oldstyle bulletin boards with signs written totally in Japanese. If you can read Japanese, these can provide some valuable intell. This month's exhibtion is by fvarious famous people in creative fields, such as "Pen-ek", the director of Last Life in the Universe..."


Orchid Plaza: Abbott Street.


On Abbott Street near the casino there is a shopping mall packed with Japanese restaurants (sushi, ramen, the works), Japanese travel agencies like HIS, beauty salons where Japanese girls train the hair of their Aboriginal sisters, and so on. It is a like a little piece of Tokyo dropped into the tropical bush. Japanese girls sit around the small food court downstairs, slurping cold drinks. With its ramen restaurants.



Barrier Reef Hotel: Near the waterfront.

There are plenty of good Japanese shops, including fashion outlets, in town.

HOMESTAYS
Upstairs from the Blue Sky Brewery in central Cairns, next to the Japanese restaurants there, I found an old school noticeboard plastered with sheets of A4 paper, some of them written in Japanese, advertising things like homestays and part-time jobs and the like.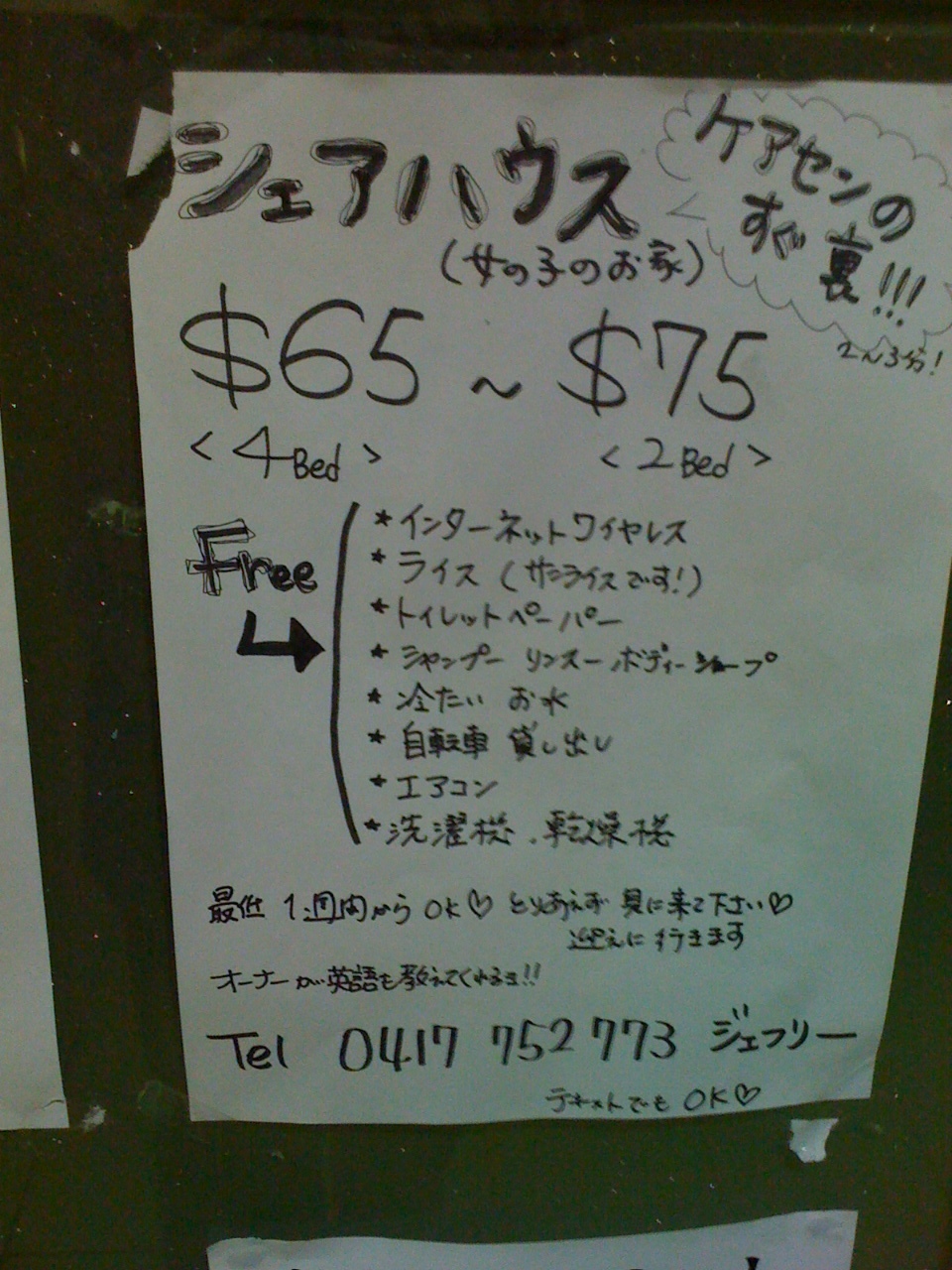 I HAD a cousin working up in Port Douglas; she was a massage consultant at an eco resort. Actually it was more like Mossman, on the way to Cape Tribulation... a nice part of the world.


English Girls on Cape York Peninsula: A Traveller's Tale.
I've got to let go of my obsessions with Japanese girls. I realised this fact this week (mid September 2011) after a bumpy, beautiful ride up the dirt roads of Cape York Peninsula, all the way to Moreton Station. There are not many people in this strange land, where farms are the size of principalities, and households have their own airstrips. There are a number of small towns, however, as well as the occasional roadhouse, camping ground, or old telegraph station converted into a camping ground. It is hard convincing Australians to work at these outposts, so the owners hire backpackers instead. Of these, many of them seem to be English girls. It is a strange feeling, after hours bumping along corrugated roads, to arrive at a redneck roadhouse and find a Pommy princess there. They look so out of place, amongst the hamburger-scoffing truckdrivers and squabbling Aborigines. I think it kind of unfair, that those tough old stockhands and miners get such eye candy (and potentially more, if they play their cards right). I never thought that Outback Australia would be a prime place to pick up, but this trip has enlightened me. For starters, the backpacker girls out there don't have much company, so they're lonely. Don't get me wrong, they seem to like it there, they wanted to have their back of beyond adventure, but they are also young and up for it. The next time I have some time to kill in Darwin or Weipa, I am going to go looking for the European girls.
---

CROWDED WORLD
Contact us by email: coderot@gmail.com
phone: (090) 6039-9341 (JAPAN)
---