+ - + - + - + - + -
Akihabara Maids, Tokyo, Japan
---
» Be Wary of Travel Club Scams
» Beijing Capital Airport
» Budget Flights and No Frills Airliners in East & South East Asia
» Budget Flights to Malaysia
Cairns Tropical Wonderland, Queensland, Australia
---
» Cheap Flights and Travel Packages in India
» In Transit at Narita Airport in Japan? Head Up the Coast to Choshi Fishing Port!
» Kuala Lumpur International Airport
» Singapore's Changi Airport Guide
» Star Alliance
» Suvarnabhumi Airport
advertise on this site - air do (japan) - air asia (malaysia) - archives - budget flights in china - cape york airstrips (australia) - hire me - latest news - peach aviation - privacy policy - solar air (thailand)

Monday, January 16, 2012 Cattle Station Hopping, in Cape York Peninsula, Queensland
---
Fleeing Disaster, I Discover Paradise in Far North Queensland
IT WAS A STRANGE AND SURPRISING END TO THE WEEK I BECAME A NUCLEAR REFUGEE. Fleeing my Japanese home of 10 years yesterday after it had been hit with its epic earthquake/tsunami/nuclear meltdown disaster in March 2011, I finally got to enjoy my first longhaul budget flight. It had been an anxious week in Tokyo indeed prior to my escape: constant aftershocks and radioactive spikes, a run of goods in the supermarkets and convenience stores. I hadn't been able to sleep more than a couple of hours a night, and my appetite was just as depleted as my mood. This was my first natural disaster, and I wasn't enjoying it at all. I wanted out. With the help of my Mum I snared a seat out on JetStar, that budget Aussie champion. The flight was due to depart Narita Airport yesterday and fly to Sydney via Cairns. I was scheduled to spend a few hours here, in this popular North Queensland resort, from 5am to around 9am the following morn. I might have caught the sunrise if I was lucky. However, the aftershocks and nuclear meltdown fears in Japan necessitated a change to the flight plan, and I received an even luckier break. On the way home we dumped our cabin crew at Kansai Airport, safe from the crisis in eastern Japan, and picked up a new crew. It was my first visit to Kansai and I thought it looked kind of cool from the air, built as it is on an artifical island off the shore of Kobe and Osaka and connected to the mainland by causeway. We had to wait about two hours on the tarmac while a new crew came on board, but I was just happy to be away from Tokyo... at least there weren't any aftershocks here! Eventually we were off on the long leg south, but all this mucking about had put us four hours behind schedule. By the time we sailed down into Cairns International Airport it was about 8.30am. The sun was already up and doing its thing, burning through the humidity. The view on landing, suffice to say, was amazing. It was the perfect balm to a week spent in disaster-stricken Japan. I didn't care how late I was.

Thanks to the 4-hour delay in Japan and the long, long outdoor walkway connecting the international and domestic terminals in Cairns, I missed my morning connection to Sydney. This might have been bad news for my Mum and Dad down on the NSW Central Coast who were dying to meet me, but it was an opportunity for me. In the spirit of One Mile at a Time, I scented freebies. Unlike the bearded guys in the queue behind me, who had missed their flights out of general tardiness, I had a valid excuse... the Great Tohoku Earthquake. To be fair, I had kind of ambled my way along the long walkway from the international to domestic terminals, weighed down by my luggage, and ogling at all the flowers. I suppose if I had run, I would have made it, but I was now on tropical time. I didn't care if I was late! By the time I made it to departures and waited in line for my serve, the plane was already out on the runway. D'oh! I hadn't slept properly in at least a week, due to all the aftershocks and radiation fears in Tokyo, and I hadn't really eaten either. But at least I was safe, on Australian soil, and in one of the most beautiful cities in the southern hemisphere. (For the full story, read here...)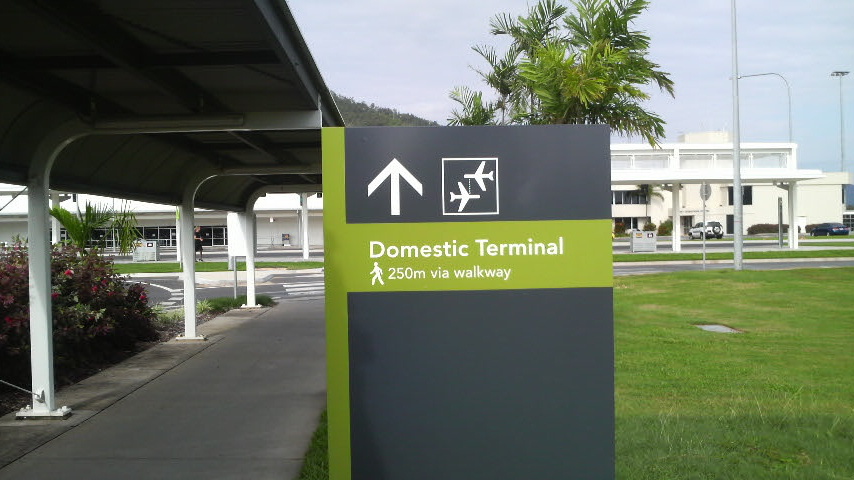 I SPEND A LOT OF TIME IN THE SKIES ABOVE SOUTH-EAST AND EAST ASIA THESE DAYS (AND HOPEFULLY FOR MANY DAYS TO COME), FLYING IN AND OUT OF PLACES LIKE BANGKOK, SINGAPORE, HANOI, TOKYO. I am not a rich man by any means so I have had to learn to how stretch my Star Alliance points, and I have had to learn how to find the cheap airline options which are out there. In April this year (2009) my folks headed out from Australia to visit me in Japan -- they flew JetStar. Once every three or four years I jet over to the stormy bays and postrock music scenes of Iceland -- Iceland Express is always my choice of carrier. You get to see some lovely views of the North Atlantic on that route. Of course, Iceland is not East Asia -- not by many stretch of the imagination. So returning to my target in this article, back to South East Asia -- there are tonnes of budget airlines based in countries like Thailand, Malaysia, Indonesia, all screaming out for your custom. Further up north, I discovered recently that there is a whole burgeoning budget airline industry in China which I didn't even know existed. In July 2005 China's first budget airline made its maiden flight, from Shanghai's Hongqiao Airport to Yantai in Shangdong.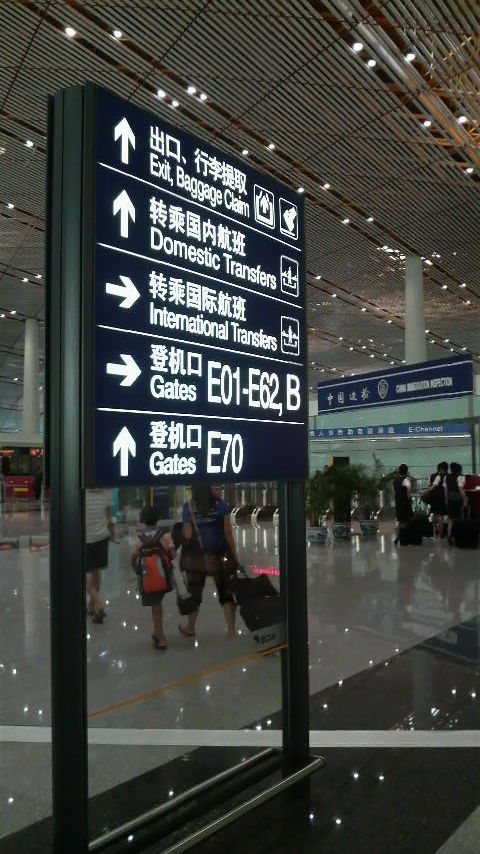 Air Asia: www.airasia.com/.
Air Asia is pretty much the star budget airline in the Far East these days. They have some ridiculous offers, such as Ho Chi Minh City to Jakarta flights from US$25 all inclusive. When they are in progress the free seats campaigns are a blast, and represent one step in the direction of totally free travel (my pet dream!) The last time one of these campaigns were in force, there were free flights going from Jakarta to Bali, provided you are willing and able to fly on the 11th of February/March/April/May 2011. Even when the tickets aren't free, a one-way flight from Jakarta to Yogyakarta will cost only 182,000 Rupiahs (US$20) after tax. A return ticket from Kuala Lumpur to Chennai, Tamil Nadu, seems to cost US$160. Why is Air Asia so cheap? For one thing, they don't charge a fuel surcharge? Based in Malaysia, this airline reaches many destinations in the peninsula, Borneo and beyond. (There is even a flight linking Kuala Lumpur and London.) A daily service to Rangoon has been introduced. The only problem is, they don't serve alcohol on board.




Air-Do: www.airdo.jp/ap/index.html.


Based in Hokkaido, the sometimes snowy north island of Japan, this airline is probably pronounced Airdou (to rhyme with judo, aikido, etc). This is the art of flying, north Japan style. While most of Air-Do's origins and destinations are clustered in Hokkaido, some Honshu cities are also covered (for example, Sendai, Niigata, Fukushima.) If you spend any time in the Tokyo or Yokohama subways, you might see Air-Do ads. As is usually the case in Japan, flights can be booked no more than three months in advance. One-way flights from Tokyo to Sapporo seem to be going for around 10,000 Yen.
It was a surprise for me to discover, during my travels in Hokkaido in 2011, that this northern island is studded with airports. They arise abruptly out of the beech forests and fog as you glide by in your train, on your way to some onsen or wild crane park. The main airports in Hokkaido are at Shin-Chitose (serving Sapporo), Hakodate, Asahikawa (just up the road from the beautiful village of Biei, Tokachi Obihiro, and Memanbetsu.

Air India Express: http://www.airindiaexpress.in/FreeREZ/ADS_WEB/TA/Home.aspx.
Connects India with the Gulf, which is of course home to many Indian guest workers, as well as Sri Lanka, Bangladesh, Singapore and Thailand. A one-way flight from Mangalore to Kuwait might cost about 10,000 Idian Rupees (or 175 Euros), depending on when you want to travel. For safety freaks, this airline has a record: Air India suffered an accident in Mangalore in 2010. Passengers died.




Bangkok Airways: www.bangkokair.com.
This is known as south east Asia's "boutique airline" and offers flight between the big Thai centers and cities in Cambodia, Burma, China, Japan (Hiroshima and Fukuoka) and The Maldives.
If you are worried about the environmental effects of your travelling, consider this: earlier this year (2006) Bangkok Airways donated 100,000 Baht towards the elimination of a beetle which threatens the coconut trees in a vast area on Samui Island. Samui is of course one of the airline's most popular destinations.

Some Bangkok Airways specials listed last time I checked included Bangkok to Samui (2000 Baht), Bangkok to Luang Prabang (4000 Baht) and Bangkok to Yangon (2000 Baht.) If you really need to get into Yangon from Bangkok and don't have enough money for a mainstream airliner ticket, then Bangkok Airways might be your solution.

Alas, paying for online tickets with American Express is currently (May 2010) unavailable.

Chang An Airlines: www.changan-air.com.
Some three or four times a year I like to get down to Vietnam and since money is always tight, I like to fly the cheapest option. At the moment (August 2009) that is Air China, and with the reduction of the fuel surcharge in Japan you can get from Tokyo to Ho Chi Minh City for about 60,000 Yen (or US$600). Now of course Air China is not officially a "budget airline" although it is certainly "low frills". You won't find much in the way of entertainment on board, and the domestic flights are none too comfy. It's enough to make you want to pull out your Star Alliance gold member card and scream for an upgrade to first class! Nonetheless, if you want things even more basic there are a raft of authentic Chinese budget choices which can carry you to your destination. According to Wikipedia there are nine of them, with eloquent names such as United Eagle Airlines, Okay Airways and Deer Jet. Another one of them is called Chang An Airlines. Established in 1992, the airline operates out of the Xianyang International Airport in Xi'an, Shaanxi. Xi'an means "west safe" in Chinese, and is of course a popular and monumental tourist attraction for its ancient treasures. The ideogram an ("safe"/"safety") also features in the name of Chang An, which might help reassure you if you are cruising with them through the Chinese skies. According to China Airline Travel Chang An (also written Chang'An) Airlines connects Xi'an with most parts of China including Haikou down there on Hainan island in the tropical south, Urumqi in the wild west, Harbin in the cold north and Shanghai in the moneymaking east.
Booking internal flights in China is a difficult task for foreigners I think -- we need all the help we can get! If you want a list of all the airport codes in China, click here.




Firefly Airline: www.fireflyz.com.my/.
Malaysia really is the heart of budget airline travel in Asia. Malaysian budget airline.

Go Air: www.goair.in/.
Based in Mumbai, India. A one-way ticket from Mumbai to Ahmedabad can be had for about 2,078 Rupees (around 4000 Japanese Yen.) Mumbai-Jaipur costs round about the same.




Goma Air: gomaair.com/.
This is a new budget airline serving remote parts of Nepal, which is arguably one of the remotest countries in the world. It is also a spectacular place to fly if you have the chance, and it seems that propellors are the way to go (this is my Tintin-inspired fantasy at least!) Routes Online reported this month (February 2011): "Goma Air has taken delivery of the first of two Cessna Caravans, which it will use to inaugurate domestic flights to some remote western districts of Nepal. The 14-seat aircraft will be based at Surkhet and will fly to five destinations in the hilly locality, comprising Jumla, Mugu, Humla, Bajhang, and Bajura."

HK Express: www.hkexpress.com/en-hk/.
New budget airline in Hong Kong.

Jetstar Pacific Vietnam: http://www.jetstar.com/vn/vi/index.html.
If there ever was a market crying out for budget air travel, it would have to be Vietnam. Folks here don't have a lot of money for flights, but it is one long long country, and road/rail travel can be torturous and slow. On my last trip to the socialist republic with my Mum and Dad and their friends, we made our way from Ho Chi Minh City to the capital Hanoi by road. Time expended: Three non-consecutive nights in a "bed bus", a new concept in Vietnam which is kind of like a soft sleeper on the asphalt with bunks instead of seats -- a neat idea unfortunately undone by all the potholes and suicidal driving. My Dad's friend "Uncle" Phil compared it to riding a Bronco -- to me it felt like being in one of those toboggan teams in the Winter Olympics, sliding feetfirst towards a certain death. We made a couple of stops on the way, such as as the beautiful Vinpearl Resort, off Nha Trang. Cost: $50 for the open ticket. Since we were all short of time, we returned to Ho Chi Minh by air, ending up on a Jetstar Pacific flight (codeshared with Vietnam Airlines, and in a Vietnam Airlines plane.) Time: It could have only been an hour in the air, plus a couple of hours stuck in Hanoi's hokey, pokey airport. Cost: I am not totally sure but it seemed to be about $150 a person. There was a mad stampede for the aisle once we landed, but this is par for the course in Vietnam. No complimentary food or drink on the flight, but that is par for the course in the budget airline industry.

Now when we were in that bed bus rattling and rolling up the coastline of Vietnam I spotted Jetstar offices in quite a few cities -- their shopfronts vivid blocks of orange behind the bikes and whirring palms. There was one in Nha Trang emerging from the art shops and seafood restaurants, and I saw another in Hanoi, and another one somewhere near the long golden beach of Danang. I might have seen one on the hot streets of Hue, near the Citadel, boldly proclaiming its presence. As it turns out, Jetstar also fly to Buon Me Thuot, Dalat, Haiphong and Vinh. From Vietnam you can fly to Siem Riep in Cambodia and Bangkok, and more international routes are in the pipeline. Jetstar Pacific is of course part of the Jetstar international group in Australia, and comprises remnants of the old Pacific Airlines. Go to Jetstar's Vietnamese website and you can find tickets for as low as US$12 (Ho Chi Minh City to Bangkok). Ditch the heavy luggage and you can get the cheaper flights.

For a Thai language insight into flying to (and fro) Vietnam, hit up hflight.




Lion Air: www.lionair.co.id/ .
Singapore to Vietnam for S$110 (about the cost of a night in a sleazy hotel in Geylang.) Lion Air is an Indonesian carrier and it flies to many obscure corners of the archipelago, for example Fak Fak (in Irian Jaya).

Mango Airlines: http://ww6.flymango.com/.
I know South Africa could hardly be considered Asian, but yet it is a bridge to Asia in a sense, a stepping stone from the Orient to the Occident. The interface makes it easy to search for the lowest weekly and monthly rates. About $100 for a one-way flight from Jo'berg to Cape Town.




Merpati Nusantara: www.merpati.co.id/.
A domestic carrier from Indonesia which has big aspirations, if its website is anything to go by, but also some rather pressing financial problems, and an ordinary safety record. Merpati Nusantara (the Dove of the Malay World) traces its lineage back to NV De Kroonduif, a Dutch airline which operated in Irian Jaya before that land was handed over Indonesia. It since developed as a kind of domestic counterpart to Garuda, Indonesia's international carrier, with a couple of overseas destinations complementing its home-grown mix. You can book flights online or even using your mobile phone (Mobile Online Reservation (MORE) adalah layanan unggulan Merpati Airlines yang memberikan kemudahan, kecepatan, dan kepastian kepada calon penumpang dalam melakukan pembukuan tempat duduk secara online - selama 24 jam - dengan menggunakan Short Messaging Service (SMS)).

As well as airports in East Timor, The Philippines and Kuala Lumpur, Merpati Nusantara serves the following Indonesian destinations (this list courtesy of Wikipedia): "Balikpapan (Sepinggan International Airport), Bandung (Husein Sastranegara International Airport), Banjarmasin (Syamsudin Noor Airport), Batam (Hang Nadim Airport), Biak (Frans Kaisiepo Airport), Bima, Cilacap (Tunggul Wulung Airport), Denpasar (Ngurah Rai International Airport), Jakarta (Soekarno-Hatta International Airport), Jayapura (Sentani Airport), Kendari (Wolter Monginsidi Airport), Kupang (El Tari Airport), Makassar (Hasanuddin International Airport), Malang (Abdul Rachman Saleh Airport), Manado (Sam Ratulangi International Airport), Manokwari (Rendani Airport), Mataram (Selaparang Airport), Maumere (Maumere Airport), Merauke (Mopah Airport), Medan (Polonia International Airport), Padang (Minangkabau International Airport), Palembang (Sultan Mahmud Badaruddin II Airport), Palu (Mutiara Airport), Pekanbaru (Sultan Syarif Kasim II International Airport), Sorong (Sorong Airport), Surabaya (Juanda International Airport), Tanjung Karang Waingapu (Waingapu Airport), Ujungpandang (Hasanuddin International Airport), and Yogyakarta (Adisucipto International Airport)."

I got the impression from my old yellow Bible The Lonely Planet South East Asia on a Shoestring printed back in the early 1990s, that they used to fly to Darwin in Australia at one point, but that no longer seems to be the case. Actually, it is kind of more complicated than that: Merpati Nusantara Airlines craft still operate in Australia, in particular western and northern Australia, but the flights have been chartered to a new budget outfit called AustAsia Airlines. As Bali Discovery Tours have written on their website, back in 2004: "AustAsia Airlines will soon connect people living in the Pilbara and Kimberly regions of Western Australia with Bali via a once weekly service operating every Friday.

"The flights will be operated with Boeing 737 aircraft chartered from Merpati Nusantara Airlines...

"AustAsia Airlines currently operates a once-weekly flight between Jakarta and Christmas Island. The Airline is considering rerouting its Christmas Island Flights to Bali with a timing to link with the new Western Australia service."

If you want to book your ticket on their website, you need a Visa or Mastercard credit card issued by an Indonesian bank.

I do know as a fact that Merpati Nusantara is banned from landing in Europe, due to safety concerns.

According to Fare Compare, Merpati Nusantara Airlines most popular hub airport is Hasanuddin, Ujung Pandang. The longest flight on Merpati Nusantara Airlines is 02:50 hours from Tembagapura to Ujung Pandang.

Read: State owned airlines Garuda International and Merpati Nusantara have narrowly escaped bankruptcy from mounting debt (March 2006.)
Merpati Catering and Inflight Meal Reviews (Updated Continuously).

Norwegian Air: www.norwegian.com/en/.
Recommended by none other than the irrepressible Runaway Leif Harum, so it must be good. Offers cheap flights from Norway to New York City and Thailand, as well as tonnes of destinations in Europe. The airline prides itself as being the third largest low cost airline in Europe.

Nok Air: www.nokair.co.th.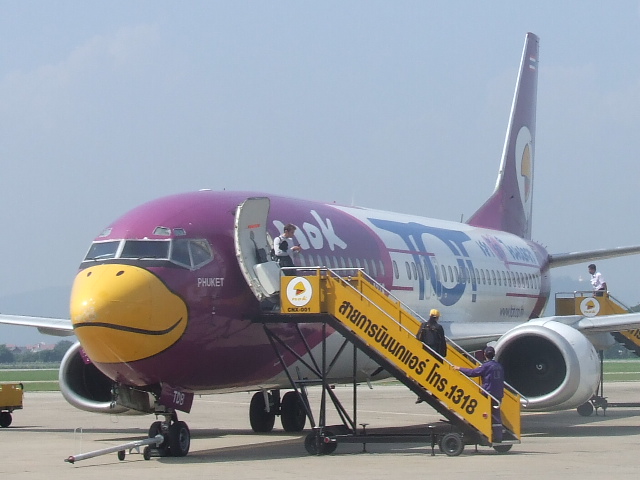 An airline with a cool name and a cool birdbeak like corporate logo. On top of the kooky Thai design, this airliner offers cheap fares and you can book for and pay for tickets online (in English and Thai.) Nok Air flies all over Thailand between Bangkok and the following regional centers: Chiang Mai, Hat Yai, Loei, Mae Hong Sorn, Nakhorn Si Thummarat, Phuket, Trang and Udon Thani. Udon Thani is billed as the gateway to Indochina, and I am hoping on hitting its streets and bars and bus station, in the calendar year of 2007.
How about for some passenger opinions of Nok Air: of its pleasures and pitfalls? Thai744 recently remarked: "Two weeks ago I had to head to Chiang Mai in Northern Thailand for business. Being a regular flyer on Thai, I decided to try Nok Air again as I hadn't flown them for over 2 years.
"I made the booking easily on the internet, and the total fare was about $40USD one-way between the two cities...
"The flight was delayed 30 minutes, and the aircraft was HS-TDB, (formerly operated by TG), named "Phuket", and sponsored inside-and-out by TOT (The Telecommuncations Authority of Thailand).
"Nok Air features "Nok Plus" which is the equivalent of TG's domestic business class seat, and includes a free newspaper and snack. Unfortunately when I booked Nok Plus was full, so I was in regular economy. (It's about an extra $20USD to go Nok Plus - a bargain!)
"The flight was 100% full, so I made my way to my aisle seat, half-way down the aircraft.
"As stated before, everything inside-and-out of the aircraft was sponsored by the TOT..."




Oasis Hong Kong Airlines.
This story from Cheap Flights (January 2006): "A new low-cost airline has announced plans to offer budget flights from London Gatwick to Hong Kong from June, Reuters reports.
"Although still awaiting clearance from the authorities, Oasis Hong Kong Airlines is set to become Hong Kong's first no-frills carrier and plans to offer British tourists some tempting deals.
"Run by a husband and wife team, the airline plans to undercut the fares charged by rivals flying between London and Hong Kong by 40 to 50 per cent.
"That would allow Oasis to offer return tickets between the two locations for as low as HK$1,000 (ˇ¦75).
"Oasis will operate only long-haul routes, something of a rarity for the low-cost flight industry.
"But the airline is convinced it can beat market incumbents such as Cathay Pacific Airways by keeping costs to a minimum..."

And from Wikipedia: "The airline currently only operates on two routes, from Hong Kong International Airport to London Gatwick and from Hong Kong International Airport to Vancouver International Airport. As of Jun 28, 2007, Oasis announced it expected to introduce a six-weekly service to Vancouver International Airport, the focus city of another low cost carrier Westjet, from June 28, 2007. The airline's press release which stated that "it's a market where there is substantially less reliance on feeder traffic" suggested nothing about the Westjet connectivity. It is also believed that the long-awaited Oakland service (near San Francisco) will soon come on line once the Vancouver service is established. Other routes are also planned.[10] Oasis is believed to commence service to Chicago and New York before reaching Washington DC.[11]."

One-Two-Go.
This is the latest news concerning the plane crash in Thailand, which killed both foreigners and Thai's:
From the Guardian Online: "Eighty eight people died, including a number of Britons, when a budget airliner carrying 130 passengers and crew crashed at Phuket airport in Thailand yesterday as it tried to land in torrential rain. At least eight British holidaymakers were among 42 survivors, though many of them were taken to hospital with burns.
"Passengers described how they scrambled over burning bodies in the panic to get out of the cabin after the McDonnell Douglas MD-82, operated by the Thai airline One-Two-Go, came down in heavy rain and cross winds, skidded on the runway, broke in two and burst into flames.
"Eighty eight people died, including a number of Britons, when a budget airliner carrying 130 passengers and crew crashed at Phuket airport in Thailand yesterday as it tried to land in torrential rain. At least eight British holidaymakers were among 42 survivors, though many of them were taken to hospital with burns.
"Passengers described how they scrambled over burning bodies in the panic to get out of the cabin after the McDonnell Douglas MD-82, operated by the Thai airline One-Two-Go, came down in heavy rain and cross winds, skidded on the runway, broke in two and burst into flames..."




Orient Thai Airlines.
This is in fact the parent company of One-Two Go, and has attracted plenty of heat since the crash at Phuket recently. According to one report from my former employer (News Corp in Australia): "Worries about the Thai carrier have been aired periodically as far back as 1997, when it was accused by the Thai Aviation Department of failing to keep clear flight records and conduct six-monthly emergency training sessions for its pilots.
"In the most recent case, Orient Thai was one of three low-cost carriers from Thailand singled out by the South Korean Ministry of Construction and Transport in March last year for their frequent delays and sub-standard safety measures.
"The ministry found 18 safety violations across the three carriers, including a failure by Orient Thai to update safety and operational regulation manuals. Safety equipment, such as fire extinguishers and oxygen tanks, were also not functioning correctly.
"Orient Thai came under the scrutiny of Japanese aviation officials after a 2004 incident in which one of its jumbo jets passed within 200m of the Tokyo Tower after it veered off course on approach to Haneda airport..."

Peach Aviation: http://www.flypeach.com/?lang=en.
A new and upcoming budget airline in Japan, owned by All Nippon Airways (ANA), and flying out of Kansai International Airport.

REX (Regional Express): http://www.regionalexpress.com.au/.


REX is not just an Austrian police dog, it is also the nickname of an Australian airline (Regional Express). As the name partly suggests, this airline serves regional Australia -- specifically the eastern states. I don't know if the prices are particularly budget, but if you need to get to the Riverina in a hurry from Sydney, for example, it is pretty much the only option. You can be in either Wagga Wagga or Narrandera-Leeton in an hour for AUS$126 if you manage to catch a hot fare.




Royal Air Maroc: http://www.royalairmaroc.com/.
Taken over Moroccan budget airliner Blue Atlas a few years ago. You can get flights from places like Marrakech to places like Essaouira for 724MAD.

Skymark Airlines: http://www.skymark.co.jp/ja/.
This is one bridge between Japan and mainland Asia. The website is viewable in Japanese, English, Chinese and Korean.

Solar Air: http://www.solarair.co.th/solar-aviation/default_en.aspx.
A new and upcoming regional airline in Thailand, with plenty of flights to the southern tourist hotspots of Koh Phangan and Koh Tao (via Chumpon). According to the Samui Express, the newspaper of Koh Samui, Solar Air has joined forces with ferry operator Lomprayah to offer fast but cheap combined air-and-sea transport service between Bangkok and the island.

Star Aviation.
Reported Aviation India in February 2009: "Chennai-based Star Aviation is to launch its operations in mid-April, providing air connectivity to tier-II cities mostly in south India. The airline, promoted by Dubai-based real-estate company ETA Star, is to take to the skies at a time when the domestic airline sector recorded a decline in passenger traffic of close to 5 per cent during calendar year 2008. Star Aviation was recently given permission by the Ministry of Civil Aviation to import three Embraer 170 LR aircraft to begin operations. During the first year, the airline plans to cover seven cities - Madurai, Visakhapatnam, Hyderabad, Ahmedabad, Bangalore, Kochi and Thiruvananthapuram - from its Chennai hub. By the third year of its operations, the airline plans to increase its reach to 50 cities across the country. rmitted to operate flights connecting the metros in north, east and western parts of the country.
"A spokesperson said that the company will be investing over $300 million in phases in the airline, and will offer 'same-day' return flights to cities where air traffic is thin. The airline will be a full-service carrier with a single-class configuration..."

Susi Air: .
Flies from Surong to Waisai, in the beautiful Raja Ampat islands.

Thai Air Asia: .
Wrote Thailand's Lost Boy on June 15, 2008: "I don't fly very often, but when I do, I choose my airline based on which one offers the cheapest ticket. One of the great things about living in Thailand is that it's inexpensive, quick and easy to fly from one end of the country to the other.
"The airline I fly with most is Thai Air Asia. The tickets are usually very cheap, although the further in advance you book, the less you pay. The Thai Air Asia website usually tries to add on a few extra charges without you noticing, such as insurance or queue jumping. Thai Air Asia recently introduced a baggage fee for checked-in bags. At the moment, it's 30 baht a bag. My only gripe with Thai Air Asia is that, in my experience, its flight are almost always delayed or cancelled. If you input a valid phone number when you buy your ticket, Thai Air Asia will SMS you if your flight is delayed. You can buy cup noodles and tiny sandwiches on flights, but you don't get much leg room.
"People are still worried about flying with One Two Go, but I think if you take that line of thought then you should not fly any budget airline. One Two Go is good because ticket prices are all-inclusive. The price you see on the website includes all tax and handling charges (minus a 100-baht airport tax), so you don't have to bother with trying to order a ticket and guessing what the final price will be..."

Tiger Airways: www.tigerairways.com.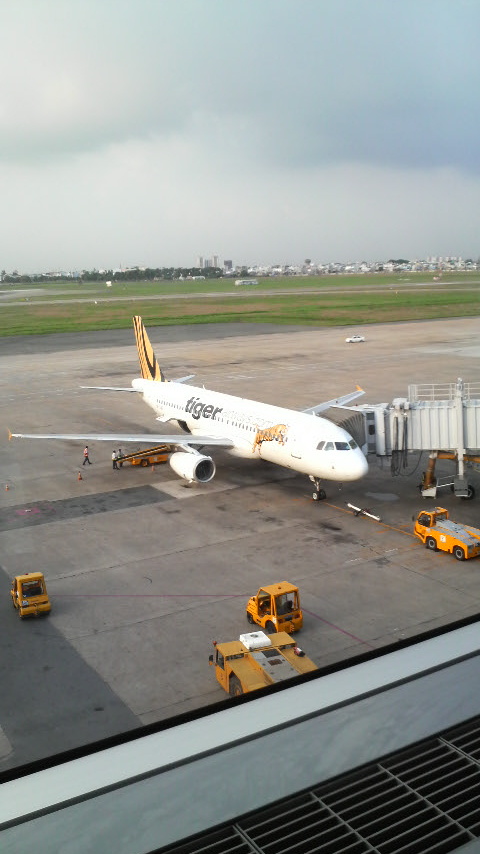 Established in December 2003, Tiger Airways took to the air on September 15, 2004 with the inauguration of service between Changi International Airport and Bangkok International Airport in Thailand. The airline now serves 15 cities around Asia with a fleet of six new Airbus A320 aircraft with more new destinations to come. Generally, the current destinations are within four hours air travel of Changi. Check the table of current destinations below:

Australia
Darwin
Darwin International Airport
China
Guangzhou
Guangzhou Bai Yun International Airport
Haikou
Haikou Mei Lan International Airport
Shenzhen
Shenzhen Bao An International Airport
Macau SAR
Macau
Macau International Airport
Thailand
Bangkok
Suvarnabhumi Airport
Chiang Mai
Chiang Mai International Airport
Hat Yai
Hat Yai International Airport
Krabi
Krabi Airport
Phuket
Phuket International Airport
NEW!
Starts 9 Jan 2007
Udon Thani
Udon Thani International Airport
Vietnam
Hanoi
Noi Bai International Airport
Ho Chi Minh City
Tan Son Nhat International Airport
Indonesia
Padang
Minangkabau International Airport
Philippines
Manila (Clark)
Diosdado Macapagal International Airport
Singapore
Singapore
Changi International Airport

And how about some passenger opinions? Joaquin Gonzales, flying the Hanoi-Singapore route, reported: "First time with Tiger Air. At the Hanoi airport, I was surprised by the "15kg/1 suitcase and 7kg/1 carry-on" rule (I was travelling for workd and had arrived in Hanoi on SQ) as I had a 20kg suitcase and 5 kg hand-carry. In the end, they let me on with a 17kg suitcase and 8 kg, which I think is rather silly and inflexible. Flight was delayed by over an hour due to late arrival. No announcements etc were made. On board, flight attendants were efficient, if rather inflexible. Announcements made in Singlish. Wierd accent. Almost unintelligible. Why don't they pronounce their words properly? Seats rather cramped. For a 3-hour flight, it would be uncomfortable. Luckily, the flight wasn't too full, so I had the whole row to myself. Pillows and blankets cost extra. However, when the person behind me finally asked for one at the end of the flight, she was told that inflight shopping had closed. On-board magazine was OK, if pitched a little too low. The lead article of the issue (#2) was about "Singles' Hotspots" in Asia. Looks like the airline is chasing after the Ryanair/Easyjet market of stag/hen parties. However, I am not sure if they have got it right. The passengers were a mix of Singaporeans returning from a short-break and Vietnamese travelling for the first time. Certainly not the "swinging expatriate singles" crowd. Food-wise, the selection was decent and not too overpriced. I like the option of a hot snack. Arriving at the new Changi Budget Terminal, it was a long walk to the Arrival Hall. The Terminal itself is really no-frills and reminded me of a hospital. Otherwise, immigration and bag service were up to the usual Singaporean efficiency. I would use Tiger Air again, perhaps not for work trips, but certainly for leisure. "
Another budget flights traveller, Xuess Wee, remarked: "Certainly a pleasant trip from Singapore to Macau and vice versa for my maiden Budget Airlines trip. Cost me only S$150 (with taxe and everything else thrown in). The new Airbus 320s were bright, clean and orderly and the stewardesses were friendly, helpful and chirpy (on my return flight, they were actually singing a birthday song for their colleague at the back). I was glad the airline did not overdo the "tiger" image. No hideous tiger stripes decorations in the plane or on the uniforms of the staff. Very professional. There were at least 3 rounds of food being trolleyed for sale (and 2 rounds of DFS goods) during the 3 hours journey. Prices were quite alright. A bottle of Evian water and a can of Coke each went for S$2 while a cup of drip-coffee went for S$4. They were trying to sell Nasi Lemak and Lo Mai Kai for S$8 each, which I felt was a little steep. ..." (Quotes lifted from airlineequality.com.)

Virgin Australia: www.tigerairways.com.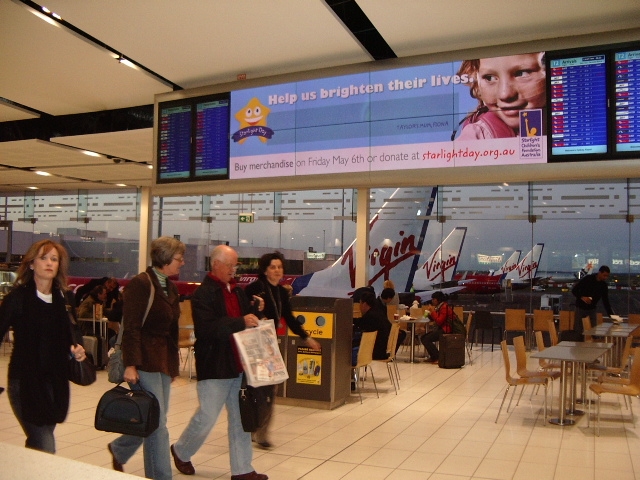 The budget airline that became Australia's number two carrier, largely by accident, shows no sign of declining.

Viva Macau Airline: http://www.flyvivamacau.com/.
Macau is a former Portuguese enclave near Hong Kong in bustling south China. Viva Macau Airlines connects south China with Vietnam, Indonesia, Australia and Indonesia (four of my favorite countries of the world!) Latest specials on this site include Macau to Tokyo flights for MOP2590 (whatever that means in foreign currencies!) Macau is of course a gambling economy, and resorts figure highly here. Fly Viva Macau and you could receive, amongst other goodies, HK$200 in entertainment vouchers at City of Dreams. This includes dining and spa. They have an app for your iPhone.

Yangon Airways: www.yangon-airways.com.
Myanmar (Burma) has got a lot of bad press recently for its violent suppression of its attempted Saffron Revolution, and in the current climate, it is unlikely anyone would want to holiday there. I have to confess that at one point I was planning to visit Burma this year; now I am convinced that a tourist boycott of Burma is the only way to go. I recently took part in the campaign against Lonely Planet's Myanmar (Burma) guidebook, and received this response from Lonely Planet: "Our aim in publishing this guide is to provide objective information to help travellers make informed decisions about whether or not to visit Myanmar (Burma). No one reading our guide could be in any doubt about our opinion of the current regime, which we describe as 'abominable'. Lonely Planet fully supports the restoration of democracy in Myanmar (Burma). We do not however, believe that you create new freedoms by stifling information or banning books.
"Lonely Planet's Myanmar (Burma) guide extensively outlines the arguments both for and against visiting the country: without such information it's entirely possible that travellers will make the decision to visit Burma without even being aware of the boycott.
"Once a traveller has made the decision to visit Myanmar (Burma), Lonely Planet's guidebook is one of only a very few resources that will enable them to maximise their support for the local population, and minimise the prospect of any money which they might spend going to the military regime.
"When travellers return, we encourage them to speak out about what they have seen, to write to the local Myanmar embassy and to share their experience with others, perhaps by partiion forum, the Thorn Tree."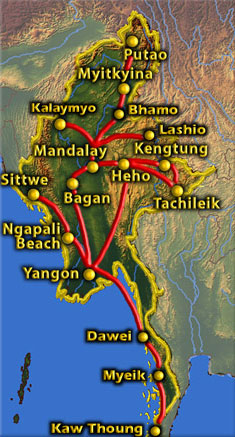 And if you have to go to Myanmar, Yangon Airways could be one of your budget alternatives. The airlines flies to locations all around this curious country (which curiously looks like the mirror image of Thailand on a map.) The airline for example will connect you with Rangoon (or whatever is the capital these days) and Kaw Thoung, Ngapali Beach or Kengtung. As Hanuman posted on Lonely Planet's Thorn Tree: "Less than a year ago it was no problem flying either from Mandalay or Heho/Inle Lake to/from Kyaingtong or Tachileik [aboard either Air Bagan or Yangon Airways, as I'd experienced several times] but as of last fall, it SEEMS that exiting via Tachileik into northern Thailand can be done BUT with the added cost of a permit [if memory serves from some previous postings, running close to U$30] that wan't required previously. Some of the previousl reports indicated that the permit was gotten from travel agencies in Yangon but I don't know if Mandalay or Inle Lake travel agencies can secure the same permits or whether it's possilbe from other agencies in Burma.
"If you're entering from the Tachileik-Mae Sai border, I know that you've got to fill out an itinerary form but don't know if this allows for travels into central Burma and re-exiting via Tachileik or via other Myanmar airports."
One tourist who visited Kawthoung in Burma had this to say about the place: "Later that night Ali took me on a motorbike to the bronze statue of Bayinnaung - a 16th century monarch who taught those pesky Thais a thing or two. Dressed in full battle gear and drawing a mighty big sword, he's probably not too inviting to any visiting Thai, but the view and the story was good for a time. Then we headed out of town for a sunset view of the seaside, which was nice and all until an undercover army guy came and asked Ali what he was doing bringing a foreigner out here. There's a 3km limit for farangs and he was reminding us that we were at it, so we should head back - which we duly did.
"In the end I just wanted food, so I paid off Ali and headed to the main hotel in town for a couple of 80 cent hamburgers and a bottle of Myanmar Beer (not bad). Thinking I'd call it a night early (had to be up at 3am for the boat) I thought I'd get some more shots of Bayinnaung lit up before retiring. And it was then that I met Au Pauk some English, on vacation from Rangoon and drinking whisky over the view.
I'm sure I ended up at a temple way out of town and beyond the foreigner limit, but the only army personnel that approached us was a young guy who wanted to say 'hi'. Even though I only hung out with them for a few hours it was great to talk so candidly and get to know these people that are the same age as me but from such a wildly different situations. And in the end they didn't register as being so different, which was a bit of a surprise.
"The next morning saw a torrid ride through the Mergui archipeligo on a large and fast speedboat. It was meant to depart at 3.30am, but only managed to get away after 5am, so our friendly neighbourhood propaganda team thought it best that we listen to a DVD recording of an excrutiatingly repetitious chanting monk for duration of the wait. More unfortunately, it was played at 125 decibels - the volume of all the morning's TV entertainment - so not much sleep was had. F eight hours..."
"Ngapali Beach is one of the loveliest places in Myanmar; it is also one of the most unspoilt beaches in the world, with miles of pure white sands skirting the crystal clear waters of the Indian Ocean. Actually, Ngapali is not one single beach. but a series of beaches interspersed with small fishing villages stretching from Mazin where the airport is located, to Lontha on Mayo Bay where coastal steamers dock in a sheltered anchorage.
"A small winding tarmac road snakes its way along the coast for about twelve miles from Mazin to Lontha, passing through Ngapali village, Shwewa Gyaing, Myabyin, Lontha and several other small villages nestling between the beaches and the hills along the coast. A golf course next to the road near Ngapali village is being upgraded. The road is also being widened, from two lanes to four lanes, and the airport will be extended to take bigger planes..."
h o t e l + b a r g a i n s
BUDGET AIRLINE SET TO TAKE ON WORLD
Press Association Monday January 1, 2007 6:48 AM
Agoda Points: http://www.agoda.com/rewards/index.html.
I never used to bother booking accommodation whenever I went abroad. I would always arrive at the airport blearyeyed and somewhat shellshocked, dump my luggage into a taxi, and then commence my roomhunt then. Needless to say, it is a wasteful way to go about things, and I wasn't monetizing every moment of my trip. I was leaving my destiny with the travel gods, and sometimes that would cost me a lot of money (for example, the time I arrived at Singapore's Changi Airport at about 2am, and got suckered into staying at a redlight hotel near Geylang.) Book any room on an Agoda site and you automatically earn points worth 4 - 7% of the price of the room. In more general terms, every dollar you spend booking through Agoda translates into 20 rewards points. You can use these points at many of Agoda's 45,000 hotels worldwide to reduce the price of the room by the amount the points are worth. Or you can let the points mount up after several bookings and use them to get even bigger savings, or even free rooms! You decide. Members who sign up on the Agoda website will receive 1000 points free (this is equivalent to $50). Once you have checked out of your hotel, provide Agoda with a review and they will credit you another 500 points.
And the alliance - if it decided to fly to London as well - could also use Luton airport as a hub because Virgin already operates a rail link from there to central London, the paper said.
It said the alliance would give Virgin and EasyJet access to Kuala Lumpur's low-cost airport terminal, the gateway to a dream Asian hub for their Europe-to-Australia routes.
Sir Richard is having talks with AirAsia's Tony Fernandes and recently-knighted Greek-British tycoon Sir Stelios and that plans could include flights to Hangzhou near Shanghai, China and Tianjin near Beijing, according to the report.
The newspaper quoted a source familiar with the discussions as saying that fares on the long-haul network would be as low as ˇ¦Đ¤4 for destinations in China.
AirAsia spokesmen were not immediately available for comment because of a public holiday in Malaysia.
But The Star quoted Mr Fernandes as saying that AirAsia, Asia's most profitable and largest no-frills carrier, was currently focused on short-haul services "where we have much work to do".
THIS IS FROM THE NATION NEWSPAPER, OCTOBER 18, 2006: "Thai budget carriers want to move back to Don Muang."
Low-cost carriers said Wednesday they want to move their operations back to Bangkok's old airport, citing increased costs at the capital's new international airport.
"The new airport is getting busy with more traffic, while our operation costs are rising," said Tassapon Bijleveld, chief executive officer of budget airline Thai Air Asia.
"Consequently, every low-cost airline would like to discuss the possibility with airport officials of moving back to Don Muang," he told AFP.
AOT president Chotisak Asapaviriya said he did not understand why the budget airlines wanted to move back to Don Muang, and said operating costs for low cost carriers were unlikely to rise at the new airport.
The only price hike, he said, was a 15-per cent increase in landing fees, which will take effect in April 2007.
He said AOT will hold a meeting Friday with airlines to discuss the problem.
"The new airport could serve up to 45 million passengers yearly. crowded at the moment," Chotisak added.
Here is a story from the SYDNEY MORNING HERALD, dated February 8, 2007:
Turbulent times for Qantas Asia foray Email Print Normal font Large font Scott Rochfort February 8, 2007 Other related coverage QANTAS'S plans to conquer Asia have run into trouble after its Jetstar Asia franchise in Singapore cancelled several flights with little explanation this week.
"The airline cancelled a third of its scheduled flights and its subsidiary, Valuair, cancelled half of its services out of Singapore yesterday amid talk in the aviation industry that the airline is looking to jettison some of its unprofitable routes.
"Qantas is the subject of an $11.1 billion takeover by a private equity consortium and in the past week has been spruiking the airline's growth prospects for flights from Australia to Asia.
"A Jetstar Asia spokesman, Ai Ling Ng, denied there were any problems despite the Changi Airport departure board showing five out of nine flights had been cancelled by mid-afternoon.
"'It's just one flight, because there was a mechanical problem with one of the aircraft,' Ms Ng said. It is understood the other four cancellations are due to lack of demand.
"The airline also appears to have quietly taken some flights out of service, with some services on the Jetstar Asia schedule appearing to be no longer on sale. Sources said it could soon cancel services to Taipei. The problems came as Jetstar Asia offered one-way tickets for as little as $S18 ($15).
"Jetstar Asia was a radical attempt by Qantas to operate a low-cost airline out of Singapore into other Asian centres to tap the world's fastest growing airline market.
"But it has struggled from day one. After four months it sub-leased four jets to a Turkish airline due to poor demand. It has since lent aircraft to Jetstar in Australia. It has failed to secure access to China and Indonesia.
"Figures obtained by the Herald show that Jetstar Asia lost $S68.2 million from the time of its incorporation in March 2004 to March 31, 2006. This does not include the losses racked up by Valuair, which was taken over by Jetstar Asia in 2005. The airlines collectively lost $S80 million in the 12 months to March 31.
"Qantas's head of corporate affairs, Belinda de Rome, said the carrier had no plan to quit its 44.5 per cent investment in Valuair. The other major shareholder in the airline is the investment arm of the Singaporean Government, Temasek Holdings, which also owns the majority of Singapore Airlines. "A spokesman for Airline Partners Australia, the consortium bidding for Qantas, said it would not scuttle Jetstar Asia.
"However, one member of the consortium - the private equity firm Texas Pacific Group - might like to see the end of Jetstar Asia. It competes with the low-cost airline Tiger Airways. Tiger is co-owned by Texas Pacific's founder, David Bonderman, Singapore Airlines and Temasek.
"The consortium has made no mention of Jetstar Asia since its offer in December.
Ah, sweet memories -- nothing will ever be as exotic as that first night in Bangkok, because I was a travel virgin, and the first time is always the most intense. Equally sentimental about Don Muang and its charms is Bangkok Dazed, a foreign bookshop owner in the city, who wrote on his blog: "Late morning flight back to Bangkok from Yangon today. I wander through the terminal and realize that this will be my last time at Don Muang International Airport, which will shut down when Bangkok's new Suvarnabhumi Airport opens on the 28th of this month. I'll miss the cramped and chaotic confines of Don Muang. It's a funky old facility (and what other airport in the world has a golf course tucked in between its runways!) but it's easy to get to from Central Bangkok and in the 15 years that I've been a passenger there I've never suffered any missing luggage or other unpleasant incidents. Goodbye old buddy!
---