---
CAIRNS :: QUEENSLAND :: AN ACCIDENT WAITING TO HAPPEN
By definition, the great discoveries in life are accidental. It was totally an accident that I discovered Cairns, gateway to
Cape York
and the enchanting far north of Queensland, in the third month of 2011. It is not the kind of place I would choose to travel to, but destiny drove me there... the epic
Tohoku Earthquake and tsunami
, which shook me from my Japanese home of 10 years, to seek refuge in mother Australia.
Physical Panoramic Map of Cairns
Like all Australians I knew Cairns, I knew from my years in Japan that it was popular with Japanese, but it had never really appealed to me. It didn't seem funky enough, or so I thought: it didn't seem exotic enough. A few days after the great quake of March 11, with constant aftershocks rattling my apartment in eastern Tokyo, and radiation seeping out of the breached reactors up at Fukushima, I decided to say
sayonara
to the Land of the Rising Sun. I had been planning to leave Japan for some time anyway, and already had a ticket back to Sydney on
JetStar
, that budget Aussie champion, with a brief stopover in Coolangatta. If I could just change the date of my flight, I figured, this post disaster nightmare could be over. I called my Mum for help!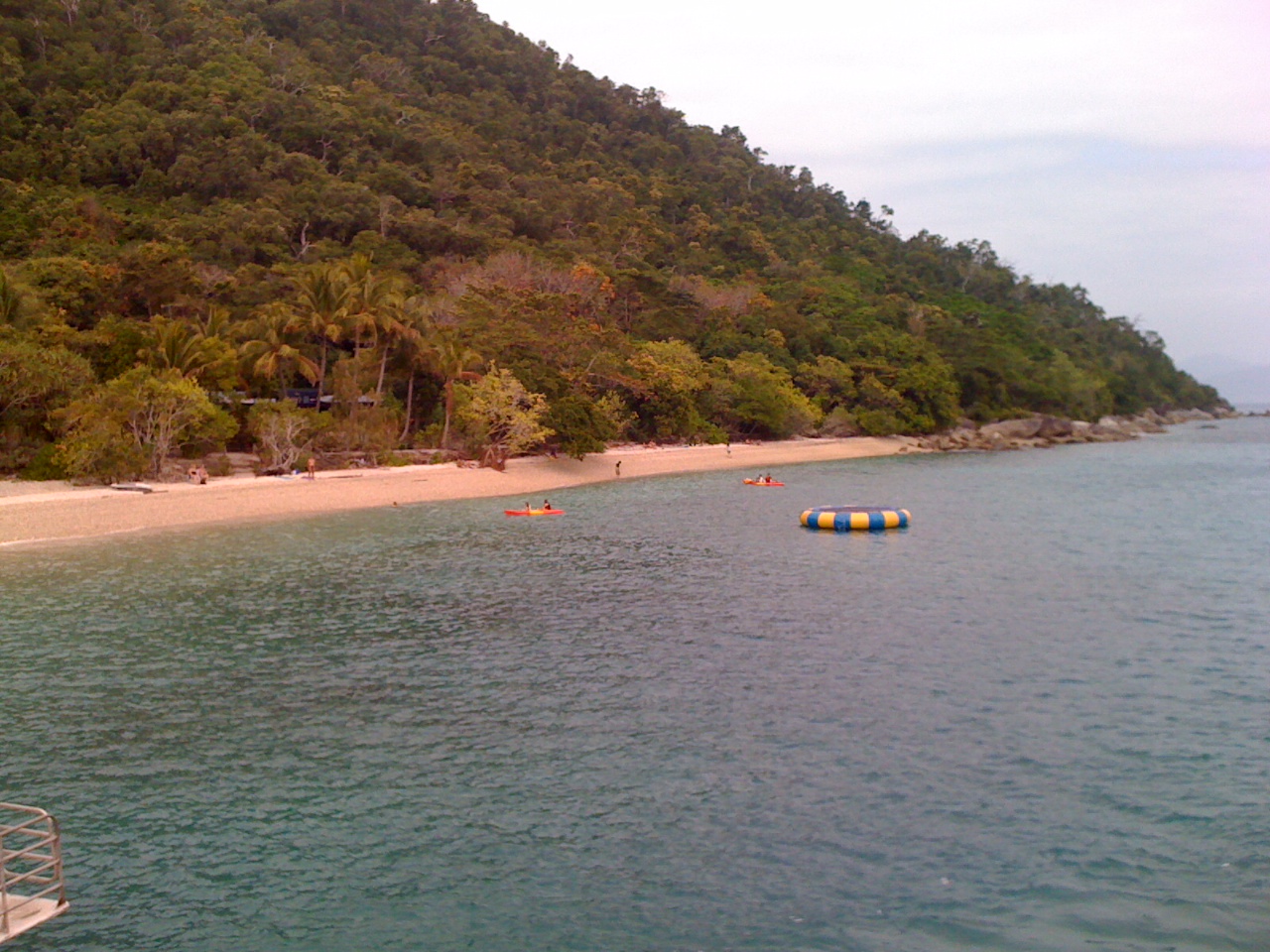 The flight was due to depart Narita Airport on March 19 and fly to Sydney via Cairns. I was scheduled to spend a few hours here, in this popular North Queensland resort, from 5am to around 9am the following morn. I might have caught the sunrise if I was lucky. However, the aftershocks and nuclear meltdown fears in Japan necessitated a change to the flight plan, and I received an even luckier break. On the way home we dumped our cabin crew at Kansai Airport, safe from the crisis in eastern Japan, and picked up a new crew. It was my first visit to Kansai and I thought it looked kind of cool from the air, built as it is on an artifical island off the shore of Kobe and Osaka and connected to the mainland by causeway. We had to wait about two hours on the tarmac while a new crew came on board, but I was just happy to be away from Tokyo... at least there weren't any aftershocks here! Eventually we were off on the long leg south, but all this mucking about had put us four hours behind schedule. By the time we sailed down into Cairns International Airport it was about 8.30am. The sun was already up and doing its thing, burning through the humidity. The view on landing, suffice to say, was amazing. It was the perfect balm to a week spent in disaster-stricken Japan. I didn't care how late I was.
Thanks to the 4-hour delay in Japan and the long, long outdoor walkway connecting the international and domestic terminals in Cairns, I missed my morning connection to Sydney. This might have been bad news for my Mum and Dad down on the NSW Central Coast who were dying to meet me, but it was an opportunity for me. In the spirit of One Mile at a Time, I scented freebies. Unlike the bearded guys in the queue behind me, who had missed their flights out of general tardiness, I had a valid excuse... the Great Tohoku Earthquake. To be fair, I had kind of ambled my way along the long walkway from the international to domestic terminals, weighed down by my luggage, and ogling at all the flowers. I suppose if I had run, I would have made it, but I was now on tropical time. I didn't care if I was late! By the time I made it to departures and waited in line for my serve, the plane was already out on the runway. D'oh! I hadn't slept properly in at least a week, due to all the aftershocks and radiation fears in Tokyo, and I hadn't really eaten either. But at least I was safe, on Australian soil, and in one of the most beautiful cities in the southern hemisphere. As Lucky at One Mile at a Time would say, being bumped can be a blessing.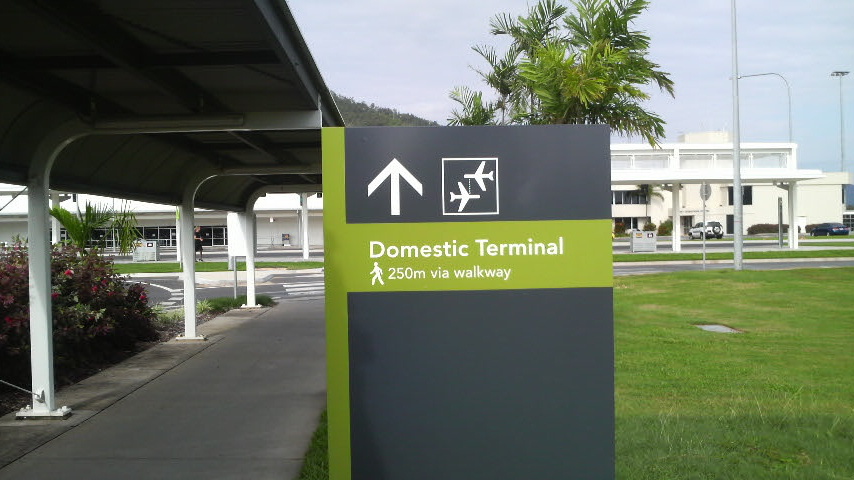 An hour and a few apologies later I had been rebooked on the 4.15pm Qantas service and presented $20 in food vouchers. Winning! Apart from the hills and the beds of flowers there was not much to see around the airport, so I caught a cab downtown. It was by accident that I missed my flight, but I could feel a familiar sense of destiny in the air. I had an Indian man for a cabbie, and we had a leisurely midmorning chat about floods and tsunamis and life in Far North Queensland (or FNQ, as it is called here.) Before too long we were out of the lush cane fields and into the outskirts of town. The suburbs were classic country Queensland, but with an undeniably international edge. Rustic houses on stilts to protect themselves from floods, but plenty of foreigners around with their foreign ways. It seemed like every taxi driver in town was an Indian. There was some Indian looking architecture as well.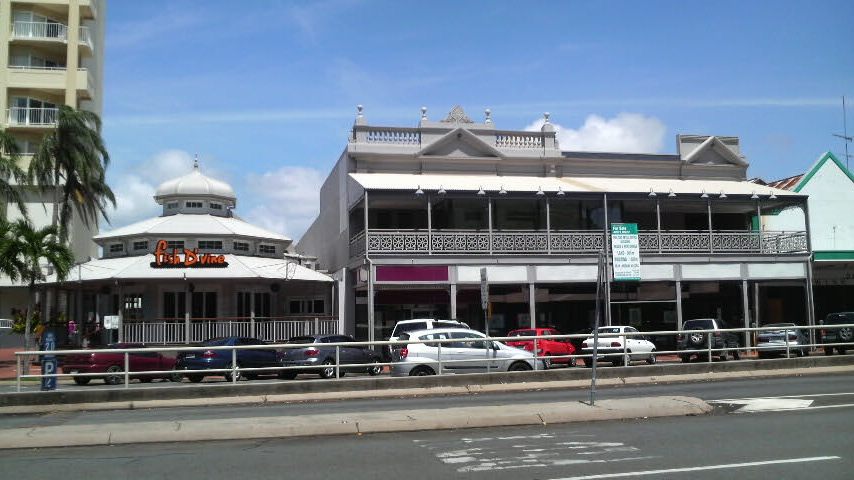 My driver dropped me off down near The Esplanade. For a moment I thought he had brought me to the wrong place; the street looked so sleepy to eyes accustomed to Japanese bustle and blur. Granted, it was a Sunday and a warm day in the off season, but still. A small group of Aborigines sat around in the shade on the edge of the mall, chilling. A scattering of tourists -- Australian, British, Japanese, Korean -- milled up and down the street buying souvenirs, while others enjoyed coffee and cake on the footpath. From time to time a plane fell from orbit to cut across the bright blue sky, on its approach to the airport. This being Queensland, there had to be at least one establishment in spitting range called the School of Arts Hotel. But it was too early for a beer.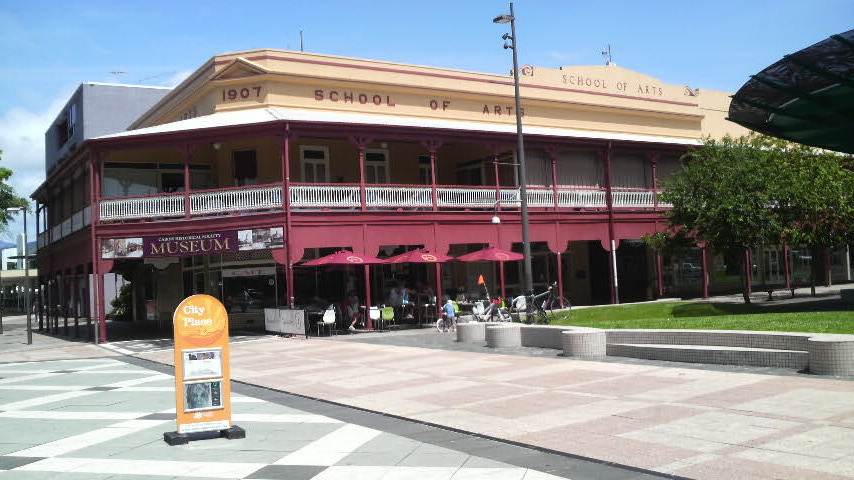 Cheered by this unexpected detour on my return to Sydney, I took a right turn hoping to catch the sea. What I found was the wide river and the place they call Trinity Wharf. I passed the Barrier Reef Hotel on the way.
Down at the wharf, a P&O cruise ship sat berthed.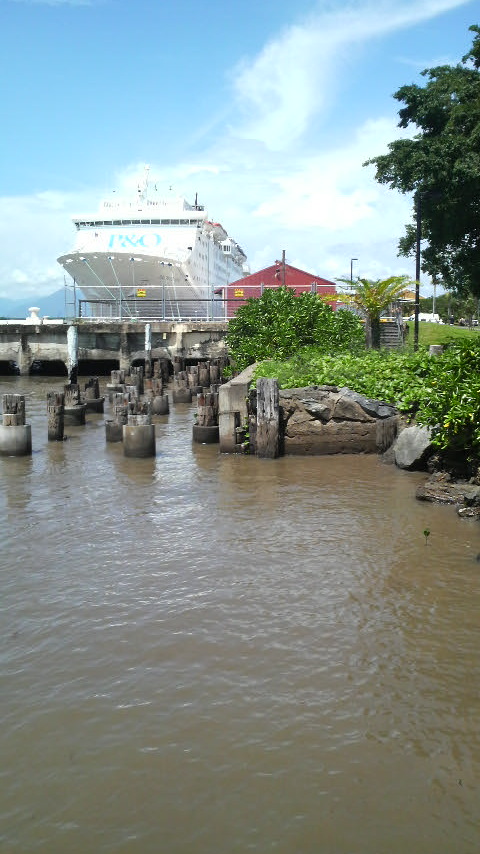 There were a lot of boats berthed at Trinity Wharf, as a matter of fact.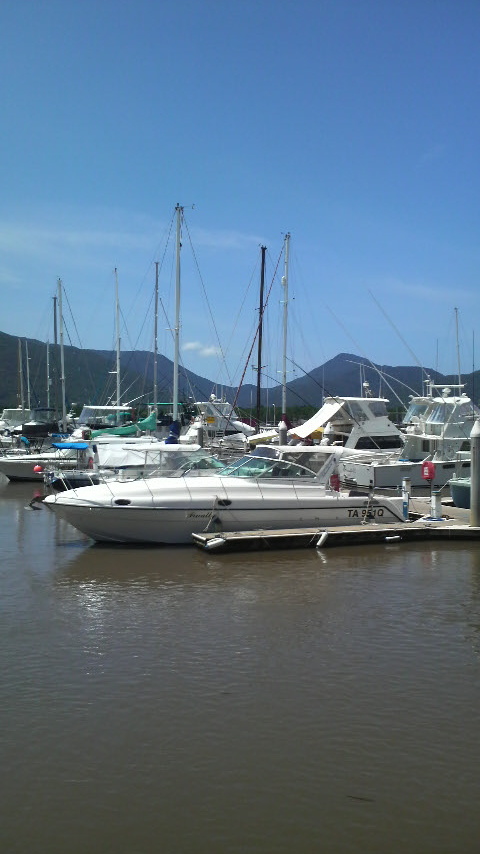 Fronting the wharf are the luxury hotels...
...including this one practically groaning beneath greenery.
Rounding the corner I came upon the Coral Sea, bristling with windsurfers, sailboarders, and even the odd helicopter heading off to the reefs.
There was even an open-air swimming pool set right on the bay, in case there are too many stingers in the sea.
The Nando's revolution has reached Cairns...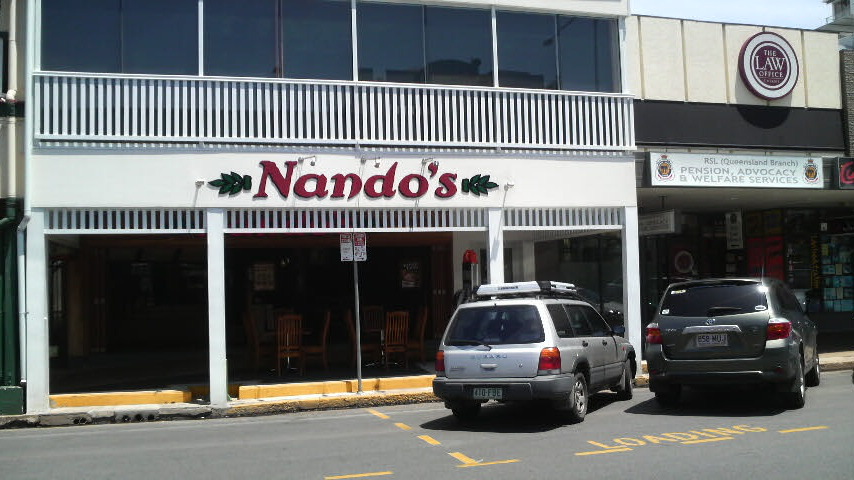 ...as has the Asian food invasion. A Japanese friend of mine, Ken Anazawa, reckons this food court looks just like those in Singapore. "Australia is becoming more like Asia all the time," he said. Ken-san was right... Cairns is a little slice of Asia amidst the cane fields and wide verandahs. For Australians it is a gateway to Asia, and jets from its airport fly to exotic destinations such as Singapore and Papua New Guinea. I would never have known that, if I hadn't spent a few lunch hours walking around the place. And like the earthquake/tsunami/nuclear reactor meltdown which threw me out of Japan, my discovery here was totally an accident!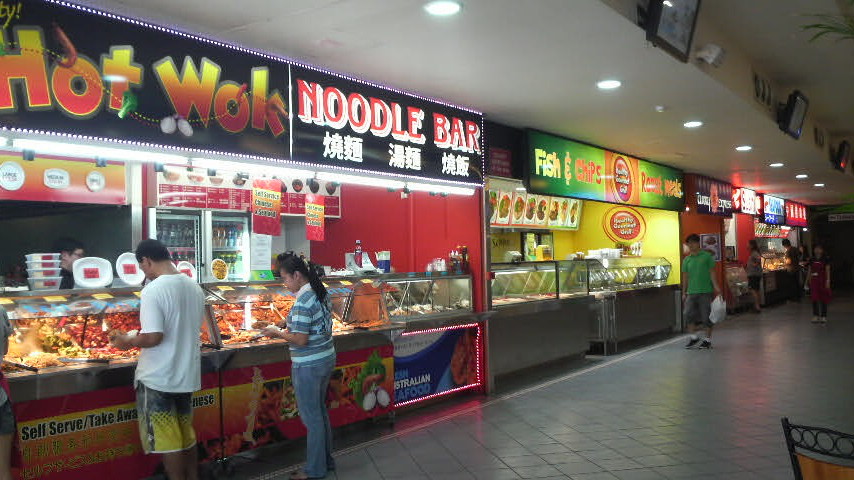 ---


---