---
blue sky brewery // cape york hotel // gilligan's // heritage nite club // party bus
CAIRNS :: PARTY TOWN AT THE END OF THE EAST COAST LINE
After a long day skydiving or bungee jumping, the perfect way to unwind is to hit one of the many BARS or CLUBS in Cairns. There is always something going on, literally every night of the week... if not in a licensed premise, then likely out on the streets themselves, or around the pool at someone's hotel. Wet T-shirt contests,
Korean and Japanese girls looking for adventure
, groups of Bama grooving to the hiphop and the dubstep tunes. With the help of my Mum I snared a seat out on
JetStar
, that budget Aussie champion. The flight was due to depart Narita Airport on March 19 and fly to Sydney via Cairns. I was scheduled to spend a few hours here, in this popular North Queensland resort, from 5am to around 9am the following morn. I might have caught the sunrise if I was lucky. However, the aftershocks and nuclear meltdown fears in Japan necessitated a change to the flight plan, and I received an even luckier break. On the way home we dumped our cabin crew at Kansai Airport, safe from the crisis in eastern Japan, and picked up a new crew. It was my first visit to Kansai and I thought it looked kind of cool from the air, built as it is on an artifical island off the shore of Kobe and Osaka and connected to the mainland by causeway. We had to wait about two hours on the tarmac while a new crew came on board, but I was just happy to be away from Tokyo... at least there weren't any aftershocks here! Eventually we were off on the long leg south, but all this mucking about had put us four hours behind schedule. By the time we sailed down into Cairns International Airport it was about 8.30am. The sun was already up and doing its thing, burning through the humidity. The view on landing, suffice to say, was amazing. It was the perfect balm to a week spent in disaster-stricken Japan. I didn't care how late I was.
Thanks to the 4-hour delay in Japan and the long, long outdoor walkway connecting the international and domestic terminals in Cairns, I missed my morning connection to Sydney. This might have been bad news for my Mum and Dad down on the
NSW Central Coast
who were dying to meet me, but it was an opportunity for me. In the spirit of
One Mile at a Time
, I scented freebies. Unlike the bearded guys in the queue behind me, who had missed their flights out of general tardiness, I had a valid excuse... the Great Tohoku Earthquake. To be fair, I had kind of ambled my way along the long walkway from the international to domestic terminals, weighed down by my luggage, and ogling at all the flowers. I suppose if I had run, I would have made it, but I was now on tropical time. I didn't care if I was late! By the time I made it to departures and waited in line for my serve, the plane was already out on the runway. D'oh! I hadn't slept properly in at least a week, due to all the aftershocks and radiation fears in Tokyo, and I hadn't really eaten either. But at least I was safe, on Australian soil, and in one of the most beautiful cities in the southern hemisphere. As Lucky at One Mile at a Time would say, being bumped can be a blessing.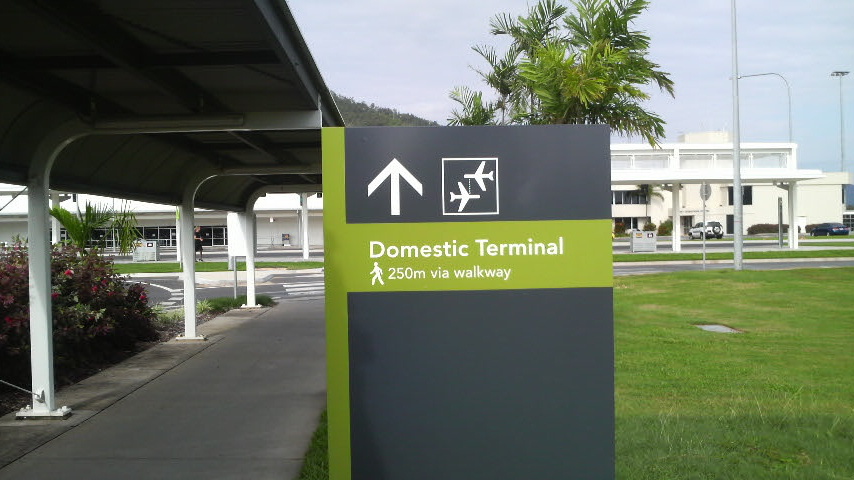 An hour and a few apologies later I had been rebooked on the 4.15pm Qantas service and presented $20 in food vouchers. Winning! Apart from the hills and the beds of flowers there was not much to see around the airport, so I caught a cab downtown. I had an Indian man for a cabbie, and we had a leisurely midmorning chat about floods and tsunamis and life in Far North Queensland (or FNQ, as it is called here.) Before too long we were out of the lush cane fields and into the outskirts of town. The suburbs were classic country Queensland, but with an undeniably international edge. Rustic houses on stilts to protect themselves from floods, but plenty of foreigners around with their foreign ways.
Beach House
: Sheridan Street, Cairns. Website:
website here
.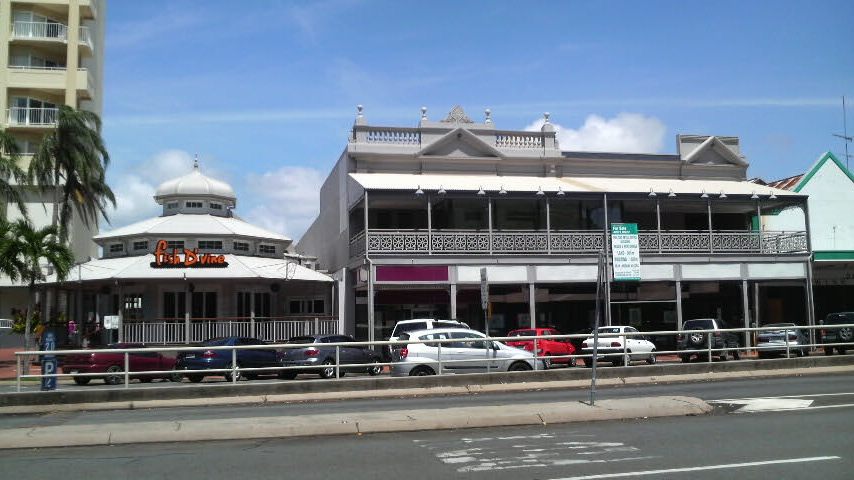 This has become one of the my favorite places to relax and hang out. It is a quiet, chilled vibe in contrast to the hustle and bustle of the downtown bars. Mostly backpacker crowd: English, French, Germans, the odd Japanese. Events on virtually every night of the week: Tropical Tuesdays, trivial pursuit, beach volleyball on their sandy court. From time to time a plane fell from orbit to cut across the bright blue sky, on its approach to the airport. This being Queensland, there had to be at least one establishment in spitting range called the School of Arts Hotel. But it was too early for a beer.
WARNING: As of August 2012, the Blue Sky Brewery appeared to have closed down! There is still an outlet at the airport, though!
According to a post I read on
Global Gossip's noticeboard
, Blue Sky Brewery is the only bar in Cairns which makes its own beer. They sell copious quantities of the Pilsener, with jugs costing only AUS$6 from 5pm to 7pm. If you miss Happy Hour, you can nonetheless enjpy a bottle of the stuff for $3. This is the best deal I have found so far in Cairns. The toilets are pretty swish as well.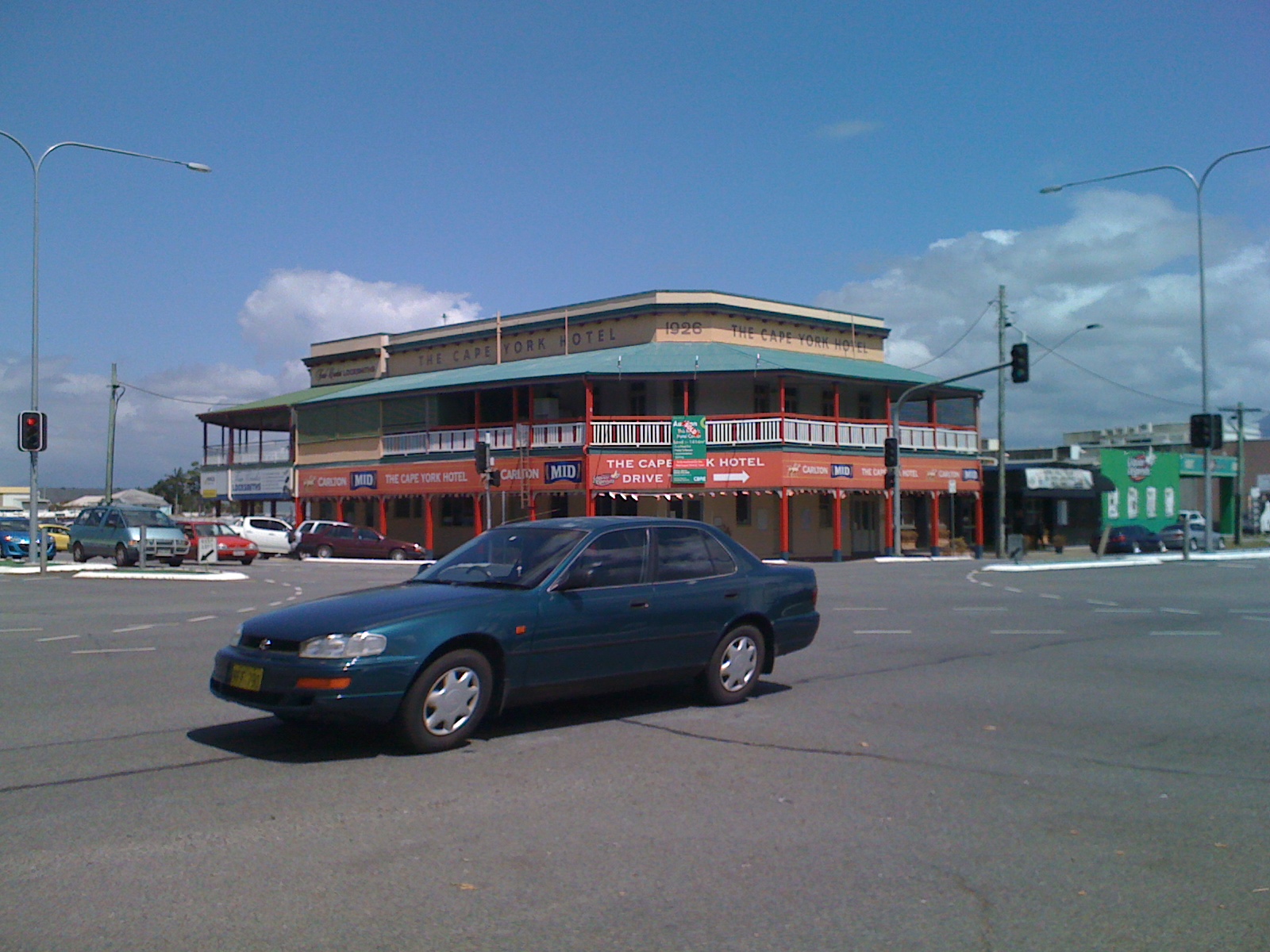 There were a lot of boats berthed at Trinity Wharf, as a matter of fact.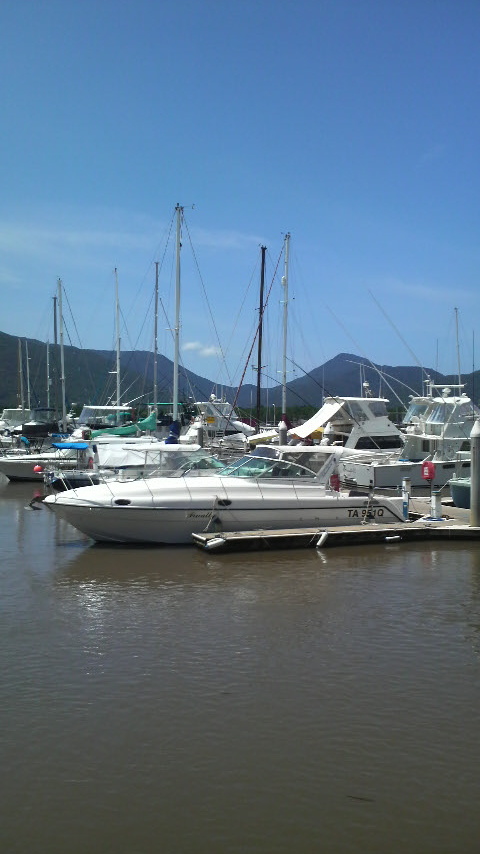 Rounding the corner I came upon the Coral Sea, bristling with windsurfers, sailboarders, and even the odd helicopter heading off to the reefs.
Small live bar with an intimate atmosphere and older clientele; I also found it a good place to interact with the local Aboriginal culture. Some of the performers I saw here were Aboriginal, including a wizened elderly gentleman who held his guitar upside-down. "You're holding ya guitar the wrong way!" a gin yelled at him, but it didn't seem to matter... that was the way he had learnt to play it, and he could play it reasonably well. He belted out a song called "Walkabout" which was popular with the indigenous members of the crowd, and further enamoured me to the nomadic life.
The Nando's revolution has reached Cairns...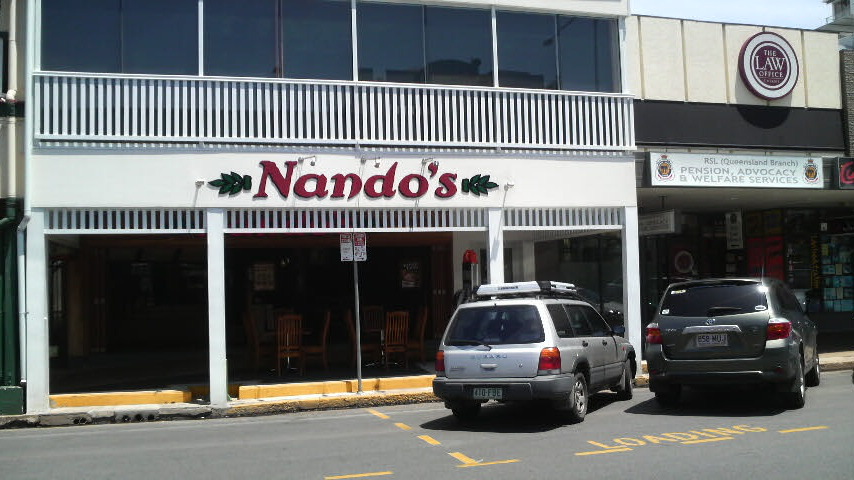 ---
---