---
tanks arts centre // torres straits islander art
CAIRNS :: ARTS & CRAFTS CAPITAL OF FAR NORTH QUEENSLAND :: ROUND TWO
In late March 2011 I spent the better part of the daylight hours of one sleepy Sunday poking around Cairns, the gateway to far North Queensland, Australia, as I fled the horrific earthquake and
tsunami
and
gempatsu
(nuclear meltdown) in Japan. I had missed my connecting flight to Sydney due to all the
manoeuvers
needed to get out of a Tokyo in post disaster mode, and had thus been blessed with the chance to explore a part of the world I had never really explored before, in a part of the world I had never really considered visiting, until now. It was an unexpected diversion, and it took the edge off the mounting anxiety I was feeling about what was in store for me further south, once I regained my old existence there. For the past 10 years I had been living in Japan, and now I was coming home (hopefully not for long!) As it turned out, readjusting to life in Australia proved much harder I had expected. The country had changed, and not for the better, in my opinion at least. There was an oppressive spirit hanging over the land, although it was hard at first to identify what the exact source of it was (in retrospect, probably it was all just the legacy of Howardism!) They didn't trust you with glass vessels in some of the downtown Sydney pubs, so you got served your beverages in plastic cups instead. Now, that's disrespect! I spent the past five months hanging out on the
NSW Central Coast
north of Sydney, trying halfheartedly to get a job, and basically getting nowhere. The bright lights and endless fascination of 東亰 was behind me now, and I started to regret I had a mistake, by returning to dark Down Under. But at least my online income was booming, and this was enough to dispel my doubts. I was on the road to becoming a fully fledged Digital Nomad, and I had the world at my feet! Once I had repaid my debts I would be drifting again, to Indonesia, Vietnam, Cambodia... wherever! Good old Cairns, the city which had accommodated me when I was fleeing the disaster in Japan, a relic of the real Australia, which had never shown me any disrespect. Far from the Nanny State nonsense down in Sydney. The view on landing, suffice to say, was amazing. We arrived just in time for the start of the
Cairns Indigenous Arts Fair
. I went out, looking for a party. I didn't care where I found it.
Thanks to the 4-hour delay in Japan and the long, long outdoor walkway connecting the international and domestic terminals in Cairns, I missed my morning connection to Sydney. This might have been bad news for my Mum and Dad down on the
NSW Central Coast
who were dying to meet me, but it was an opportunity for me. In the spirit of
One Mile at a Time
, I scented freebies. Unlike the bearded guys in the queue behind me, who had missed their flights out of general tardiness, I had a valid excuse... the Great Tohoku Earthquake. To be fair, I had kind of ambled my way along the long walkway from the international to domestic terminals, weighed down by my luggage, and ogling at all the flowers. I suppose if I had run, I would have made it, but I was now on tropical time. I didn't care if I was late! By the time I made it to departures and waited in line for my serve, the plane was already out on the runway. D'oh! I hadn't slept properly in at least a week, due to all the aftershocks and radiation fears in Tokyo, on Australian soil, and in one of the most beautiful cities in the southern hemisphere. As Lucky at One Mile at a Time would say, being bumped can be a blessing.
In town, there seemed to be plenty going on. An indigenous arts fair in the town's official art gallery. Lots of unofficial galleries too, spruiking their wares. I had an Indian man for a cabbie, and we had a leisurely midmorning chat about floods and tsunamis and life in Far North Queensland (or FNQ, as it is called here.) Before too long we were out of the lush cane fields and into the outskirts of town. The suburbs were classic country Queensland, but with an undeniably international edge. Naturally, there were
didgeridoo
and Aboriginal art outlets for the tourists.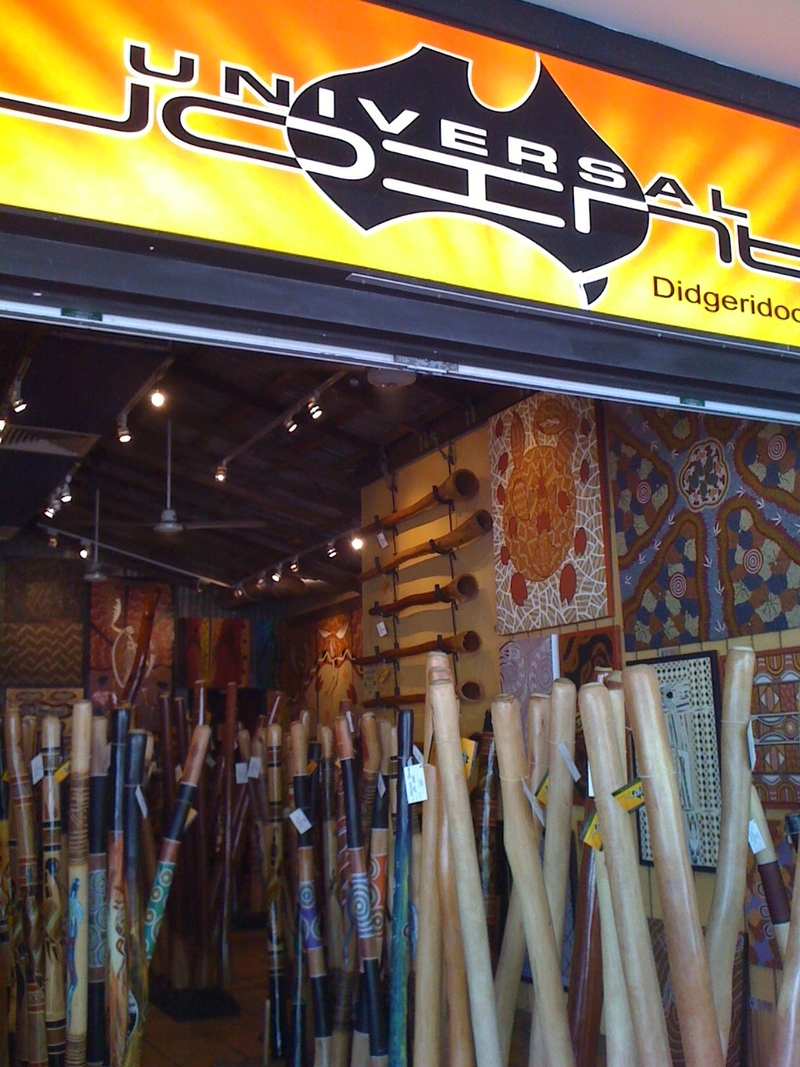 There are also Aboriginal galleries and studios about town where you can watch artists at their work, such as this one in Orchid Plaza, in the Japanese Quarter.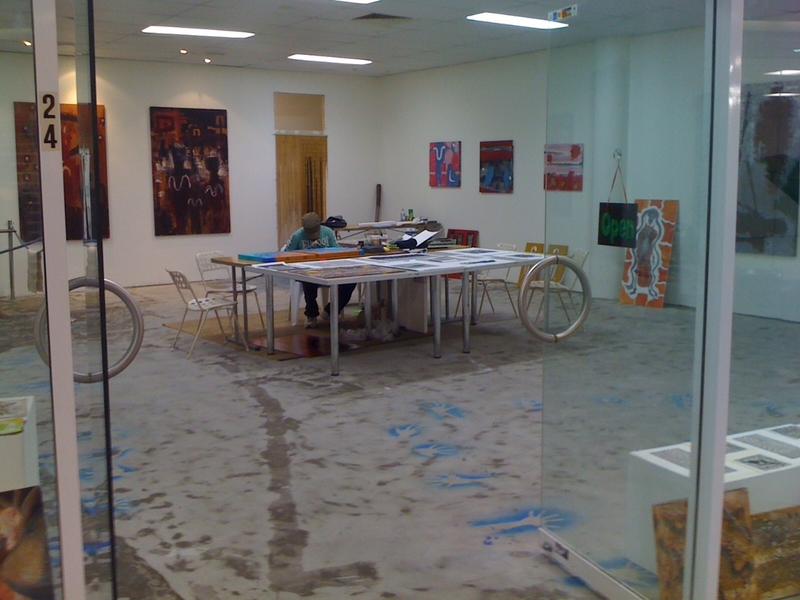 This has become one of the my favorite places to relax and hang out. It is a quiet, chilled vibe in contrast to the hustle and bustle of the downtown bars. Mostly backpacker crowd: English, French, Germans, the odd Japanese. Events on virtually every night of the week: Tropical Tuesdays, trivial pursuit, beach volleyball on their sandy court. This being Queensland, there had to be at least one establishment in spitting range called the School of Arts Hotel. But it was too early for a beer.
According to a post I read on
Global Gossip's noticeboard
, Blue Sky Brewery is the only bar in Cairns which makes its own beer. They sell copious quantities of the Pilsener, with jugs costing only AUS$6 from 5pm to 7pm. If you miss Happy Hour, you can nonetheless enjpy a bottle of the stuff for $3. This is the best deal I have found so far in Cairns. The toilets are pretty swish as well.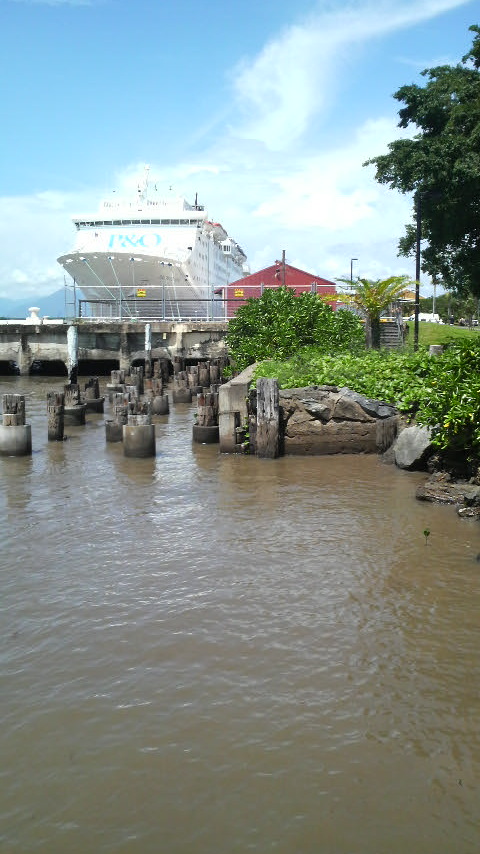 There were a lot of boats berthed at Trinity Wharf, as a matter of fact.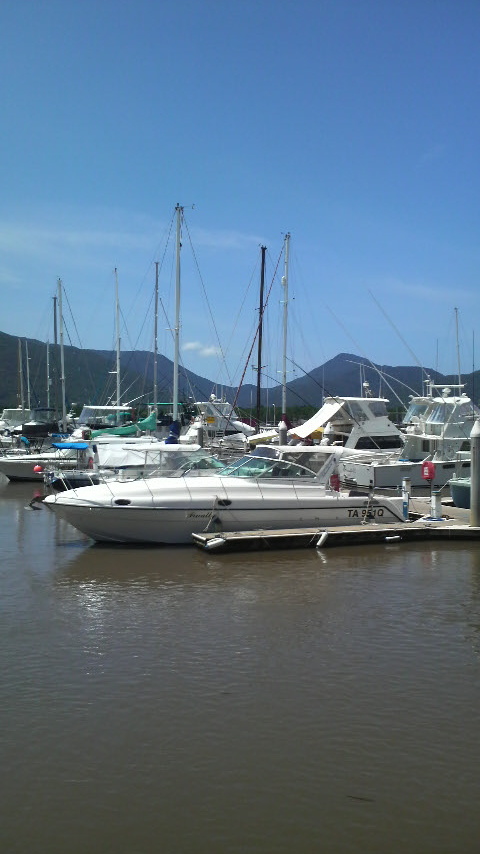 Fronting the wharf are the ...
...including this one practically groaning beneath.
Tanks Arts Centre: 46 Collins Avenue, Edge Hill. Phone: (07) 4032 6600. Fax: (07) 4032 2610. Email: info@tanksartscentre.com. Website: website here.

Rounding the corner I came upon the Coral Sea, bristling with windsurfers, sailboarders, and even the odd helicopter heading off to the reefs.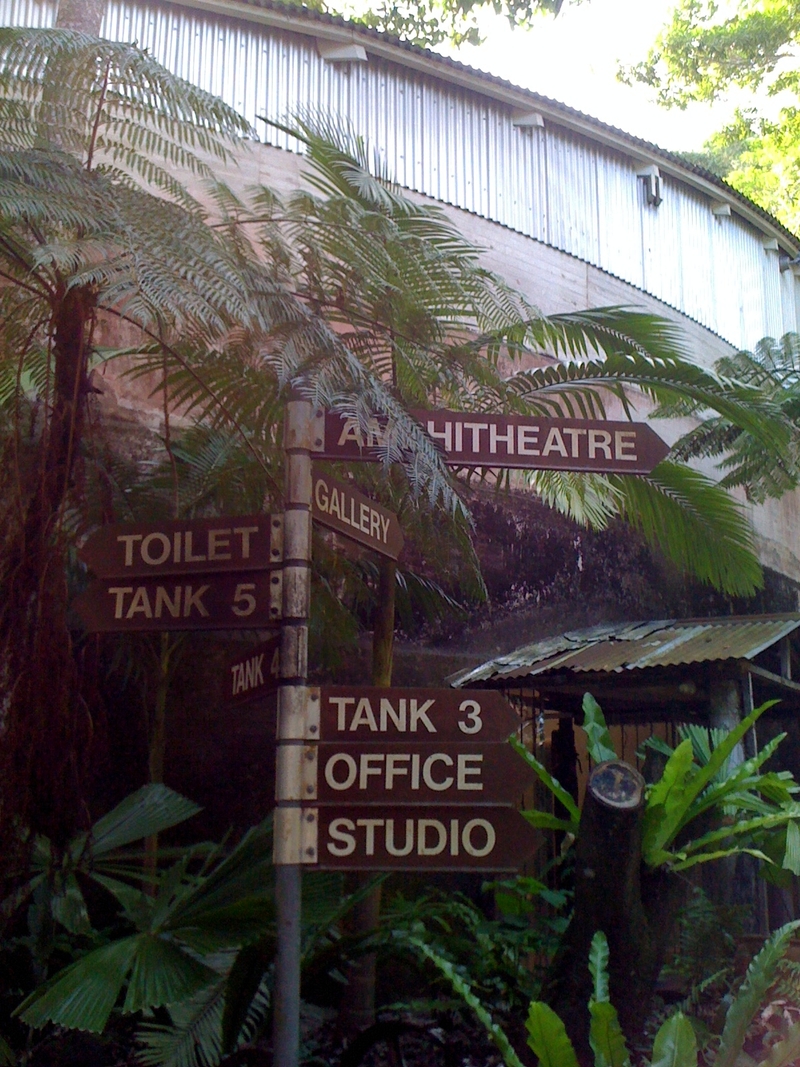 Small live bar with an intimate atmosphere and older clientele; I also found it a good place to interact with the local Aboriginal culture. Some of the performers I saw here were Aboriginal, including a wizened elderly gentleman who held his guitar upside-down. "You're holding ya guitar the wrong way!" a gin yelled at him, but it didn't seem to matter... that was the way he t, and he could play it reasonably well. He belted out a song called "Walkabout" which was popular with the indigenous members of the crowd,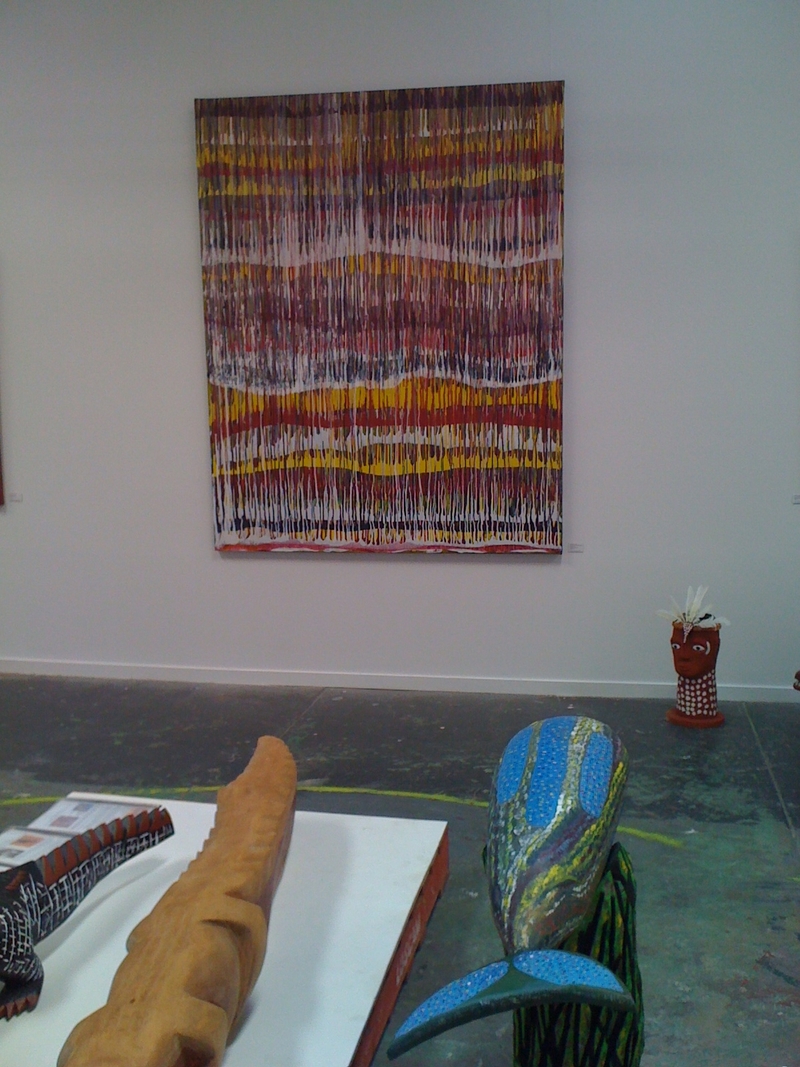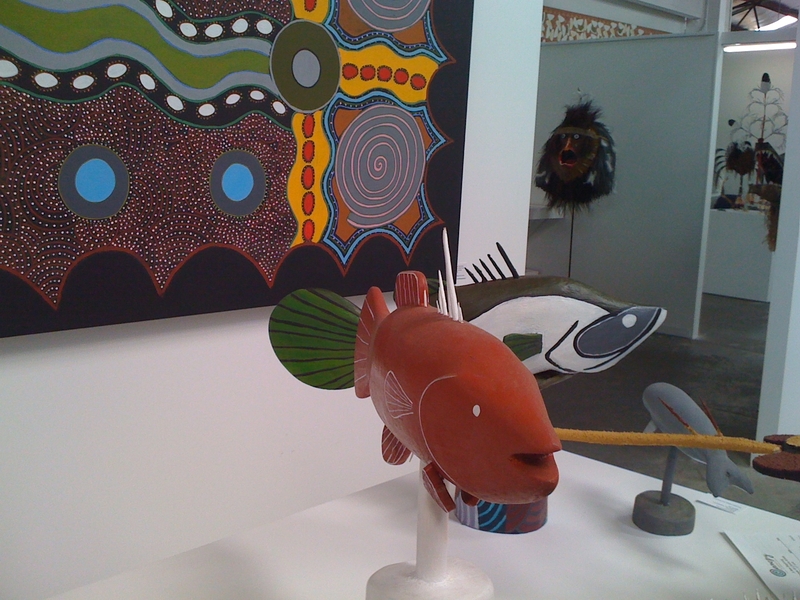 ...as has the Asian food invasion. A Japanese friend of mine, Ken Anazawa, reckons this food court looks just like those in Singapore. "Australia is becoming more like Asia all the time," he said. Ken-san was right... Cairns is a little slice of Asia amidst the cane fields and wide verandahs. For Australians it is a gateway to Asia, and jets from its airport fly to exotic destinations such as Singapore and Papua New Guinea. I would never have known that, if I hadn't spent a few lunch hours walking around the place.
---


---