---
NARRANDERA :: RIVERINA :: NEW SOUTH WALES :: AUSTRALIA :: CROWDED WORLD
---
AFTER LONG HOURS TRAVERSING THE DUSTY PLAINS OF SOUTHWEST NSW, NARRANDERA OFFERS A GRATEFUL RESPITE TO THE WEARY TRAVELLER. The town of trees they call it, and a town of trees I remember it from my trips there in my childhood, European trees that give you shade in the summer when you need it, and rusty brown and yellow in the autumns when a change in colour is surely called for. I haven't been to north America yet, but I imagine the streets in the suburbs up there look like the streets in Narrandera... placid and wide and carpeted with fallen leaves. Mulholland Drive, or Nightmare on Elm Street. A world removed from the everbrown monotony of the Australian bush.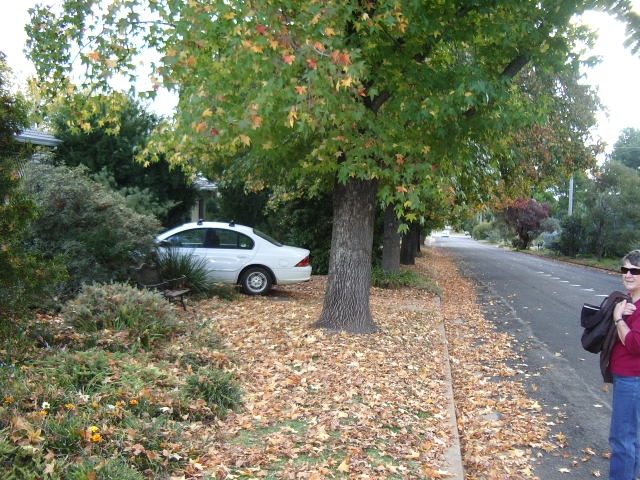 The town sits on the intersection of two major highways; look above, and see the sky is crossed by flightpaths. No wonder my mad cousin K., who was born in Narrandera, is so obsessed with chemtrails! This is one strategic place, and an important waystation in in my family history. It was to Narrandera that a certain Michael Sullivan, son of Thomas Denis, took his family to become a shearer, or something. These days there are a lot of Sullivans still in town, and my surname also fills the cemetery. Norman Sullivan, one of them, perished at the age of 20 on the battlefields of France, at the end of the First World War.
For backpackers and vagabondists like myself, Narrandera sits on the farm work and fruit picking trail, on the way to
Mildura
. So on to the goodies and where to find them. Later I will tell you about my Newtown date with the amazing A. back in the Nostradamian year of 1999!
---
NARRANDERA BEAUTY
---
Glow Girl
: 208 Australia St, Newtown. Phone: 02/9519 3101.
The ad claims: "Imagine... a massage followed by another massage, a facial, some lunch, some wine maybe, a waxing, a pedicure, a manicure..."
This place is open late evenings and offers a complimentary skin analysis.
---
NARRANDERA COFFEE SHOPS
---
CAFE CULTURE HAS REACHED THE HEART OF THE RIVERINA. On hot weekends tables and chairs spill on to pavement outside East Street Cafe, and if it were not for the flies, you might imagine you were in
Newtown
. :
Cage G: 124 East St, Narrandera. Phone: 02 6959 2001.


NEWTOWN FETISH
---
The Kastle
: 131 Abercrombie St, Chippendale. Phone: 02/9690/1150.
In a media saturated with imagery I sometimes wonder what desire looked like before we were exposed to porn... the assumption being that pornography always leads to S&M? Can you remember your earliest fantasies... they were undoubtedly less hardcore than your pornconditioned fantasies now? Unless you have an exceptionally strong moral foundation... or you're a feminist. But if you don't have and you aren't, and if you have been infiltrated by fetishism to some degree by all the pornware out there (and to be honest everyone is a fetishist these days, as much as they would like to deny it), then you might find yourself someday at a place like the Kastle. I visited this Newtown institution at the end of 1993 when I was studying at
CSU Mitchell
in Bathurst and living in a share house with
Meat Pie
director Garnet Mae (the movie about a guy with a thing for kitchen appliances, who gets a penis transplant), Fiona H., and the adorable though terminally messy/messed up Katja F., on the outskirts of town. In a place which I think was called Rocket Street. Looking back on it this was one of the few sharehouse experiences in my life which actually worked, for a couple of months at least. It was a nice change of pace to the psychotic gay/lesbian sharehouse I had experimented with on the other side of Russell Street. Living at Rocket Street had its nice domestic vibe and warm stove moments until the end of 1993, when we all veered off our different ways. Late 1993 we were going through a kind of happy hardcore/techno phase and Fiona Honor's boyfriend Stu was displaying the first signs of an interest in S&M. I don't remember how exactly it happened, but we decided one weekend to car it to Sydney on the other side of the mountains, no doubt in Garnet Mae's trusty old skyblue shitbox, and visit the place they called The Kastle. Sinister looking entrance -- just an anonymous door on an innercity backstreet. Kind of looked like an abandoned warehouse. Enter inside and suddenly it is warm and there are tonnes of guys and gals wearing black leather, heavy moustaches, dark techno on the decks (this was the early 1990s, remember!) I was expecting it to be a nightclub, but it was more a theatre... a theatre of cruelty. True to his form Stu stripped off his shirt and allowed some dame to drip hot wax on his chest, sometime near the end of our stay. The beginning of his descent. Then I saw a man and two women engaged in a threeway kiss, and I knew that a new festish in my mind was born. The holy trinity: two girls and a guy. An act more recently made famous by the photographer Wyatt Gallery, and Miss Japan 2008 and Miss Trinidad/Tobagos. They have lived the fantasy... I have not (not yet!)
---
NARRANDERA PUBS
---
Top Pub
: East and Larmer Sts, Narrandera. Phone: 02 6959 2057.
Jess had the following piece of advice for those looking to pick up at the Bank Hotel: don't.
"Unless you are a very butch lesbian, don't bother with the Bank Hotel in Newtown! Definitely pass through there on your way to Suma Lee Thai which is downstairs - it's AMAZING (albeit expensive)."
Botany View Hotel: 597 King St, Newtown. Phone: 02/9519 4501.
Described as the best venue in Sydney for all of your boot-shaking needs.
Regular live acoustic music including the Acoustic Lounge.
---
CHATSWOOD RESTAURANTS
---
CHATSWOOD WAS ONE OF THE FEW PLACES AND TIMES IN MY LIFE WHERE I WORKED AS A FOOD REVIEWER -- THAT IS TO SAY, REVIEWING FOOD WAS PART OF MY JOB. The other reporters at the North Shore Times must have seen reviewing food as a menial task -- what fools were they! The places I reviewed ranged from French and Swiss bistros to Korean barbeques and Chinese takeaways. Somewhere along the way there was a Mongolian hotpot.
African Feeling
: 501 King St, Newtown. Phone: 02/9516 3130.
put it in your mouth
(aka Melissa Leong from FBI Radio fame) said of this place: "Chef Hudu Alhassan may originally hail from Ghana, but his little slice of Africa in Newtown is just about one of the best places to go on safari in Sydney. Taking cues from all over his home continent, you can expect to experience distinct flavours from plantain chips from Nigeria, Bua; tender goat curry from Ghana and
Yai Machuzi
- boiled eggs rolled in chicken mince, coated in bread crumbs and spices - kind of like an African scotch egg..."
Mary's Malaysian: Asian food court, Mandarin Centre.
Rice with up to three toppings for $7 at lunchtime. I got the ayam sedap (chicken in ketchup sauce) and lamb curry for $5.50.
---
---
NARRANDERA WALKS
---
Bundidgerry Track
: Near Lake Talbot.
If you are observant and persistent you should see koalas on this walk, which follows the Bundidgerry Creek on its long meander through the Murrumbidgee Irrigation Area. The first time I made the walk, with my Mum back in 2007, we saw two of them. On my most recent walk, in 2011 after the floods, we couldn't get that far because the trail was still blocked by water, and our koala sighting record came up a zilch. Nonetheless, there are said to be about 100 koalas in the area, somewhere.
---
---