sydney sentric
CROWDED WORLD - moree (kamilaroi country)
Friday, September 14, 2012 Two Nights in Moree: Rewriting the Grand Algorithm
---
MY DAD AND I ARRIVED BACK ON THE NSW CENTRAL COAST THIS AFTERNOON, AFTER A LONG JOURNEY BY BUS AND TRAIN, AND IT IS A STRANGE FEELING BEING SURROUNDED BY CIVILISATION AGAIN, AFTER OUR TIME IN THE BUSH. You don't know how big a country is until you travel it by road, or rail (or best of all, on cycle or foot!), and Australia is certainly on the big end of the scale, and very empty; big and very empty, but nonetheless still crowded with life; crowded, in fact, with culture, history and life. We had spent two nights in Moree, up in Kamilaroi country near the Queensland border, where I had attended a job interview at the newspaper there. It was the possibility that I could soon end up living here that gave this trip its particularly intense frission, a curiosity mixed up with a lot of fear, and a certain sense of liberation. I had got to the stage in my hunt for an Australian media job that I had to accept whatever I could find, even this far from the centre, even this far out in the bush. A few years ago, living in Tokyo with its 13 million people, all its Michelin starred restaurants, art galleries, vending machines, convenience stores, amazing fashion, I would have shuddered at the prospect that my life would or could take this change in direction, landing me right back where I as an I began! That kind of future would have seemed utterly incredible, incomprehensible. The NSW bush was where I was born (Condobolin), enjoyed the first fruits of boyhood (Trundle), and later got my degree (Bathurst). As a matter of fact, I had also lived in Moree as a toddler, although I can't remember anything of my life there then. My first memory is of a house fire we suffered in Glen Innes, in the mountains to the east. Now, the Australian outback is a fine place to grow up or study, riding bushbikes through the scrub, looking for birds' eggs, or reading Baudrillard on a genteel lawn, where Andrew Denton used to play his pranks; however, after all my years living in Sydney and then Tokyo, there was no way I could return to a small town life, not in a million years. Not, unless I changed the narrative of my life itself, rewrote the founding myth, the Grand Algorithm that orchestrates my ambitions and dreams. In the old story I had progressed from provincial obscurity to the capital of the Eastern World (Tokyo means, after all, "East Capital"), and from there had started flowering outwards, into Vietnam, Thailand, Iceland, China. I was expecting that I would spend less time in Japan and more time in these other countries, while still having a domicile in Tokyo. As the 00s ended, however, it became apparent I could only afford so much flowering, on the income I was earning in Japan, and my other forms of income, which were mostly generated online. I came to realise that living in Japan, with all its local taxes and national insurance fees, all the impositions that residency implies, was holding me back from what was really my dearest dream of all, becoming an International Vagabondist. If my online income continued to grow, I could well become a Digital Nomad, endlessly jumping from place to place, miniature life to miniature life, country to country, continent to continent. In the new myth, that I daydreamed in my dying days in Japan, I gave up the security of a home base, to wander (wonder) the world like a vagrant, on a grand orbit of the globe. For practical reasons, I decided to start my wander/wonder in Australia, the country of my birth, since I thought it would be easier there. Once arriving there, I was overcome with a familiar urge to get the hell out of there, while trying to enjoy the chance to reacquiant myself with the local scene. The rule I set myself was to get out of Australia with as little flying as possible, and as much living as possible along the way, such that I could really get the feel of the land, and the vibe of the society. To achieve this job, it might be necessary to get a job, or it might be not, since I did have other sources of income. Since I wasn't planning to stay that long, becoming integrated wasn't a priority. After all, I was a Vagabond now, not a resident! Once out of Australia I would circle the world moving west, taking in Asia, India, the Middle East, Africa, Europe, the Americas, the Pacific, and return to Australia sometime around 2040, if something hadn't killed me first! When it seemed possible therefore that I might get a job in Moree, I didn't see it as a detour or an exile, but a chance to make a step west and north, towards Asia. It would be the next step on my Global Orbit!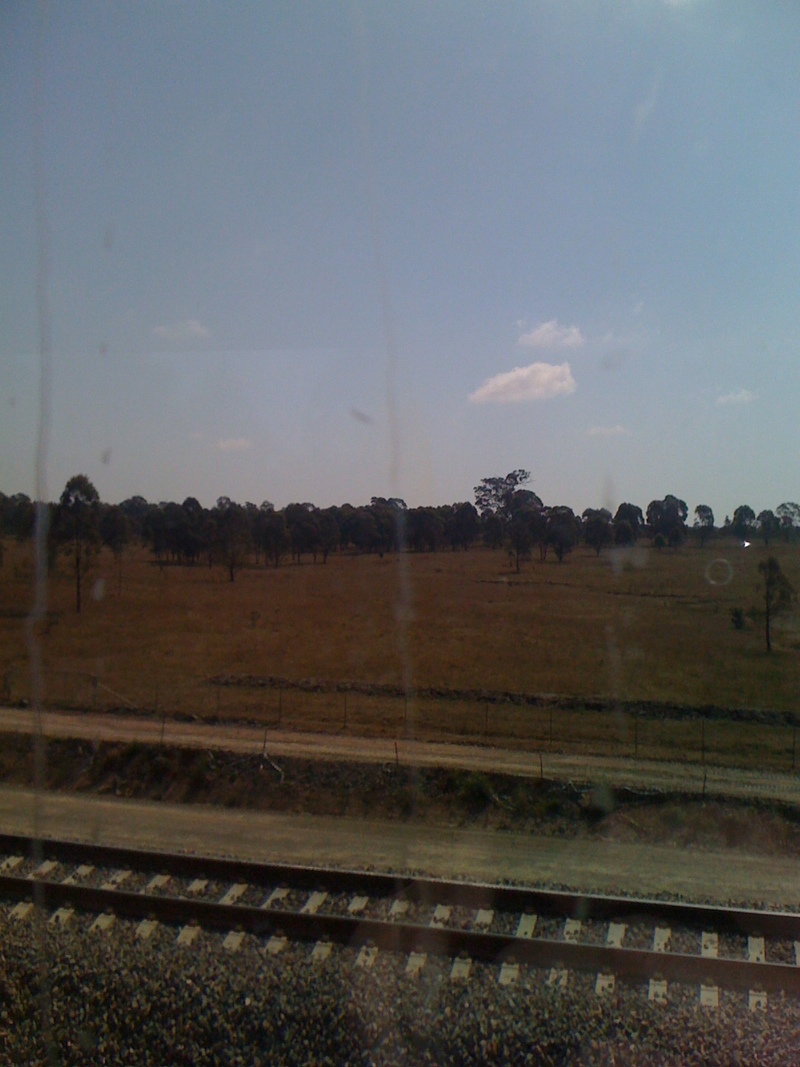 I looked up at the sky, trying to make out if the sun was climbing higher, the further north we moved. Beneath me Australia was also creeping north, as fast as a fingernail grows, propelled by lava currents. In Moree, it seems like everyone is someone else's sister, brother, aunty, or cousin. It was a strange feeling coming back to civilization (the NSW Central Coast), after spending time in the bush. That sense of incomprehension amongst the Aborigines of Moree, that cultural shock... what was that, if not part of the very essence of travel

Internet $2 for 21 minutes at the High Speed booth at Balo Square, Moree.
---
MOREE :: NEW SOUTH WALES :: 29.4 S 149.8 E
---
THIS IS A LONG WAY FROM SYDNEY TO BE SURE, BUT IF YOU ARE ON YOUR WAY NORTH TO QUEENSLAND AND ITS MANY PLEASURES, YOU COULD POSSIBLY STOP OFF AT MOREE. Famous for its artesian bore spa and located 628 km north-west of Sydney, Moree was once occupied by the Kamilaroi Aboriginal people. Many of their descendants live on in the town, giving it a distinctive Aboriginal flavour. Despite a rather modest population of only 10,000 people, Moree actually has a rather interesting history, especially in regards to race relations. I was privileged to have lived in the town for about two years in the mid-1970s, although I was too young to remember it, being only a baby at the time!

On their informative Australian travel website, the NRMA declares: "It would be stretching the truth to describe Moree as a tourist destination. People either come here for the artesian spa or for a stopover while on their way to somewhere else, like Lightning Ridge." This is a blunt appraisal but true -- it is only a place you pass through. My family were only "passing through" when we lived in the town for about 18 months in the mid 1970s (my father had been transferred there to work at the local Rural Bank.) More recently, in September 2004, I spent a night in the town on the way to the more touristed Carnavon Gorge in Queensland. Nonetheless, Moree is strategically located, and thus makes an excellent stopover point. What better way to recuperate after a long day's drive across the hard empty plains, than a spell in the Moree Baths? After a bath you could experience the real Outback at one of the town's pubs, drink a beer or two, and reflect on the region's Aboriginal and European heritage.
---
---
MOREE ARTESIAN SPA
---
AS stated before, the hot baths are Moree's biggest attraction, and shouldn't be missed. The baths attract more than 300,000 visitors a year, and offer excellent relief after a long day's drive over the empty plains. The spa complex had its origin in an artesian well sunk in 1895 in the quest for reliable drinking water for Moree. Since then the well has produced a natural steady flow of warm water, which is pumped into several pools and spas. The water is rich in minerals including sodium carbonate and sodium chloride, and is reputed to relieve rheumatism, arthritis, stress and general aches and pains. Some even say kidney stones and stomach problems can be remedied.
---
---
MOREE PLAINS GALLERY
---
THIS is one of the most important historic buildings in Moree and is located in the town centre (for more location details, see the official website at www.moreeplainsgallery.org.au.) A National Trust listed building, it is considered a fine example of the Free Classical style of architecture. The large downstairs space is used for major exhibitions and is dedicated to the Kamilaroi People. The first floor contains six more exhibition rooms. The Vault, located on the ground floor, houses three permanent displays of Aboriginal material. The Robert Bleakley Collection is made up mostly of wooden artifacts, including some Kamilaroi items and bark paintings from Arhnem Land; a large number of local stone objects have also been donated by Mr Ron Hardman. The Moree Plains Gallery owns a diverse permanent collection, which focuses on works by emerging Kamilaroi artists. The Kamilaroi people traditionally incised living trees with symbolic and ceremonial design.
---
---
BLACK VS WHITE :: moree's tortured history
---
THE first European known to have visited the area was surveyor Thomas Mitchell in 1832. He was sent to investigate the district by the acting governor after the recapture of escaped convict George Clarke who told of a great river called the Kindur. Clarke had been living in the area to the south with the Kamilaroi from 1826-1831. Squatters soon followed in Mitchell's wake establishing pastoral runs, among which was 'Moree' (1844), from a Kamilaroi term thought to mean either 'long waterhole' or 'rising sun'.

As was so often the case, Clarke's Aboriginal knowledge was used to perpetuate European domination of Australia, and to condemn the Kamilaroi way of life to extinction. Since that time, race relations have been tense, to say the least. For example, in the 1960s Moree was the site of fierce confrontations between Aboriginal rights activists and local whites. The focus of the confrontation was Moree's celebrated Artesian Bore, still the most popular attraction in the region. Inspired by the civil rights movement of the United States, busloads of students called the Freedom Riders headed to Moree to protest racial segregation at the Artesian Spa. The Riders were met at the Spa by angry locals and were punched, pushed and spat upon, in dramatic scenes were seen nationally on television.

According to the Moree Aboriginal Employment Strategy, "Moree has a history of racial tension and although in the mid 1960s one of the wealthiest towns in the north west of NSW, by the mid 1990s there was little growth, the town had a high incidence of crime and a negative image throughout the rest of Australia.

If you enjoy the contemporary Aboriginal art at the Moree Plains Gallery, head for the Yurundiali Aboriginal Co-op, which specialises in screen prints. You can also buy clothing and paintings.
---
---
NEAR MOREE :: The Devil's Waterholes
---
LEGEND has it that The Devils Waterholes, located are in the Waa Gorge, are bottomless. The Waa Gorge is in The Mount Kaputar National Park which is around 120km south of Moree and 50 Km from the closest town of Narrabri.

A spectacular mountainous walk through riverbeds will lead you to the magnificent Waa Gorge where swimming is possible in The Devils Waterholes (but don't try and touch the bottom!) These are a series of tiered pools formed as the river flows down the mountain.
---
---
bathurst - Carnarvon Gorge - Kiama - Moree - Carnarvon Gorge - Roma - Woolgoolga - - Wollongong