Gossy Good Times
GOSFORD COMES ACROSS AS A CITY ON THE GO. All around town, construction work is carrying on. There is a wealth of heritage sandstone to be sure, and a history dating back to the convict days. Nonetheless, Gosford's eyes are framed forwards, towards a glorious future.
It is true that many buildings have been lost to the wrecking ball, including the Public School I attended in the very late 1970s. Many, however, still remain. Henry Kendall Cottage was assembled in present day West Gosford using convict labour between 1836 and 1840, and is now a museum open to the public. At Frederick Point you can find the graves of the pioneers hidden among the million dollar properties.
Mann Street is the main street of Gosford, its bloodline you might say, its artery. It functions as part of the former Pacific Highway, which runs from Sydney to Brisbane. On Mann Street you will find the railway station, police station, and council chambers. Down near the waterfront it meets the Central Coast Highway, which connects Terrigal and Kariong. On the way to Terrigal you will pass East Gosford, established in 1840, and maintaining something of a village feel.
Activities
TAKE A PUNT at the Raceourse. Watch the Mariners play at the Central Coast Stadium. Usain Bolt used to run with them. Climb to the top of Rumbalara Reserve, with its panoramic views. You might well pass a scrub turkey on the way up. Ride on a junk on Brisbane Water (I did that once, many moons ago!)
Bara Barang Aboriginal Centre: 3 Mann Street, Gosford. Phone: (02) 4312 5133. Website: website here.
The Central Coast was once Darkinjung turf. Their legacy survives at Bara Barang, which means "Make Tomorrow" and aims to become a tourist attraction with a planetarium and the like. It would be nice to learn the Darkinjung names for the stars, if the project ever gets off the ground. I do know that Mirrabooka is their word for the Milky Way, and Mount Yengo is their Uluru. If I could ever make pilgrimage to that place, I will.
Oldest astronomers in the world https://t.co/XjJ5xT6WRd

— Shelley Ware (@IndigenousX) June 12, 2021
Edogawa Commemorative Garden: 36 Webb Street, East Gosford. Phone: (02) 4304 7550. Google Streetview: here.
I have a personal bond with this garden as it was planted by the Edogawa Ward of Tokyo, where I lived for 4 years, in Shinozaki. Whoever said that sister cities were a waste of money??? this space is worth every Yen invested in it! Adjoining the Gosford Regional Gallery, the garden encompasses a Koi Pavilion, Wisteria Walk, and a sukiya style teahouse.
Stroll along the meandering pathways with their cypresses and ginkgo biloba, or simply plonk yourself on a stone bench, and soak up the sculpted view.
Gosford Hospital: Holden Street, Gosford. Phone: (02) 4320 2111.
Gosford Hospital is a huge structure and it dominates the skyline north of the railway. It is always quite busy, like all good hospitals, and it is confusing to find your way around inside. There are a couple of cafes and cafeterias if you need to pass time waiting for a blood test, or getting your Pfizer jab. Laycock Street Community Theatre: 5 Laycock Street, Wyoming. Phone: (02) 4323 3233. Pulse Nightclub: 108 Mann Street, Gosford. Website: website here.
When I was working in West Gosford in 2012, just round the corner from the Henry Kendall Cottage, my telesales crew all raved about this place, which was part of the Union Hotel. It might have been seedy with topless waitresses and the like, but it was the place to go. Sadly, the Union Hotel is now a hole in the ground, awaiting resurrection as a pair of luxury apartment towers. When those towers are built, they will redefine the Gosford skyline, taking it to a whole new level. That's "make tomorrow", Gossy style. The Rhythm Hut: 135 Faunce Street, Gosford. Phone: (02) 4322 5971.
This is an entertainment venue and hub for musicians and performers. They have open-mike nights, drumming sessions, sound baths and suchlike.
Accommodation
GOSFORD IS IN need of good centrally located accommodation. Hotel Gosford is right in the middle of things, but it is also nasty and noisy. Fortunately they are constructing something new right next door, which might well be a grand extension. It won't be as high as the original,, but it will be a little bit grander. No doubt with funk and soul on the soundsystem, that seems to be the style here.

Ashwood Motel: 73 Central Coast Highway, West Gosford. Phone: (02) 4324 6577. Website: website here.
Due to reopen in February 2021. There is a midweek "Tradie's Special" for $99 which includes a $10 food or drink voucher at Gosford RSL. Bella Vista Motel: 5 Central Coast Highway, Kariong. Phone: (02) 4340 1108. Website: website here.
Sporting an outdoor swimming pool and panoramic views of Gosford, the motel sits conveniently off the M1 freeway just near the turnoff to Woy Woy, and all the archaeological treasures of the hills. Hotel Gosford: Corner of Erina Street and Mann Street, Gosford. Phone: (02) 4324 1634. Website: website here.
Deadset in the middle of Gosford, opposite the railway, rises this historic edifice, built in 1926. The internal lift is just as an ancient, and is said to be a museum piece. I was somewhat skeptical on my first night here (March 2021), since the hotel is a cheapie with shared bathrooms. My concerns seemed to be validated when I realized, after checking in, that there was no remote controller for the TV in my room. It was a steamy day, and my shirt clung to my back like a cheap shower curtain. I rummaged through all the drawers, peered under the bed, even teetered on a chair to examine the top of the cupboard. It was a little dusty, but there was no controller there. This could be a problem. I rode the rickety lift two floors down to reception, where I reported my plight. A lot hung in the balance: this was my recon mission, and if the Hotel Gosford failed this first test, I would have to upgrade into something more expensive for the coming longstay. Thankfully, the lady at reception provided me another device, which she assured me would do the trick. I returned to my room via the stairs, traversing some office space between the saloon and the accommodation. Back in my room, I aimed the remote squarely at my TV, and squeezed the on button. Nothing happened. Damn, I thought. I am not normally a complainer, but this was important. The second cheapest hotel in Gosford (the Ibis) cost at least $100 a night, or $3600 per month, I could go without a TV for one night, of course, but how about the longstay (or the even longer stays which loomed beyond?) If the TV didn't work this time, what else might not work in the future? This was a dry run of the Escape from Oz which is due to begin in a matter of months. It was a critical battle, one worth fighting for... (For the complete story of my first night at Hotel Gosford,
) Gosford Palms Motel: 7 Moore Street, West Gosford. Phone: (02) 4323 1211. Website: website here.
Features a swimming pool and outdoor barbecue. Ibis Budget Hotel: 63 Central Coast Highway, West Gosford. Website: website here.
Hidden behind McDonald's near the showground can be found this premium budget hotel. While I have never been inside, reception reportedly features a hot drink corner with vending machines and snacks.
Cafes & Restaurants
GRAB A CHIPOTLE Philly steak steak sandwich at Gloria Jeans, on Mann Street. Get a 5-cheese toastie at Bouffant in the former School of Arts. They put truffles in cheese I am sure! On the first Friday night of the month, Aussie Night Markets is held with food trucks in West Gosford. Guzzle Gozleme and Pupusa from Central America. There are a number of other trucks that roam around town, dishing up German sausages and hot dogs from the around world.
Bay Road Brewing: 89 Donnison Street, Gosford. Phone: (02) 4322 3046. Website: website here.
This might be new place to hang out in 2022. Like the Bon Pavilion, my hang for 2021, it is only open from Wednesday to Sunday. They concoct their own brews on site, and sell a wide range of craft beers including Passionfruit Pool Party sour ale, Cinnamon Spiced Rum (actually another ale), and The Dude. I drank one of their local concoctions on tap the last time I was there. I will be back. Bon Pavilion: 159 Mann Street, Gosford. Phone: (02) 4302 1593. Website: website here.
The Bon Pavilion is an attempt to introduce a bit of class to the Central Coast. John Singleton is a backer, and he has long been an exponent of development in Gosford. On weekends it might cost $14 for a pitcher of Asahi beer, which my brother might consider "Sydney prices". They have some regular events like barbecues and all-you-can-eat brunch. Chicken V: Imperial Centre, Shop 128/171 Mann Street, Gosford. Phone: (0404) 008938.


Many Japanese restaurants in Australia are in fact owned and operated by Koreans and Taiwanese, which makes them inauthentic is my opinion. Better options are the Korean restaurants, which are not so appreciated by the Australian public. Some day soon Korean food is going to trend in Australia, and Gosford has a good selection of grocery stores, grills and gourmet venues specializing in this cuisine. At Chicken V, you can order such strange sounding but delicious dishes as japchae, gamjatang, and ddukbokki. Spicy chicken is the big draw, however. I took on their Crazy Hot Chicken one evening and was defeated. Leeson learned: never ask Koreans for extra spicy. Joe's Pizza Parlour: 207 Mann Street, Gosford. Phone: (02) 4323 1677.
Just a few hundred metres from Gosford station and the centre of town can be found this local institution. I tried to order once, but it was closed. It is only open evenings, it seems, and closed on Mondays. Lyon's Den: Mann Street, Gosford. Website: website here.
An Afrocentric wine/beer bar in a historic building across the road from the old School of Arts, which opened in the middle of the great Coronavirus pandemic. The name (Lyon = Lion) is a clue to the African influence of this establishment. Unfortunately I have as much passion for wine bars as I do for craft beers, so I haven't ventured here yet. But I am likely to change my mind soon, both about wine bars, and craft beers! From walking past, the vibes seem posh. They have tapas and beer on tap, and the dishes seem to have an African influence, like the biltong from South Africa. Mapo Galbi: 154 Mann Street, Gosford. Website: website here.
Authentic Korean barbecue that you grill at your table. The grilled selection includes marinated lamb chops, wagyu beef, pork belly and ox tongue. You can also order a range of spicy soups and kimchi pancakes. Merle's South African Cafe: Shop 1/7-9 William Street, Gosford. Website: website here.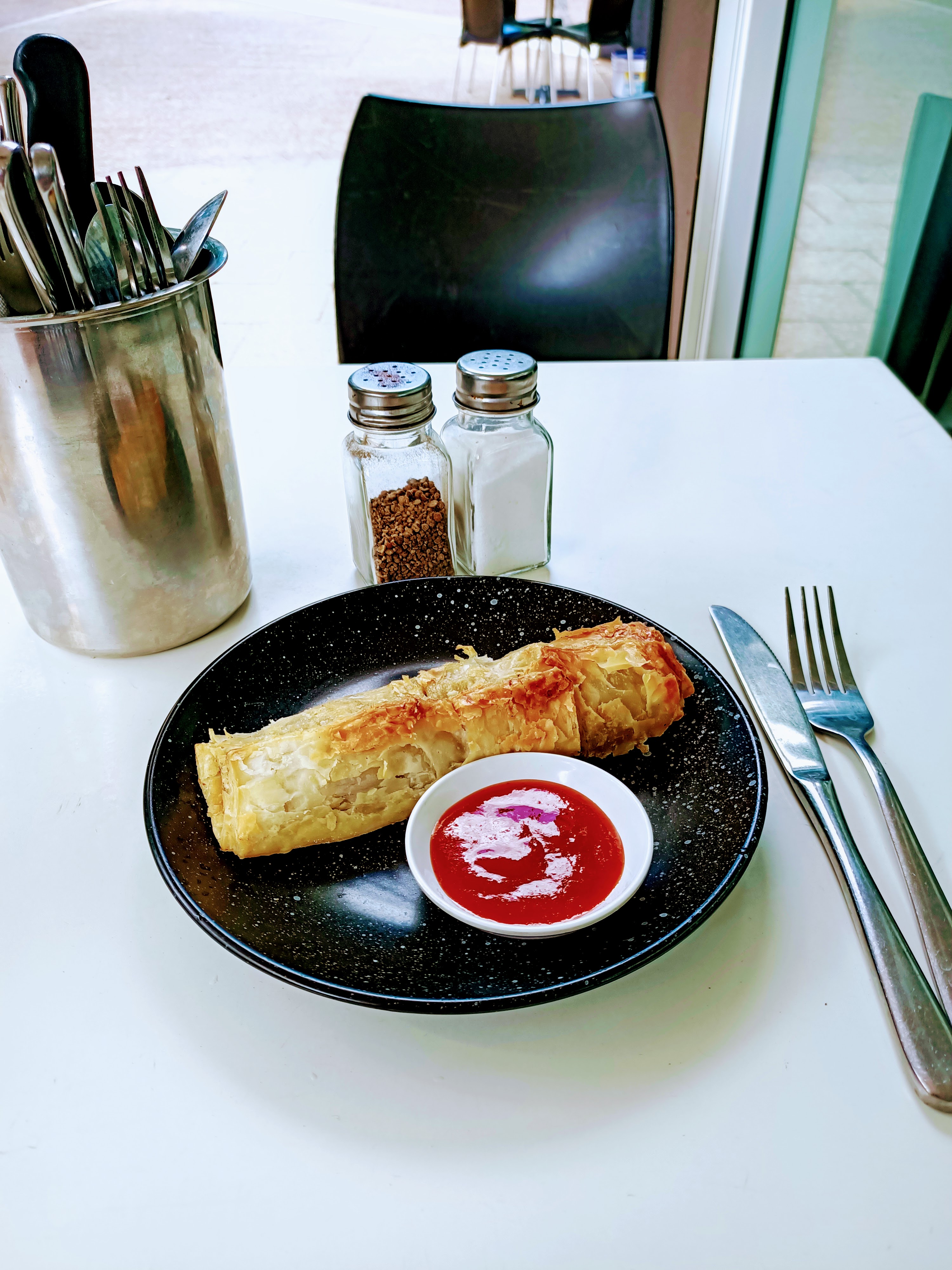 South African café in the centre of Gosford, boasting curries on the menu. They seem to have a connection with Old Mate's Kitchen at Wyong. The staff are not only South African, but black South African. That's exotic for the Central Coast. I ordered a sausage roll on my first meal here. It tasted a little different from the Australian sausage rolls. Pinocchio's: 32 William Street, Gosford (near the southern entrance to the Imperial Centre). Photo: (02) 4346 4721. Website: website here.
There are few things in the world better than pizza and red wine, and this place dishes up both. This popular Gosford restaurant has its own app, which is available here, and its always busy whenever I pass by. I'd like to try the Pomodoro Verde pizza, featuring pickled green tomatoes. The Verdure pizza looks good too. The Factory: 6 Justfrute Drive, West Gosford. Website: website here.
This might be my new place to hang out in the light industrial lots of West Gosford near Scribal, the telemarketing giant. It is a chocolate factory, in fact, so that should mean their caffè mochas are extra delicious (update: they are!) Children can craft their own chocolate bars at a bespoke chocolate bar, with ingredients including nougat, M&Ms, nuts and even 24K gold coating (if you can afford it). I didn't eat on my first visit, but I see that Belgian waffles can be scoffed all day long. Zaytouna: . Website: website here.
Hot and cold mezza, which is Arabic for side dishes.
Shopping
A LOT OF THE youth in Gosford seem to like the Gothic look. Perhaps they buy their clothes at Twisted Vixen (on Donnison Street), which is not just a store, but a community. Goths aside, there are quite a few clothes outlets along Mann Street, and in the Imperial Centre. For a wider choice, you need to go to Erina. Erina Fair: Karalta Road, Erina. Phone: (02) 4365 6200. Website: website here.
Erina Fair is like yin to Tuggerah Westfield's yang. Instead of David Jones, they have Myer. While Westfield is long and straight, Erina Fair is segmented. It can be easy to get lost inside. The food court is a huge dome, ringed with historical photos.
On the food tip, Shawarma Margherita is a Lebanese takeaway joint with quite an extensive menu such as kofta and sujok pizza. Yes, pizza is supposed to be big in Lebanon. Zaatar is a more traditional wrap, employing a spice mix which is supposed to be a superfood. Elsewhere in the mall you can find Athlete's Foot with its rare Hokas, which I scooped up on my last visit. There is a Hoyts cinema, an ice skating rink, and also a rink for roller skating. You can even get your Tesla charged in the car park while you shop! Imperial Centre: 171 Mann Street, Gosford. Phone: (02) 4324 4299. Website: website here.
Back in the days before the mega mall, there was the Imperial Centre, right in the heart of town. With its regal crown logo, it is probably as old as the Empire itself. I remember shopping there with my Mum and aunties, some od them now dead, way back in the 1980s. While the Imperial Centre is not so big or fancy as Erina Fair, it is a popular place for teenagers to hang out after school, no doubt due to its proximity to the railway and the bus station. It features the usual fast food options like gozleme and kebabs, a few cafes, an outlet of EB Games, a Woolworths and bottleshop, Best&Less, a chemist and the like. Cops wait in line with skateboarders for their burgers at McDonalds. Magick Corner: 103c Donnison St, Gosford. Phone: 0432 450 929.
Right next door to Twisted Vixen, this shop has a sign proclaiming "the world between worlds". It offers psychic readings, natural healings, and sells mystical goods like crystals.
Terrigal
TERRIGAL IS probably the closest thing there is to "Gosford's beach". The sand here is an orange-golden hue, which changes to a greyish colour further north. I have no idea why that happens. The local landmark, the Skilion headland, is a geological marvel dating back to the Triassic Era. In the modern town, there is a popular Mexican restaurant, a few French bistros, the inevitable Crowne Plaza Resort. The last time I visited, at least one crane was in evidence, doing its work transforming the skyline. It won't be the last one. Buses #67/68 service Terrigal from Gosford. Going to the Avocas, you can catch bus #66 which stops at Kincumber. Numbers #64 and #65 stop at Kincumber on the way to Woy Woy. Bus #63 turns off Avoca Drive at Yarralunga to service Davistown, but that is another trip entirely! Milky Lane: 78 Terrigal Esplanade, Terrigal. Phone: (0451) 645591. Website: website here.
I stumbled upon this place once after a long walk from Erina Fair. It was raining outside, and I was heartened to get past the security guy at the door, who was checking Coronavirus qualifications. Past the bouncer, there awaited a curious mix of hamburgers, milkshakes and Hip Hop aesthetic, on the beachfront. They do cocktails too which are supposed to be something else. On another level, as my brother's wife enthused.
Mumbo Jumbo's: 92 Terrigal Esplanade, Terrigal. Phone: (02) 4304 5969. Website: website here.
In the hipster heart of Terrigal, opposite the Surf Club, you can find this place. It features tropical cocktails, jerk chicken, and live reggae. I came here for my 46th birthday, with my Mum and Dad, and Michael's family. We made a booking for 8 people but there must have been a mix-up, as we were only allocated a 3-person table. It was hard getting my Dad up the stairs to the restaurant in the first floor, he was on his last legs you could say. I heard that they spin a lot of Reggae records here but tonight, the vibe was Motown. They have a lot of Jamaican drinks here too but I stuck to the Tecate beer from Mexico, largely because I liked the design of the cans. Terrigal Beach House: 40 The Esplanade, Terrigal. Phone: (02) 4384 9111. Website: website here.
Occupies the first floor of the Crowne Plaza in Terrigal. As you would expect, it looks quite exclusive, and out of my price range for now.
Welcome to Woy Woy
BRITISH COMEDIAN Spike Milligan liked to mock Woy Woy, calling it in the only aboveground cemetery in the world. I used to agree with him, in my overconfident youth, but now I have changed my tune. What began as a fishing village in the mangroves of the Brisbane Water has now matured into a weekend resort with authentic murals painted on the walls, and its own Gnostic Corner selling crystals and Kombucha tea. It has developed a vibe, which cannot be denied. Its proximity to Sydney makes it a magnet for future development. Between Woy Woy and Copacabana sprawls the pristine Bouddi National Park, with its ancient angophoras and hidden Aboriginal rock carvings. It is so big that you probably need a car to get around, or at least be prepared to hike. If you are dedicated, you might be able to locate Egyptian hieroglyphs in the hills of Kariong, in the Brisbane Water National Pak, to the west. One adventurer who took on this trek was oliverd. He reported, "There are approximately 300 Egyptian hieroglyphs, making this site the largest collection of Egyptian hieroglyphs outside Egypt and Sudan. There has been a few conspiracy theories around the Gosford Glyphs, with one theory being that they were inscribed by Egyptian travellers who sailed to Australia 5000 years ago, becoming shipwrecked near Gosford." A far-fetched story to be sure, but stranger things have happened at sea. There are real Aboriginal engravings at Kariong too, on Lyre Trig. I have tried to look for them, on a bushwalk from Woy Woy Road to Point Claire, and didn't find squat. From Woy Woy you can also access the Brisbane Water National Park, although it is somewhat of a tough mission. Central Coast Ferries operates regular commuter service connecting Woy Woy and Saratoga, Davistown and Empire Bay. You can pay for tickets on board the ride. I saw a couple who were charged $33 for their particular journey. Buswise, Busways #55 passes through Woy on the way to Ettalong Beach and Umina, as does #70. Take #50 to Umina Beach, or #53 to Ettalong and Booker Bay. Bayview Hotel: 2 The Boulevarde, Woy Woy. Website: website here.


I stayed here one night in 2022, and am planning a number of stays in 2023. There is also a rooftop restaurant, opened on weekends, inspired by Japanese cuisine. BBF Cafe: 4/29-37 George Street, Woy Woy. Close to the pet store and shopping centre. Bouddi Gallery: 5/1 Kilcare Road, Kilcare. Mobile: 0419 287994. Website: website here.
Close to the magnificent national park can be found this gallery, presenting indigenous artworks in a wide variety of forms, from cushion covers to throw rugs. Each artwork is accompanied by the Jukurrpa (Dreaming) story behind it. Deepwater Plaza: Railway Street, Woy Woy. Phone: (02) 4379 9999. Website: website here.
The carpark is a wonderful specimen of Brutalist architecture. Inside, drink Bubble tea at Teasers, or shop at Coles or K-Mart. There is the obligatory Sushi Hub, and a Phat Chicken which I have dined at. It's like your oldschool charcoal chicken joint, turned into a franchise.
Ela Mesa: 18-22 The Boulevarde, Woy Woy.
Greek restaurant with views of the Brisbane Water, right near where the ferry departs. Ettalong Beach Tourist Resort: Corner of Ocean View and Schnapper Roads, Ettalong Beach. Phone: (02) 4341 1999. Website: website here.
A Mediterranean themed resort encompassing more than 40 boutique shops, restaurants and cinema complex. I saw The Fellowship of the Ring here in one of their cinemas once, back in the early 00s. The dining precinct boasts Japanese, Mexican, Italian and Cantonese food, and even an Armenian cafe (the Lavash Yerevan). I would love to guzzle it all, but many of these places only open in the second half of the week. I wonder if that is to coincide with all the visitors coming from Sydney on the weekend? It is a tantalizing hint of the culinary delights which lie on offer on the other side of the Hawkesbury!
My mother gave me a two night stay here for my 50th birthday. The bar fridge was cold, which was a plus. The air-conditioner was cold too, which was helpful since there was a heatwave at the time. The wallscreen TV was huge, and the shower hot. Fisherman's Wharf: The Boulevarde, Woy Woy. Phone: (02) 4341 1171. Website: website here.
This is one of the landmarks of the peninsula, on the waterfront facing impenetrable Pelican Island. On sunny afternoons tourists eat fish and chips and feed the remains to the resident pelicans and seagulls, or scoff the Singaporean blue swimmer crab, sashimi or BBQ sardines. Walking east along the channel, you can find a tidal bath and war memorial with enough plaques to confirm Milligan's jibes about the liveliness of this town. The pathway east is in fact a part of the Gosford to Umina cycleway and offers splendid views of Brisbane Water and all the glorious homes which surround it. Link & Pin: 18A Railway Street, Woy Woy. Phone: (02) 4309 3490. Website: website here.
This looks like a good place to hang out, mixing up two of my passions in life, Vietnamese cuisine and live music. I wanted to try the Bo ne do on my first visit, but they didn't have the steak prepared. I ordered banh mi instead with crunchy pork and what may have been tofu. Not bad! Those proteins are cooked on the charcoal barbeque, and were bursting with flavour.

Pelicans Restaurant: 33 The Boulevarde, Woy Woy.
A part of Woy Woy Hotel. Open for lunch or dinner. Seafood reigns supreme, with starters including grilled tiger prawns and salt and pepper squid. Peninsula Plaza: 48 Blackwall Road, Woy Woy. Website: website here.
Boasts a Woolworths to match Deepwater's Coles. Spices 29: 34 Blackwall Road, Woy Woy. Phone: (02) 4399 8225. Website: website here
Spices 29 might well be the only restaurant specializing in Goan and Maharashtan food on the Central Coast. Even the language the owners speak sounds different from the run-of-the-mill Hindi (is it Marathi?) Some of the recommended meals here include beef kolhaburi, goenchi koddi (Goan prawn curry) and vindaloo (a spicy Goan favorite!) Prior to my first visit (in November 2022), I had resolved to order the lamb dhansak, a proper Parsi meal. In the end I got the goat xacuti, which hails from Goa. Fortunately, I ordered the medium version, as it was quite spicy. It is prepared using coconut milk, which no doubt adds to the uniqueness of the taste. Young Barons: 73 Blackwall Road, Woy Woy. Phone: (02) 4344 3735. Website: website here.
As recommended by Not Quite Nigella, who dined here in the 10s. It comprises a food shop and cafe offering artisanal Italian products like homemade pasta, red wine and bread, sauces and salami. I bought a tray of piccante pork for about $9 on my first visit to the venue. Out the back of the shop is a small dining area which is open from 8am. No reservations possible, just walk in and see if there is a table spare. Watersedge Motel: 18-22 The Boulveard, Woy Woy.
Literally right next door to the Baywater Hotel and Ela Mesa is this motel, down the road from Lion's Park. From the exterior it looks a bit shabby, and they don't seem to have much of a presence online.

Do you have any other places to suggest, or any questions regarding Gosford, Woy Woy and Terrigal? I am staying at Woy Woy Umina Beach right now, just waiting for my Bitcoin holdings to rise in value again, before I commence the Great Escape!