---
THE ENTRANCE | 33 ° 20' 151 ° 29' E
---
SITUATED AT THE MOUTH OF TUGGERAH LAKE, THE ENTRANCE IS ONE OF THOSE CLASSIC SEASIDE TOWNS YOU MIGHT FIND, ON THE LONG ROAD FROM SYDNEY TO BRISBANE. It is called The Entrance, presumably, because it sits astride the outlet of Tuggerah Lake, where the lake enters the ocean (or vice versa). Life up here revolves around the elements: fishing, surfing, and boating are major pastimes. Every afternoon, hundreds of pelicans descend on the town for a free feed. The pelican is an emblem of the Central Coast, and you can see its likeness everywhere up here: as the logo of The Entrance Backpacker's Hostel, or a statue in someone's front yard. There are actually two coastlines here, one on the lake, and one on the ocean. The channel is the place they meet, they kiss as Venetians might say. Domestic tourists abound, many from Sydney; Lebanese and Koreans are common in the summer months, and you can buy their food in the local Coles. The Red Bus service connects the town with other transport hubs, such as Tuggerah and Lake Haven. It is convenient to just jump on and off, and venture off in search of new adventures. And there are plenty of adventures, both north and south, east and west.
---
---
ACTIVITIES
| Swimming, Fishing, Bicycle Riding, Watching Pelicans, 50s Dancing
---
WATCH THE
pelican feeding
, at 3.30pm every day. Play mini golf at Putt n Fun, next to Royal Kebab on the high road.
Hire a bicycle
and ride it around the lake. There is an old cinema, and public swimming baths. Every October hot rod enthusiasts and swing dancers converge on the town for
Chromefest
, which I have attended a number of times. If you get sick of the place and long to leave, there are countless other worlds waiting to be explored at the
CCVR Studio
at the Diggers Club. You could take a ride in the ferris wheel pictured below, although I have never seen it actually working.
---
---
SHOPPING
| Trinkets, Fashion, Vintage Suitcases, Bicycle Riding, ° 31' E
---
THE ENTRANCE is not a great place for shopping, at least compared to
Long Jetty
down the road. The shopping choices are rather scattered, to say the least. For some reason there are not one but two
lolly stores
in town, as well as some vintage suitcases and a couple of eclectic stores.
Lollies and Stuff
: 117 The Entrance Road, The Entrance. Website:
website here
.
Sells
sweets
from around the world, including
Hersheys
chocolates from the USA, … Sachets of
Kool Aid
go for a couple of bucks. On my first visit here, I bought a can of Hemp energy drink which, unfortunately, did not contain any active cannabinoids. That's deceptive. Later on I bought some
ginseng
thing.
---
---
ACCOMMODATION
| AirBNB, Caravan Parks, Serviced Apartments, Motels, Hotels, 31' E
---
AS A TOURIST hotspot, The Entrance suffers no shortage of places to stay. The town abounds in caravan parks, motels, holiday rentals and apartments. There are, of course, plenty of Airbnb rooms available too. The White Sails... There is a laundromat next to the Shahi Mahal restaurant, all shiny chrome, and another further towards Long Jetty, and one more in Long Jetty itself...
The Entrance Backpackers
: The Entrance Road, The Entrance.
Budget Accommodation Central Coast
: 4 Victoria Avenue, The Entrance. Phone: 02/4334 1001. Website:
website here
.
Dorm rooms go for AUS$30 a night, which is about the same rate as the nearby youth hostel. For private rooms, it is about $70 a night. They seem to have their own bathrooms, but no TVs. Which is opposite the situation at the nearby Lakes Hotel.
Lakes Hotel
: 201 The Entrance Road, The Entrance. Phone: (02) 4332 2166. Website:
website here
.
One of the acclaimed local pubs, occupying a strategic intersection, which also offers pub-style accommodation. I stayed here one night in winter 2018, just to see if I could hack it. I was a little apprehensive since my room lacked air-con and it was a cold night. Alarmingly, there was only one thin blanket on the single bed, and I was afraid to ask for another one. I wrapped it around me as I watched the little TV set, drinking cans of VB. However, when it was finally time to turn off the light, put down the can, and snuggle into position, I didn't feel cold at all... that thin blanket was more than sufficient. For my full WOMO review,
click here
.
Ocean Front Motel
: Blue Bay. Website:
website here
.
Right next to the Grant McBride Baths, and the blue stones of Blue Bay, where the sooty oysterbirds feed..
The Entrance Motel
: Long Jetty. Phone: (02) 4332 2226.
Waldorf Serviced Apartments
: 18 Coral Street, The Entrance. Phone: (02) 4334 8800. Website:
website here
.
Waldorf have serviced apartments all over Australia, and as I was interested to try out their property at The Entrance, I booked a studio there for 5 nights in February 2019. It was a tad outside my price range, but deductions on
Hotels.com
and Cash Rewards helped to pull it down a notch. The Waldorf is right in the heart of the action, to be sure, behind the Oaks Apartments on the channel which separates the lake. In the clear channels outside, flathead swim. A cormorant dives among the reeds. .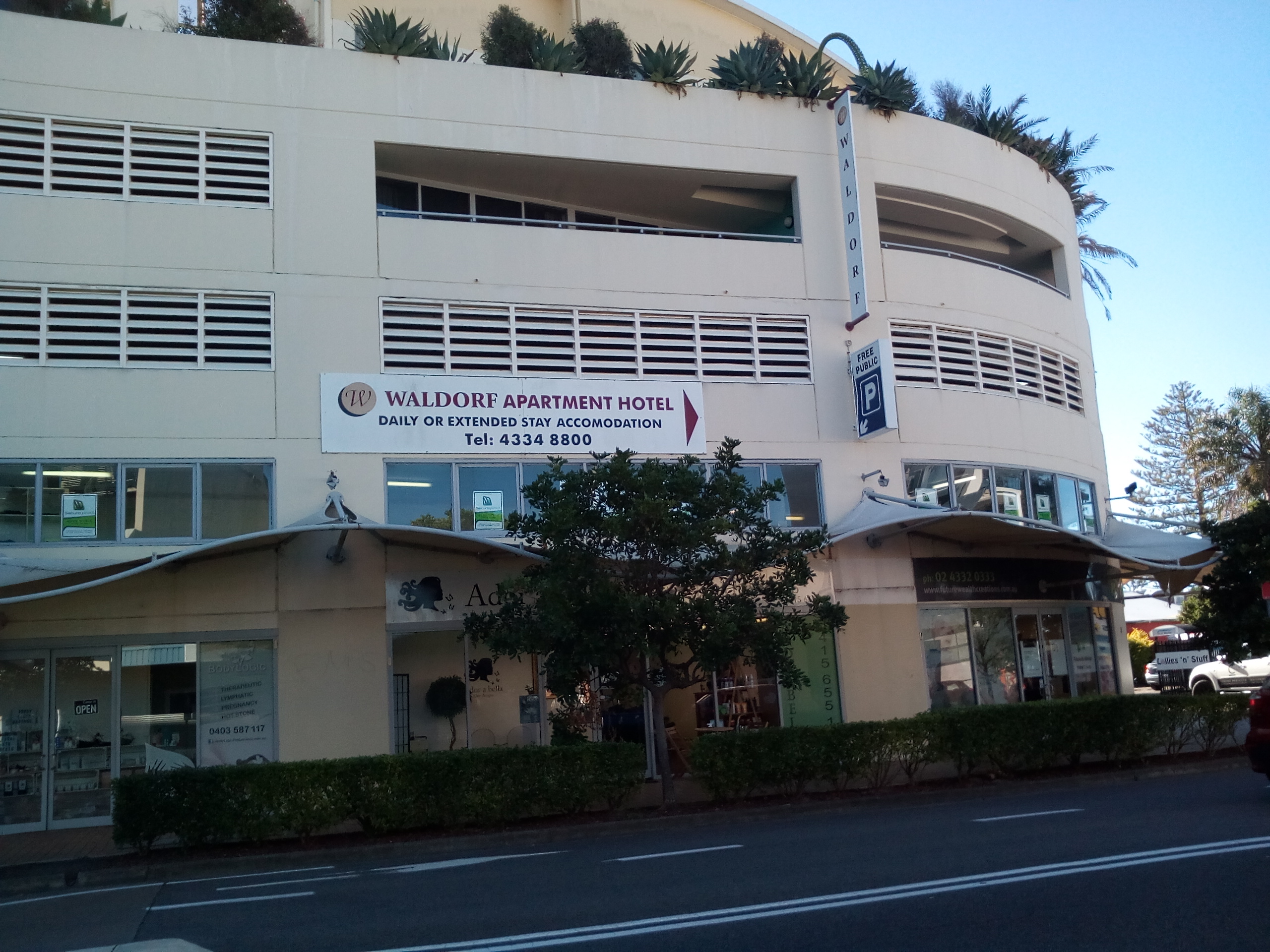 When I checked into my apartment I felt somewhat guilty, because it was easily the most spacious that I have stayed in for a long time. There is a living room, kitchen, bedroom and bathroom, all in fairly good condition..
Cable TV is available and I savoured the opportunity to watch things I have rarely get a chance to see, such as the
History Channel
. I haven't watched that since my
Liberty House days
! There were a few other interesting channels, but the
History Channel
became the stickiest (thus, a new Comfort Zone was born). There is 1GB of complementary wifi, which I value at about AUS$4. I don't know how fast it is because I never used it.
---
---
CAFES & RESTAURANTS
| Fish & Chips, Mexican, Thai, Riding, 151 ° 31' E
---
YOU CAN find all the hipster favorites at The Entrance, such as
avocado toast
and
croque monsieur
. More authentic is the fish and chips, and the old-style milkbars which have disappeared from Sydney. Thai food is popular in The Entrance, as is Indian, and Mexican. ...
Bang Rak Thai Restaurant
: 107 The Entrance Road, The Entrance. Website:
website here
.
Serving roasted squid (
pla muek yang
), roasted duck and pineapple in red curry (
gang phed ped yang
), and a whole lot more. They appear to sell young coconuts too, which would go down a treat on a sultry summer's day.
Bistro Jinja
: 12 The Entrance Road, The Entrance. Phone: 02/4333 4999.
We went here for my 44th birthday. According to
TripAdvisor
, this was the number one restaurant in The Entrance. It was good, but not spicy enough for my tastes. We shared lamb
massaman
curry, squid salad, a seafood curry and other dishes.
The Burrow Coffee House
: Coral Street, The Entrance.
I dined here with the
Sydney Swing Kats
during Chromefest 2018. Garnet ordered some muesli shit, while I got the Brittney Loves Ben meal for $19...
Chi Cong Bakery
: 221 The Entrance Road, The Entrance.
Vietnamese bread shop, with takeaway
bánh mì thịt
rolls comprising various fillings. I bought a standard pork roll one hot afternoon and ate it out on the street...
Euro Bean Café & Espresso Bar
: 119 The Entrance Road, The Entrance.
This place dishes out European coffee (such as Greek
Frappe
iced coffee, and
Espresso Freddo
. At night they offer a beer and kebab
combo
which I might try one day.
Hernando's Hideaway
: The Entrance Road.
The
estafado de mariscos
(featuring flathead, prawns and mussels) looks amazing, and I will try it if I can in 2018. Drink Mexican beers or the
Cave Creek Chilli Beer
. Handmade in Mexico, it supposedly has a complete chilli pepper in every bottle..
Los Dos Hombres
: Victoria Street. Meaning "the Two Dudes", or something like that.
Pizza Capers
: . Website:
website here
.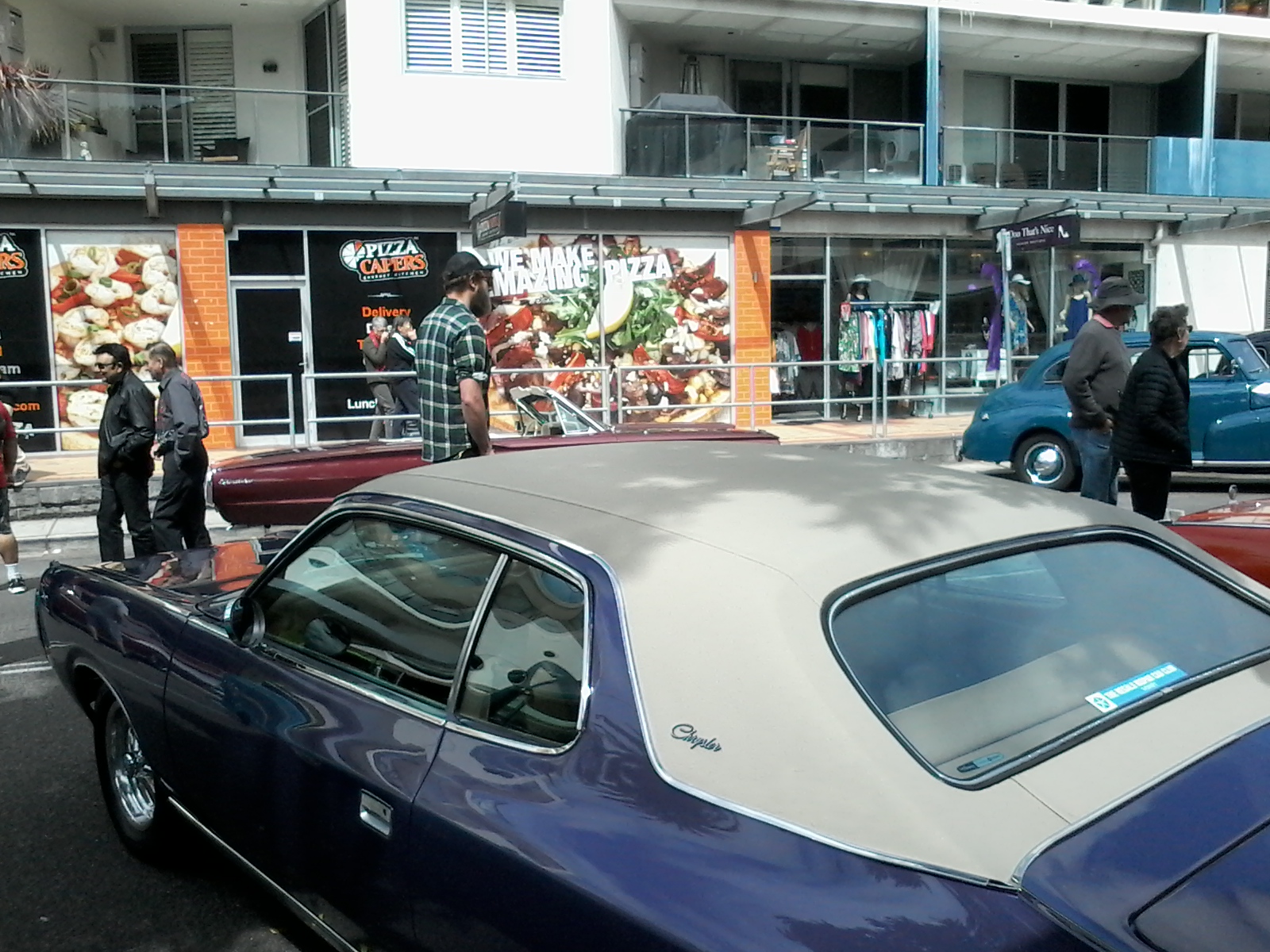 Pizza Capers is a chain with outlets lining my
planned route from the Central Coast to Queensland
, in places like Bundaberg and Mackay. An eclectic range of toppings including
karaage
and
banh mi
. They all look cool, but the Barcelona Seafood is on another level entirely! That is what I thought at first, looking at the website.
Pree Cha Thai Restaurant
: .
For many years while I was trapped in my agoraphobic bubble at Lake Haven, I dreamed of this restaurant, which I had walked past on a rare trip to The Entrance, and been excited by an exotic whiff from the
wok
. I was with my parents at the time, so I didn't have a chance to sit down and eat something; besides, I would have been too anxious to enjoy it. One blustery August afternoon in 2018 I finally made it back to The Entrance and this time I was solo. I ordered duck in yellow curry, which was okay, but nothing sensational. Six months later I returned again and this time my meal was slightly more memorable. I got the
Yum Nua
(beef salad) and a cup of Thai iced tea. It would have been nice if that salad had blown my head off, but it wasn't that spicy. The iced tea, however, tasted Asian and exotic...
.
I could get some home deliveries to the Halfway House! Indian and Indochinese fair!
Shahi Mahal
: The Entrance Road, The Entrance. Website:
website here
.
The last time I checked, this place had 4.5 bubbles on Trip Advisor. Try the possibly Afghan style
spicy Mahal chicken
. This also may be the only place on the Central Coast serving
Chindian
(a mix of Chinese and Indian food). This is a type of food supposedly invented by the Hakka community in Calcutta. The cauliflower
Gobi Manchurian
looks good. I once ordered the
Chilli Fish Indo China
from
Bollywood Indian Cuisine
at Charmhaven, which I guess is Chindian... it tasted
pukka
enough. But I wanted more.
Spice Affair
: 41 The Entrance Road, The Entrance. Website:
website here
.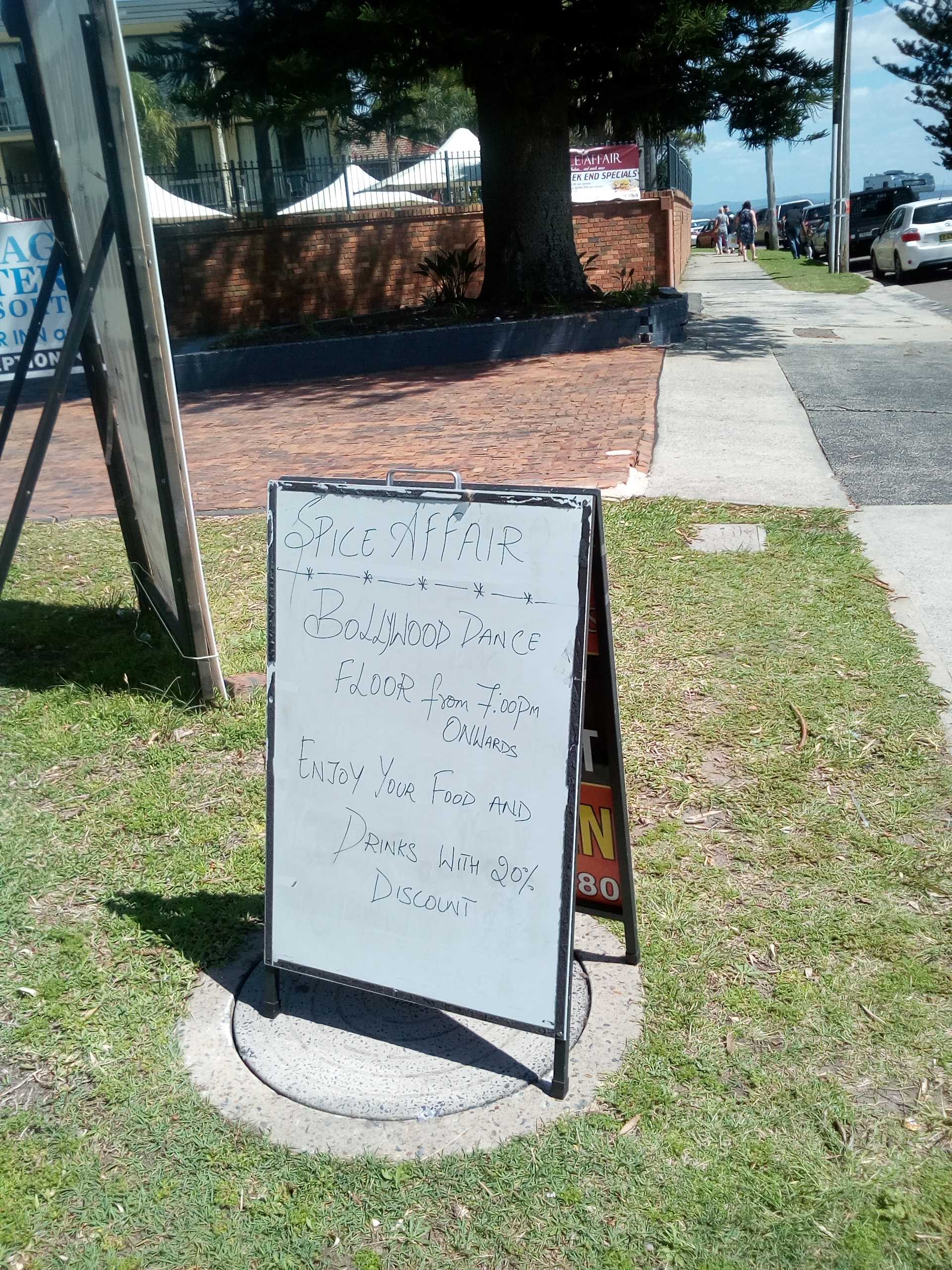 This restaurant is strangely located inside a motel (the
El Lago Waters Resort
) near the channel, and has a view of the swimming pool. Upon entering Spice Affair, I noticed that the owners appeared to be of South Indian appearance, and this thrilled me, since it is difficult to find South Indian food on the Central Coast. As I sat down I spotted a dead cockroach underneath my chair, but I didn't let it worry me, since I figured it was better than a live one. Presently the kind waitress presented me a menu and sure enough, it covered a variety of decidedly South Indian dishes, such as
Soya
chops... (to see my complete review on WOMO, click
here
.)
The Entrance Hotel
: 87 The Entrance Road, The Entrance. Phone: (02) 4332 2001. Website:
website here
.
Tired of the rowdy atmosphere at some other local pubs, I dropped in here one evening for a more upmarket experience. This is said to be the oldest pub at The Entrance, with nearly 100 years of history. Apart from the façade, however, there is not much of the original charm left, and the hotel has something of a Disneyfied feel. The wine menu features Aussie favourites like
Sauvignon blanc
,
Merlot
and
Shiraz
... (to see my complete review on WOMO,
click here
.)
---
---
LONG JETTY
| Yoga, Crystals, Quirky fashion, Bridge clubs, ° 31' E
---
ONCE UPON a time, ferries from Wyong used to dislodge passengers here, a few kilometres south of The Entrance. Since Tuggerah Lake is so shallow, ... Recently the precinct has been reborn as a hipster haven At Long Jetty you can find a Darrell Lea chocolate store, music cafe, hemp supplies store and even a yoga café. There is no shortage of crystals for those who believe in their mystical powers.
Glass Onion Society
: 308 The Entrance Road, Long Jetty. Website:
website here
.
The Glass Onion is a symbol of the revitalization of the Long Jetty. I visited here at lunchtime recently and the café was quite crowded with a young and stylish clientele. (To read my full review on WOMO,
click here
.)
The Raw Deal
: .
Stocks raw
kombucha
, ginger turmeric and …
Made in Hemp
: 387 The Entrance Road, Long Jetty. Phone: (02) 4334 2000. Website:
website here
.
Long Jetty is catching on to the green wave, and this store sells all things related to hemp: clothes, homeware, body and hair care products, and even herbal medicines. I bought 2 bars of hemp oil soap on a recent visit, which cost me $7 each. Next time I go there I want to get some hemp seeds or hemp oil, which is
considered a superfood
... (to see my full review on WOMO,
click here
.
Savoy Bar
: Long Jetty. Facebook:
Facebook page here
.
Long Jetty is reinventing itself as the "Boho" (Bohemian) heart of the Central Coast, and it is starting to develop a hipster vibe to compete with
Terrigal
further down the coast. The Savoy Bar occupies the site of an old cinema which has been restored, in the full hipster tradition...
Sorry Grandma Shop
: Long Jetty. Website:
website here
.
This is where I bought my
Great Gatsby
outfit back in 2013, when this was was the rage. I believe the store has moved across the road.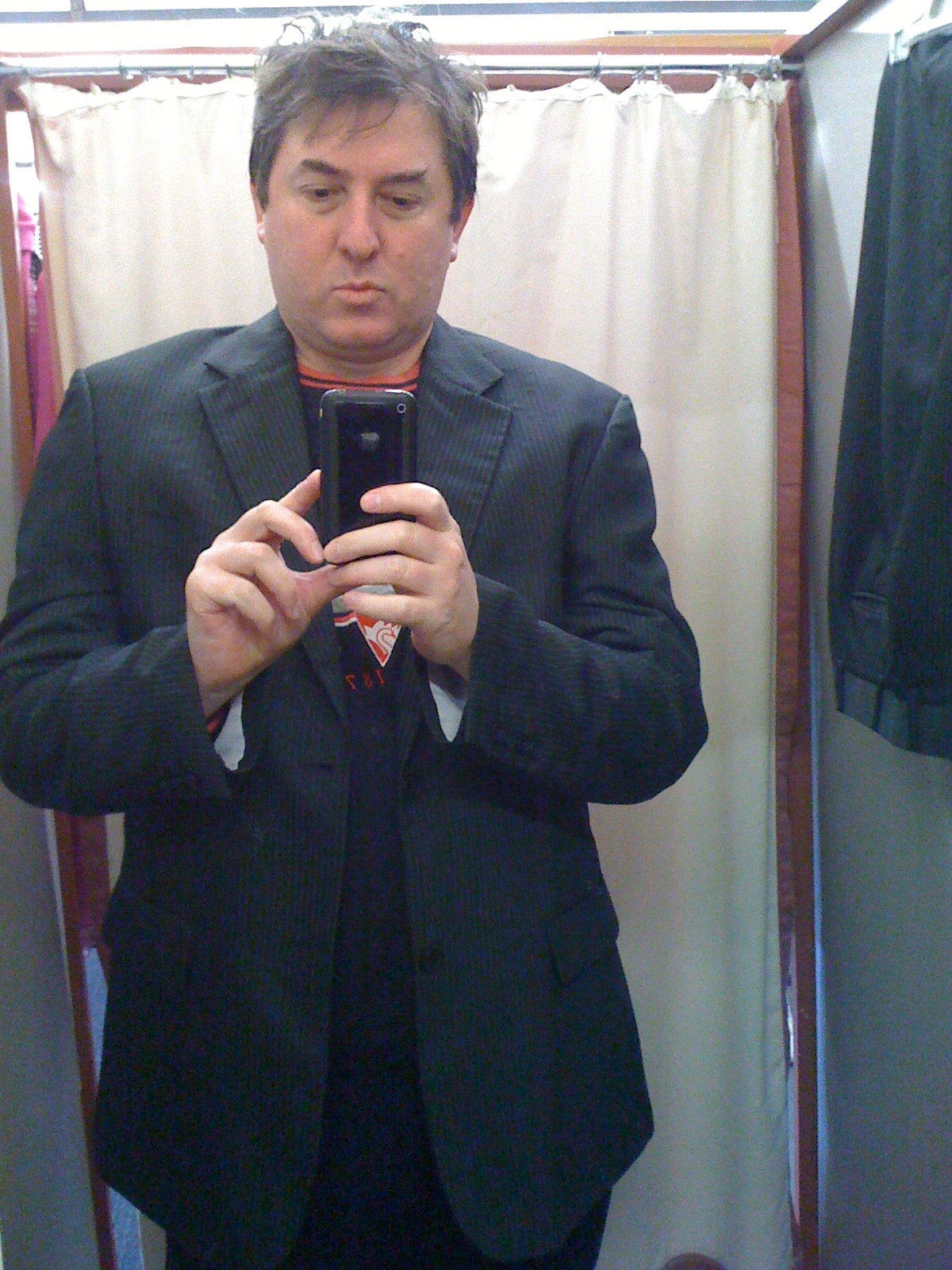 Yoga Café
: 310A The Entrance Road, Long Jetty. Phone: (02) 4311 6400. Website:
website here
.
This facility comprises a meditation hall, gift shop and a café set inside a beautiful "Zen garden" in the centre of Long Jetty. It seems to be a hangout for the local yoga community, and hosts regular lectures and events. I came here with my cousin and her Schnoodle Poopy in March 2019, and found the place to be dog-friendly... (To read my full review on WOMO,
click here
.) arden" in the centre of Long Jetty. It seems to be a hangout for the yoga community, and hosts regular events. I came here with my cousin and her dog Poopy in March 2019. nic products like kombucha tea, herbal supplements, as weln where I ordered a vegetarian curryll, gift shop and a inside a beautiful garden. I came here with Poppy and the Kelstar in March 2019. You can find Ti
---
---