---
THE ENTRANCE | 33 ° 20' 151 ° 29' E
---
SITUATED AT THE MOUTH OF TUGGERAH LAKE, THE ENTRANCE IS ONE OF THOSE CLASSIC SEASIDE TOWNS YOU MIGHT FIND, ON THE LONG ROAD FROM SYDNEY TO BRISBANE. It is called The Entrance, presumably, because it sits astride the outlet of Tuggerah Lake. The Red Bus connects The Entrance to other transport hubs at Tuggerah, Gosford and Lake Haven. title="Presearch" alt="presearch">
< Situated on the mouth of Tuggerah Lake, The Entrance is one of the classic seaside towns to be found on the east coast. It attracts tourists from Sydney: Lebanese and Koreans are common in the summer months.The Red Bus service connects the town with other transport hubs, such as Tuggerah and Lake Haven.
---
---
ACTIVITIES
| Swimming, Fishing, Bicycle Riding, 151 ° 31' E
---
Watch the
pelican feeding
, at 3.30pm every day.
Hire a bicycle
and ride it around the lake.
---
---
ACCOMMODATION
| AirBNB, Caravan Parks, Bicycle Riding, 151 ° 31' E
---
There is a laundromat next to the Shahi Mahal restaurant...
The Entrance Backpackers
: .
Budget Accommodation Central Coast
: 4 Victoria Avenue, The Entrance. Phone: 02/4334 1001. Website:
website here
.
Dorm rooms go for AUS$30 a night, which is about the same rate as the nearby youth hostel. For private rooms, it is about $70 a night. They seem to have their own bathrooms, but no TVs. Which is opposite the situation at the nearby hotel...
Lakes Hotel
: .
One of the acclaimed local pubs. For my WOMO review,
click here
.
---
---
Caravan parks and apartments.
---
---
FASHION
Sorry Grandma Shop
: Long Jetty.
This is where I bought my
Great Gatsby
outfit back in 2013, when this was was the rage.
---
---
RESTAURANTS AND FOOD STALLS
Thai food is popular in The Entrance.
Bang Rak Thai Restaurant
: Website:
website here
.
Serving
pla muek yang
,
Bistro Jinja
: 12 The Entrance Road, The Entrance. Phone: 02/4333 4999.
We went here for my 44th birthday. According to
TripAdvisor
, this was the number one restaurant in The Entrance. It was good, but not spicy enough for my tastes. We shared lamb massaman curry, squid salad, a seafood curry and other dishes.
Chi Cong Bakery
: .
Hernando's Hideaway
: .
The
estafado de mariscos
(featuring flathead, prawns and mussels) looks amazing, and I will try it if I can in 2018. Drink Mexican beers or the
Cave Creek Chilli Beer
. Handmade in Mexico, it supposedly has a complete chilli pepper in every bottle..
Los Dos Hombres
: Victoria Street.
Pizza Capers
: . Website:
website here
.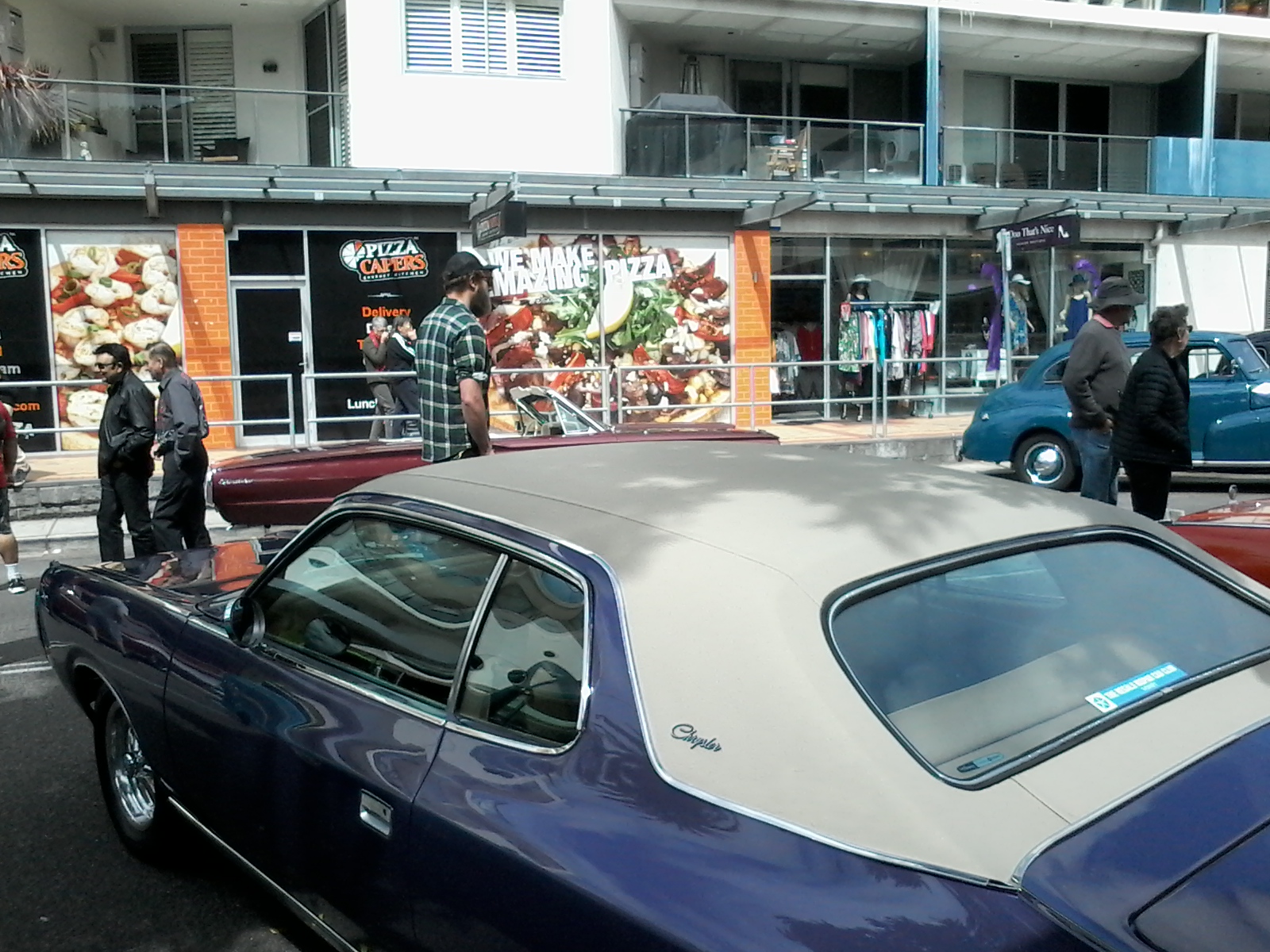 Pizza Capers is a chain with outlets lining my
planned route from the Central Coast to Queensland
, in places like Bundaberg and Mackay. An eclectic range of toppings including
karaage
and
banh mi
. They all look cool, but the Barcelona Seafood is on another level entirely!
Royal Kebab
: I could get some home deliveries to the Halfway House! Indian and Indochinese fair!
Shahi Mahal
: website:
website here
.
Try the possibly Afghan style
spicy Mahal chicken
. This also may be the only place on the Central Coast serving
Chindian
(a mix of Chinese and Indian food). This is a type of food supposedly invented by the Hakka community in Calcutta. The cauliflower
Gobi Manchurian
looks good. The Red Bus serves The Entrance...
---
---