SAIGON ZOO

» Welcome to Ho Chi Minh City (Otherwise Known as Saigon)
» Things to See in Ho Chi Minh City (A-Z): Ben Thanh Market
» Cholon
» Churches
» Cao Dai Temple
» Chu Chi Tunnels
» Pagodas
» Park Life
» Reunification Hall
» Saigon Zoo
» Saigon River
» War Relics
» Water Puppets

---
» Things to Buy: Furniture
» Things to Eat in Ho Chi Minh City: Restaurant Guide
» Places to Party in Ho Chi Minh City: Bars and Clubs
» Places to Stay in Ho Chi Minh City: Saigon Hotels
» Getting There: Ho Chi Minh City's Tan Son Nhat International Airport
» Further Afield: Phu Quoc Island
» Buying Real Estate in Vietnam?
» Learning Basic Travel Vietnamese
» Media in Vietnam
---
---
Serenaded /// SAIGON RIVER
YOU MERELY HAVE TO LOOK AT A MAP TO GLIMPSE THE IMPORTANCE RIVERS HAVE IN HO CHO MINH CITY. Approaching the city by air, it seems it inhabits a seething snakes' nest of curling rivers. It could become a regular hangout, just like Ueno Park was in my early days in Japan! Saigon River, which rises near Phum Daung in Cambodia and flows about 225 kilometers before emptying itself into the Nha Be River, is the lifeblood and artery of Ho Chi Minh City. It hosts the city's maritime port. Saigon Zoo and Botanical Garden is a cultural place of Ho Chi Minh City (Saigon). It was ranked eighth among the oldest zoos in the world. Up to now, it is 133 years old. Saigon Zoo and Botanical Garden is located on 2B Nguyen Binh Khiem Street, District 1, T.P. Ho Chi Minh City. The zoo has two gates: the main gate is on Nguyen Binh Khiem Street at the corner of Le Duan Street, and the other one is on Nguyen Thi Minh Khai Street.

Interactive Street Map of Ho Chi Minh City
By IBM

The Gatromoner says: "After wandering for a bit, it was time for snack! The park is dotted with food stands and deep-fried meat on a stick appeared to be the zoofs specialty. The Astronomer ordered the fried pork dumplings on a stick with hoisin sauce. Eating animals in between seeingexture was nice and crispy."

See also http://www.loudpapermag.com/articles/saigon-zoo-beauty-and-the-beast-the-subtropical-architecture-of-possession Saigon Zoo and Botanic Gardens Opening Hours: 7am to 10pm Address: 02 Nguyen Binh Khiem Street, District 1, Ho Chi Minh City.

THERE WERE PLENTY OF FAMOUS IMAGES FROM THE VIETNAM WAR, BUT ONE OF THE MOST FAMOUS, WAS THAT OF TANKS SMASHING THEIR WAY THROUGH THE GATES OF THE BUILDING NOW KNOWN AS REUNIFICATION HALL. Of course Vietnam was not reunified at the time, and it was then called Dinh Độc Lập, or .... Vietnam airlines ATR72 aircraft fly from/to Ho Chi Minh City daily (3-5 flights a day) and from/to Rach Gia (1 flight a day). Air ticket rate:
- Ho Chi Minh -Phu Quoc Island : 1.040.000 VND (2 ways) ($63.63.)
You can book flights to Phu Quoc Island online -- check this link.
Or even better, book flights and check the flight schedule using the official Eating Asia's Guide to Cholon.

Binh Tay Market: Phan Van Khoe Street, District 6, Cholon.
Open from 6am to 6pm.
Being a wholesale market, this lacks the aggressive vendors of Ben Thanh Market in the center of town. There is a food court in the market. On the nearvy Yersin St rises the Dan Sinh Market, which specialises in hardware.

Ciaran and Ruth (from Ireland) write: "A spectacular palace from the outside (see Ruth from it's balcony above), the inside is decked out according to the opulence enjoyed by South Vietnamese President Van Thieu and his predecessors before they made their sudden exit when the North Vietnamese made their entrace. They - unlike us - used tanks to remove the gate. We found an easier entrance, just to the left, where you can be admitted for about 50 cent - it mustn't have been open that day. Maybe the current decorators are exaggerating a bit to demonstrate the counter-socialist ideals of the south before its liberation, or maybe its accurate, but this place is like a cross between the Playboy Mansion and a Bond villain's secret lair. It really has the feel of a place Dr. Evil would occupy while plotting his takeover of the world. Probably for more than 1 million dong. That wouldn't even cover the bill in a decent hotel. Or gifts for an engaged couple - though we don't know the price of a good pair of ducks in those days..."

"Whatever. Here are the palace gates. (Note: if you are looking at these, you are indeed on the side of the palace with the entrance.) Presumable these aren't the gates that were smashed open by a few tanks back in 1975, since you'd think those gates would look slightly worse for wear. And now that I write that, they might have actually been in the bizarre Ho Chi Minh museum we went to one morning. Or maybe those were copies and the original gates were stolen by some enterprising entrepreneurs one night and sold as scrap metal. Probably that's the case:..

HISTORY
As this Dinh Doc Lap site reports: "In 1858, French Colonialists opened fire to attack Da Nang starting a war to invade Vietnam. In 1867, the French completely occupied six provinces of the South (Bien Hoa, Gia Dinh, Dinh Tuong, Vinh Long, An Giang, Ha Tien). In 1868, the French Government started to have designed and built at the center of Saigon a palace used as the Governor Generalfs Palace and named it NORODOM's Palace. The construction was started on Feb. 23, 1868 and completed in 1871 by the French Governor General in the South of Vietnam named Lagradieøre who placed the first stone. From 1871 to 1887 it was called the Governor Generalfs Palace of the South Part.
"From 1887-1945 many periods of the French Governors General used this building as a residing and working place throughout the Indochina aggressive period.
"On March 9, 1945, Japanese fascistsf revolution overthrew the French, soly occupied Indochina, Norodom's Palace was the working place of the Japanese Government in Vietnam. From Sept. 1945, the Japanese failed in the II World War, the French returned to occupy the South part, Norodomfs Palace was the working office of the aggressive war machinery of the French in Vietnam.
"On May 7, 1954, the French Colonialists lost heavily in Dien Bien Phu campaign, after that they were obliged to sign Geneva Agreement and withdrew from Vietnam. The American tried to jump in to carry out their attempt to invade the South , Vietnam was temporarily divided into 2 regions, the North was under the regime of the Democratic Republic of Vietnam, while the South was the Republic of Vietnam.
"On Sept. 07, 1954 Norodom Palace was handed over between the French Government representative-General PAUL ELY and Saigon ruling representative-Prime Minister Ngo Dinh Diem. Ngo Dinined a family ruling dictatorial regime, he pushed the people into strategic hamlets, carried out the 10/59 law bringing guillotines to all over the South, he did not only cause indignation among the people but also caused disagreement within the Government cabinet of Saigon.
"The issues with roads, power, water, construction and thrport will have the capacity to receive international flights..."

PLACES TO STAY
HOTELS
Bien Xanh Hotel US$15 Check rates online

Bo Resort: Ong Lang Beach.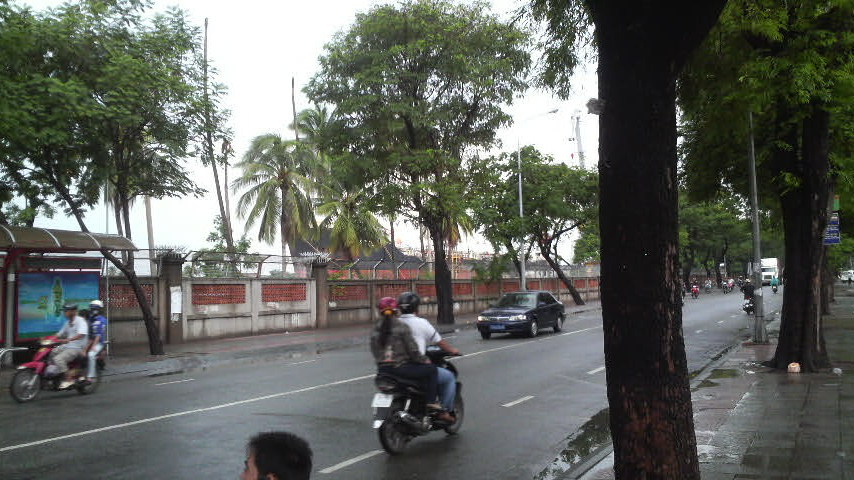 The ship visible in the distance, between the trees, is the Âu Lạc 01. This product tanker was made at the Pan United Shipyard in Singapore. The Saigon River seems to be its permanent hangout, when it is not on duty. If you want to track the Âu Lạc 01 as it journeys around the world in the future, click here.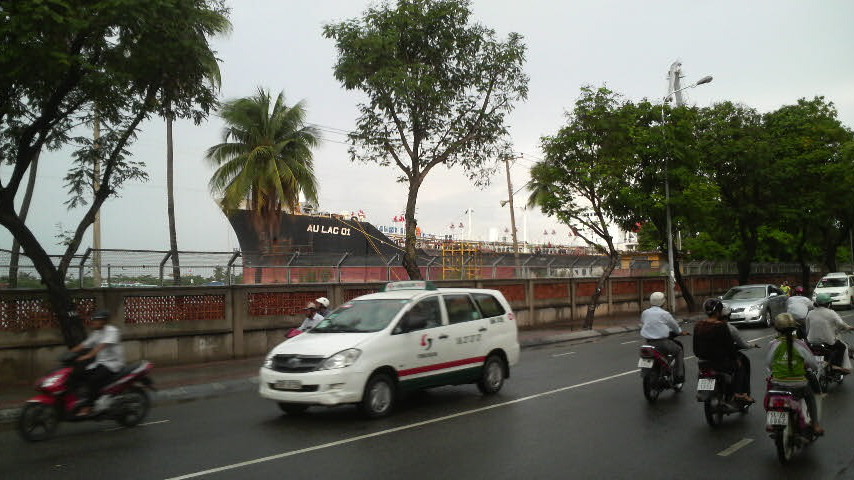 A Vinasun taxi passes the Âu Lạc 01.

It is interesting that a lot of countries reference their founding myths when it comes to naming their sea vessels. The beach in the picture is called Bai-sao and is with out doubt one of the most amazing beaches i have ever seen. We spent the time clearing the jungle and putting up a wall around the block to keep it from being moved in on by the fisherman, the rest of the time was enjoyed by drinking the local rum which at $1.50 a bottle was not to bad at all... Well from what i can remember it was not. Over time i will post more pics from the island.. and keep you posted as to when you can come over and enjoy the white sand crystal clear water and very cheap local rum for yourself."

Thien Hai Son is located in Ba Keo area, Duong Dong town, just take 10 minutes from Phu Quoc Airport and 35 km far from An Thoi Port.
Phu Quoc Island is only 50 minutes by plane from Ho Chi Minh City, where the average temperature is 27 C degree. Phu Quoc is very rich in natural resources and there are many white sandy beaches are unspoiled. Moreover, rivers, streams, channels are found nearly everywhere in the islands.

Receptionists are ready to serve visitors with pleasure.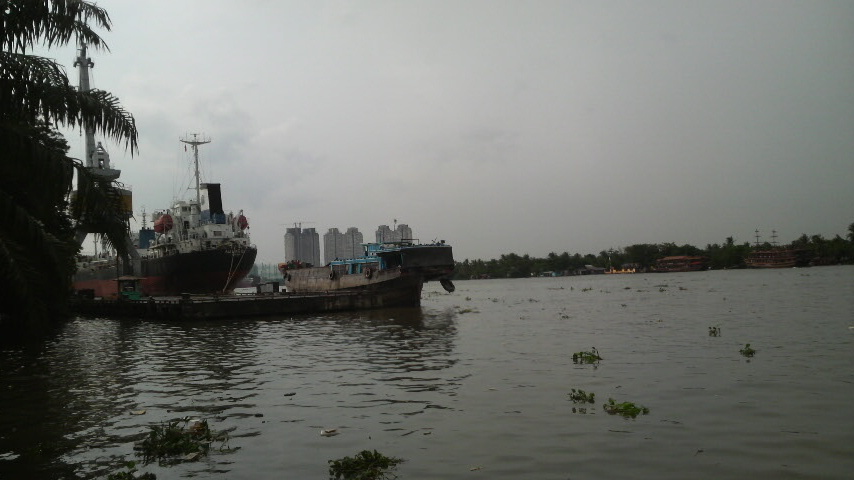 Saigon Phu Quoc Resort: 1 Tran Hung Dao, Duong Dong Town, Kien Giang,Phu Quoc Island, Kien Giang Province.
Phone: 84 77 846 999. Fax: 84 77 847 163.
Saigon Phu Quoc Resort. Saigon Phu Quoc resort is the first Vietnam's three-star island resort with 90 well-equipped bungalows and apartments of international standard. The Phu Quoc Island and resort offers pristine beaches and forests to all nature lovers and travellers, making the your stay there a memorable time.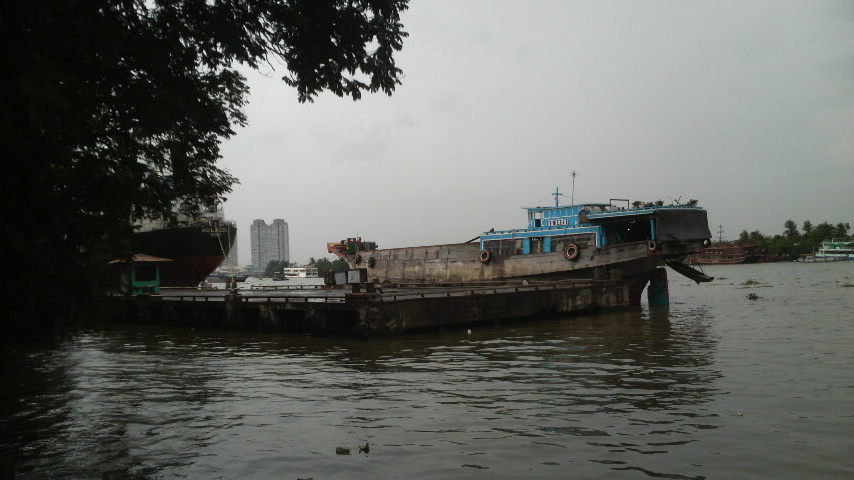 A little past the shipyards, heading along Saigon River towards the city, is one of my favorite cafes/bars in town. Moreover, rivers, streams, channels are found nearly everywhere in the islands. Located on the hill of coconut palm trees occupied around 3.5 hectares, Saigon Phu quoc is a beautiful seaside resort in a quiet place and plenty of sunshine. Just 10 minutes from the airport, the resort is an ideal haven for relaxing, fishing, trekking snorkeling and scuba diving. The resort provides a perfect balance between relaxation and excitement. Visitors can enjoy special seafood, cocktails by the pool bar or on private balconies while watching sunset over the ocean.
90 rooms and bungalows of the resort equipped with AC air-con, safety box, private bathroom, in-house Internet, IDD telephone, satellite TV, mini-bar, decorative plant and Balcony.
Restaurants: Saigon restaurant with 150-seat offer international and local dishes, specializes in sea food. Pool bar and Beach bar offer barbecue dinner. Facilities: Swimming pool; Beauty salon and Health club: body, foot & hand massage & sauna parlor; Jacuzzi; Badminton and Foot ball field; Karaoke club. Water sports: water-skiing, snorkeling and scuba diving.
There is a big hotel on the other side of the road (I believe it is the Renaissance Hotel) with a swimming pool on the roof, which ought to provide splendid views if you can get yourself up there. From one side you can see the river and all its craft and the promised land of Thủ Thiêm beyond, and on the other you can watch Vietnam's tallest building take shape.)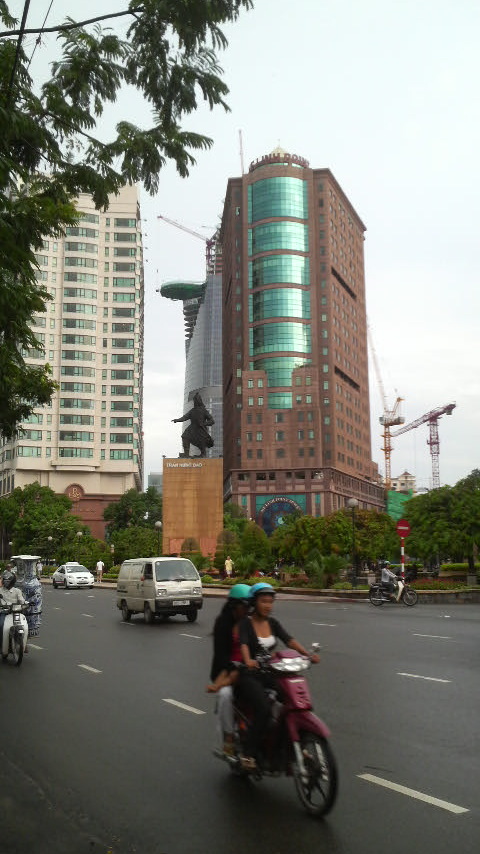 Yen Phuong Minihotel US$8 "In another story, Tran Minh Phuong, 23, an accountant at a toy-making company in Ho Chi Minh City (HCMC) says she earns VND1.8 million ($113) a month and has to pay a third of that in rent for her little one-room apartment.
A plan for the development of the Nha Be Peninsula.
(For full story click here.)