FOR MANY of my early years, say from 1992 to 2008 or so, I was deeply into New Age spirituality and various esoteric pursuits, like astrology, Feng Shui, affirmations and harnessing the power of the unconscious mind. I nobly professed myself to be a magician in training and a Spark of Divinity striving to manifest Heaven on Earth and explore the unbound potential of the Fifth Dimension. Who would have thought that behind all this spiritual yearning, profound epiphanies, chakric cleansing, all this delving into cosmic cycles, there burned a simple hunger to get laid? That was my prime motivator, followed by a desire to make money. At least NLP was a little bit more rational, more likely to succeed... That was envy, pure and simple.

saturday, january 03, 2004 /// out of the trough
AFTER ALMOST A MONTH OF DESPERATION AND DESPAIR, a new Magic Moment has come, to transform my life. Suddenly, from out of nowhere, fresh inspiration and a seductive salvation has arrived, banishing my blues, infusing me with a new mythology. And once again it has shown me the way life works -- slumps are painful and inevitable, but miraculous restorations always come.

After what I guess has been a romantic "trough" in recent times, starting in early December 2003, the revival has come, in a beautiful way, and I am still staggered by the way it happened. Yesterday (January 2 2004), on a beautiful sunny winter's day, I made the long journey to Kisarazu. I was apprehensive about going out on a limb so much to see Masumi, and it felt strange to be back in Chiba Prefecture -- well anyway, it made me appreciate the postWinBe life I have built up. All my fears proved unfounded, and while I was nervous, the trip went splendidly. Now it is time to consider: the Akiko Age is over. I can finally, gracefully close the book on that part of my life, for a new life has begun!

このホームページは千葉県木更津市に関するホームページです

Okubashi. ArakawaNet.
were willing to give up our immortality, and accept a short life here. Kind of like Arwyn in LORD OF THE RINGS. Just an idea! But if it is true, it means there is no Afterlife for us, because we gave that up for the pleasure of being here.

My Japanese word of the day was taught to me by Masumi, after I told her about my psychic dreams -- it is "masayume" 正夢 or "true dream". I'm sure it will come in handy in the future.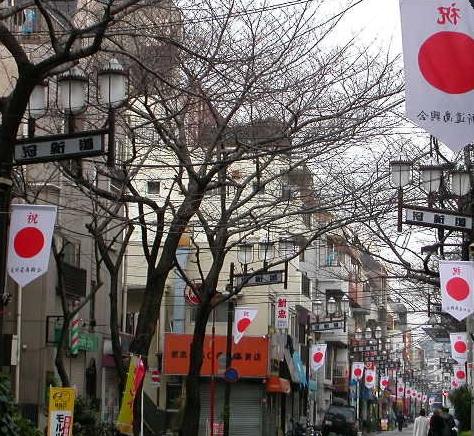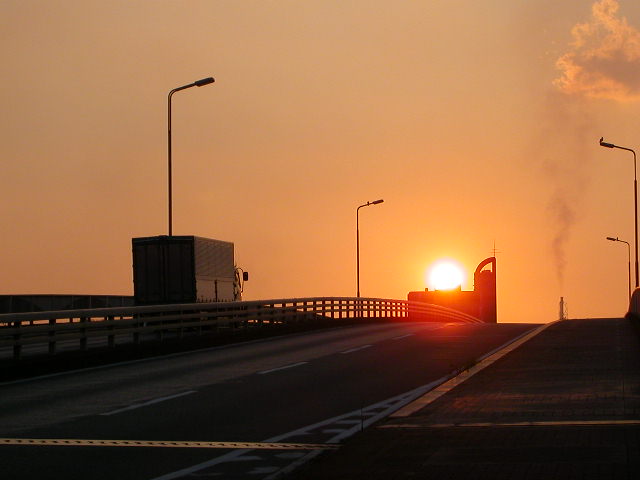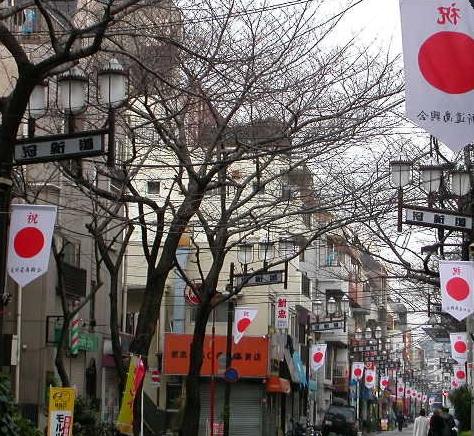 I HAVE REALISED THE BEST ANGLE FOR THIS WEBLOG is to use it to promote Japan and the other parts of the world that I visit, and to use it as inspiration for other people interested in visiting these lands. For example, Japan seems to be popular with many people at the moment, and for those interested in learning what life is like here, I am willing to provide some information and insights. This will be presented in both literary and photographic forms. Even if this website seems chaotic and unfinished, I hope it will be able to introduce you into a deeper mystery -- the mystery of synchronicity and the universe of opportunities which lie just below the surface of every moment.

I have also decided to move away from the blog format, which I think will one day be considered a fad, a turn-of-the-century phenomenon bound to eventually go out of style. Just like reality TV is destined to go out of style one day -- and I think blogging and reality TV have a lot in common -- the glorification of the mundanity of life. Do people really care about my experiences, which mean a lot to me, but could easily be dismissed as boring and pathetic by others. Why am I compelled to confess my life stories to strangers I will never meet -- as if there were a Big Brother reality TV camera crew inside my computer, capturing every day of my life? I am starting to find the whole concept blog concept a little creepy in that respect. So, I want to stop the personal confessions, and give viewers something that might actually be of practical use for their lives. For example, book and music reviews. I want to share my exploration of the wonders of Chinese medicine. Where appropriate, I will include stories of my life. But this will be in a haphazard, or rather multi-threaded, rather than chronological format. Not day-by-day banality, but rather gems of experience which sound funny and which I want to share with others, if they are interested in reading.

How about this? -- (January 22 2004) -- Preston's visit this weekend replicates Aprile's visit here in early February 2002. There is a two-year pattern at work. Just like Aprile, he will stay at Taito Ryokan. And just as Aprile's visit coincided with my first expedition with the "sisters", so Preston's visit coincides with tonight's alluring lesson with Sachiko and Mieko. Perhaps there are expeditions coming with them, starting from next month. That's my uranai (premonition)! JAPAN Tokyo portal monday, march 02, 2004 /// yappari
I HAVE OFTEN HEARD PEOPLE SAY THE WORD yappari in recent times, and I grew frustrated that nobody could explain to me exactly what it meant. Even my dictionary gave a fairly inaccurate and meaningless definition. Still, people keep saying it, so I know it must be an important word in Japanese. Today, browsing the 7th floor of the Kinokuniya bookshop in Shinjuku, I opened a Japanese study book and stumbled upon an explanation which makes sense. It basically means "as I expected". For example you can say "yappari" when what you were afraid of is proven to be true. Note: the formal word for "yappari" is pronounced "yahari".

How about this (March 09 2004) -- Ayumi represents some kind of Ayako repetition, but this time around the girl is seriously interested -- as seen by her willingness to have a second lesson Saturday. And there is also a repetition of the mid January boom -- an extra 6000 yen per week in my pocket. The boom days are back again.

First Encounter -- April 15 2004 One of the things I hope to document on this website are the various (and legal) psychadelic properties of common herbs and foods in Asia. I can still remember the surprise and bliss I felt when I first drinking Japanese tea on a daily basis, and out of nowhere came this marijuana-type high! I suddenly realised: you can get high drinking green tea! I suddenly realised, why traditional (and modern) Asian architecture and design is so colorful and trippy. It is because everyone in Asia is permanently high from green tea, and it is influenced everything -- even aesthetics and art! Of course, few people believe my claims about the psychoactive properties of green tea, but I know a high when I see one, so I don't care. Today I bought and drank one of the strangest beverages I have ever seen before, which I found in a Korean store on Kan-nana-dori on the way to Kansai-rinkai-koen. Kan-nana-dori is one of the ugliest roads in the world, full of belching trucks and lined with depressing apartment blocks (euphemistically called "mansions" in Japan), car yards and empty concrete wastelands. When I saw the Korean shop I decided to take a look, because I like Korean food and want to eat it as much as possible, to get a taste for it. I was especially interested in seeing what Korean drinks I like, and that's when I found the ginseng drink. It was a small bottle with an actual ginseng root floating inside, kind of looking like an alien squid with tentacles dangling down at the bottom. Bizarre -- and I knew I had to have it!
monday, may 31, 2004 /// intelligent life in the universe
IS THERE INTELLIGENT LIFE ELSEWHERE in the universe? Can we contact them? Does Google have the answer? I had the idea that with the Internet the way it is now, you can use Google (or other search engines) to find the answer to any question you want. It is a kind of hyperknowledge -- the Internet knows everything, just like the market knows everything. I wouldn't be surprised if there were aliens on the Net -- like they were monitoring us through the Net, which they could surf via some technology we haven't invented yet. If that is the case, could it be possible to use Google to contact the aliens? Perhaps I should write a short story about it. But anyway, according to a recent Internet search, I came up with these results -- these opinions about the likelihood of alien life, and estimates on when we will make contact with them.

The Rise and Fall of Star Faring Civilizations in Our Own Galaxy


tuesday, june 22, 2004
p y s c h i c a l a n c h o r i n g PHYSICAL ANCHORING WORKS -- I HAVE PROVEN IT TO MYSELF! So, the next step is to deliberately exploit this capacity by choosing realtime places to "anchor" positive feelings -- such as the feeling "I can have any woman" or "anchoring works" or "I can suceed at anything!" -- at a specific place. This should be a place I don't usually go, but easily reached. I am thinking of making particular shrines or temples near my house physical anchors , since they are already anchors in a way -- spiritual anchors. For example, I am thinking of making a shrine near my house a "romance anchor" -- whenever I feel particularly good about a romantic achievement or breakthrough I will go there to offer a short prayer to the gods. Then, when I am about to go on a date, I will return there to activate all of those anchored confident feelings. Soon I will establish a ring of anchors around Tokyo and the wider world, to be visited at times of need!

Some body anchors for the CLARITY TOD:
Left-hand ring finger (薬指 meets right-hand little fanger (小指) -- spiritual oneness, oneness and calmness in the place that I live, happiness, contentment, confidence, peace, sublimity, etc.

And another thought: when anchoring emotional responses on to another person, exploit their preferred thinking sense: visual, kinesthetic, etc! So, a visual anchor for a visual person :>.

In the American society, where the percentage of Auditorial people is negligible, a voice tonality, tempo, pitch or the direction of the voice (which way you look while talking) will almost always go unnoticed. Say you are in the business negotiations. Then talk about good things looking slightly left and talk about bad things while looking slightly right. And then use this anchor - talk about your services while looking slightly left and if the conversation touches services of your competitors (and if not - you can always bring it up) - talk about them while looking slightly right. This way your opponent will get an unconscious message saying "this guy is good and his competitors are not".

When you attend the presentation, move while you are talking. Stay in different spots, while talking about different subjects. It is called a spatial anchor.
September 24 2004 -- An amazing development has taken place in my life which can be interpreted on so many levels, and satisfies the predictions of so many cyclic theories. In short, Akiko is back! perhaps it shows that Feng Shui really does work, after my mock relationship funeral held in the Aboriginal woods of Carnarvon Gorge. There is so much to be gathered from this development, but for tonight, let's bask in the joy! (Some other notes: I was planning to go to Australia in December 2003, but was deterred mostly by Mum's negativity. At exactly the same time this holiday (a celebration of the New 2003 Lifestyle) would have begun, Akiko split with me. Earlier this week at Ettalong Bowls Club, I realised that by coming to Australia, I was finally getting my life back into gear after many months of no forward movement. And I wondered whether this would mean that when I returned to Japan, Akiko would resume contact with me. Well, she has resumed contact! ALT positions from Sept 2005 : Overseas & Japan interviews Company: Interac Co., Ltd Multimedia Presentation: Launch Type: Mid-career Full/Part Time: Full-time Salary from: 250,000/Month Location: Various Locations, Tokyo English Level: Native-level Japanese Level: None Date Posted: 2005-05-17 JOB ID: 7822 Requirements: Native-level English level Description of position INTERVIEWING IN JAPAN, AUSTRALIA, NEW ZEALAND, CANADA, USA, IRELAND and the UK FOR ALT POSITIONS COMMENCING IN LATE AUGUST 2005 Interac Co., Ltd., Japan's leading private provider of Assistant Language Teachers to the Japanese public schooling system, is accepting applications from motivated and committed educators currently resident in Japan, Australia, Canada, the United States, the UK and Ireland to join our team of over 800 teaching professionals for positions starting in late August 2005. If you love kids, have a passion for teaching, and wish to expand your horizons and teaching skills by working in the public schooling system in Japan as an ALT, then you are the candidate we are looking for. Based out of its Head Office in Tokyo and its eight branch offices located throughout Japan, Interac's staff of approximately 800 or so ALTs are now working in the following locations throughout Japan: Hokkaido, Akita, Niigata, Nagano, Iwate, Fukushima, MIyagi, Tochigi, Gunma, Ibaraki, Chiba, Tokyo, Saitama, Kanagawa, Yamanashi, Shizuoka, Toyama, Aichi, Mie, Gifu, Shiga, Kyoto, Osaka, Hyogo, Okayama, Hiroshima, Yamaguchi, Nagasaki, Kumamoto, Saga, Ehime, Shimane and Fukuoka. To be considered for a position, attendance at one of our domestic or overseas seminar and interview sessions is compulsory. Our recruiters are recruiting in the following cities - presentations and interviews are confirmed in the following locations during May and June 2005: JAPAN Tokyo, Hitachi, Chiba, Yokohama, Hamamatsu, Nagoya, Osaka, Hiroshima and Fukuoka AUSTRALIA Brisbane May 29 and 30, 2005 Sydney June 4, 2005 Melbourne May 26 and 27, 2005 Perth May 28, 2005 Canberra dates to be advised Adelaide June 11 and 12, 2005 NEW ZEALAND Auckland June 4, 2005 Wellington June 6, 2005 USA New York May 21 and 22, 2005 Seattle May 26 and 27, 2005 Los Angeles May 28 and 29, 2005 Atlanta, San Francisco, Houston, and Provo - dates to be advised Canada Toronto May 28 and 29, 2005 Vancouver June 3,4 and 5, 2005 UNITED KINGDOM London, Oxford - dates to be advised IRELAND Dublin - dates to be advised Please note that only candidates who are able to attend the recruitment seminars in one of the above cities are eligible to apply. Candidates MUST clearly specify on their application what their preferred interview city is. Applicants must be a native/fluent speaker of English, possess a BA/BSc or similar, and be able to commit to a seven month contract beginning late August 2005 until March 2006. Subject to contract renewal, it may be possible to extend for a further year of employment from April 2006. Working hours are approximately forty hours per week, with a fixed, regular schedule between the hours of 8am and 5pm Monday to Friday (no evening, weekend or public holiday shifts). Approximately half the working hours are contact teaching hours, the remainder are spent lesson planning and performing other administrative duties in the schools. Positions are available in both the rapidly expanding Elementary School International and English language programs, and team-teaching assignments in Junior High School English classes. For all positions, an attractive monthly salary (less national income taxes of approximately 7%), vacation entitlements (including all school vacation periods and public holidays), reimbursement of commuting expenses, subsidized health insurance, and free Japanese lessons (offered online) are on offer for qualified candidates. Due to the large number of applications received, we regret that we are only able to candidates who pass the initial screening process. ALT Assitant Language Teacher Company: Heart English School Type: Entry Level Full/Part Time: Full-time Salary from: 212,334/Month long holidays, but same salary even for dead weeks or months Location: Mito, Ibaragi English Level: Native-level Japanese Level: Basic Date Posted: 2005-05-24 JOB ID: 6635 Requirements: BA/BS required BA prefered Description of position Tired of commercial "Fast-Food" style teaching? Want more free time to explore Japan or develop additional personal income? Come work for Heart serving a Japanese town's public school system. We are looking to recruit ALT for work out of Mito city, the location of our Head Office. This position, being local to our headquaters, usually has better support for any additional income our teachers may wish to pursue with us in their free time, more social support from our vetran teachers and staff, and more exposure to management if a Full-Time position should arrise that you would like to be considered for. Of our 5 managers, 2 are gaijin, so advancement is possible and we prefer to recruit from within for these. 2,548,000 for the year (annual Public School schedule up to 7 hrs per day ). We make 12 equal payments of 212,334yen. The Annual school schedual changes but is usually somewhere between 200-205 days of work. There are long periods with out work, (Golden week, Christmass/New Years, Summer Vacation Mid-July through all of August). Monthly pay is the same, regardless of the number of days worked, based on the anual salary divided evenly by 12. In addition: 1) The employee will be entitled to an end of contract bonus equivalent to 5,000 for each completed Month. The term [completed month] is taken to mean without lateness or absence. 2) Visa sponsorship 3) permision to find additional work, within Visa and commonsence limits 4) Option of company appartments 5) possibility of leasing a company car (company's discretion)
I would like to apply for the job of Assistant English Teacher in the Mito area, as advertised recently on the Gaijin Pot website. I am a 32-year-old Australian who has lived in Japan for more than four years. Most of that time has been spent teaching English to young Japanese people, both in elementary schools and junior high schools and Eikaiwa type schools. I have developed a wide range of exercises and techniques to teach English the most efficiently, and I believe that studying English should be a fun experience for Japanese students. Therefore, I was happy to read in the advertisement that Heart English School does not believe in following the "fast food" approach to English teaching. I would be interested in hearing more about the Heart English School approach at a later date. I have a university degree (Bachelor of Arts) in Communications. While I live in the Tokyo region, I would be happy to relocate to Mito if necessary. If you would like to discuss the position with me further, I am available for an interview at any time. My phone number is 090-6039-9341. I look forward to hearing from you. Sincerely, Robert Sullivan Anyway, it has been getting cold and the days are short, it already seems like world away from I was in Australia just a few weeks ago. Winter's coming. Already one big earthquake (nearly 7.0 on the Richter scale) but I slept through it (it was 300km away, so it would have felt smaller here.) Everyone is coming down with colds, but I seem to be immune to them so far. Apparently a new scientific study found the reason why people catch colds in cold weather, and it is because if you have a cold nose, the blood supply to the nose gets cut off, and the immunity antibodies can't work as well at intercepting incoming viruses. So the secret is to keep your nose warm or protected (wearing a mask perhaps) -- it doesn't matter about the rest of the body but the nose is the critical point.
tuesday, december 14, 2004 /// Chess Symbolism in Thomas Pynchon's Gravity's Rainbow
I FINALLY FINISHED READING Thomas Pynchon's exhaustive novel Gravity's Rainbow for the first time recently, after years of aborted efforts. I had also read some of the various interpretations of the novel on the Net, particularly the Tarot interpretations, Lying in bed this morning, half asleep, a startling thought came into my mind -- what if Gravity's Rainbow was a huge symbolic chess match, a formula of chess moves with the yantric power to create a new reality -- a magic chess formula allowing each reader to create their own sovereign Zone, if they only knew the right combination? I have to admit, I don't even know how to play chess, which poses a difficulty in allowing me to expand my theory further. But there are chess references and clues strewn across the text of Pynchon's work -- and in the following article, I want to connect them, extrapolate them into some kind of theme, and see where it leads. I am hoping to create a kind of magical incantation here, rather than a traditional book review -- because I believe this book has magical properties, in the full Alchemy tradition!.. (For the full story, click here.)