Sunday, December 11, 2011 7 Online Dating Mistakes That Could Break Your Heart Bank
---
CINDY McDONALD FROM BEST CHRISTIAN DATING SITES KINDLY WROTE A GUEST POST FOR ME ON THE PITFALLS OF ONLINE DATING. "If youíre single and looking for love or companionship online in this day in age... itís no secret that it can be tough out there," the article reads. "And because of the dangers hiding behind every '.com,' not only do you have to protect your fragile heart from being broken, but you also have to protect your wallet from being robbed. So before you take to the dating scene on the web, it is essential to educate yourself on the various mistakes that could leave you loveless and penniless. Check out the following financial pitfalls in online dating and tips for avoiding them in your quest for a cyber-relationship:... (For the full 7 Online Dating Mistakes That Could Break Your Heart Bank story, click here.)
---
---
Sunday, December 4, 2011 Feedback: From an Expat Living in Phuket
---
I GOT SOME EMAILS RECENTLY FROM AN EXPAT LIVING IN PHUKET, AND IT SEEMS FROM THE TONE OF HIS WRITING THAT NOT ALL RESIDENTS OF THE RESORT ARE APPRECIATIVE OF THE RECENT RUSSIAN INVASION. "Most of us retired here do not liked being swamped by Russian or for that matter any tourist group that comes here that sticks to together in groups and overwhelms beaches, hotels or specific tours," wrote the expat. "At times you might thing you are in Odessa at some Phuket beaches surrounded on all sides by boisterous and uncommunicative Russian, (their English or other language skills minimal?")... (For the full Feedback from an Expat story, click here.)
---
Safe Dating
I READ AN ARTICLE ON THE INTERNET RECENTLY (NOVEMBER 2011) CLAIMING THAT WOMEN CAN TELL IF YOU ARE UGLY OR ATTRACTIVE, MERELY BY READING YOUR PROFILE ONLINE. They say women are more intuitive than men; maybe they can pick up on clues, like your choice of words. As Australia's Herald Sun rereported yesterday (November 14): "A study to be released by psychologist Rebecca Brand from the Villanova University in Philadelphia found more attractive men were able to portray their level of sex-appeal in their self-description." Which makes sense to me; sexy guys are more likely to be confident in everything they do, including their online banter. And nine-tenths of sex appeal is confidence. Confidence is one thing, however, con artistry is another; it would be foolish to believe everything you read on the Internet. Best Black Dating Sites is an African-American organisation committed to safe dating on the Internet, and regularly reviews hundreds of online black dating sites to help readers quickly find the best deals, coupons and dating sites that do not compromise on safety. "You might think you know a person after a few emails, but the truth of the matter is that it could be anyone sitting on the other side of the internet," the Best Black Dating Sites warns on its homepage... (For the full safe dating story, click here.)
---
Google +: (Real Life Sharing Rethought for the Web)
JUST ABOUT EVERY DAY NOW I GET AN INVITE TO JOIN A SOCIAL MEDIA NETWORK. 2011 seems to be the year of social media, and the proliferation of social networks is truly mindboggling. I have read on Smedio that it took radio 38 years to attract its first 50 million users, and TV 13 years to build up an audience of the same size. Facebook, on the other hand, reached that critical mass in just six months. The king or queen of the social media, Facebook now has 34 million users in India, and that number is growing all the time. It is almost like a little Internet in itself, with its own economy and ecosystem. In some places, you are not a real person anymore unless you have a Facebook page. It is certainly a great place to go if you want to make new friends, consolidate your existing links, or look up old relationships. If you have a smartphone you should have a look at Foursquare, which allows you to find likeminded people in realspace (for example, a cafe, a train), realtime (ie now), all around you. do whatever the both of you want to do. It is the closest thing to a universal Gaydar that I have yet encountered, a Gaydar for straights (if only I had the guts to use it that way!)... (For the full Google + story, click here.)
---
---
Anphabe (Connecting Leaders in Vietnam)
I GOT AN EMAIL TODAY FROM THE DIRECTOR OF MARKETING AND OPERATIONS AT A CERTAIN VIETNAMESE RECRUITMENT COMPANY, INVITING ME TO JOIN ANPHABE. "26 letters of the Alphabet create the world of languages," reads the spiel on Anphabe, "26 connections on ANPHABE create the world of opportunities." Actually, there are 29 letters in the Vietnamese alphabet not counting all the squiggles and accents, but I can see where they are coming from. As networks like LinkedIn know, there are just a few degrees of seperation between you and your dream job. The hardest part is bridging that divide. You need to be part of a network to do that. Even though I am no longer looking for a job in Vietnam, I took up the marketing and operations director's offer. I joined Anphabe... (For the full Amphabe story, click here.)
---
Cape York Peninsula: One Last Refuge of the Classic Australian
---
I JUST GOT BACK FROM A SIX-DAY JAUNT THROUGH THE CAPE YORK PENINSULA IN FAR NORTH QUEENSLAND, AND WAS AMAZED TO DISCOVER A REFUGE WHERE THE TRADITIONAL AUSTRALIA STILL LIVES ON. Going up there is like taking a trip back in time, to the pioneer days of the 1800s, where nature and man lived side by side. Granted, the inhabitants of the Cape have satellite phones and high-powered cars, but in many ways they live the oldfashioned way. The Nanny State hasn't reached this far north, and probably never will. White folk there will scoff at constructions like racism and multiculturalism, yet they have more Aboriginal friends than any "politically correct" southerner does. Spending time in the Cape confirmed my suspicions that political correctness was just another, more ultimate form of racism. One won't talk about the disappearance of the Aborigine from modern life, to absolve oneself of guilt for his extermination - that for me is political correctness. Cape York offers a glimpse of Australia when black and white lived together, not exactly in harmony but at least in daily contact. The way both races interact reveals how the modern white Australian evolved, away from his British/Irish roots. (To read the full Cape York peninsula story, click here.)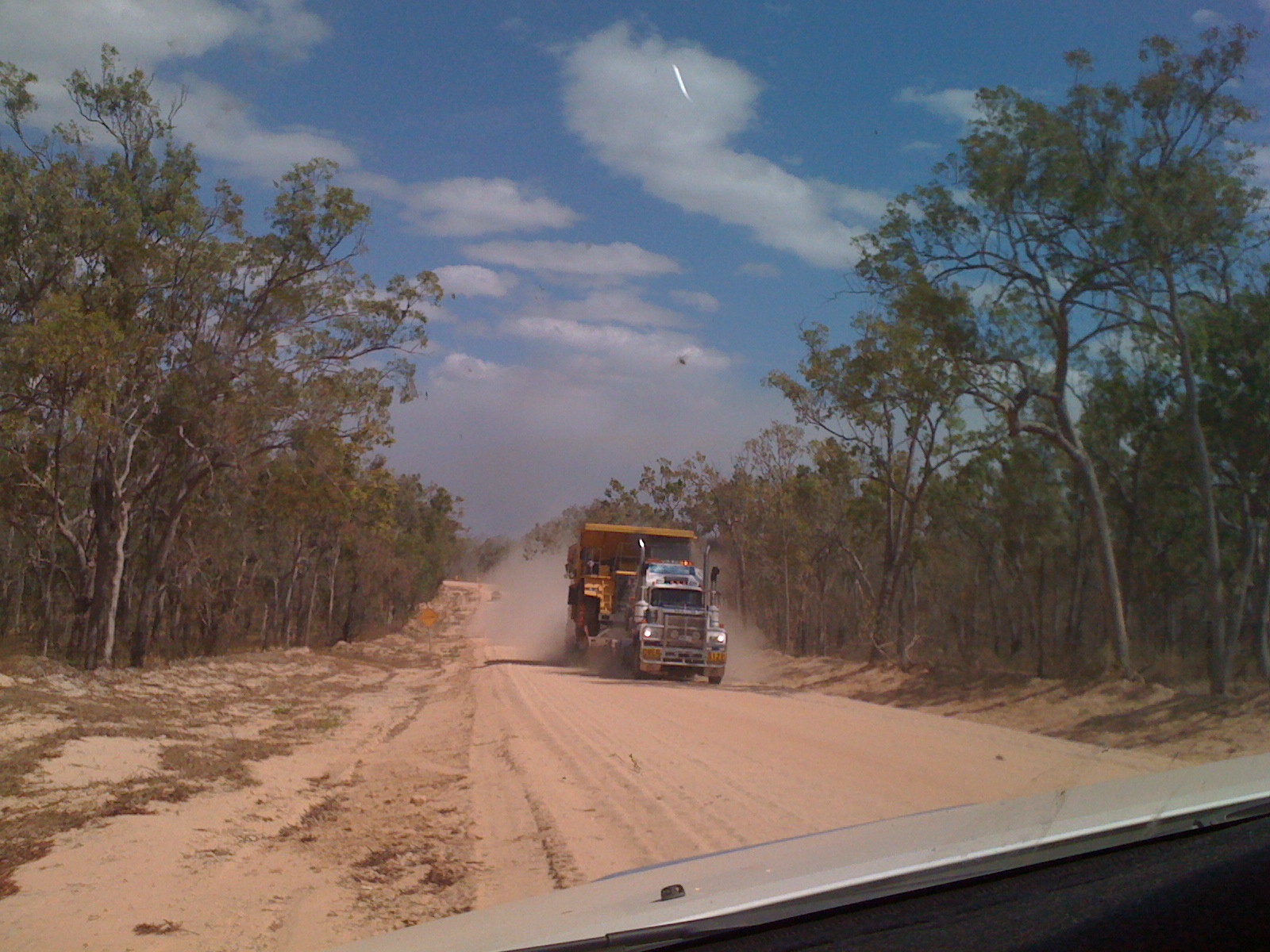 ---
Monday, August 8, 2011 WAYN: A New Place to Make Friends
---
I GOT AN EMAIL FROM A GUY CALLED POOLIDURAI POOLIPANDI TODAY INVITING ME TO JOIN HIM ON WAYN, A SOCIAL MEDIA SITE. WAYN stands for "Where Are You Now?", and (at last count) claims to have about 18 million members. Specifically, it promotes itself as a place where you can "share your Travel and Lifestyle Interests and meet other people who have things in common with you." As I am ever on the look out for new social media sites, I took Poolidurai Poolipandi up on his offer. As I joined up, it was revealed that I already had nine friends on WAYN... including a certain U.Bhandari, a Nepali I used to work with in Tokyo, and a girl I went to college with in Australia. It is a small world after all, and it is funny how your contacts can follow you through your life now (around the world), courtesy of information technology!
---
Monday, August 1, 2011 Contemporary Art in Vietnam: Cactus Art Gallery
---
I GOT AN EMAIL TODAY FROM THE MANAGEMENT OF THE CACTUS ART GALLERY IN HO CHI MINH CITY, VIETNAM. They wanted me to include a mention of their facility on my Buying Vietnamese Modern Art, which is gradually taking shape. I am hoping one day that Vietnamese artists and buyers will be able to come together on the page and negotiate their own deals, create networks and alliances and promote their wares. In short, I hope the site will become a gallery in its own right! To read the full Cactus Art Gallery story, click here.
---
Friday, July 15, 2011 Jakarta Dreams
---
FOR A LARGE PART OF 1993, MY FINAL YEAR AT COLLEGE AT CHARLES STURT UNIVERSITY (MITCHELL), ALL I WANTED TO DO WAS LIVE AND WORK IN JAKARTA. My journalism program had an exchange program with the Indonesian Observer based in that capital city, and every year one of the graduating students was selected by the newspaper's editor for a one-year posting, up there in the archipelago. I had never really been interested in Asia up till that point, Europe had always been the continent on my mind, but during our long summer break of 2002/2003 I had made my first ever overseas trip, focused on the Middle East, but with a couple of Asian appendages. My buddy Garnet Mae and I had stopped in Bangkok, Thailand, for a day or two on the way to Istanbul, and my view of the world was abruptly changed. After that revelation, that initiation into hot streets and crowded shopping malls, my life in Australia would forever seem a bit bland. Regardless of its comforts. From that point on I was a travel junkie, and life would be just about getting abroad again. Anywhere would be cool, especially Asia, especially Indonesia. So I applied for the internship, I studied Basic Bahasa Indonesia, in anticipation of my successful application. Little did I know that the editor over there at the Observer had a thing for Australian women... had I known that, I might not have tried so hard! For much of 1993, living out in Rocket Street in Bathurst NSW, all I wanted to do was to get a job in Indonesia. I invested a helluva lot of time and energy into the dream, and in the end, it was an outcome I could not control. The editor in Jakarta gave the job which should have been mine, to some chick instead. Not that I am begrudging her... my destiny took another course. I am glad I didn't win the exchange, because it freed me up for another path. But it makes you think: it really sucks when somebody else is control of your destiny. Nobody should have that kind of power of you... (For the story how I can use my online income to finally realise my Jakarta dreams, my own way, click here.)
---
Thursday, July 14, 2011 Newsroom Dreaming
---
EVER SINCE I STARTED READING JEFF JARVIS AND WATCHING THE WIRE, ON NIGHTS RECOVERING FROM MY JOB AS AN ENGLISH TEACHER IN JAPAN, I ENTERTAINED A FANTASY OF RETURNING TO MY OLD CAREER OF NEWSPAPER JOURNALISM. It was but a fleeting fantasy I must confess, not a serious desire to change course in life and become a journalist again, after 10 years out of the loop. I have far too many interests to be pinned down by any one career, even one of the more interesting ones. What intrigued me, rather, was the idea of a nostalgia trip, or going on a holiday of your past... or, perhaps more sadistically, a tour of a twilight industry. I figured it would be fun to pretend to be a journalist for a while, all the while making my living from online earnings and other revenue streams. I could then write about my observations on this blog, and be like an undercover journalist on the ultimate assignment... investigating the world of contemporary journalism! For a month or two, until I got sick of it! Of course, it's easy to get a little nostalgic and sentimental when you're so far away, on another continent, where all the rules are different, and everything is so wrapped up in Japan. Deep down, I have always felt gratitude for myself, for liberating myself from the workaday life I used to endure in Australia back in the 1990s, when I was stuck in the corporate grind. I'd awake from newsroom dreams on dark mornings in my Tokyo pod, remember that I was now an English teacher, and feel relieved. At least I had the freedom to work my own hours now (more or less, becoming more free all the time), learn about new cultures everyday, and travel the world. I thought I had left the Australian media scene far behind me. But plates can shift, fate can buckle... and in March this year I found myself home in Australia (if home can be a place you haven't lived for a decade), looking around for a job. With nary an eikaiwa in grasping reach... (For the story how of who I fared looking for a media job in Australia after a 10-year absence from the country, click here.)
---
Wednesday, May 18, 2011 Training the Taiga: Arriving in Kushiro
---
FOR THE PAST FEW DAYS I HAVE BEEN TRAVELLING ON THE TRAIN ACROSS THE NORTH OF JAPAN WITH MY FOLKS, AND WE MADE IT AS FAR AS HOKKAIDO, WHICH IS KNOWN IN JAPANESE AS THE "NORTH SEA WAY". I have to say it is pretty amazing scenery (with some real wilderness). I haven't been to Russia before, but this island has a Russian/Siberian feel to it in my imagination at least. Birch trees with white trunks glistening in the sun, cute little towns with houses out of a Scandinavian toy factory, and peaks covered in snow. Walking out in the wetlands looking for cranes, I was attacked by pesky marsh insects. For the first time since my last trip to Iceland in 2006, I feel like I am back in the sub-Arctic... (For the full story with photos on my experiences in Kushiro, click here.)
---
Sunday, March 20, 2011 Missed My Plane in Cairns: Being Bumped Can be a Blessing
---
The flight was due to depart Narita Airport on March 19 and fly to Sydney via Cairns. I was scheduled to spend a few hours here, in this popular North Queensland resort, from 5am to around 9am the following morn. I might have caught the sunrise if I was lucky. However, the aftershocks and nuclear meltdown fears in Japan necessitated a change to the flight plan, and I received an even luckier break. On the way home we dumped our cabin crew at Kansai Airport, safe from the crisis in eastern Japan, and picked up a new crew. It was my first visit to Kansai and I thought it looked kind of cool from the air, built as it is on an artifical island off the shore of Kobe and Osaka and connected to the mainland by causeway. We had to wait about two hours on the tarmac while a new crew came on board, but I was just happy to be away from Tokyo... at least there weren't any aftershocks here! Eventually we were off on the long leg south, but all this mucking about had put us four hours behind schedule. By the time we sailed down into Cairns International Airport it was about 8.30am. The sun was already up and doing its thing, burning through the humidity. The view on landing, suffice to say, was amazing. It was the perfect balm to a week spent in disaster-stricken Japan. I didn't care how late I was.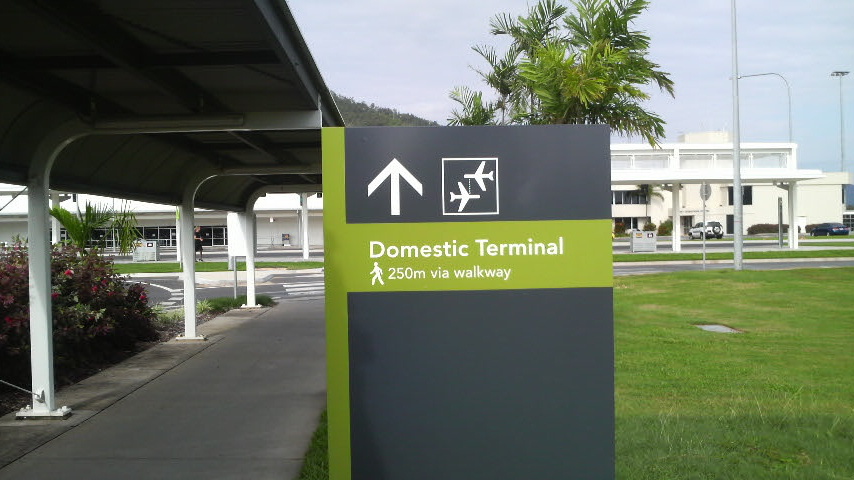 Thanks to the 4-hour delay in Japan and the long, long outdoor walkway connecting the international and domestic terminals in Cairns, I missed my morning connection to Sydney. This might have been bad news for my Mum and Dad down on the NSW Central Coast who were dying to meet me, but it was an opportunity for me. In the spirit of One Mile at a Time, I scented freebies. Unlike the bearded guys in the queue behind me, who had missed their flights out of general tardiness, I had a valid excuse... the Great Tohoku Earthquake. To be fair, I had kind of ambled my way along the long walkway from the international to domestic terminals, weighed down by my luggage, and ogling at all the flowers. I suppose if I had run, I would have made it, but I was now on tropical time. I didn't care if I was late! By the time I made it to departures and waited in line for my serve, the plane was already out on the runway. D'oh! I hadn't slept properly in at least a week, due to all the aftershocks and radiation spikes in Tokyo, and I hadn't really eaten either. But at least I was safe, on Australian soil, and in one of the most beautiful cities in the southern hemisphere. As Lucky at One Mile at a Time would say, being bumped can be a blessing.
---
Wednesday, January 5, 2011 Blue Moment: Winter Evening in Choshi, Chiba Prefecture
---
HERE IS ANOTHER PHOTO TAKEN ON MY NEW YEAR'S DAY TRIP TO CHOSHI, AT THE MOUTH OF THE TONE RIVER, CHIBA PREFECTURE, JAPAN. Evening had fallen as I trudged home from the stormswept headland, where the sea still crashed over the barricades, as it had done all day long, my face numb to the touch. It had been a cold and windy day, and I was looking forward to getting home to Tokyo, getting warm, and getting some of my Choshi photos online. Presently the stars came out, and the sky was drained to the deepest shade of blue, a real Tokyo winter blue... it was a blue moment as Baba san my old Japanese student/lighting engineer would have said. Such moments deserve to be photographed. It had been a great day for photos, but I nonetheless felt ripped off, because I knew I had barely scratched the surface here, in this old port and fishing town. My original plan, upon arriving at the JR station, had been to head north past the river mouth and the stupendous bridge, then turn east and follow the coastline clockwise past all the fish markets and little harbours, until I obtained the famous 99 Mile Beach. Where, perhaps, I might be able to watch the planes coming in to land at Narita Airport. As it turned out, I conquered the port and the fish markets, but failed to sight the beach. It might have been reachable if I had a bike or car or I had gotten here at 9am, but in reality I didn't arrive until 2pm. As it was all I managed to do was follow the Tone from the bridge to the Choshi Port Tower, beyond which the fishing fleets and their attendant gulls gave way to bleak industrial lots. Not that I hate industrial nor bleak, they both have their place. However, the further I walked, the more stretched out everything interesting became, and that concrete became glacial. On top of that, I was losing the light. I wasn't sure where I was, so I decided to head back to the station. Which is where I had my blue moment, in the retail part of town.

Having failed in my mission to sight 99 Mile Beach on New Years Day, I was determined to right my wrongs today. My plan was simple: head south from the station as soon as I exited, and keep going until I hit the sea. It didn't look that far on the map. The trouble with Choshi Peninsula is that it looks so small on the map, it looks so easy to get around, but in reality it is nightmare if you are travelling by foot. This is especially so once you head "inland", as I tried to do... (For the full story on today's Choshi trip, click here...)
---
---
Tuesday, January 4, 2011 Long Distance Love Laments: I've Been Losing You
---
EVER SINCE MY LAST TRIP TO VIETNAM IN NOVEMBER TO SEE MY GIRLFRIEND, I HAVE BEEN WORRIED THAT OUR RELATIONSHIP IS COMING TO AN END. The way she was acting then, the unexplained absences, the evasiveness... I have experienced all that before, and I know it is never a good sign. It's always a sign that the relationship has run its course. For the past three years I have been in a long distance relationship with a girl I had met in Ho Chi Minh City called N. (real name witheld); basically I have been working hard teaching English in Tokyo, Japan, and jetting down to Vietnam every few months, whenever I had enough cash, to see her. At the time I thought it was the perfect deal: I would be in effect living two lives, one in Japan and one in Vietnam... actually I would have three lives if I counted my old life in Australia. But as time wore on, the limitations of my strategy and the hardship of my lifestyle became apparent. Friends and family advised me to find a girlfriend in Japan, or find a job down in Vietnam, and move there. But in some ways I was comfortable at my little pad in Tokyo, with all its conveniences, and I shuddered at the thought of living permanently in Ho Chi Minh City, much as I liked holidaying there. I considered marrying N. and sponsoring her to immigrate to Japan... but then we would be two gaijin cut adrift in the sea of Japanese society, and I worried that all my hassles with petty racism would be magnified. Besides, Tokyo is no place to raise kids. My Mum, always eager to get me home, tried to convince me to bring her back to Australia, and raise a family. That idea enticed me for half a heartbeat, but deep down I know I could never be happy as a resident, especially in my home country. I am nomad. At least in Tokyo I had a flexible employment setup, with room for plenty of foreign adventures. So it was that as the months and then years passed, I continued living in Japan, and N. remained in Vietnam, and our relationship was like a pearl necklace: short bursts of tropical passion when we met in the flesh, connected by threads of electronic communion. It might have gone forever like that, had I not started suffering panic attacks which threatened my career as a teacher, and had N. not begun to grow out of the whole affair... (For the full story of my disintegrating long distance relationship with N., click here.)
---
Sunday, January 2, 2011 Akihabara Maids Revisited: My Article Gets a Mention in the Sydney Morning Herald
---
IT'S AMAZING HOW STUFF YOU PUT ON THE INTERNET GETS NOTICED, SOMETIMES EVEN HYPED UPON, YEARS AFTER YOU PUBLISHED IT THERE; IT'S AMAZING HOW STUFF YOU DUMP ON THE INTERNET TAKES ON A LIFE OF ITS OWN ONCE IT IS THERE. Sometime this afternoon, after a walk along the Edo River in the glorious winter sun, back in my pad in Shinozaki, I discovered there had been a spike in Internet traffic to my Japanese webpages. I did a bit of digging around various tools, and found where the spike was originating: I had got a mention in the Sydney Morning Herald, from my old home in Australia, linking to my Akihabara Maids series. It was my Mum's birthday, so I rang her to give her the good news.
---

CROWDED WORLD
By Robert Sullivan. Contact me by email: coderot@gmail.com. Visit my Google + profile.
phone: (0422) 204-477 (AUSTRALIA)
australia - cambodia - denmark - hire me - guest writing policy - korea - india - privacy policy -
These days it is so easy to get in a plane and fly to the other side of the world, and disgorge yourself into an ALIEN country. In a way, travel has become a commodity, an experience, to be bought and sold on the markets of exchange. This is the age of the LONLEY PLANET adventurer, journeying out with his/her guidebook, trying to capture an experience of the alien and the exotic. People complain these days that the world is becoming uniform, that there are McDonalds and Starbucks on every corner, the world is becoming smaller and less interesting. This may be true on the surface level, since the capitalists have only ever been interested in surface details. Scratch a little DEEPER, however, wherever you are, and you find a deeper world still exists, everywhere. CROWDED WORLD is aimed at raising your consciousness enough to locate the hidden exoticness of space, buried beneath the McDonalds and all the Starbucks. Travel can still be as exhilarating today as it was in the time of MARCO POLO. You just need an open mind -- to peer beneath the surface veneer of sameness, the surface veneer of capitalism. You would be surprised what exists down there, not destroyed but merely resting, waiting for its resurrection into the light!
---