north east asia galleries
WHENEVER I am taking off from Narita Airport or coming in to land I make it a priority to scan the landscape below for the Tone River, which I feel a personal connection to. It is the Tonegawa which is the origin of the Edogawa (and the Kyuedogawa), the two rivers which flow past my house in Edogawaku, and dump into Tokyo Bay down near Disneyland. When I have days off and I am in Japan I like nothing better than walking along the banks of the Edo Rivers new and old, taking in the ever changing view. The Tone River is to Sawara what the Edo Rivers are to Tokyo, and it serves as the border between Chiba and Ibaraki wards. The Tone River used to be a highway back in the days when there were no cars and trucks, and Sawara developed as a trading town famous for its sake. Curling off from the Tone River is a small stream called Onogawa or "the Ono River". The stream is lined with willow trees and machiyas (traditional houses) and quaint shops. There are many small streams like this in Tokyo, but most of them are ugly. Onogawa offers you a glimpse of how Tokyo might have looked before concrete.


OTHER SITES ABOUT SAWARA FROM JAPAN!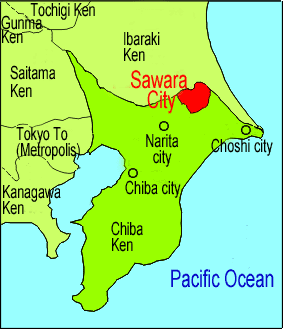 City Guide to Sawara