north east asia galleries
SAWARA used to be a warehouse town. In many ways, it still is. Now warehouses might not sound a very interesting or appealing attraction for tourists, but I must point out that one of my favorite cafes in Tokyo is set inside a 140-year-old Edo warehouse. If you want to know how groovy old Japanese warehouse towns can be, read Sushi Wong's blog. In 2007 she wrote: "The machiyas in Sawara typically comprise a storefront, a residence and a storehouse to the side or in the back. The machiyas lining both sides of the Ono River formerly housed rice traders, shoyu breweries and sake breweries. The original stone steps leading down to the embankment still exist in many instances. These days, the machiyas have been converted into museums, shops, restaurants and teahouses..." And in fact, according to Sushi Wong, at least one of them has been converted into a French restaurant. Sushi Wong had two full days to spend in Sawara; due to my laziness and the time of the year, I had only one hour, before dusk fell and play was suspended due to poor light. To use an old cricketing metaphor. I didn't have the time to visit Suwa Shrine or Katori Shrine or any of the other must see attractions. I didn't have the chance to eat eel or drink any of the famous local sake. I had a Christmas party to get up for early in the morrow.


OTHER SITES ABOUT SAWARA FROM JAPAN!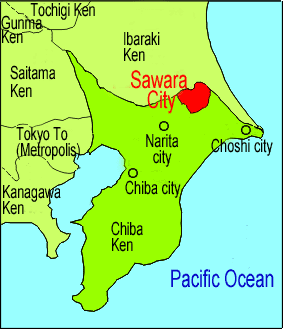 City Guide to Sawara