---
---
» Bangladesh TV
» Download Bollywood Movies
» Download Malaysian Ringtones
6raquo; Reality TV in Malaysia
» Watch Korean Dramas in Vietnamese
» Watch Malaysia TV Online
» Watch Philippines TV Online
Connecting Singles in Malaysia
---
---
nonton drama korea - watch astro tv online - watch tv9 malaysia online - watch rtm2 malaysia online - watch malaysian dreamgirl online - malaysian dreamgirl ring tones download - media prima - streamguys to handle content delivery of abs-cbn iptv service from philippines - bit torrent

WANT TO WATCH MALAYSIAN TV CHANNELS LIVE ON PC, AND ARE LOOKING FOR ANY WEB SITE THAT LETS YOU DO SO FREE? As Podlog pointed out recently: "Sure, you might be sitting at a desk and not really thinking about all the malaysian tv programms especially for those who live in overseas, why wouldn't you want to watch Malaysian TV Channels on your computer? Your LCD almost certainly has better resolution than your TV, and when you're right in front of it, with two decent speakers (or more), it can be a pretty good way to watch a show or two.Here are four ways to get Malaysian TV channels on your computer:
.
"2) vvttv.com.my - using sopcast p2p techology. By the way you just have to download the VTTV web player plugin and then go to the channels section.
3) Radio Televison Malaysia (RTM) - Goverment TV stations broadcasting TV1 and TV2 channels.
4) um.com.my - brings you not olny malaysian channels but other top channels in the world such as ESPN, BBC , Music TV..."
Digital is a catchword in Malaysia at the moment, a country that has become an international player in everything from virtual education to satellite TV. The first digital television service in Malaysia was launched by satellite based pay-TV operator ASTRO in 1996. Starting from September 2006, the aforementioned Malaysian national broadcaster RTM began its trial Digital Terestrial Digital Television (DDTV) service for six months to 2000 selected households in the capital city of Kuala Lumpur and surrounding areas. From the trial service, RTM intends to access viewers' response of the new service.
The trial DDTV service offered the current 2 analogue TV channels (i.e. RTM1 and RTM2) in digital, and 2 new digital-only channels, namely RTMi (covering drama, music, news/current affairs and sports) and Music Active (all music). RTMi will be broadcasting from 7pm to midnight daily while Music Active will be from 9am to midnight. Also provided under the service are seven FM radio stations in digital audio and interactive services. Nationwide implementation is planned to begin by the year 2007 or 2008. All the above digital television services are in standard definition and RTM will initiate HDTV trials by 2009.[1] Currently there are no announced plans by either ASTRO or Media Prima for HDTV services. The Malaysian government has proposed to shut down all analogue television services in the country by the year 2015, planned to begin in 2008.

TV9 is a Malaysian private-owned television station which started transmission on April 22, 2006. This free-to-air television station is owned fully by Media Prima Berhad. Despite its focus mainly on Malay programming (for example Pak Pandir Moden, episode 10 of which you can watch online here, Pendekah 5, and so on), the station also airs Chinese movies (with Malay subtitles) and Japanese series (dubbed in Malay) programmes on a weekly basis. English programmes such as Crocodile Hunter, Mutant X, Jeff Corwin Experience, Guinness World Records are also currently aired with Malay subtitles. During the 3:00 p.m. to 7:00 p.m. airtime block daily, the station airs children's shows such as Nickelodeon cartoons like Dora the Explorer, Blue's Clues and more which are all dubbed in Malay.

TV9 now airs its own news segment called Berita TV9 (literally: TV9 News) since January 1, 2007 at 8:00pm. For eight months since it started transmission, "Edisi 7" was broadcasted, courtesy of ntv7. Liputan 9 (Coverage 9) was Channel 9's primetime news programme when it was in transmission, courtesy of Bernama. The first 30-minute version of Warta Perdana, courtesy of RTM1 was also aired during a few months before the transmission ended. The newsreaders of Berita TV9 includes Zuhairah Mustafa Al-Husin, Abu Talib Husin, Syed Mohammad Khair Syed Hussein, Nurazura Abu Samah, Syafinaz Yunus, Amin Hayat Abdul Rahim and Nona Julia Hashim. They were chosen from over 5000 people who auditioned. The TV9 News is brought live from Studio C in Sri Pentas, Bandar Utama.

As of 2007, Media Prima is the biggest media group in Malaysia, owning all main private television stations and controlling approximately 54% of Malaysia television viewership. Astro controls a market share of roughly 29%, and RTM 17%. As owner of the New Straits Times Press (NSTP), Media Prima also controls English newspapers like the New Straits Times and the Malay Mail, as well as Malay newspapers like the Berita Harian.

It is true that the Universiti Tun Abdul Razek (UTAR) is the oldest virtual university in Malaysia -- however, to my mind it seems that the Open University Malaysia (OUM) is the most popular at the moment. Open University Malaysia or OUM is the seventh Malaysian private university opened in Malaysia, and is owned somewhat paradoxically by a consortium of 11 Malaysian public universities. As most Malaysians will know, the main campus is located on Jalan Tun Ismail, in the heart of Kuala Lumpur. Nonetheless, this being a virtual university, it doesn't matter where this university is physically located, in a "bricks and mortar" sense. .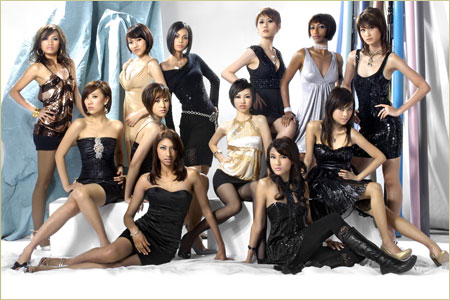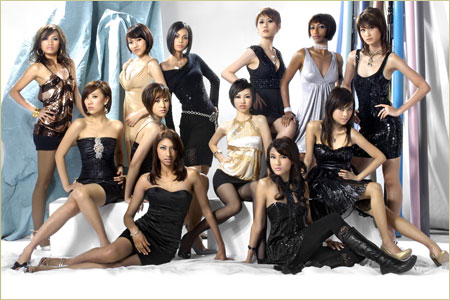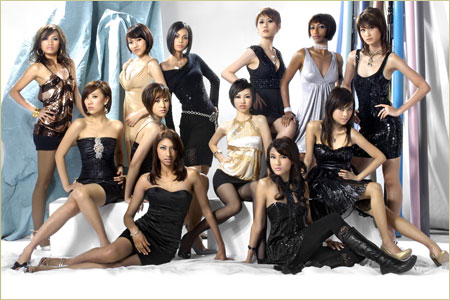 m a l a y s i a n + d r e a m g i r l
THE FUTURE OF REALITY TV IN MALAYSIA. As the official website reported: "Reality TV in Malaysia has now gone online! Introducing Malaysian Dreamgirl -- the first reality model search in Malaysia to be fully broadcast over the internet. Follow the lives of 12 girls as they live together, compete in exciting challenges, express their beauty and try win you over to be the first Malaysian Dreamgirl.
"Beginning March 2008, watch these girls strut their stuff in a competition that will change one of their lives forever. Catch 2 episodes every week from this very site and vote for your favourite model..."
You can also watch Malaysian Dreamgirl, also known as Malaysia's Next Top Model, online on blip tv.
Malaysia TV - WTV8: Is available free online.
Malaysia Online TV and Radio Streaming.
Watch Your Favorites TV Channel Online Only For Free. Includes ANIMAL PLANET, LIPUTAN 6 (INDONESIA), RTB (BRUNEI), DISCOVER ISLAM, LIVE TV ISLAM and BLOOMBERG, as well as the usual Malaysian stations and plenty of radio.
Online TV Malaysia: Watch video streams of Malaysia's TV1, TV2, TV3 and Cyberjaya, Brunei's RTB and 11 News, Fashion, DMC, Faikham TV, Hip TV, ITV, KE TV, Money and MV1-3 from Thailand. Listen to the sounds of Malaysian radio including RTM, RTM1, HBO, TV3, ERA FM, HOT FM, HITZ FM, SINAR FM and ESPN. You can also see Hong Kong kung fu, Hollywood movies, the BBC, sports, etc, or banter in the chat rooms with fellow Malaysians.
Online TV Player lets you play all the Malaysian stations including Cyberjaya TV (300 K), Malaysia (88 K), Malaysia TV (150 K), NTV7 (150 K), RTM TV1 (150 K), RTM TV1 (50 K), RTM TV1 (45 K), RTM TV2 (150 K), RTM TV2 50 K and TV3.
I recently (February 13 2008) got an email from an unknown sender with no subject which could well be spam, but then again might be legit, spruiking a website called http://tvpc2.page.tl/. The site claims to deliver satellite TV to your PC, with more than 3000 stations available for a small time fee. In the local lingo it reads:
"Dapatkan lebih 3,000++ channel sekarang dengan hanya RM30 one-time fee sekarang!!!
"Dengan pembelian tersebut, anda juga secara tidak langsung menjadi RESELLER (agen) kami dan berpeluang MENJANA PENDAPATAN TAMBAHAN secara sambilan atau SEPENUH MASA. Dengan setiap penjualan anda, anda akan mendapat Rm20 daripada harga produk dalam hari yang sama juga!
"Jadual Pendapatan Setiap Bulan
"Hari 1 (Jual satu pakej)=RM20 Hari 11 (Jual satu pakej)=RM20 Hari 21 (Jual satu pakej)=RM20
"Hari 2 (Jual satu pakej)=RM20 Hari 12 (Jual satu pakej)=RM20 Hari 22 (Jual satu pakej)=RM20
"Hari 3 (Jual satu pakej)=RM20 Hari 13 (Jual satu pakej)=RM20 Hari 23 (Jual satu pakej)=RM20
"Hari 4 (Jual satu pakej)=RM20 Hari 14 (Jual satu pakej)=RM20 Hari 24 (Jual satu pakej)=RM20
"Hari 5 (Jual satu pakej)=RM20 Hari 15 (Jual satu pakej)=RM20 Hari 25 (Jual satu pakej)=RM20
"Hari 6 (Jual satu pakej)=RM20 Hari 16 (Jual satu pakej)=RM20 Hari 26 (Jual satu pakej)=RM20
"Hari 7 (Jual satu pakej)=RM20 Hari 17 (Jual satu pakej)=RM20 Hari 27 (Jual satu pakej)=RM20
"Hari 8 (Jual satu pakej)=RM20 Hari 18 (Jual satu pakej)=RM20 Hari 28 (Jual satu pakej)=RM20
"Hari 9 (Jual satu pakej)=RM20 Hari 19 (Jual satu pakej)=RM20 Hari 29 (Jual satu pakej)=RM20
"Hari 10 (Jual satu pakej)=RM20 Hari 20 (Jual satu pakej)=RM20 Hari 30 (Jual satu pakej)=RM20
"*Jumlah pendapatan RM600 setiap bulan. *
"Mahu Sertai? Klik Disini : http://tvpc2.page.tl/2"
s a t e l l i t e + t v

WATCH ASTRO TV ONLINE (OR OFFLINE, IF THAT IS YOUR FANCY):
ASTRO ALL ASIA NETWORKS (tel: 03 9543 4188 (General) 1 800 827 333 (Installation), 03 9543 4123 (Subscribe Showcase)) is the Malay world's leading cross-media operator with direct-to-home satellite television services in Malaysia, Brunei and Indonesia. It is also the leading commercial radio broadcaster in Malaysia and a major publisher of TV guides and lifestyle magazines. ASTRO has formed joint ventures in other countries to launch new broadcasting, multimedia and Internet services. The Group has strategic alliances with leading software developers and content producers to jointly develop both technology and content to provide satellite-delivers, broadband, IP enhanced multimedia and interactive services over multiple platforms across the Asia Pacific region.
Kung fu fanatics take note: Through subsidiary Celestial Pictures, ASTRO has all rights to the collection of 760 movies produced by Shaw Brothers (Shaw Studios) from the 1950s through the 1990s. These films have never been exploited beyond their initial theatrical release (they got a bit of a running at Garnet Mae's house down in Sydney during the rayon year of 1996, and have proven popular in the skate circles and more recently in Hollywood.) For the betterment of mankind, these immortal classics are being digitally re-mastered and are the foundation for its pay-TV Celestial Movies Channel, and a global content distribution business spanning more 40 territories in Asia, Europe and the Americas. In addition to the Shaw titles, Celestial Movies also features the best of Chinese and other Asian films and is watched by more than one million viewers in Malaysia, Brunei, Indonesia, Singapore, Hongkong, Australia, Mainland China and Thailand.

My Dream TV is a company based in The Philippines but with subscribers across Asia, including Malaysia.
c a b l e + t v
"OUM university has held discussions with Health Ministry and Malaysian Nursing Board on its plan to offer this degree programme. The programme is offered to holders of a basic diploma in nursing who are registered with the national nursing board, OUM receives overwhelming response from all parties as the programme is unique based on its flexibility. The programme focuses on clinical expertise and direct involvement implemented via clinical training at participating hospitals."
WATCH JAPANESE AND KOREAN DRAMAS ONLINE FREE AND WITHOUT HASSLE
Writes Malaysian Techblog: "J-dorama SARS Fansubs otaku or anime lover or whoever love to watch asian movie or drama, i have some good news for you. You can watch your favourite asian drama or movie or anime online. Few weeks ago my girlfriends recommend me this site name crunchyroll.com.
"She tell me that she can save alot of money by watching drama online. Yea good for her. I know she is Japan Drama die hard fans. Unfortunately for me, my internet connection suck. It takes ages to stream youtube vidz. I am using my college net connection thats why the speed is low. But i really suggest for those who addict to this J-dorama korean drama and anime, go to this web site and watch it online. Basically it look like youtube but this one only focussed on asian. No private video no propaganda it just Crunchyroll. Before you can streaming in crunchyroll you may need to register.. Its free no need to pay."
c h i n e s e + c i n e m a
AS IN THE REAL WORLD, ONLINE CHINA IS HUGE. As the Guardian newspaper from Britain recently posed: "The world's most popular blog? Lao Xu, written by the actor and director Xu Jinglei, which boasts 137 million visitors. The biggest distributor of online video? Tudou, which claims to have overtaken YouTube with over 1bn megabytes of data transfers every day. Then there is Baidu, which has trounced Google in the Mandarin search engine market, and Alibaba, whose boss Jack Ma is a national hero for humbling eBay and taking over Yahoo's operations in China. It is also only the second Internet-driven open university in Malaysia. The Gerakan Education Foundation -- later renamed Wawasan Education Foundation (WEF) -- in August 2002 was established as a tax-exempt charitable foundation to promote lifelong education to the public. Eight experts in open and distance learning were commissioned to prepare a detailed proposal for the establishment of an Open and Virtual University of Malaysia (OVUM). The report was submitted to the foundation in 2003.
Wawasan Open University (WOU) opened its door on 22nd January 2007 with an initial offering of 11 undergraduate degree programmes under three faculties - the science and technology, business administration and foundation studies. Courses include degrees in information systems, computing science & artificial intelligence, business information systems, accounting and sales & marketing. The cost of an undergraduate programme is about RM16,000.
680 students had already enrolled with the university, which has four study centers located in Kuala Lumpur, Penang, Ipoh and Johor Baru.
Wasawan Open University is now up and online and offers programmes in three Schools (Science and Technology, Business and Administration, and Foundation Studies.) Some of the courses covered are Bachelor of Technology in Electronic Commerce, Bachelor of Business in Logistics and Supply Chain Management, and Bachelor of Business in Sales and Marketing.
---